DIY Gold Mercury Glass Ornaments
Do you ever look through those fancy store magazines and fall in love with some of the high-end products they offer, like mercury glass ornaments?! You can easily recreate the look for less using plastic ornaments and spray paint! It's so easy anyone can make them and upgrade your Christmas decorations this year with these DIY gold mercury glass ornaments!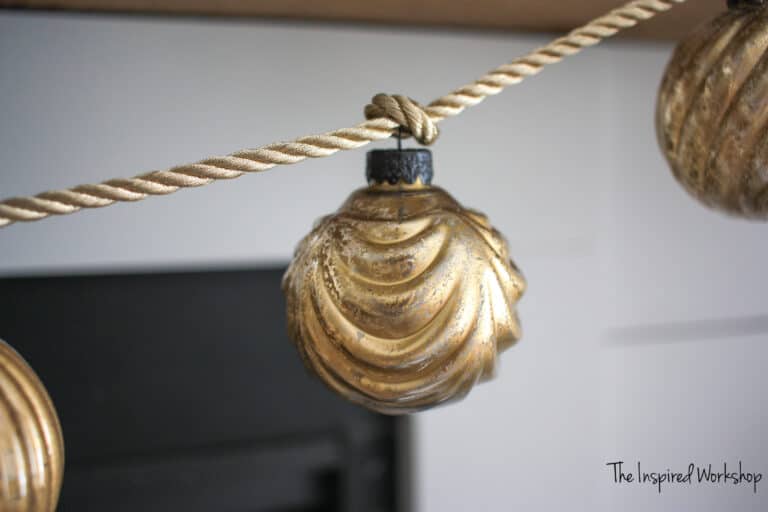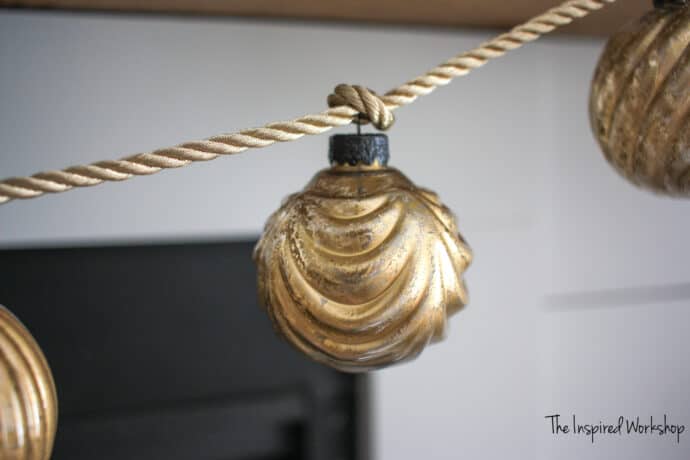 Aren't they gorgeous! The pictures don't even do them justice, I'm telling you! 😍
Recently what caught my attention were some beautiful gold mercury glass ornaments, I think they were 40 bucks for 4 ornate round mercury glass ornaments! Of course, I was not about to spend 400 bucks just to put a few mercury glass ornaments on the darn tree plus all the other trimmings! The problem was when I looked into how to make mercury glass, I was intrigued since all the instructions I could find said you need looking glass spray paint, and looking glass spray paint is silver…I wanted gold!🤔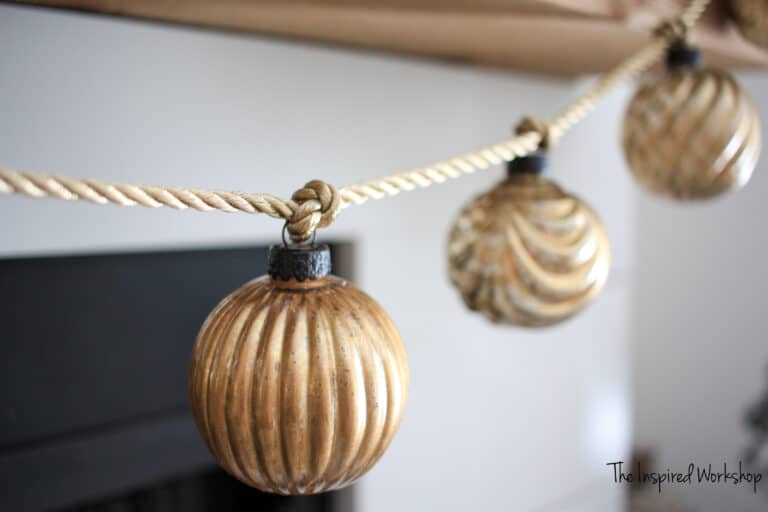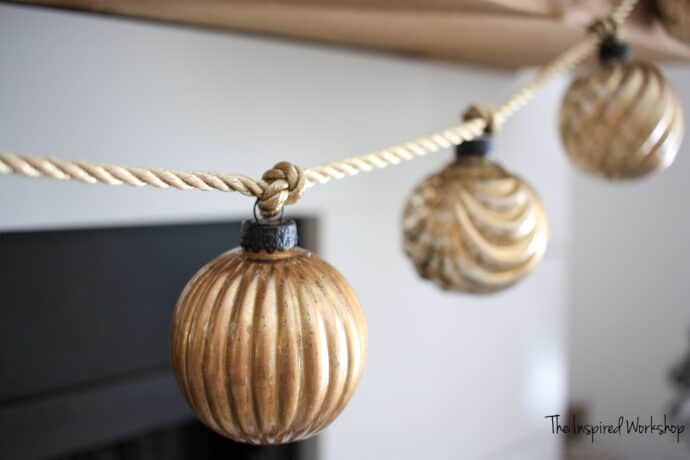 Of course, I listened to those people and bought some looking glass spray paint…and sure enough, it did not work! LOL! But after lots of trial and error, I did finally figure out a method that I was happy with and made some gold ornaments and my garland for the fireplace!
And the best part is, my expensive LOOKING ornaments won't break like those fancy ones!🤣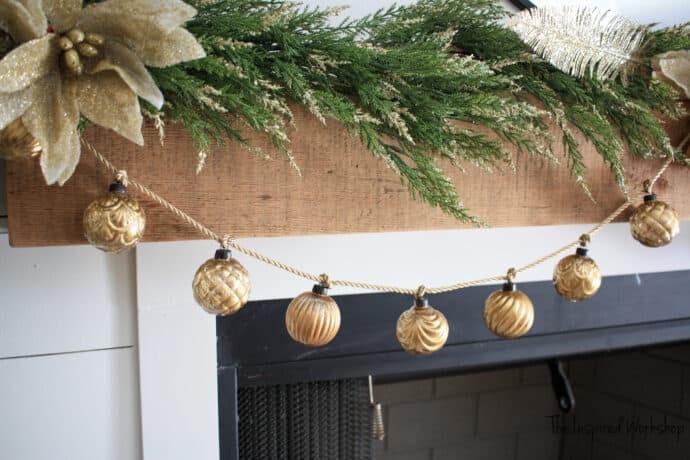 Honestly, this turned out to be the absolute EASIEST project I have ever done, (once I figured out the method) but one of my absolute FAVORITE projects! Funny how that happens sometimes! 😉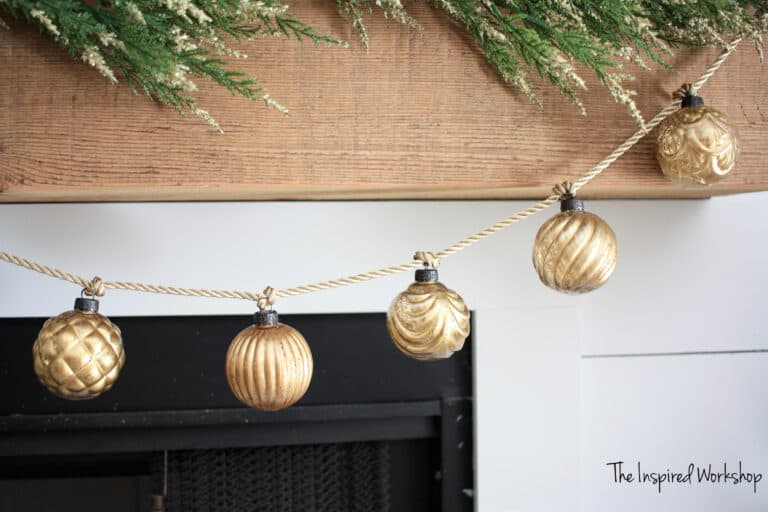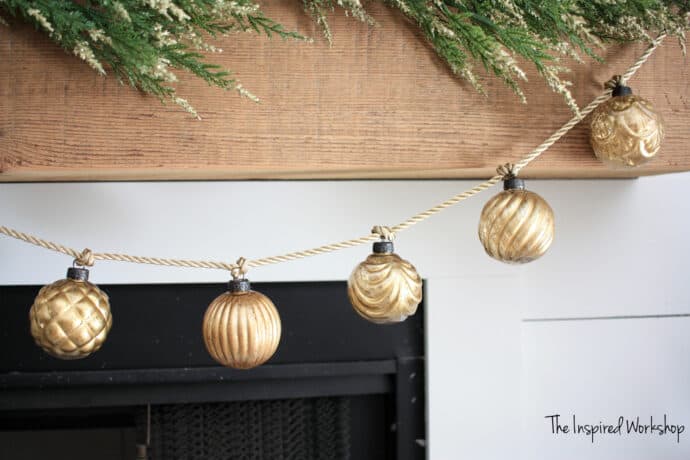 So, do you want to save a ton of money and make some beautiful, fancy-looking gold mercury glass ornaments?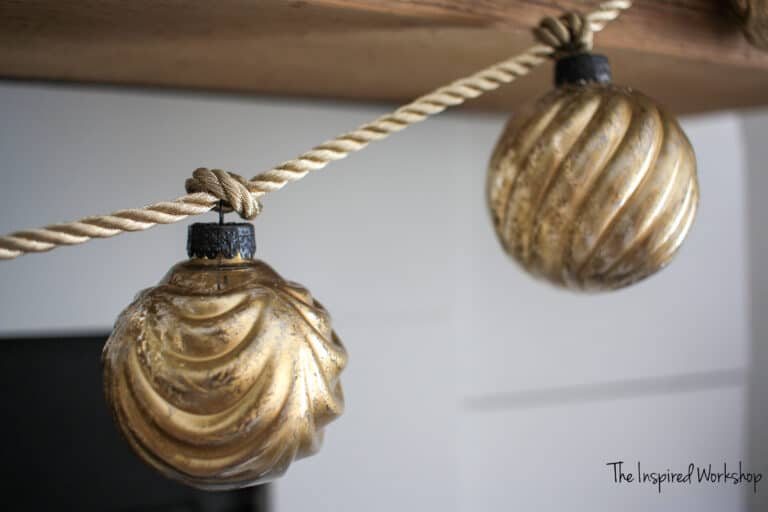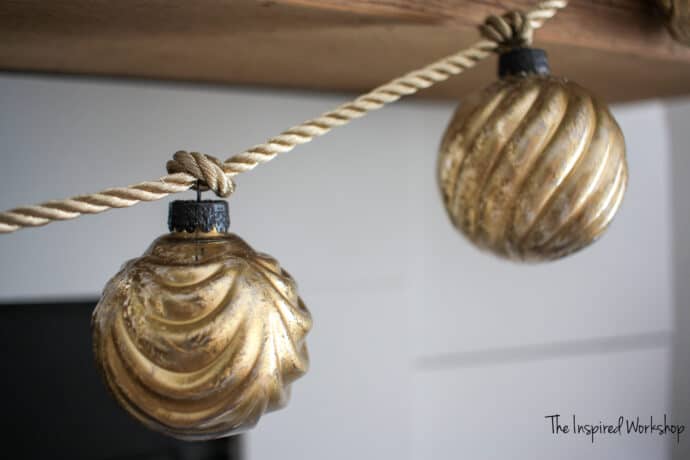 Enjoy crafting over the holidays and want to see other fun Christmas projects? Here is a couple you may like!
Gathering the Supplies Needed for Mercury Glass Ornaments
***NOTE: Amazon links below are AFFILIATE LINKS! Should you click on a link below that takes you to Amazon, and make a purchase, I will make a small percentage of that purchase and no extra cost to you! I appreciate it so much as it keeps the content coming and the plans free! All other links are just to help you find the same items I used…no money gained!
Materials to make mercury glass ornaments:
clear ornaments – this is the same pack I used, it is a pack of 30 for 10 bucks
gold metallic spray paint – I could not get my hands on this ONE but if you can, it will probably work even better!
Isopropyl Alcohol 70%
blow dryer
Optional – String, ribbon, twine or rope to hang them on if you want to make a garland- I used gold ribbon rope from Hobby Lobby
Optional – ornament caps – I actually just bought another container of ornaments at Hobby Lobby that had ones I liked and they only cost me 4 bucks!
Making your DIY Gold Mercury Glass Ornaments
This is such a simple but satisfying craft! There is not much to it at all! So let's get to it!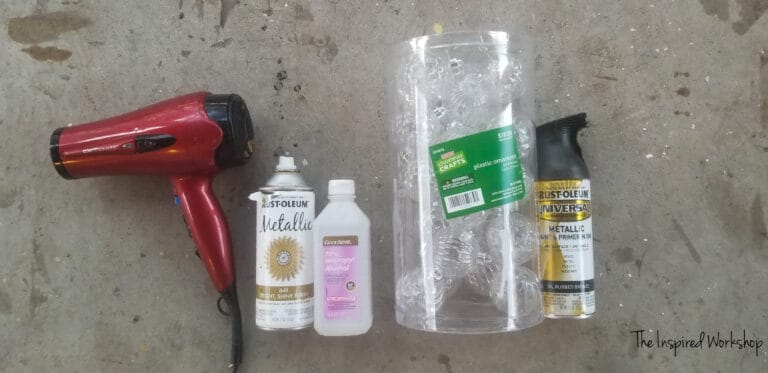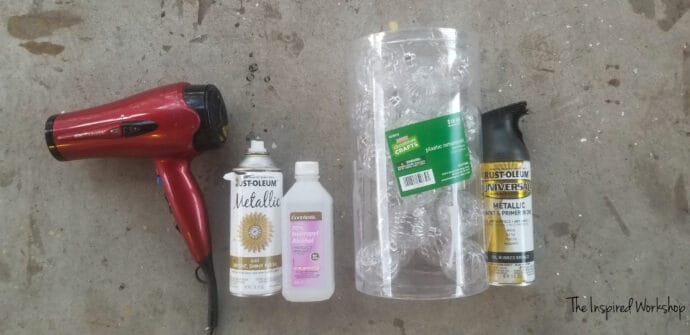 First, take the cap off of the ornament. Depending on whether or not you like the cap on your ornaments, you can use them or switch them out for a different one!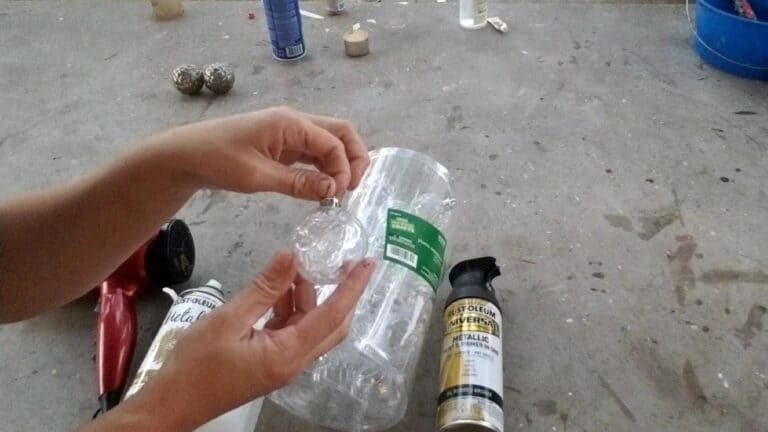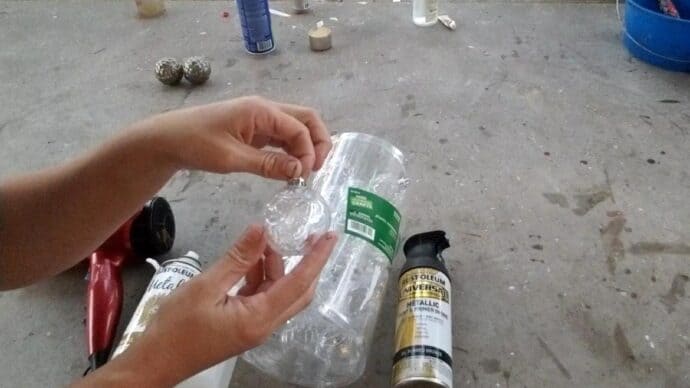 Pour a teaspoon or so, I just eyeballed it, nothing perfectly measured, of alcohol into the ornament. If you have ever read any tutorials on how to make mercury glass, they always use vinegar, but crazy as it was, the vinegar would turn my gold spray paint grayish silver! I just had a wild hair to try alcohol and I liked the effect!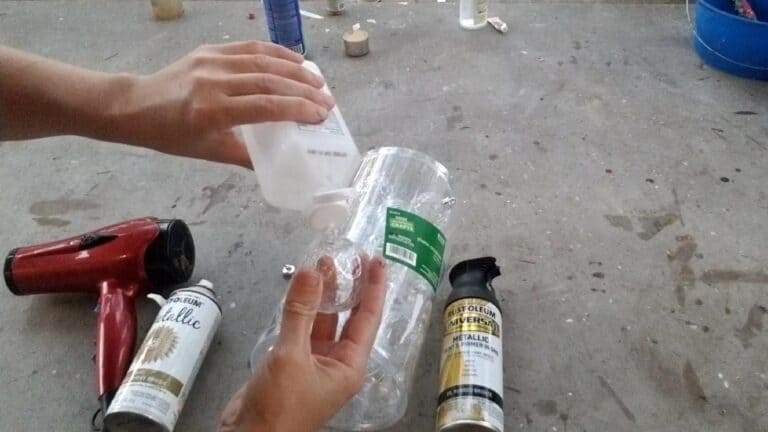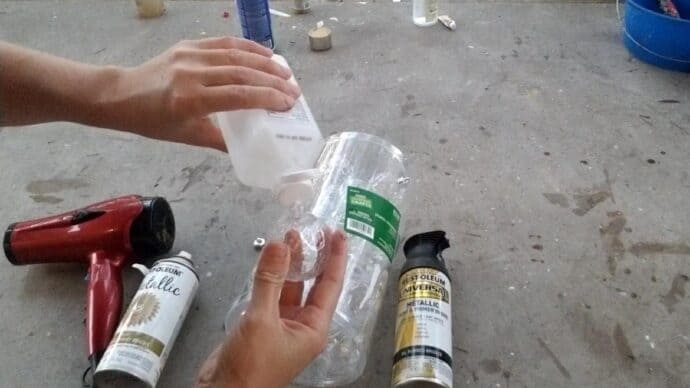 Roll the alcohol around in the ornament, cover the hole and shake it as well! Then spray your gold spray paint into the ornament.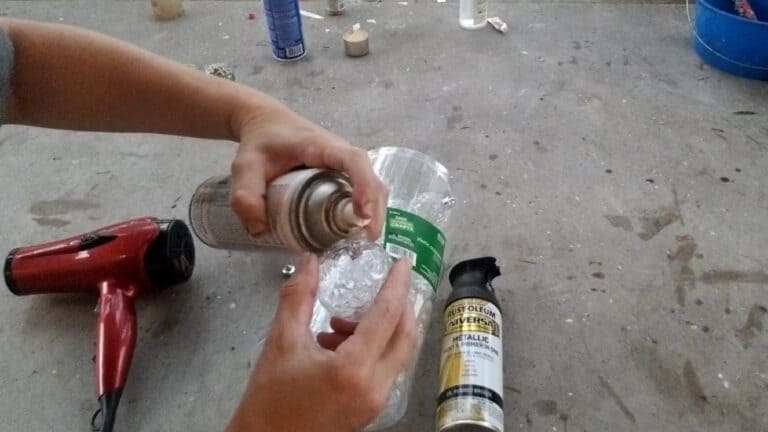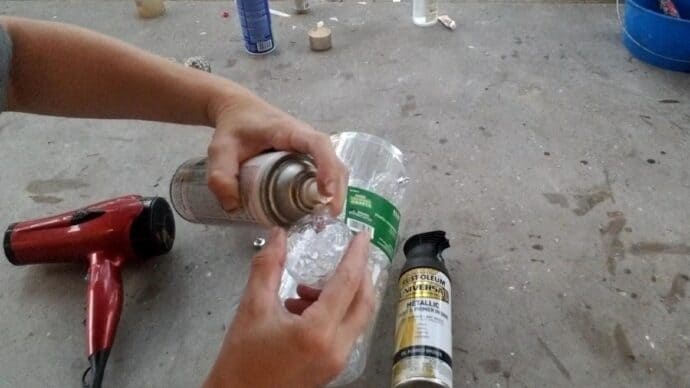 Roll the spray paint around in the ornament with the alcohol. Add more spray paint, and roll again. Once you can start to see the gold paint sticking slightly to some of the surfaces inside, blow-dry into the hole of the ornament!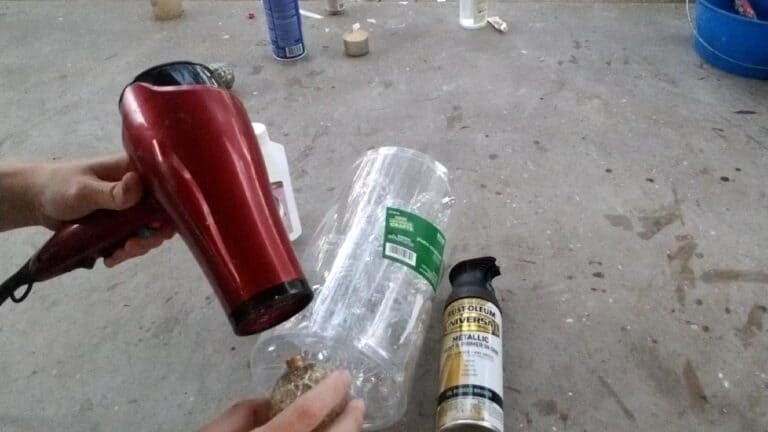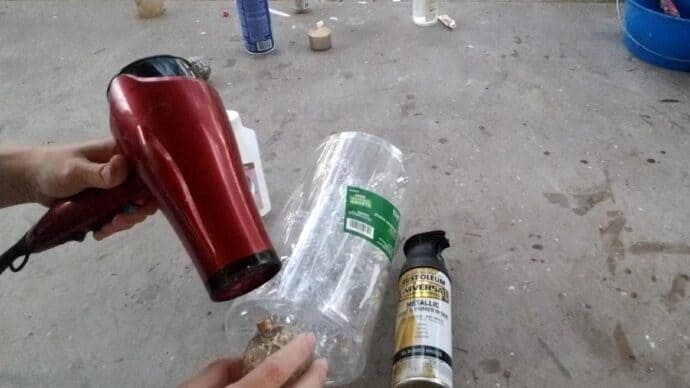 That's the one and only problem with this craft, your fingers start to get burned by the blow dryer by the time you are done with your 30-40 ornaments! Lol! If you have some thick gloves, you may want to try wearing them to keep the heat from burning you!
Keep rolling the ornament while you blow dry it!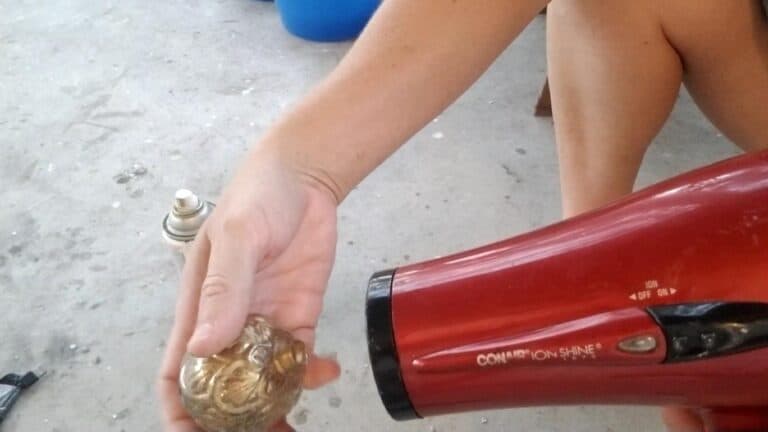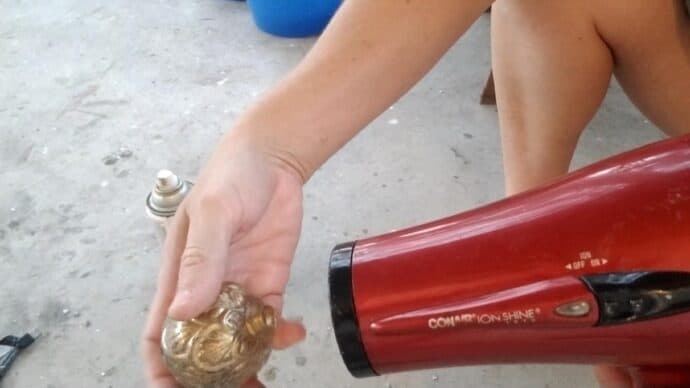 Here is a close up of what it is starting to look like!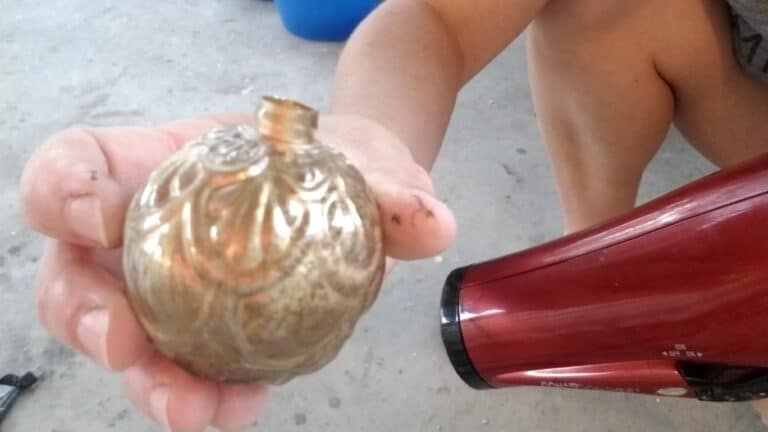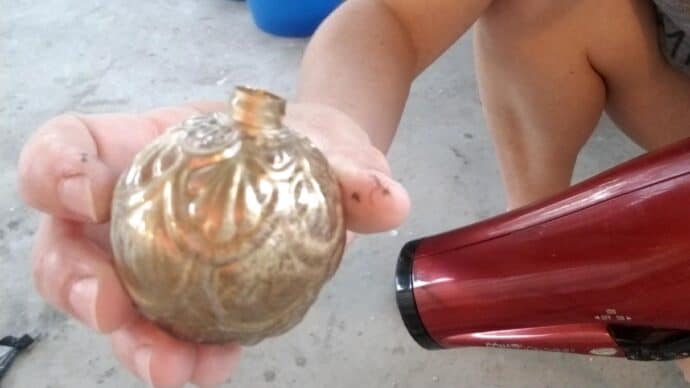 Add more gold spray paint.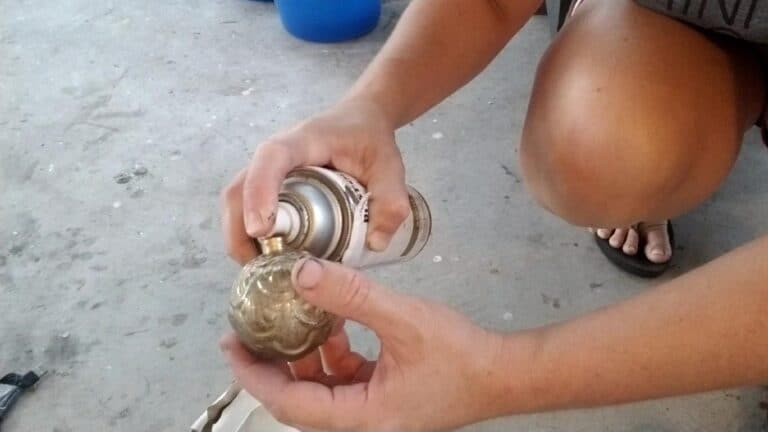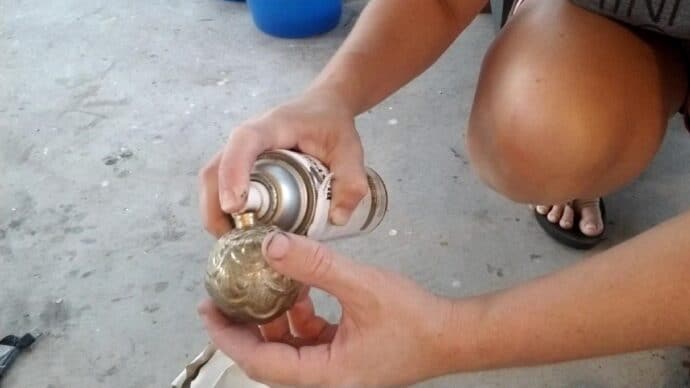 Roll it around, and blow-dry again! It should be done at this point, but if not, you can repeat the process until you get the look you want! Sometimes if it seemed like the paint wasn't sticking, I would have to pour some alcohol out…but then just repeat the steps! It is pretty much full-proof!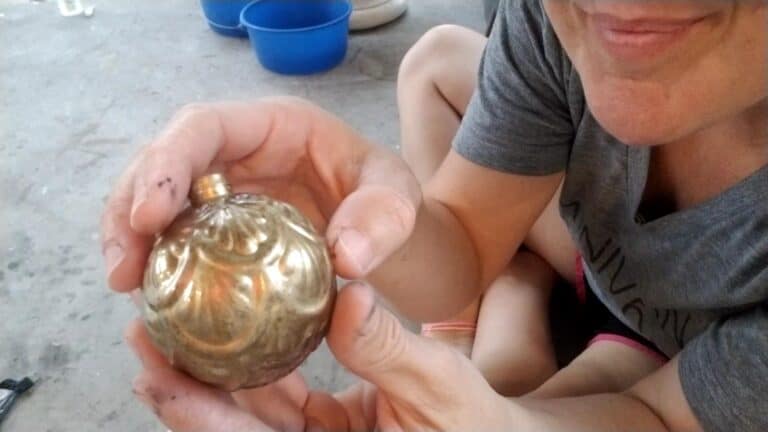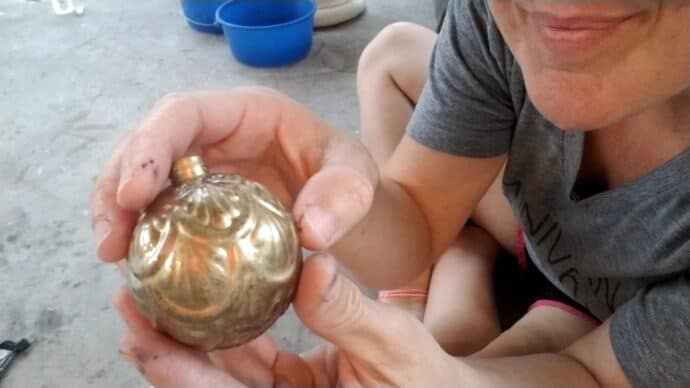 Don't mind my dirty hands, I had been working on a multitude of projects at once!😅
Now the fancy ornaments always have an oil-rubbed bronze cap, they are usually pretty decorative too, but I did the best I could! I just spray painted some caps off of another set of cheap ornaments, but they were prettier than the ones that came on these particular ornaments!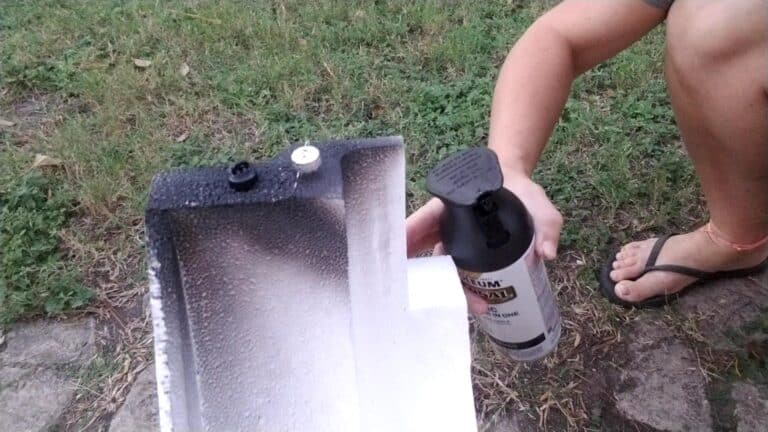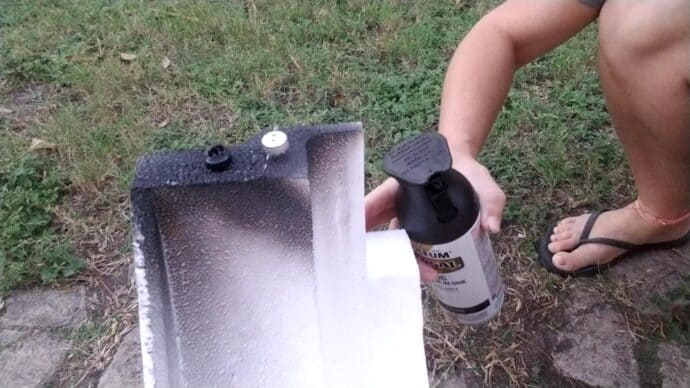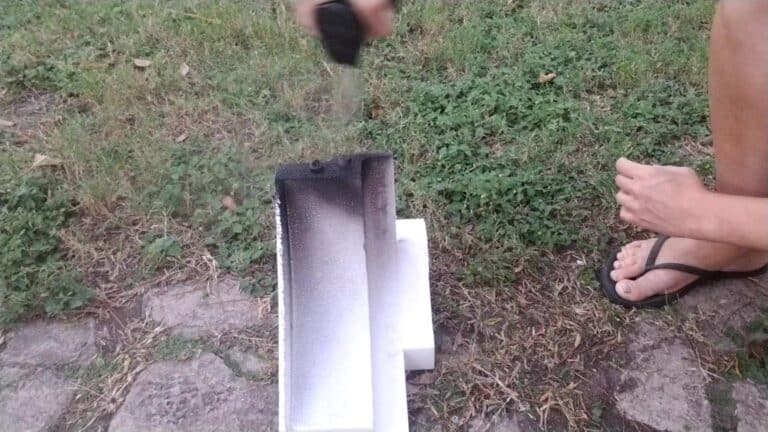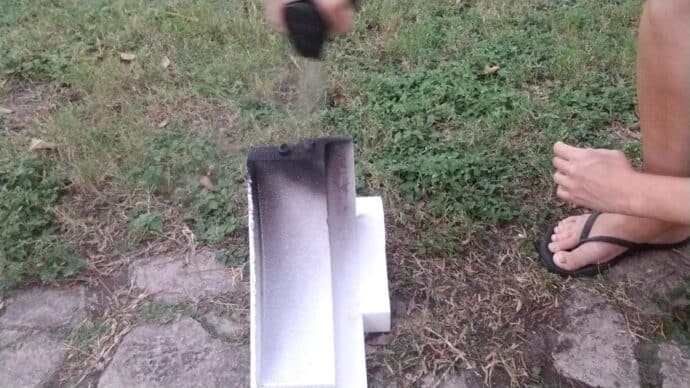 Once the caps are dry, place them back on the ornaments!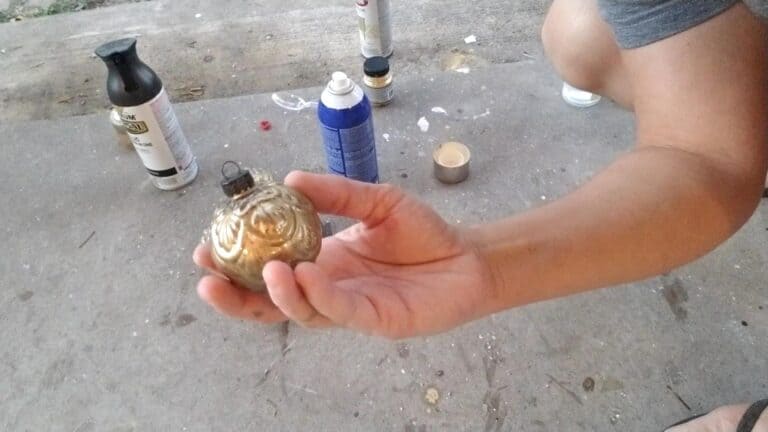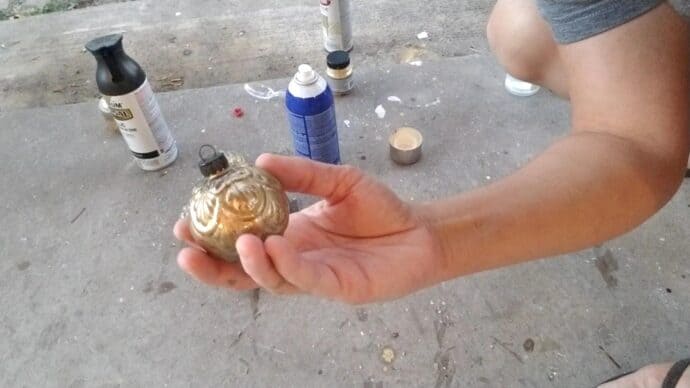 Too cute, huh?! Now just repeat that process 30 – 40 times as I mentioned before 😆 or until you have the number of ornaments you need!
So you want to see what some of the others looked like in case you want to try a different method to make gold mercury glass?
This first one, I tried the normal mercury glass recipe… looking glass spray paint, vinegar, and the gold spray paint together. It doesn't look gold really at all, mainly silver with a tiny hint of gold.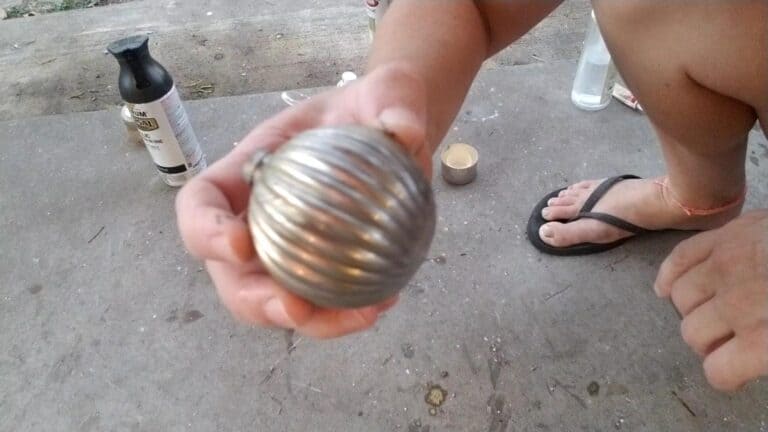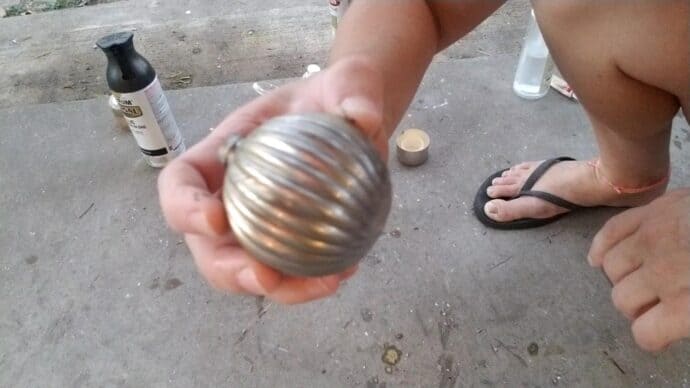 This next one I didn't add the looking glass spray paint, I only used the vinegar with the gold spray paint. The vinegar turned the gold paint grayish silver!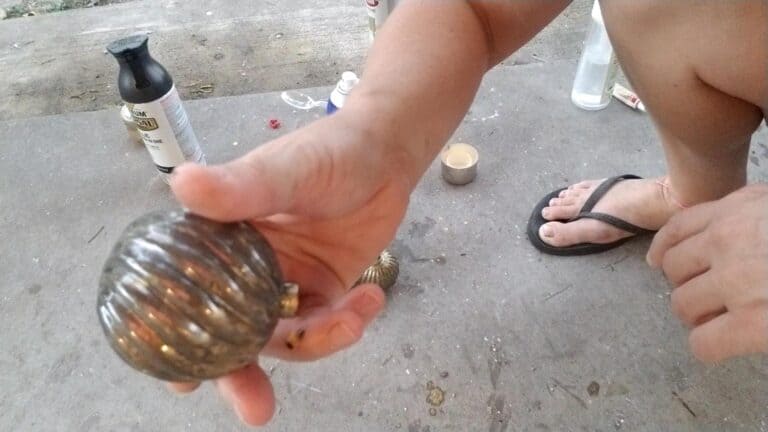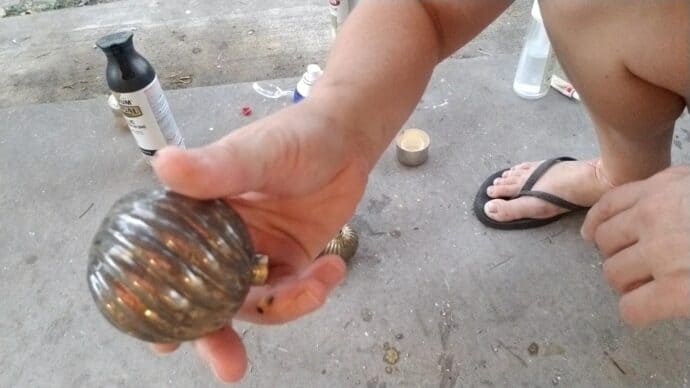 The last one, I used vinegar and gold mica powder…when it didn't turn out, I realized it had to be the vinegar! It had a little more gold to it, but still grayish!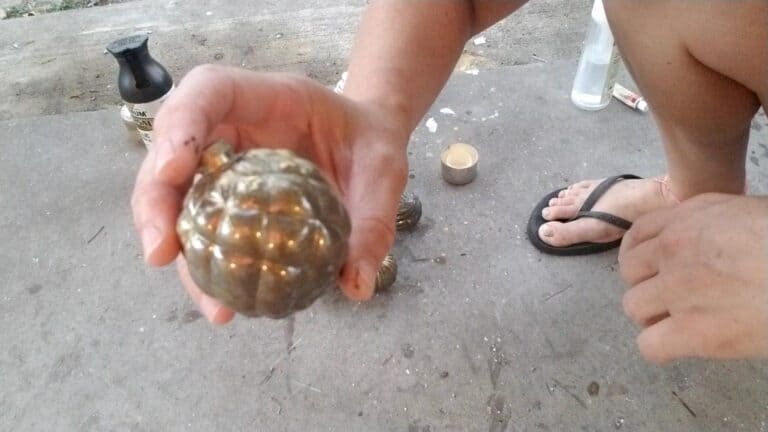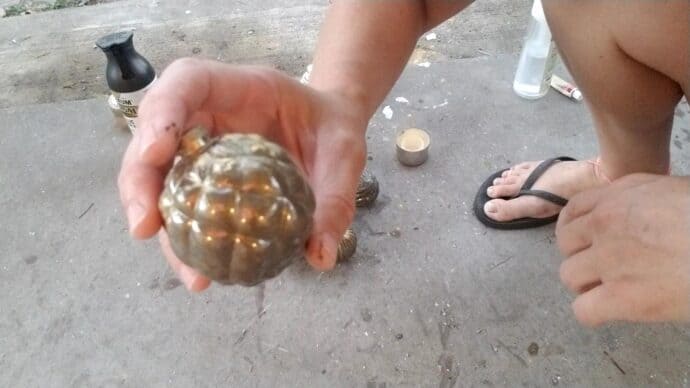 So I prefer this one!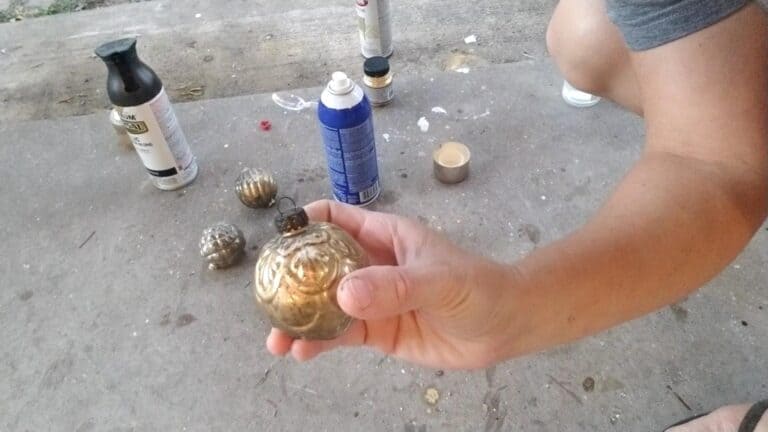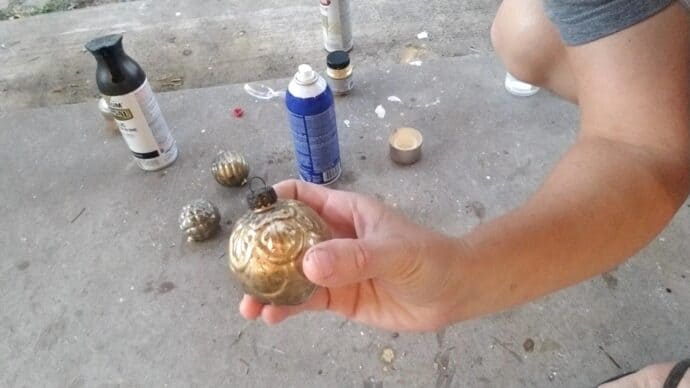 To make the ornaments into a garland, I simply cut a piece of gold rope ribbon to 105″. This made a garland only 6 feet long! So that should help you adjust what to cut your ribbon to depending on what size you want the final garland to be!
I made the same loop knots to start the garland as I did making my DIY Christmas Gnome Garland! Simple know to make, just form a loop and tie!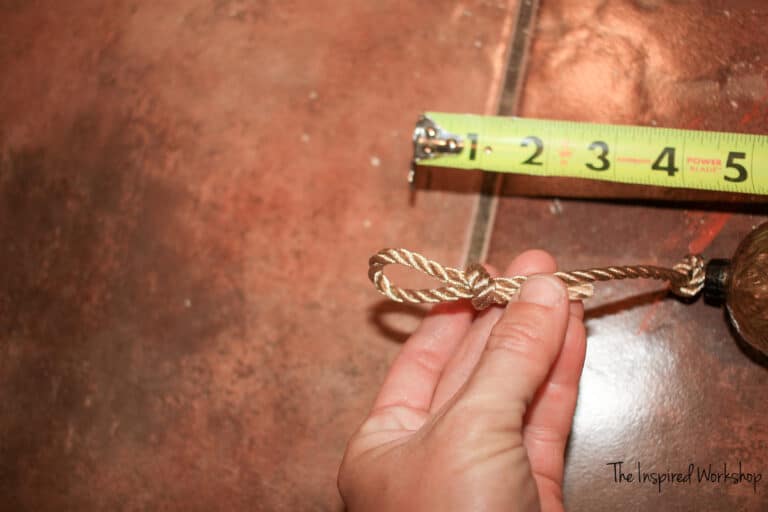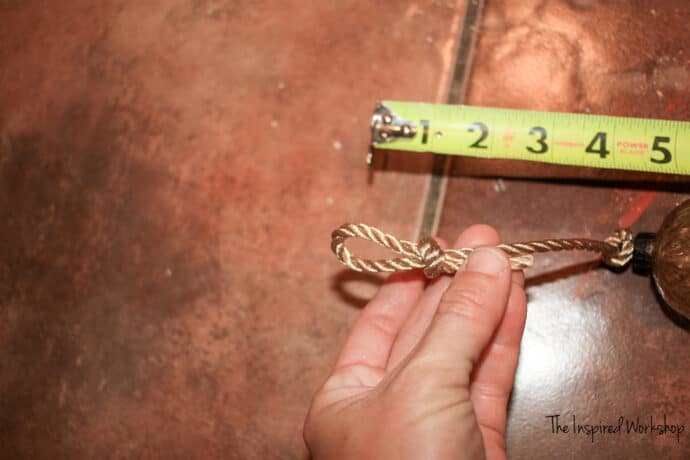 I spaced all the ornaments about 4″ apart, I started the first ornament about 4″ from the knot of the end. And, I just tied a regular ole know to keep them in place!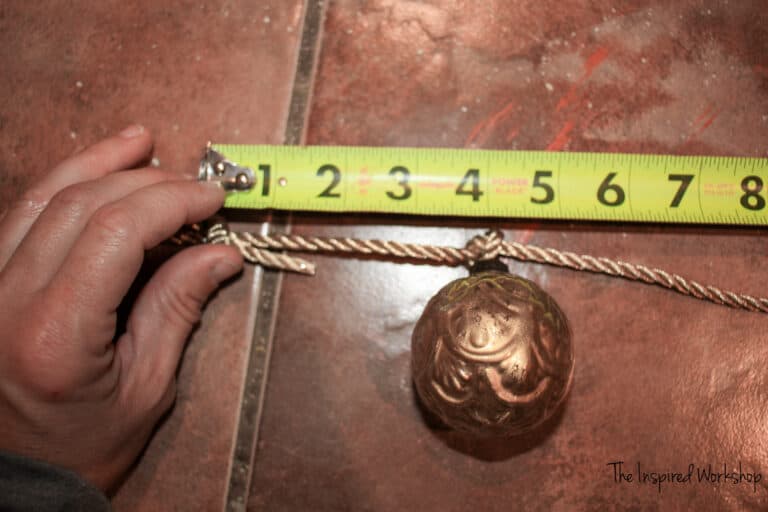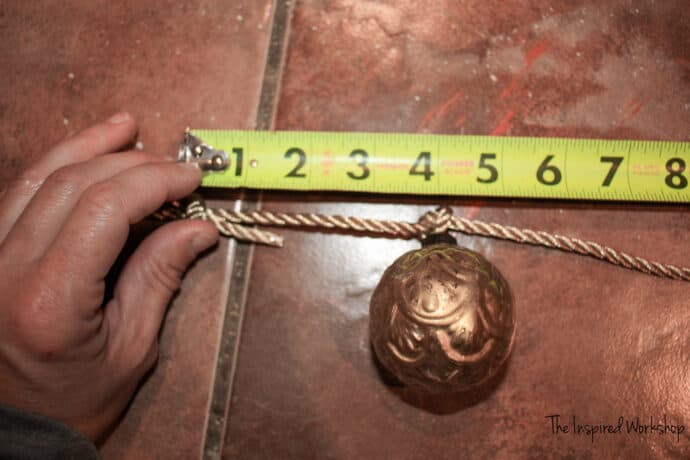 Add as many of the gold mercury glass ornaments as you would like to make your garland as long as you would like! Mine has 14 ornaments, I planned on more but ran out of ribbon! Lol!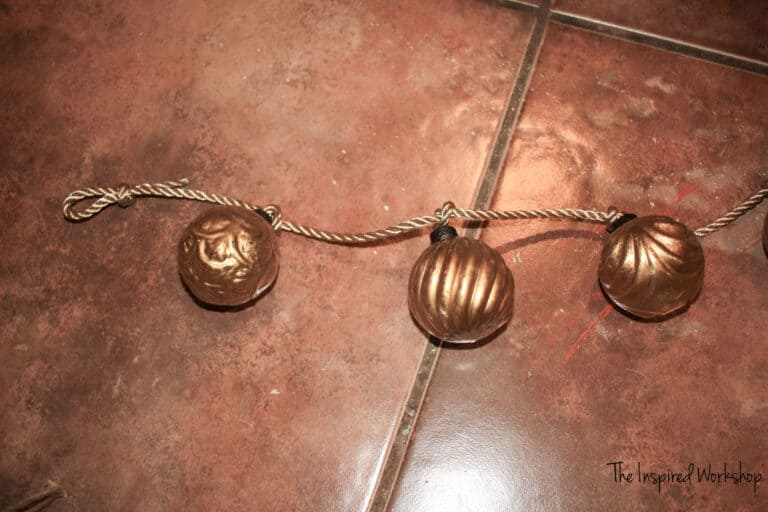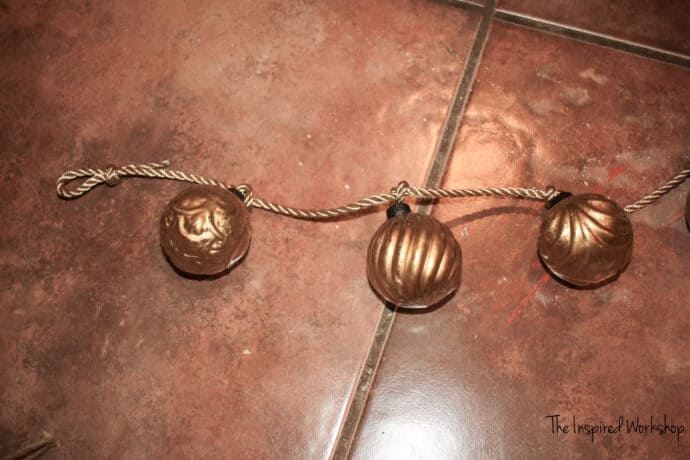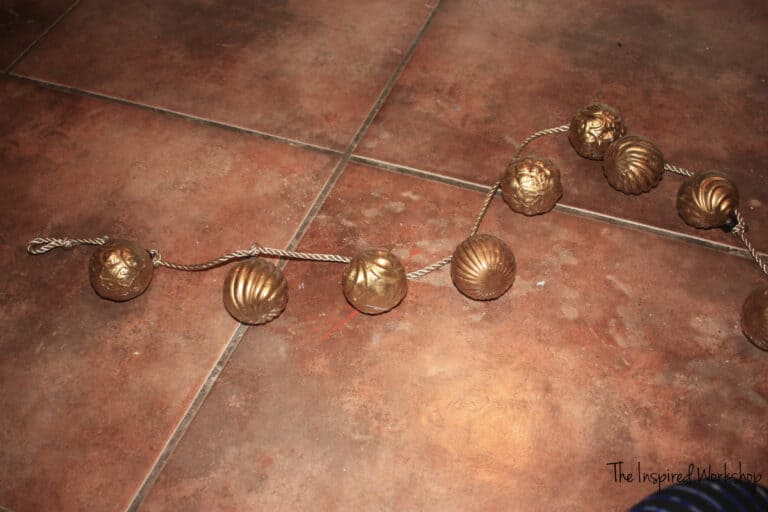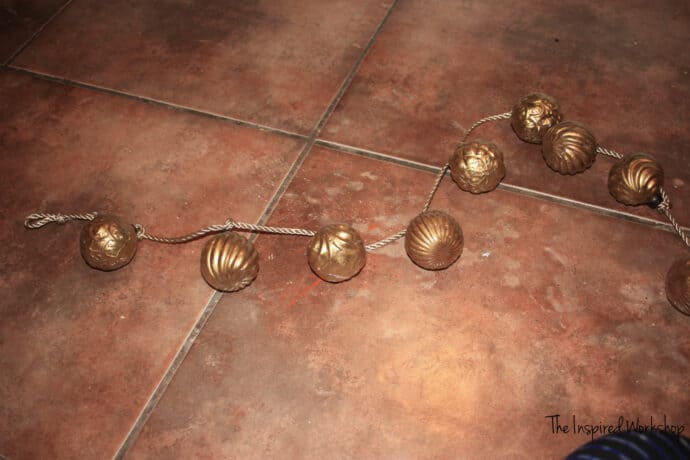 I think it adds just the perfect classy touch that my fireplace decor was looking for! I love the gold mercury glass ornaments so much!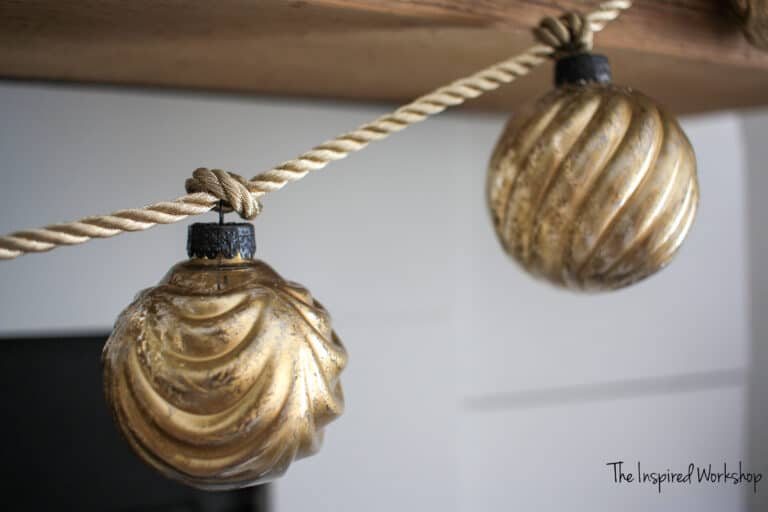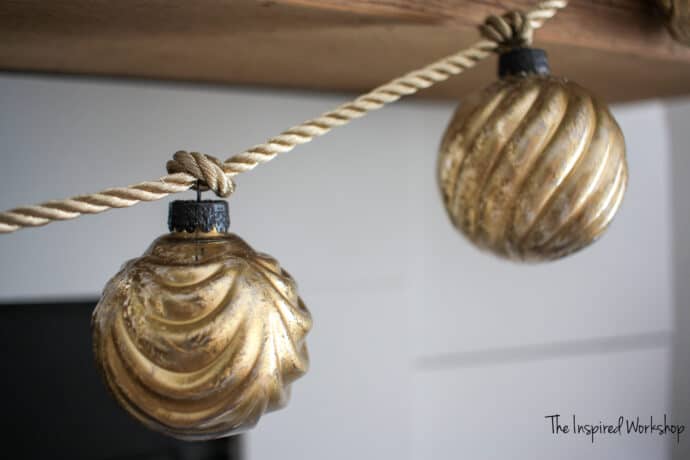 Are you going to try your hand at making some gold mercury glass ornaments? Or maybe some regular mercury glass ornaments? I'd love to see them if you do! I'm off to make some more beautiful holiday decorations that I can't wait to share with you all!
Happy holiday crafting!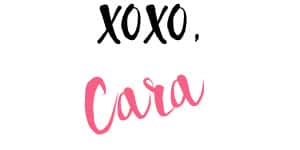 Want to save this awesome post for later? PIN IT!