X Base Outdoor Concrete Dining Table
This post is sponsored by Build Something and Kreg!
Hey there!! Long time, no post…AGAIN!! Lol!! Well, life seems to try and get in the way of my blog all. the. darn. time!! Every dang time I decide to get serious about blogging…life throws me a curve ball!! I'm hoping one of these days life hurts it's arm and can no longer pitch!! ???? But at least I am able to bring you some fantastic plans today for this amazing X base outdoor dining table complete with concrete top…and bench plans coming later today!! Yay!! You will be able to find the bench plans HERE!
I had to take pictures between the rain down pours, so the concrete is wet on one of the benches and the pics were taken literally in about five minutes, the weather refused to give me any more time than that!! ????But even with all the rain, they still look great!!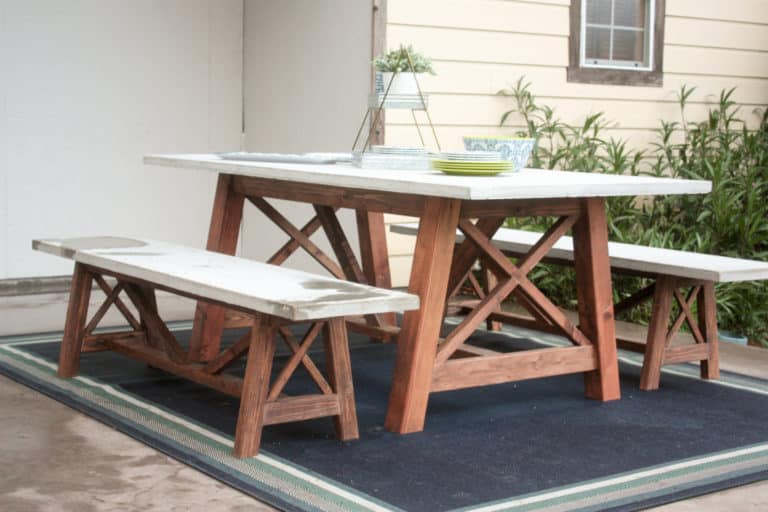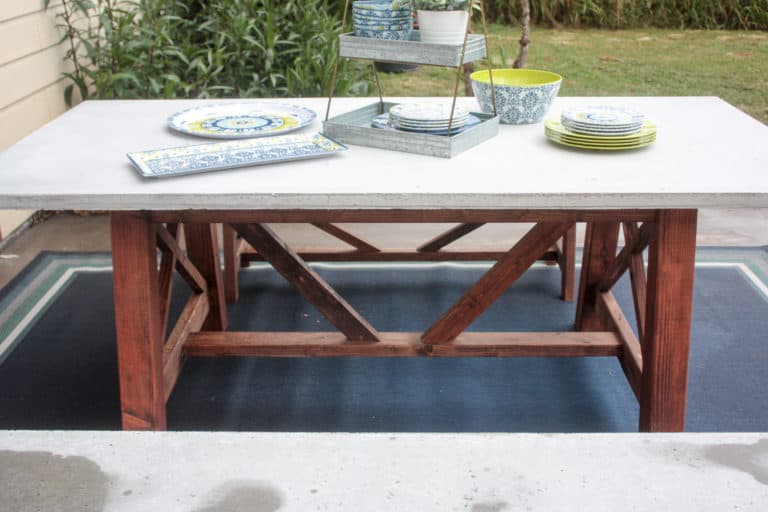 I am so excited for summer picnics and evening meals out here…And I am excited to have teamed up with Kreg and Build Something to bring you the FREE plans for this table!! Get the plans HERE! Build Something is Kreg's DIY website full of free plans for all kinds of builds!! You have to check out Wood Shop Diaries bench she just posted while you are over there…it's my favorite bench ever!!! Now I may have to build one!! Lol!!
This table was such an easy build, and the concrete top is just icing on the cake! This was the largest concrete project I have done to date and I had a sore back after mixing 9 bags of concrete by hand for the benches and table, but once I sat it all up on the back patio…it was soooo worth it!! ????
And I love the rug I picked up at Home Depot…it was only 89 bucks!! It's soaked with water and mud from the dogs, but I still couldn't be happier with it!!
Head on over and get the FREE plans at BUILDSOMETHING.COM now!! Have a wonderful first week of summer!!!
Lots of LOVE,
Cara