DIY Christmas Tree Crate Stand
Oh Christmas Tree, Oh Christmas Tree…I am so excited about this simple post on my DIY Christmas Tree Crate Stand!! I know it's a little late considering it is already the 14th of December, but… yes, I did JUST get my tree up last week!! Lol!! And even if your tree is already up, and you are using some other skirt of sorts, you can easily change it out… or pin this idea for next year! My tree was already up and decorated when I decided I wanted a crate instead of a skirt this year, and so I just built it around the base of my tree!!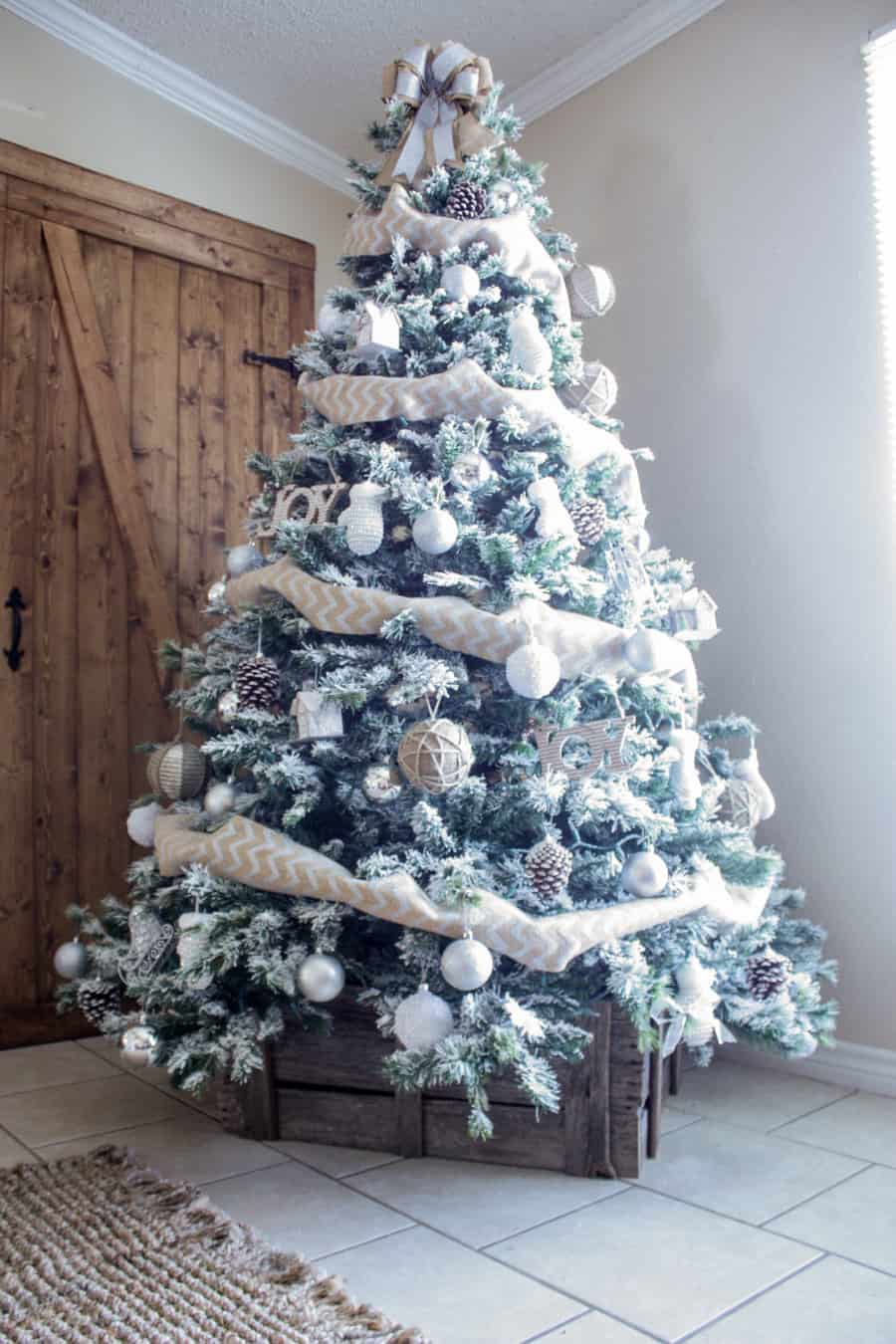 This only took me a few minutes of building because I wanted it as IMperfect as I could get!! Lol!! I wanted it OLD looking, and well used…and I think it turned out perfectly imperfect!!!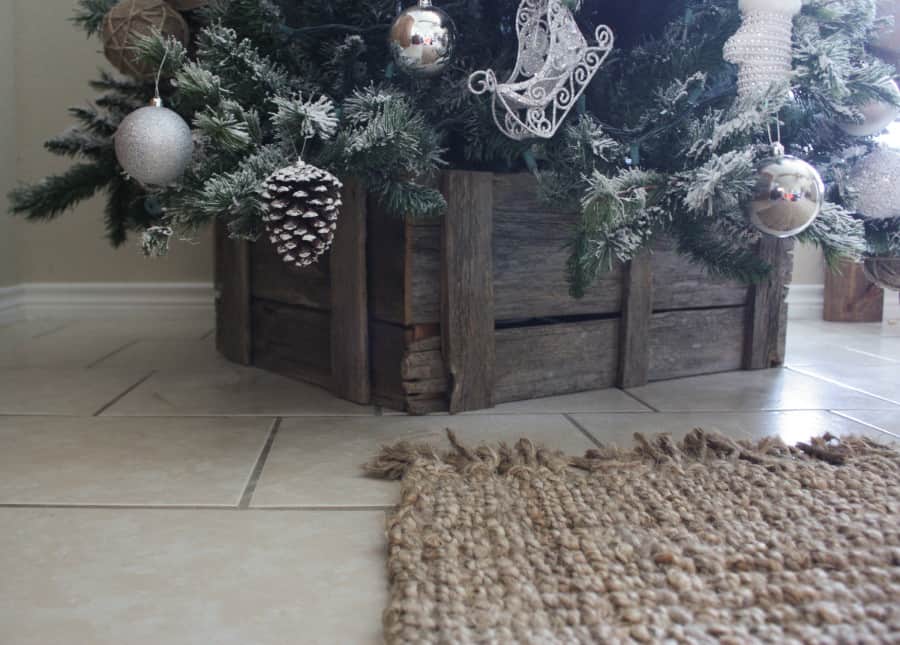 I was recently driving through town and there was a bunch of old fence wood laying out by the road…I, of course, swung around the block and ran up to the door of the home nearest the heap, and asked if they would mind me taking some of their trash wood!! Of course they were all, "Have at it you crazy lady!!" Haha!! Ok, they waited until I was gone to say the crazy lady part but you know they did once I had left!! Lol!!
So once I got my tree out of the garage and flocked it…because I decided this year I was LOVING all the flocked trees I was seeing on Instagram…but I couldn't justify spending all the money on a new tree when yeah, my tree isn't the BEST tree, but it sure wasn't worth retiring just yet either!! You can read about my flocking fun HERE if you would like…I flocked my tree and some wreaths (which aren't pictured here) and I had such a good time!! It only cost me $20 and my tree looks like a whole new tree!!
After all that flocking, I started decorating, all the while not being sure of what I wanted for my skirt!! Then as I was scrolling through my Intagram feed, I came across an adorable picture by @rusted_design and knew exactly what I would do with that fence wood I had picked up the other day!! She actually used an old wagon top but since I didn't have one of those just laying around, I could easily make one close enough that it would be just right!!
So, now that I have caught you up on all that I have done since November…Lol… we can build this!! Just a note: make sure and measure your tree stand because this just fits around the existing stand it won't actually hold the tree up and they are all sizes…mine was a triangular shape that measured 22″ each way! The measurements of my crate are 30″ L x ~24″ W x 11 1/4″ H
Materials:
Broken up old fencing…or 4 new cedar fence pickets and some scrap wood pieces for the outside or if you don't have scrap wood, go ahead and pick up 5 cedar fence pickets
brad nailer and 1″ brad nails
wood glue
scrap wood of 2x any size
Cut List:
4 – fence pickets cut @ 30″
4 – fence pickets cut @ 23″
10 scrap pieces cut @ 11 1/4″
4 other scrap pieces cut of 2x @ 11″
Now I am not going to be super detailed here because the pictures are pretty self explanatory, and it's your basic crate, nothing fancy!
One thing worth mentioning, when you look at my pictures you will see two different size boards, the top being larger than the bottom, the fence boards I used were larger than standard cedar pickets, they were more like a 1×8 and then a ton of them were broken into almost a 1×4…if you like this look you can always buy the wood accordingly, just be aware that 1x8s in cedar are pretty expensive compared to fence pickets…and free off the side of the road is even better!! Lol!!
If you are using old wood, you will definitely want to scrub it down first to make sure you don't bring any type of creepy crawlers into your house!! Here are my boards sitting out to dry after being washed!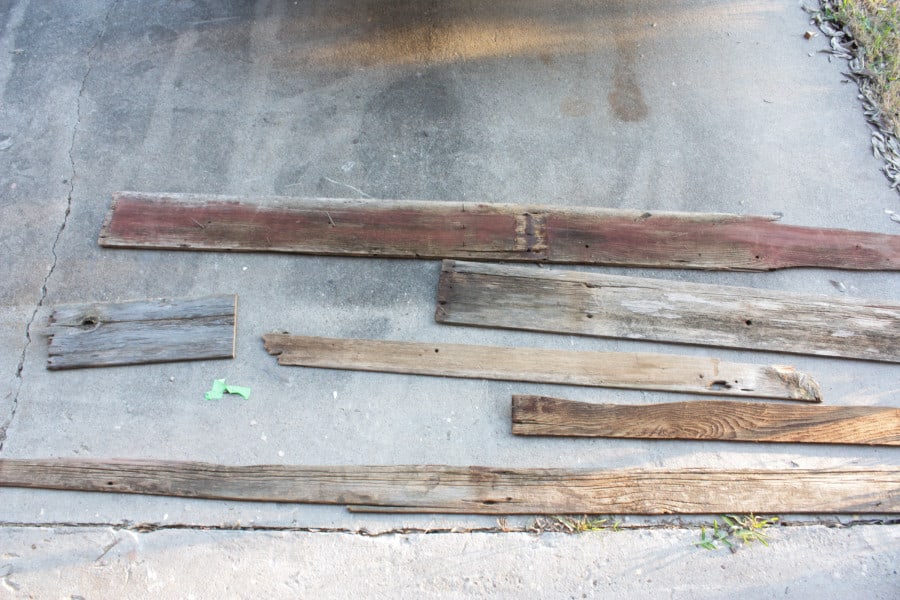 Isn't it beautiful!! All old and worn…used and torn up!! Makes my heart go pitter patter!
I cut 2 pieces to 30″ leaving the really worn end on the board.
I used broken pieces that were smaller in size to attach the two pieces together! I just used wood glue and brad nails…I used 1 1/4″ brad nails but most of them went all the way through so I put 1″ brad nails on the materials list!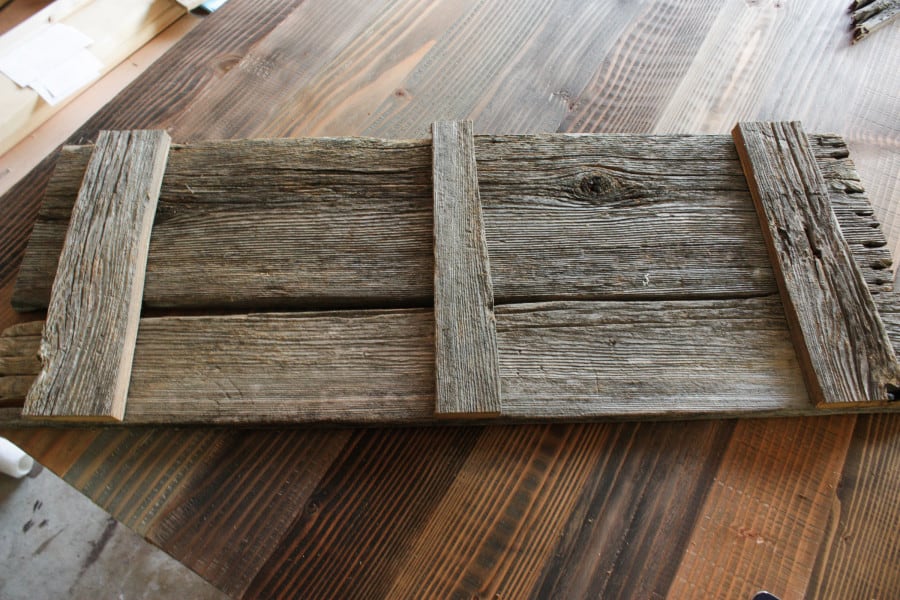 It's looking so cute already!!
Then repeat this step to make a second side that is 30″! And you pretty much just repeat this two more times, but cut your pieces to 23″ instead of 30″ to make your two smaller sides!
Here is where we use the 4 extra scrap pieces of wood…mine is scrap 2×3 in pine and maybe 2×2 in cedar…I am not even sure of the size to be honest…and it doesn't really matter!! Just cut them and glue them to the inside this time…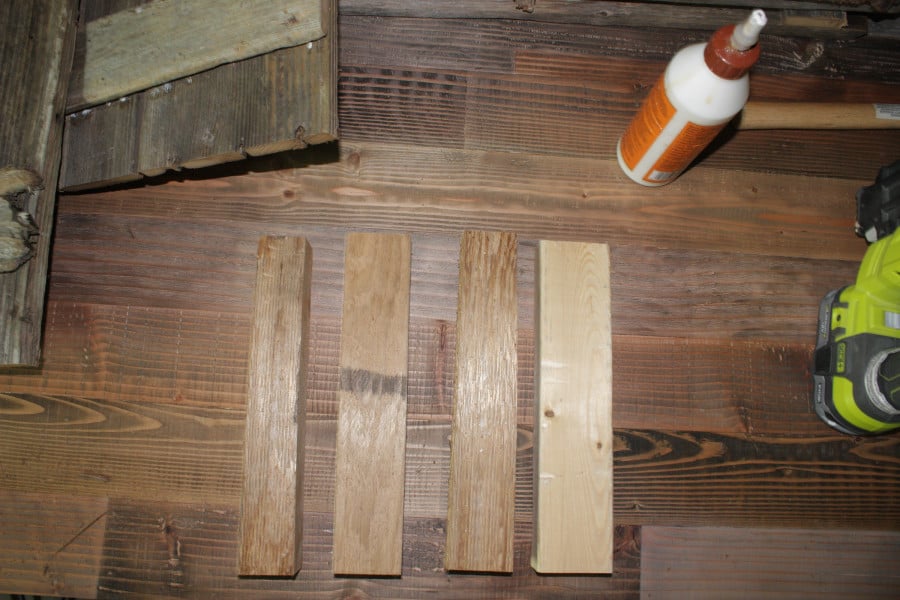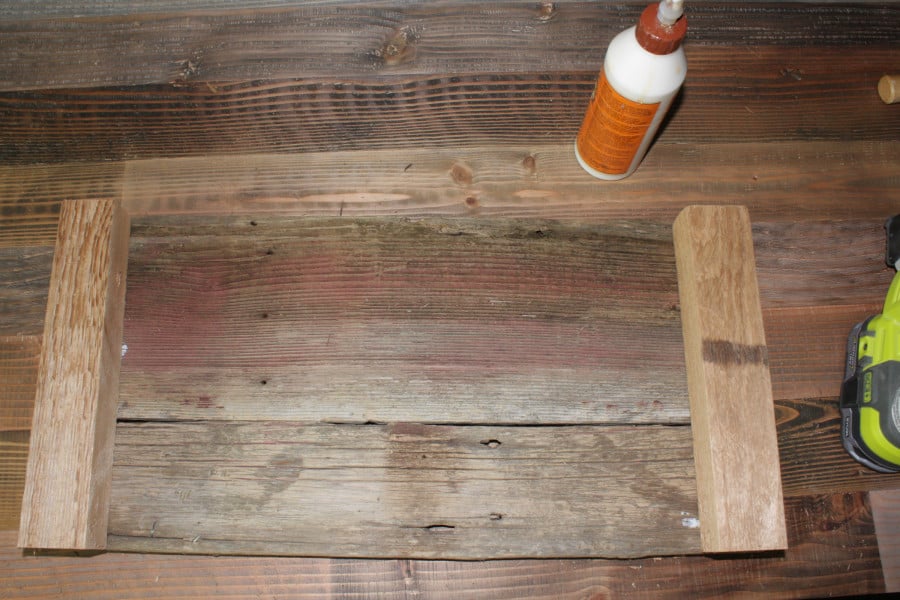 I flipped this over and stapled them from the front so I wouldn't have to change brad nails!
I took all the pieces inside to staple them around the bottom of my tree and I was so excited I didn't take pictures of this step, but just line up the 30″ sides to cover up your scrap pieces on the inside and glue and staple!! Before you know it, you have a beautiful crate around the bottom of your tree!! Woohoo!!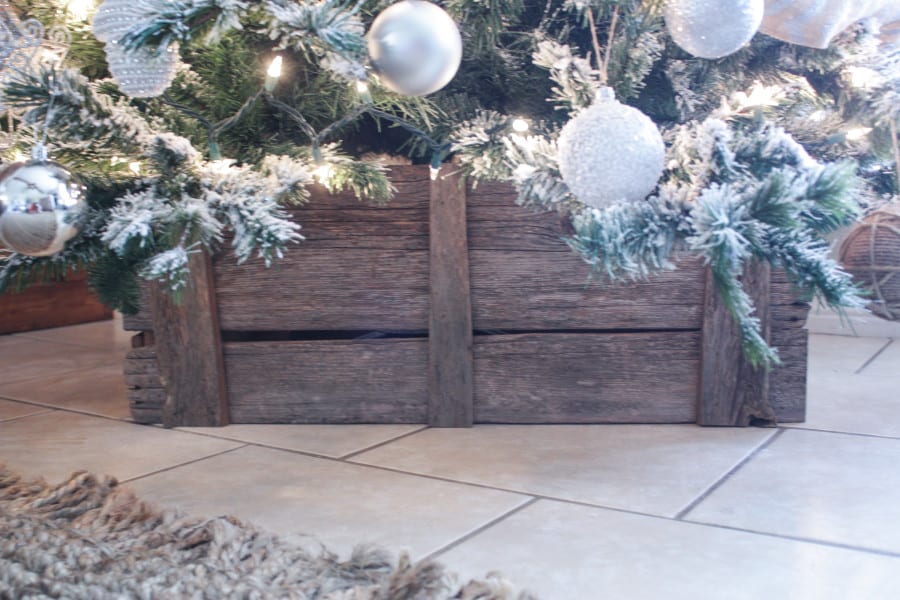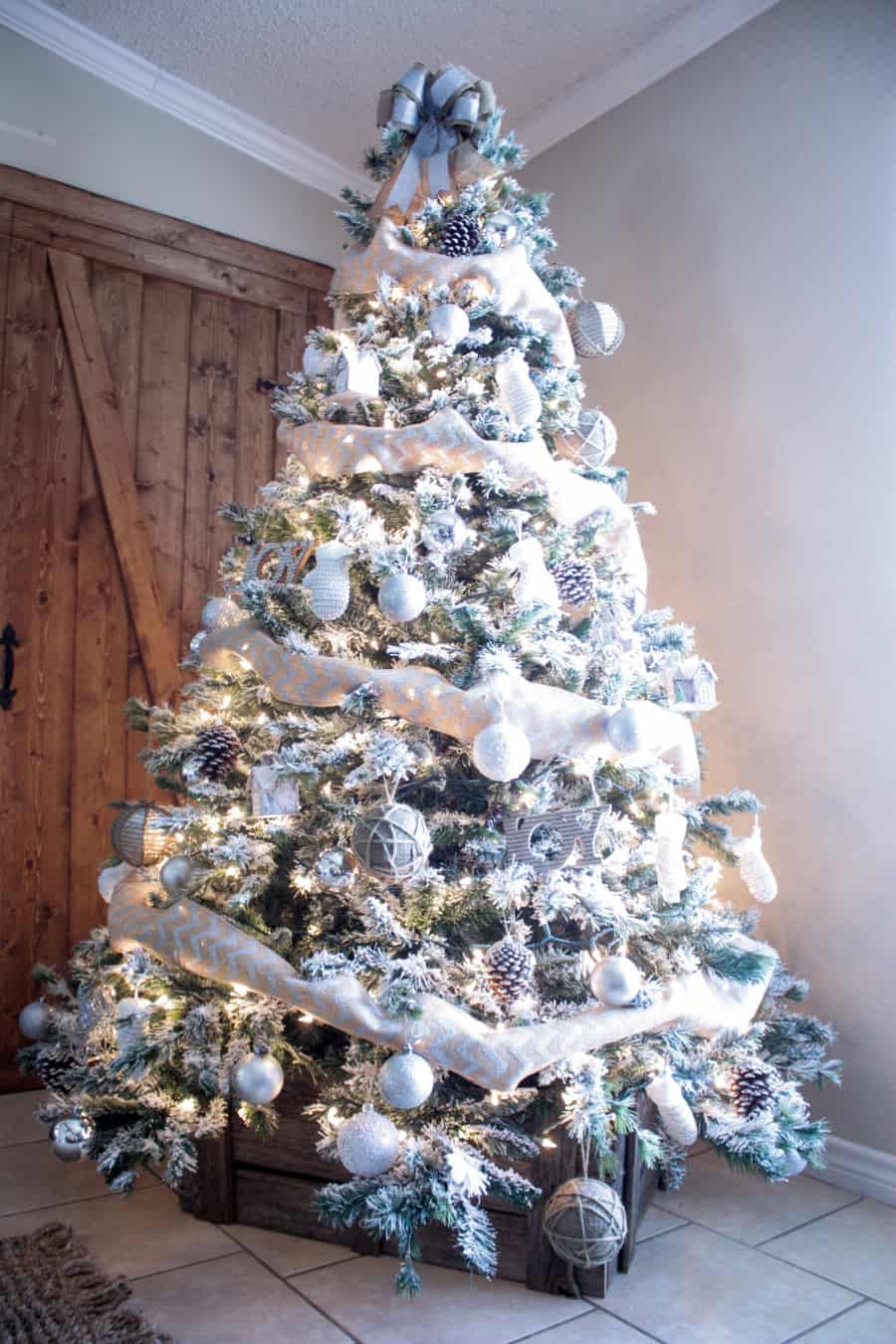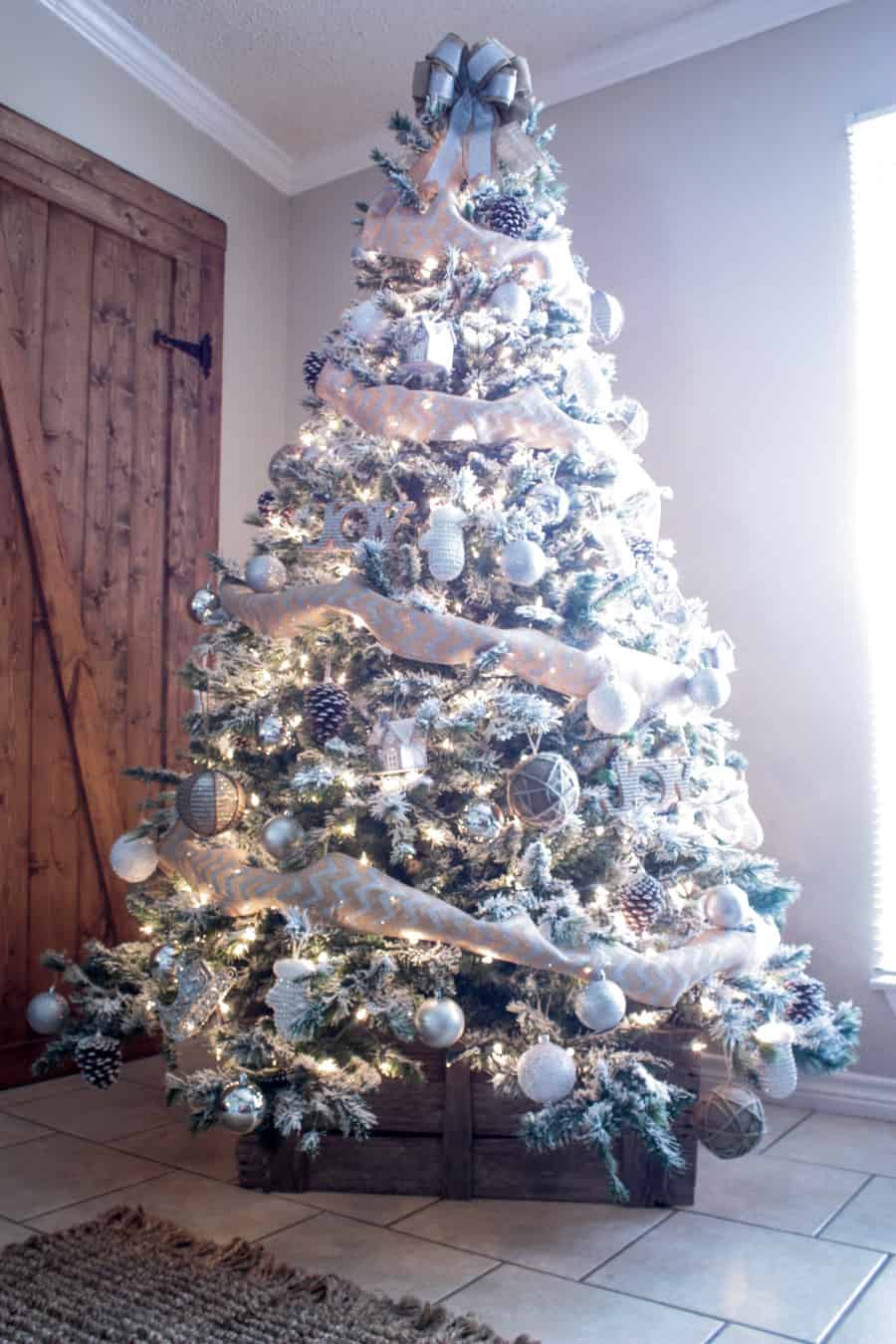 All lit up and ready to host some present!! I better get wrapping!!
If you have any questions or comments about building your own DIY Christmas Tree Crate Stand, feel free to spout off down below!! I would love to see your versions if you make one!!
Hope your Holidays are Merry and Bright!!
Lots of Love,
Cara
Are you following me on Instagram and Pinterest to keep up with my latest projects?
Want to save this post for later? Pin it now so you'll easily be able to find it when you need it!