Hey there!! It has been so cold and nasty here the last few days that I have been sheltering myself inside! Lol!! So that means I was itching to get out into the workshop, but not to start on a big project, I just wanted something quick and fun, a wooden craft perhaps!! I had seen this adorable wood deer decor at Pottery Barn Kids a while back and had it in the back of my mind for something I knew would be super easy to knockoff, and of course super cheap!! So, when I had a few minutes to go out in the shop, I knew this DIY Wood Deer Decor was exactly the project I was going to tackle!!!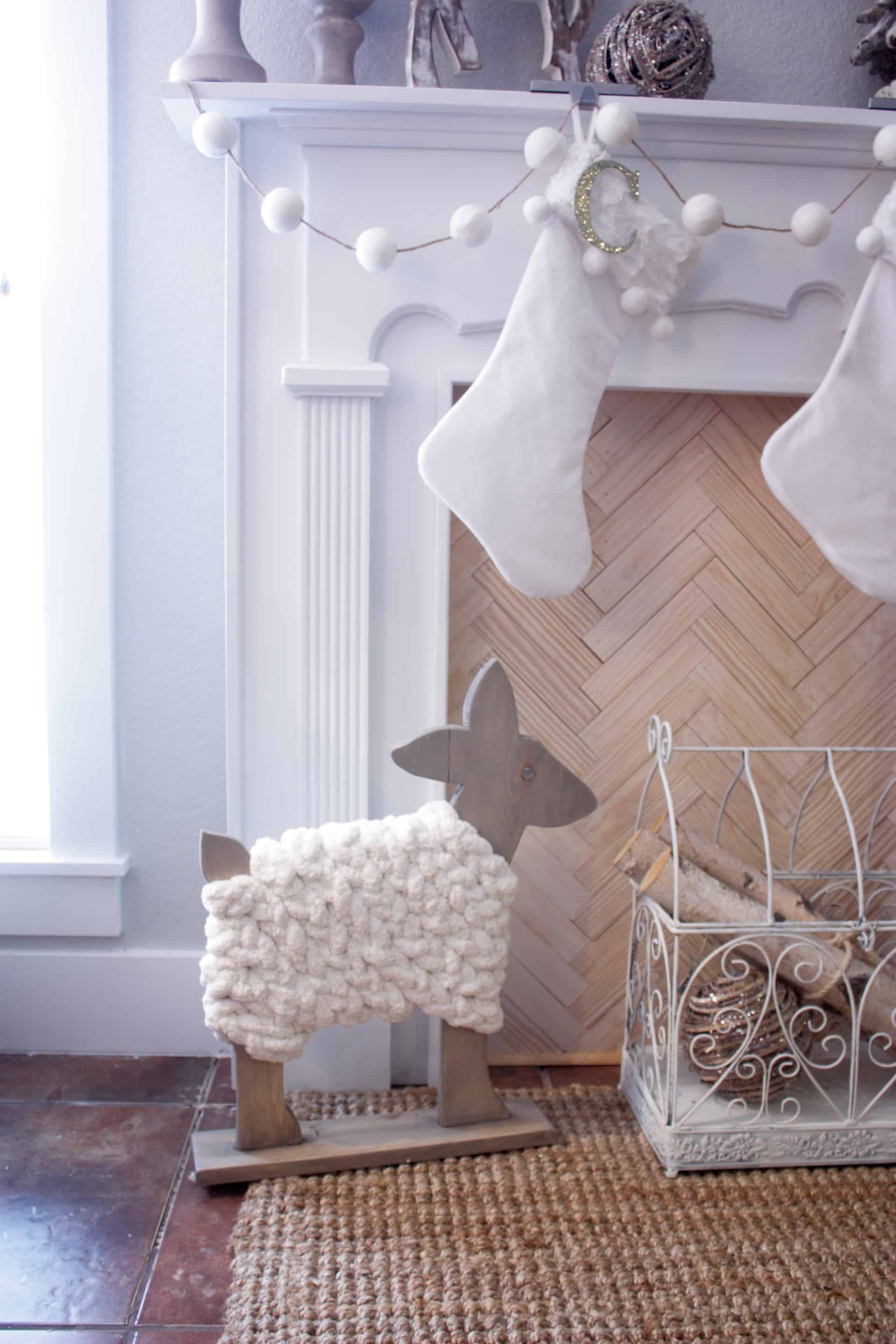 I was so excited by how it turned out!!! It is so cute, and I only paid $3.77 for the yarn…the wood was scraps I had laying around, and the stain I already had as well!! PBK was charging $89.00 for this size deer!!! (It has since gone on sale and now is pretty reasonable at $34.00) When I first saw it, I thought who would pay that? They are cute, but not that cute!! Lol!! Update: they no longer sell it so you will need to make one! Lol!
So if you would like the cut pattern for the winter deer and a little tutorial I am providing it below!! This is a cute project that my little ones helped with, and I love that it's just wintry so I can leave it up after Christmas!!
DIY Wood Deer Decor
Materials needed to make wooden deer:
Materials List:
-Scrap wood pieces equaling 22″ tall and 16″ wide (I used a 1×8 @ 22″, a 1×8 @ 16″, and a 1×4 @ 14″)
-Scrap piece of 1×4 @ 16″ for the base of the deer
-Thick yarn
-Hot glue gun and glue
-Kreg Jig
-Jigsaw
-wood glue
-few screws or brad nails
–Deer Sketch (you can just sketch your own onto the wood and it will probably turn out better than mine!! Lol!! I hand sketched it onto the wood and then traced my wood cutout to make a stencil for you all, so it isn't perfect!! Ha!! click the word Deer Sketch above to download your printable sketch and just put it together like a puzzle)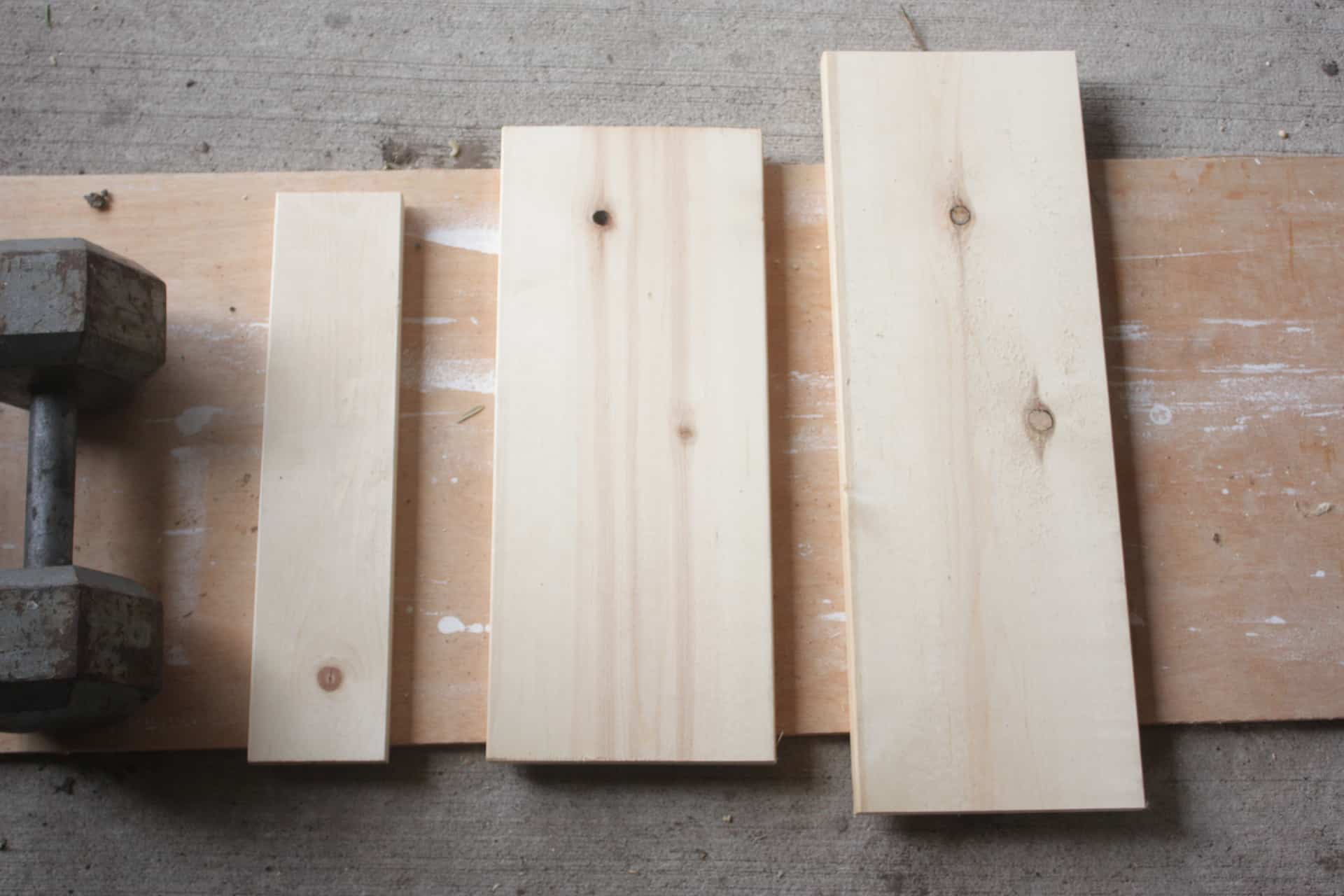 To start off, I just placed my scraps out to where I could sketch the deer onto them and pocket holed them together! I would advise setting them as you will pocket hole them and lightly sketch the deer BEFORE drilling pocket holes, as I had a pocket hole that was above the yarn and wasn't able to have a screw in it, and looks a little funny!!
Next using wood glue, pocket hole them together, and use a jigsaw to cut the deer shape out of wood!! Isn't it funny how that knothole ended up right where his eye would be!! Lol!! I didn't even try to make that happen!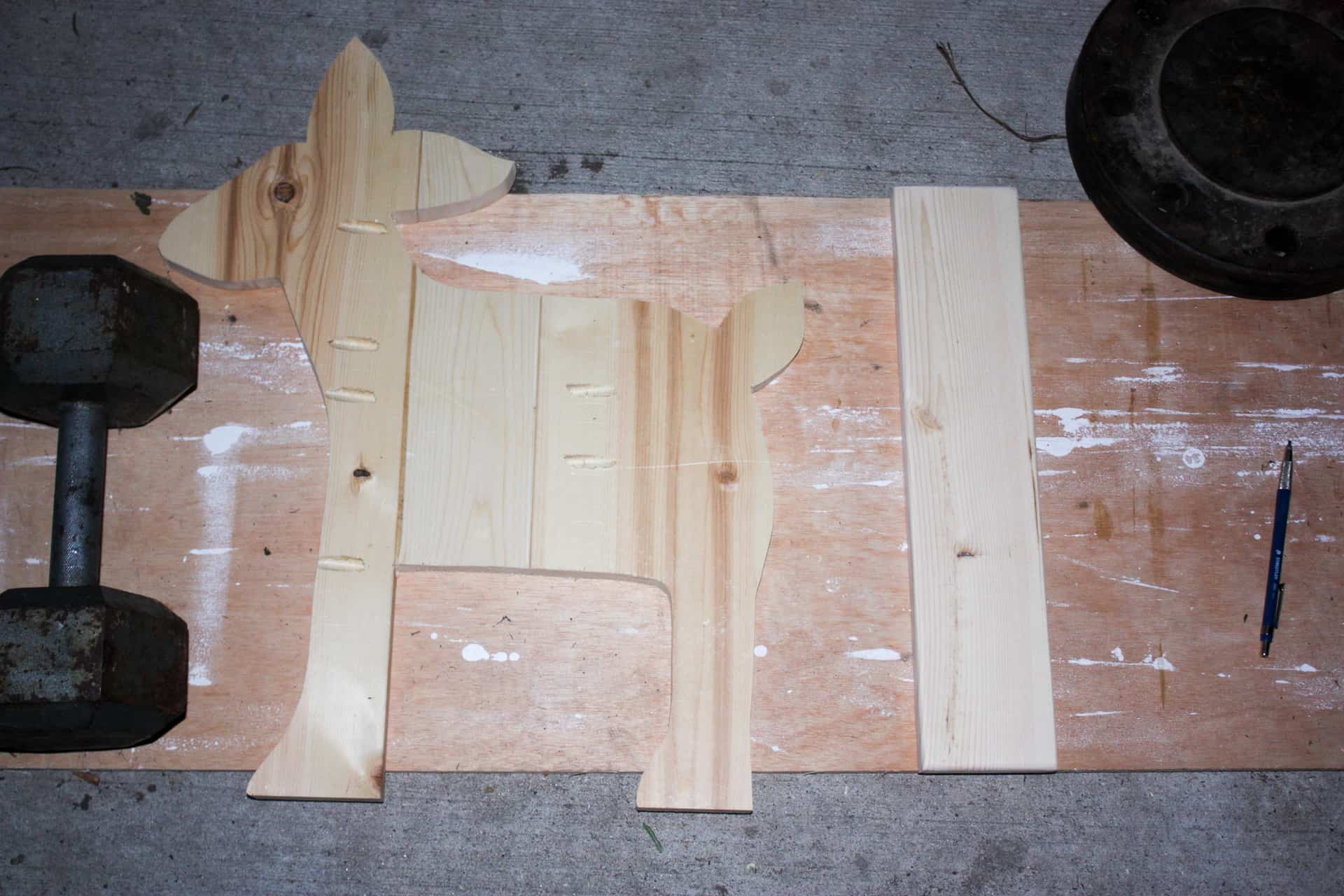 Last, brad nail or screw the feet into the scrap 1×4 @ 16″, sand it all down, and then stain it before wrapping it with yarn!! I used Rust-oleum Sunbleached first and then a little Minwax Jacobean over it…I wish I would have done something a little lighter but, you know shoulda, coulda, woulda…but didn't!😅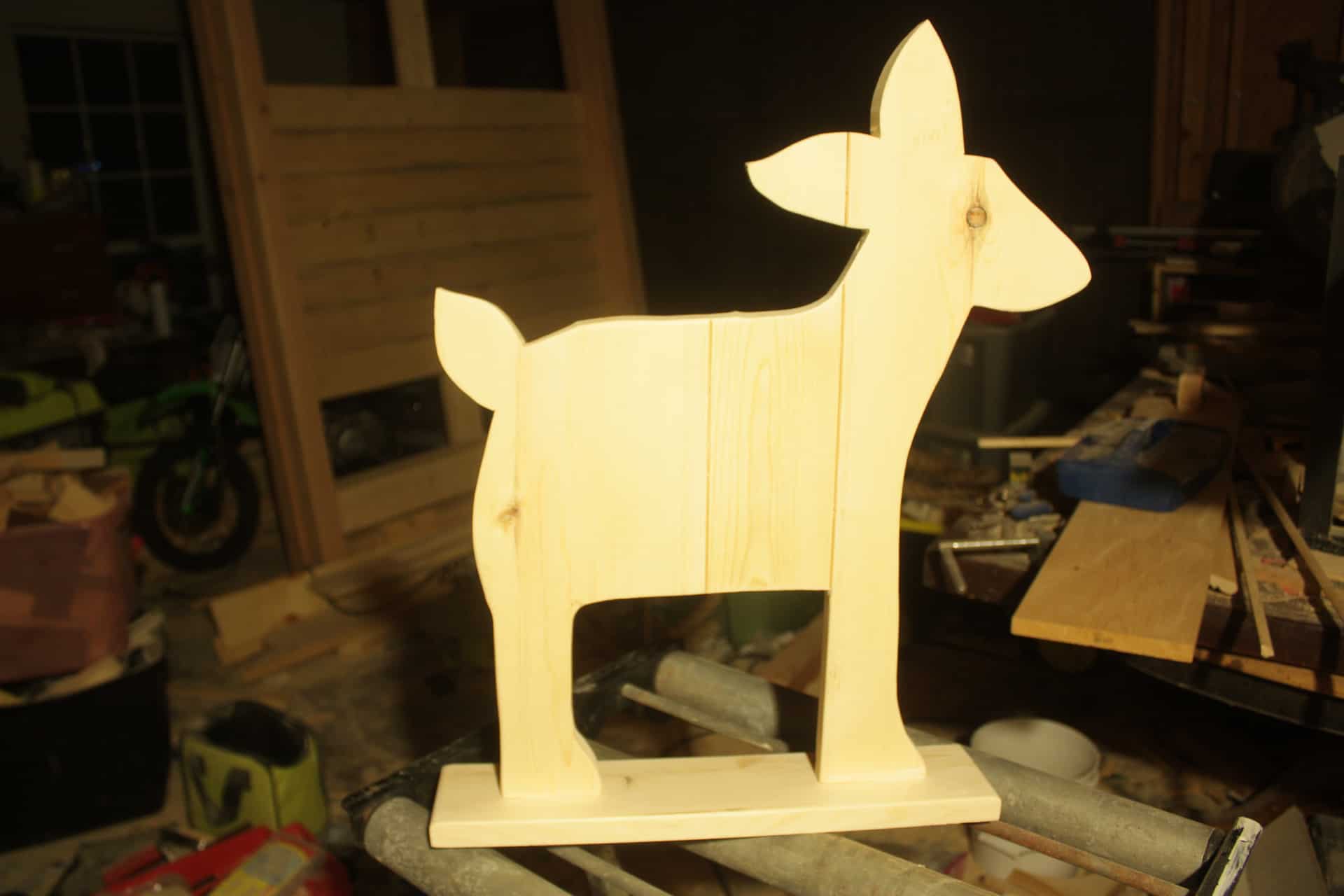 Wrapping the Wooden Deer with Yarn
The yarn I found at Hobby Lobby and although I wanted more of the true wool look, it was sold out everywhere!! So it may be available near you, but I ended up liking this yarn I used!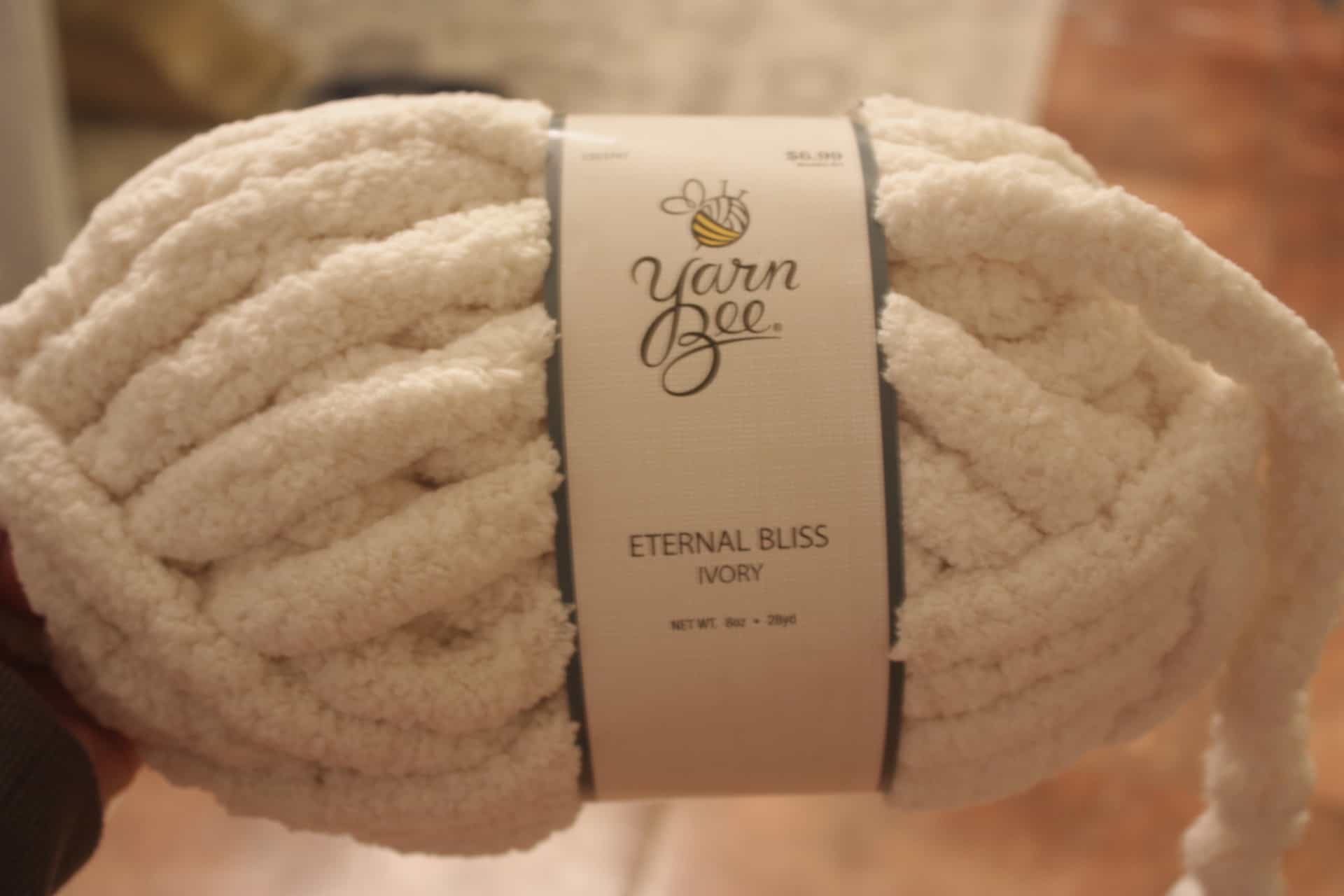 I cut three really long strands of this yarn and hot glued them at the start and braided as I went! This was the longest part of the project, which can be done inside the comforts of your warm home!!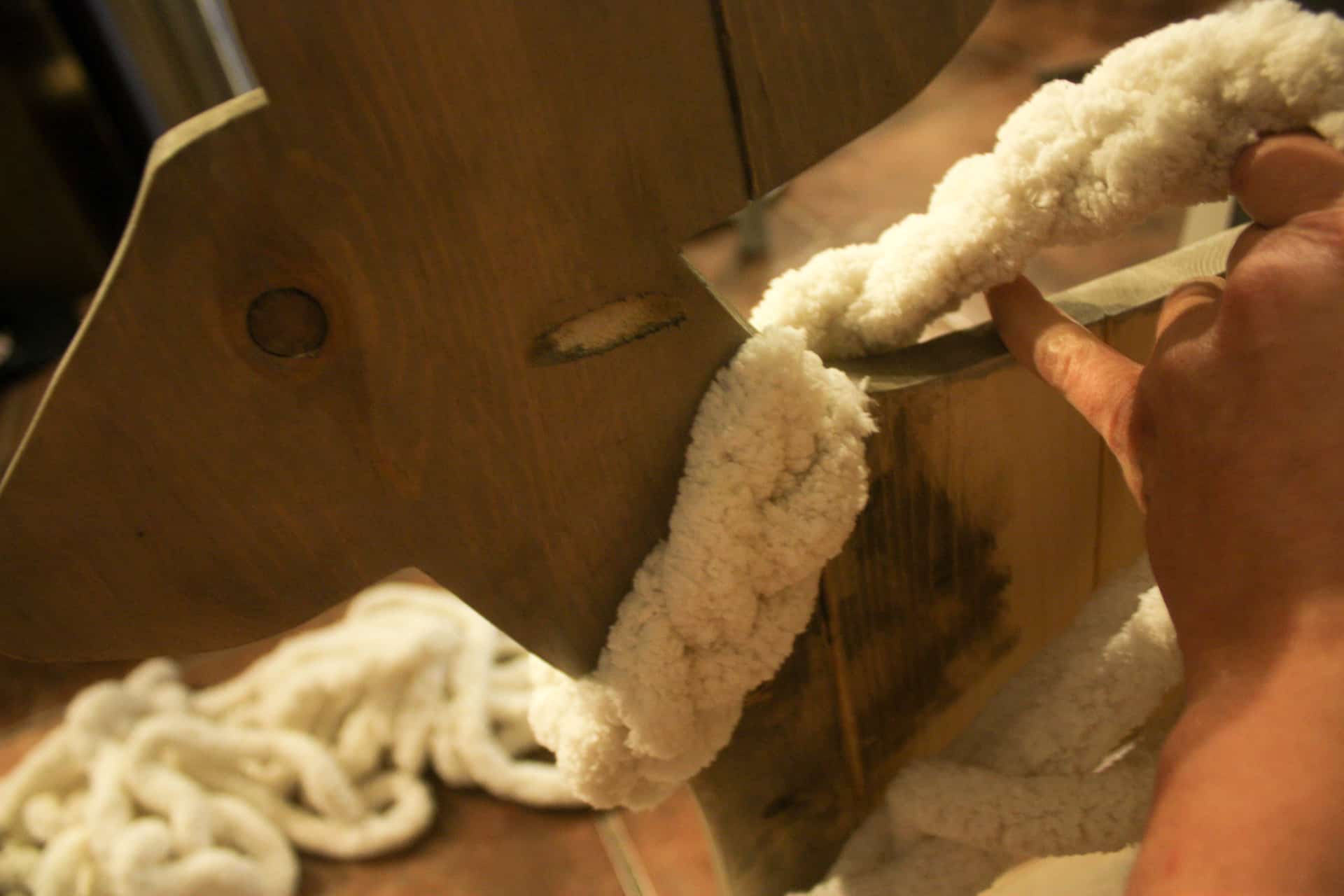 Just keep braiding and wrapping and hot gluing until you get the end of the deer!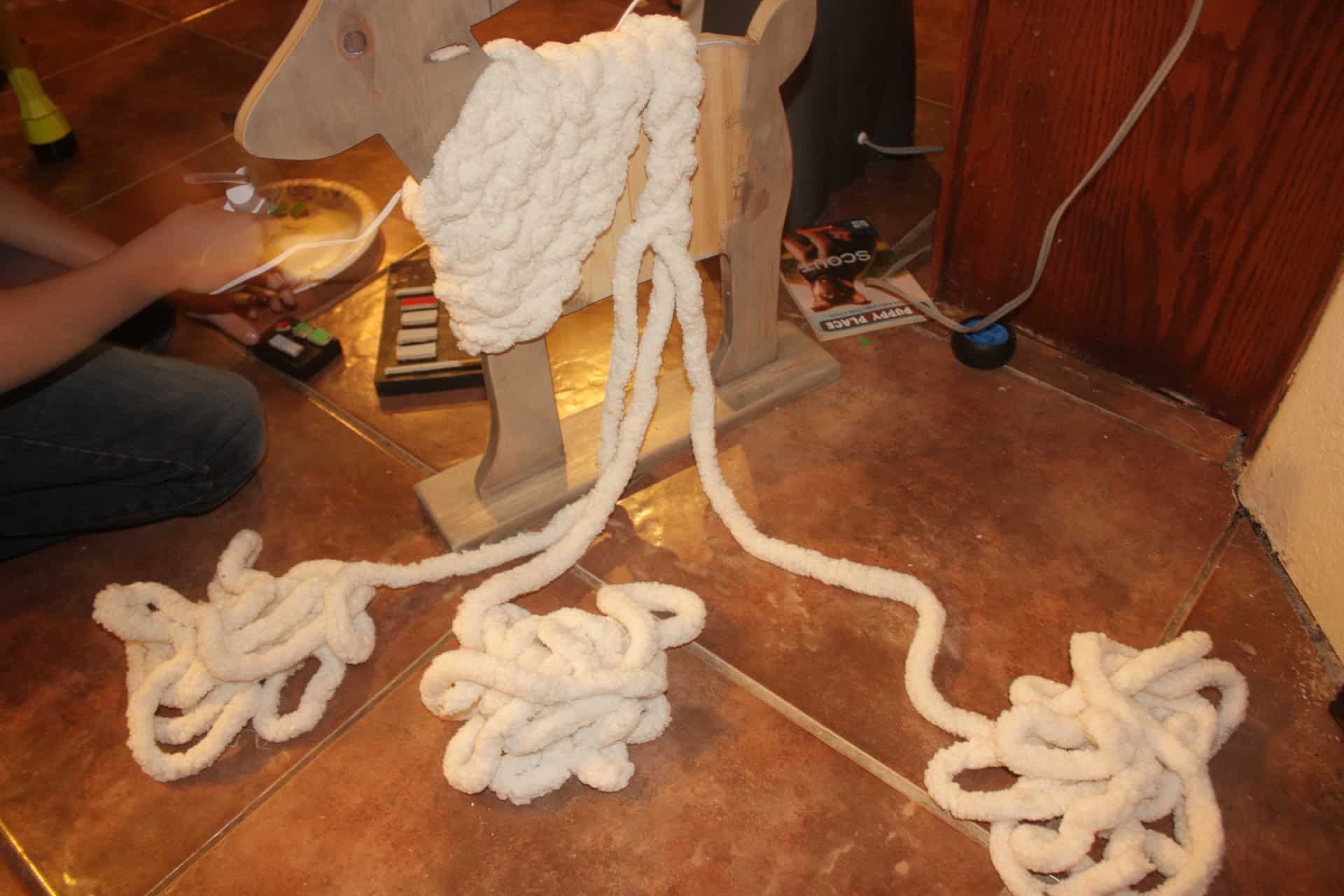 My son gave up on helping me with the deer at this point and started DIYing his own Darth Vader costume!! Hahaha!! He cut all the little pieces on the scroll saw himself and his control panel or whatever that is called turned out really cute!!! Anyway, now you can stand back and marvel at how cute your little fella is!!
Such a quick and easy build!!! I hope you enjoy whipping up a wooden deer sometime, maybe as a holiday project to do together with the kids while they are out of school!!
Looking for more Christmas or Holiday crafts? Here are a few of my favorites!
DIY Christmas Gnome Pillow Cover
Happy Building and Merry Christmas,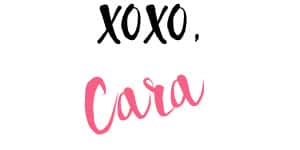 Want to save this cute little DIY Wood Deer Decor for later? PIN IT!