DIY Gift Box Christmas Ornaments
These DIY Christmas ornaments made to look like miniature Christmas gifts are adorable, practically free, and turned out so cute! Using scrap wood, a little scrap fabric, some ribbon, and you will have the most coveted Christmas ornaments on your tree this year!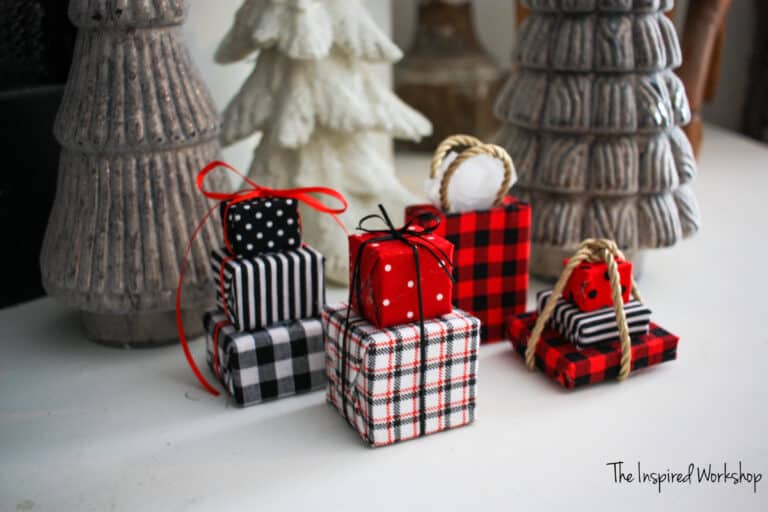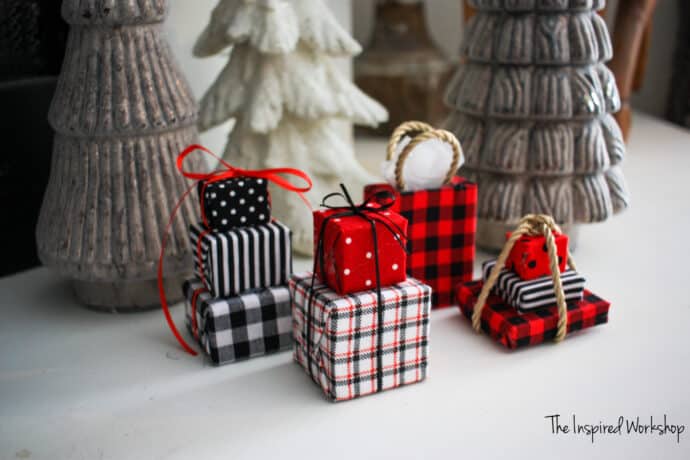 Turning junk scrap wood pieces into adorable Christmas ornaments is pretty darn satisfying! Plus they are the EASIEST craft you will complete this season! Lol! I keep saying this about every craft I have done so far this holiday season! But seriously, making the mercury glass ornaments was super easy and so is wrapping some wood in fabric! If you can wrap a gift, you can make these ornaments!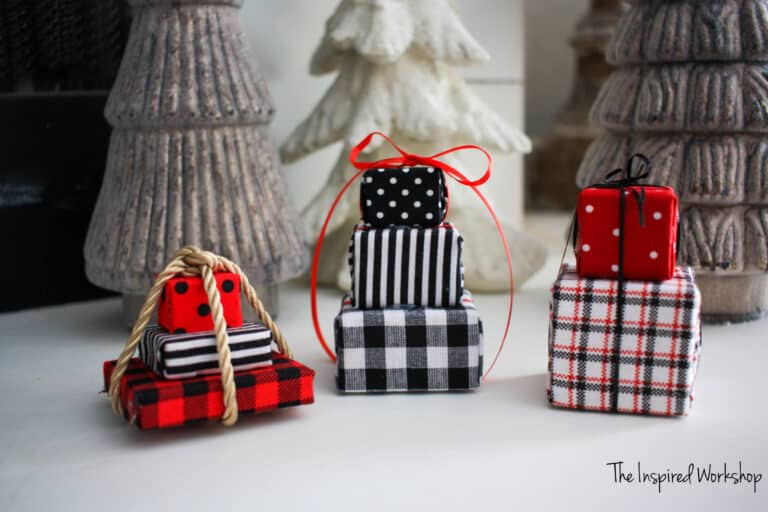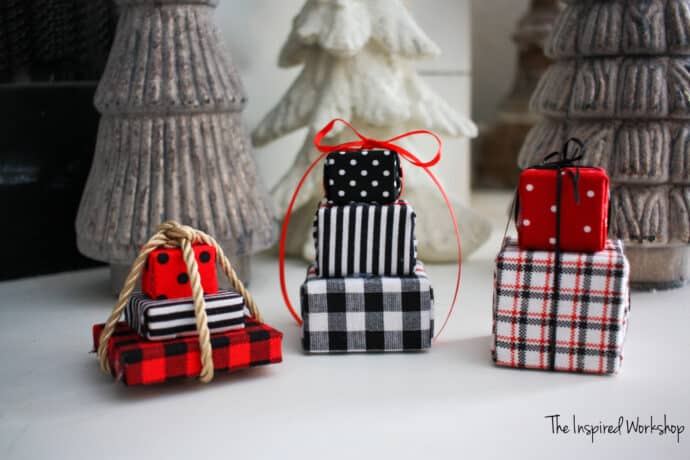 This gift bag ornament is my absolute favorite!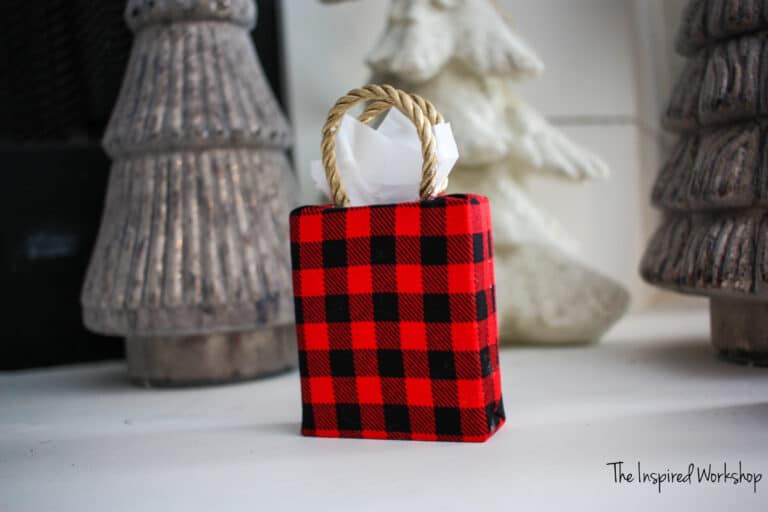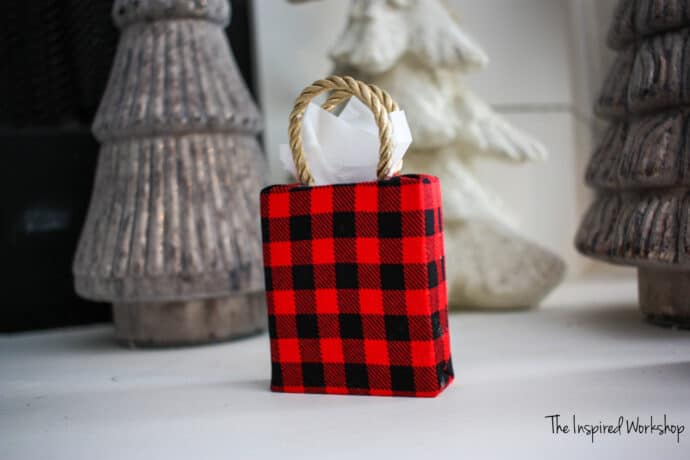 I mean can you believe that is a couple of pieces of 1/4″ plywood and some scrap cut-offs of fence pickets from my dog bed I built recently! LOL! Wrapped in the fabric you would never know it! 😉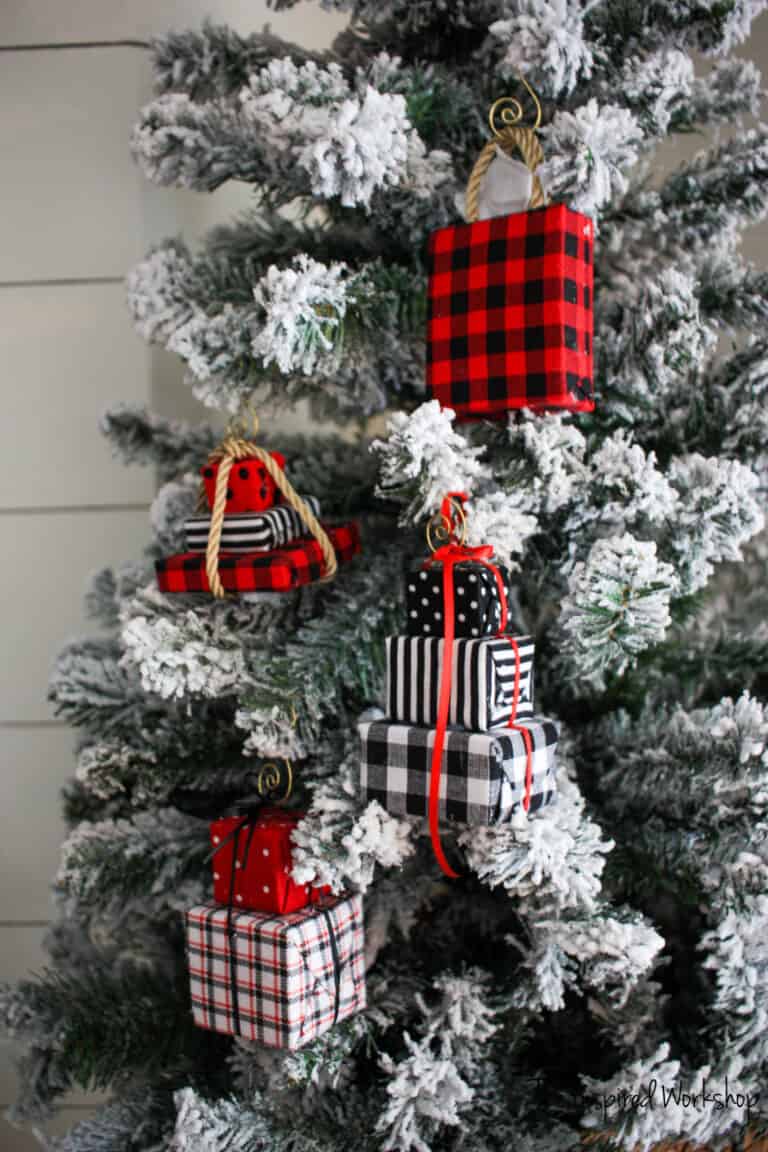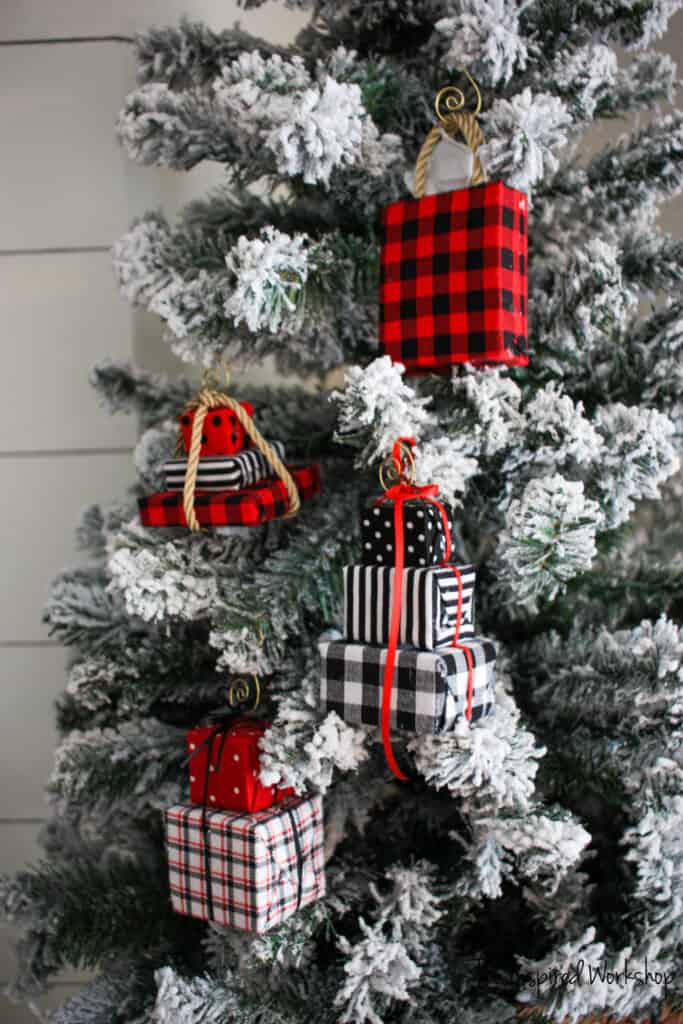 Gathering supplies for the DIY Gift Box Christmas Ornaments
Materials Needed to Make DIY Christmas Ornaments:
Scrap wood pieces 2″x2″x2″ and smaller
fabric with small print on it – I got mine at Walmart and Hobby Lobby but of course they are sold out and I can't find them online so I linked some fabric squares on Amazon! You do not need much fabirc for each ornament!
small ornament hooks (or you can use ribbon)
Cut List for Scrap Wood for Ornaments:
Gift Bag Ornament

2 – 1/4″ plywood @ 2 3/4″ x 3 1/4″
2 – 1/2″ x 1/2″ x 3 1/4″
1 – 1/2″ x 1 3/4″ x 2 3/4″

2 stack ornament (red polka dot and red and black plaid)

2″x2″x2″
1 1/2″ x 1 1/2″ x 1 1/2″

3 stack tall ornament (black and white)

1 1/2″ x 2 1/2″ x 2 1/4″
1 1/2″ x 1 3/4″ x 1 1/2″
1″ x 1 1/4″ x 1″

3 stack flat ornament (red and black with gold rope ribbon)

1/2″ x 2 3/4″ x 2 1/2″
1/2″ x 1 3/4″ x 1 1/2″
1″ x 1″ x 1″
Making the DIY Gift Box Christmas Ornaments
Take your scrap pieces of wood, and cut them to the sizes you want, the sizes I used are listed on the cut list, but you are can adjust them to your liking if you wish!
If you have ever wrapped a gift, you are already an experienced DIYer on this one! Lol! Cut your fabric as you would wrapping paper!
If you can see through the mess and look way down to the bottom of the photo, where my hand is, I am gluing the fabric around the 2×2 piece of wood!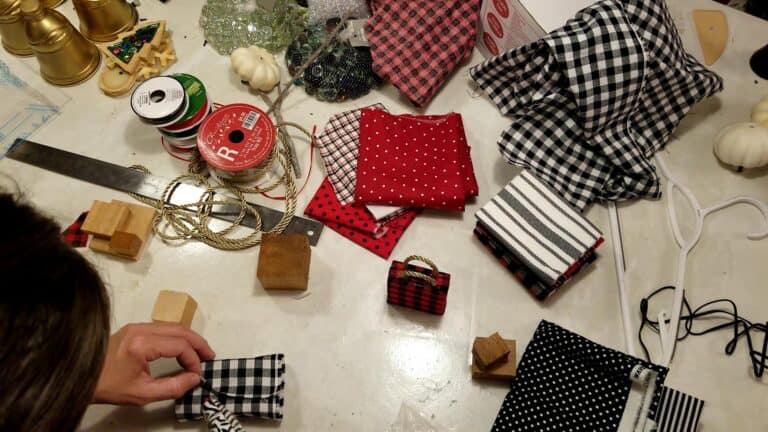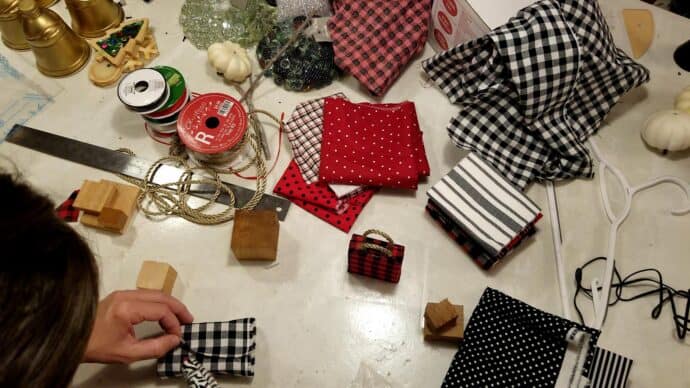 Hot glue them instead of taping as you would a gift!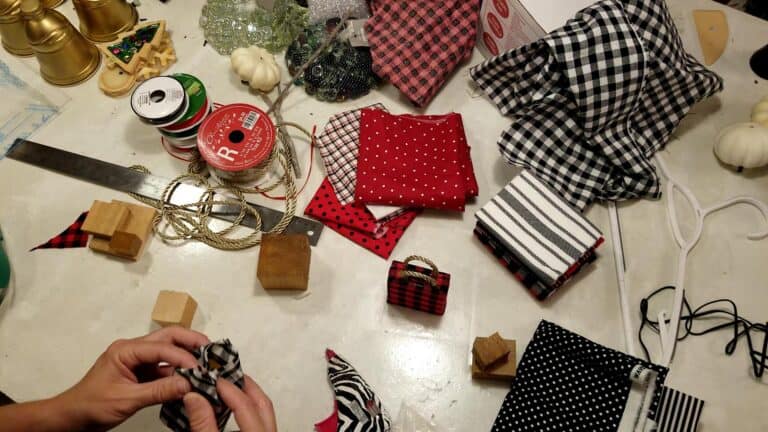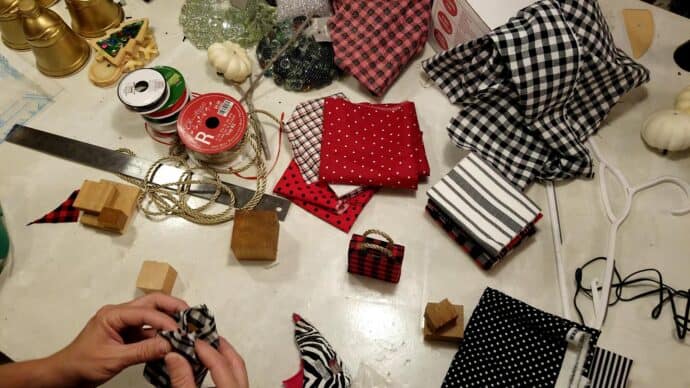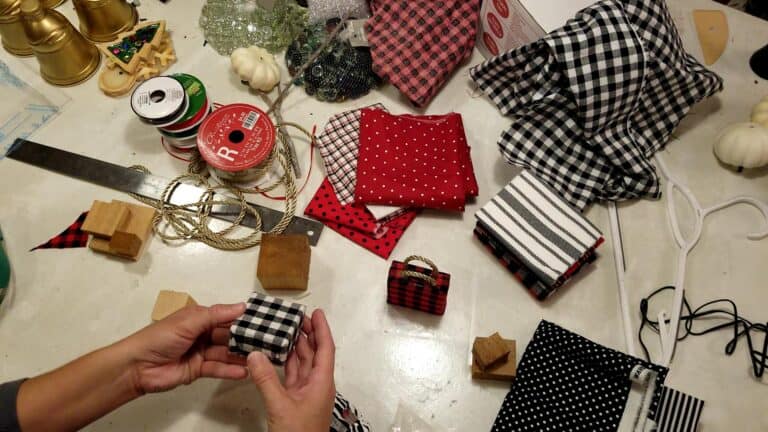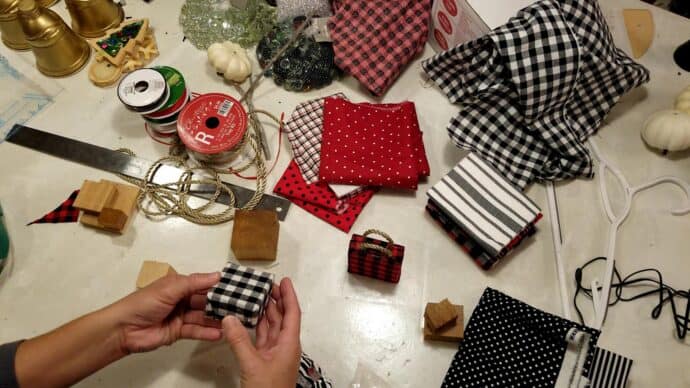 After wrapping as many as you want in a stack, then just stack them on top of each other largest to smallest! You can hot glue in between the packages to make them stay together better! Add a ribbon to help them stay stacked and look really cute! 😏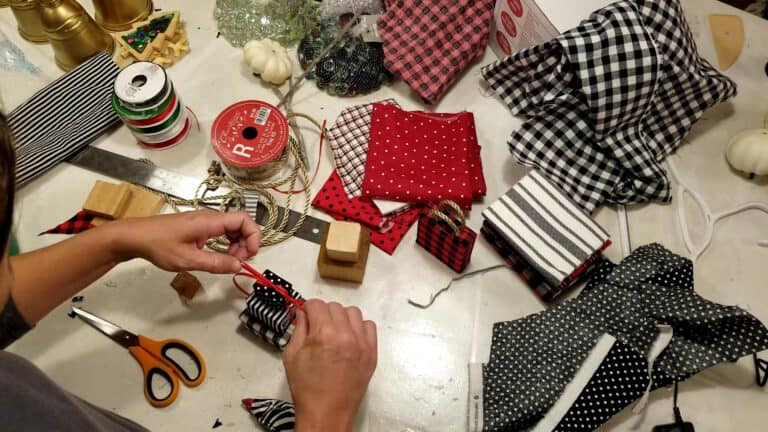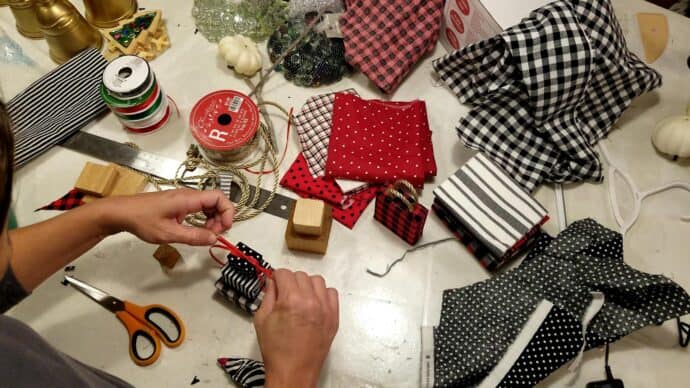 There's one done, just add a hook or tie a loop in the ribbon to hang the stacked gift boxes on the Christmas tree!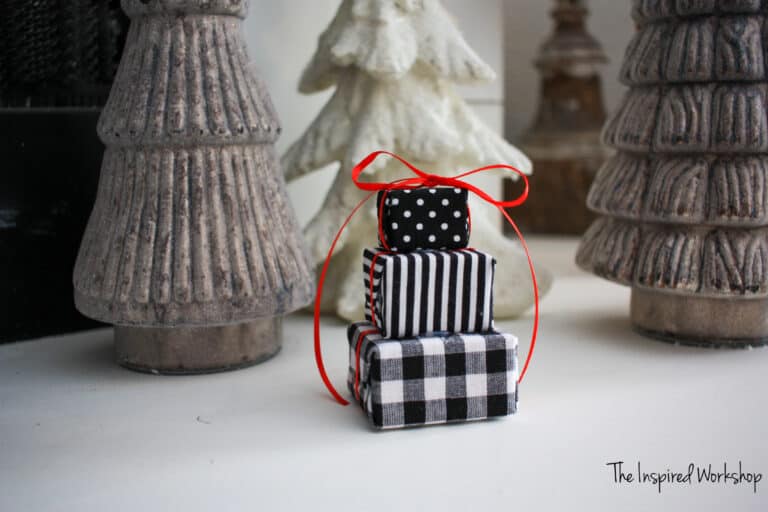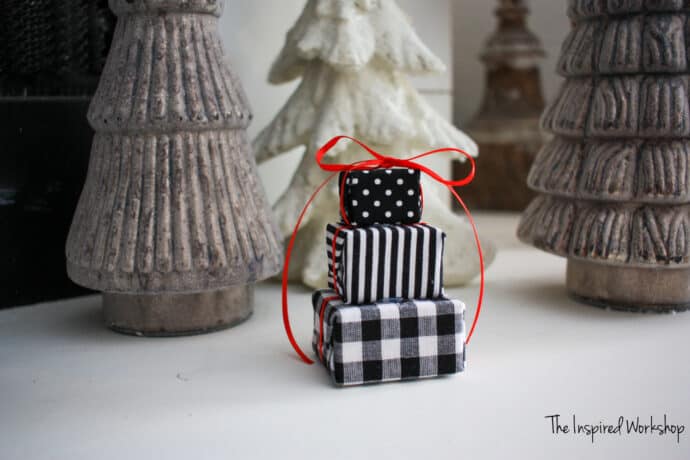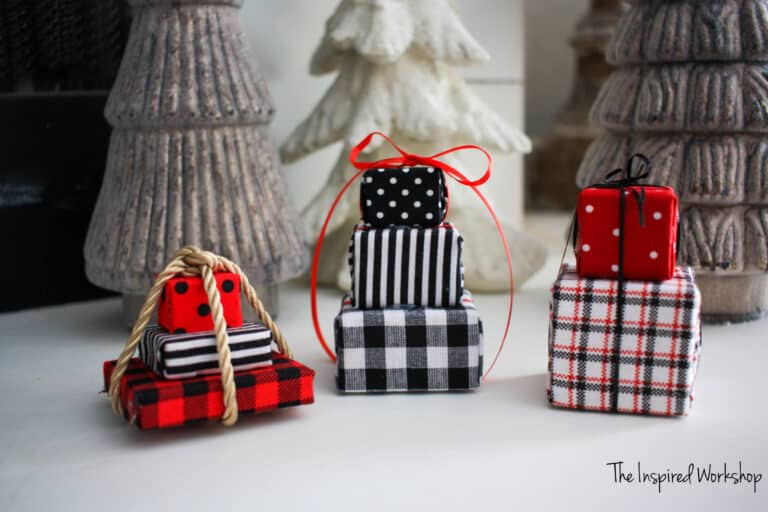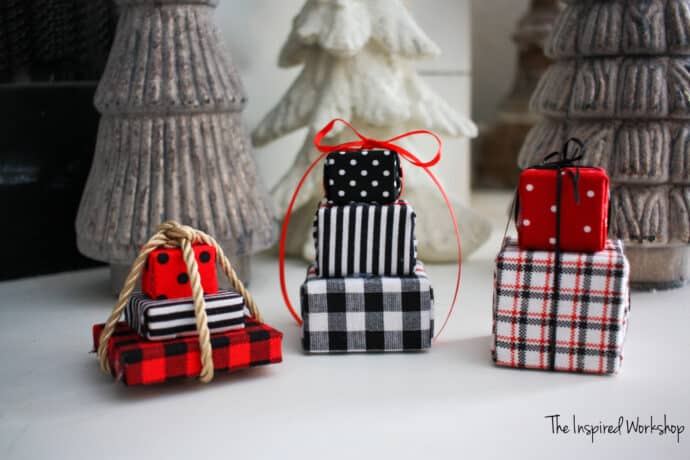 The only ornament that is a little more in-depth is the gift bag! A couple of little pieces of wood are glued together to make the gift bag!
In the photo, you can see some small pieces of wood sandwiched between two pieces of 1/4″ plywood. I thought I did such a great job showing each piece and how it all went together…only to find out my phone stopped recording because it didn't have any space! Lol! This has happened more times than I can count this last couple of days making all my craft projects! 🙄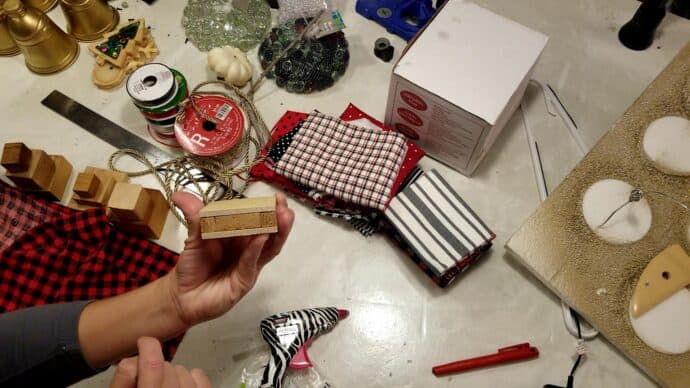 Take one of the little pieces of plywood, hot glue the 2 – 1/2″ x 1/2″ x 3 1/4″ along both outside edges, flush with the edges, top, and bottom. Then place the 1/2″ x 1 3/4″ x 2 3/4″ in between these two, keeping this one flush along the bottom. Glue the other piece of plywood on top. There should be an empty space at the top!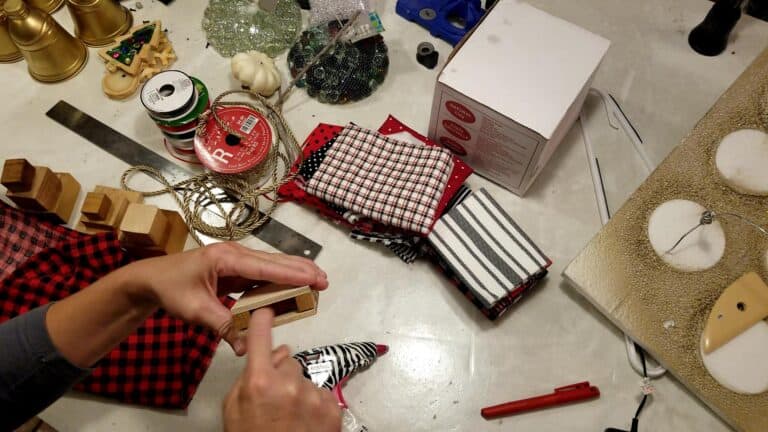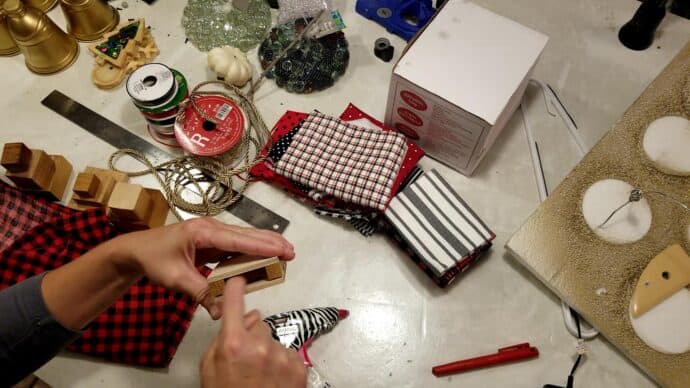 Now you can wrap this gift bag with fabric!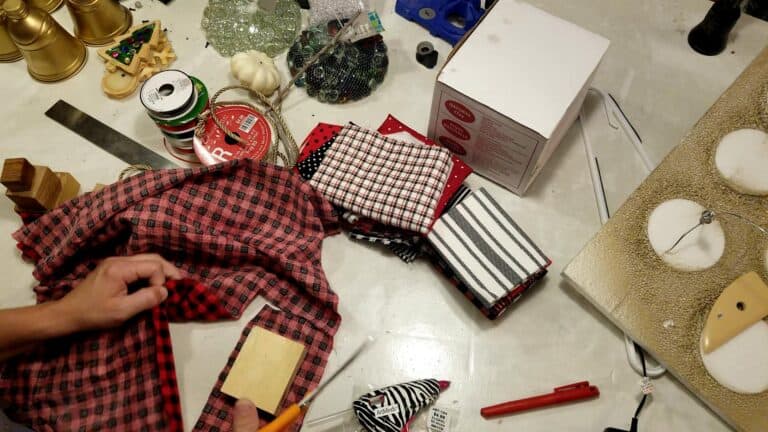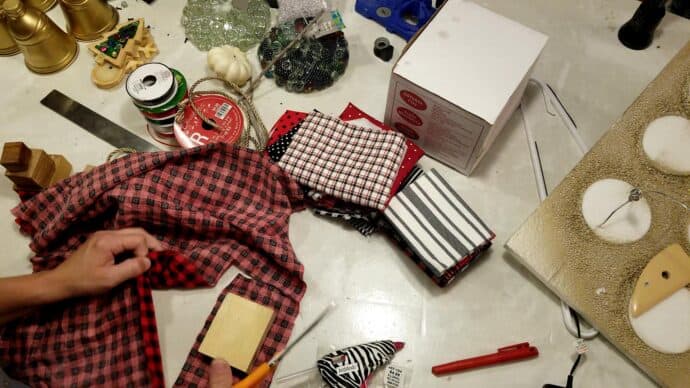 Glue the fabric on one side of the INSIDE of the gift bag.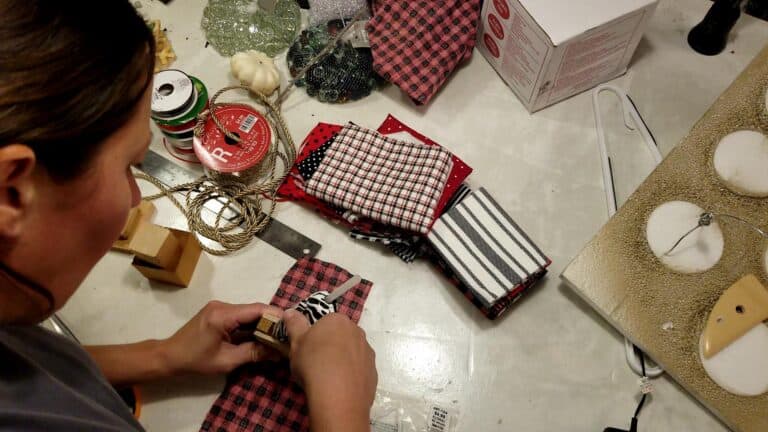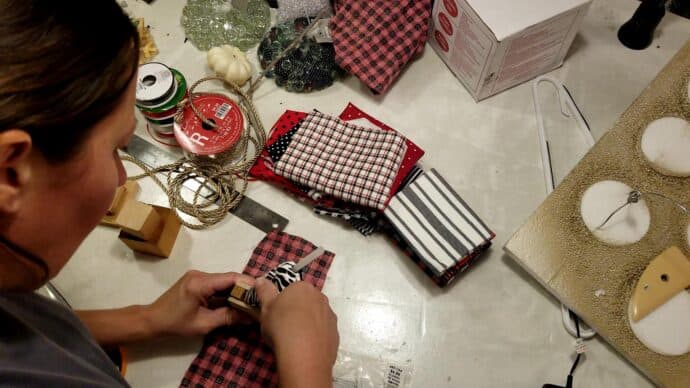 Pull the fabric around and glue it on the other side (INSIDE).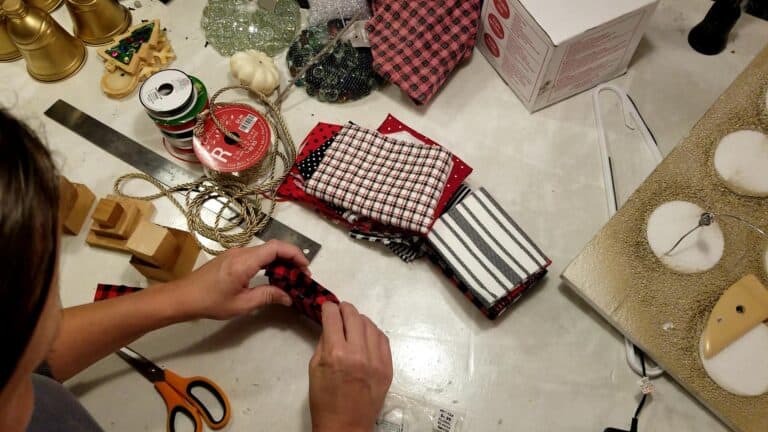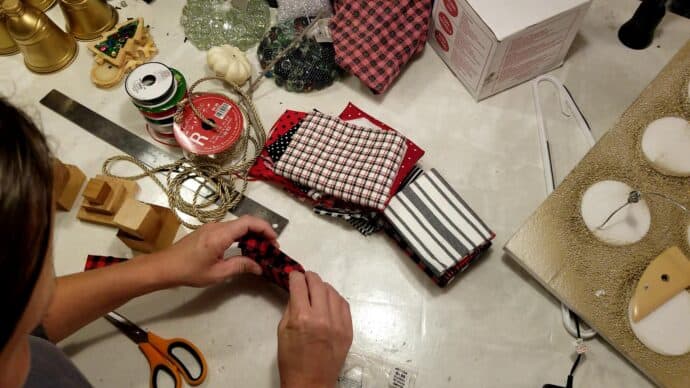 Next I folded and glued the side, bottom-up, back- forward, front- backward!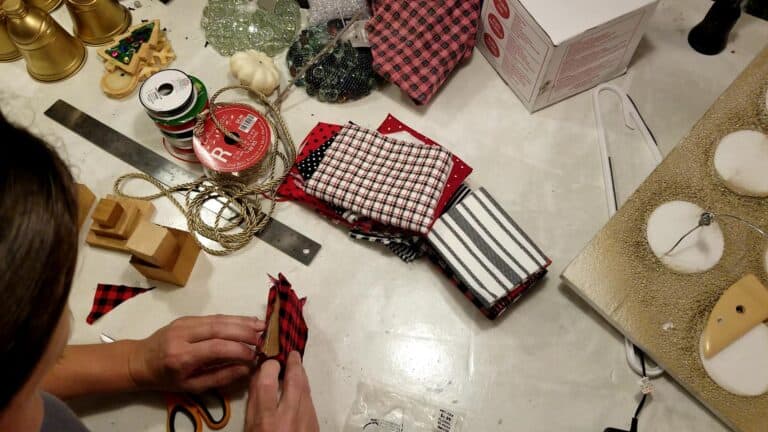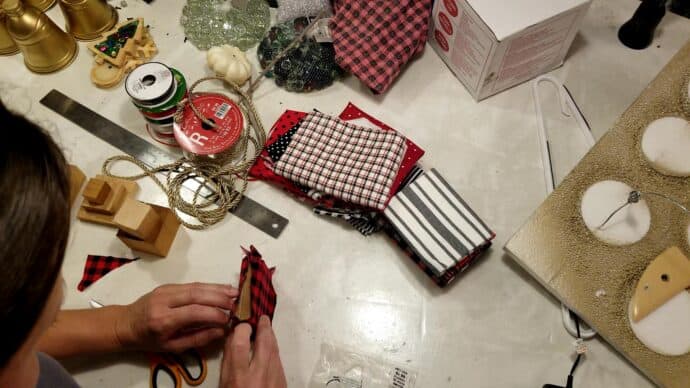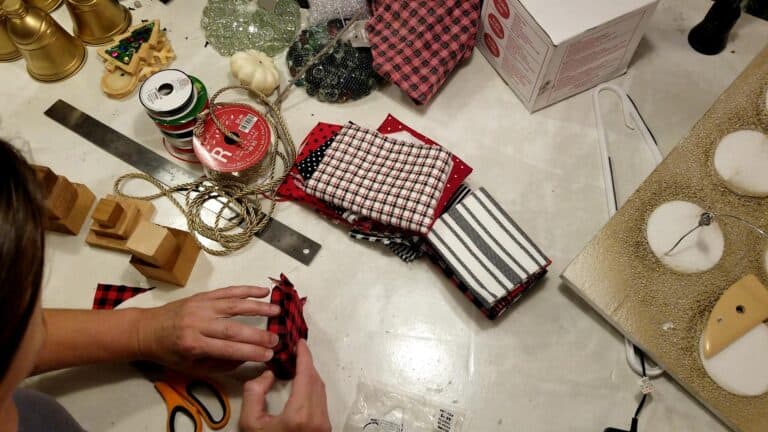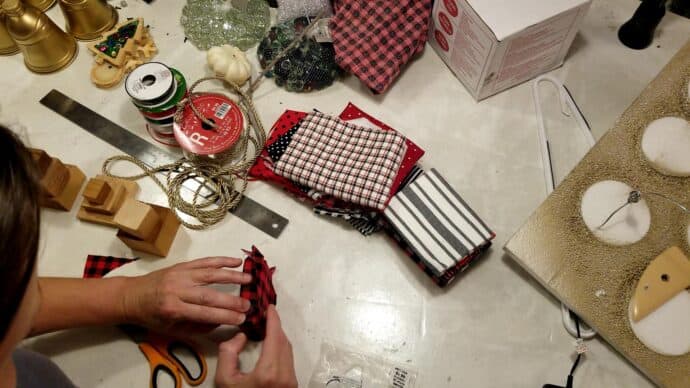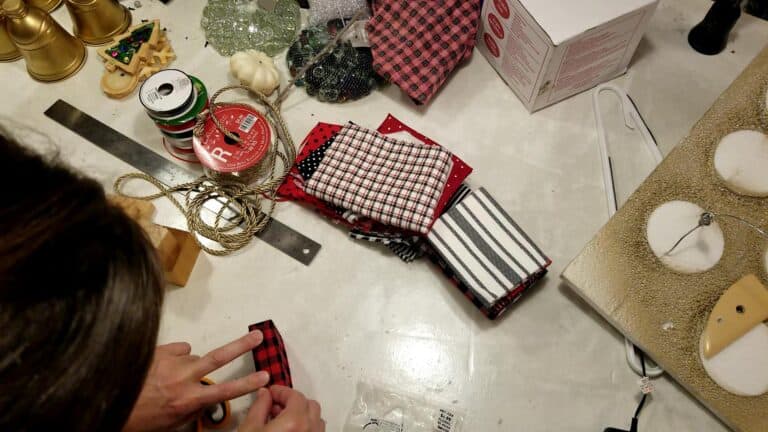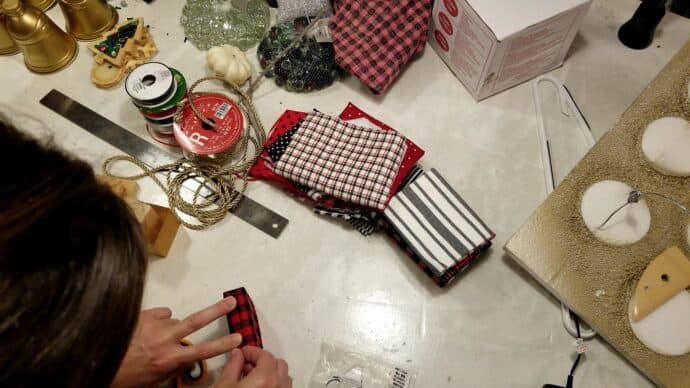 Once the sides are done, just neatly fold the top sides over and glue them inside as you did earlier!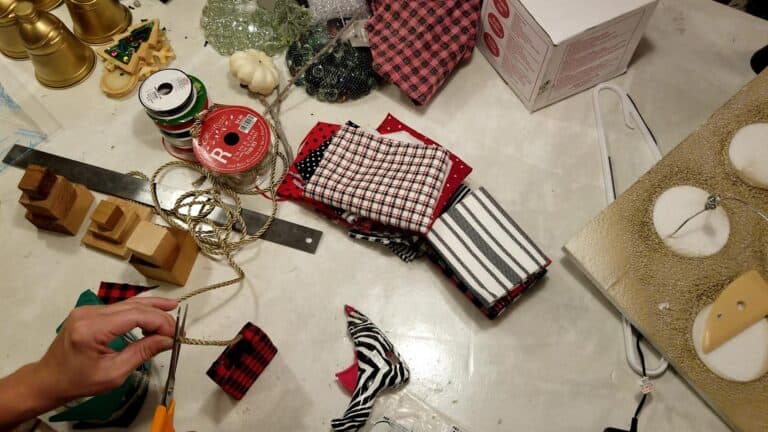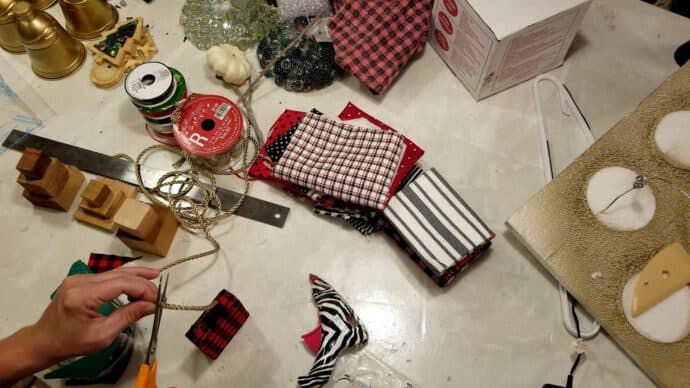 Add the handles to the gift bag ornament. To cut the gold rope ribbon, I used some packaging tape and wrapped it around the spot I was going to cut to keep the rope from unraveling! Glue the rope on the inside!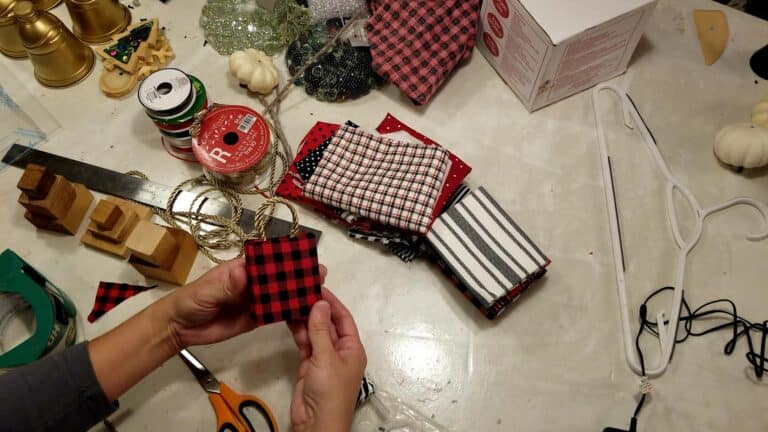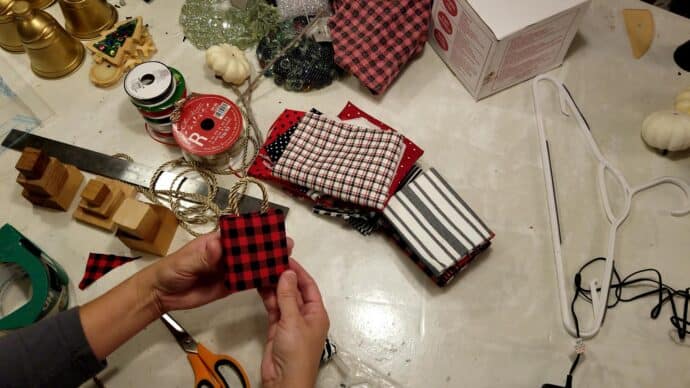 Add a tiny piece of tissue paper!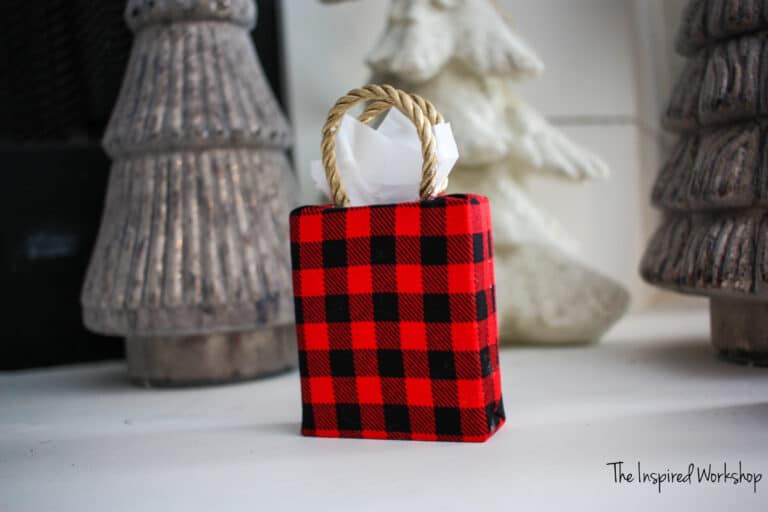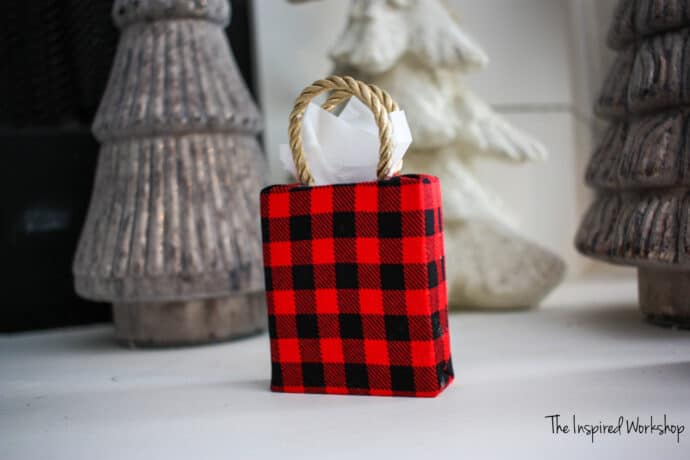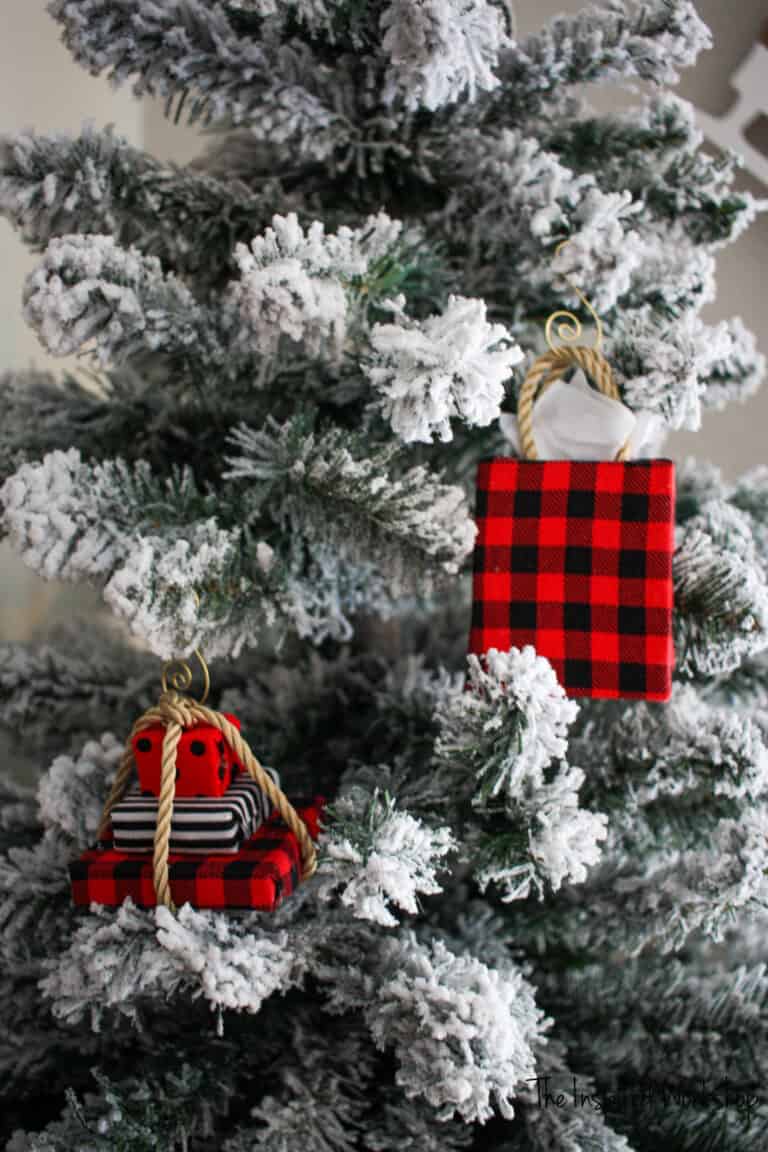 There really may not be anything cuter than these ornaments! 😍🤩 I LOVE them so much!!
Are you planning any holiday crafts this Christmas? If you make any I'd love to see them! If you adorn your Christmas tree in miniature gift boxes made of scrap wood, I would love to see that too! 😉
I hope your holiday season is full of nothing but good times with family and friends! Happy Crafting!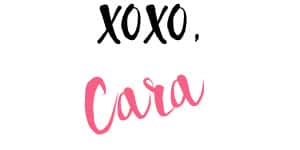 Want to save this post for later? PIN IT!