Home Depot's DIY Workshop Virtual Party: DIY Wooden Door Mat
Hey Everyone!! I am so beyond excited to be back today to party down with some other bloggers and share our versions of DIY wooden door mats!!! Here is my mat!!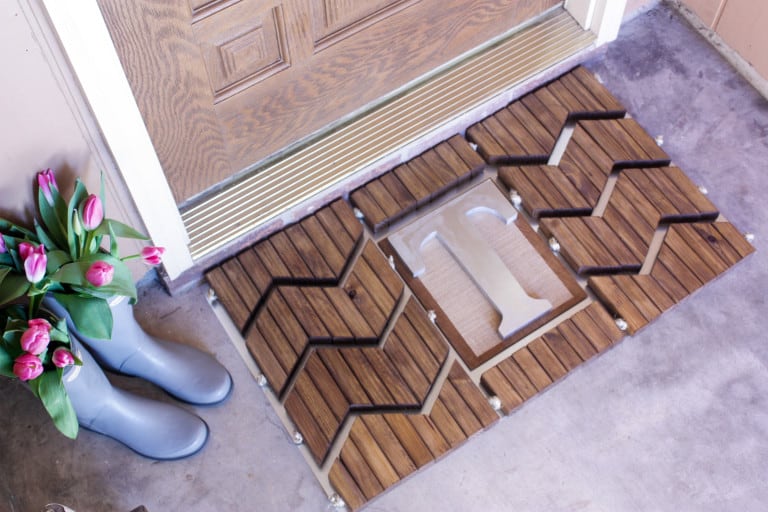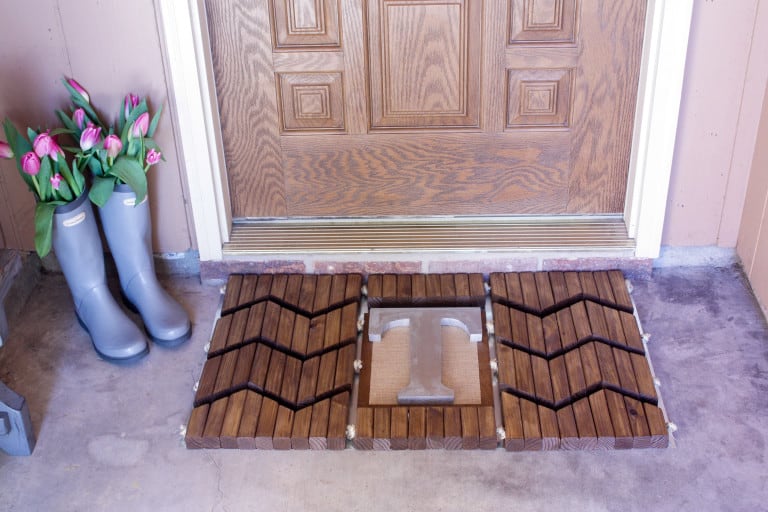 I really added my own flair to their idea!! Lol!! As you may have seen last week, this is Home Depot's Workshop DIY Wooden Door Mat that you can sign up to make in store by clicking the link below the picture!!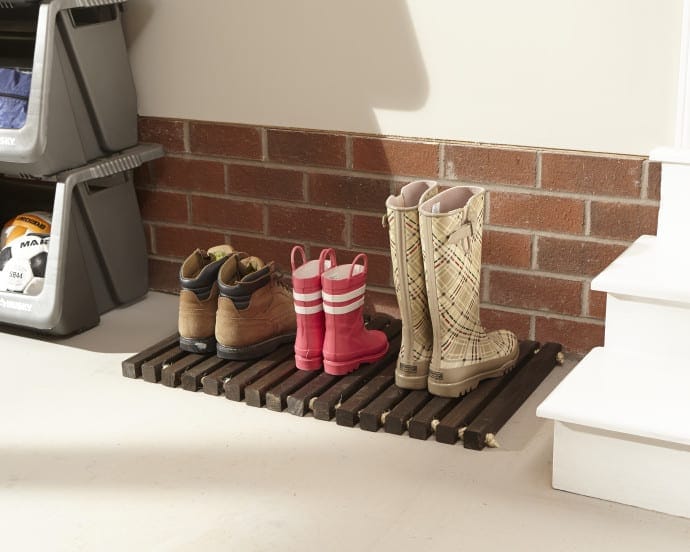 They asked us to get creative and I think I may have been thinking zebras when they were thinking horses but I love it and I hope you do too!! If you would like to make my version, I will give you a tutorial on the couple changes I made to their door mat down below, but I say click the link above and go meet some people at your local Home Depot who enjoy DIY projects just like you, then come back and make a version similar to mine!! LOL!!
The workshops are available at all Home Depot locations and they are always FREE!! They have classes for everyone…
Do It Yourself (DIY) for anyone wanting to learn how to do things yourself!
Do It Herself (DIH) For ladies who want to learn to use tools!
Kids workshops where the kids can get their hands dirty and make a cute little project!!
They have a workshop for anyone and everyone, no matter your skill level!! Customers can learn how to build decor projects, how to make easy home repairs and how to operate tools through demonstration and step-by-step instructions!! It really doesn't get any better than that!! So go register now!! If you would like more informationon their FREE workshops, get it HERE!
And of course I mentioned that I was partying down with other bloggers to bring you this virtual party…so here are the links to their fabulous versions of this mat as well, go check them out and be amazed just like I was…they are incredible I tell ya!! And a special thanks to Brad from Fix This Build That for extending this amazing invitation to me…so check his out first… 🙂
Now, if you've checked out all the other awesome variations and you still want to make my version…here we go…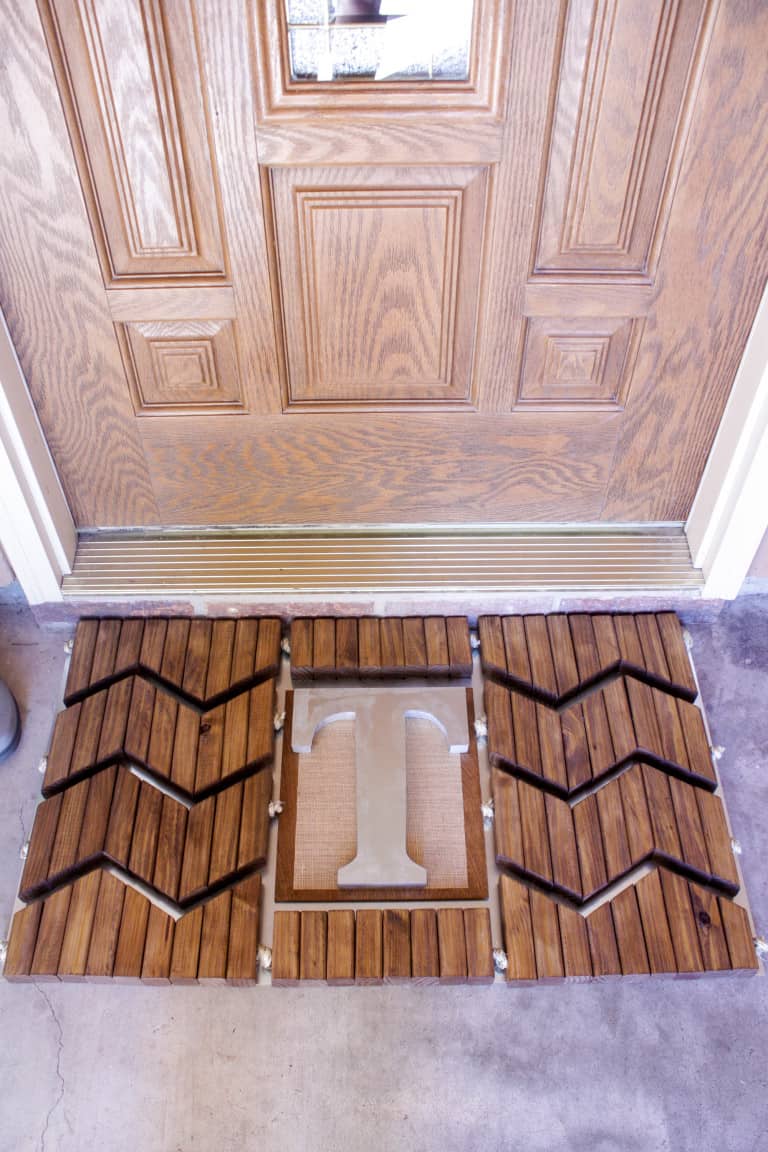 I started off with most of the same materials that the workshop called for but added a few extras:
Materials:
13 – 2x2x36″ balusters (the workshop called for 8)
1/4″ sisal rope
24″ x 36″ metal sheet
12″ x 12″ metal sheet (or just buy a galvanized metal letter already made…much smarter option)!
3/8″ drill bit
drill or drill press (I suggest a drill press…it makes it so much easier to drill holes quickly and evenly)
scrap wood for cutting a letter or picture of your choice
screws
saw
I started off by cutting all the ends of the balusters to get clean fresh ends, then cut them all into two 17 1/2″ pieces.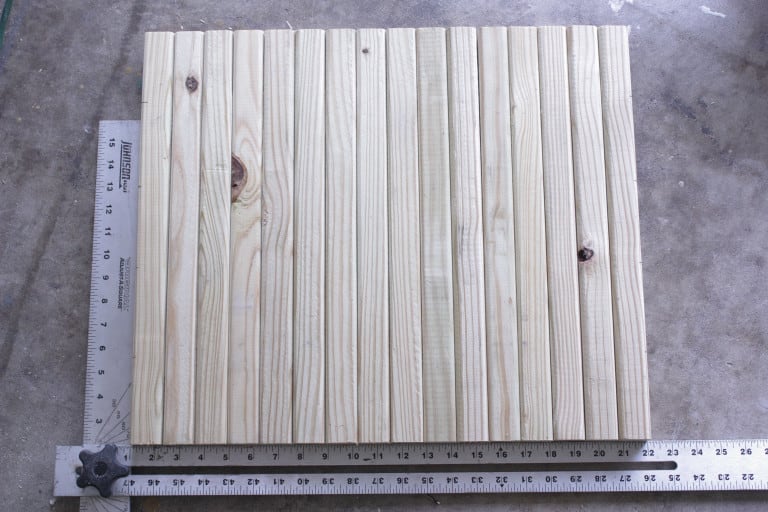 In the beginning I only cut 8 balusters and then later decided that I wanted to make a much larger mat and added 5 more balusters (when each is cut in half that means 10 more)!
Next, I took and set my table saw to 32 degrees off square…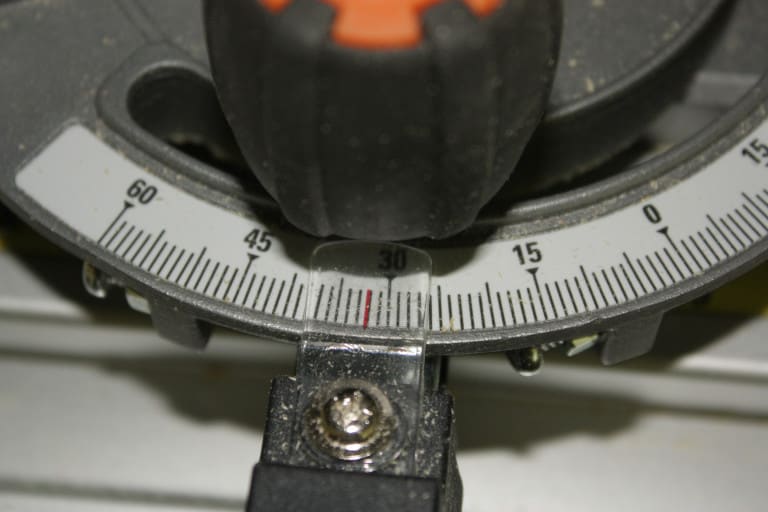 This is a new beast that I recently added to my tool collection and I wondered why this wasn't the first tool I purchased!! I am in LOVE with my Rigid table saw!!!
So, once I had the miter set to 32 degrees off square, I cut three of the balusters at one time in the same direction, I started the first cut on them at 3″ which made the longest section of the three pieces at 5 1/8″, then I would move down about 4 5/8″ and cut again, then move down 4 5/8″ and cut, then the last one is already cut for you and it should be the opposite of the one you started with…5 1/8″ on the left now and 3″ on the right!! Did that make any sense?! Your balusters should end up in four pieces like in the picture below!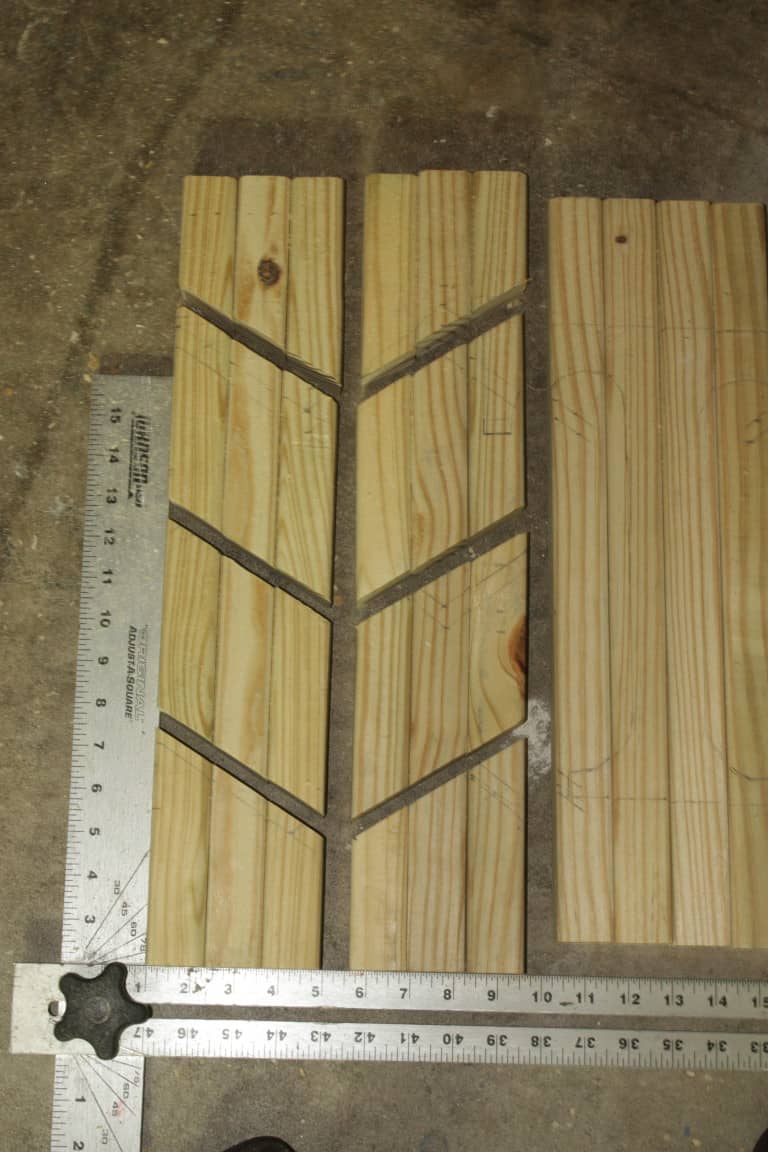 As you can see in the pictures there are rough sketches everywhere…I changed the design…oh, I don't know…a hundred times!! Lol!!
I cut all the angled balusters before coming back and cutting the straight ones…I didn't want to have to adjust the miter!!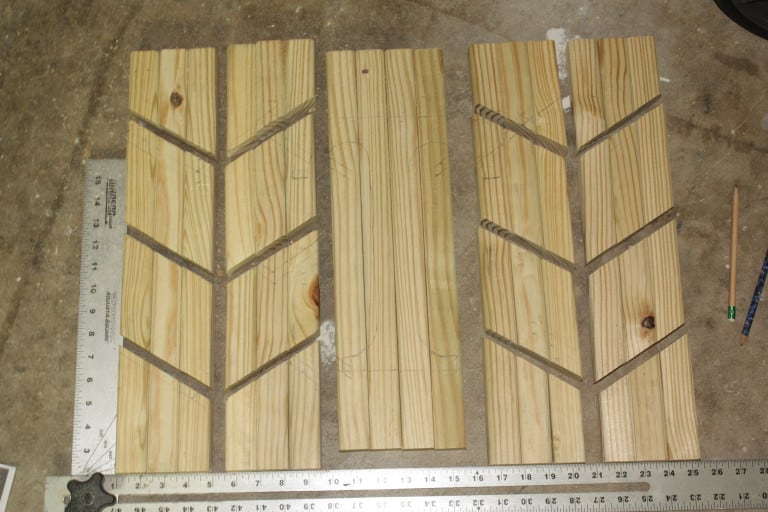 Right here was plan 58, and I changed my mind and wanted more so I added six more angled balusters and then cut all my 3 1/4″ straight pieces for the top and bottom!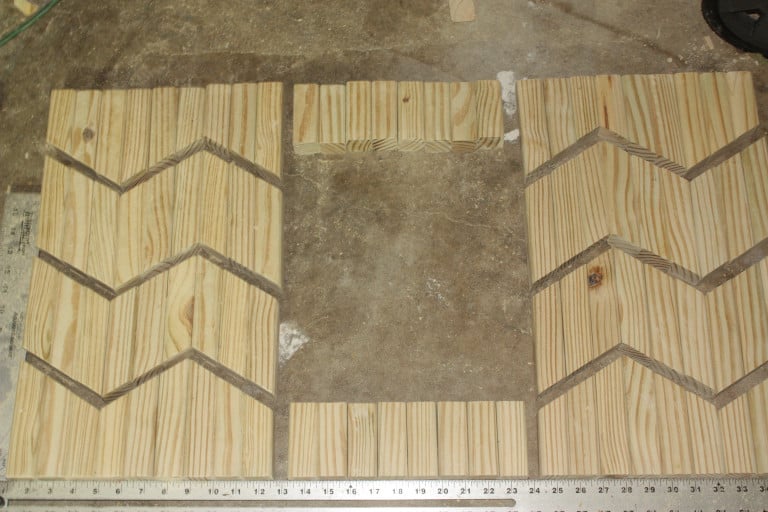 Once I figured it was big enough and all was well, I had to drill holes in ALL of these little guys…not the smartest idea to add more pieces I realized during this moment of building!! Haha!!
Luckily, I also added one more tool to my collection recently…my hubby has been making my kiddos pretend swords and knives out of metal (not sharpened of course) but making handles for them and fancy guards is not the easiest by hand and chisel…so I picked up a drill press…for him of course!!! Lmao!!! I will just use it waaayyy more but you know it's the thought that counts…and I did think of him when purchasing this!!
So I had to set it up…the top and bottom all being straight across one side were so easy…just drill a straight hole one inch from the top of the straight edge…no big deal!!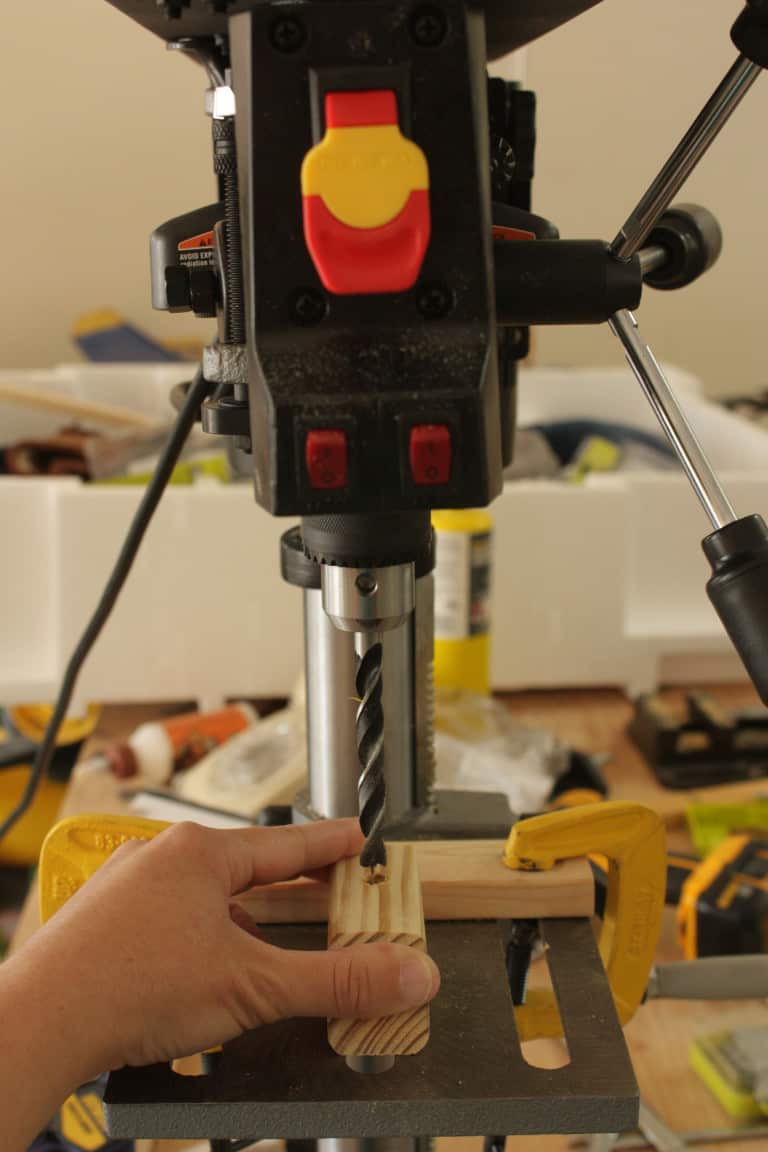 But when it came time to drill the angled holes…at first I was just not even thinking and was going to drill them straight too and they were going to magically line up!! Nope!! Not happening…of course they weren't going to line up… the top and bottom were cut at an angle, so I just had to adjust the bevel on the drill press…if you don't have a drill press and don't plan on buying one…you can always buy this little device that mounts to your drill and allows you to drill holes at an angle…I have never used one though, so I cannot say how they do or do not work…it was just a thought because they are cheaper than a drill press!! See it HERE!
I rigged myself a little jig so I could just slide each one in and drill…it still took me probably two hours of straight drilling to get them all drilled!!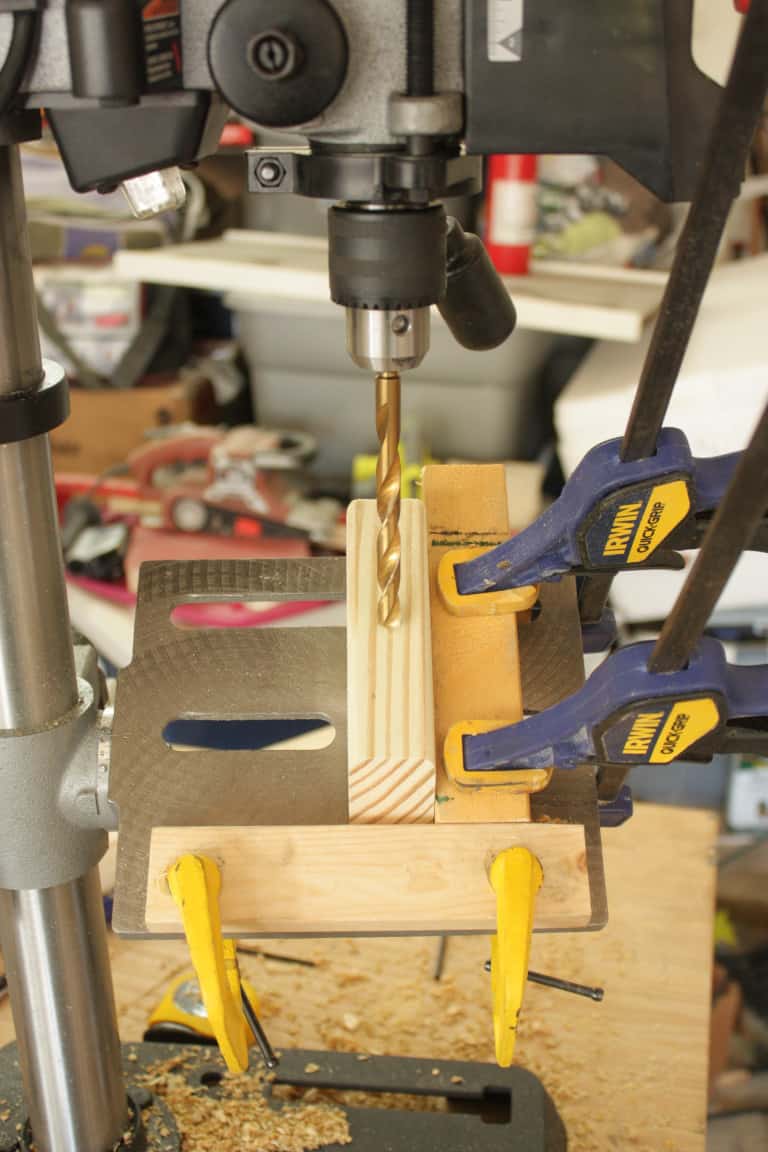 After drilling ALL those holes, I had to sand ALL the little pieces, I think I counted 82 in all…it was late I could be way off, it may have been 184…just kidding, I really think it was 82! Sanding them doesn't rank up there with any of the most fun things I've done in my life but I did survive, so that's always a plus!! LoL!!
Then once they were beautifully sanded, I had to stain ALL of the pieces…at this point I was thinking, "Why did I want so many pieces, what was wrong with Home Depot's version with only 16 large pieces!!" But again, I did survive!! Ha!! I stained them in Minwax Special Walnut!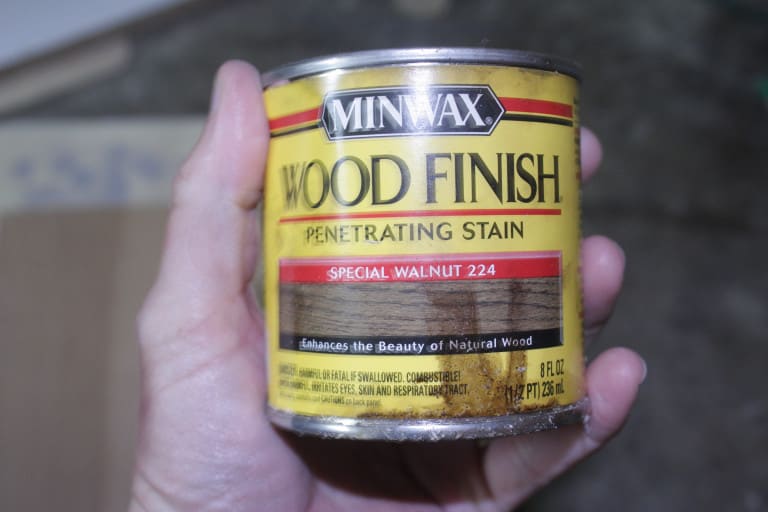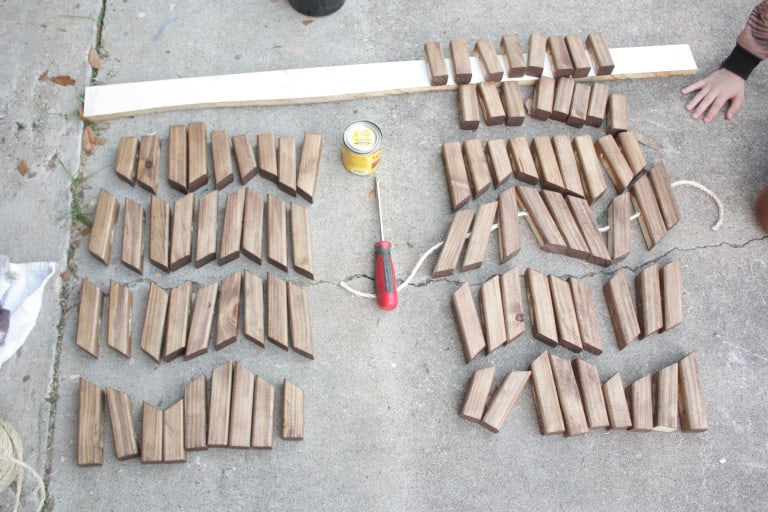 The rope used to tie them together is just plain 'ole 1/4″ sisal!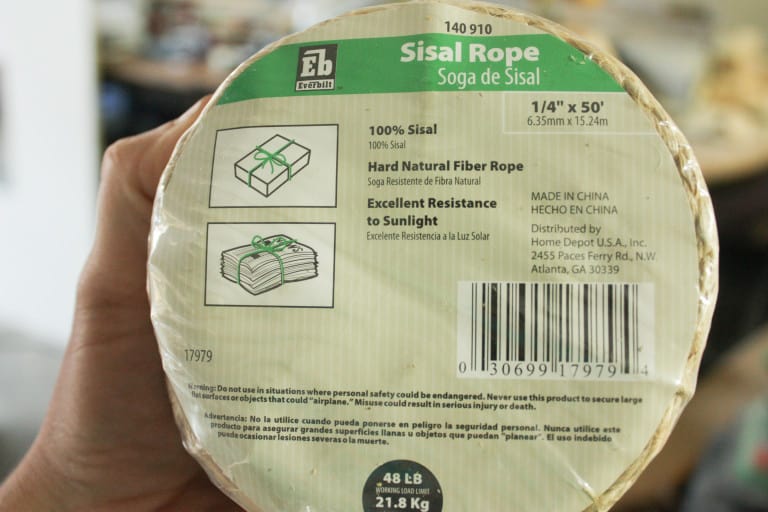 Tying them all was the fun part, finally getting to see my vision come together and not just pieces…all those pieces!! Hehe!! The top and bottom were knotted but not cut in between the different sections of wood!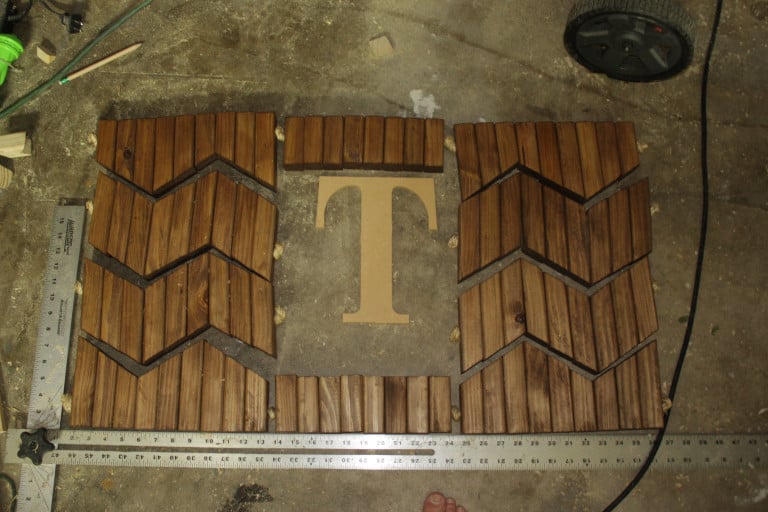 Next I had to cut out the T…the one in the picture was one I had laying around in my garage, but it was a little too small and so I grabbed a scrap piece of 1×10 and drew one similar to the one pictured above and cut it out with my jigsaw!!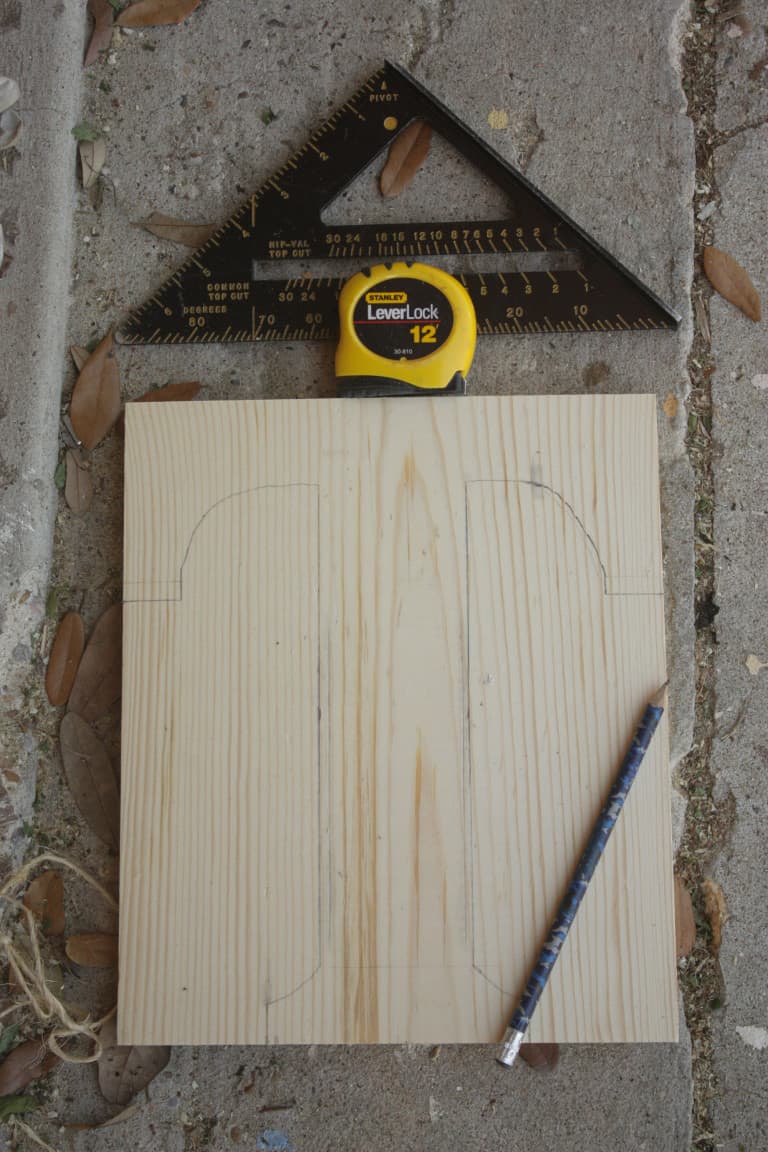 Easy enough…but definitely not perfect I will tell you…but we are just going to step on it every day…it doesn't have to be perfect!! Then I traced the wooden T onto the small piece of sheet metal I bought and cut it out using the jigsaw as well…I had always used metal shears and hated the way the edges always became really wavy…but a quick internet search while standing in Home Depot lead me to these awesome jigsaw blades! And they worked great! FYI…you could save yourself a ton of time by just purchasing a galvanized letter that you like at any store!! Ha!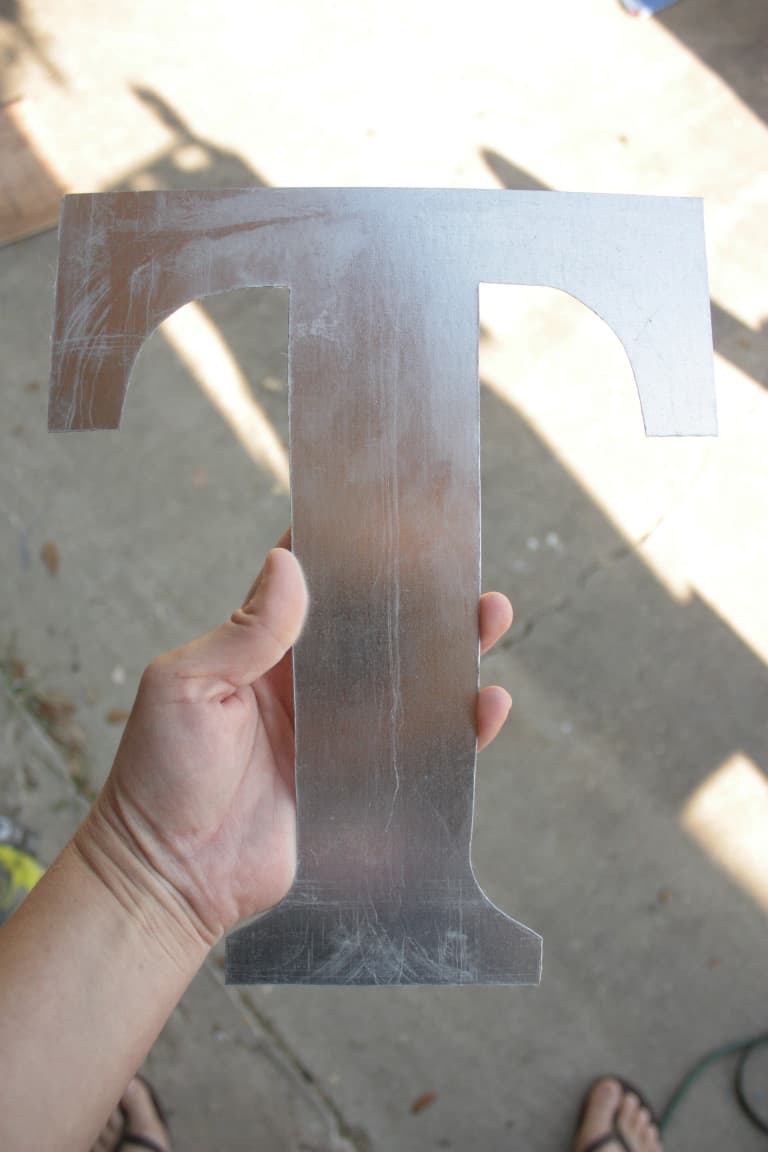 Next, I cut a small square of 1/4″ plywood to place below my letter on the mat!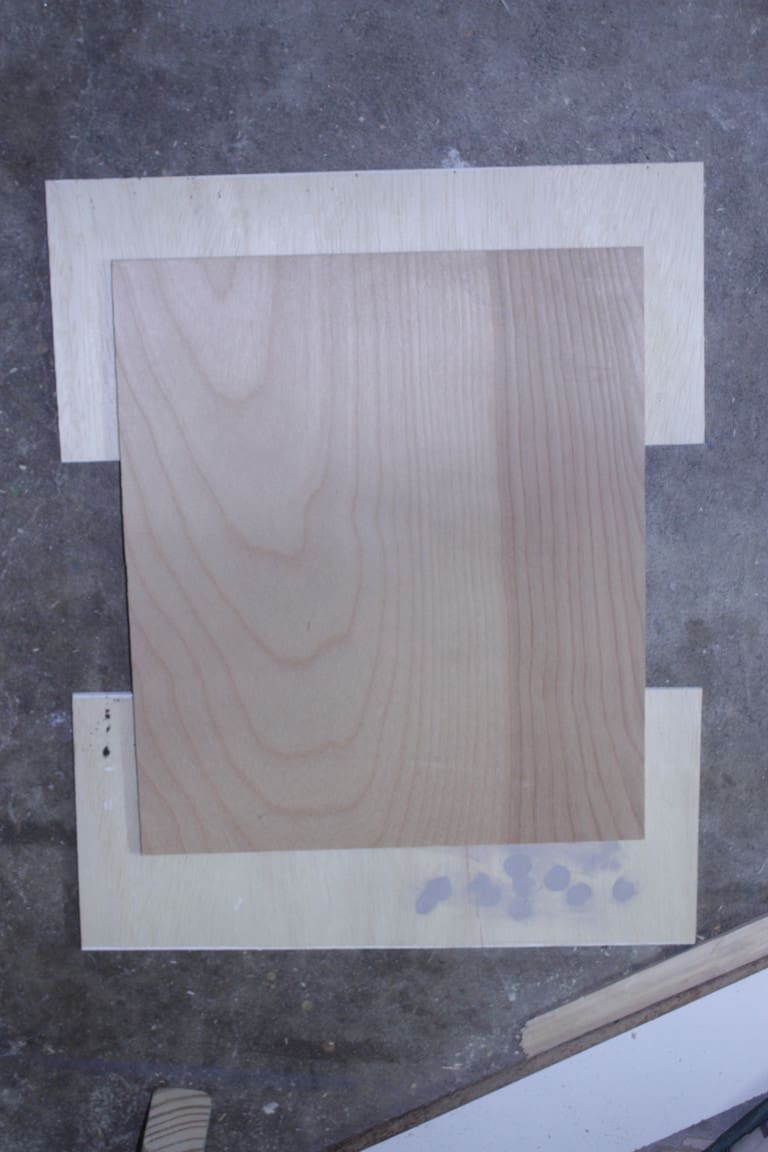 I just stained it the same special walnut, and then last, I cut the large sheet metal piece down to 20″ x 36″ to fit my wooden pieces just right!!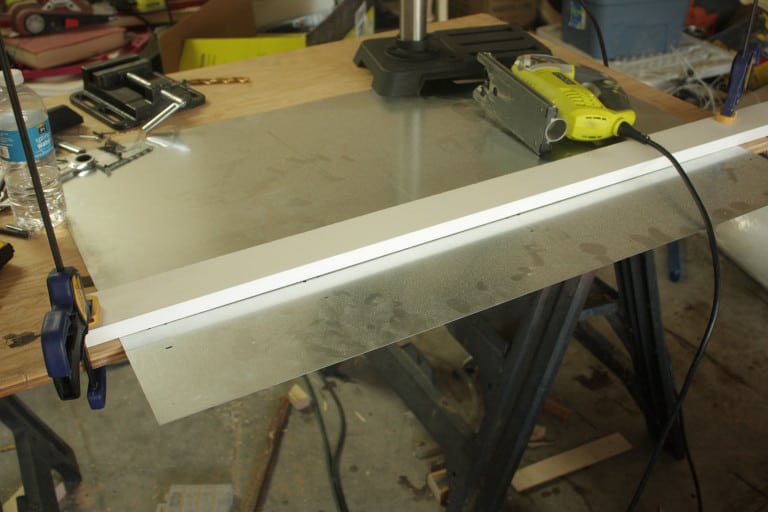 I then turned all the pieces upside down.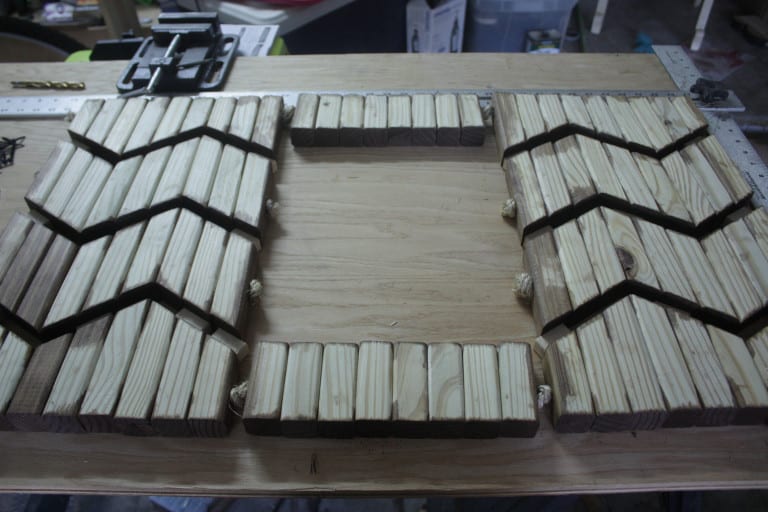 And then placed the sheet metal on top and screwed small screws in every so many boards just to hold it securely to the metal sheet but still allow for dirt to be shaken out!! I thought I took a picture of this but it wasn't included in my uploaded pics so I will update with it shortly!
NOTICE: Be very careful as this sheet metal is VERY sharp…make sure and keep little hands and feet away from the edges of the metal…even once you have made the mat!
Screwing the middle letter in without using any glue holds your 1/4″ plywood on and makes it very easy to change out the center design… for instance you could cut out a cute little bunny and have a bunny mat for Easter and then change it back to a monogram letter for the rest of spring! The options are endless!! I added a scrap piece of burlap fabric cut in a small rectangle to just add a little something extra…I just modge podged it to the 1/4″ plywood…I'm not sure how long it will hold up but I can just replace it if it needs to be!!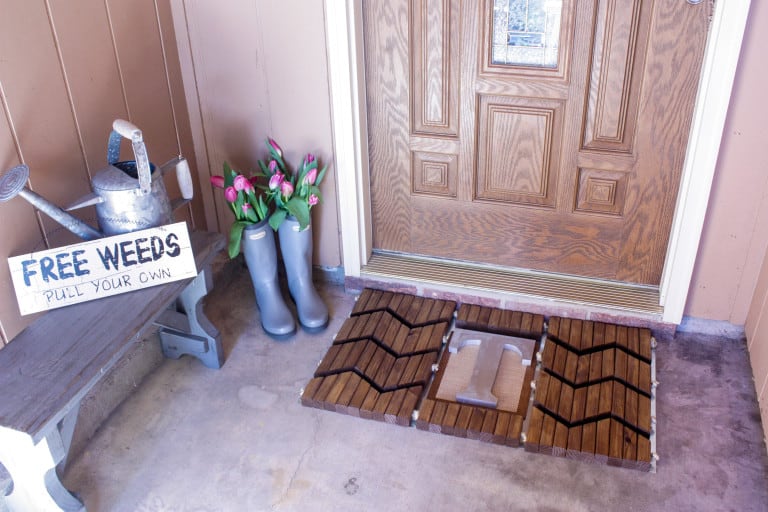 Viola!! It's pretty much done…now, my door area does not ever get wet because it is so long and narrow…but if you are planning on placing this somewhere outside and it will get wet, make sure and poly it with an outdoor poly, if it is stained it shouldn't change the color…but I have yet to find an outdoor poly that won't yellow white paint just for the record!! If you know of one PLEASE let me know!!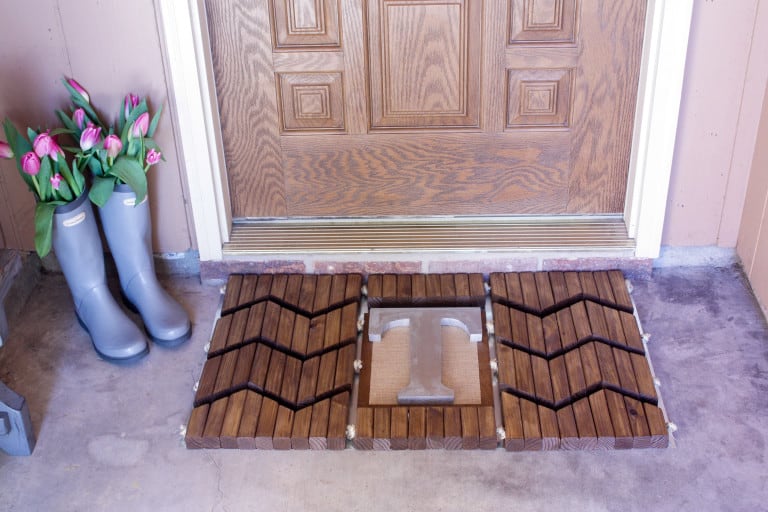 I really enjoyed creating this project, if you make a mat like this, make sure and hashtag your project #DIYworkshop on social media so we can all see it!! We love seeing reader projects and this one is really fun!! Hope you enjoyed seeing everyone's wooden door mats and if you haven't signed up already make sure and click the link below!!!

Have a wonderful week and hopefully you will be headed to your local Home Depot for a free workshop this weekend!!
Happy Building,
Cara