DIY Kitchen Renovation Reveal
Hey there! Okay, I am jumping around in my seat…so excited I can't even concentrate to type this post!!! EEEEKKKKK!!! My. Kitchen. Is. Done. Yep! You read that correctly, even though I started to think it just wasn't going to happen! Lol! Here is my DIY kitchen renovation reveal! It has been so rainy and gloomy so the pictures aren't the best, but go ahead, look at her and all her beauty!????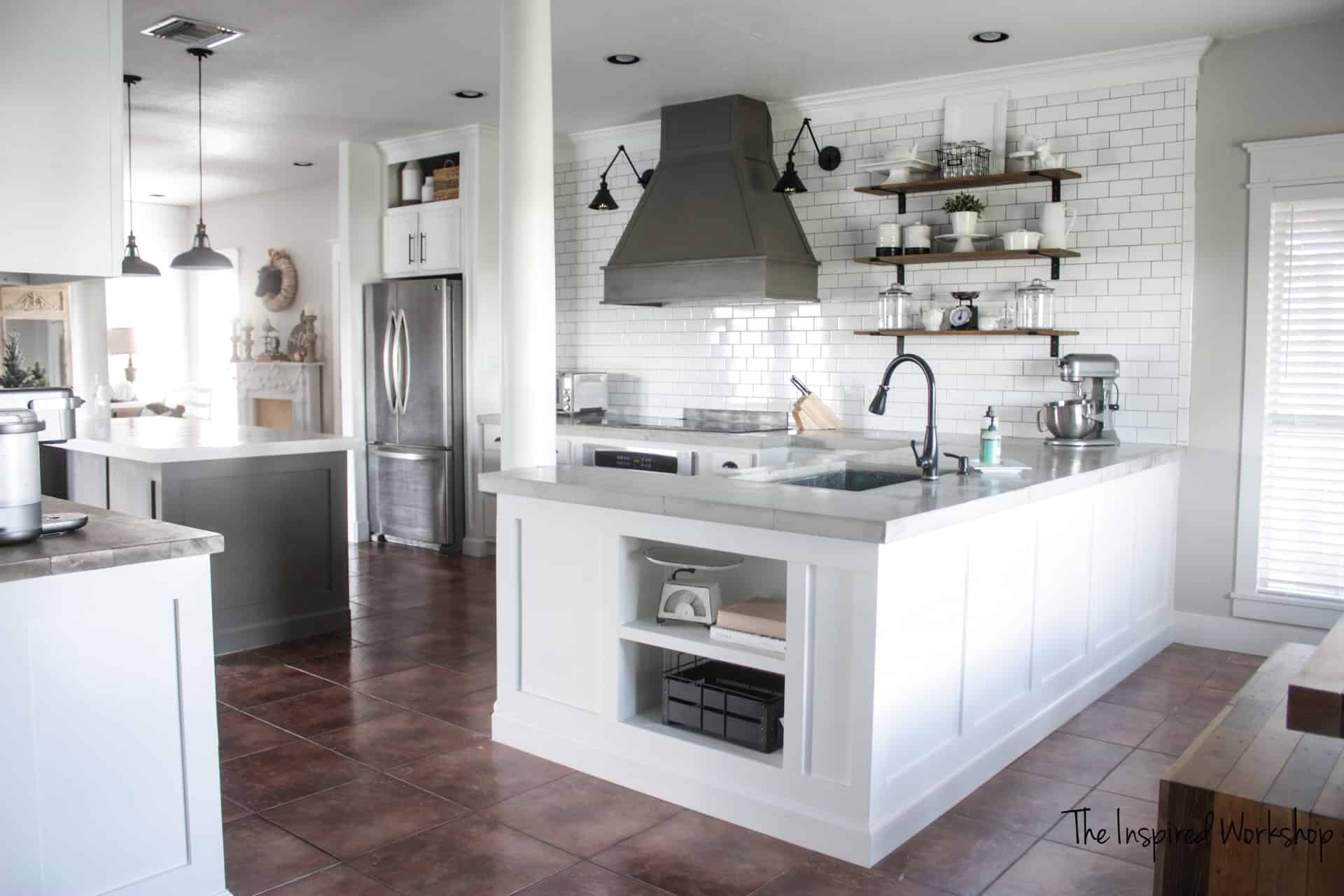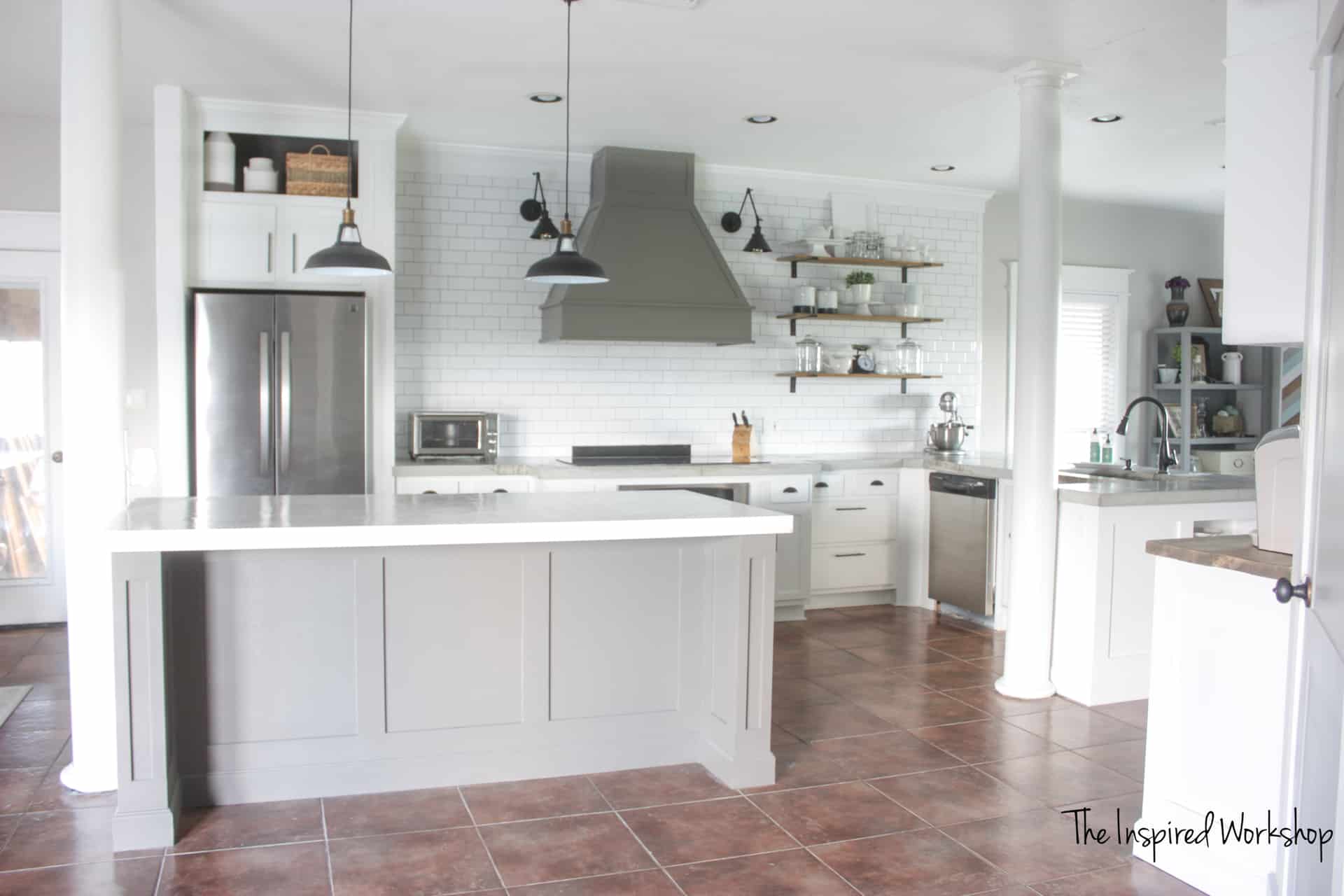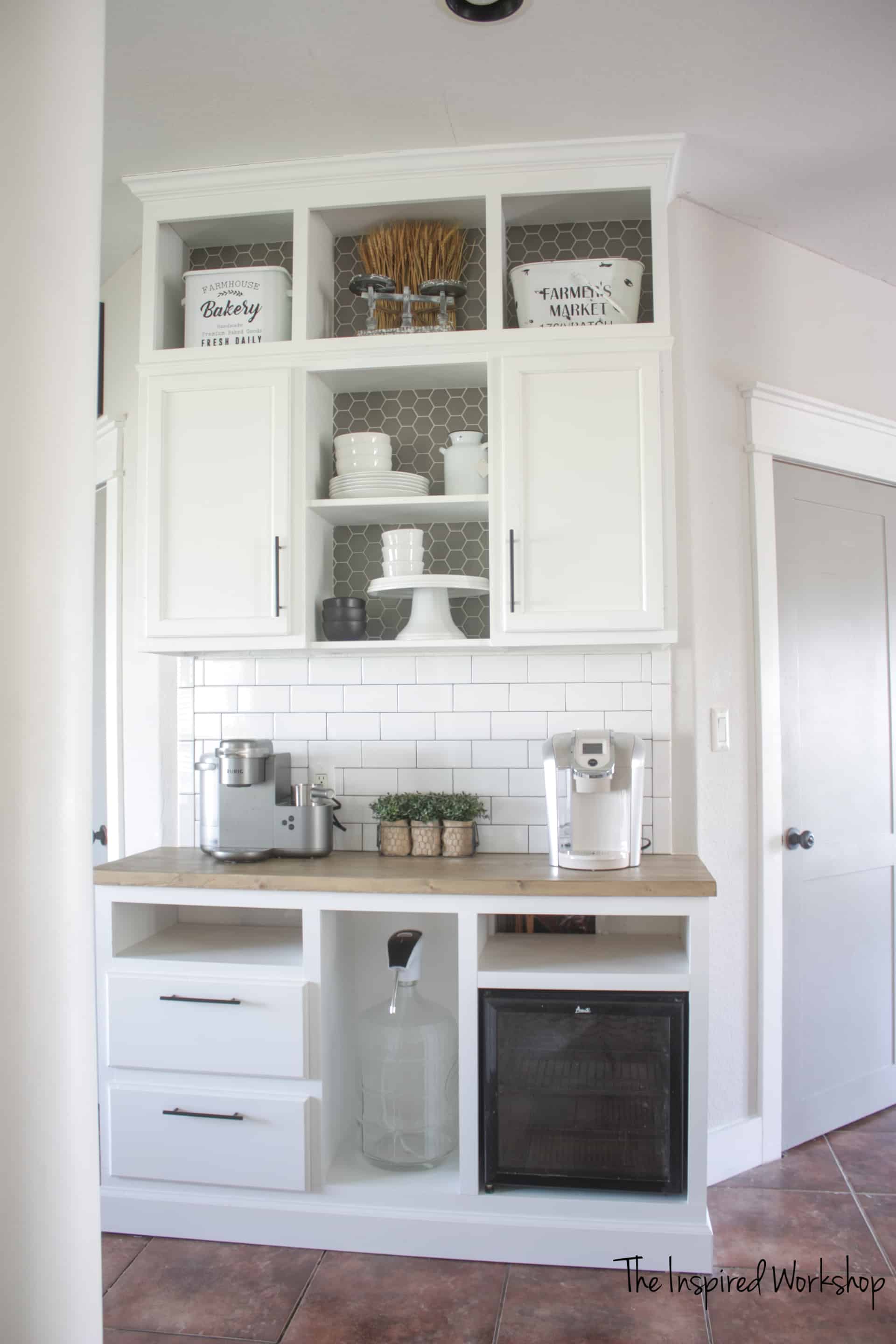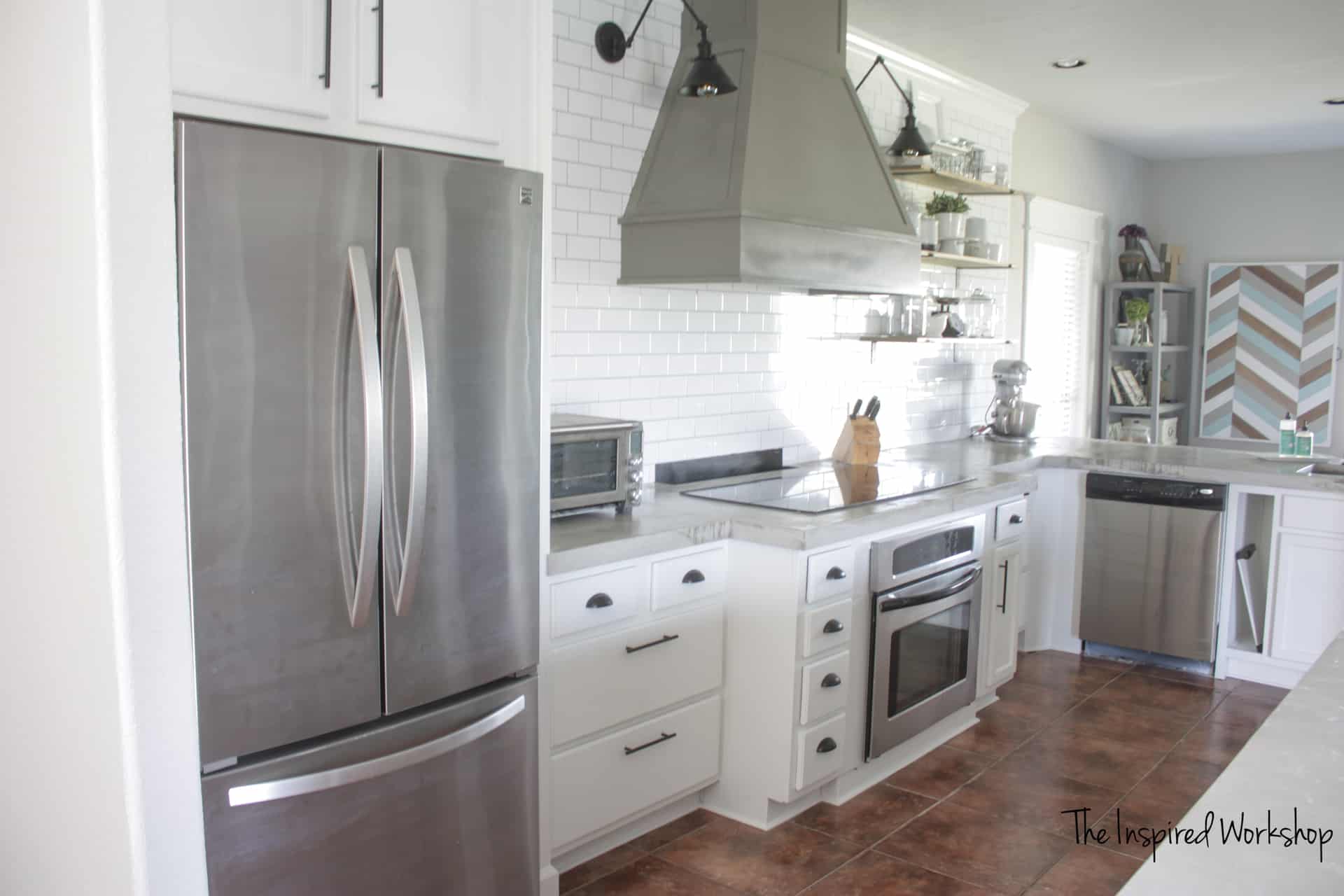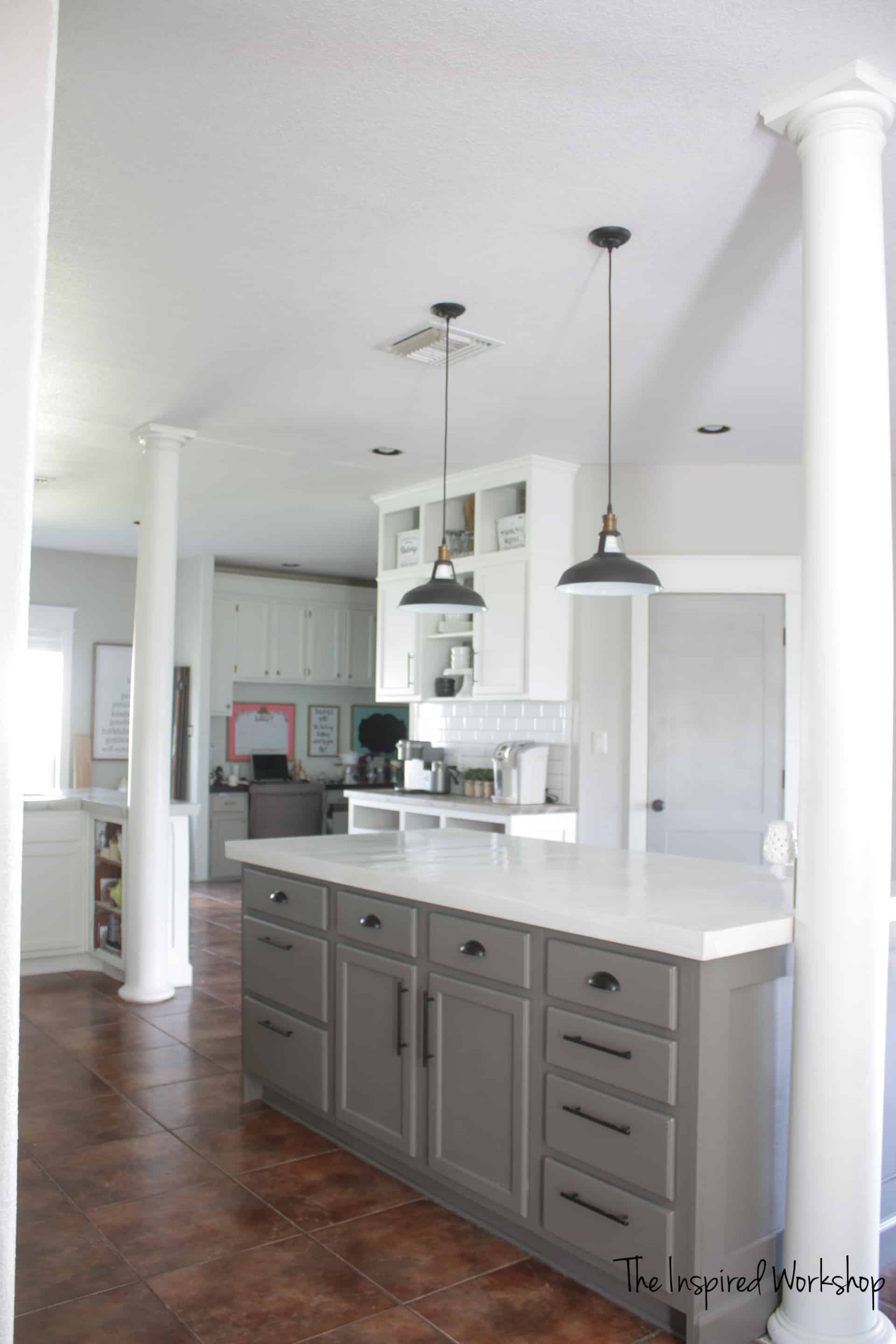 The sources for everything and the paint colors will be listed after all the pictures! Tutorials on how I did everything in the kitchen will be on the blog each Monday for the next few weeks! I have already typed them up and scheduled them, so there will be no waiting around on me! Lol!
What a labor of love this kitchen has been, and oh what memories it holds! I will forever think of my grandma every time I look at those concrete counters, and I will forever wonder if she approves of the new look! It saddens me that I was never able to drink coffee in here with her…but I guess that is what happens when you let projects take you FOREVER! Lol! So don't do that! Mkay!
Let's have a look back at how this kitchen looked before I touched her! There wasn't a lot of problems, just very DARK! A few years back, I would have loved everything about it…but now I'm in a light and bright or moody dark phase…it's different I swear! Anyway, here's the before of the kitchen remodel!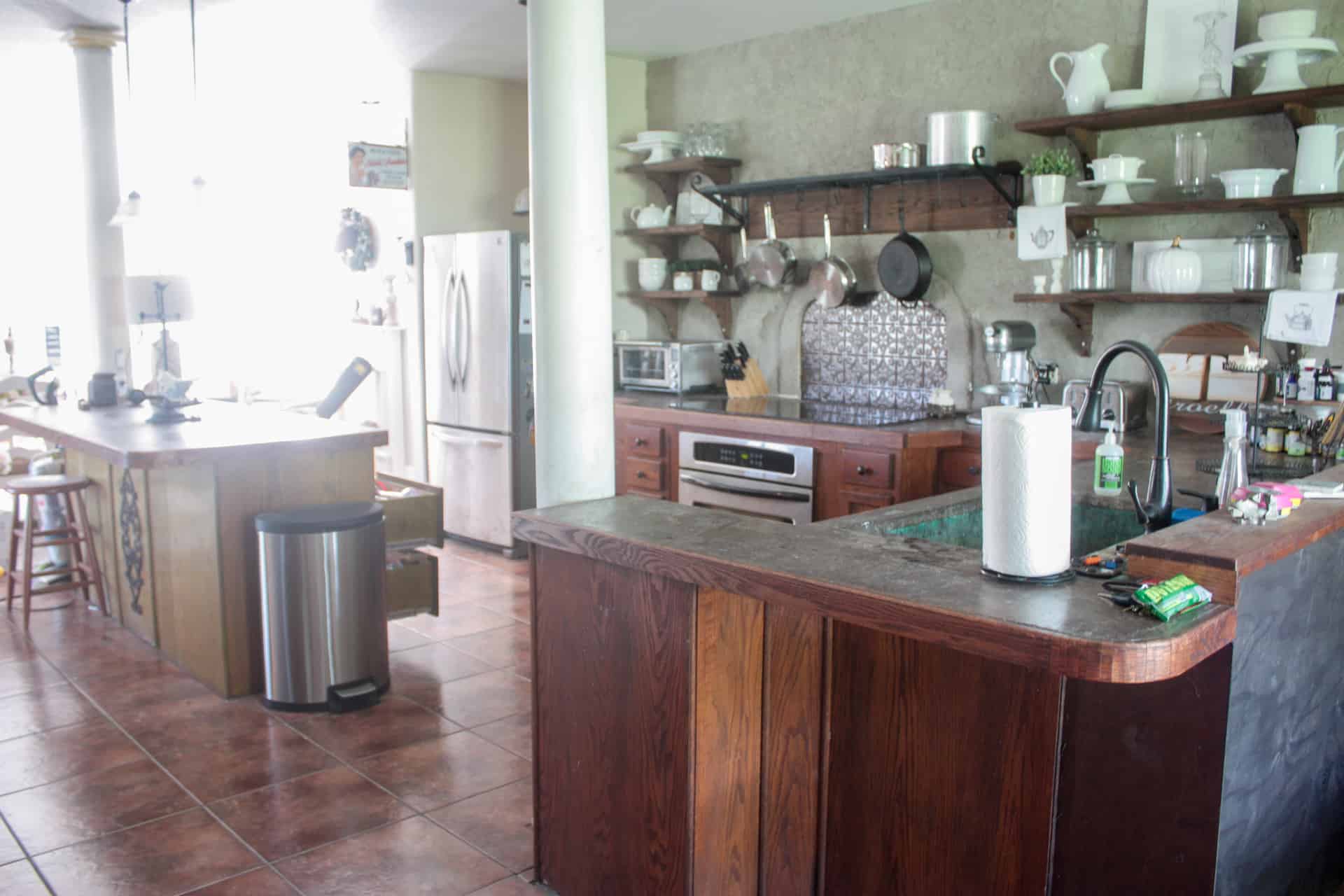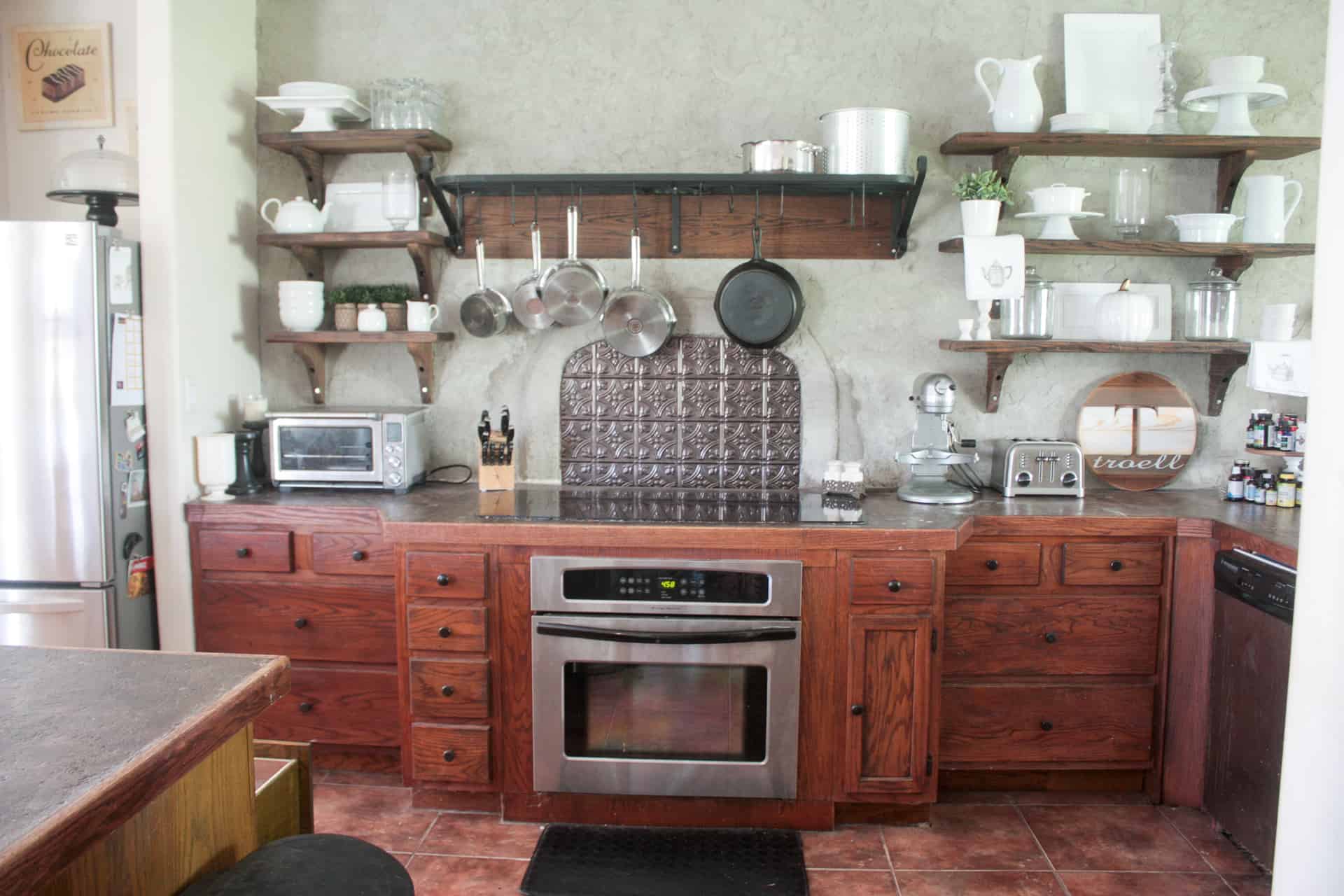 It is so hard to take photos of this kitchen with the way the pillars are placed! It blocks half the picture every time! Lol!
I cannot wait to share all the tutorials with you all as well! I mean, we didn't pull out the existing cabinets and we didn't replace the flooring…which I would have loved to have done (but it wasn't in my budget), but other than that we touched everything else in here. We built shelves into empty spaces, built the cabinet above the fridge and redid everything almost on the drink station side…I can't wait to show you the mold in that post! This was a lot but honestly, nothing that couldn't have been done in a few weeks, I just let it take me an eternity because I am a big fat procrastinator like that! Don't be like me! Get 'er done! We did manage to make this kitchen look pretty darn good if I do say so myself! And the best part is…it didn't cost much at all… well, considering kitchen renovations are typically in the 20-40,000 dollar range! Lol! Although flooring would have added a pretty penny and those are typically part of a remodel, but not mine so add a few thousand more!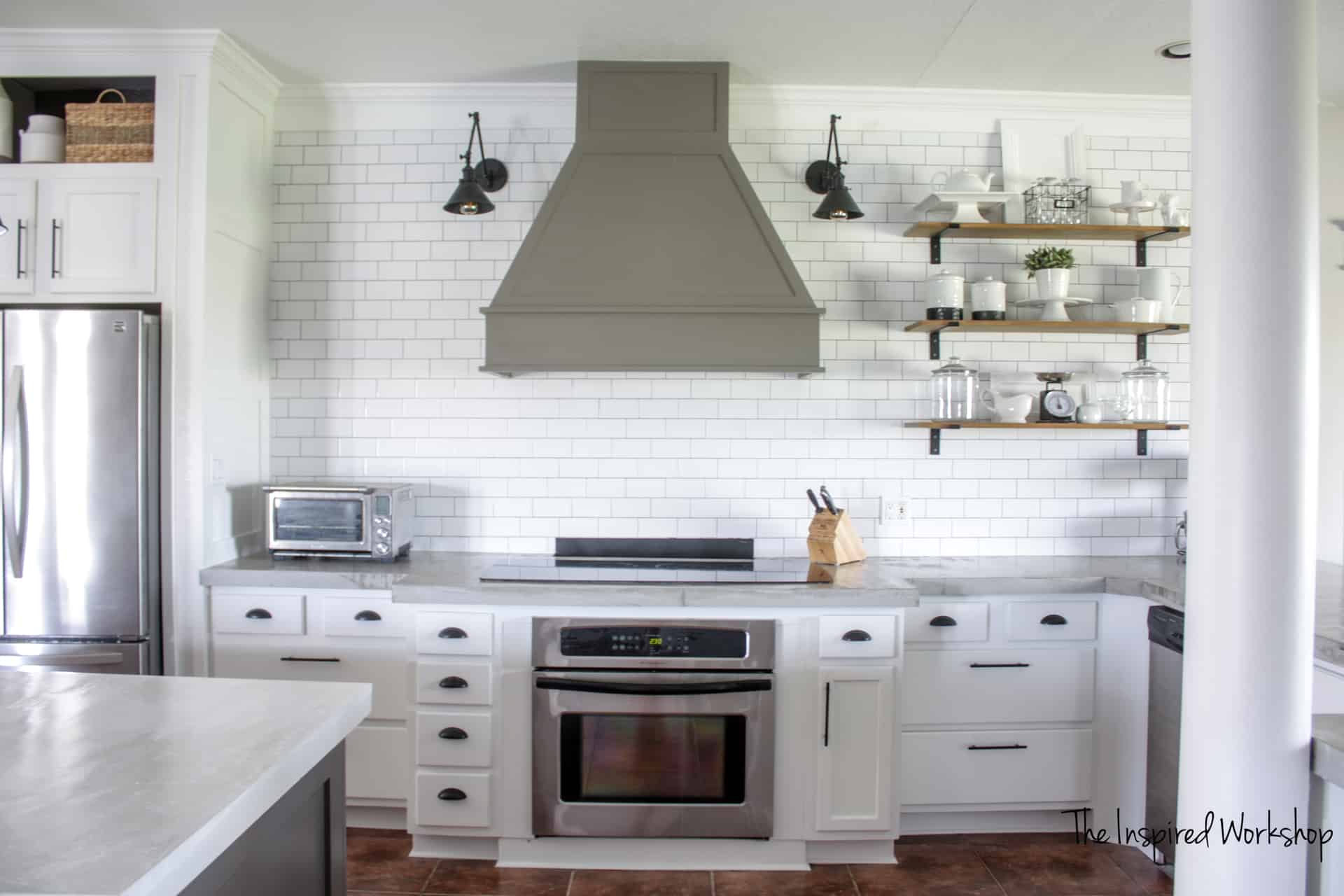 Here's the cost breakdown for ya!
Expenses on the DIY Kitchen Remodel
Concrete Countertops
Concrete for Countertops – Concrete Counter Top Solutions – White concrete for the island, and regular gray concrete for the main counters. NOTE: I was given most of the concrete for the kitchen in exchange for the post I will be doing about them, but I bought the sealants and all the supplies from them with my own money and would absolutely spend my money to buy the concrete from them again! Total cost for the countertops was $1,450.00 – that would be the cost if I paid for all of it out of pocket including the shipping that I did pay out of pocket! I could not get laminate counters for this kitchen for that cost! The granite quote was nearly $10,000 for ugly granite, and laminate was over 3000! ???? Yeah, so I would definitely use them for my countertops again! A little elbow grease went a LONG way in saving us money here! I will go over the counters in far more depth in that post! (Cost mentioned here also includes the concrete board to pour the counters over)
Painting the Cabinets
Paint for the cabinets – I used Sherwin Williams Pure White for the white cabinets, and Gauntlet Gray for the island, I also grabbed a gallon of Dorian Gray for the doors but of course, could have used a quart! I used only one gallon of each, even the pure white! I bought it while it was 40% off which they do not do nearly as often as they used to so keep a lookout and buy it when they are having the sale! I paid $140.00 for the three gallons! I also ended up buying a quart of extra white for the crown molding above the cabinets but I don't really know that it was necessary! Lol! I think pure white was close enough! There will be so much more information in the post about painting the cabinets!
I primed the cabinets as well with Zinsser Bullseye primer, a gallon of it cost $20!
I used a Home Right sprayer to spray the cabinets and I think it's a MUST for making them look professional! I already had the original sprayer and Home Right sent me the newest model to compare it to the old one…there are some great features about the new one but when it comes to pinching pennies in a remodel, the older model will absolutely do the job, and very well! Here are links to both of them!
Cabinet Hardware
Cabinet Hardware – I used Jenna Sue's cheapest place to buy hardware…it's Ebay!! I had no idea you could get hardware so dang cheap and it actually is such a nice quality! I was impressed! I paid $86.00 and I kid you not, I still have a few handles and pulls leftover! Best deal ever!
Tile
Subway Tile, least expensive place BY FAR to buy it is Floor and Decor! This is not sponsored by them but I'm telling you I researched it for days, and drove a couple of hours to get to one, and it was well worth it! Total: $83.00 (and I still have a box leftover!) I also bought the hexagon tiles from them and they match gauntlet gray perfectly…I have no idea how that magically worked out but it did and it is one of my favorite parts of the kitchen! I paid an additional $40.00 for that one box of tile…see now why I don't have it all over the kitchen? I'm too cheap, yep! ???? I love the small accent of it though and think it's perfect!
Add the cost of the tile trowel, adhesive, grout and sealer! $70
MDF to add to the cabinets as molding – One 1/2″ 4×8 sheet from Home Depot ripped down in 3.5″ strips and 5.5″ strips – $28
Baseboards – 2 full 16 ft sticks from Home Depot – $35 (it cost 1.07 per ft at my HD, it may be more or less expensive at your store)
Caulk – I used a lot of caulk! Lol! 6 – Dap Alex Plus – $18
Supplies to build the back of the sink out, the cabinet above the fridge and the drink station…this includes 2 – 3/4″ sheets of PureBond Plywood, 2 – 1/4″ sheet of PureBond plywood, 6 – 2x4s, 8 – 1x2s, 4 – 1x3s and pocket hole screws! $300
Accessories
Lights – Amazon was a lifesaver here! The pendants and the swing arm lamps were purchased for a little less than $200!
That brings our grand total to just under $2500.00…$2470 to be exact and that was all rounded up to make sure I covered taxes and extra expenses! Wow! I don't know if you agree but I feel like that is money well spent!
Once the links are live for the tutorials they will be active! I hope they help you make all your kitchen dreams come true no matter your budget or skill level! You really can have a beautiful kitchen that you want to spend time in! We couldn't have afforded to update the kitchen if we weren't doing it ourselves, nor would we have since it's not technically ours! Lol!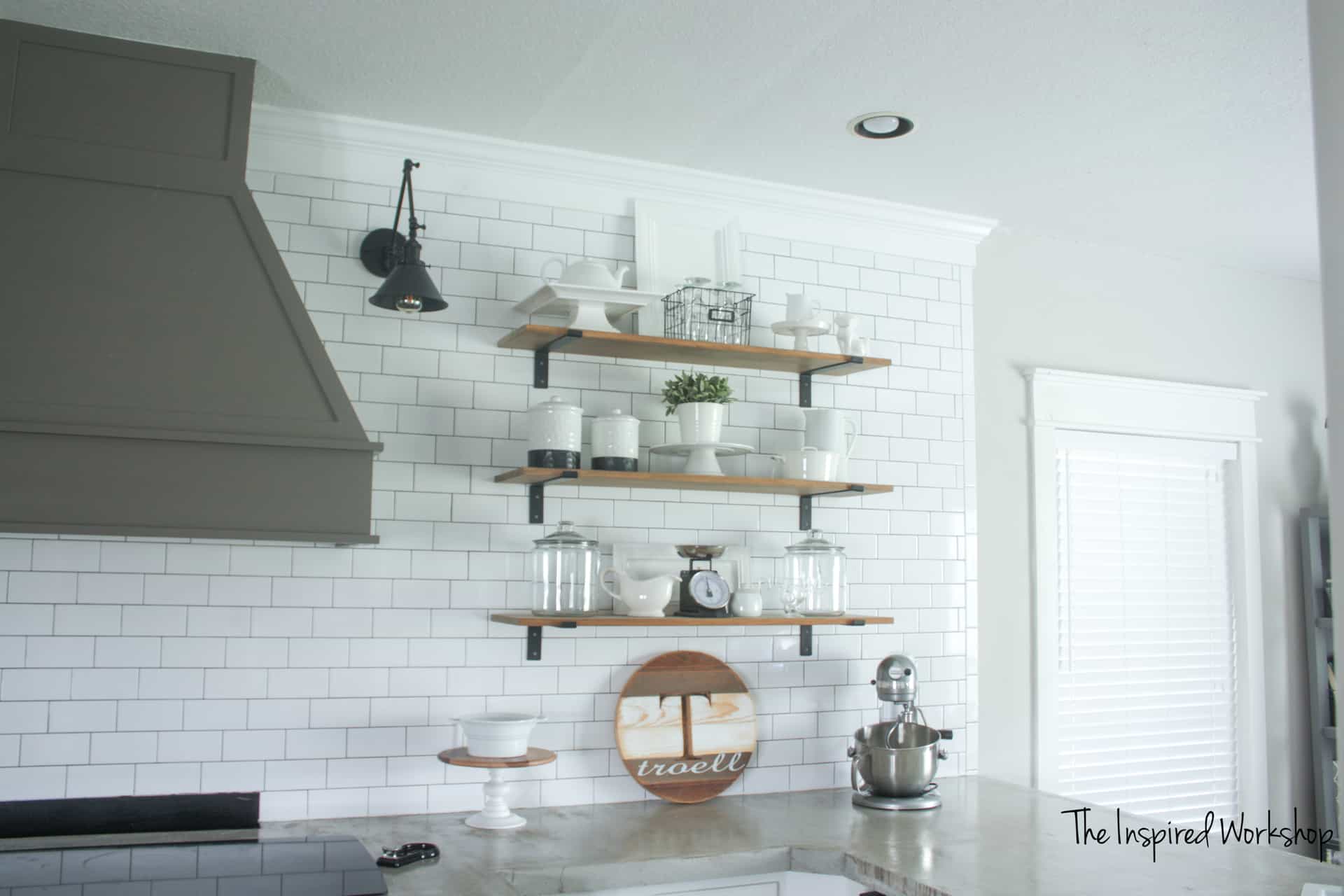 Here we go!
Extending the Cabinets to the Ceiling
Painting Kitchen Cabinets
Building the DIY Coffee Bar Cabinet
Building the Above Fridge Cabinet
How to Tile a Wall with an Uneven Ceiling
Let me know what you think of the transformation! I love it, but we all have different taste and that's okay, it makes our world the amazing place that it is! Hope you have a wonderful afternoon!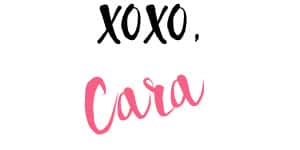 Want to Pin this DIY Kitchen Renovation for later?