This post is sponsored by Build Something and Kreg!
Hey howdy hey!! It's Monday and I'm so excited to share a new post with you today…BUT first I'm super excited to share that I am getting normal internet in one more week!!!
I know, it's the simple things that really make this world go round, and I had no idea how using my hot spot on my phone was harming my ability to blog since we moved!! I was getting ready to post my DIY barndoor tutorial complete with VIDEO…and I had no internet left
…only a small problem when your blog runs on the internet!!
So I finally found a provider who offers great service way out here in the sticks, so why do you care…it means far more blog posts coming at you than just once a month!!! Woohoo!! Dance partay!!!
Pardon the interruption, now on to the originally scheduled post!!
Do you have a heaping pile of laundry that ends up in your bathroom each night because everyone drops their dirties and then 'forgets' to pick them up? Well we do around here and so in all my DIY glory I had to solve this problem!! I decided that if we could just tuck them away for a night or two before collecting them to be washed, at least we wouldn't be tripping over them and looking at them piled on the floor!! But after running to the bathroom to scope out the amount of available space for a hamper, I was slightly dissapointed! There wasn't enough room in any of our three bathrooms for a large cabinet that could double as a hamper!!
So back to the drawing board…and I realized it didn't have to be real tall…it could be a bench and have a drawer that pulls out to allow you to easily throw clothes in!! What the what…yep!! So here you go, the answer to one of your bathroom troubles…say what, that's not your only bathroom trouble…umm can't help you with any others!!
I kid, I kid but really I can't help, I'm only a woodworker, not a doctor!! Moving on…that got awkward quick…So let me just show you the bench!!!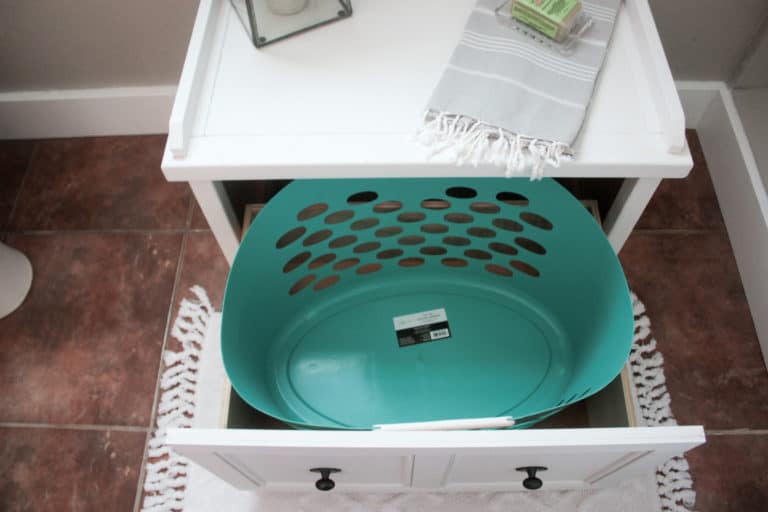 I mean how awesome is that?! (laundry basket can be found here!) It is a tiny bit big for the bathroom I photographed it in, so I'll be moving it to my bathroom and looking for a smaller laundry basket to build one for in this bathroom but I still adore this little lady!!
I mean I must be honest, laundry is my arch nemesis, or is it dishes…hmm…okay they are both equally my enemies!!!
Anyway, this solves one more of my problems…so that has the list down to 1, 465, 873!!! Do you want this to solve one of your problems as well? Run over to BUILD SOMETHING to get the free plans today!!! I could see this in a hallway or even bedroom…although no one in my house would take their clothes to it in the hallway, if they did they could just keep walking to the laundry room…but they don't, so mine has to stay put in the bathroom…right by the shower entrance!! Ha!
Well if you head over to build something to get the plans, be prepared to have your to-build list grow exponentially…they have so many plans from so many amazing builders!! Every time I find at least five new projects that I want/NEED!! LoL!! Did you know that Build Something is Kreg's website? You know, my FAVORITE tool in the whole wide world, it's blue and makes it sooooo easy for me to build my projects…yeah, you do, well the people who make that tool came up with this fabulous website!! Woohoo!!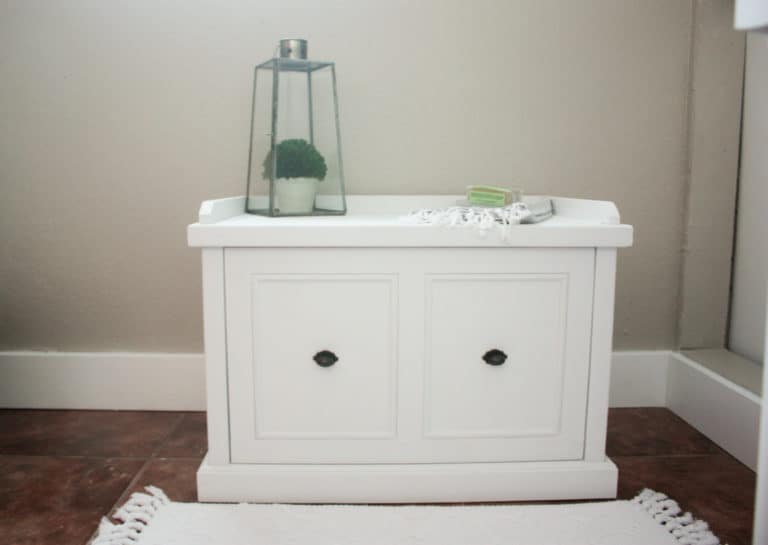 Well, I better run and finish up some other projects that I cannot wait to share with you once I get my 'full time internet'!!
Hope you have a wonderful week!!
Happy Building!
Cara