DIY Round Concrete Table Top
Hello friends!
You guys…and gals!! I need help! How about we make a deal… I provide free project plans to you on here, and one of you (any one of you…I'm not picky really ????) call me each morning and give me a pep talk, and ask about the goals I met the day before! Oh, and get really mad at me if I didn't complete them so that I quit letting time slip away from me!! Ugh! I swear I am going to wake up one morning at 80 years old and think I am only 33 because I am the world's best time waster!! ???? So anyone want to do this for me?…Anyone?…Bueller? ????
Anyway, moving on from my plea for help…if you have been here before, I have done a couple of concrete table tops, just simple rectangle tops… but I tell you something that I had been eager to try, was a diy round concrete table top! But after coming up with the design of my most recent table base, I knew it had to sport a round top…and it had to be made out of concrete! I managed to figure it out as I went along and it turned out alright for being my first attempt!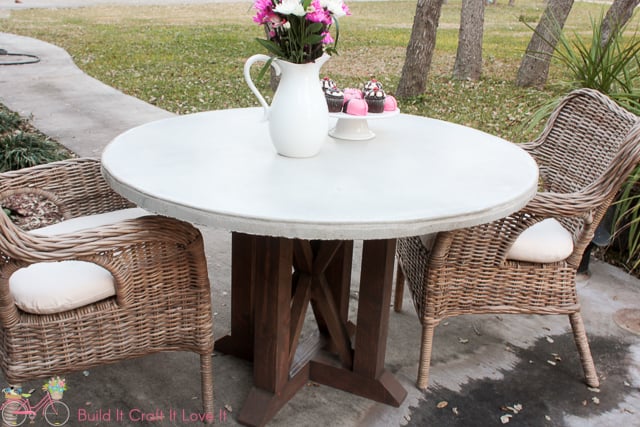 It isn't a PERFECT circle, it has some slight defects that could easily be remedied! I'll just live and learn…and then share my mistakes with you all in hopes that I will save you from making the same ones! LoL!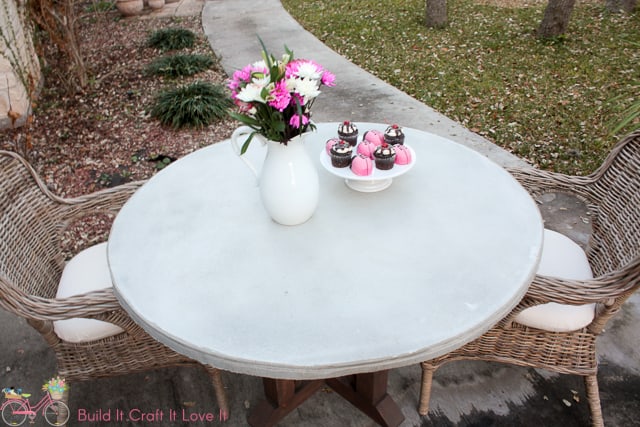 See that small dent…that's where I messed up! But I'll share the how and the why that happened in the tutorial below!
It really wasn't any harder than pouring a rectangle, it just took a little longer to prepare the mold for the concrete! This table top is pretty small at only 4'x4′ which was exactly what I needed for my front porch so I can sit out there and enjoy my coffee in the morning!
I really love how the table came together!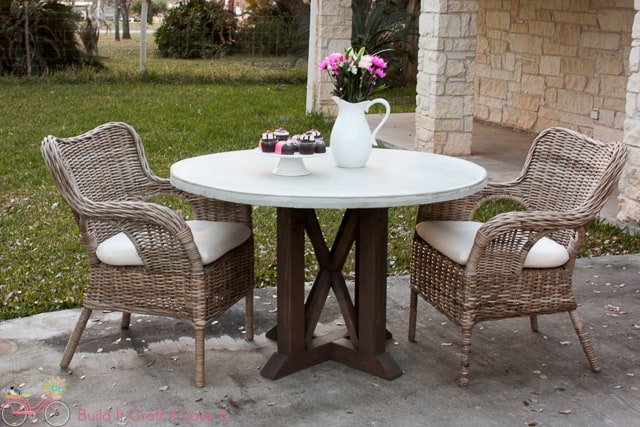 The dark brown of the base with the light gray of the concrete…mmm hmmm…just right! ???? So you want to make one?
Make sure and grab the plans for the DIY Pedestal Base!
DIY Round Concrete Table Top Materials
To get started you will need a few supplies!
Materials:
4×8 sheet of melamine
roll of base cove
silicone caulk
4 bags of concrete (See my experiment below under Pouring the Concrete)
Cut List:
1 – 4×4 piece of melamine
4 – 2 1/4″ x 48″
Building the Concrete Mold
So as I'm sure you have seen plenty of rectangle or square concrete table top tutorials, you just have to build a square frame out of the melamine! I had home depot cut my melamine sheet in half for me so it would fit in my minivan, and so all I had to do to complete the frame was rip four boards at 2 1/4″ thick and screw them into the large 4×4 square of melamine. I used 1 1/4″ screws and make sure and pre-drill your holes or you will definitely split the melamine…don't ask how I know! Hehe!!
Where this goes a little different is that clearly we aren't looking to make a square, so you have to create an internal circle inside of your square! You could also use this same technique, but cut the circle out of melamine and then staple the base cove to the circle. I plan on trying this out as well but I didn't want to have to build a circle jig at the time, I wanted to first see if I could obtain it this way! Which I was able to, so now, naturally, I need to try the other way and compare!???? I am the only one who has the desire to see other options even after one has worked successfully?
Anyway, I achieved this internal circle by cutting some base cove (affiliate Link) down to 1 1/2″ and securing it inside my square frame. I included a link only because I forgot to take a photo of the base cove and most people don't know what it is…basic definition, it is a flimsy vinyl base board with adhesive on the back to stick to the walls…typically found in schools, restaurants and such!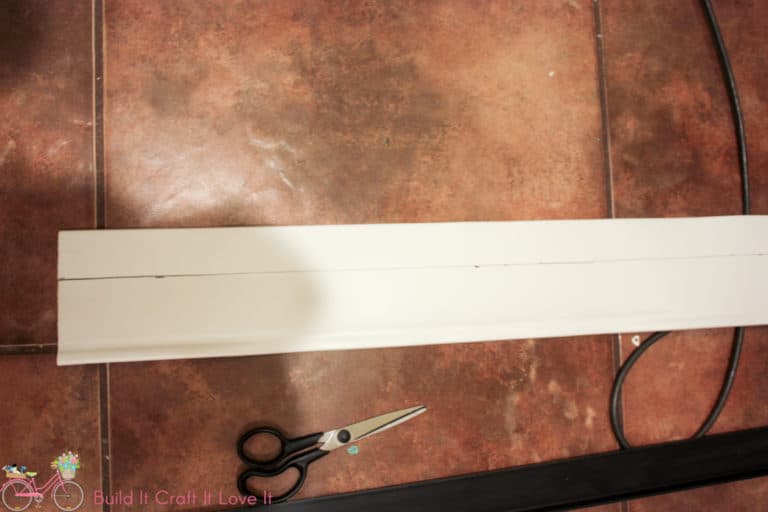 It isn't cut perfect, I just placed the cut side down against the melamine base so the caulk would clean up my not so perfect cuts and give me the nice flat edge on top!
For Texas, we had some really cold weather…so I was forced to bring my projects indoors for a few days…or weeks…and so I had to make room for my mess among my children's messes! If I stop to clean up every time when I am in the middle of one of my projects…I would get even LESS accomplished than I do now!! One day I will get this shiz together…but until then, you'll have to see the mess in my pics!
Here's where I went wrong…I thought that the weight of the concrete would straighten out any wrinkles or bumps in the base cove, which it did…in most places. It did not straighten it out in the areas that are caulked down. So it was able to stretch it around the loose top, but where it was caulked it had no give. You want to make sure it is a very round circle and if I were to do it again, I would maybe try using my blow dryer to lightly heat it up and make sure it is totally straightened out!
I stapled the base cove with brad nails against the frame (side 2 1/4″ piece not the bottom 4×4 piece) where I started and finished the circle, but I didn't brad nail it anywhere else. I then caulked the circle on the inside and outside to make sure the concrete couldn't seep out or move my base cove. Let that dry and move it back outside!
Pouring the Concrete
Okay, now here I tried a little something out, just to see how it would work. I had a leftover box of Z LiquiCrete concrete additive that I had used on my countertops in my kitchen…which I REALLY can't wait to share with you all!! It is going to be SOOOO good!! Anyway, since I only had one box left, I wanted to see what one box would do as the top of the table vs regular concrete, and then see if it would affect it if I added regular concrete on top for the rest of the table! The Z LiquiCrete is an additive that you put in a portland or sand only cement, like Quickrete Sand/Topping mix that makes the most smooth workable cement you have ever seen…you mix it in a 5 gallon bucket with a drill and paddle, and it flows so beautifully from the bucket! It sure beats having to hand mix regular concrete with a tub and a shovel as I always do! Lol!
*Just to Note: the Z LiquiCrete was given to me without charge to use on my concrete countertops by Concrete Countertop Solutions… the idea to use my leftover product on this table was my own…along with all opinions about this product!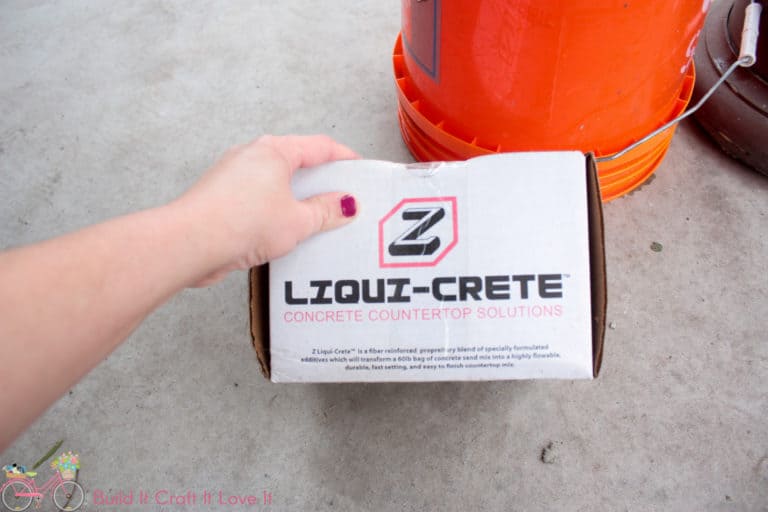 One box, mixed with one bag of cement covered the entire top of the table…just as I was hoping!! See how different the texture is than normal concrete!
So then I added the hardware cloth and mixed three other bags of regular concrete and poured it on top of the Z LiquiCrete!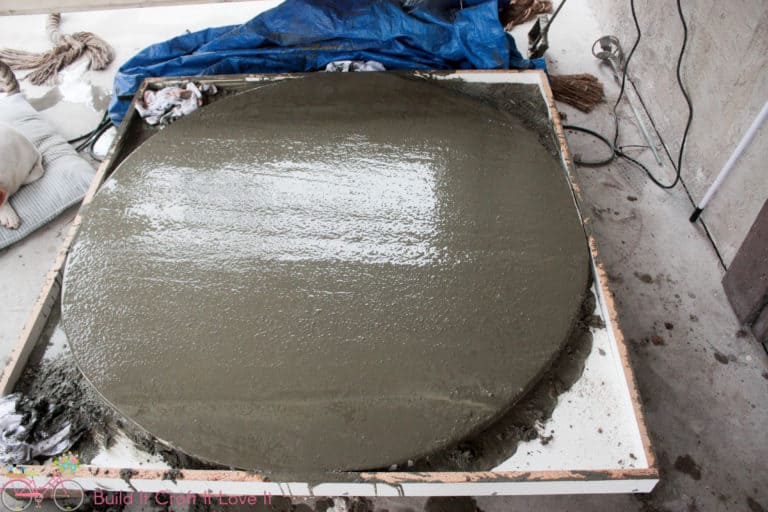 Someone got a little messy!😆 I covered up the mess and left it to dry…for a few days…which turned into weeks! Lol! I didn't even think about the fact that when I have poured concrete in the past, it has been hot…well in the cold concrete doesn't set the same! Yikes! So I left it alone and forgot about it…and quite frankly didn't want to take the mold off in fear that it was going to crumble or something!! LoL! I learned that when they are pouring concrete in cold areas, they add hot water to the concrete when mixing to help cure it! So I guess if I learned something from it then there was no harm done! That's what I'll surely tell myself anyway! 😉
Luckily, it was great when I removed the mold and though it had small flaws….the top was extraordinarily smooth since I used the Liquicrete on it! There again, just as I had hoped it would be! Far less air bubbles too, without vibrating the mold! You can feel the melamine texture on the top of the table…it's so strange because it tricks my mind…if you follow me on Instagram, you know how fascinated I was when I removed it! LoL! I videotaped it and just couldn't get over how it felt just like the melamine!
I wanted to try the Z Liquicrete on a turn over mold because on the kitchen countertops, where the concrete was molded by the edge form, it was like glass…so I thought maybe melamine would give the same outcome…it didn't, but I realized that melamine has an ever so slight texture to it, which the concrete picked up. So I have another experiment to share with you soon with a leftover bag of white concrete countertop mix from Concrete Countertop Solutions as well! I'm so excited about this one as well!💃
Make sure and check out their website if you haven't already! Concrete Countertop Solutions has made concrete countertops so much more than just boring concrete! But I'm saving all the juicy details for my kitchen post that fingers crossed will be coming oh so very soon!! I am praying I get it done soon because, man I can't afford to keep eating out as we have been…plus I have gained about 10 lbs eating all that nasty food! LoL!
Here's another look at this gorgeous table!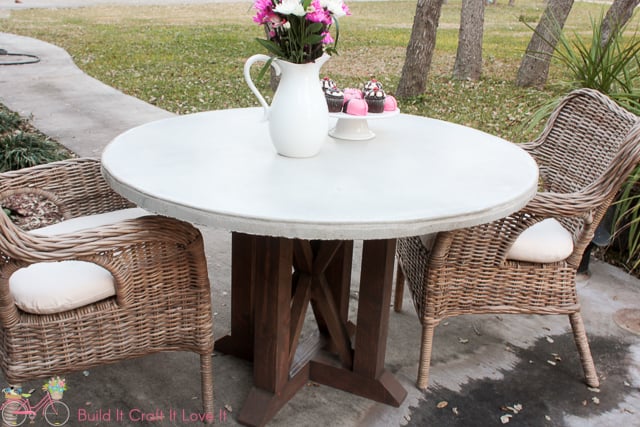 Want to see my other concrete projects?
Thanks for stopping by!
Happy Concrete Pouring!