Stocking Stuffer Ideas for Woodworkers 2022
Does choosing stocking stuffers or small gifts give you anxiety? This post will relieve the stress and give you 15 viable and inexpensive, yet highly useful items to get for any DIYer in your life! Make them smile Christmas morning with a useful and exciting new tool that won't break the bank!
15 Stocking Stuffer Ideas Under $25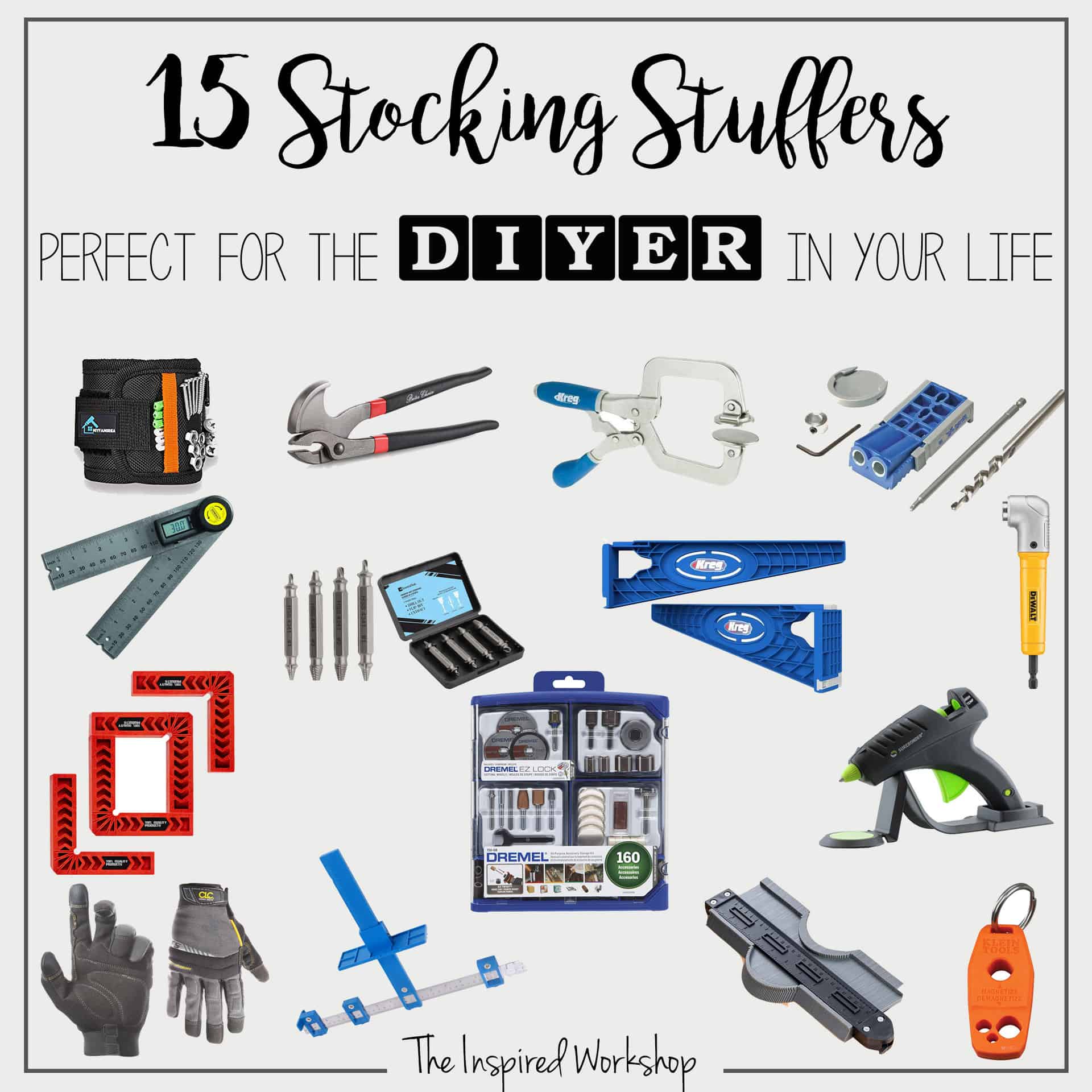 This list includes stocking stuffer ideas that I already have and LOVE, or I am expecting my family to read this post and place them in my stocking on Christmas morning! 🤭 All the items come in under 25 bucks! If you would like gift ideas over 25 dollars I will have this gift idea post!
Let's dive right in and get down to the nitty-gritty goodies!
**I must remind you that the links below may be AFFILIATE LINKS! This post is NOT SPONSORED (meaning no one is paying me to share any of the items on this list) but if you click a link below and make a purchase, I may make a small percentage of the purchase at no extra cost to you! Amazon links are affiliates but all others are not! Thanks in advance for any purchases you may make at the links! It helps keep the content FREE!
Also, I would like to remind you that in gifting, it is the THOUGHT that counts, don't beat yourself up over gift giving! I am kinda sorta talking to myself here…Lol!
Remember that if you get stumped making purchases for a DIYer, they can ALWAYS use new blades for their saws, new drill bit sets, disposables such as sandpaper and masks, or a few new stains to try, even paintbrushes to apply them with will get a DIYer excited! We are usually a pretty appreciative bunch who just need the basics!
Here are a few stocking stuffers though that would make any DIYer shriek with delight! They are not as common as the items above, but again…we aren't that picky!
First up on the list is this magnetic wristband! You can pick which one suits your fancy and they come in a variety of price ranges as well so they are sure to fit in any stocking stuffer budget, heck it would even make a great gift if you don't do stocking stuffers or are spending small amounts this year on gifts! There is no shame in that!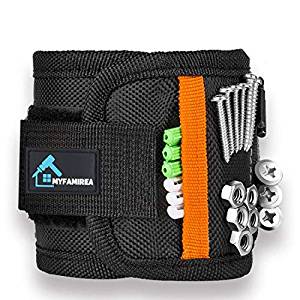 I tell you what I don't have one yet, but I sure hope to receive one in my stocking! I lose everything, in my hand one minute…disappeared the next! This is MY. LIFE. STORY. No lie! My drills have a small magnetic area and that happens to be the ONLY screws and bits that I can keep up with. I usually overload that small area with screws and such, so I would imagine a larger magnetic area on my wrist would solve ALL MY PROBLEMS!
Cost $10-15
This little pair of pliers look so normal but yet, they are a LIFESAVER if you ever use a brad nailer! You know how brad nails have a mind of their own sometimes and will whip back around and come out the front where they were nailed in, or blast out the side of the project! It can be so frustrating! I can't make sure that your brad nailer will shoot straight nails every time, but I can help out with this little tool when it does happen! Lol!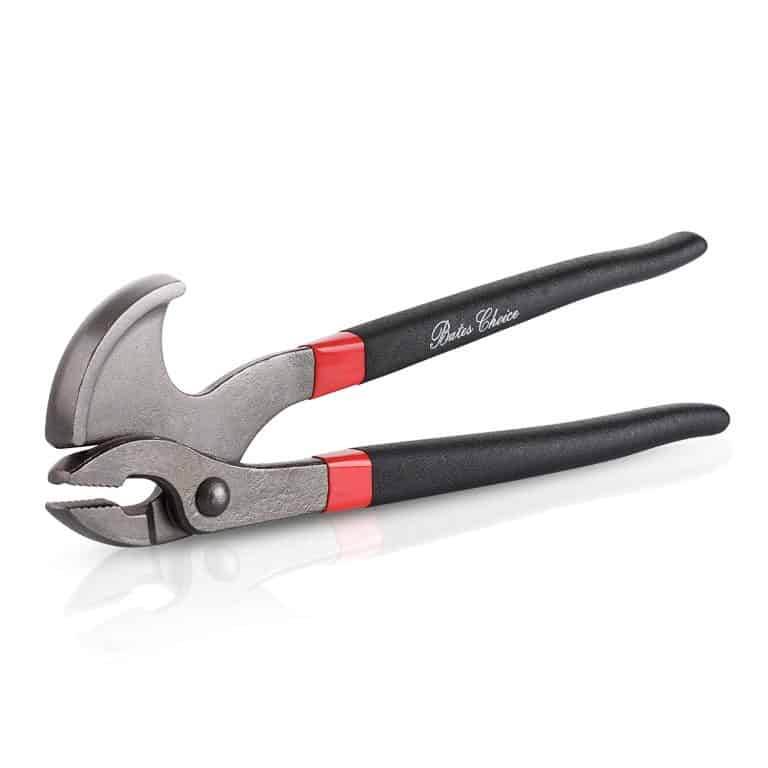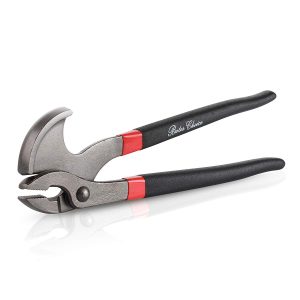 I used the nail puller throughout my Kitchen Renovation and seriously debated writing a whole blog post on it, it was that awesome! Plus if you so any renovating, I have to pull all the nails out of old wood before being allowed to throw them in the burn pile, so I hand this over to the kids and they go to town pulling nails!
Cost $15-18
This right-angle drill attachment is another that I taught as a lifesaver! When I forget that I drilled pocket holes in a small area and my drill with the long square bit doesn't come close to fitting…this sure beats having to revise my plan mid-project! Check out when that happened to me in this post – DIY Modern Outdoor Side Table.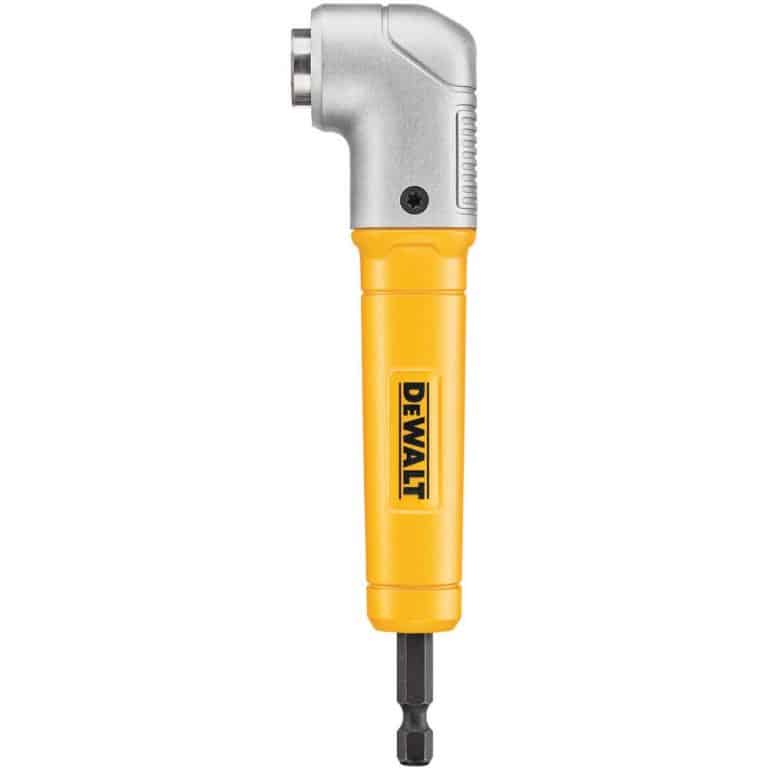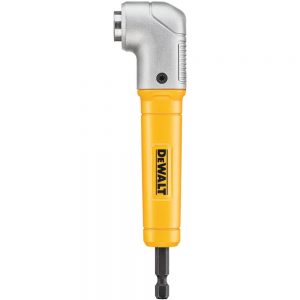 Cost $18-25
I have to say that there are MANY times that a hot glue gun can be utilized in DIY! Make it cordless and it may be unstoppable! Lol! From small repairs to craft projects you really can't ever go wrong with a glue gun.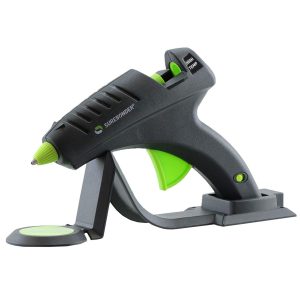 If the person you are shopping for already has Ryobi tools and 18v batteries, you can sometimes find this one on sale for 24.99 and it will match their collection, but if you have to buy it with the charger and battery, it will cost you $99!
Cost $12-25
This is so handy when you are doing any kind of renovation, no more guesswork and wasted materials! Hold it up to the angle you need to know, and boom…it tells you what angle you are working with!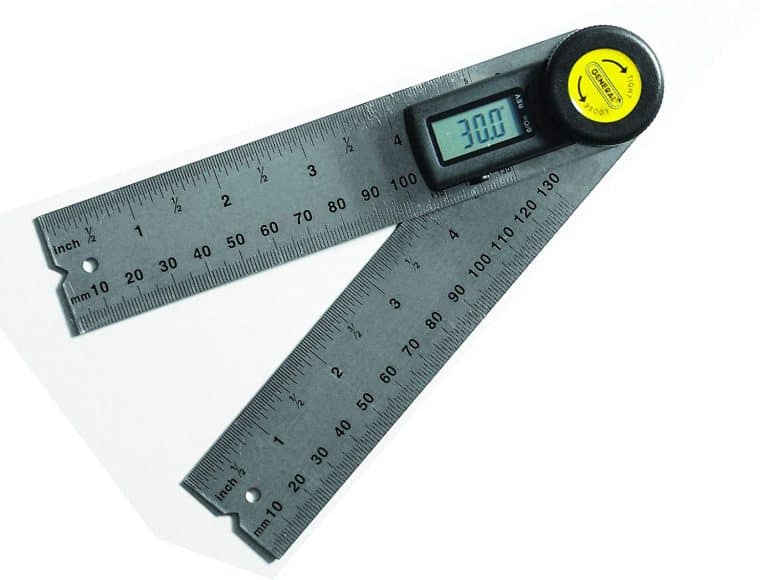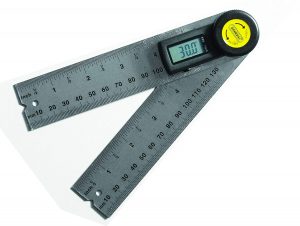 In this house we have all kinds of angled walls and doorways, I would not have even been able to cut baseboards without it! Again, lifesaver…I hate to use that term over and over, but seriously…it was a lifesaver!
Stocking Stuffer Idea #6 – Contour Gage
Cost $9-25
Again, anyone who does home repairs or renovating will LOVE to find this contour gage in their stocking! I used it for tiling around the strange angles and shapes of the door frames and molding. You can use it for anything that you need a template for! My kids even use it on craft projects around the house! This one has a locking mechanism which is a MUST so that it won't shift when you try to trace the design.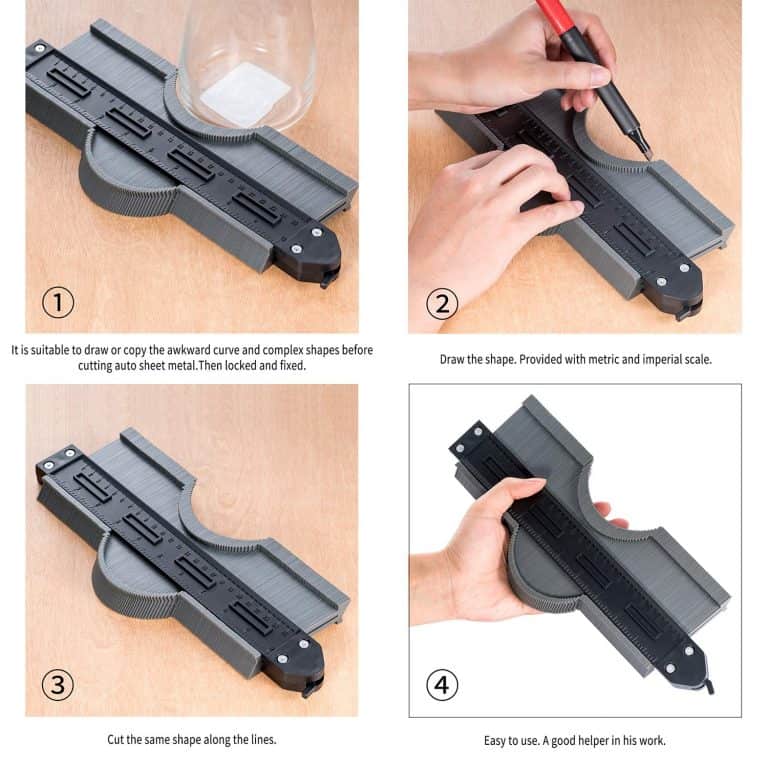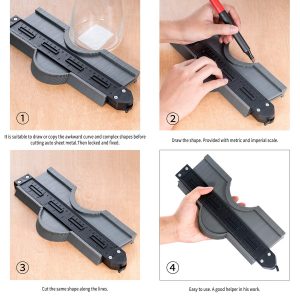 Stocking Stuffer Idea #7 – Gloves
Cost $8-20
It may just be me, but I cannot ever have enough gloves! Lol! I misplace them, tear them up and touch things that I don't ever want to touch again (so they get thrown away)! If I need help with a project, the person helping needs a pair of gloves as well, so I can ALWAYS use an extra pair of gloves…or two, or three!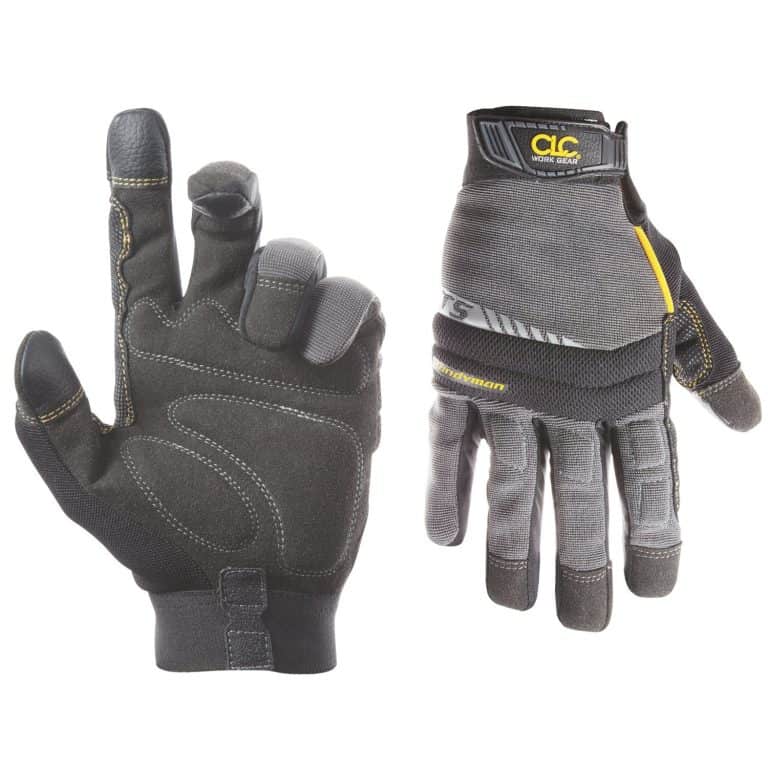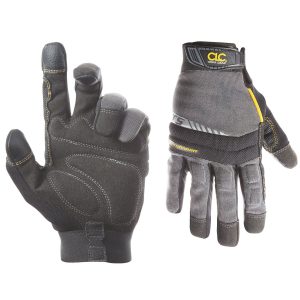 Cost $10-20
I may or may not need this oh say once a week! Lol! If it isn't a square head screw, I am willing to bet that I am going to strip it! Call me a rookie or moron, whatever you like, but my name is Cara and I STRIP SCREWS! This kit may just save my marriage!!
I did see a cool trick though that I am going to try, later today if I had to guess but it is where you place a rubber band over the top of the screw head when you have stripped it and then back the screw out! Looked pretty cool on Instagram when DesignsbyDonnie posted the video! I will still keep the set handy because, how likely is it that I will be able to find a rubber band when I need one? Not very likely! Lol!
Cost $10-25 (depending on the number of accessories)
I think this goes without saying but, are you even a DIYer if you don't have a Dremel? I have four I believe and here again, I could not ever have enough accessories for them! Some are expendable, like the sanding and cutting discs or buffing pads…and then others just seem to disappear! Maybe that's just me and my complete disaster of a shop, but hey, just put it in my stocking already and quit asking questions!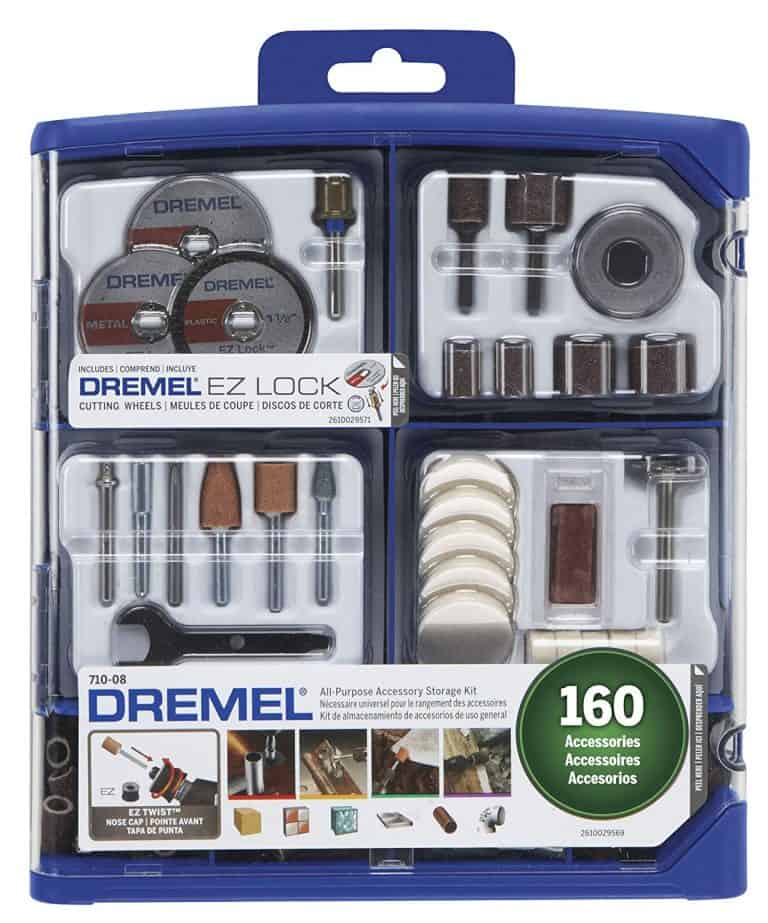 Cost $25
As you very well know if you have been around here any time at all, I LOVE Kreg Tool Company! Everything they make is awesome! I cannot express this enough sometimes it seems! Lol! This particular drawer slide jig from them is perfect for the woodworker in your life! I am sorry it doesn't matter how many tools you have, the jigs are HUGE BONUSES to make building go smoother and faster!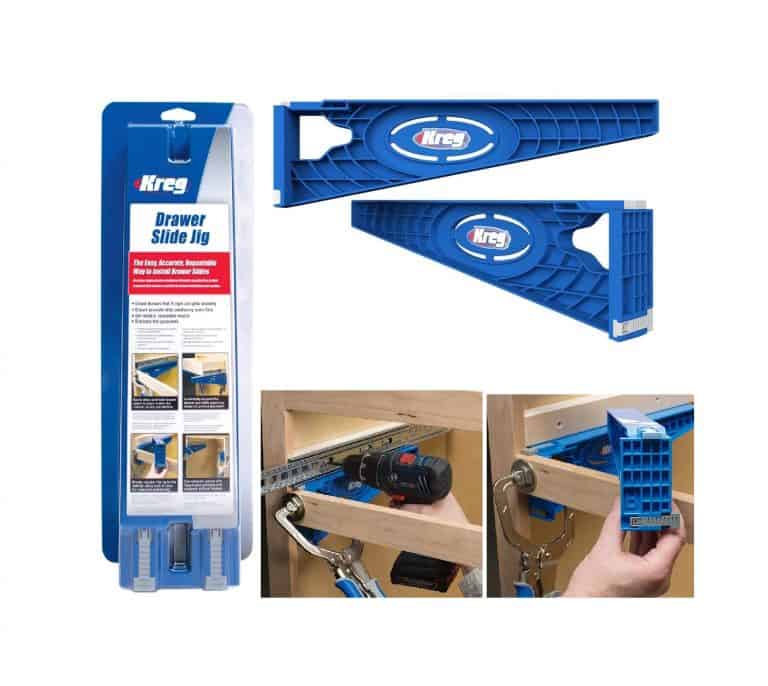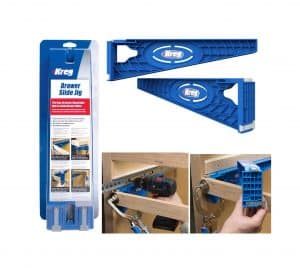 Cost $20-25
As I stated above, I LOVE my Kreg Tool jigs, but the cabinet hardware jig from them did not work for the long hardware that I placed on my kitchen cabinets recently. Now, I do not own this hardware jig but I do plan on ordering it now that I am building a vanity that will have large hardware as well! The kitchen cabinets were a nightmare trying to line them all up, so they are well worth the small investment! This one has great reviews and I am excited to give it a try!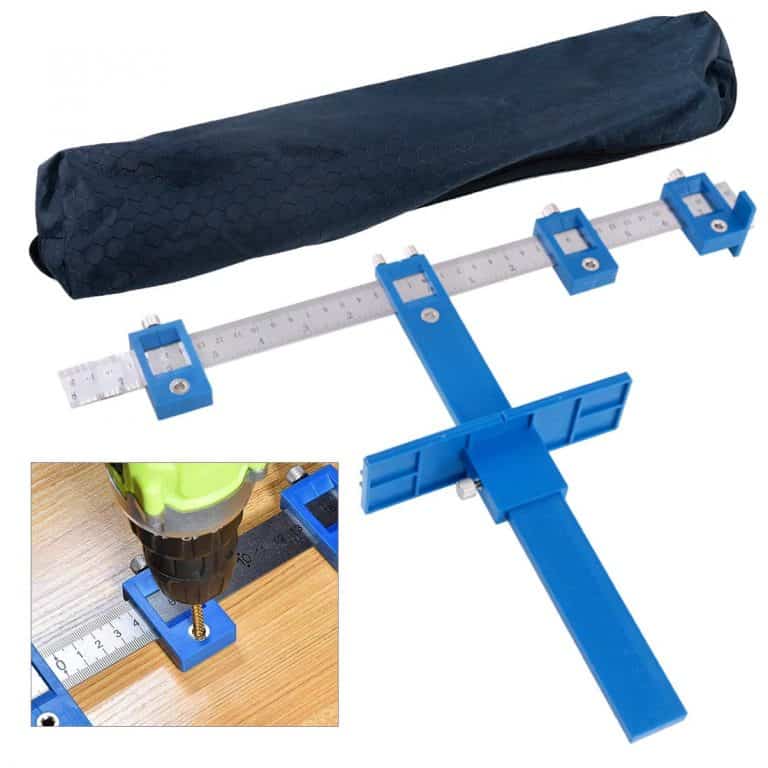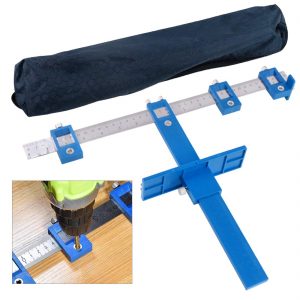 Cost $22
In life, I really don't want to be square, but I sure do want my woodworking projects to be square! This set of four positioning squares will help you to keep anything from picture frames to cabinet doors in the correct square position while attaching the boards together! Whether you are using pocket holes or any other type of joinery, these positioning squares are project savers! See what I did there? Didn't have to call them lifesavers!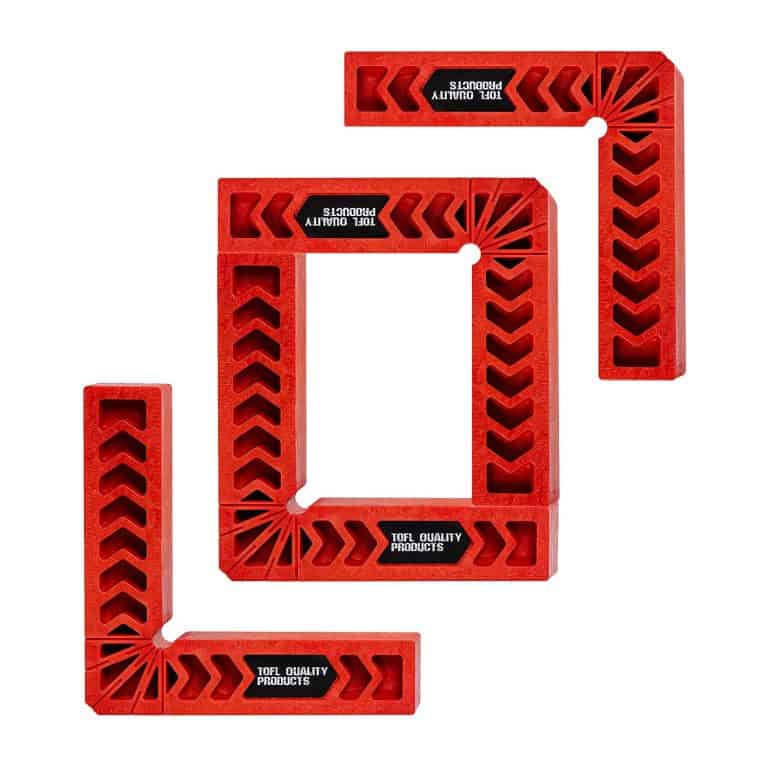 Cost $22
Y'all this is CRAZY INSANE! I saved the best item for lucky number 13! This pocket hole jig is how I got started, this little blue and gray jig started one of the best and most satisfying parts of my life! I'm getting teary-eyed just typing about it! Anyway, since Kreg recently upgraded the R3, you can get the original R3 for 22 bucks! Don't miss out on this opportunity if you or someone you know would like to start building furniture! It is originally 39 bucks, so this deal is incredible! Go get you one….NOW!!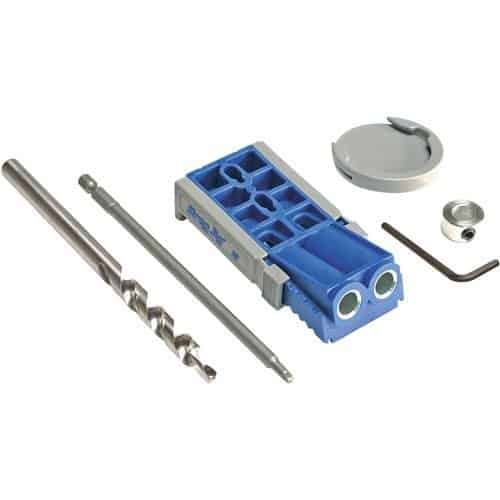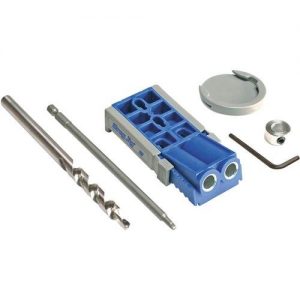 You will not regret it, you can always upgrade later if you would like, but you can make EVERYTHING with this jig that you can make with the larger jigs!
Stocking Stuffer Idea #14 – Clamps
Cost Under $25
There are so many varieties of clamps, all for different purposes…and they can sometimes come with a heavy price tag…but there are plenty of clamps that are under 25 dollars and still super helpful!
Kreg has a few options and I LOVE all of them when building with my beloved pocket holes!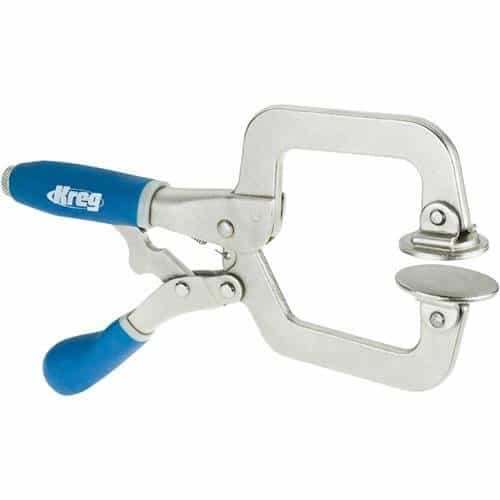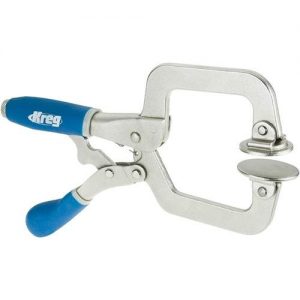 Right angle clamps help keep those corners square!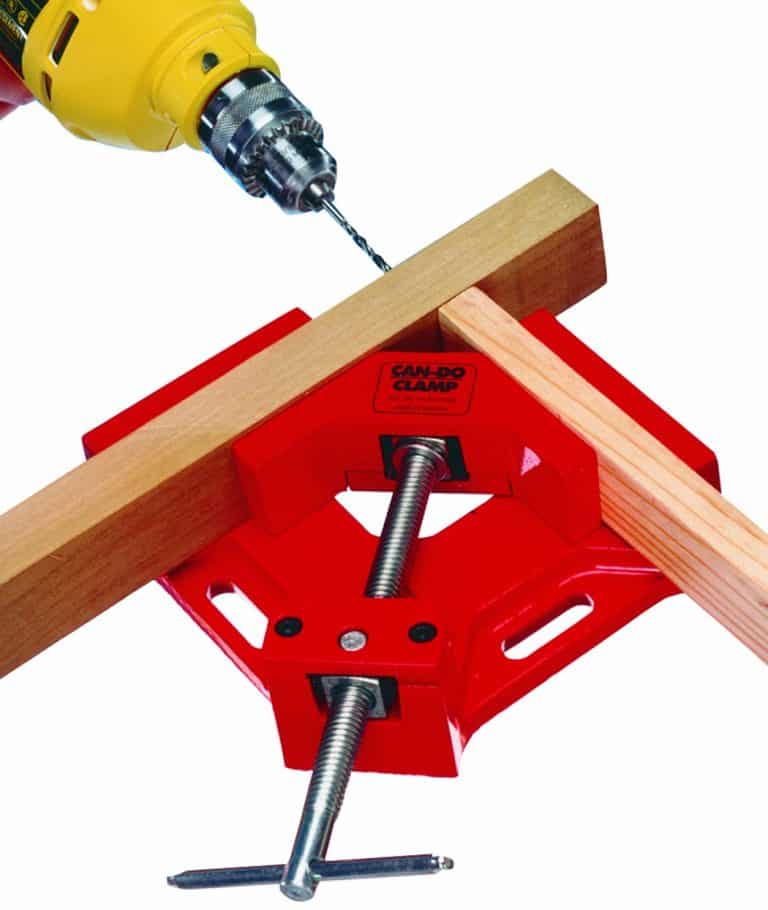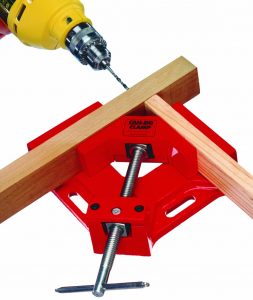 Bar Clamps help with pretty much any and every project you do in the shop! You cannot EVER have enough, it seems you always need one more!

Cost $5-15
This small but mighty little keychain can save you from a lot of curse words while on the job! Lol! You can magnetize, or demagnetize if you need, any screwdrivers, bits or screw heads so that you can easily get a project finished without all the hassle of dropping screws or bits! Attach it to your tool apron or keyring, have it handy at all times!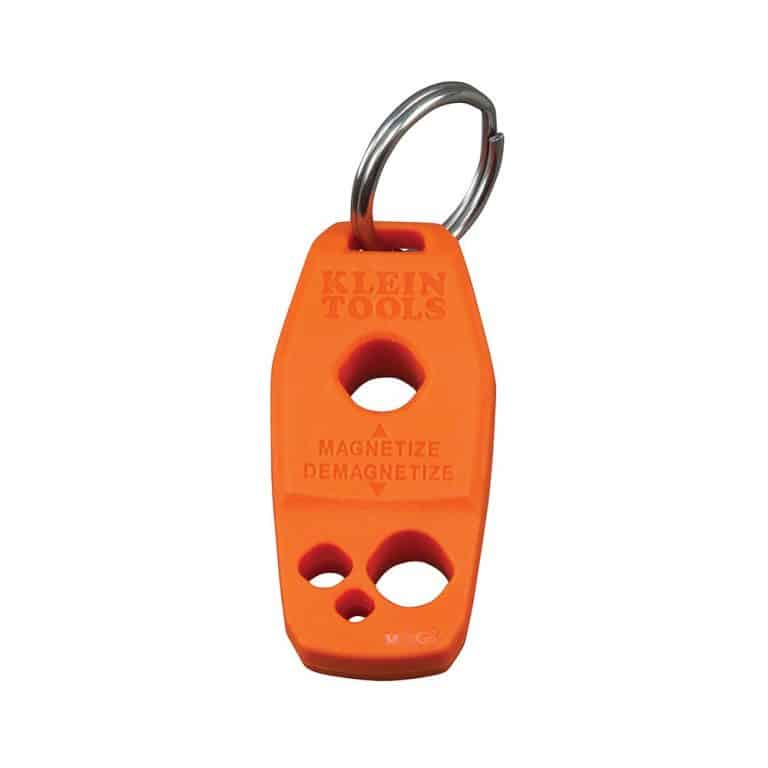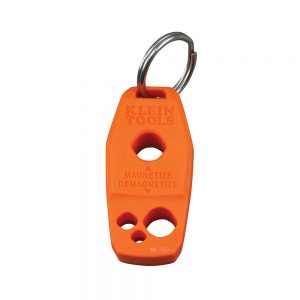 Well, there you go, folks! That concludes my small roundup of some unique items that I think any woodworker, weekend renovator, or professional DIYer would enjoy!
I'll be posting some other gift guides throughout the season and I have a ton of DIY gift ideas to help you find a little something for everyone!
I would love for you to pin this for later if you aren't ready to start making purchases just yet!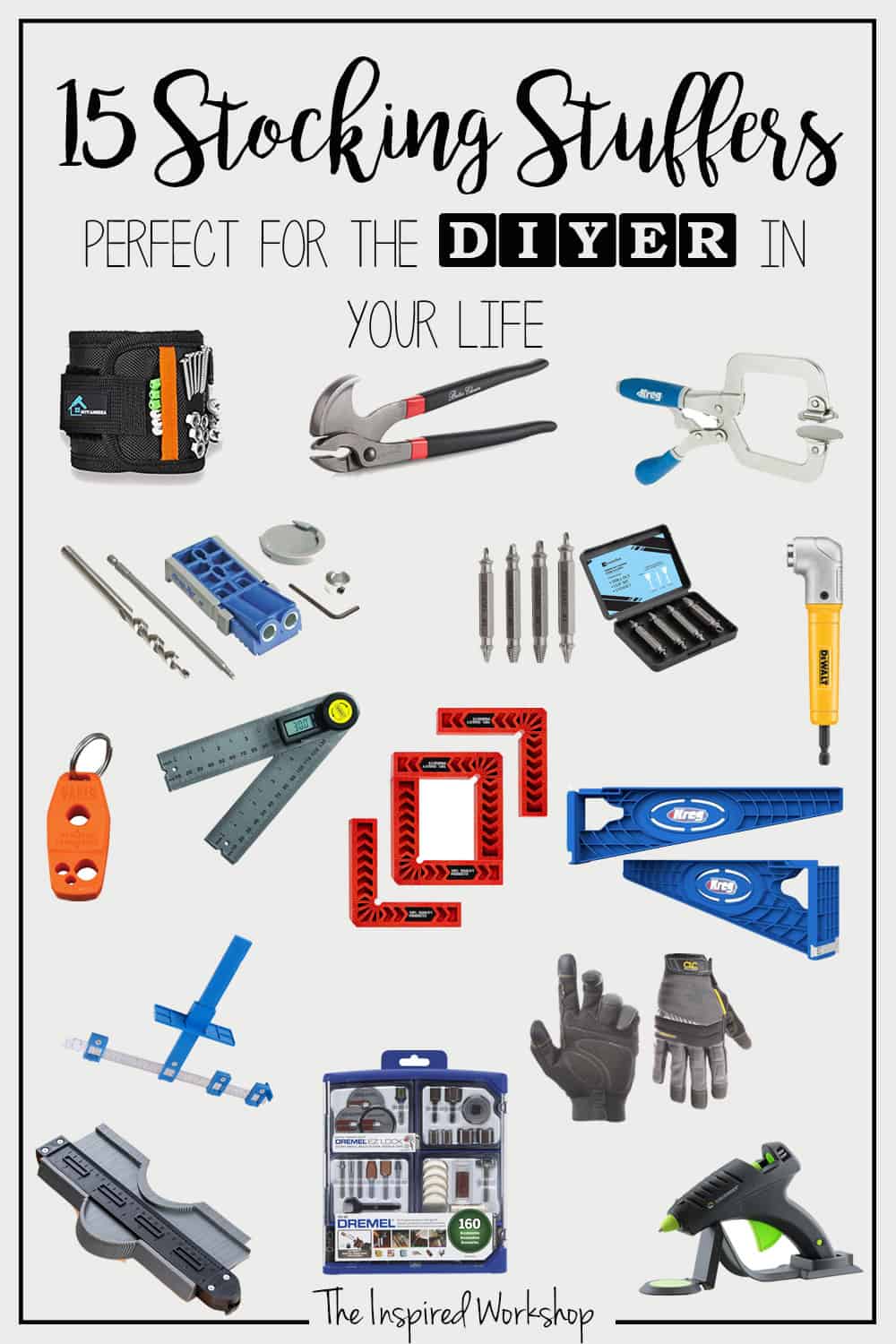 Have a wonderful week!