Gone are the days when you have to have a reason to drink wine! You don't have to explain yourself to anyone if you drink box wine, you don't have to explain yourself to anyone if you are drinking wine in the middle of the day, but you will have to explain how you made your boxed wine look so good when you place it in this DIY wine dispenser!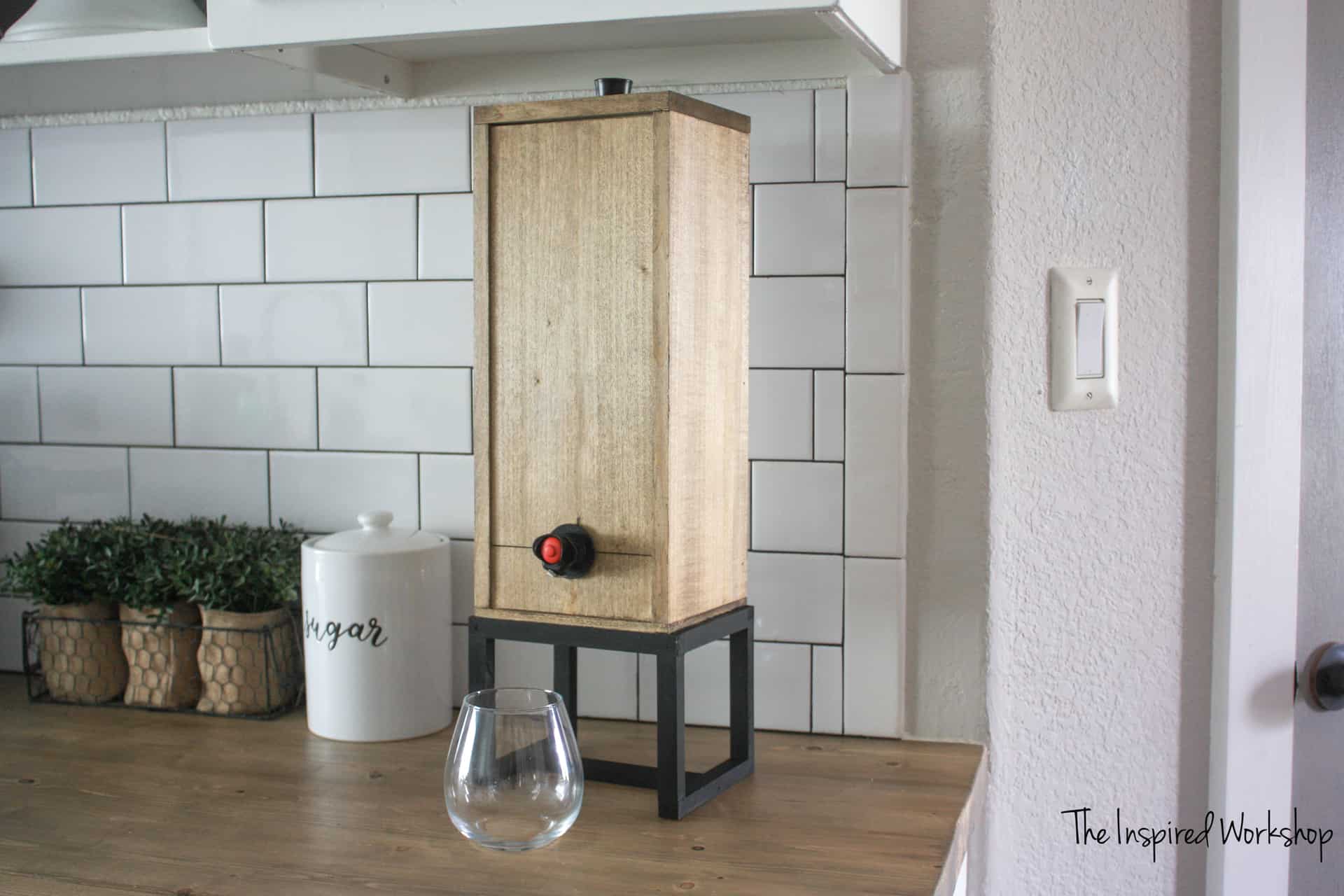 Hello, is that not the best way to hide the fact that you are the classiest lady in the neighborhood and buy boxed wine?😜 I mean no one likes a show-off Karen! I must admit, I am not actually a big wine drinker, I know…gasp!😱 I may become one as of the building of this fancy wine dispenser, but for now, I will just sip my tequila out of the bottle and leave this on the counter for guests to enjoy! Who am I kidding, I'll actually be drinking coffee trying to stay awake!😂😂 #partypooper
Look how quickly and easily you can use this wine dispenser!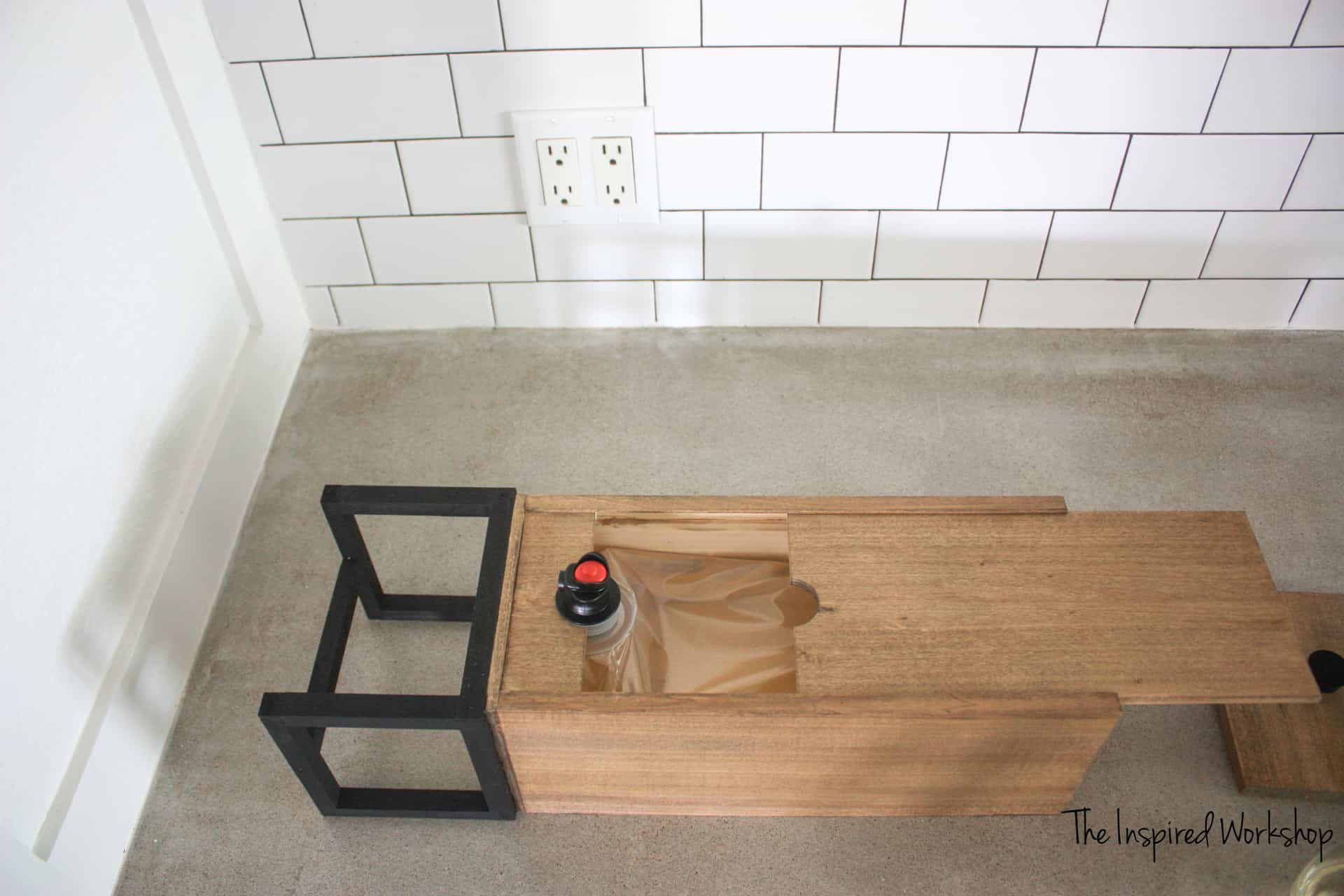 Load it with your favorite wine, stand it up, and place the lid on top! Ready to serve!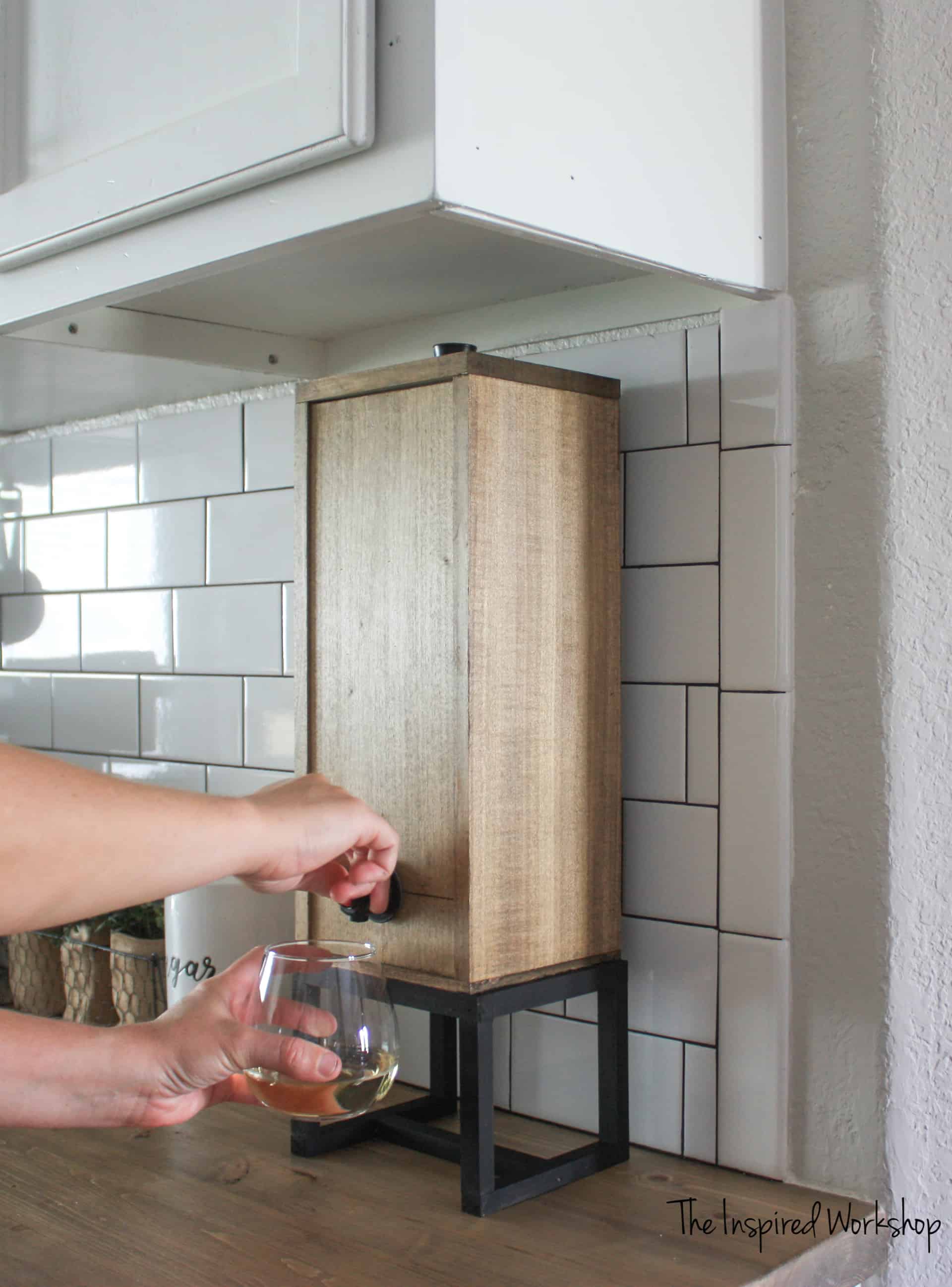 I really love it! Now I have SOOOOO many ideas swirling around about other designs that you could do with it! Apparently, I am all about dispensers, lol…did you see my DIY Cup Dispenser?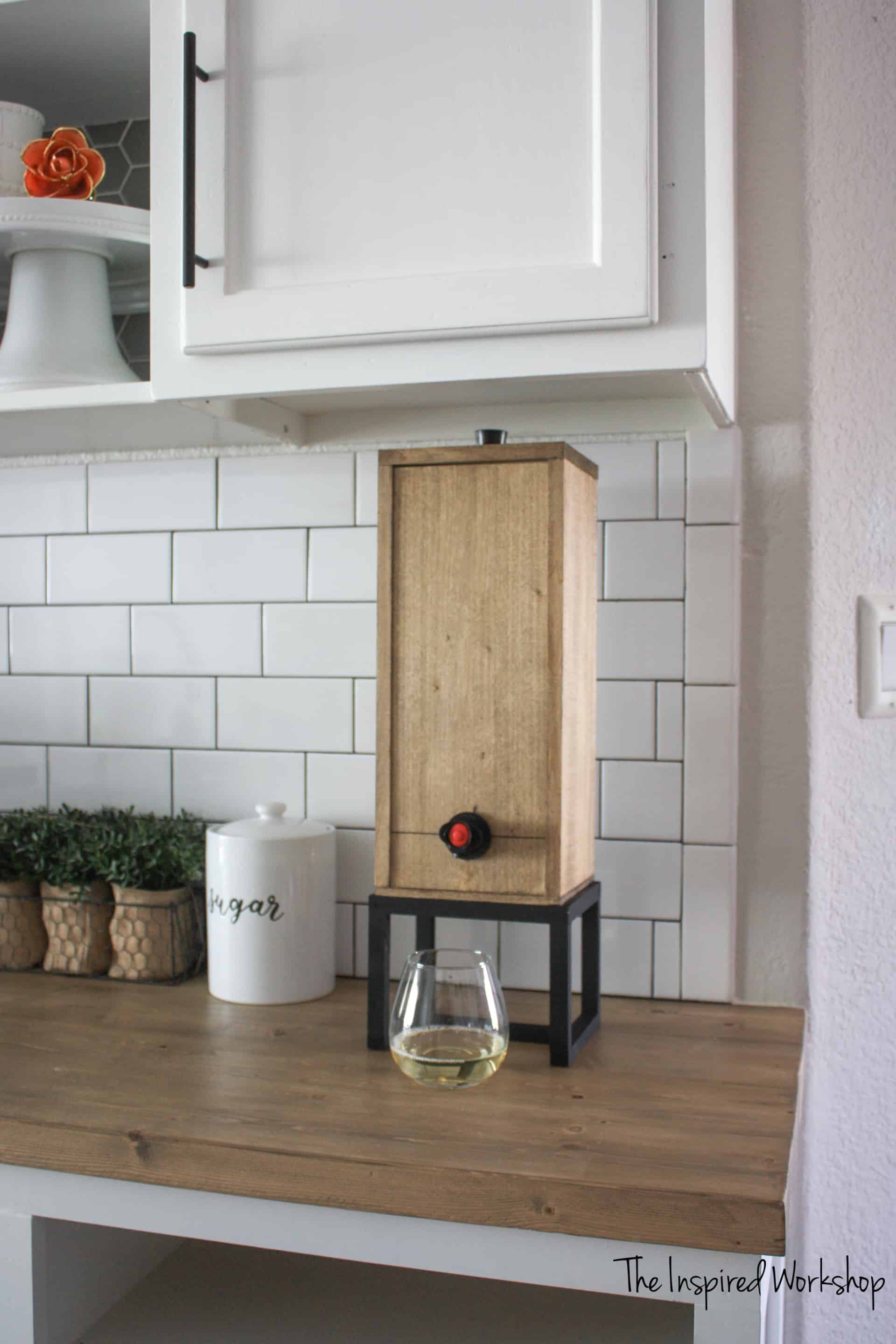 You have to check out the other really great projects from all my other friends as well! They brought their 'A+ gifting game' man! I love doing the challenges mainly just to see what all the other ladies build and create! It is so much fun! Scroll down to the bottom to click all the links and show them some love!
Now back to this here DIY wine dispenser, let me show you how to build your own!
Gathering the Supplies for the Wine Dispenser
Materials for wine dispenser:
Note: You can do this even cheaper out of 1/2″ MDF or 1/2″ plywood but I just purchased hobby boards from Home Depot that were made of poplar, they are 1/2″ and come in all kinds of smaller sizes! The total cost of wood was a little less than 20 dollars.
Amazon links below are affiliate links (all other links are not, they are just to help you find the items I used)! As you may have read before on my site, affiliate links may earn me a small commission if you click a link and make a purchase (you do not have to purchase the item that you clicked the link of, any item you buy after clicking the link will count), it is at no extra cost to you… and helps me keep all the plans free here on The Inspired Workshop! It's really a win-win and I appreciate it!😊
…and your favorite box wine baby!
Cut List for wine dispenser:
One of the things I enjoyed most about this DIY wine dispenser as a gift is that you can whip it up in a couple of hours, not days or weeks like a lot of my DIY ideas!
2 – 1/2″x6″ @ 14″ (sides)
1 – 1/2″x6″ @ 14″ ripped down to 5 1/4″ (back)
1 – 1/4″x6″ @ 14 1/8″ (front)
1 – 1/2″x6″ @ 6 1/4″ (lid)
1 – 1/4″x6″ @ 6 1/4″ (bottom)
1 – 1/4″x6″ @ whatever is left over after cutting the other two pieces! Mine was like 3″, and then I cut the 6″ side down to 5 1/4″. (this will be glued to the lid piece to hold it in place).
After cutting the above pieces, I used the remaining 1/2″x6″ and ripped it into 5/8″ strips to make the base.
4 – 1/2″x5/8″ @ 4″
2 – 1/2″x5/8″ @ 6 3/4″
2 – 1/2″x5/8″ @ 5 1/2″
2 – 1/2″x5/8″ @ 4 1/2″
1 – 1/2″x5/8″ @ 5 5/8″
Building the Wine Dispenser
This build is a pretty simple rectangular box, so I started out by cutting all my main pieces. Before assembling, make sure and cut your grooves for your front piece to slide into. I cut them on the table saw, with my blade raised about 1/8″ out of the table, I set my fence to about a 1/8″ as well. Run both of the boards through all the way through the saw, then move the fence over 1/8″ and run them again. You may need to run them one more time to make sure the front board fits in the grooves.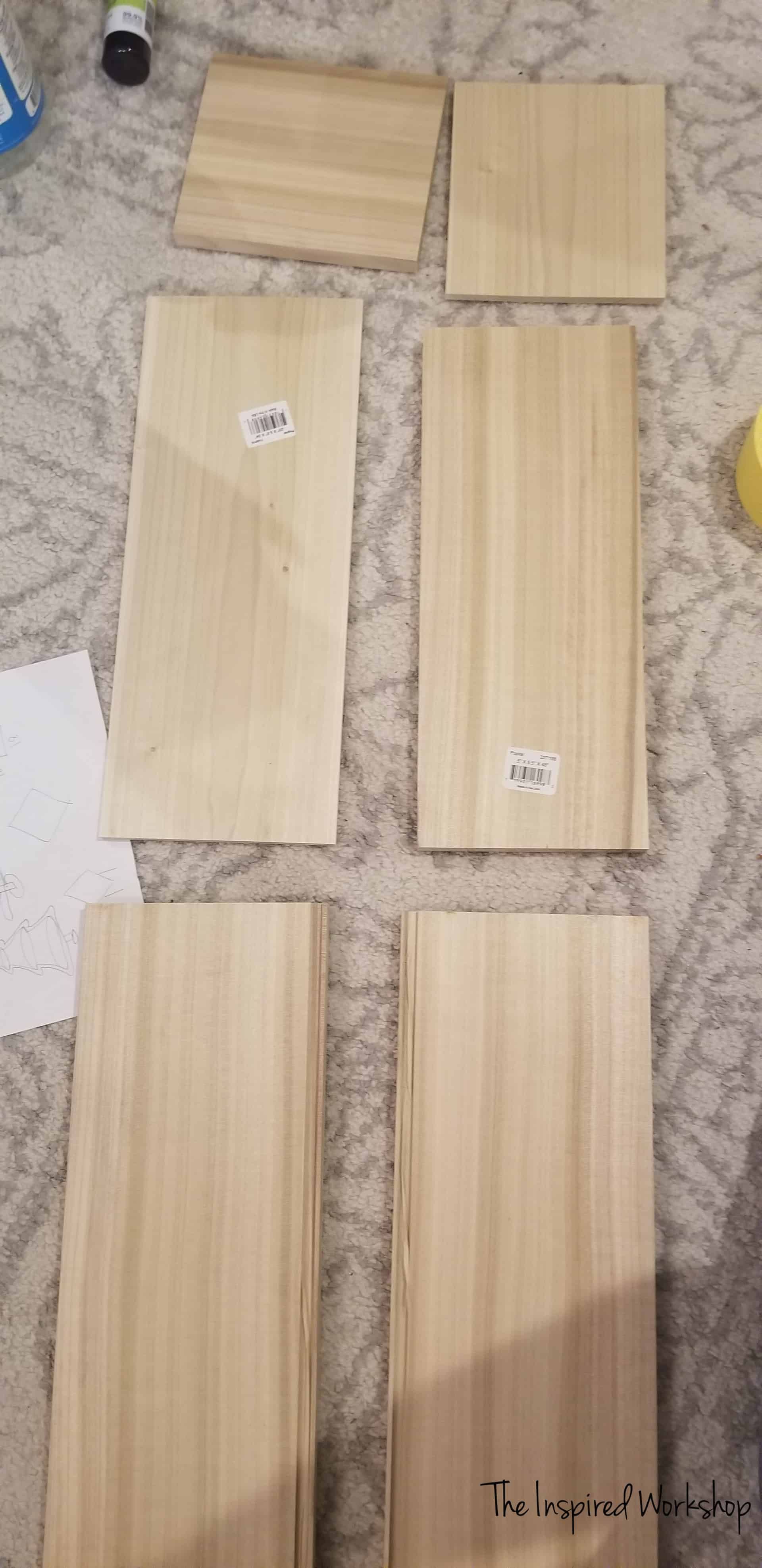 You cannot clearly see the grooves in this photo, but they are in the very bottom boards, and to the inside of the boards.
There are a couple of other ways you can cut the grooves for the door if you don't have a table saw. You can use a router with a 1/4″ bit, or you can use a circular saw the same way you use the table saw. You can even use your miter saw if you place a stop on the arm.
Once you have the pieces cut, you can start assembling the box. I like to place my pieces on a raised surface when I am using the brad nailer so I can keep it level. This prevents the brad nails from shooting crooked and popping out in an unexpected area!
I also used painter's tape to try to hold the pieces while I was brad nailing. Make sure and use ample wood glue to hold it together. The brad nails are only used to hold it together until the glue sets, not as the actual fastener!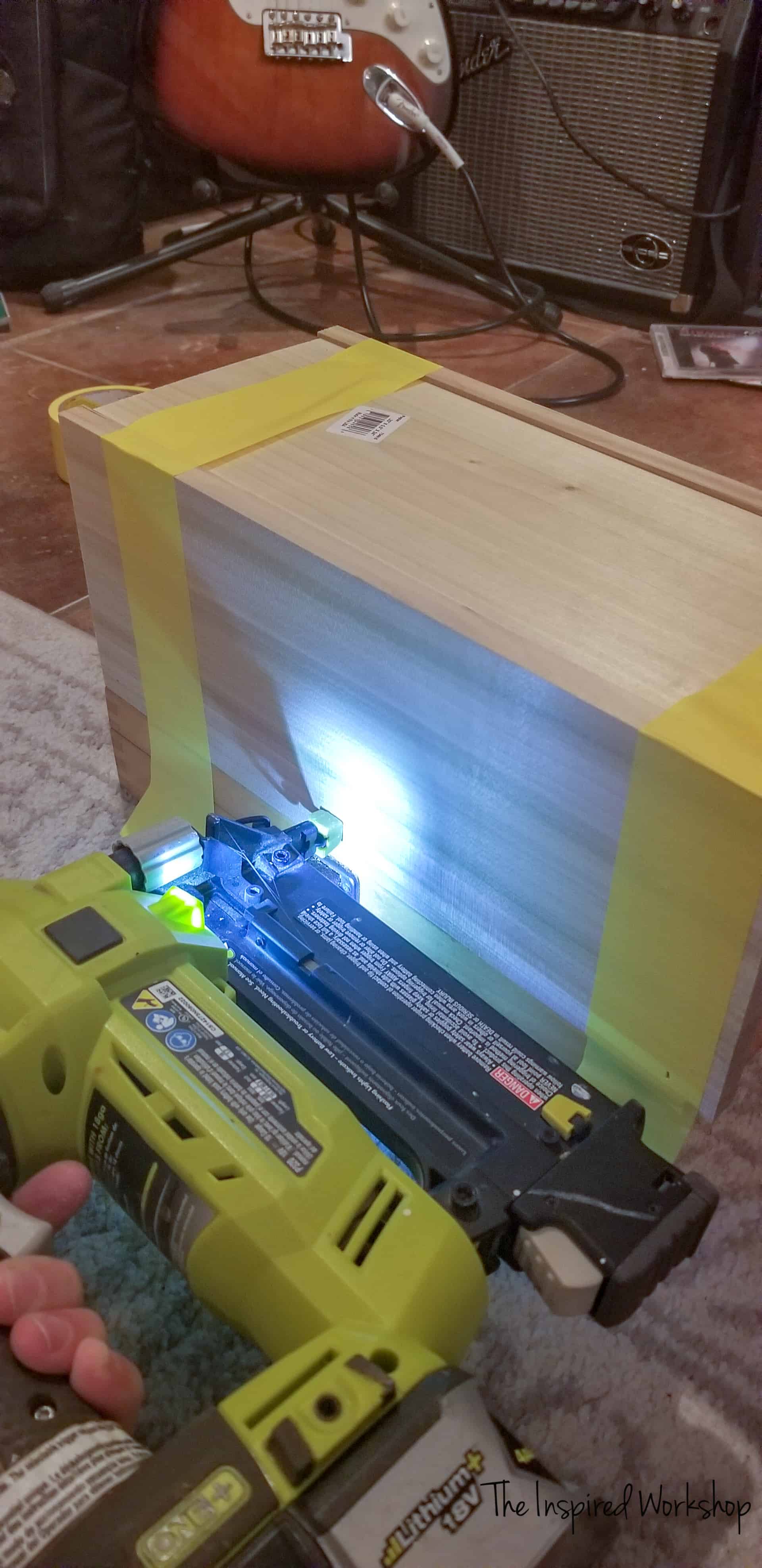 I did slide the front piece into the box to hold the boards in place while I brad nailed it, just make sure that no glue gets on it!
I brad nailed the bottom as well, again with plenty of wood glue, none along the front!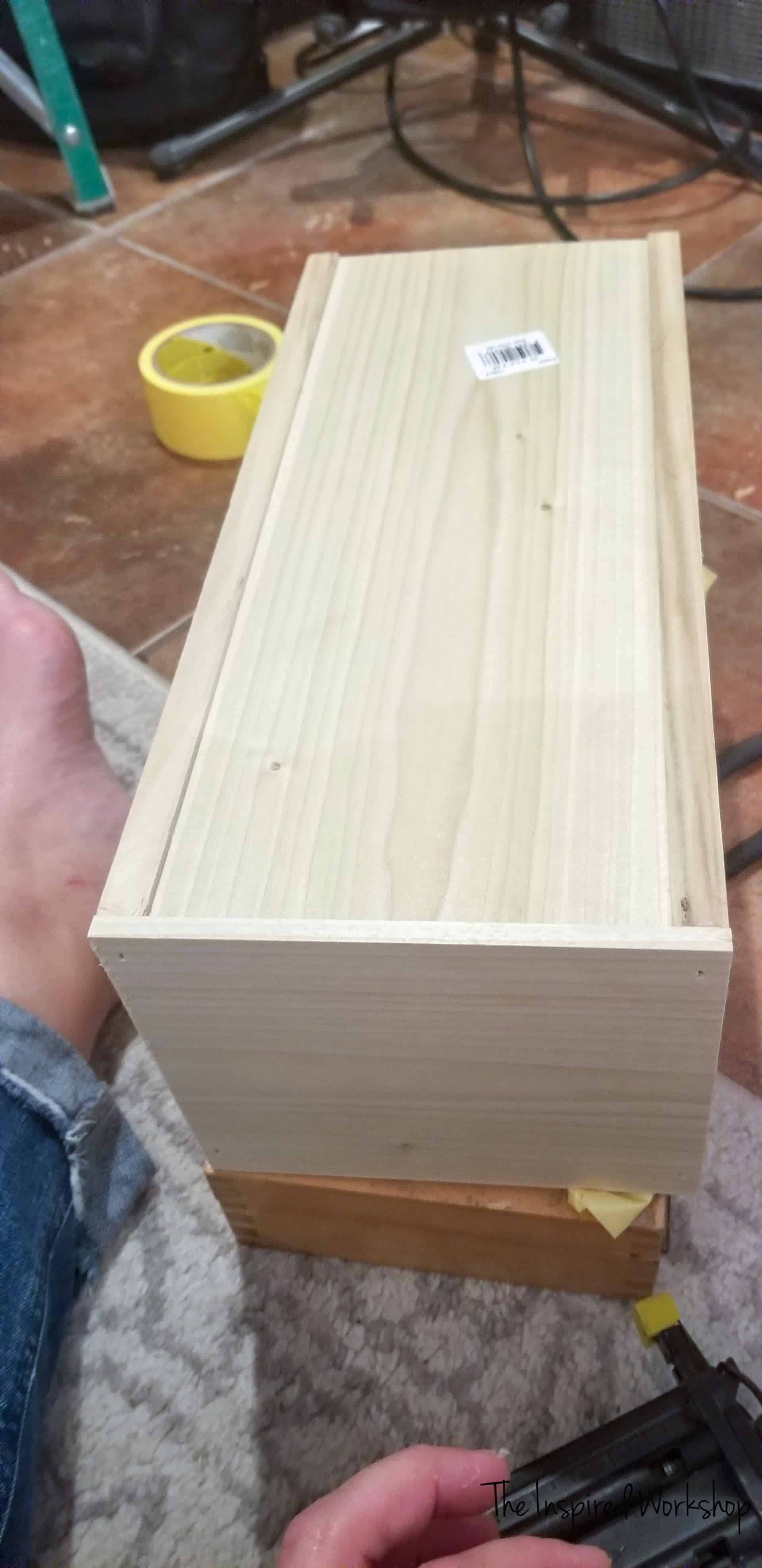 I just left the top piece alone, for now, it will just be a lid so there really isn't anything to do with it just yet!
Next, I let that sit to make sure not to stress the glue joints while it dries. I started on the base. I built the top square of the base using 2 of the 1/2″x5/8″ @ 6 3/4″ and 2 of the 1/2″x5/8″ @ 4 1/2″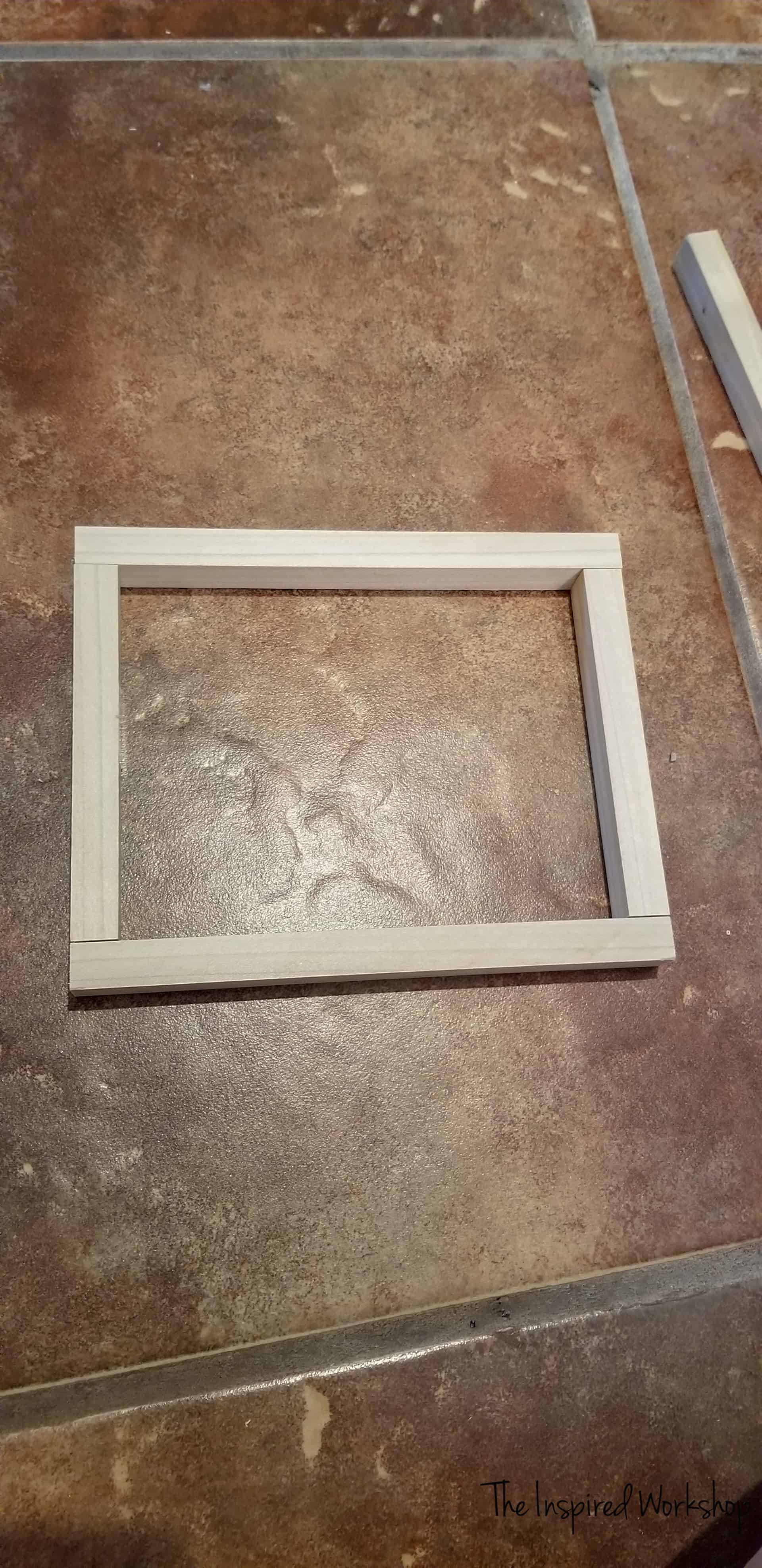 Once that is glued and brad nailed, you can add the 'legs' (4- 1/2″x5/8″ @ 4″).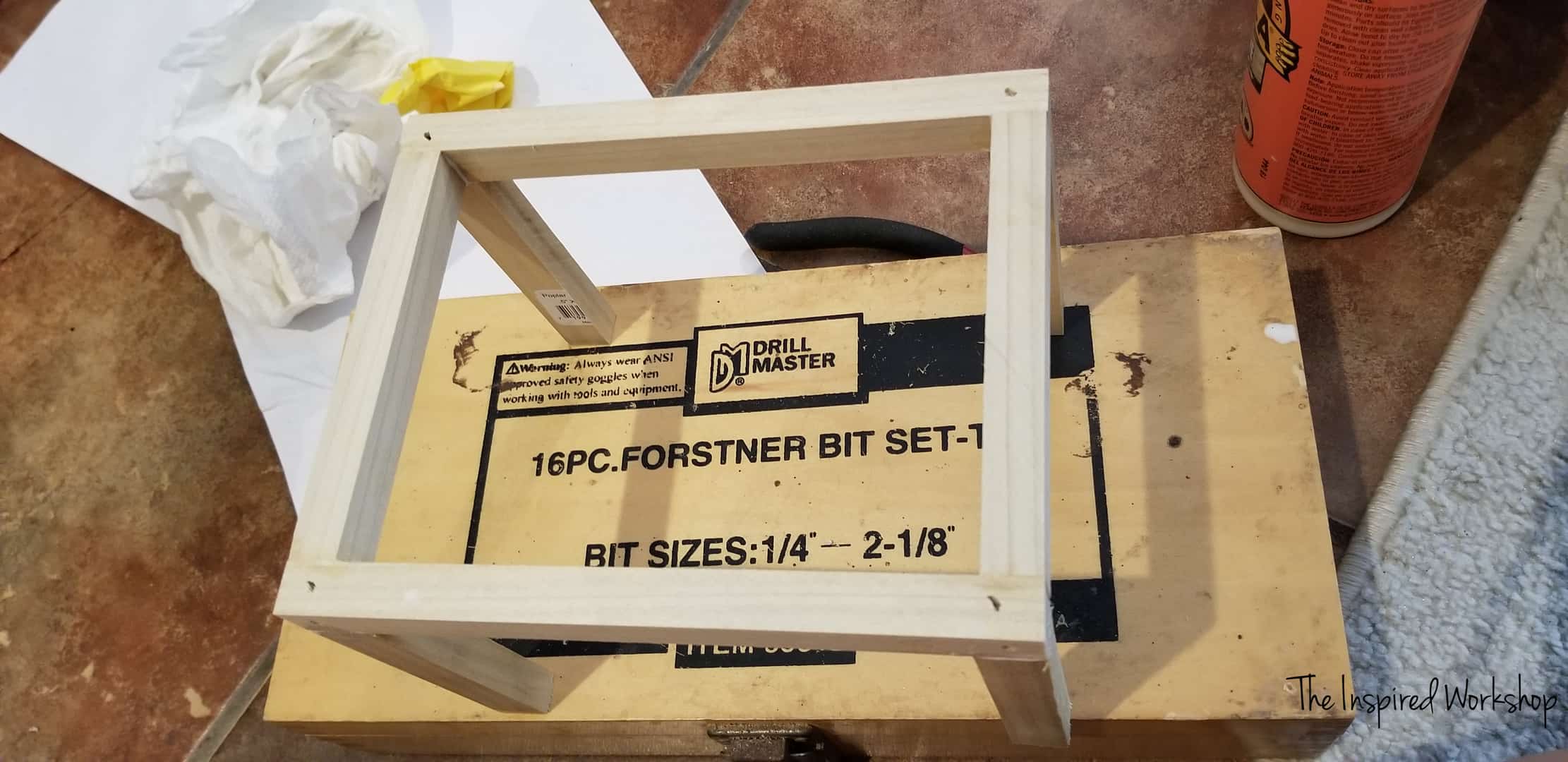 Flip it over to make it easy to attach the rest of the legs!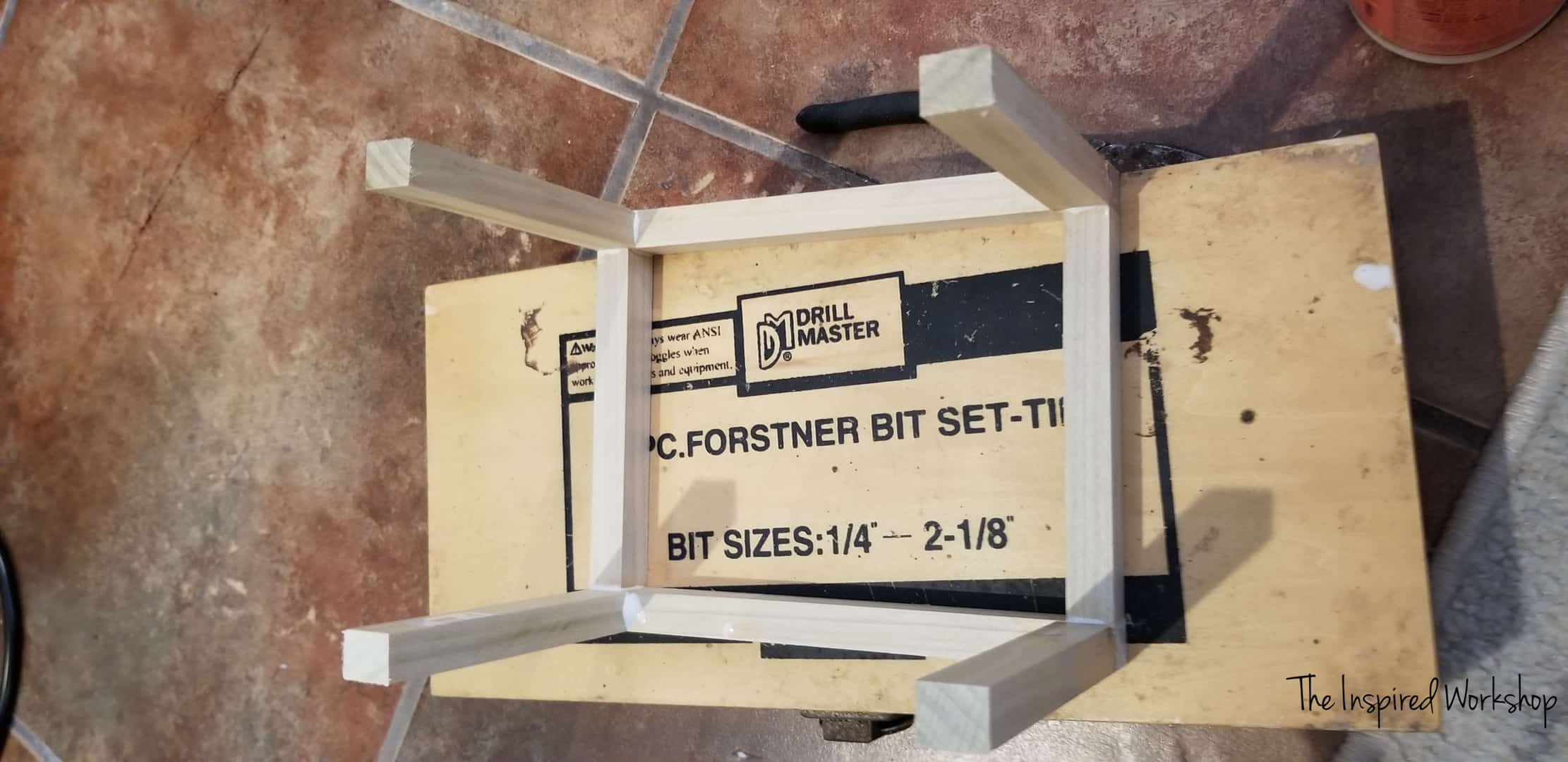 Attach the 2 – 1/2″x5/8″ @ 5 1/2″ to the shorter sides, and the 1/2″x5/8″ @ 5 5/8″ to the center of those boards once attached.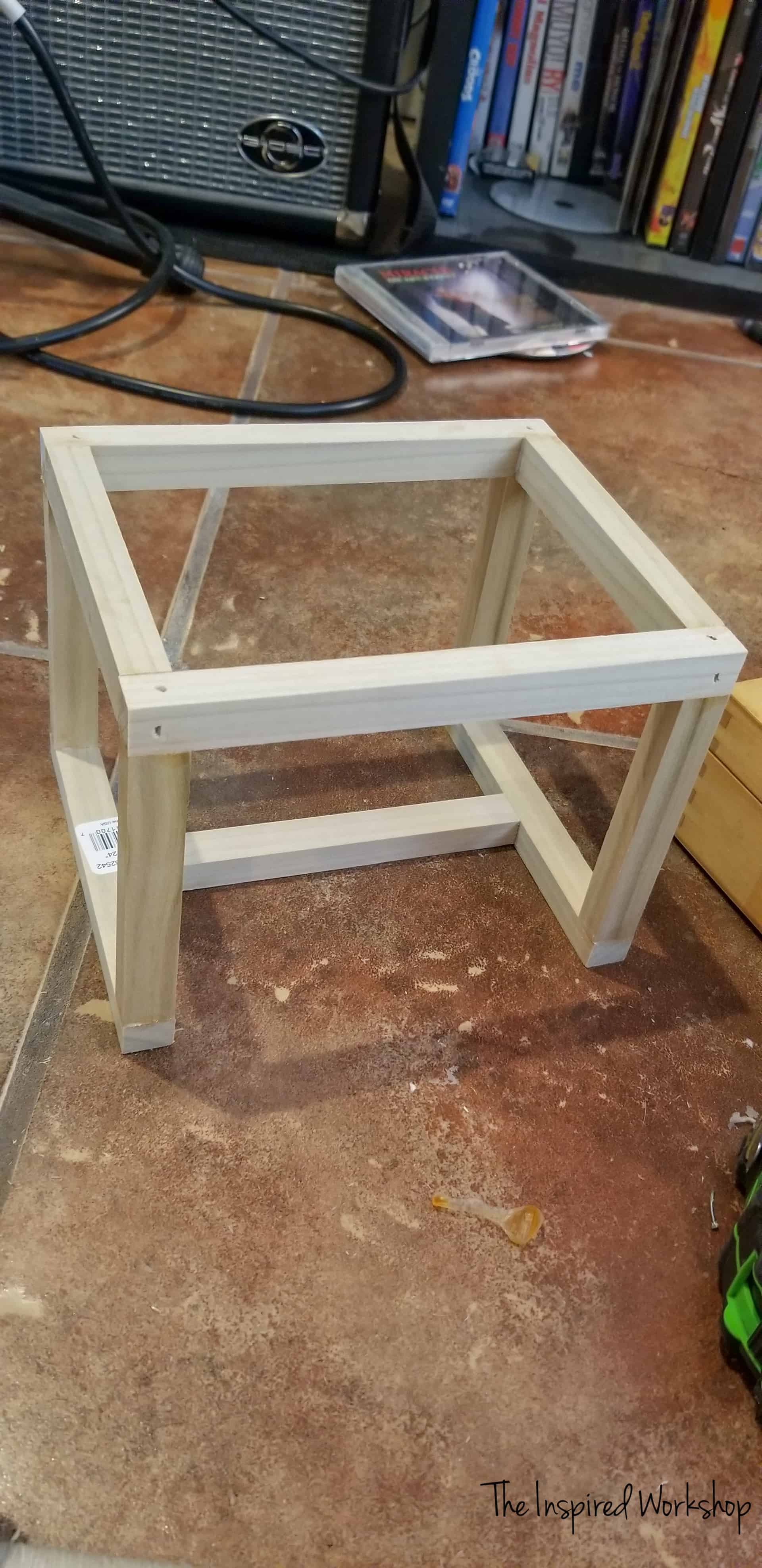 Once the base was complete, I let it sit for a couple of hours as well to make sure the glue had time to set since it is only brad nails holding it together!
Next, I added glue along the top of the base and sat the box on it, but you can't actually brad nail it, so I just placed heavy items on top to act as a clamp until the glue dried.
While that was drying, I went ahead and stained the lid so I could add the knob. I also glued the little leftover piece of 1/4″x6″ to the underside of the lid. I made sure that it was glued to the back of the lid to where I could place the lid on top and slide it back into the perfect place. I hope that makes sense!
I then placed a piece of painter's tape to keep the wood from splintering and then drilled a hole.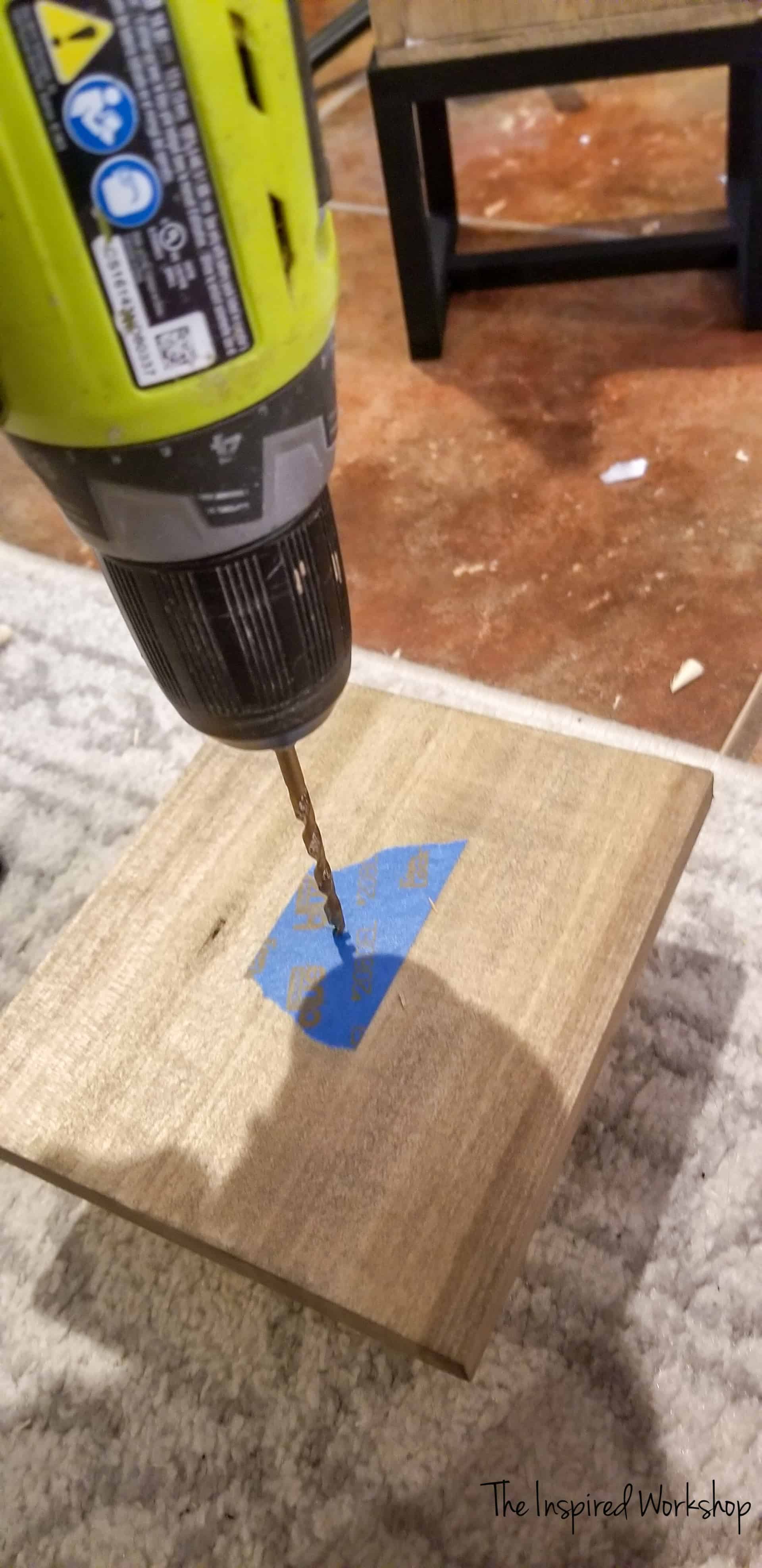 Add the knob!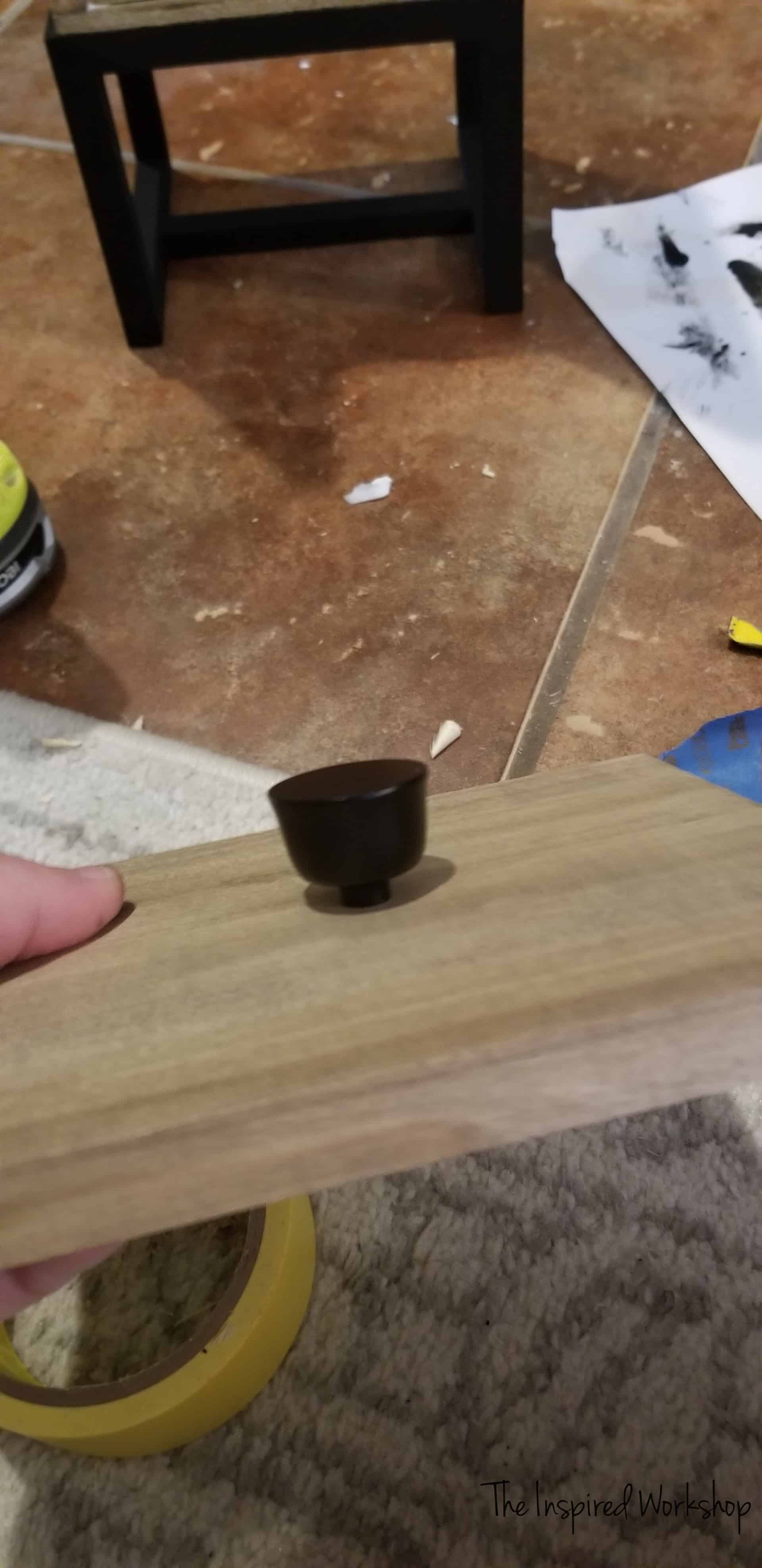 I stained this with my FAVORITE stain Old Barn Stain in Weathered, but on this poplar, it looked green still through the stain so I then went over it with Golden Oak by Rustoleum. Then it was the perfect warm grayish color!
Back to the box, I made a complete ROOKIE mistake! I decided in a rash decision to drill the spout hole while it was in the grooves so that I wouldn't drill into the floor with my expensive Forstner bit. DUMB, DUMB idea Cara! I knew that it was only 1/4″ wood but I thought maybe it would be okay because it wasn't a large span in between the boards! NOPE, it broke in half…the whole board as the bit broke through the board!😯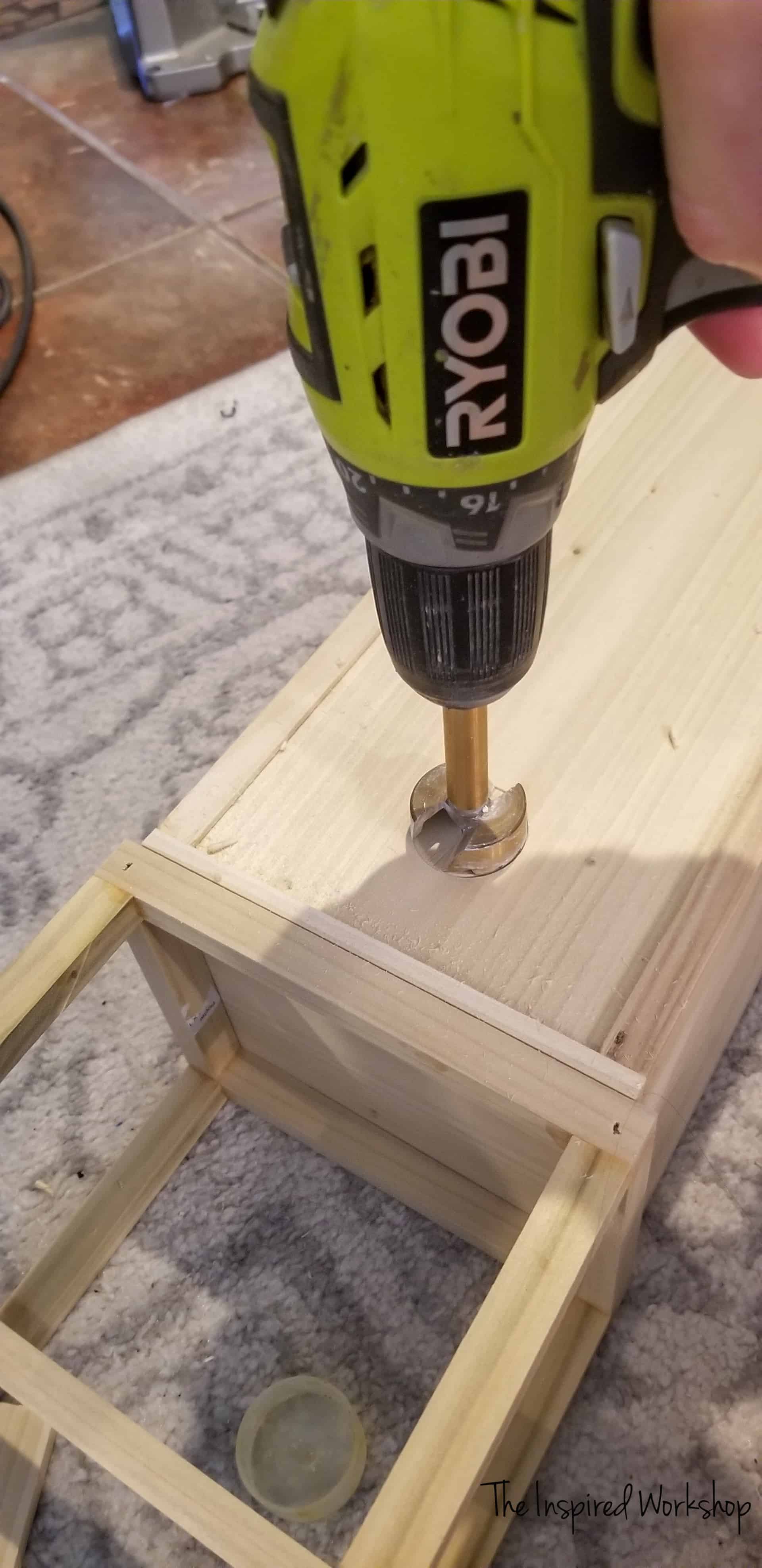 So then I had to glue the board up and hope for the best because my Home Depot didn't have another board, I bought the last one they had! Lol!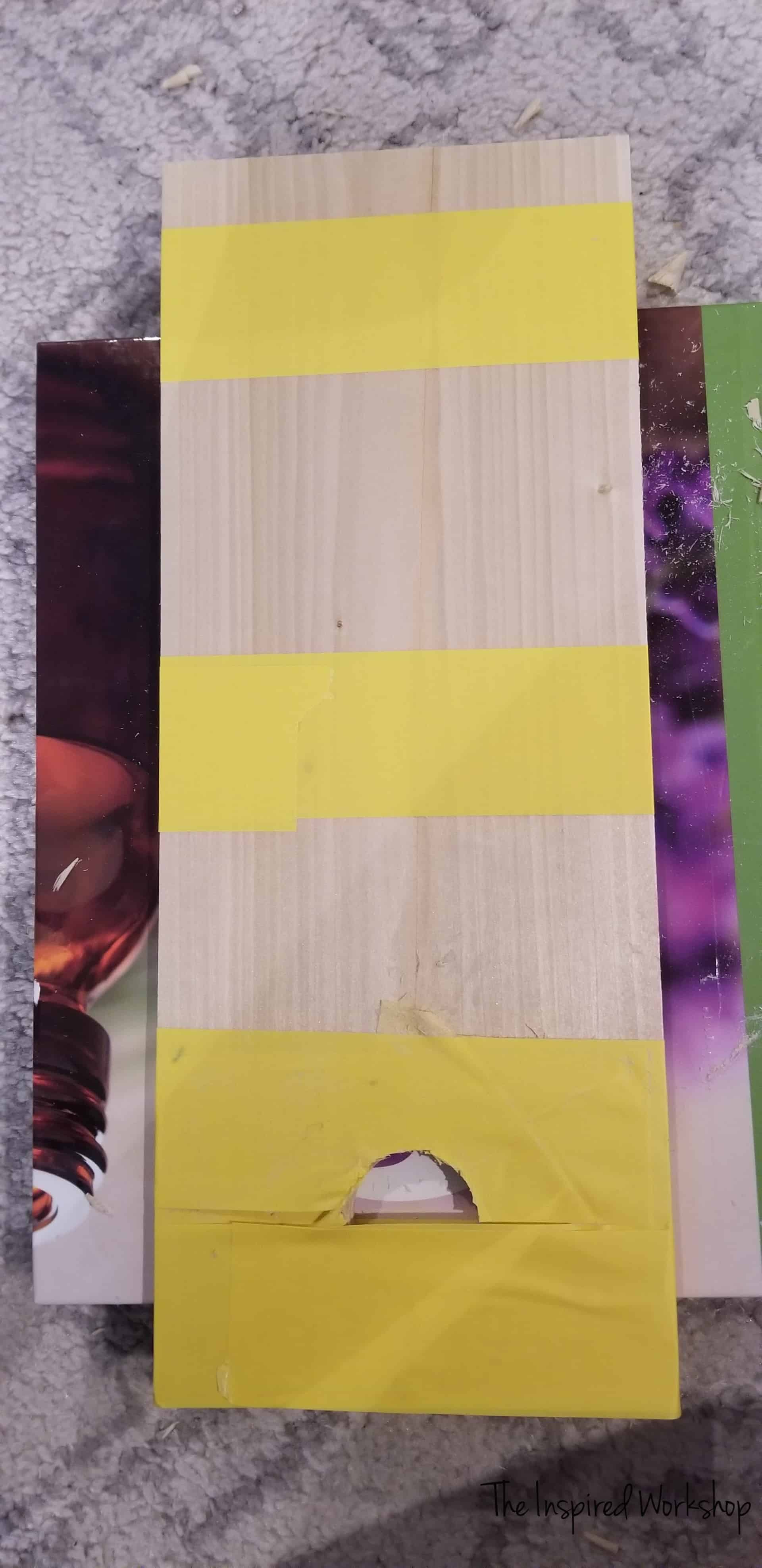 Luckily, it worked pretty well! You can see the line sometimes but it isn't obvious!
I then placed painter's tape on the front board where I drilled the spout hole because I had to cut the hole in half.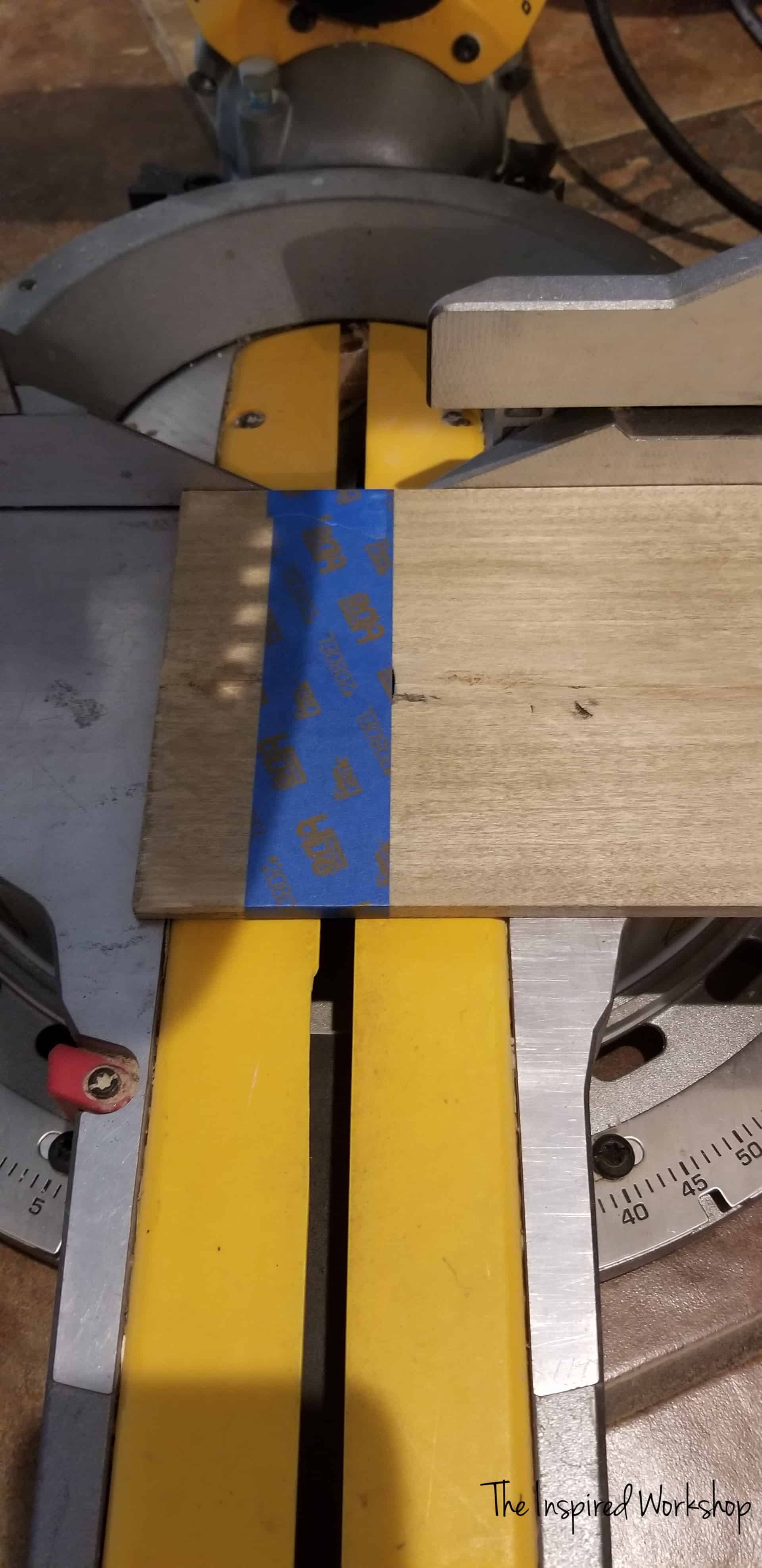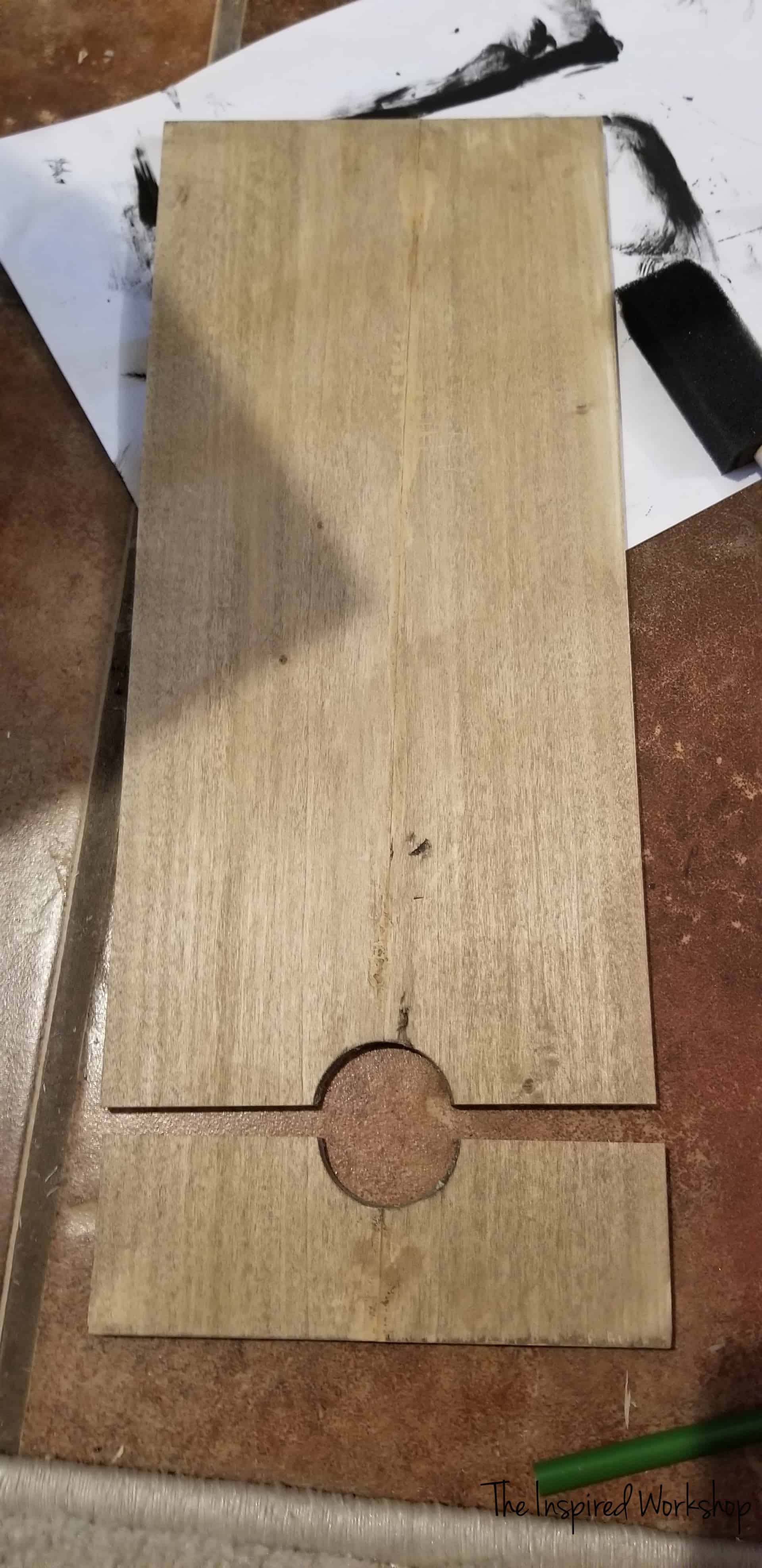 I also made ANOTHER rookie mistake here, I forgot that I was cutting this board and didn't allow for the extra 1/8″ when it was cut. Mine has a small gap, a blade width size gap at the top because of it! Oy!🙈 I adjusted the cut list though so that it won't happen to you!😆
I glued the small bottom piece into the grooves and left the large piece free to move up and down.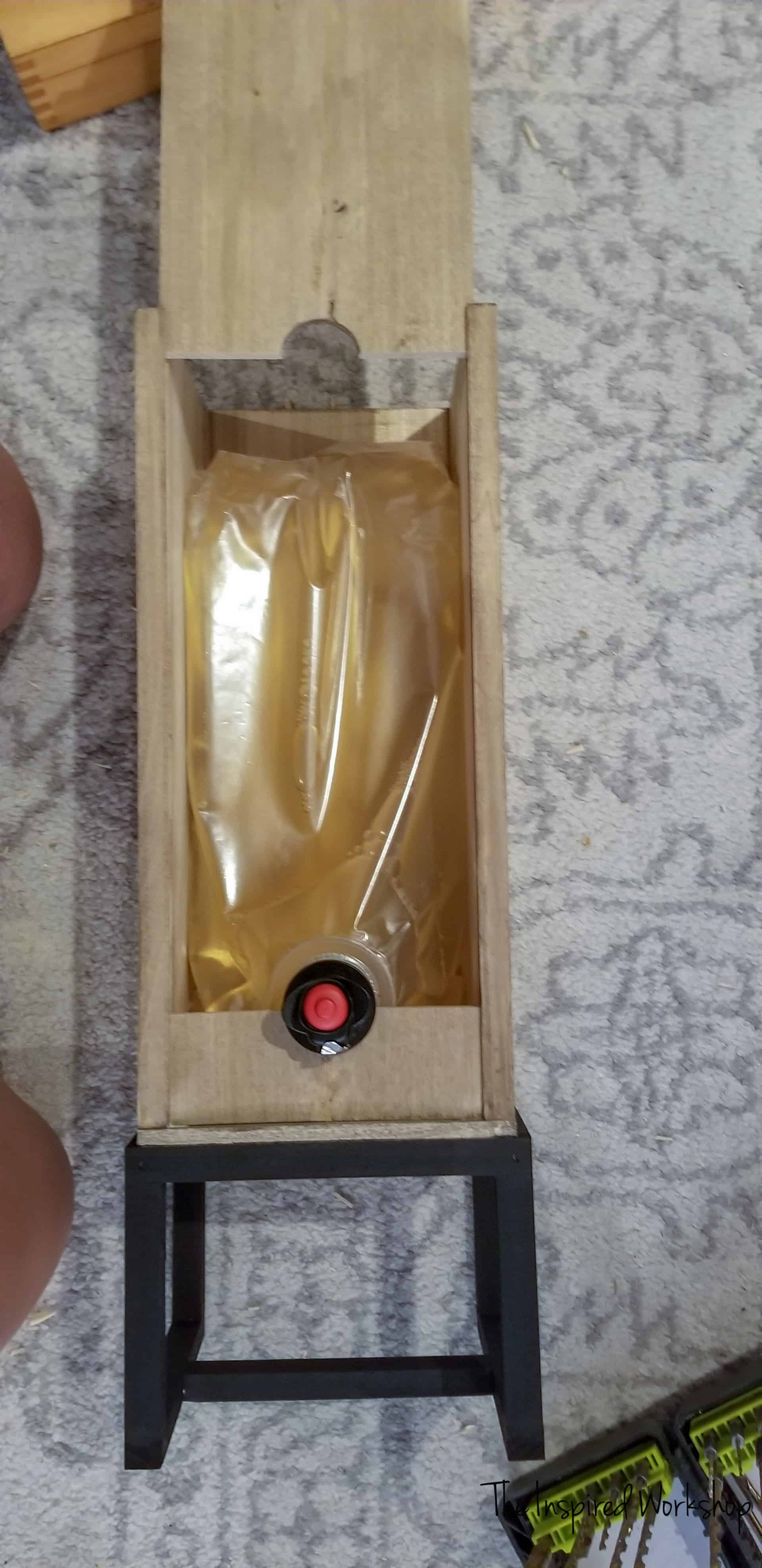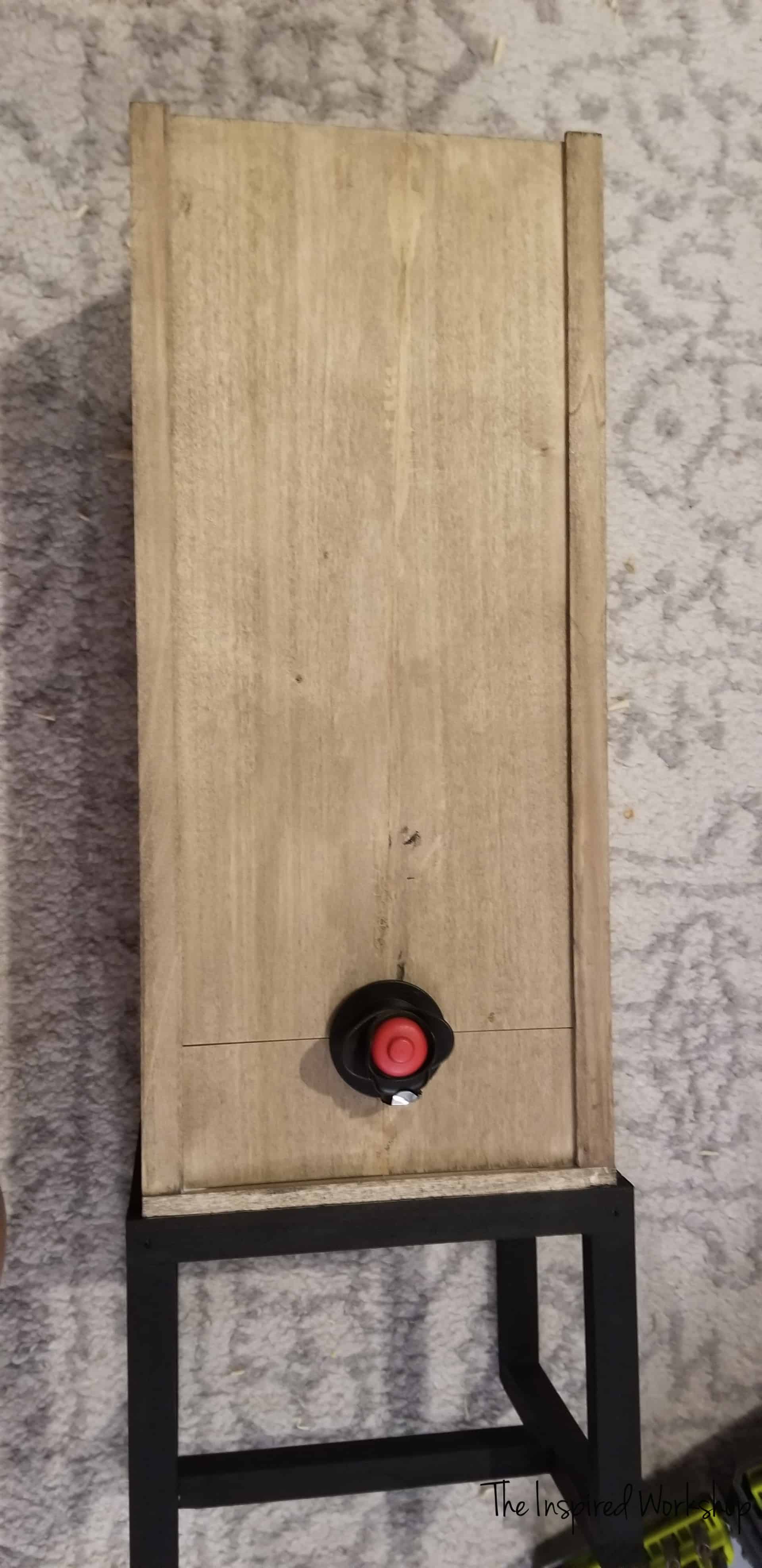 Place the lid on top, stand that baby up, and pour you a glass of wine! Don't mind if I do!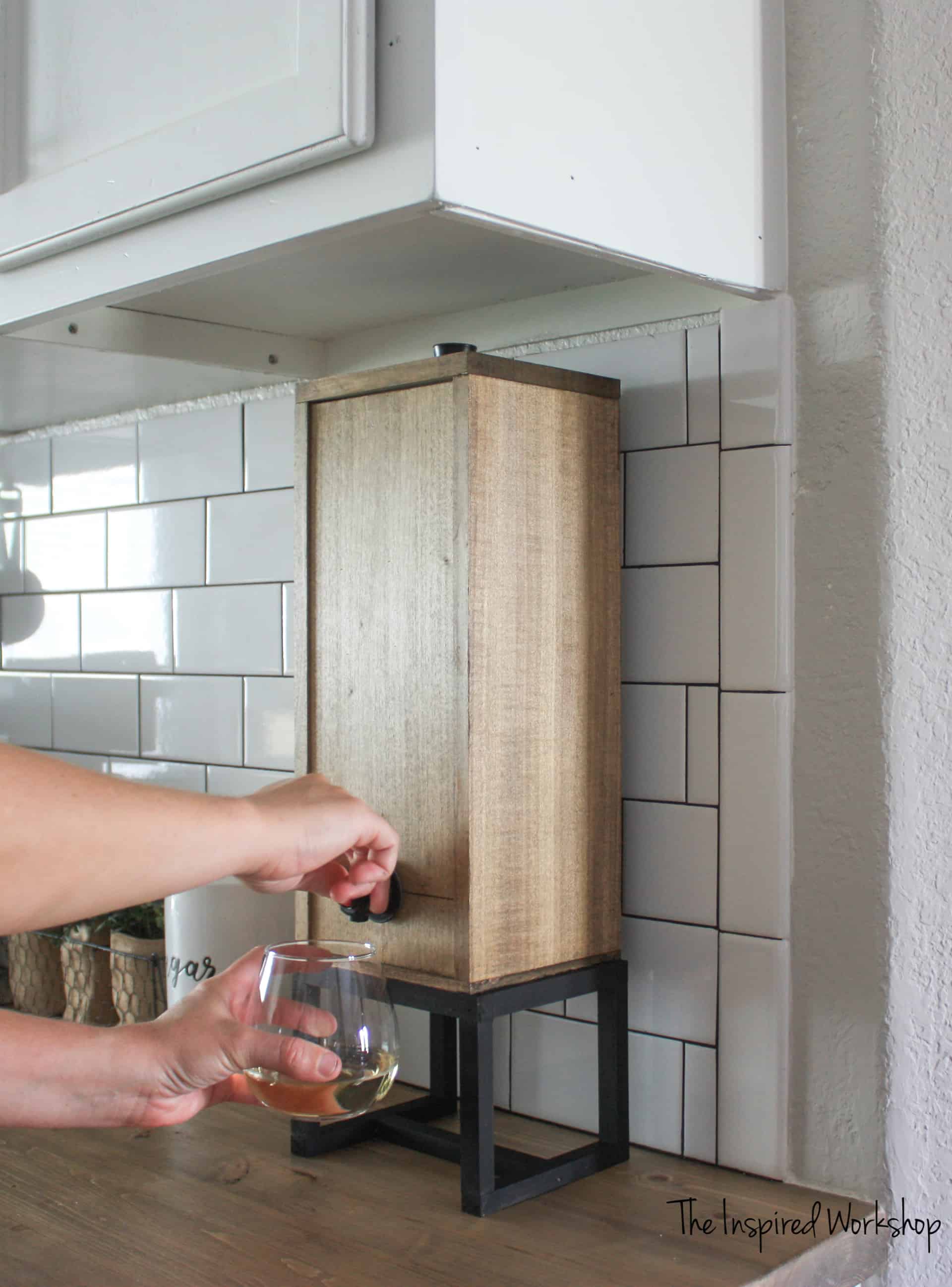 I have an adorable idea to easily change out a label so that you can show what kind of wine is in the dispenser but Amazon still has not delivered my package, so I will update the post once I make them!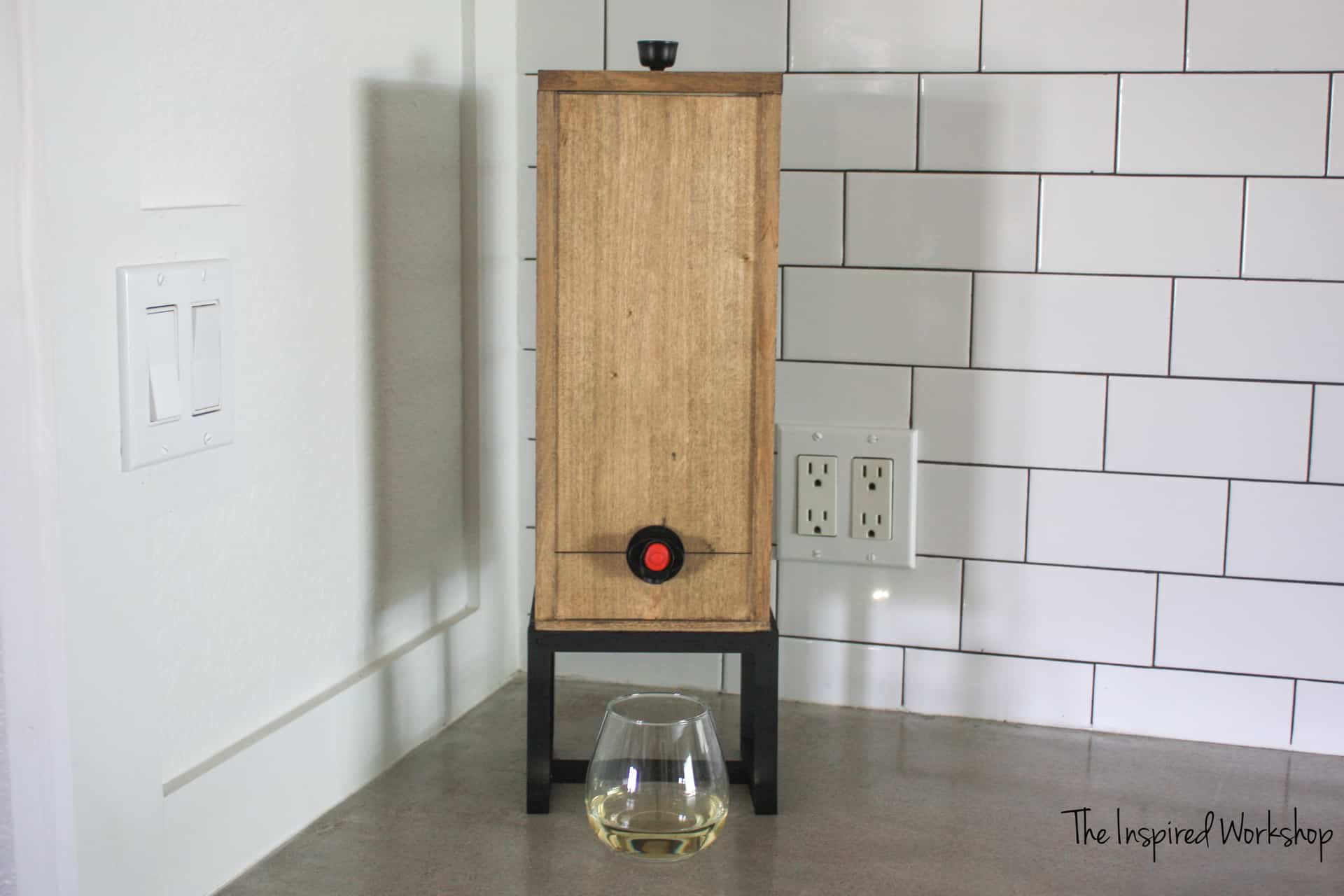 Ooh, la la! I love it!
Other DIY Gift Ideas
Here are the links for the other ladies that participated in the challenge! Check them out, and let me know if you make a DIY gift this year for someone special, I would LOVE to see it!
Have a wonderful week!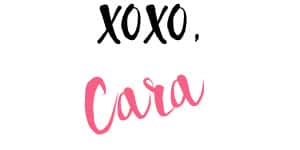 Enjoy this post and want to save it for later? Pin it!