How to Flock a Christmas Tree
Christmas trees come in so many varieties from different types of spruce, pine, and fir trees to different colors of trees, and then there are flocked and unflocked! Recently flocked Christmas trees have become all the rage and as much as buying a new tree can be fun, saving the money and reusing what you have is great too! Learn how to flock a Christmas tree to give your old tree new life!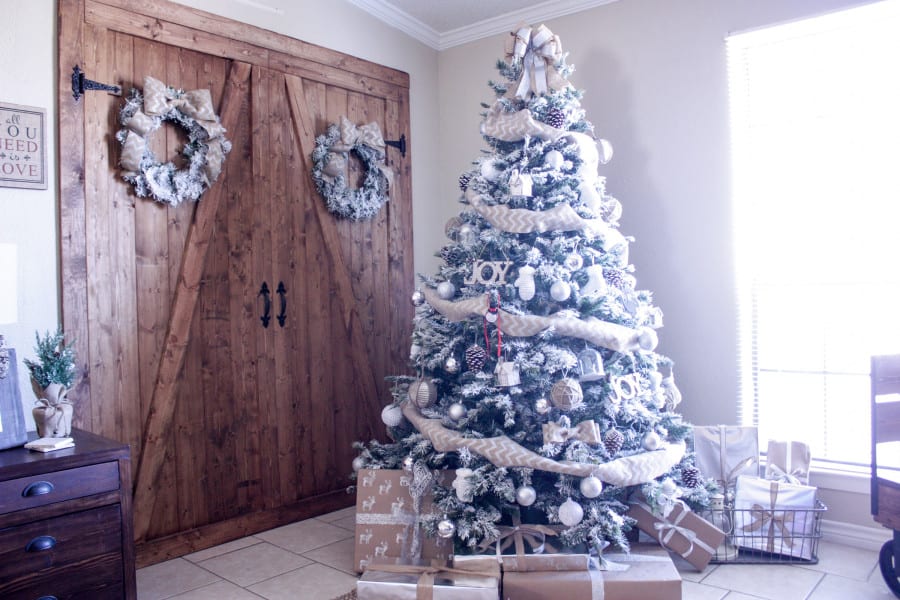 So, as I mentioned in my Christmas Tree Box Stand post, I was LOVING all the flocked trees I was seeing on Instagram! They had me ready to run down and spend hundreds on a new tree but of course, that was only for a short period of time, then that famous little lady popped into my head and said, "Why spend all that money on a new tree, I bet there's a way to flock your own that you already have!!" I can't get away from that lady, but I'm kinda glad because she saves me tons of money! 🤭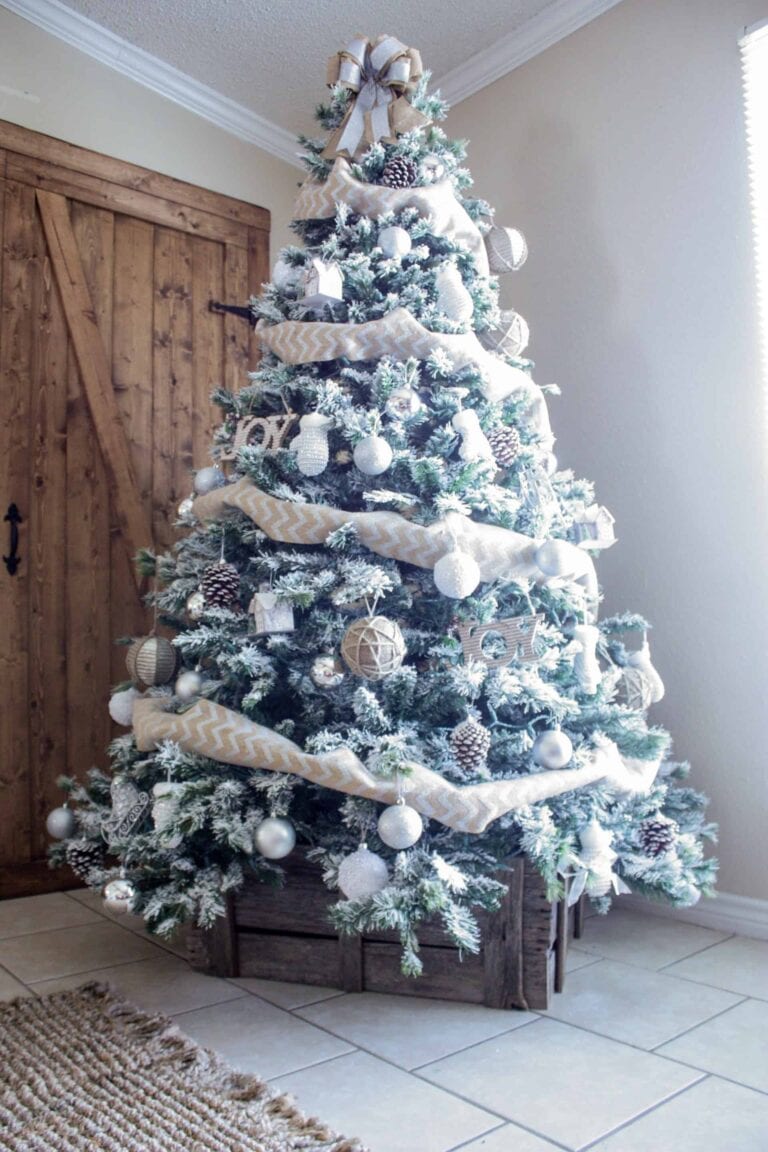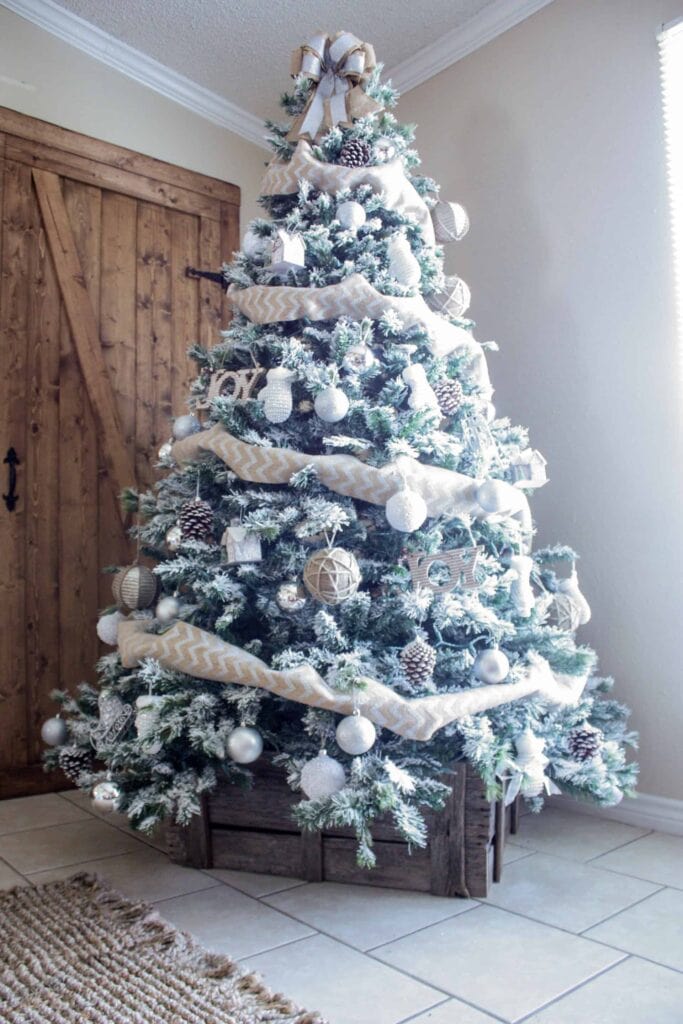 That little lady in my head is also the reason you are able to learn how to flock a Christmas tree too, so you're welcome! Lol!
Do you enjoy making DIY holiday decor? You may enjoy these DIY Gnome stocking holders, these DIY gift box ornaments, or this DIY mercury glass garland!
Gathering supplies to learn how to flock a Christmas tree
I did a little Google search on how to flock a Christmas tree and found several home items you could use, but they were all items I had not heard of, such as Ivory Snow in powder…they don't sell that anywhere around where I live, but I realized it seemed like a powder would be what I was looking for!
I did a search for flocking powder and I came across this amazing little bag called Snow Flock (affiliate link) on Amazon, it had rave reviews and it seemed easy enough so I ordered it! It only cost me $20 for 2 lbs. This was able to flock my 7 1/2 ft. tree and two 22″ wreaths. I was even really messy and had I been more cautious I probably could have flocked another wreath or two!!
The instructions were so clear and basically, everything I am going to tell you here is included in the instructions, this is nothing that I had to figure out on my own!
Materials needed to flock a Christmas Tree:
***Just a note: This is NOT a sponsored post but it does include affiliate links! Affiliate links are links that pay me a small commission, at no extra cost to you, should you make a purchase after clicking one!
plastic drop cloth or something to cover your floors (I love used plastic table covers from parties…even if you haven't already used them, at $.97 at Walmart they are cheap enough to sacrifice!)
water
The glue is only needed if you are flocking an artificial piece and want it to last, you'll mix 1 teaspoon for every cup of water in your water bottle! They say it will last up to three years! But if you are flocking a real tree, you just need water!!
How to Flock a Christmas Tree
Here is the tree we started with, the most basic 7 1/2′ Christmas tree!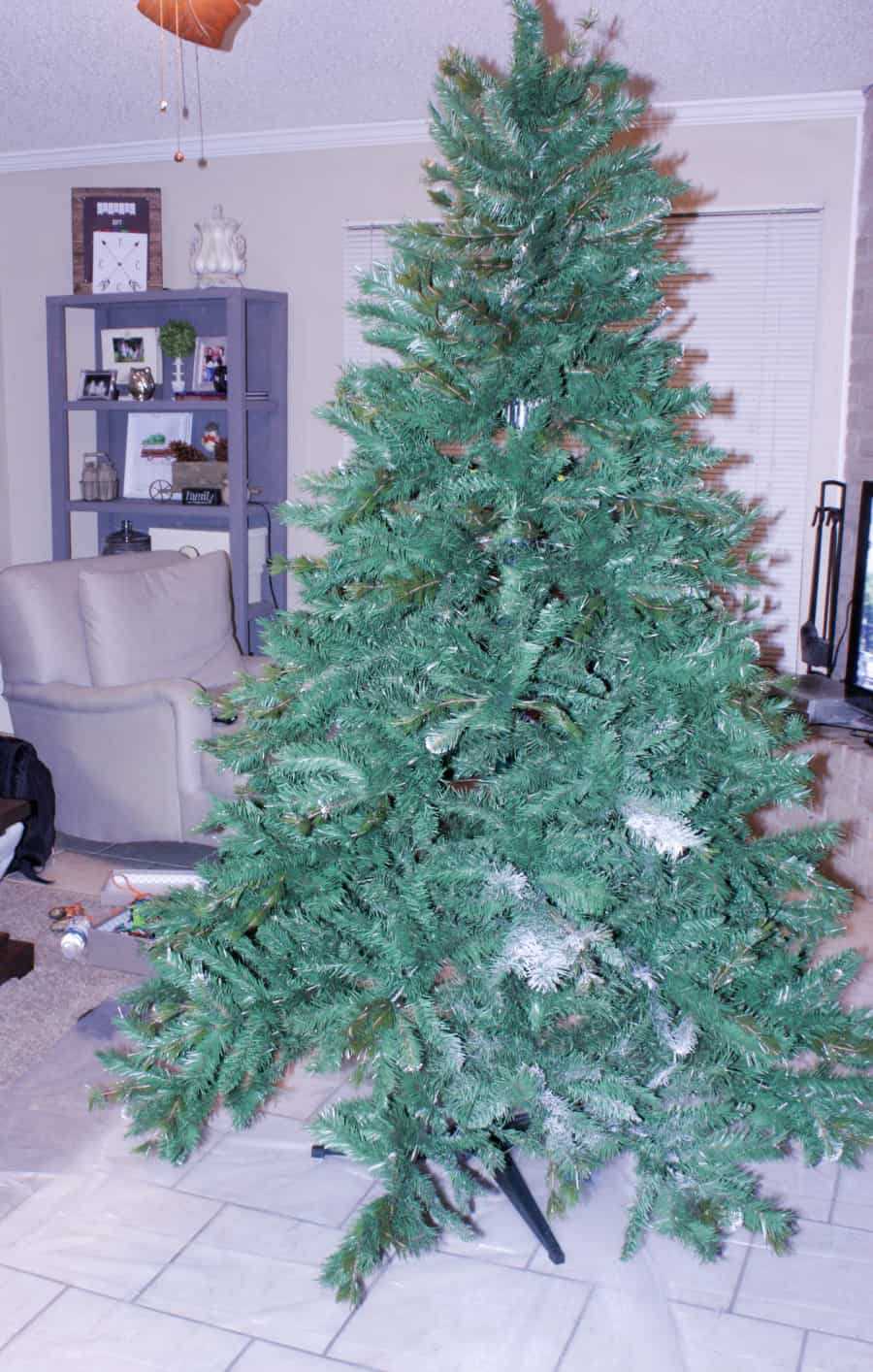 Sorry, the pictures are not grand, it was dark, and cleaning needed to be done in the background, but I was so excited to get started that as soon as the SnoFlock was delivered we got to work! Also to note, we did fluff the tree better, this was just to make sure I had a picture of the tree before, and it's a good thing I did because I didn't even think about taking one again! Lol!
Pour the SnoFlock into your strainer and get your water bottle ready…as you shake the strainer, you spray the powder that is falling onto the tree, under the strainer! This is my husband helping to flock ours, my arms are NOT that hairy! 😂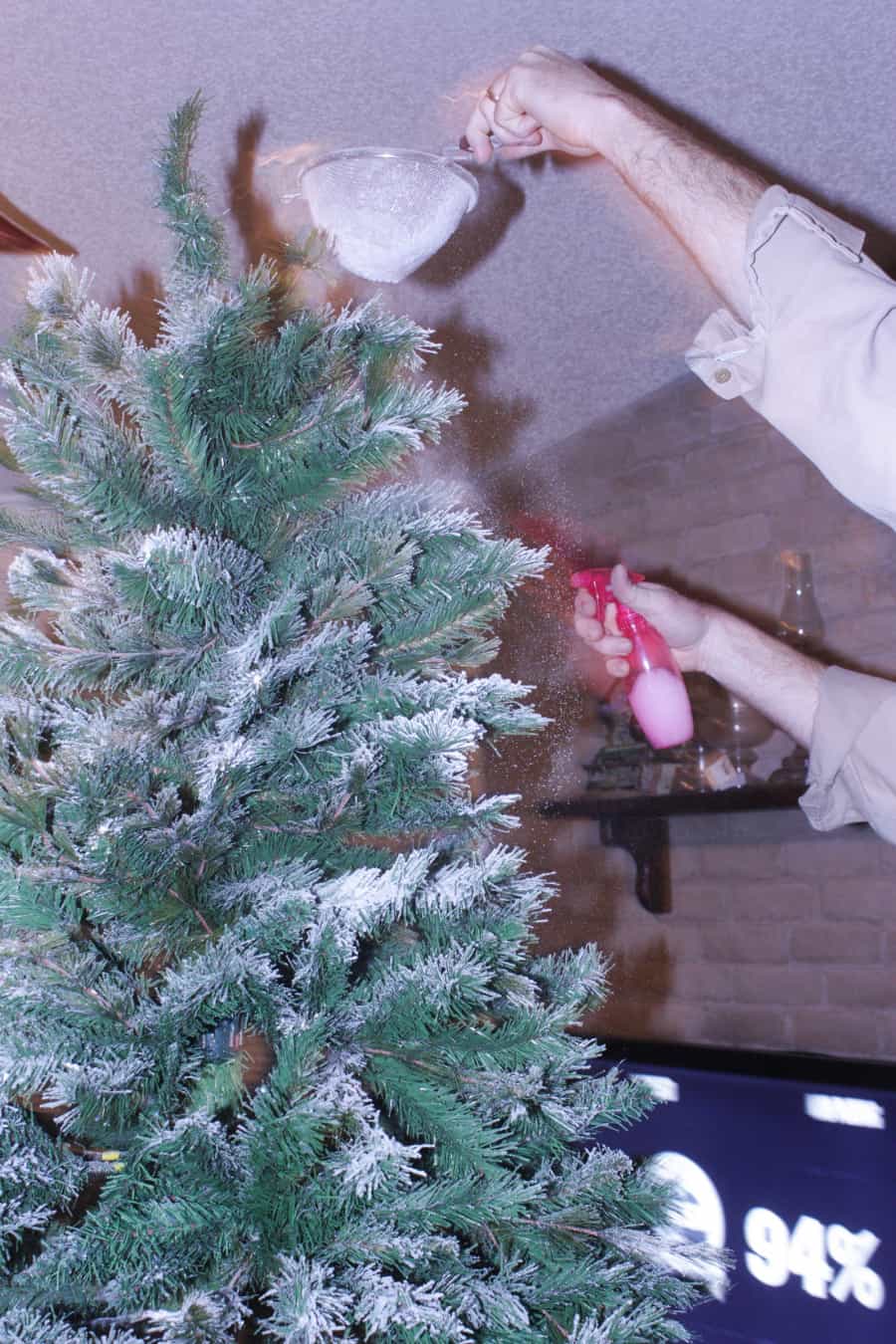 You just continue that same thing all over the tree until it is as snowy as you like!! Our whole family each had a strainer and a spray bottle, some of the boys' areas were my favorite!! You cannot mess this up which was one of the reasons we all had a ton of fun! Keep shaking and keep spraying until you get the coverage you want!
I can't believe that this was the only photo I was able to get while flocking the Christmas tree! Oy! Below I show another when I am flocking the Christmas wreaths but I apologize, even though it is pretty easy and you don't need much instruction on how to flock a Christmas tree!
And now look at it after it's snowfall!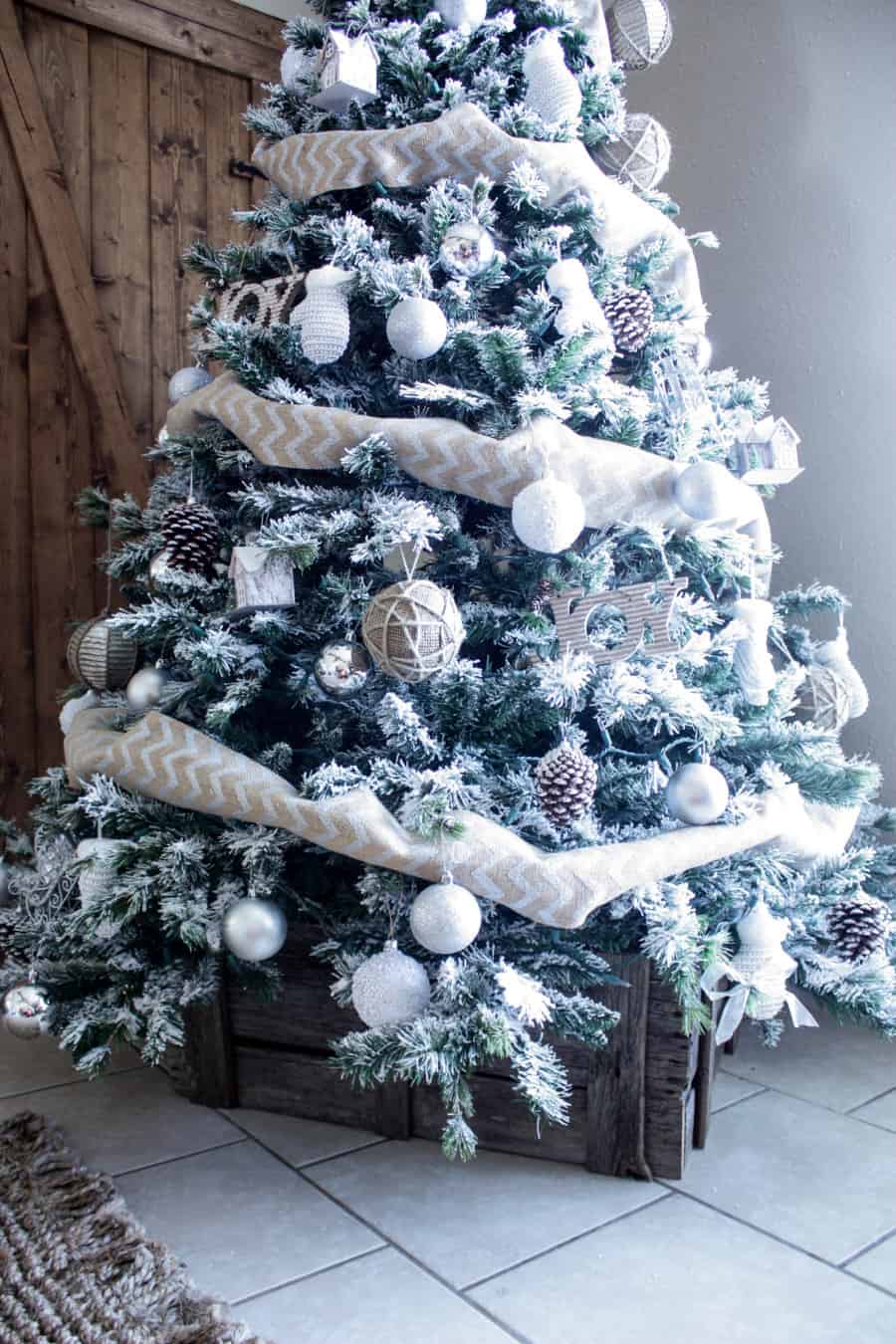 So, I once again forgot to take pictures in all my excitement, before I started decorating it!! But you can see around the ornaments all the snow! One thing I plan on doing next year is ordering a new bag of SnoFlock and flocking the branches before putting them on the tree. This looks like a real snowed-on tree but I wanted a little more snow all the way around the branches, just my preference, but that was impossible with a little thing called gravity! So I will try that next time!
The wreaths I did the exact same way! I bought these super cheap $2.48 wreaths at Walmart and they were not all that pretty looking but I could see past their ugly plain green exterior and knew they would be just perfect with a little snow and a bow!!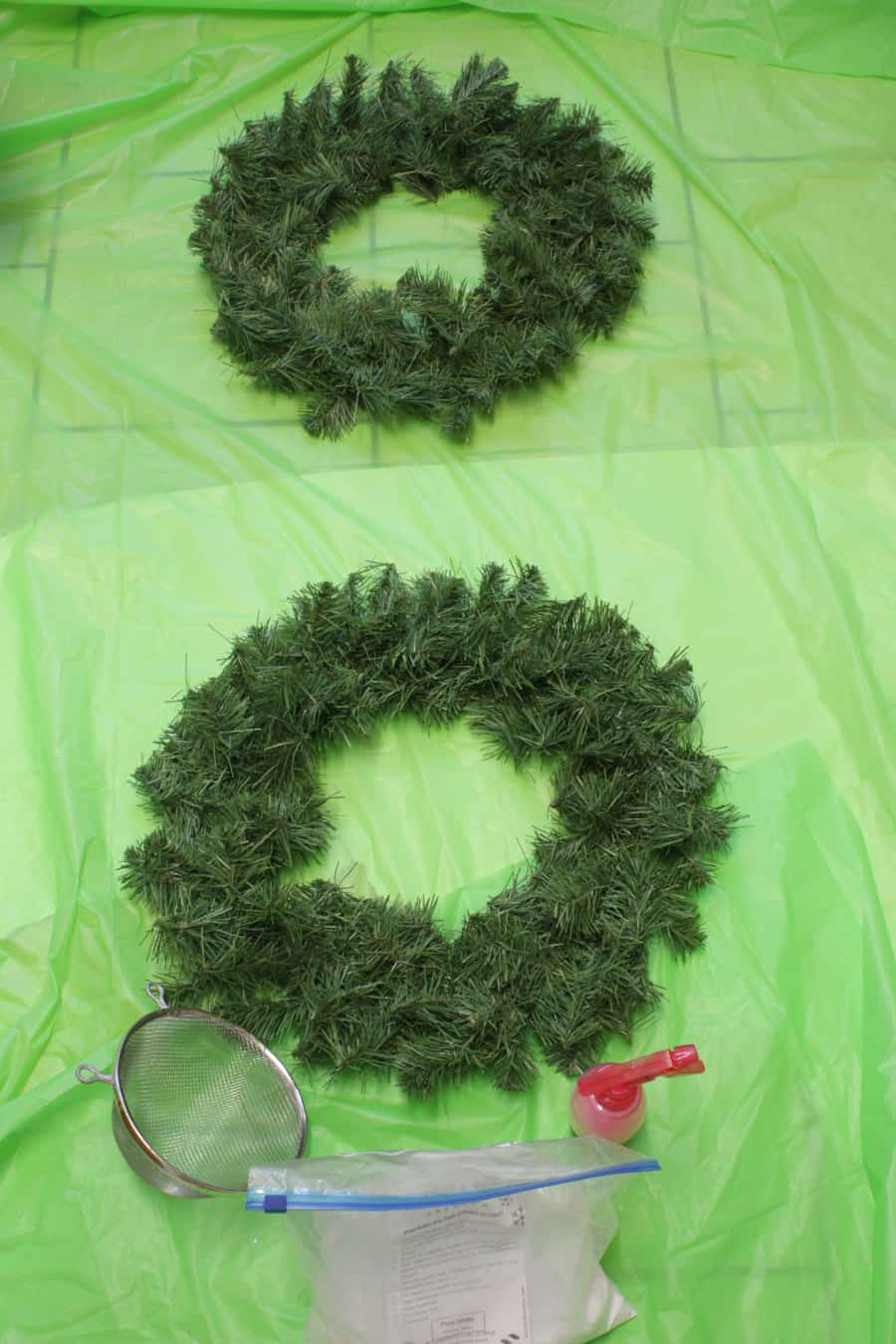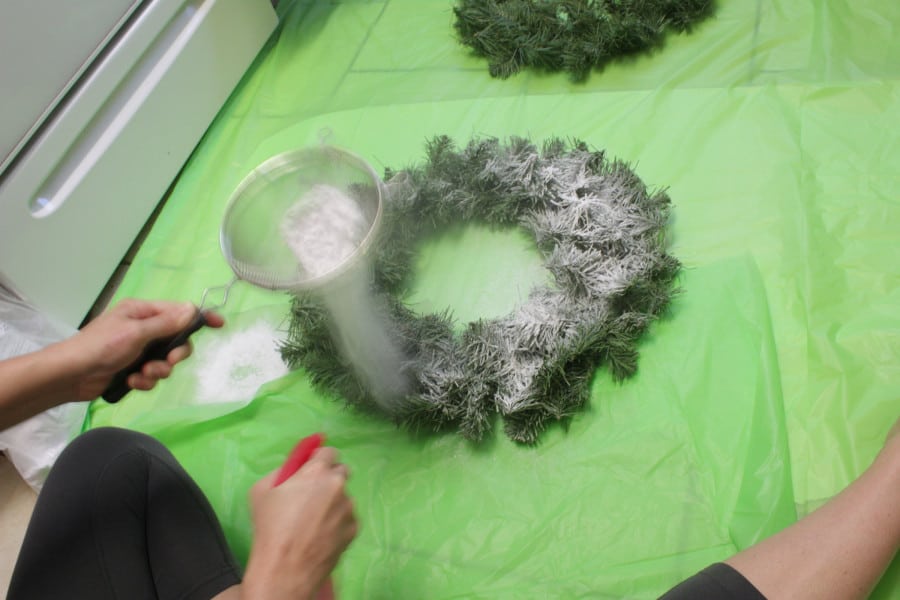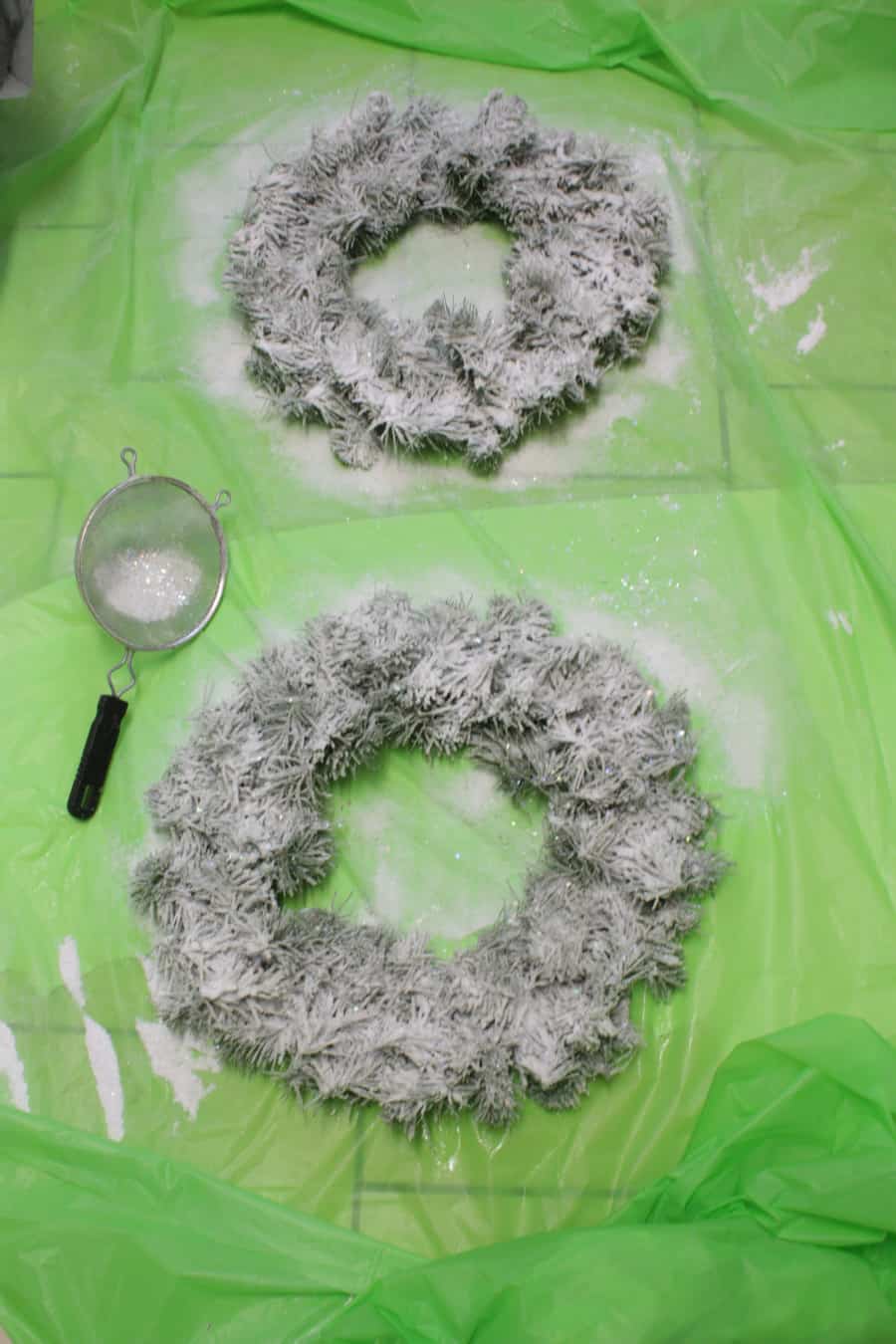 The wreaths were super fast and easy…plus they dried really quickly!
I made some bows out of the same ribbon I used as a garland on my tree and viola!!!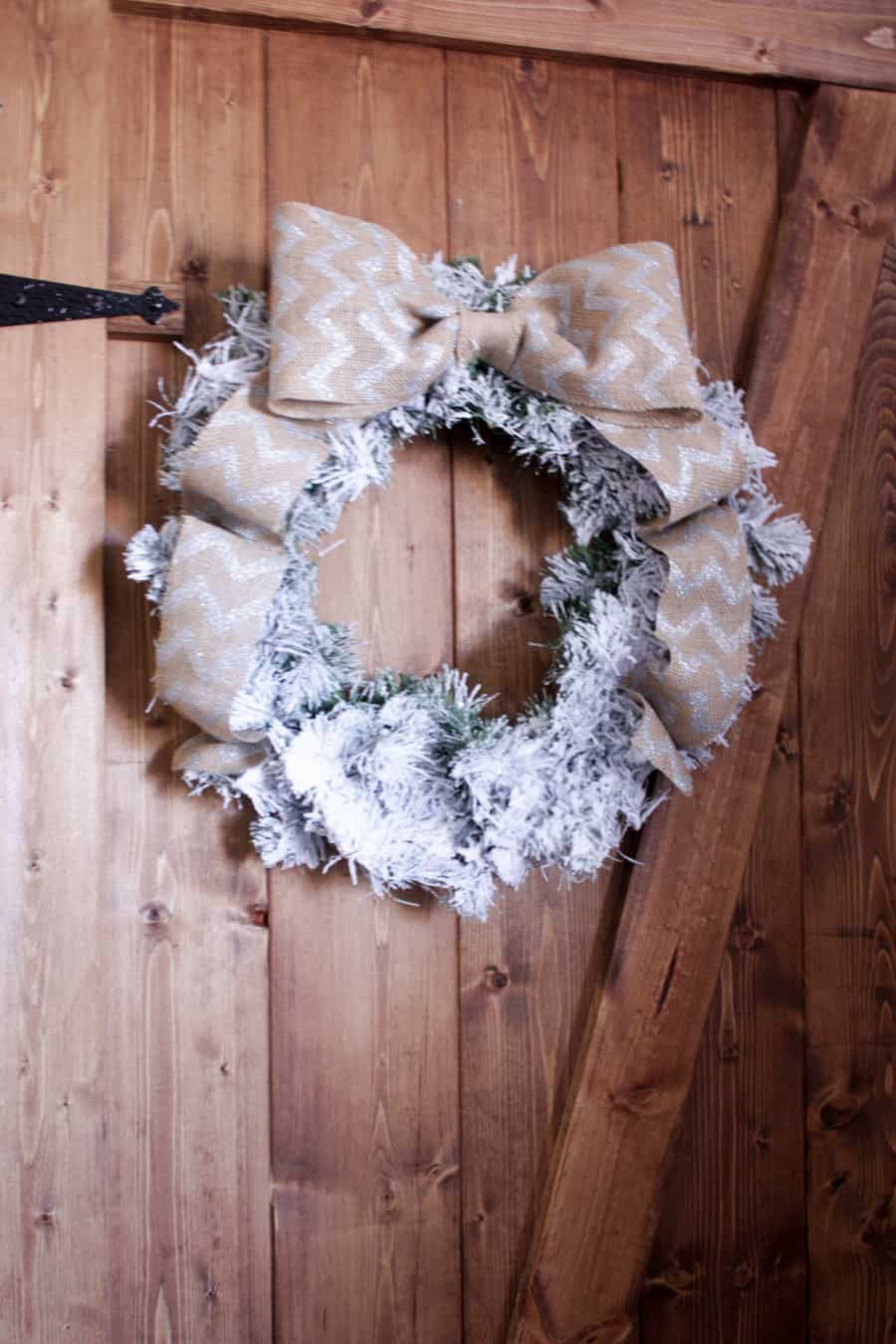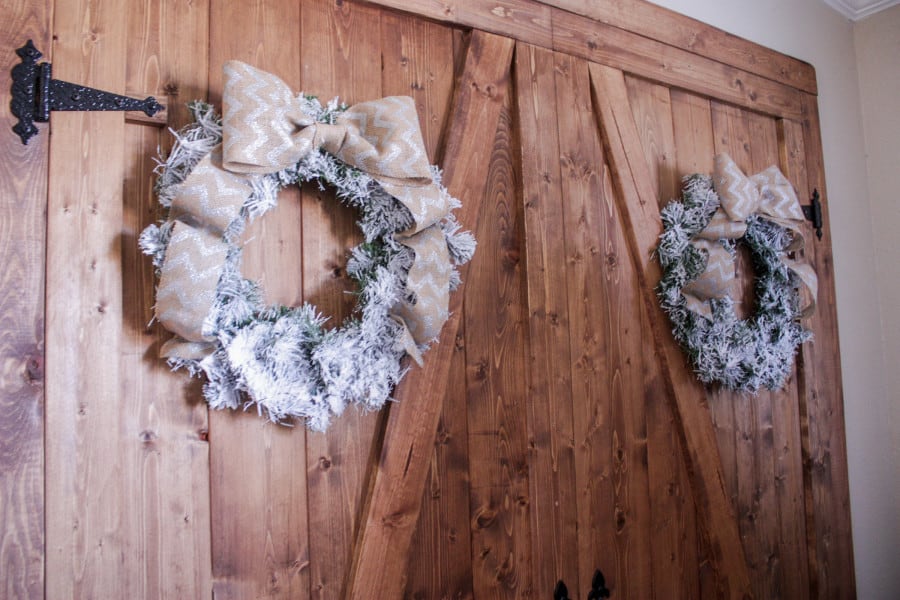 I love them!! They adorn my barn doors just perfectly and look so great with the flocked Christmas tree!!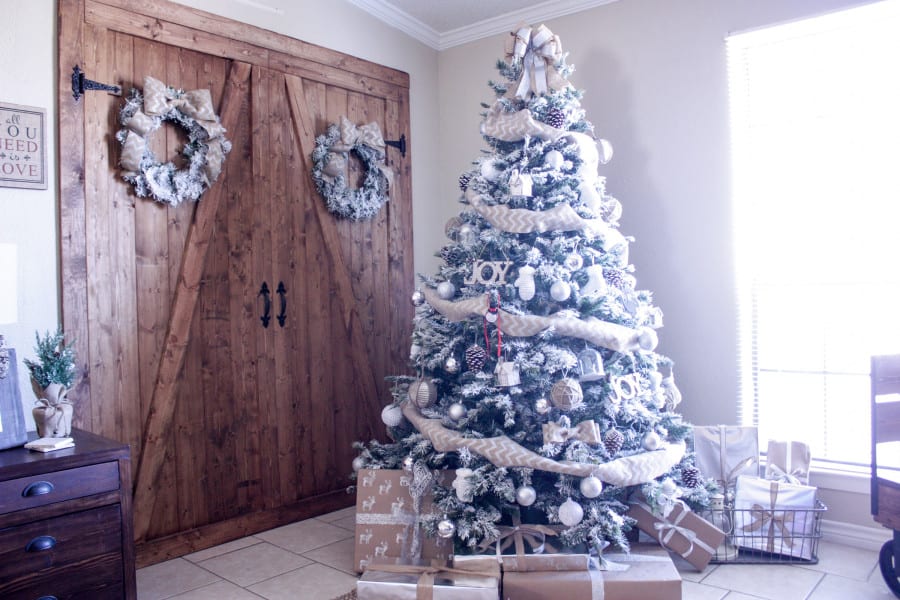 Have you ever tried flocking a Christmas Tree? I would love to hear about your experience!! Is there a trick I don't know about how to flock a Christmas tree? Let me know down below!! Hope your Holidays are the merriest!!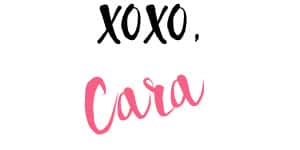 Want to save this How to Flock a Christmas Tree post for later? PIN it!