Hey there! I'm back for another DIY Challenge this month with all my friends! This month Katie challenged us to come up with a project that combined two different mediums! I chose wood and metal to make my DIY firewood holder, just in time for those cold nights by the fire! Okay, my fireplace is fake but I still love the look of the logs by the fireplace!😊
You MUST check out the other projects from the other bloggers! I am not kidding, they shock me each month with their amazing creativeness! Head to the end of the tutorial to click their links and head to their blogs!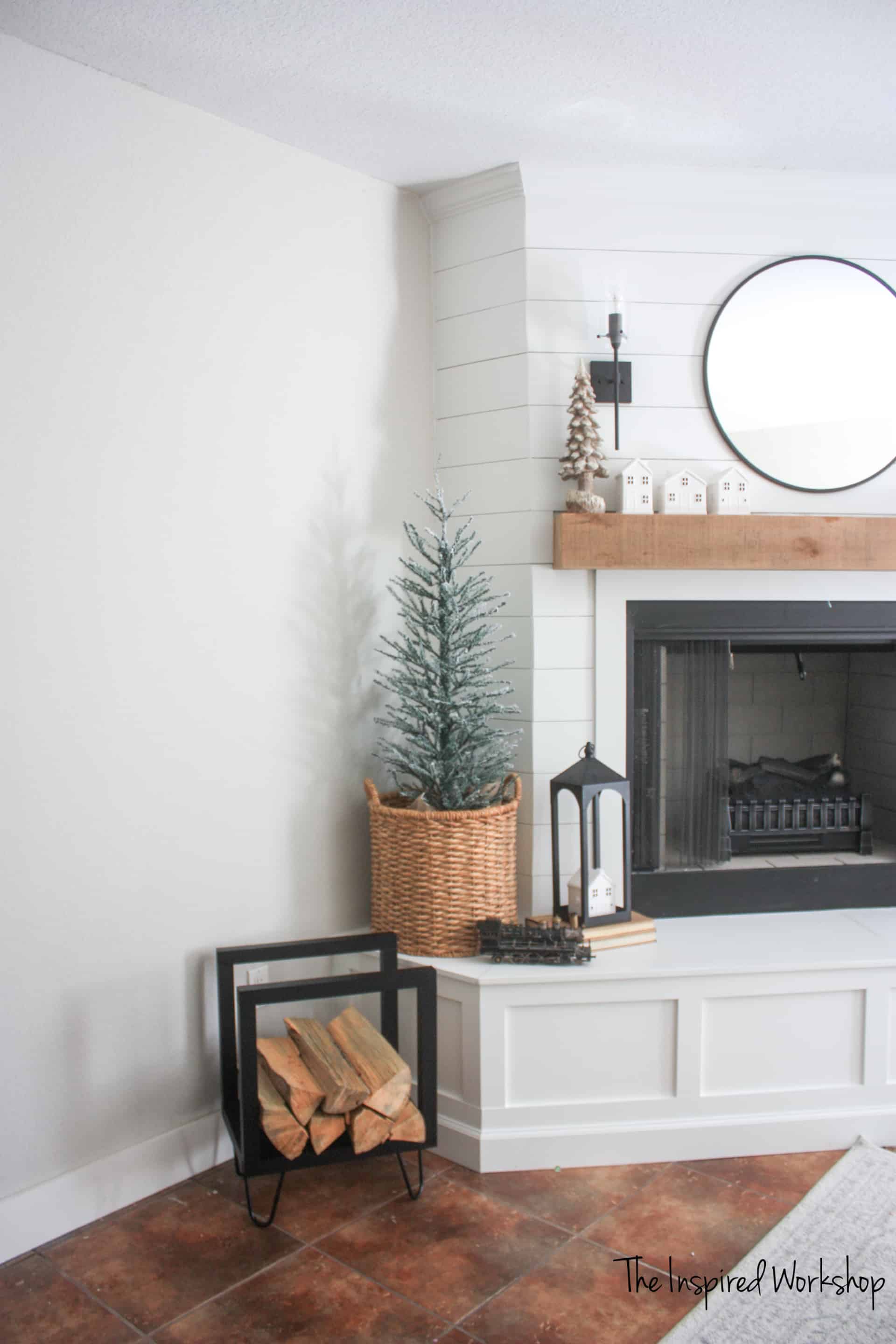 I have to tell you a funny story about this log holder! If you ever thought that DIYers just come up with ideas and throw them together and life is all good…you need to know that is NOT at all how my life goes! LOL!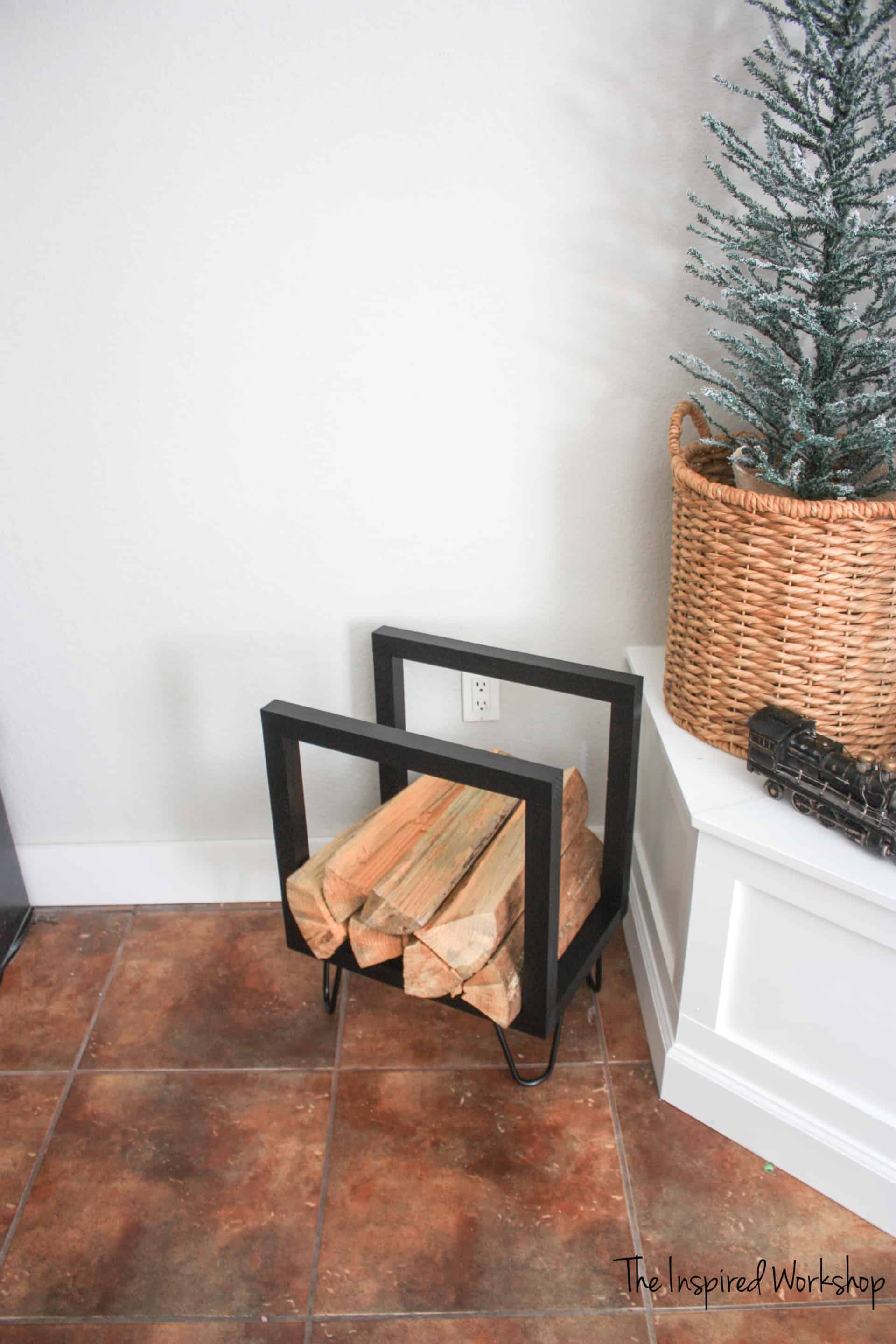 I went to get my supplies from Home Depot for my first idea, they were out of the steel rod that their website claimed they had 5 of, seriously Home Depot…we can't even be friends if you are going to lie to me like that!😆 While standing in the aisles I had to quickly come up with another idea. I struggled for a while, no ideas coming to me AT ALL… all the while my kids becoming highly agitated with me that we weren't leaving already! Lol!
So, hours later it seemed, I excitedly shout, I've got it! New idea on deck, I only need some 1/2″ plywood and we are good to go!
I grab the plywood and head home, mind you, I had already picked up Kreg screws for my other idea in 3 sizes! I get home and low and behold, I forgot the 1″ screws that you need when you are using 1/2″ plywood!😂😵🙈 Home Depot is a good drive from my house, 30-45 minutes one way.😬
I decide I don't have time to drive back I just have to be resourceful and come up with another idea, it's a log holder, they can be a myriad of styles. I go out into my garage and start looking around, I see some hairpin legs that I ordered FOREVER ago and I honestly don't even know what I was going to use them on…it had been that long ago! They are fair game, I can order more IF I remember what I was going to use them for!
I quickly whip up my latest idea, this is idea number 3 by this point just in case you lost count, all in less than 24 hours! 😅 I flip it over to put the hairpin legs on, flip it back over to reveal…yuck, that is not cute! 🙄 I place it on the fireplace…nope, I DON'T like it!
Holy shizzle, what am I going to do now? After staring at it for what seems like an eternity, I decided that I may like it IF it was slightly shorter so that the legs looked more in proportion! Glue is set at this point, so I have to take it to the table saw and cut it down!
I can't mess this up though because this is all the 2x2s that I have! Luckily I found two scraps just big enough to replace the top boards!
After cutting it down, I didn't realize that the pocket holes have been cut off and new ones may or may not be able to be drilled in their place. I opt to just glue it and clamp it for a few hours! It works! But the moment of truth is still to come…will I like it? I put the legs on AGAIN, flip it over…and wait for it…YESSSSS I like it!! Crisis averted!😅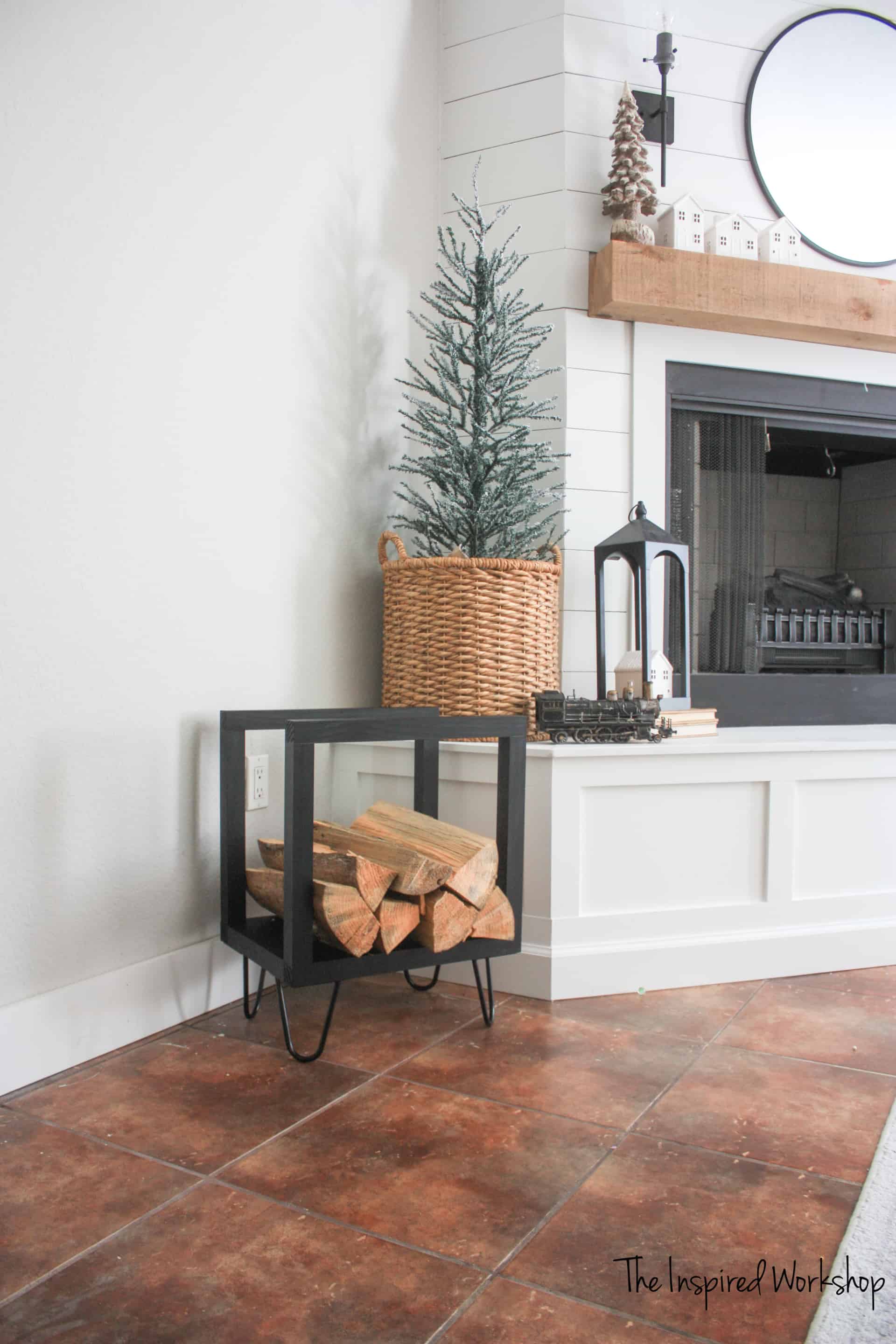 Now you know that DIY is NOT always easy, sometimes it is but sometimes it isn't! And that's okay, we learn from all of the mistakes and become better problem solvers because of it…and we learn what our tools may or may not be capable of when we go against the manufacturers suggested uses! LOL! Kidding, don't try that at home!
Okay, okay, enough about my crappy day! Lol! Let's get straight to the plans on this cutie, I can call it that NOW!😏
Building the DIY Firewood Holder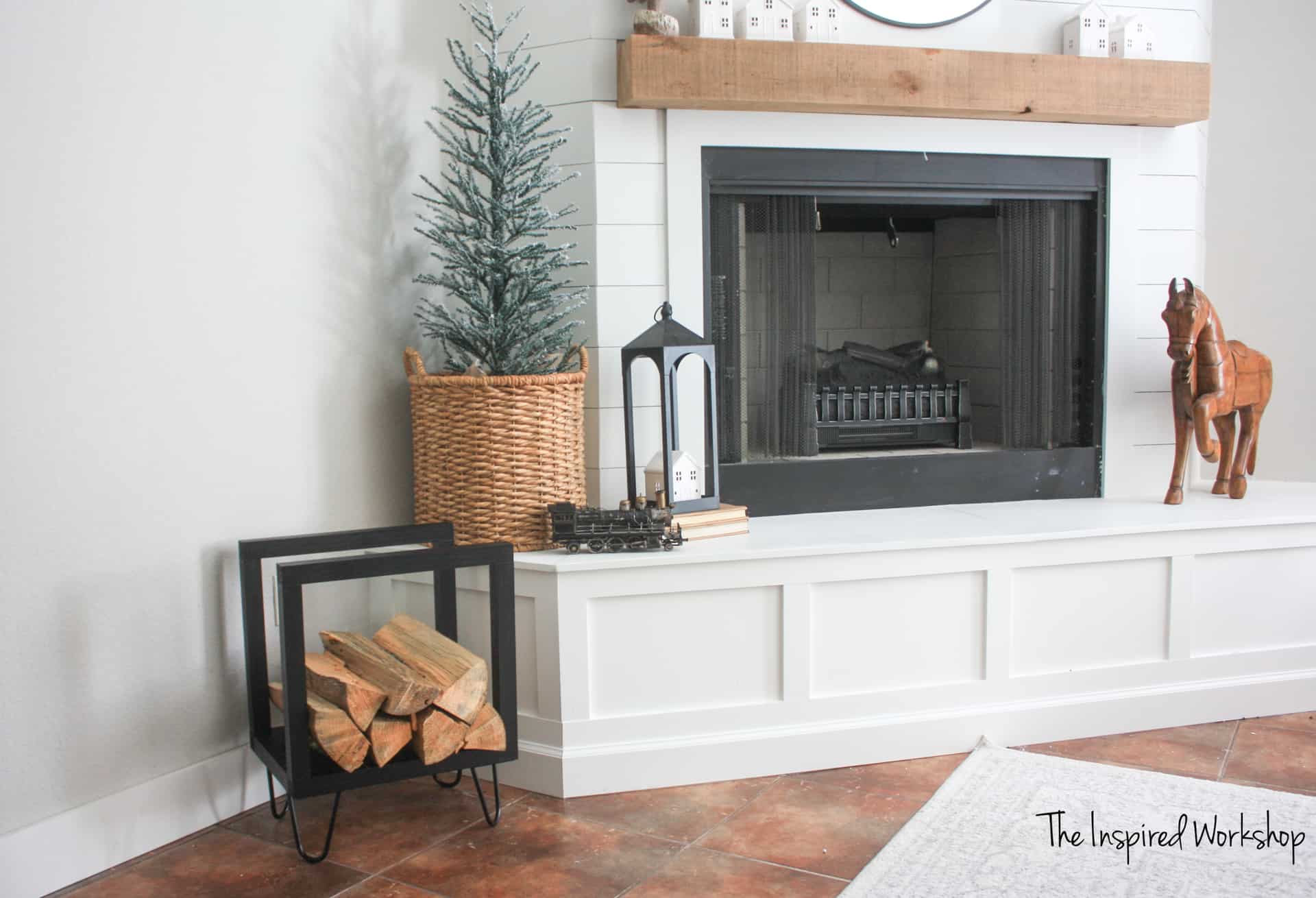 Materials List:
2 – 2x2x8
1 – 2'x2′ piece of 3/4″ plywood – or a scrap piece of 3/4″ plywood (15 3/4″ X 10 3/4″)
1 1/4″ screws to attach legs – My favorite screws when I am not using pocket holes, they are wafer head and they work flawlessly without predrilling holes!????
Sandpaper and paint of your choice
Cut List:
4 – 2×2 @ 18 3/4″
4 – 2×2 @ 18″
2 – 2×2 @ 10 3/4″
3/4″ plywood @ 15 3/4″ x 10 3/4″
Building this is super easy! It was built in less than an hour…before I had to fix it! Lol! So it should only take you an hour or so since I gave you the good cut list! 😉
Wouldn't this be a cute gift to give someone?
Back to building the firewood holder!
Start by cutting your plywood down to size and drilling pocket holes 3/4″ deep along all the sides of it. Normally when you are attaching 3/4″ material to other 3/4″ material, you would use a 1 1/4″ screw, but since we are going into 2x2s we can go with a longer screw. I used 1 1/2″ screws to attach, with tons of wood glue!
Make sure and drill your 1 1/2″ holes into your 2x2s @ 10 3/4″ before you attach them to the plywood.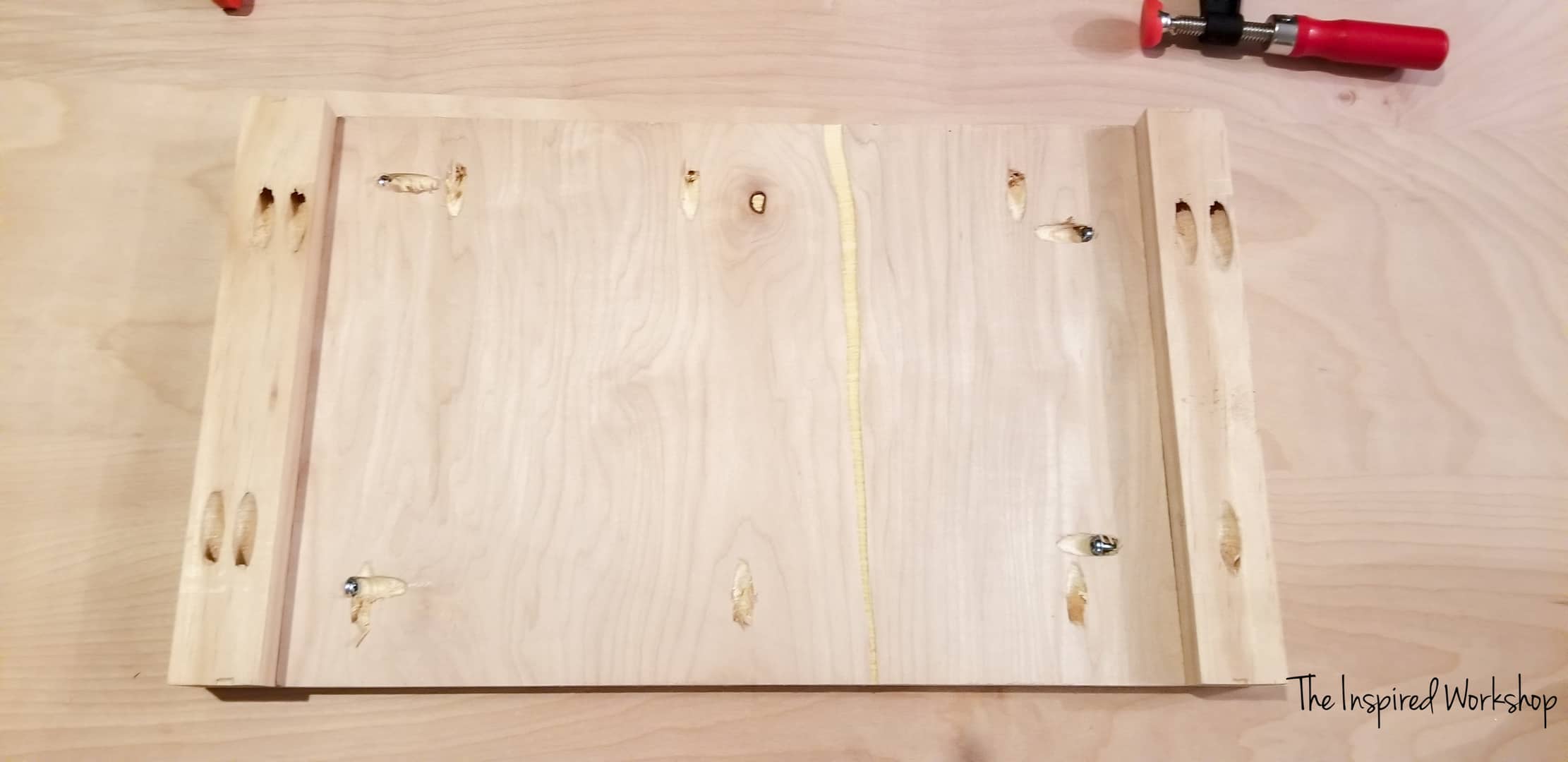 Next, add your 2×2 @ 18 3/4″. Again, make sure and use ample glue.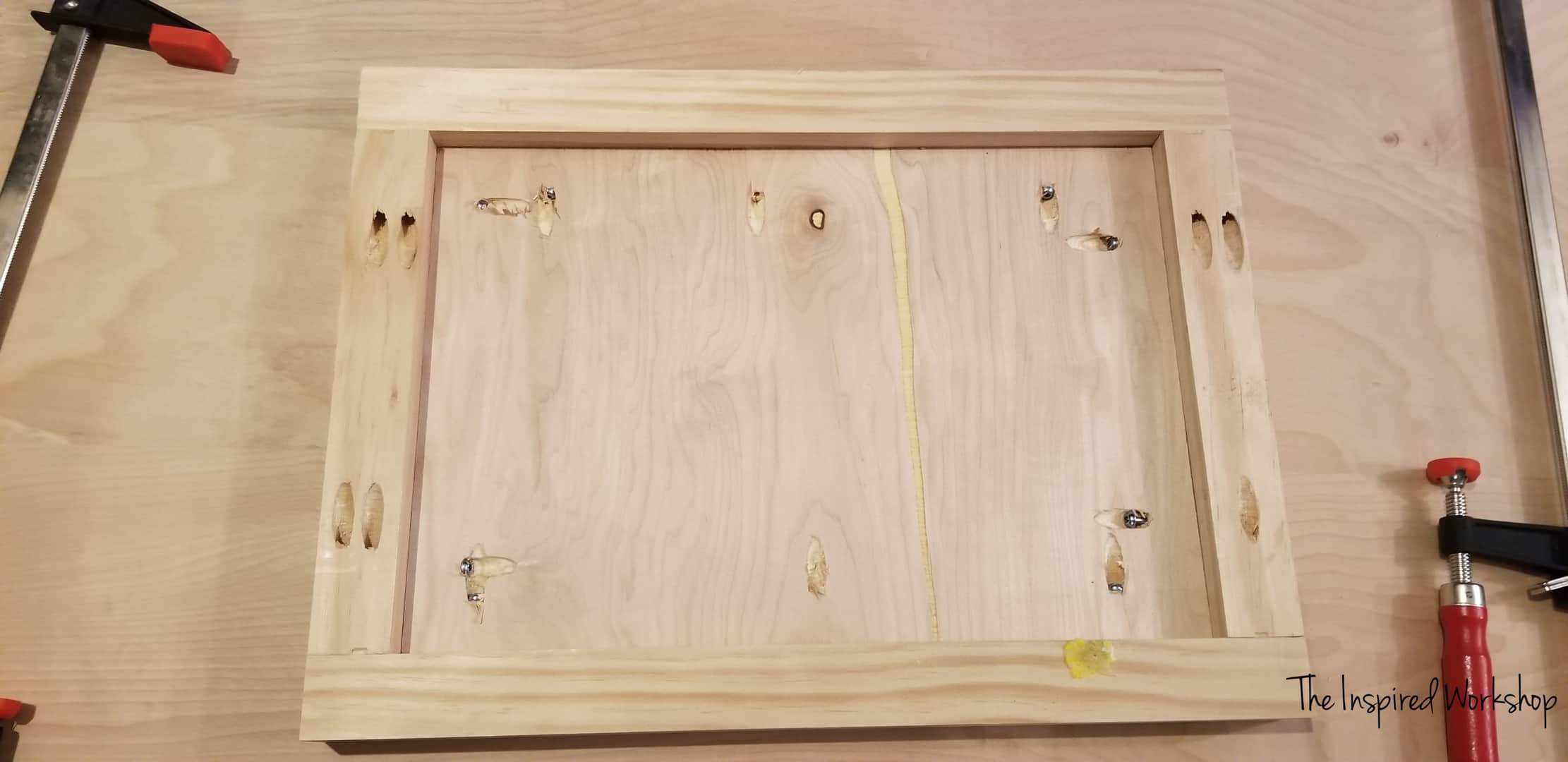 Don't mind the skittle that somehow was smashed on my 2×2!😂🙈
Add the upright 'legs' to the base you just built. They will need 1 1/2″ pocket holes drilled in both ends. Attach with 2 1/2″ pocket hole screws and wood glue. I used clamps to help keep them in place while screwing them in! I used the clamps that I put on my stocking stuffer list last week…they are awesome clamps and I cannot believe it took me so long to grab them!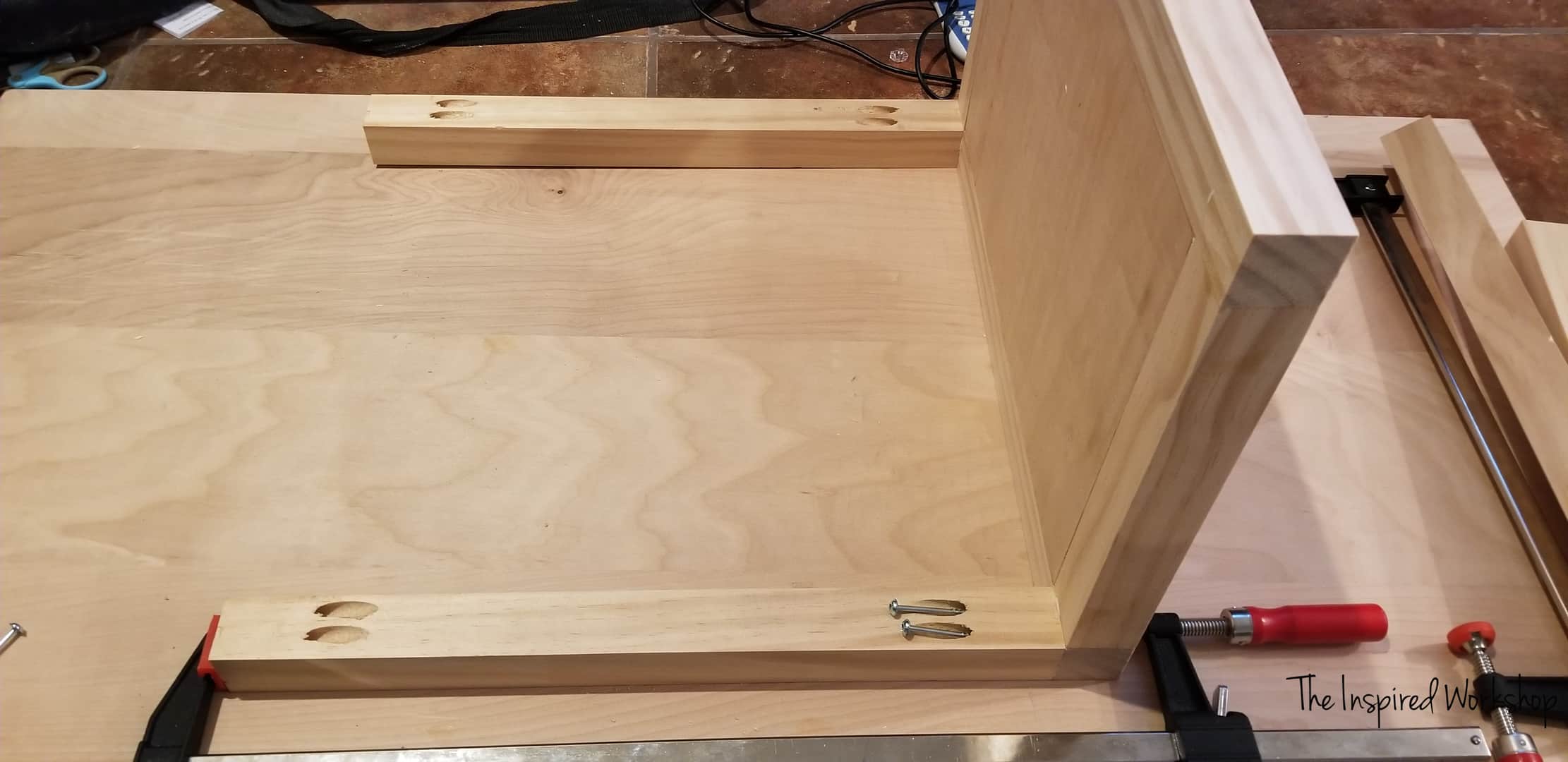 Flip it on its side and make sure that you pick which way you want the 'back' to be so you can hide the pocket holes to the back.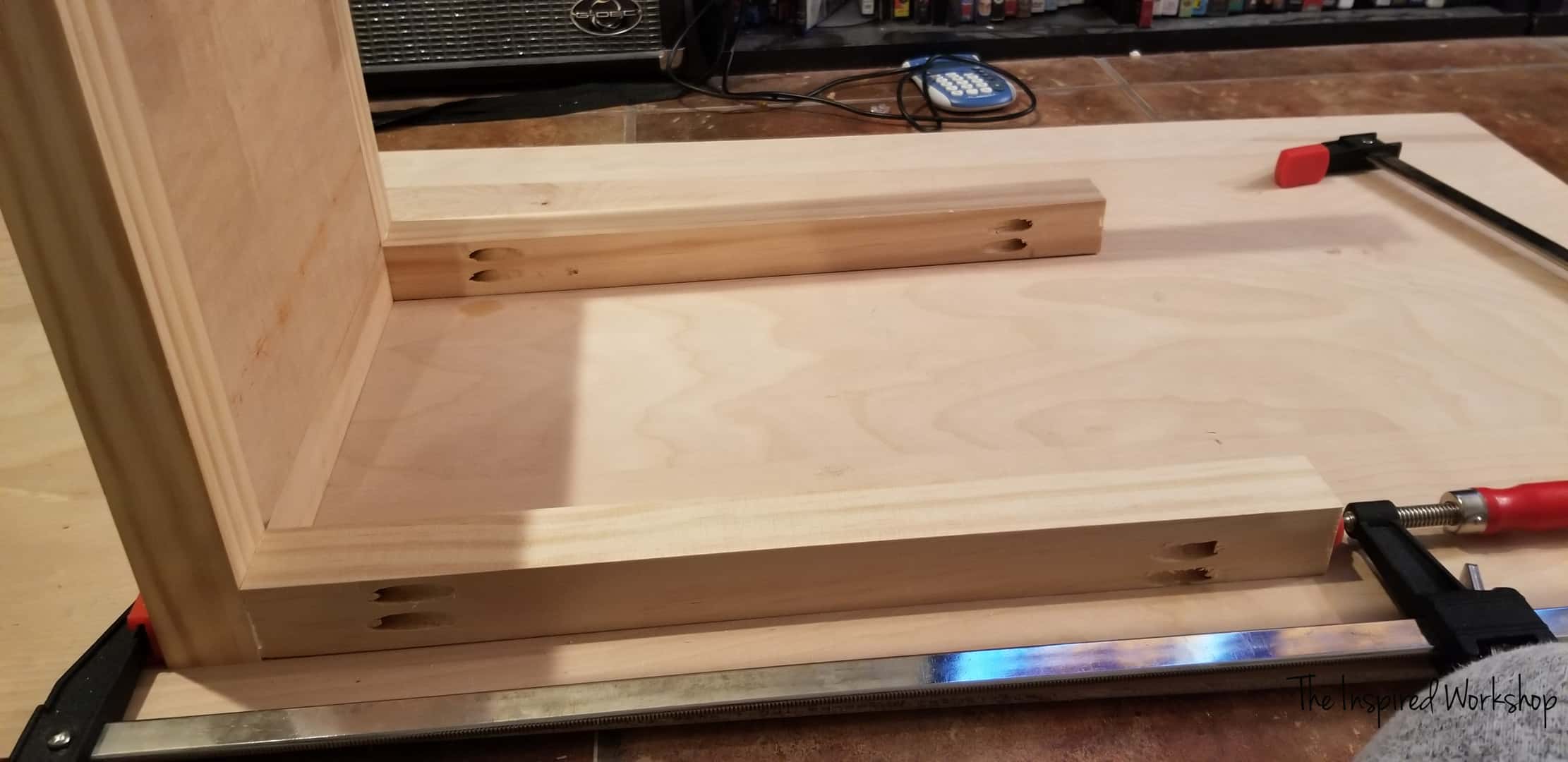 Add the top 2x2s @ 18 3/4″ using 2 1/2″ screws and wood glue!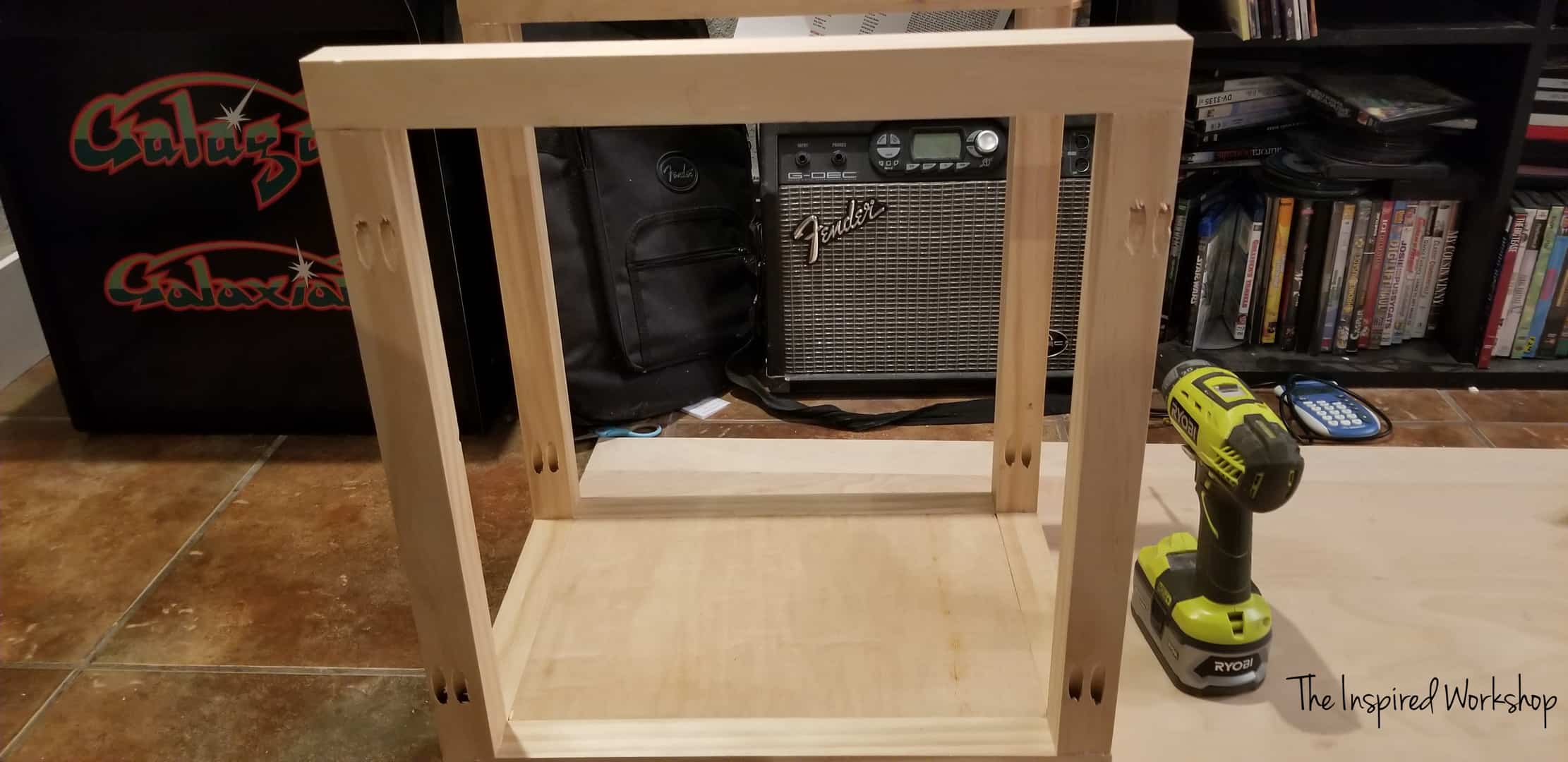 Back view!
Now, this is the tall version, yours will be shorter than this as mine is now! Lol!
Here's me trying it out by the fireplace…and hating it! Lol! I had already taken the legs off and it was still this tall.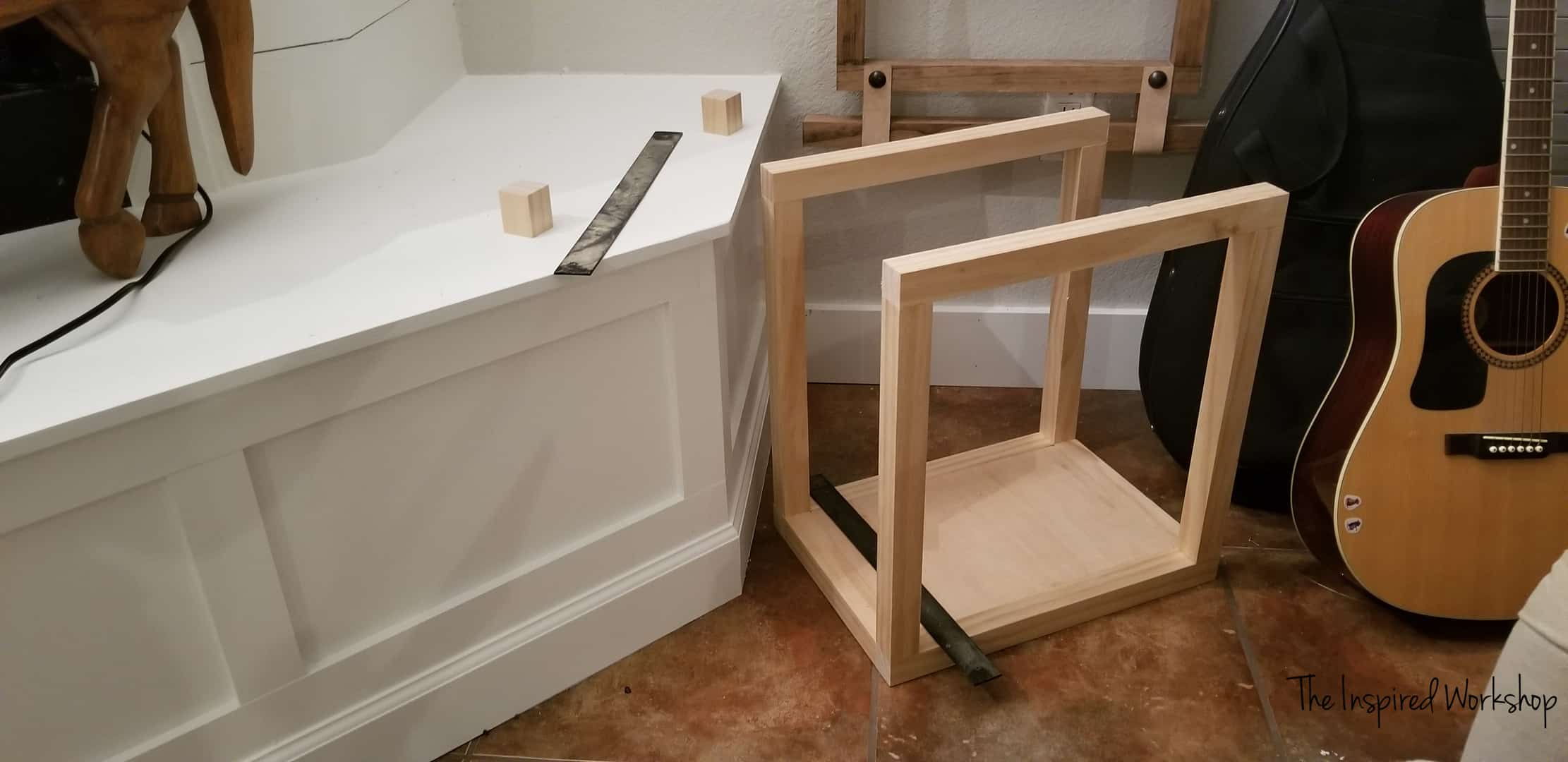 Sand and stain/paint it however you would like! I used Rustoleum Flat Black on mine!
Add the hairpin legs with 1 1/4″ screws, flip it over, and BOOM! DONE! Fill it with logs!
I happen to adore it now and am so happy I didn't give up on building it…I was tempted several times!😅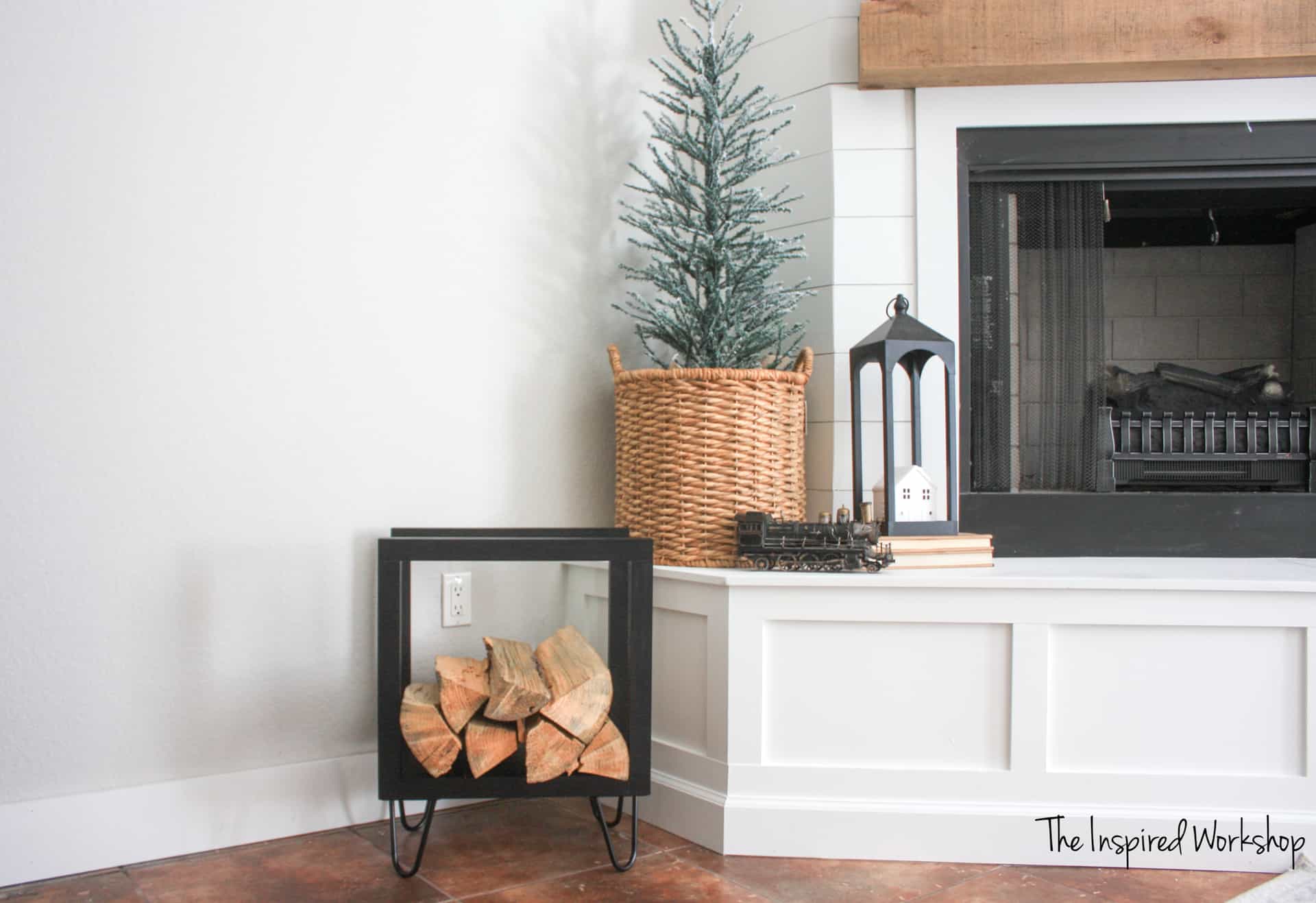 Notice how I FINALLY moved the marble that was in almost all of the photos! ???? Now you can go play where's the marble if you hadn't noticed! Lol!
DIY Challenge Participants
Now you MUST go check out everyone else's projects!
Katie – Addicted 2 DIY – DIY Fireplace
Anika – Anika's DIY Life – Upholstered Bench
Gail – My Repurposed Life – Antique Sewing Machine Table
Sadie – The Awesome Orange – Burnt Live Edge Clock
Mindi – My Love 2 Create – Wood and Acrylic Floating Picture
Sarah – Ugly Duckling DIY – Wood and Leather Ornaments
I hope you all have a wonderful Thanksgiving!
Happy Building!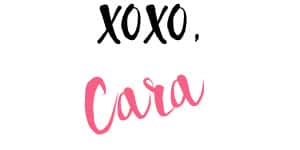 Enjoy this and want to save it for later?! Pin it now!