Spare Table That Doubles as Wall Art
This post is sponsored by Build Something and Kreg!
The holidays are coming!! I LOVE this time of year, family get-togethers, delicious food, gift giving!!! It is the BEST time of the year, my kids' birthdays are during the holidays too…I just can't get enough!! But do you ever feel bad when you have people standing around without any where to sit? Maybe they stopped by uninvited, maybe Grandma brought a couple gals from the nursing home???? whatever the reason, today's post may be a solution for you!! It is a spare dining table or game table that you can store on the wall, as art when you don't need it for seating people!! How cool is that??? I love the idea, maybe because I have absolutely ZERO closet space in this house it seems!!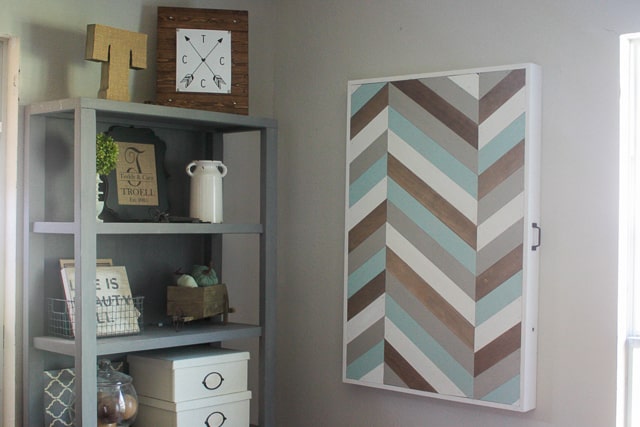 It looks like a beautiful piece of art work, but hidden behind the beauty is a little secret!! Lol!!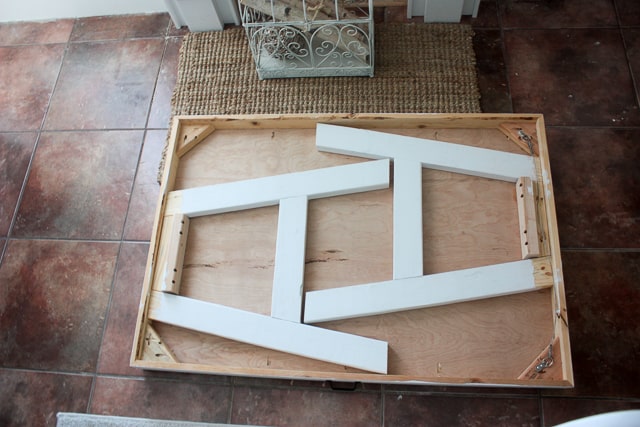 Some legs to make it a table!!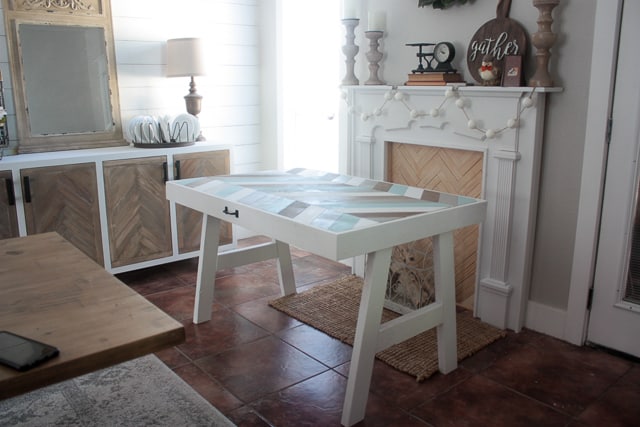 Pretty amazing if I do say so myself!! ????????
Solved one holiday problem, now back to the drawing board to solve the other 9,476,802!! ???? I kid, I kid!! This one about kicked my butt, I'm stopping here!! Lol!! It really did give me a run for my money, for the first time ever my actual design failed…not like I cut a board off square and made my project kinda wonky…that happens all the time… it didn't work the way I designed it!! ???? It was super frustrating, but I figured out something that ended up working just as great!!
And I have the FREE plans available for you over on buildsomething.com! Have you stopped by Kreg's awesome DIY website yet? I have been telling you to stop by for ages now! Lol!! It really is a wonderful site that you need to check out if you haven't!! It has so many amazing plans for furniture, I see stuff daily that stops me in my tracks…and adds stuff to my to-build list!! It is already a mile long, I'll just keep on adding and maybe one day I'll roll in like Wonder Woman and tackle it all!! Wake up Cara, I think you were dreaming!! ????????
What do you think of this piece, is it something you can utilize in your home this holiday season? I love that it is easy on the pocket book too! One sheet of 1/2″ plywood and a couple boards and you can have this adorn your walls for around 50-60 bucks! It costs less if you use cheaper plywood, but you know me always using my favorite Purebond Plywood!! It is worth the slight cost difference I am telling you! Better air quality in your home means better health for you and your family!! Check out their website if you'd like to know more! Purebondplywood.com And check your local Home Depot to buy it and get started on a project today!!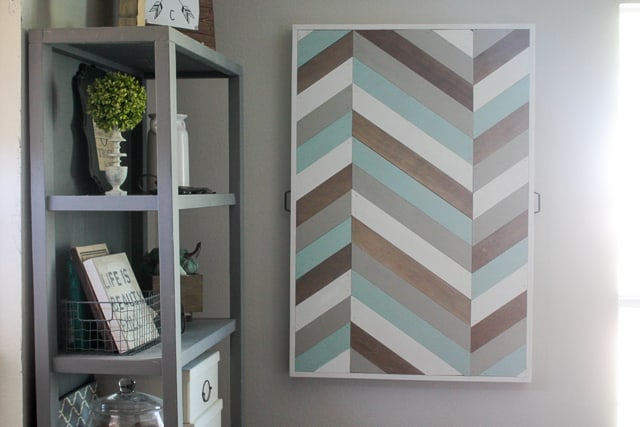 Ooh she's gorgeous!
Get the FREE plans for this spare table that doubles as wall art at BUILDSOMETHING.COM!
Interested in the colors I used to make it so beautiful? Some links are affiliate links below!
White – Rustoleum Linen White Chalk Paint
Gray – Sherwin Williams Dorian Gray
Blue – Rustoleum Serentity Blue Chalk Paint
Stained wood – layered Rustoleum Antique White, Minwax Weathered Oak, Minwax Classic Gray and last but not least, Minwax Jacobean!
That does it, can you imagine the possibilities of what you could do with this table, you could paint it like a sign, with your favorite quote, you could make a pattern of some sort, you could even paint it to look like your favorite board game and then use the table to play the game! The ideas are endless!! Or you can make it exactly like mine and we'll be twinsies and I'll love it!!
Hope you had a wonderful Monday!! Happy Building! Make sure and check back in to see the progress this Thursday on the #oneroomchallenge!
Cara
Feel Free to Pin away this image!! I thank you in advance!!