DIY Farmhouse Trestle Table
This beautiful farmhouse trestle table is a DIY dining table that you can build yourself on a weekend! Make your dining room a place for friends and family to gather and enjoy meals and games, talks, and drinks! This fancy dining table is easily built using only a few tools and some off-the-shelf lumber!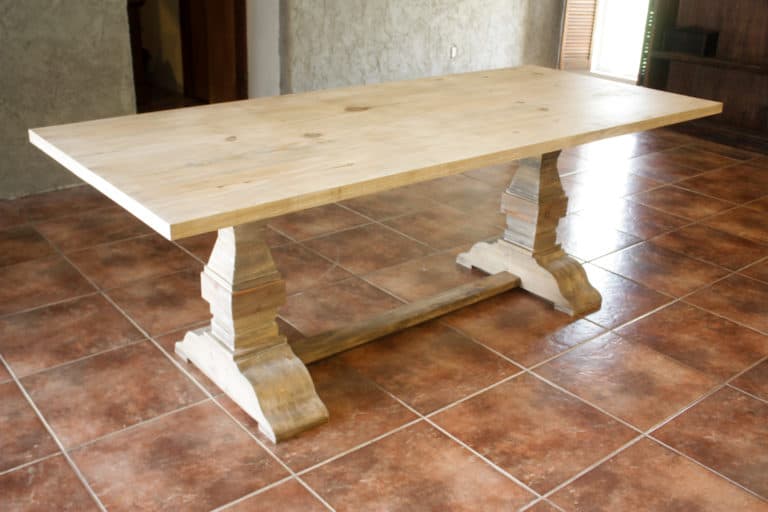 This post is sponsored by Kreg Tool!
I am so beyond excited about these plans!! First off, I have drooled over this trestle table from Restoration Hardware for the longest time, and I have wanted a more farmhouse-style dining table ever since I built my West Elm Emmerson table!
I didn't have the heart to get rid of that table though, my Dad and I worked together on it and I haven't even used it for a year yet, so I couldn't justify building a new one!! That was until we moved, and we now have a breakfast area and a dining area!! Woohoo!! I could have my cake and eat it too…don't ever let anyone tell you that's not possible! It is possible!! Lol!! Eeeek!! I was able to keep my old one and build a new farmhouse trestle table!
Check out the updated photos now that I placed a rug under the table and built that cute little faux fireplace, and built a beautiful herringbone door buffet! Man, this little dining room has come a long way!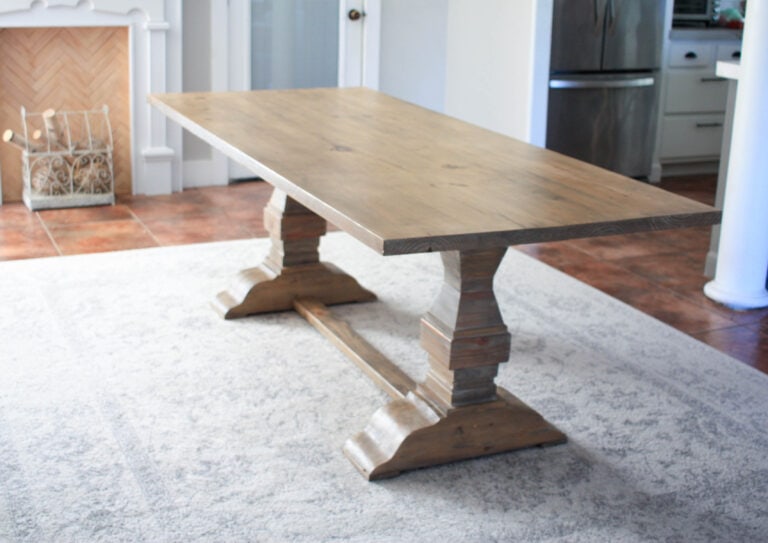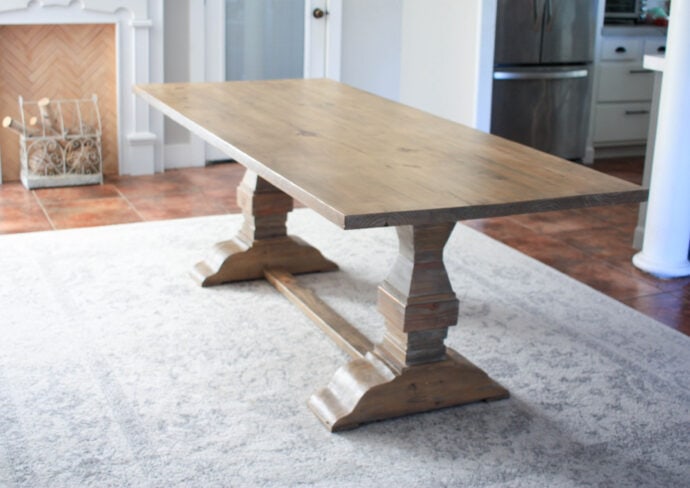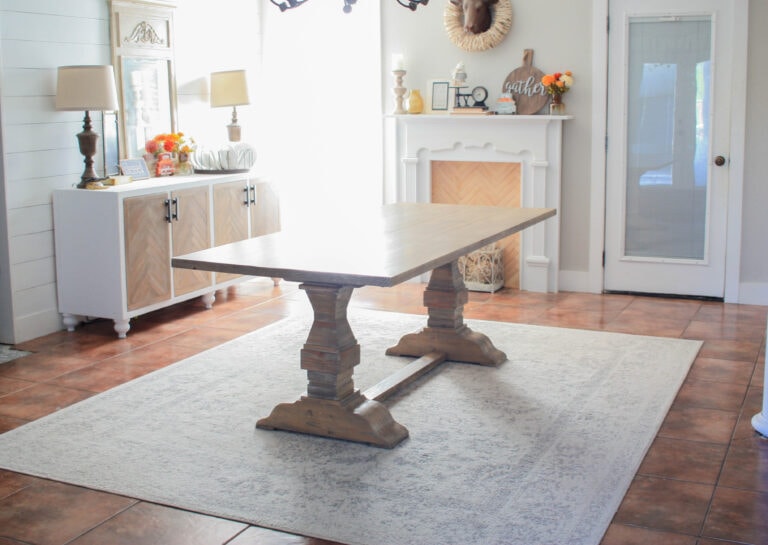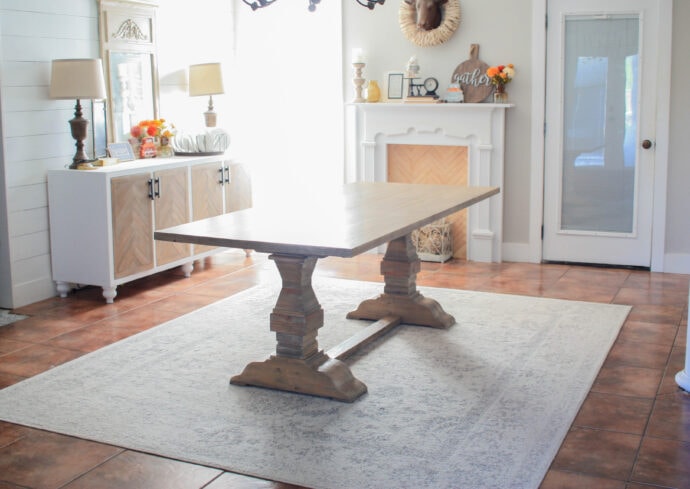 Back to this beautiful farmhouse trestle table, I bet you want to know how I built those gorgeous legs, right?! I don't have a lathe and I probably couldn't turn something this beautiful if I did! Lol! But since I have teamed up with Kreg Tool, you will find the full table build plans on their site for this DIY dining table!
DIY Trestle Dining Table Plans
Gathering Supplies to Build a Farmhouse Trestle Table
I built this table base with all scrap wood, I had to purchase the 2x10s that make the tabletop, but that was it! Pretty fancy what my scrap pile turned into huh?! Lol!! But even if you don't have a scrap pile yet, you can build the whole table for less than 75 bucks!! Yep!! Amazing right!! **Update – after lumber prices jumped, the current total would be right around $150 as of summer 2022! Still a huge bargain for such a beautiful table!
Materials Needed for DIY dining table:
**Note: Amazon links below are affiliate links! Affiliate links are links that pay me a small commission (at no extra cost to you) should you make a purchase after clicking a link! Thanks in advance for shopping my links!
4 – 2x10x8
5 – 2x4x8
1 – 2x8x8
4 – 2x6x8
1 – 4x4x8
1 – 1x8x8
stain/paint of your choice
Cut List for the DIY dining table:
4 – 2×10 @ 84″ table top
2 – 2×4 @ 63″ long table braces
2 – 2×4 @ 26″ short table braces
1 – 2×4 @ 45″ top stretcher of base
1 – 2×4 @ 43″ bottom stretcher of base
10 – 2×6 @ 24″ feet of the base cut into scallop pattern
4 – 2×4 @ 24″ table base attachment (where the table top joins the base) also cut with a small scallop pattern
4 – 1×8 @ 7″ stacked leg pieces
6 – 2×6 @ 5 7/8″ stacked leg pieces
8 – 4×4 @ 7 1/8″ leg pieces mitered at 45 degrees off square
2 – 1×8 @ 6 1/4″ – also ripped down to 6 1/4″ to make a square stacked leg piece
4 – 2×8 @ 5 3/4″ beveled leg pieces also ripped down to 6″ beveled on all four sides
4 – 2×6 @ 4 7/8″ beveled leg pieces also ripped down to 5″ beveled on all four sides
4 – 1×8 @ 4 1/6″ beveled leg pieces also ripped down to 4 1/8″ beveled on all four sides
2 – 2×6 @ 3 7/8″ also ripped down to 3 3/4″ tiny leg pieces
4 – 1×8 @ 7 1/8″ also ripped down to 3 1/2″ feet bottoms – if you have scrap 1×4 laying around you can use this instead of ripping down a 1×8 but to save money I didn't add a 1×4 to the materials list because you will have enough 1×8 to make these
Building the DIY Farmhouse Trestle Table
Have you been to the Kreg Tool website before? If you have then you know how awesome it is, but if you haven't here's a little info: Kreg Tool is Kreg's amazing new website where you and I both can go and post furniture plans to share with everyone, or you can just browse amazing plans you want to build!!
They have so many great plans from bloggers, regular joes, and even 'master builders' as I like to call them that work for Kreg and post cool plans!! You can make lists of what you want to build, you can like and comment or review a plan that you have built!! It is really a great website, and you can connect with others who enjoy woodworking…plus you get a FREE t-shirt when you submit your first plan!! Win-win-win!!
Need I say more, head over there now and check out my plans for this beautiful farmhouse trestle table while you are there!! Also they recently added a Kreg Tool Academy and my girl Shara from Woodshop Diaries will show you how to make some awesome plans step by step on camera!
Download the template to cut the feet: FEET TEMPLATE
Download the template to cut the top base pieces that attach to the tabletop: TOP PIECES
And just a few more pictures of this beauty before you go!!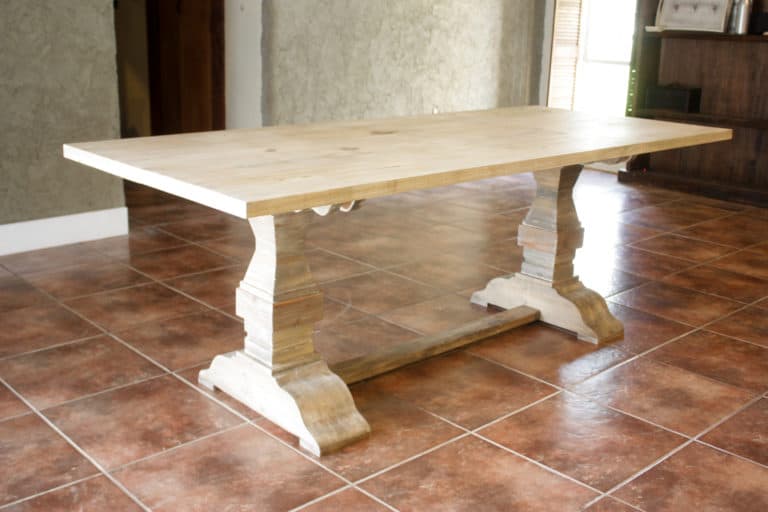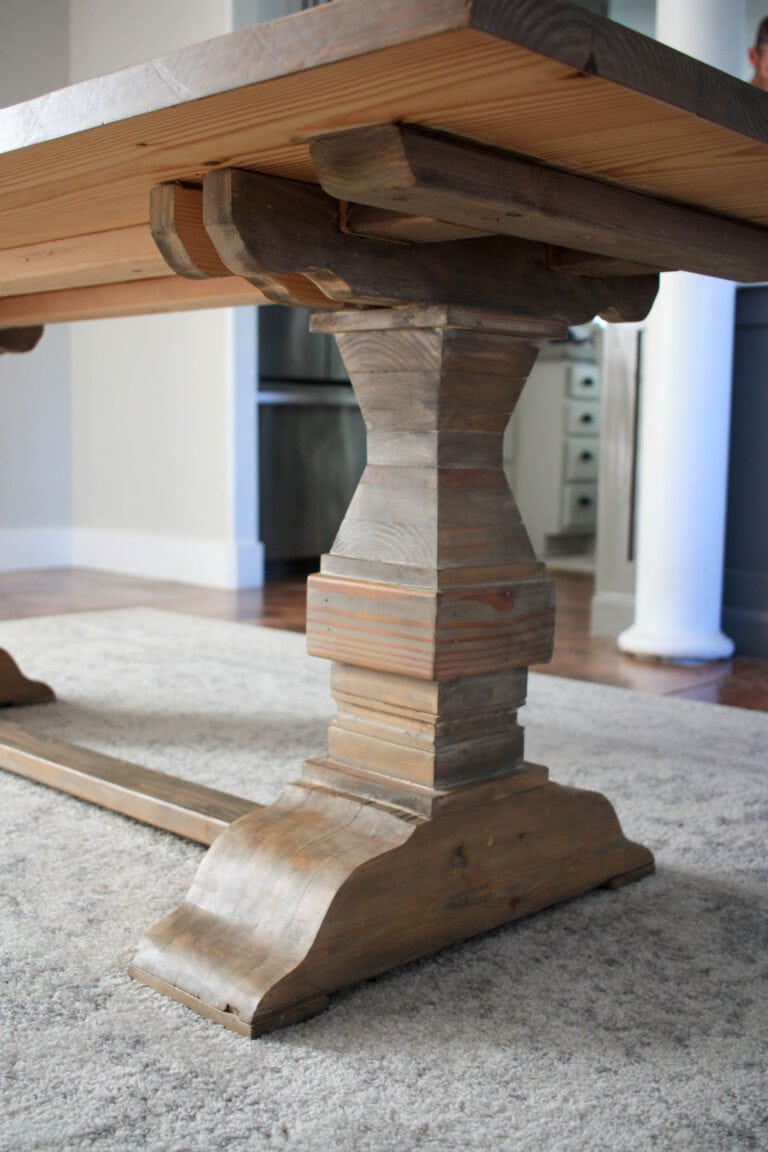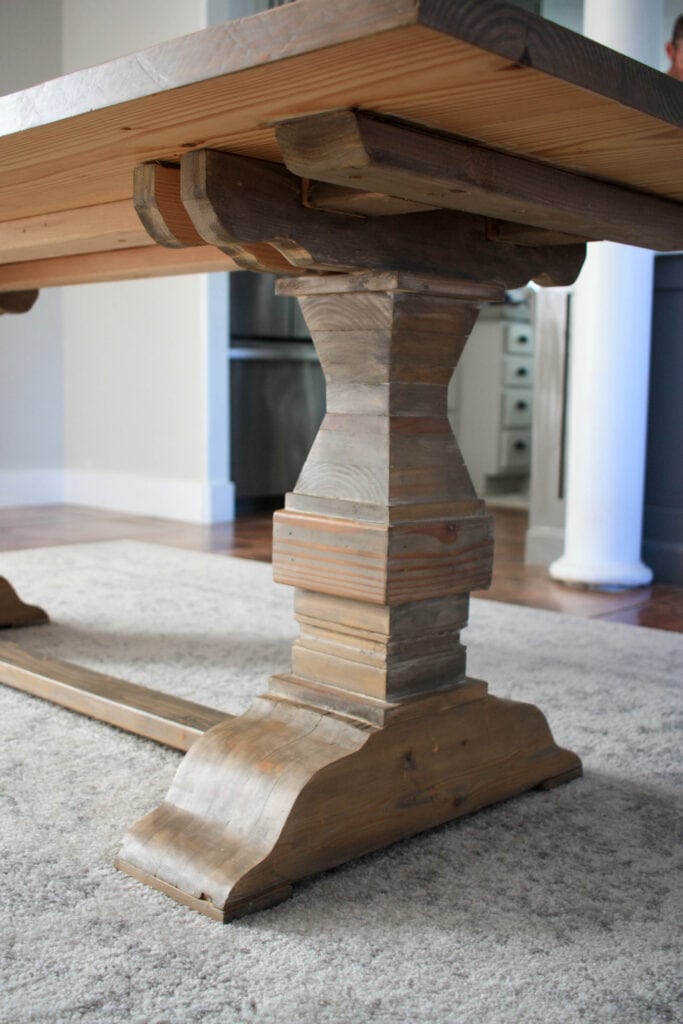 The updated pictures with the rug are 5 years later! It still looks exactly the same five years later! See DIY doesn't mean it won't last, it's solid wood so it typically will last longer than something cheap bought in store!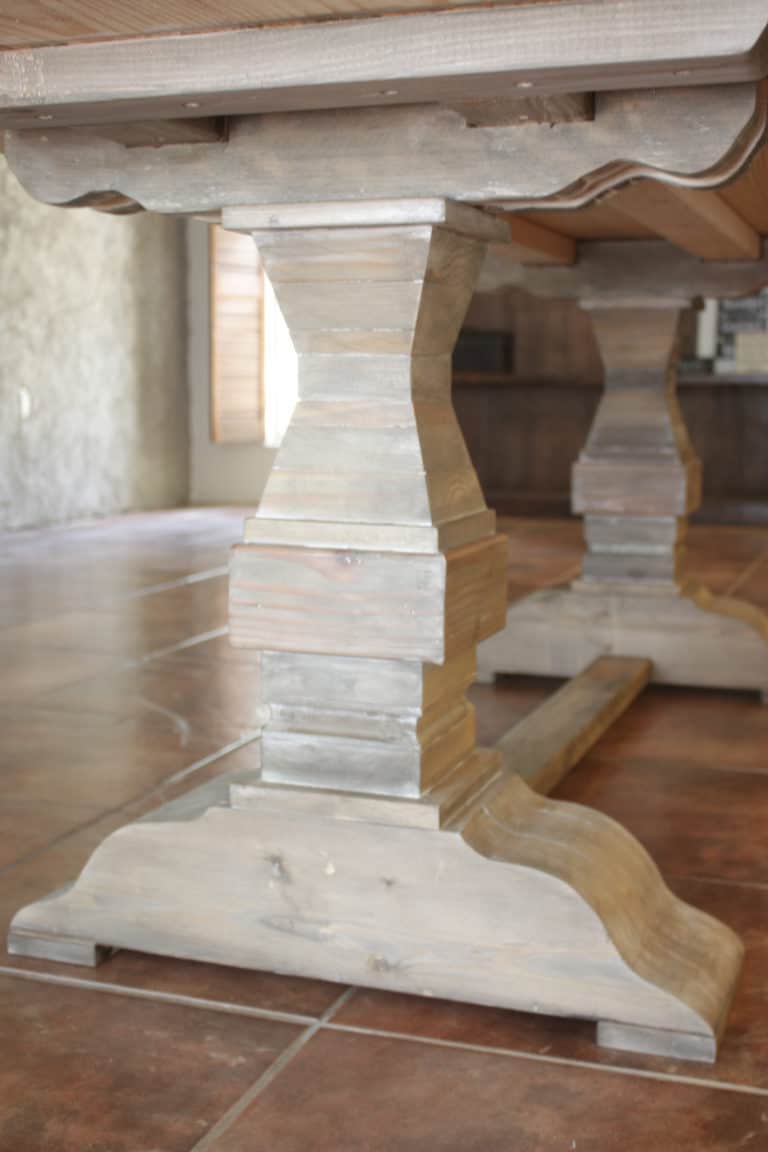 Unbelievable! And the craziest part is, these pictures do not even begin to do it justice, it looks way better in real life!! What are you waiting for, go get the free plans DIY Trestle Dining Table!!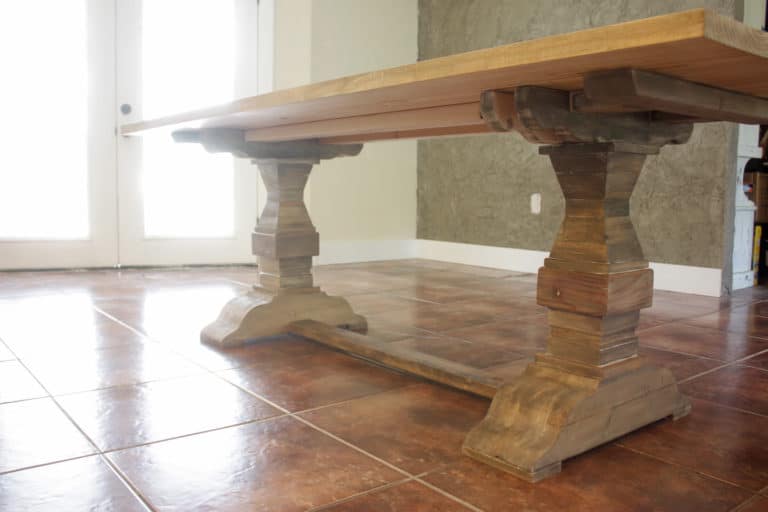 Don't mind that I didn't stain under the table, no one will ever look under there! Lol!
Happy Building!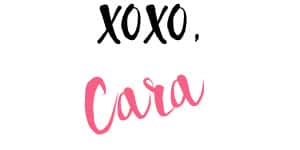 Want to save this DIY farmhouse trestle table for later? PIN It!