Faux Pallet Wood Tutorial
Hey there everyone! I am back today to share with you the faux pallet wood tutorial explaining how I finished the table I posted yesterday! See the Knockoff West Elm Emmerson Dining Table HERE!! I definitely spent less time than I thought I would to get the faux pallet wood look, which is always exciting…because let's be honest, it pretty much NEVER happens! Lol! I can't say it's exactly what I wanted it to look like, but I do love it even if it isn't perfect!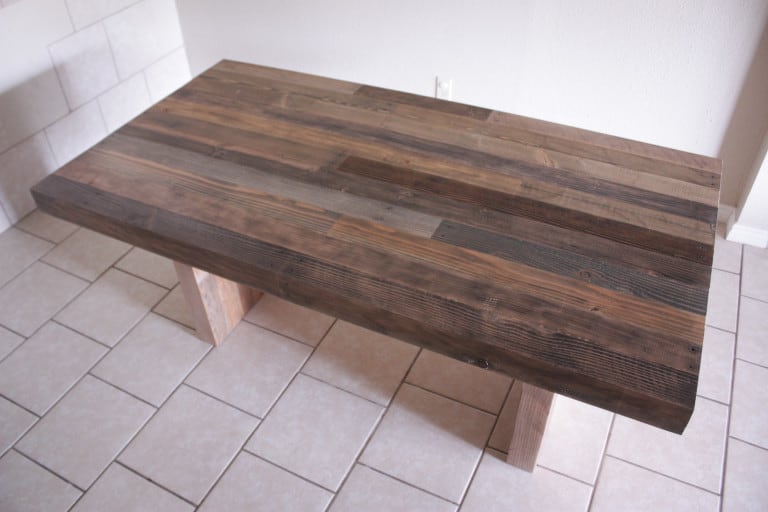 The pine that I used on this table was a little pink looking…which made me have to go a little darker that I originally wanted because when I tried to leave it a light color it took on a pink hue! I have been told the pictures do not do it justice!!
A few things I would change though would be to do more 'pieces' on each board…I was afraid I was not going to like the three pieces on each board but I now think the more, the better! I was able to make many of the changes on the bench and that may just tempt me into rebuilding the table with 1x4s over a frame…but I'll just try to enjoy all the time and hard work I put into this one a little longer!! Lol!
To get started, I wanted to distress the table but in order to make it look like pallet wood I felt each board needed different distressing…I tried various techniques and found some I LOVED and others that I may not try again!! I used wire brushes in my drill, a punch to make lines, and a sanding disk for the grinder! I also drilled holes in certain areas with a drill bit to look like old nail holes but I am still going to try hammering in some large nails to see the difference but I haven't done it yet…I will update when I do!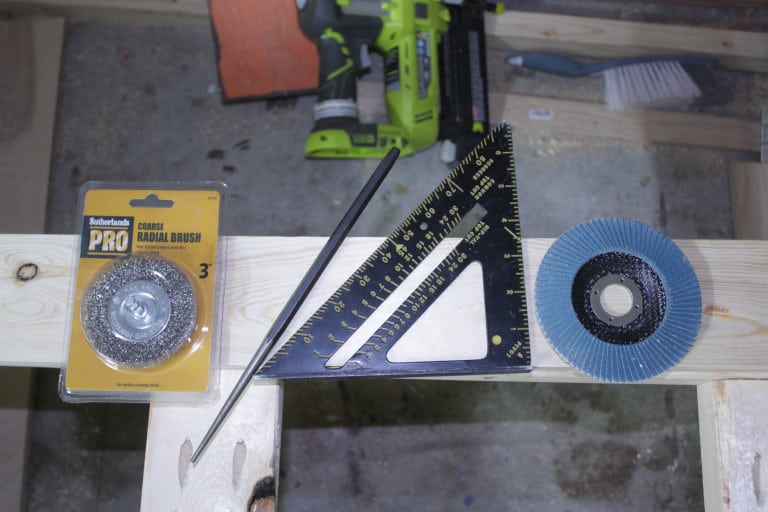 The wire brush made excellent marks in the wood and used in various directions created subtle differences in the distressing, but the stain couldn't penetrate some areas of this method because the lines were so thin…I ended up liking some of the regular wood showing through where the stain didn't penetrate, but that's just me!
Here is the wire brush used just side to side on the board! And since I didn't take any pictures of the distressing while I was first doing it, I will tell you the stain colors on the boards as I show you pictures, even though of course, I hadn't stained them yet at this point in the process! (Stain color: Ebony…every so lightly rubbed slowly, almost like how you use a black crayon when you don't have a gray! Haha!)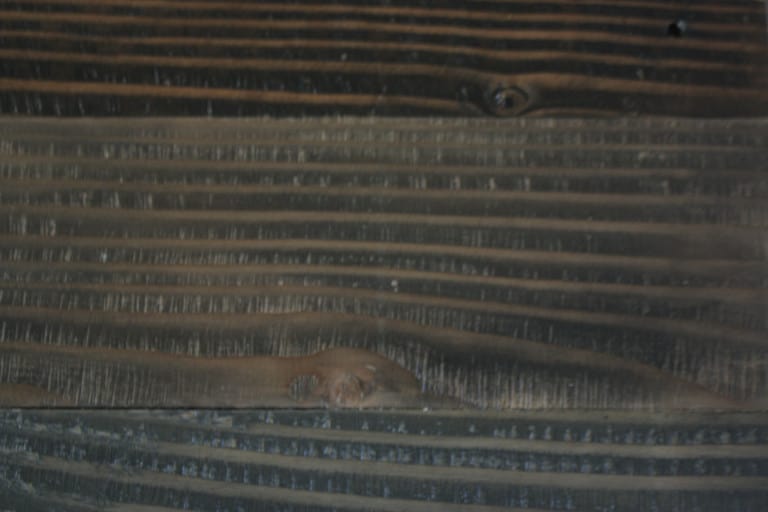 Here is the wire brushed kind of swished at a curved angle. (Stain color: Jacobean)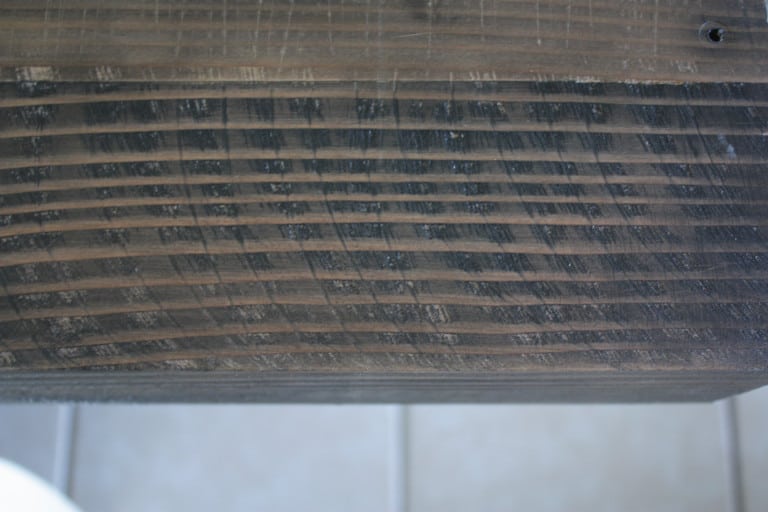 Here is the wire brush running with the grain of the wood. (Stain color: Banister Beige with Ebony ever so slightly rubbed on top)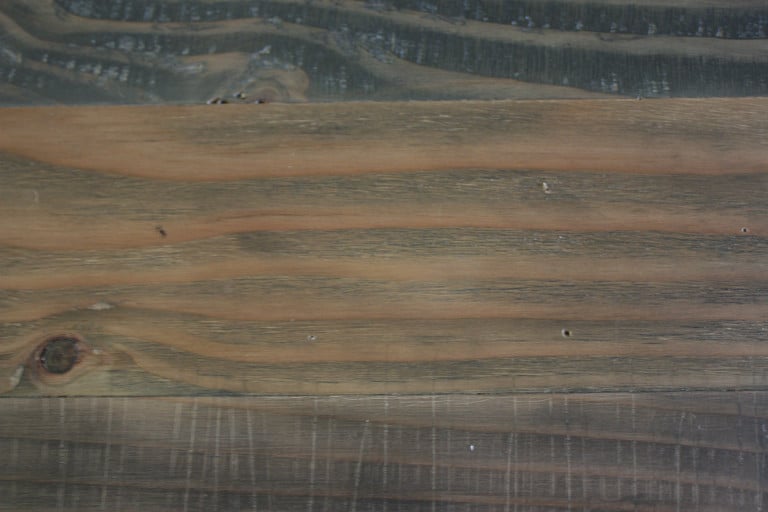 Next I tried the punch, I used a square and just drew lines across the board all the way down….I really liked this but in some areas I had the same problem as with the wire brush, the stain couldn't penetrate all the way down…so depending on whether you are okay with that or not will determine if you would like this way! I also went over the lines with the sanding disk to make the deeper lines not so obvious!
(Stain color: Sunbleached with Golden Oak over it and then a little light swiping of Ebony)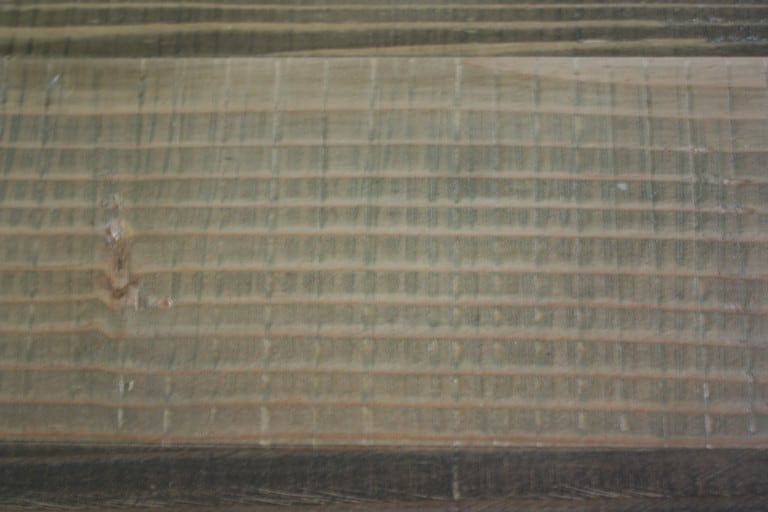 Last, and my favorite method, was the sanding pad for the grinder! I love the light lines it put in the boards, just enough to darken the stain in some areas but not deep enough that the stain couldn't penetrate! I didn't actually use the angle grinder, I just held the disk in my hands, on it's end, and scraped it across the boards…it was faster than the punch because you were basically getting three lines every time you would make a drag across the board, and I didn't use a square I just tried to keep them as straight as I could! (Stain color: Blend of Golden Oak mixed with very little Ebony)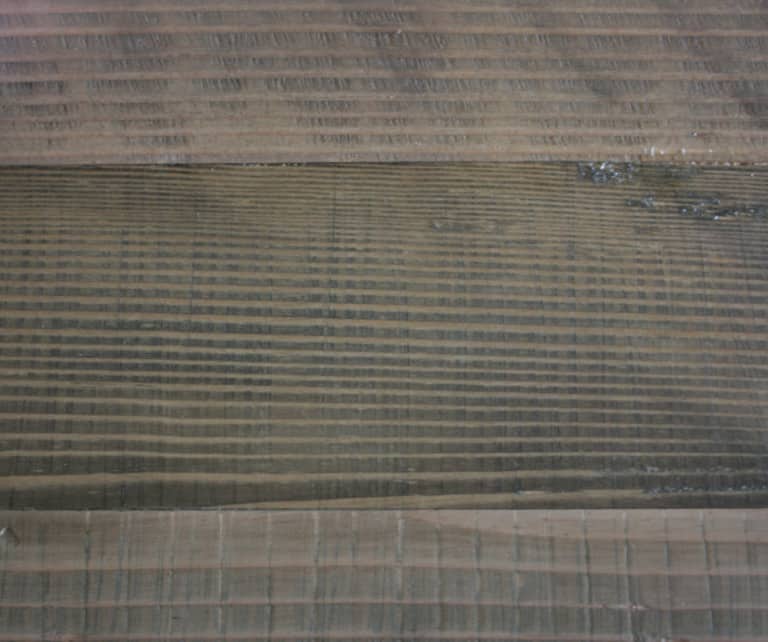 So, once I got the distressing to a place that I was happy with, I was able to start the staining process! Woohoo!!
I gathered all my stains, I used a mixture of Varathane, Minwax…and I even used one from Sherwin Williams, I wasn't all that crazy about the color I bought from them, but I really liked that they actually mix the stains for you in house, so you can actually adjust the color. For instance the Banister Beige I bought from them was a little too yellow…so I can have them add more black and decrease the marigold next time to make it just right! I am very excited to see where this may take me!! Lol!!
To name the stains, from top to bottom, left to right, Early American, Weathered Oak, Special Walnut, Golden Oak, Sunbleached, Ebony, Banister Beige, and Jacobean! I wish I could show you every board and tell you exactly what I used but if you have a particular board just ask below and I will do my best!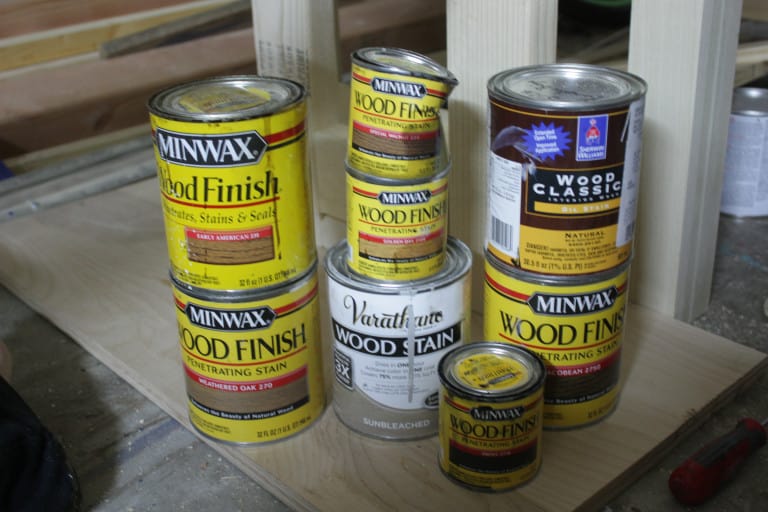 After gathering all my stains, I had to grab three rolls of painter's tape…yeah three!! Haha!! I could not believe the amount of tape…and it felt like I was being so wasteful, but I had to do what I had to do!! Also, I must add that though this is in no way a sponsored post but…I did like 3m painter's tape far greater than the Duck Tape brand painter's tape…the small amount of bleed I got in two places was when I was using the Duck Tape brand… Just in case you wanted to know!! And the last, heavy duty piece of equipment I used when staining this table was old t shirt pieces as my stain rags! Lol!
So of course, as you probably guessed, I had to tape off the boards as to how I wanted to stain them…this would have been much easier to just stain the boards individually before gluing them all together…but once we glued the table top together there was so much glue on the wood, and we still had hand planing to do and belt sanding after putting it together so the staining pretty much HAD to be done after building! So, I just started on one side and worked my way around without any rhyme or reason. I would dip my t shirt in a stain and rub it on a scrap board to get most of the liquid off of it so as to not get any bleeding! I would just rub and rub to get the desired color! Since I was rubbing the stain in, it was pretty much dry within a few minutes of staining each piece, so you could quickly move on from board to board! I didn't take the table base apart to stain it either, I just did the best I could working around the stretcher, although it probably would have saved me a ton of time to just take it apart!! Lol!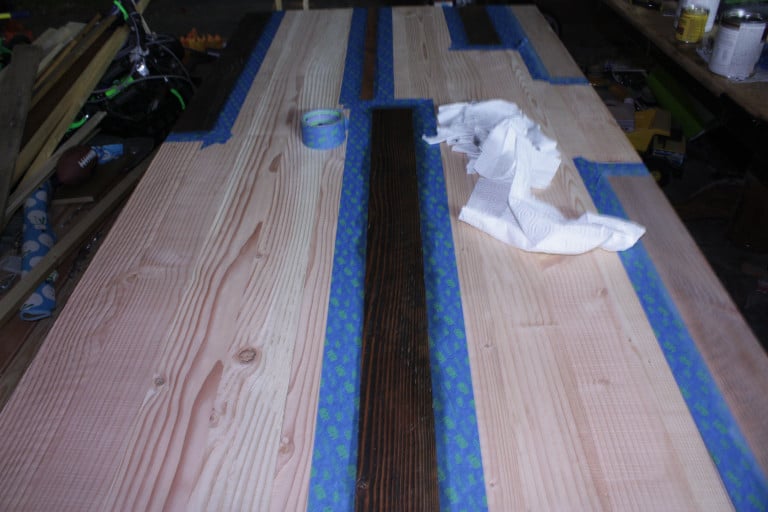 Try not to look at the disastrous mess around the table!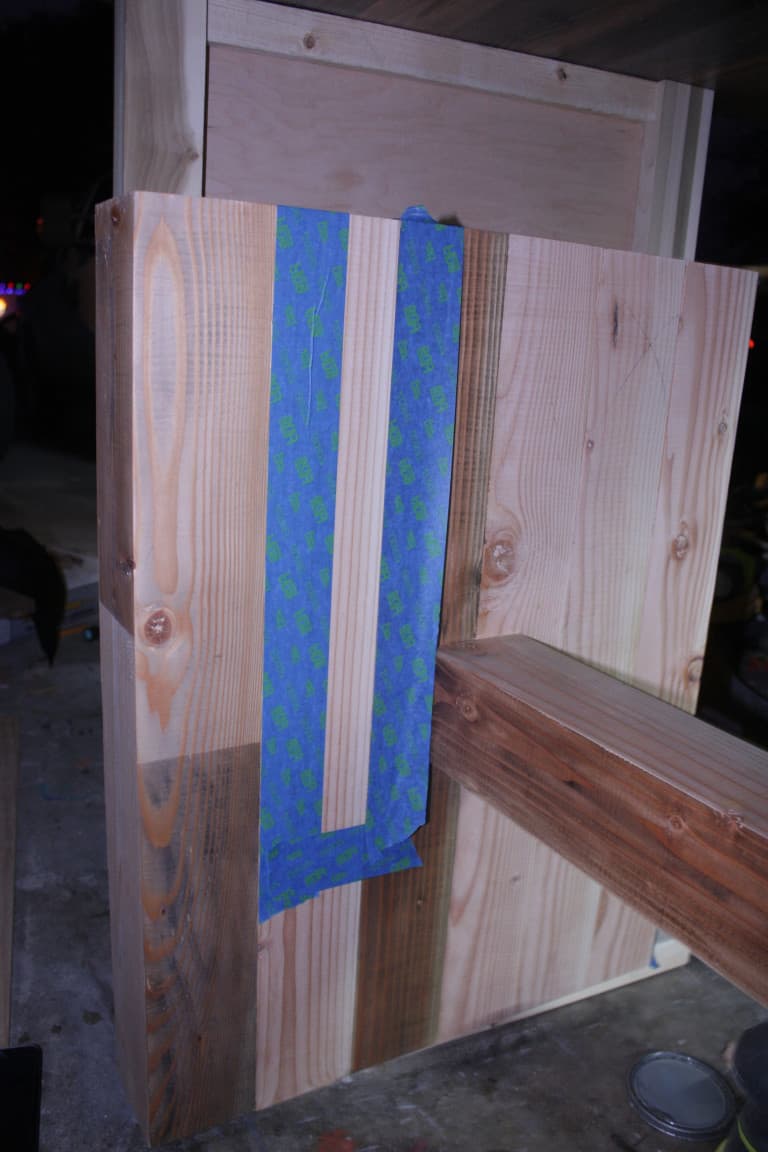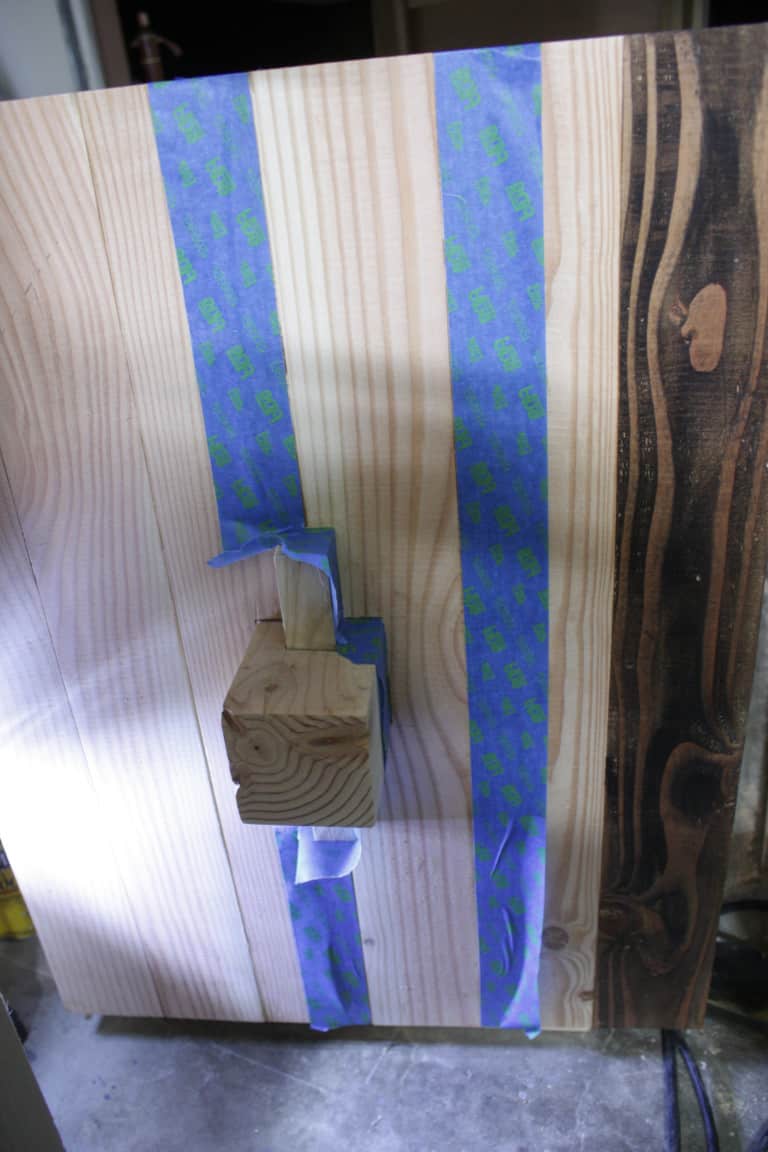 I mixed colors at times and really just tried random things and figured if I was wanting to get the look of faux pallet wood I would need the wood to look old, used, and beat up as pallet wood is and so I really didn't need to be cautious! When I finally convinced myself of this I really enjoyed the staining instead of dreading it!! I am pretty happy with the results if I do say so myself!!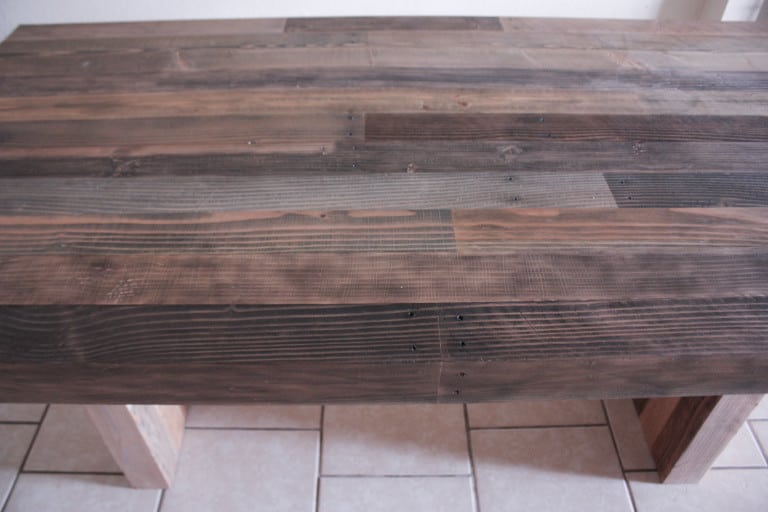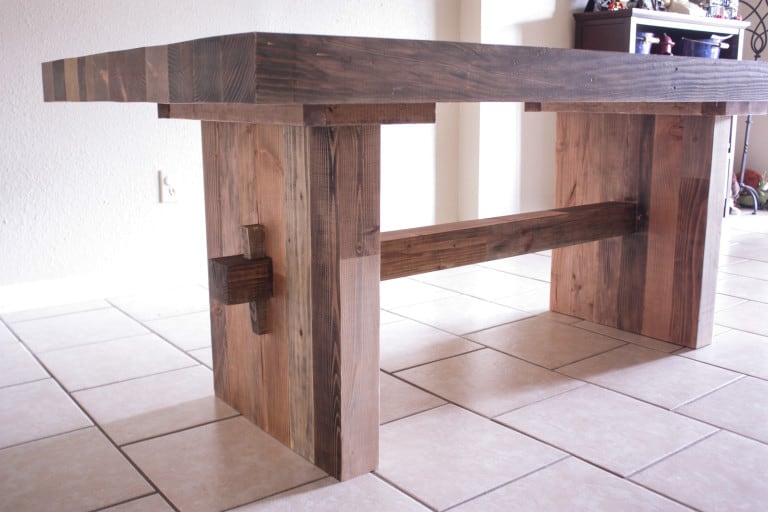 I made sure to seal the table really well, I used Rust-oleum Poly in Matte! I love this stuff because number one…it is matte, there is only very minimal sheen to the table…because pallet wood isn't glossy ya know!! And then the other great thing is that it is water based so it is not smelly and my boys actually helped me put three coats on this bad boy…oh and another thing I love is that it dries really fast!! You can't beat this stuff!!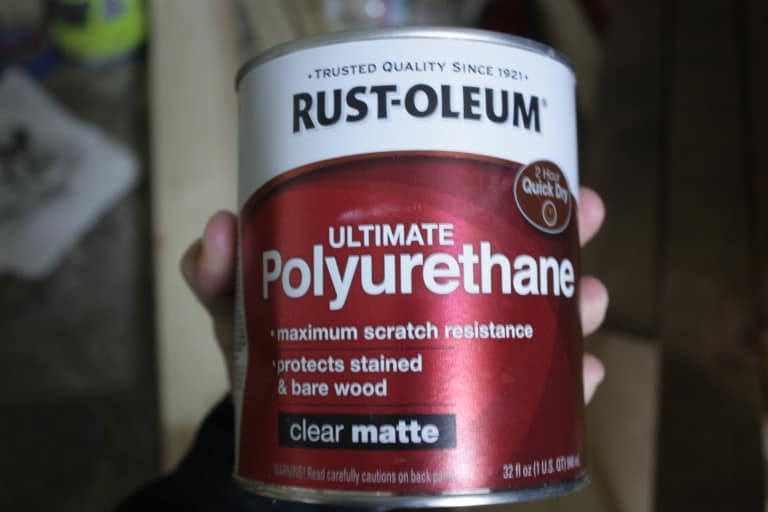 I love when look down the table and catch a little glare!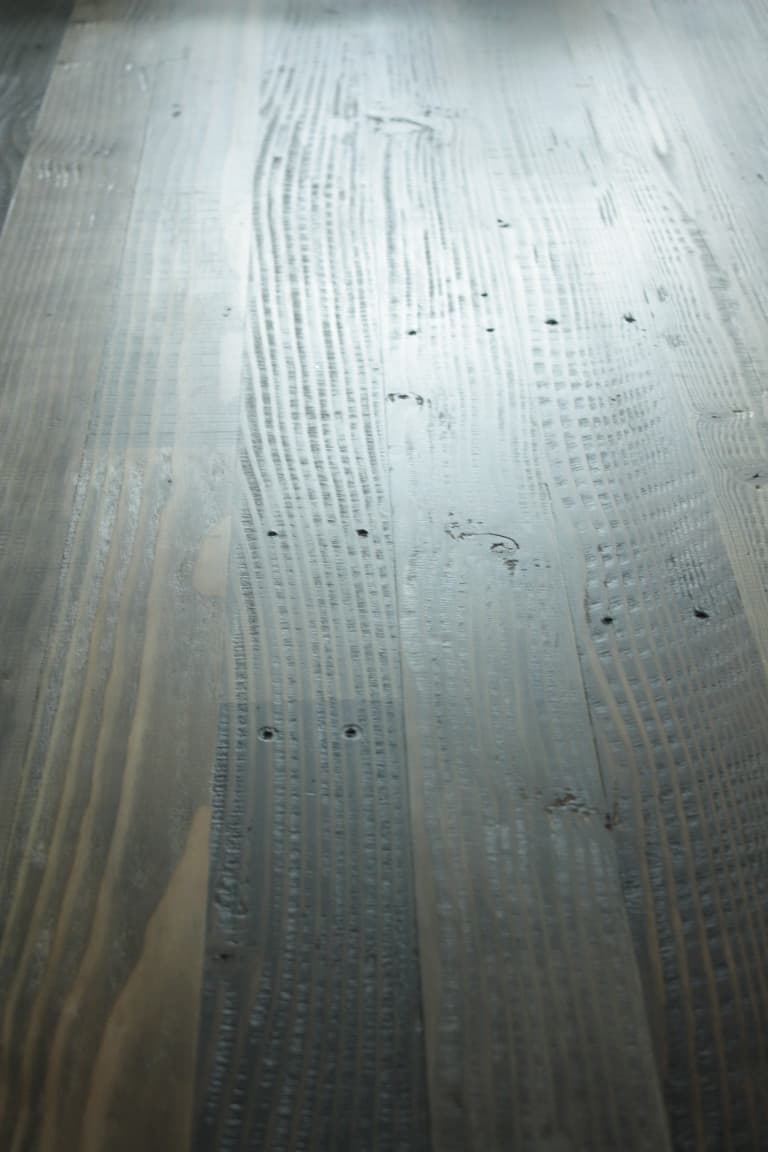 So that was that!! Table was complete and ready to be used!!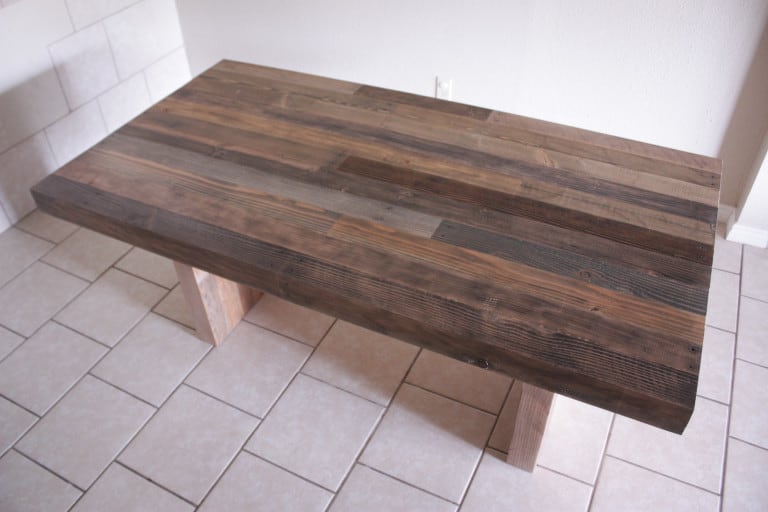 I can't wait to share the bench with you all!! If you have any questions or comments, feel free to leave them down below!! Happy Building!!
Lots of Love,
Cara
Make sure to sign up for email notification of new blog posts so you don't miss a thing!!
[email-subscribers namefield="YES" desc="" group="Public"]
Related articles