Hey there! Oh my word, where has our summer gone? I have not accomplished much of anything around here! I planned on getting EVERYTHING under the sun taken care of…but silly me, I should know better than that by now! Lol! I still have three weeks left, I hope to make the most of them by completing more projects like this simple easy DIY wall blanket ladder! But before we get into that, I want to share a little about this summer!
See what happened was, we adopted two puppies!???? But said puppies were so young that they really needed someone to take the place of their mama, and so that has kept us pretty busy! They are finally two months old and getting a little less needy!???? There was a point I felt like I had a newborn baby again! Okay, maybe not quite the same, but definitely time-consuming I tell ya! I want you to meet our new little boys!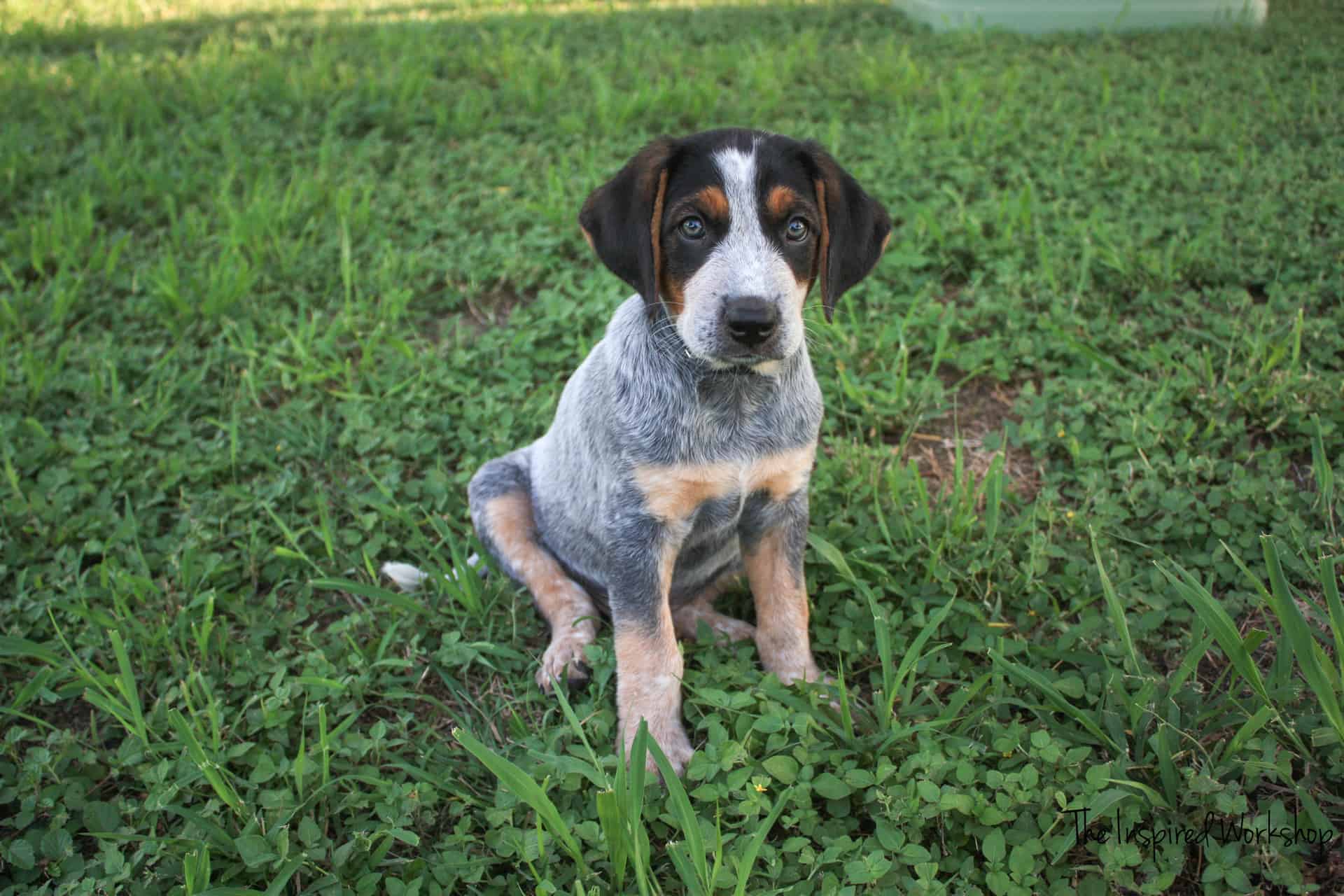 His name is Thor and he has already grown so much since I took this photo!???? He is the completely laid back one that is just happy to be outside chewing on his roll of painter's tape! Lol!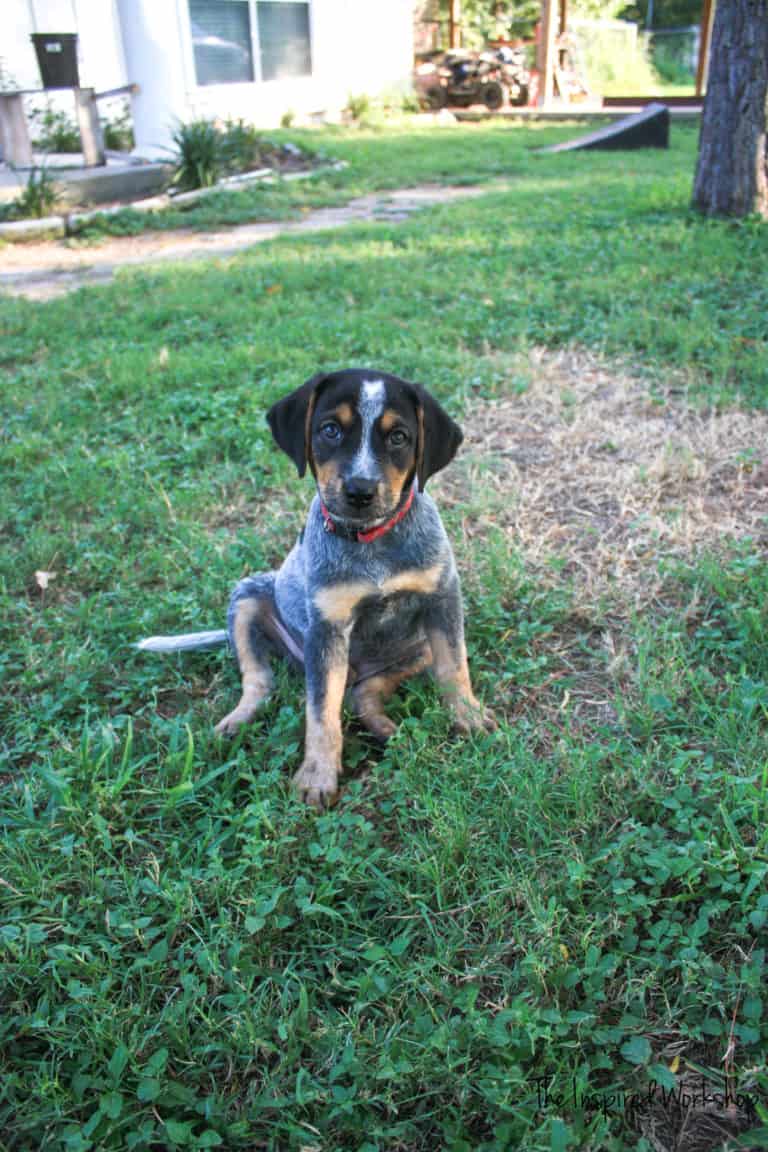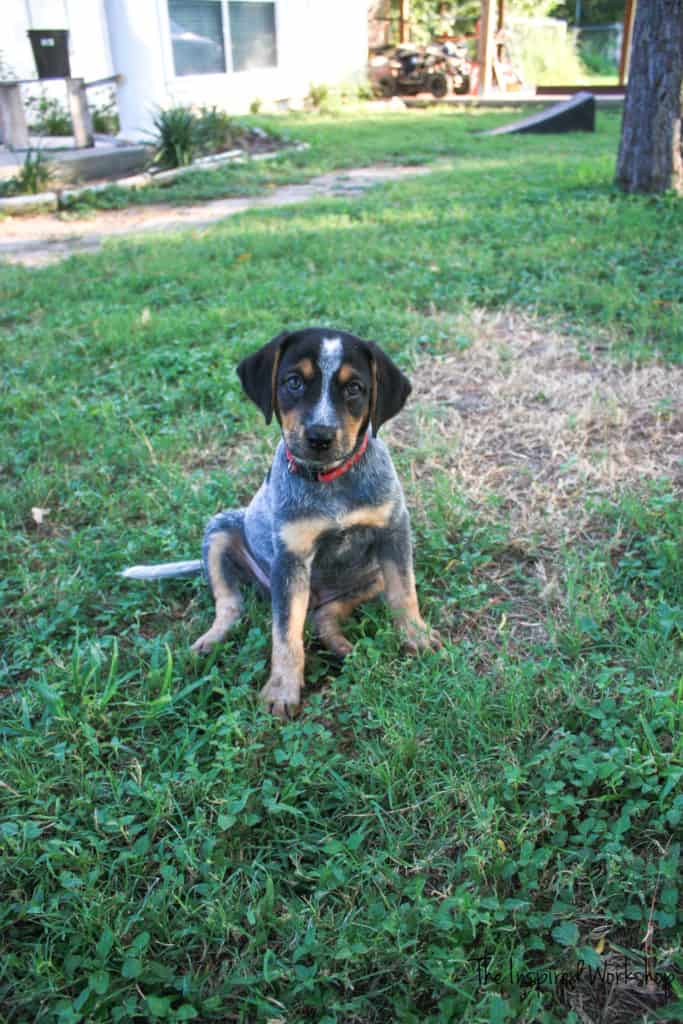 And Dexter! He's the brains of the operation, and Thor is the brute force! Lol! Dexter thinks he has to be on your lap if you are sitting down, and he is happiest chewing on your fingers… while on your lap! They are mutts, but they look like they have a lot of blue tick hound in them, so wish me luck! Lol!
They both have completely stolen our hearts! ???? They wake me up at 6 am (and if you know me, you know I am NOT a morning person)! Lol! They want to go outside and play all day, but they won't stay out of the road or keep from eating cat poop that they find…so that means we are pretty much outside with them all day! They are a ton of work, but so worth it!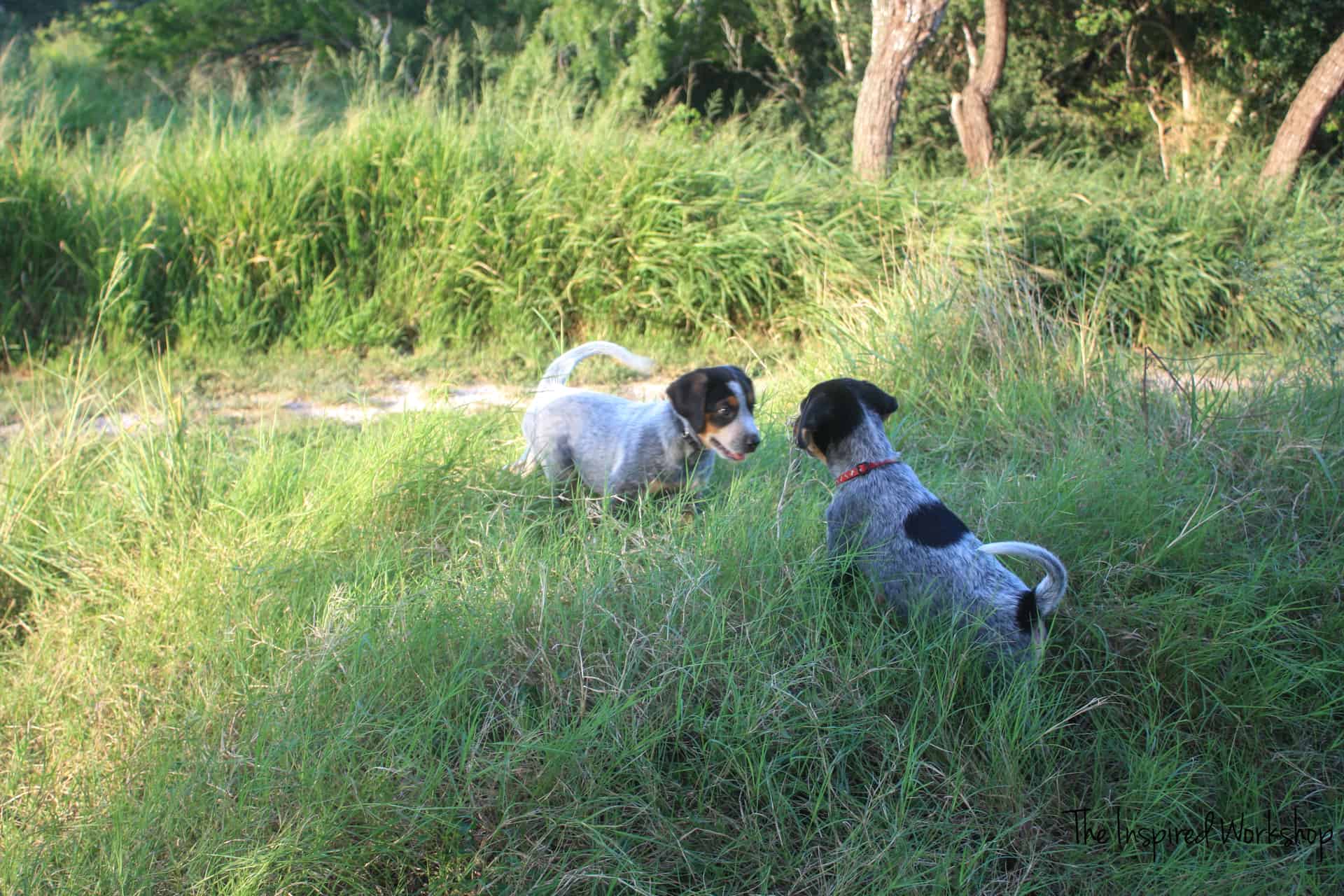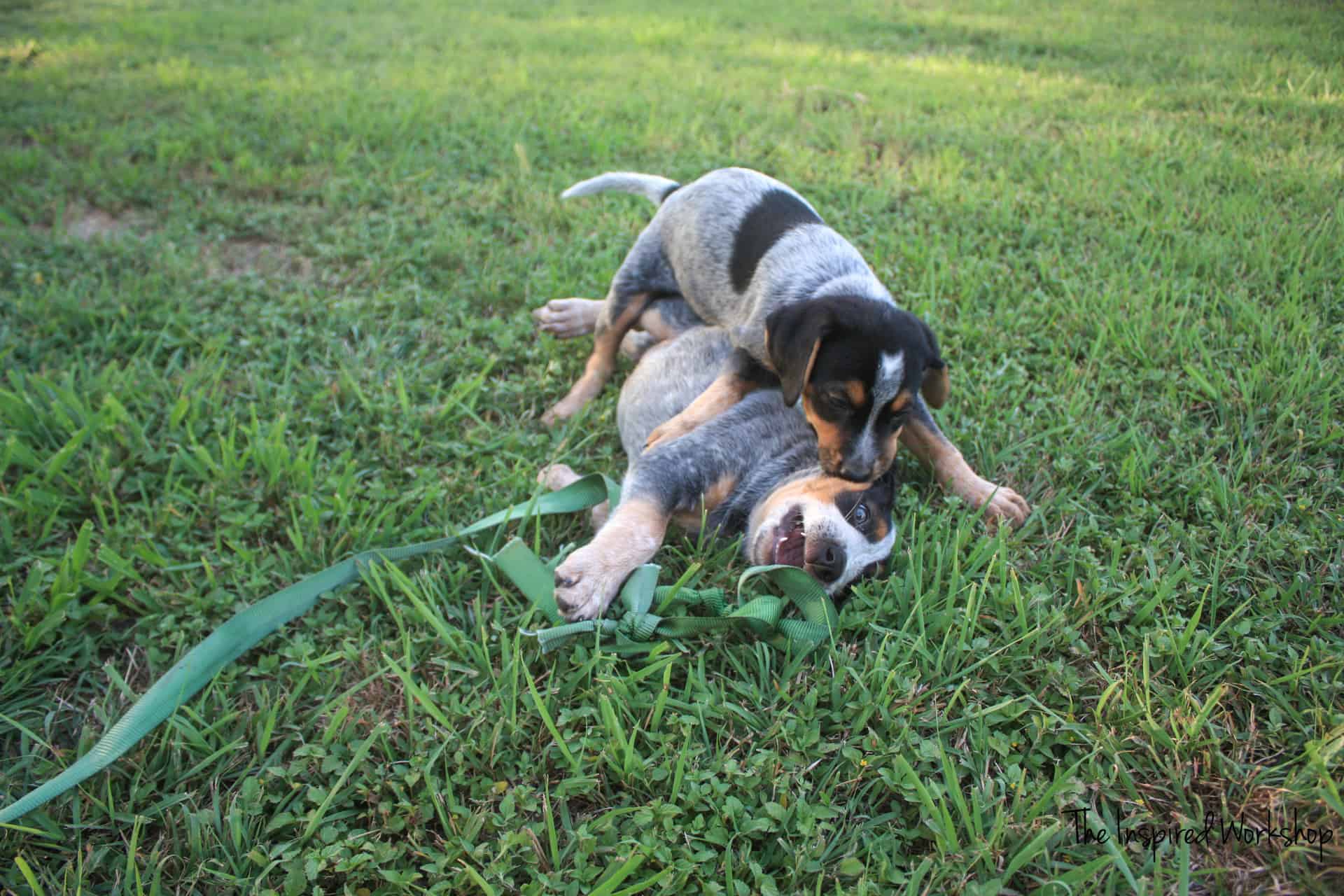 Anyway, to FINALLY get to the point of today's post, check out this cute little DIY blanket ladder that hangs on the wall! If you follow me on Instagram, you saw a pic of it while it was still in progress! I thought I wanted to leave it unstained and all modern looking, and I just couldn't do it! It just did not look right! So I tweaked it until I loved it!
It's wall-mounted to keep the spiders away from my blankets and I think it's pretty cute in all it's matching glory with my wood and leather wall hanging prints!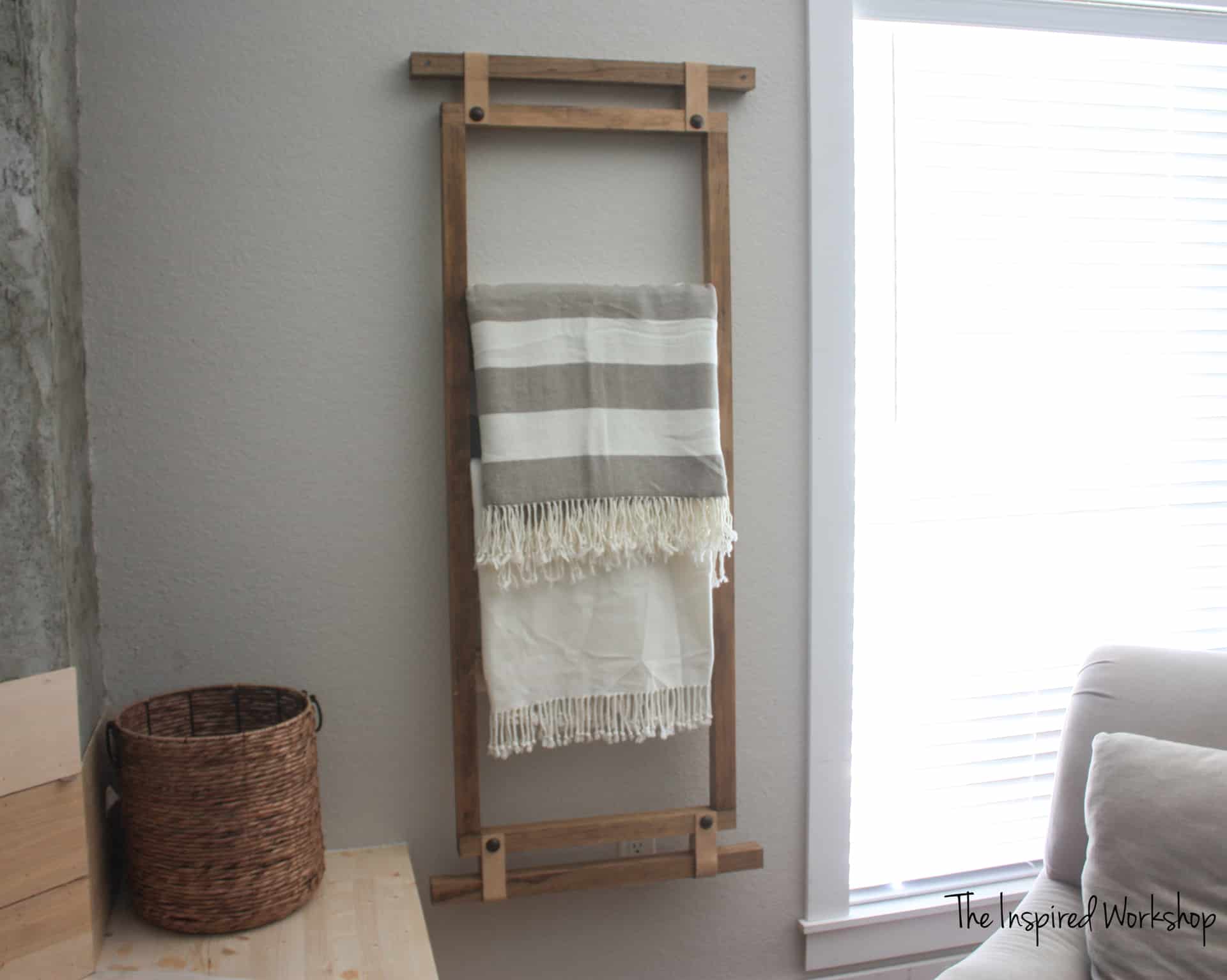 Try to ignore my mid-makeover fireplace! Lol! I couldn't wait until I finished the fireplace to post my blanket ladder, I have been telling myself, "I am finishing the fireplace today, no matter what!" for about a month now…and yeah, it still hasn't happened! Ugh! BUT, I did recently finish my bed that I started three years ago, so I'm basically winning at life right now!????????
I love the idea of it hanging on the wall as it saves me from having to move something else around while vacuuming…and once the fireplace is complete, it is going to be perfect here!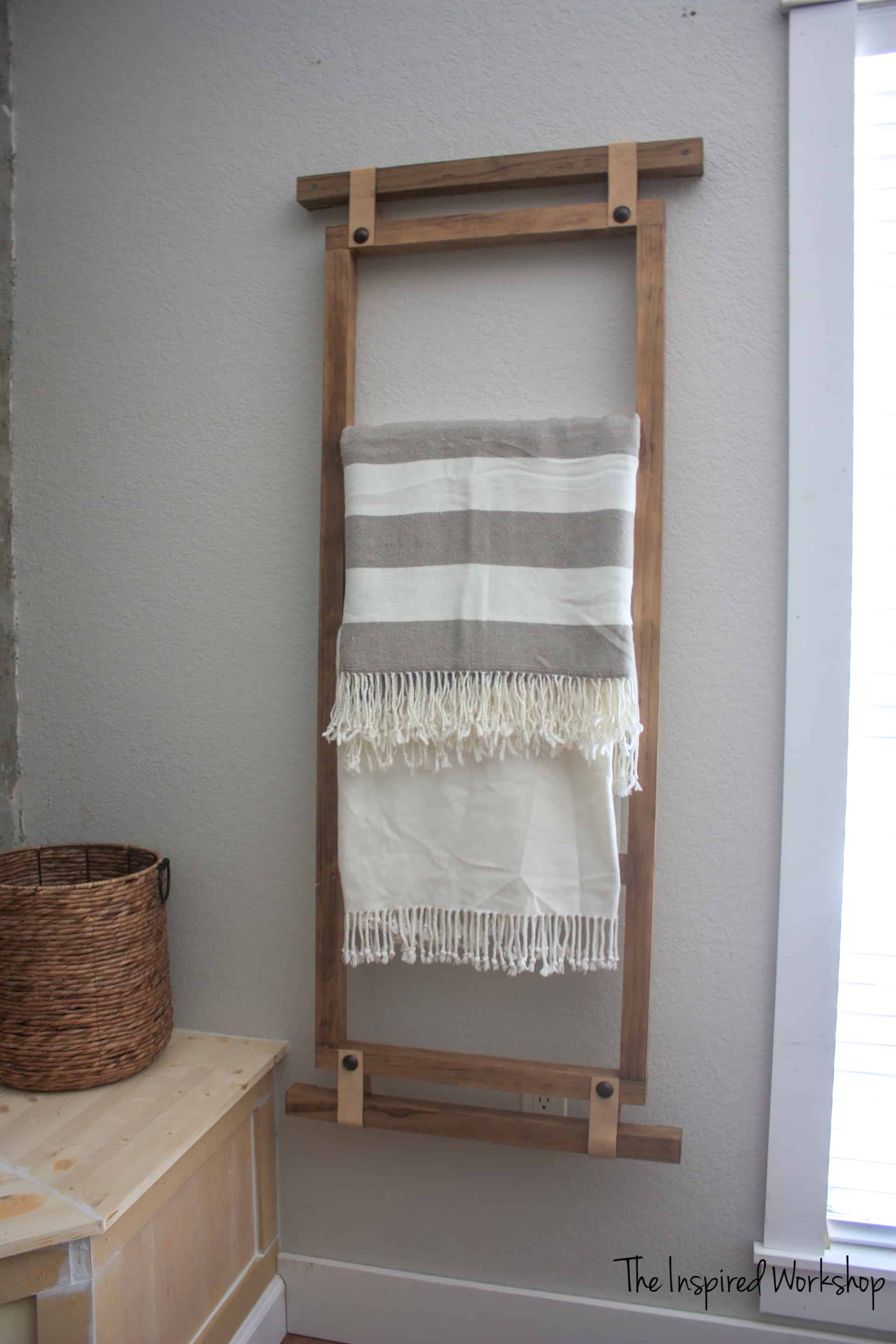 It was beyond easy to build as you could have guessed based on the design! That seems to be my style lately…anything I can build super quickly! ????
Want to build one for yourself? You can easily build it for around 25 bucks if you use select pine as I did, and you can build it even cheaper if you use furring strips!
Materials List:
– 3 – 2x2x8
– 1 – 3 ft. leather strip (I purchased mine at Hobby Lobby but they don't have it online)
– 4 – nail heads
–saw
– screws
Cut List:
– 2 – 2×2 @ 48″
– 2 – 2×2 @ 24″
– 2 – 2×2 @ 20″
– 2 – 2×2 @ 17″
– 4 – 2×2 @ 1″
Building the DIY blanket ladder
Alright, once you have cut all the pieces, you can assemble the ladder! You will need to drill pocket holes set at 1 1/2″ deep and then use wood glue and 2 1/2″ screws to attach everything!
I started by creating a simple rectangle, you can see the pocket hole placement in the photo!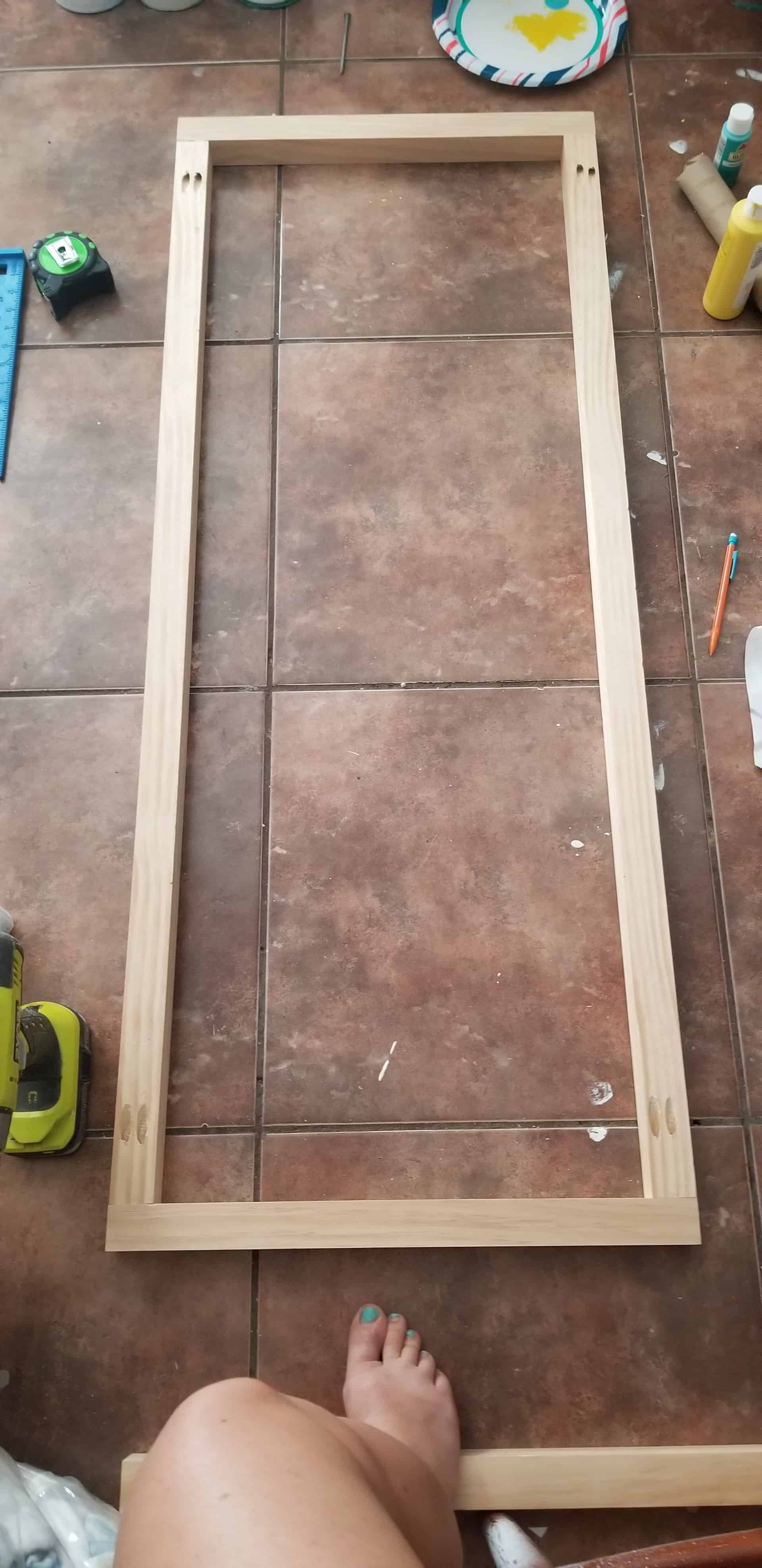 Next, add the ladder rungs.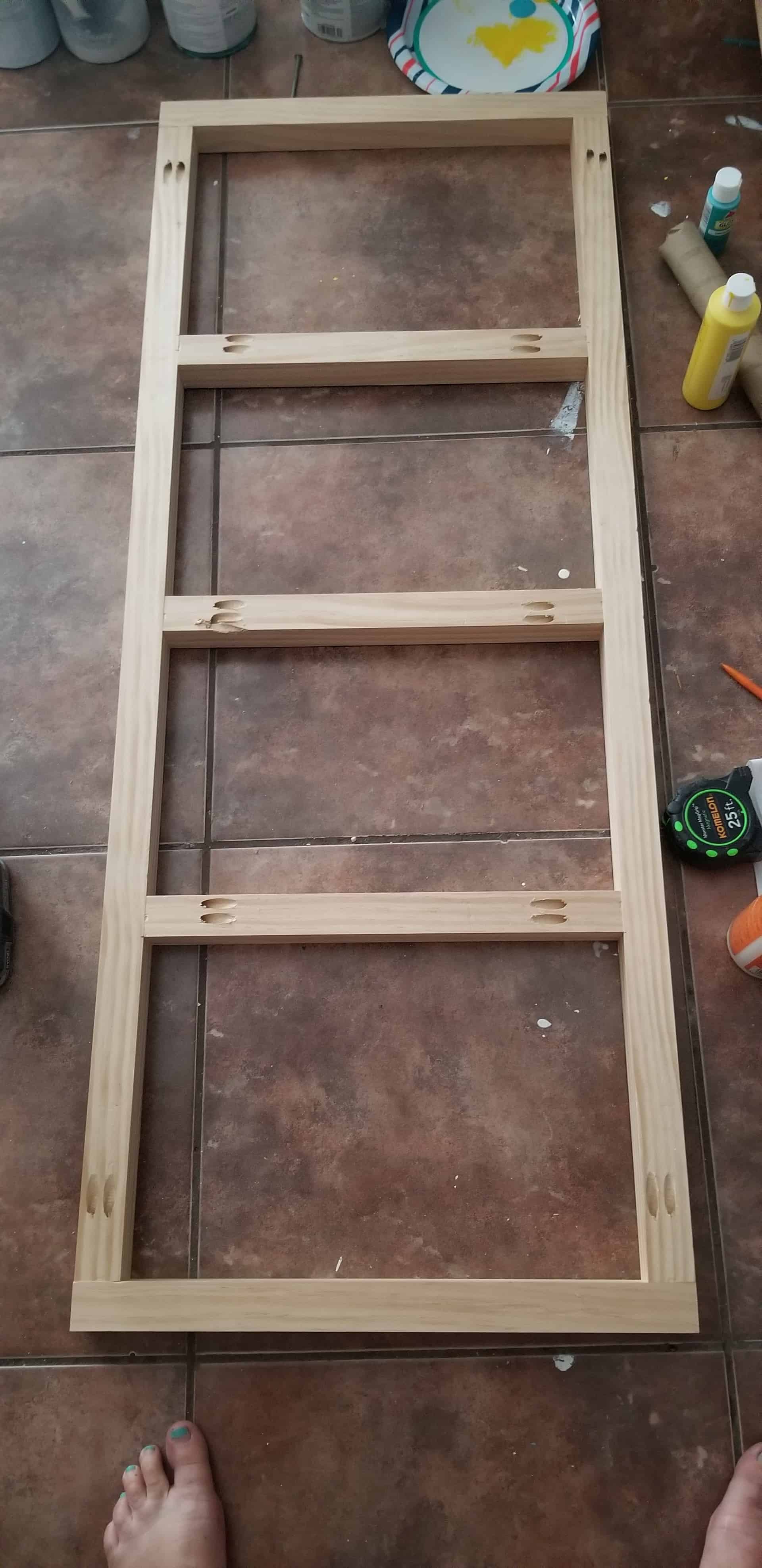 (Ignore the raunchy toes! ????????)
Originally I added a 2″ piece to the back of the board I used to hang the ladder (2×2 @ 24″) so it would hang away from the wall. It stuck out way too far and looked odd! Lol!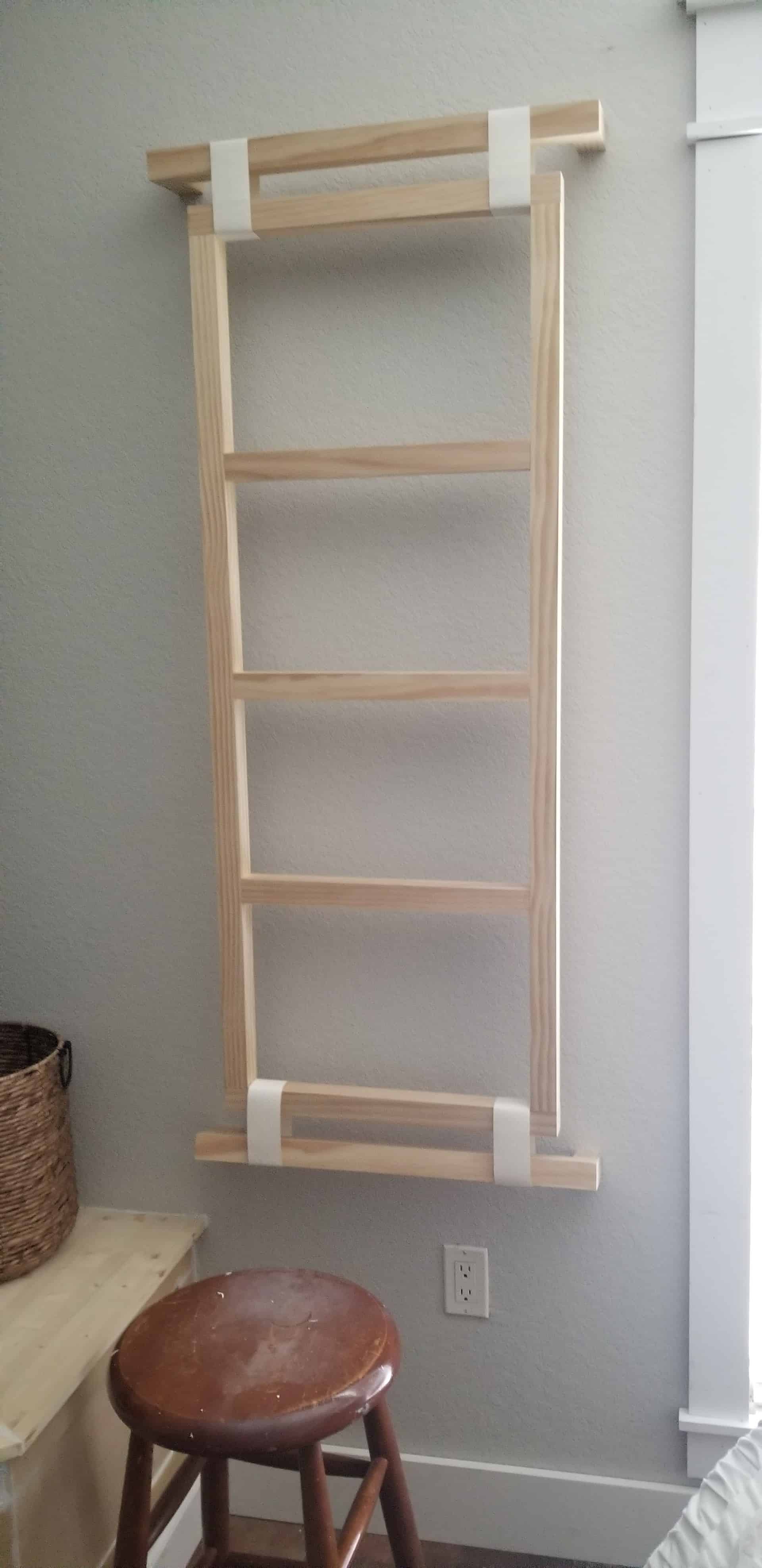 So I quickly removed those and tried a small sliver on the back of the hanging board.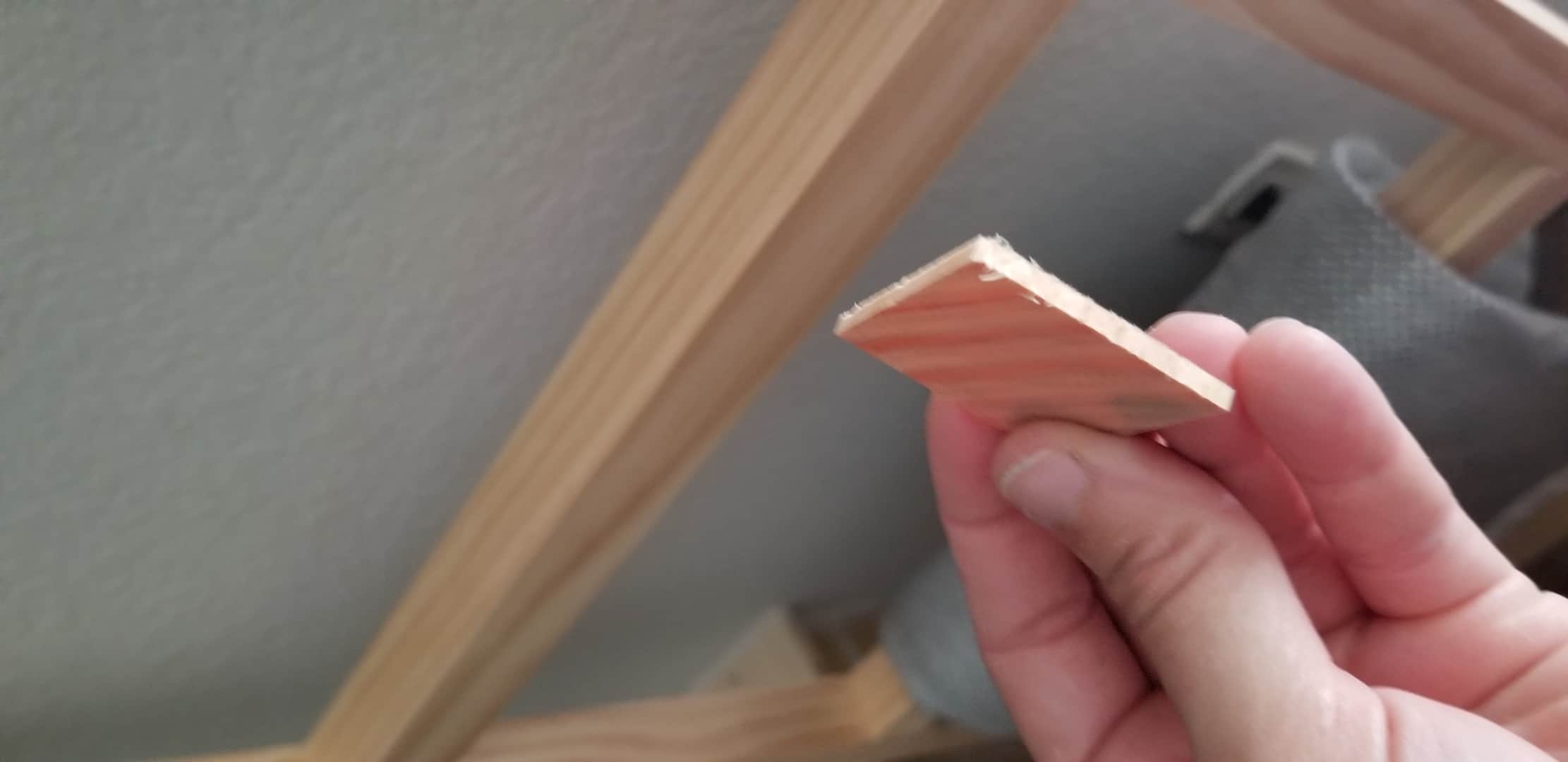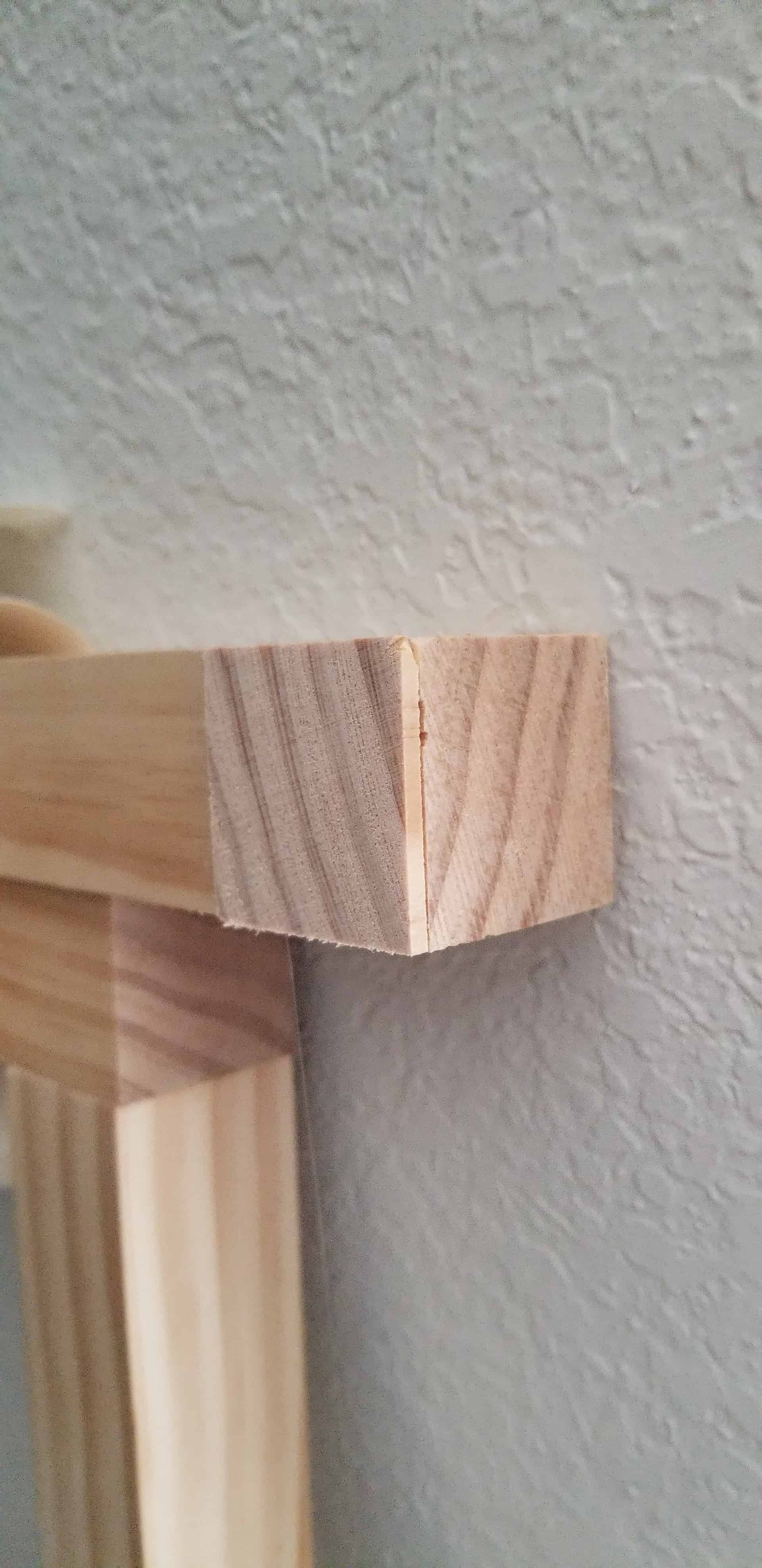 I left it just like this but I put 1″ pieces on the cut list because I think that will be the perfect length or maybe even 3/4″, but the sliver is a hair on the small side I feel! I will take it down and play around with it later! For now, it is hanging and holds my blankets so I have moved on to other projects! ????
Last add the leather strips! The package you get at hobby lobby is 3 ft long and so each piece is cut at 9″ long. I just hot glued it to the wood and then added the nail heads for a little character!
The 9″ strips you cut just wrap around the 24″ board used to hang the ladder, glue the leather to the front and back of the ladder!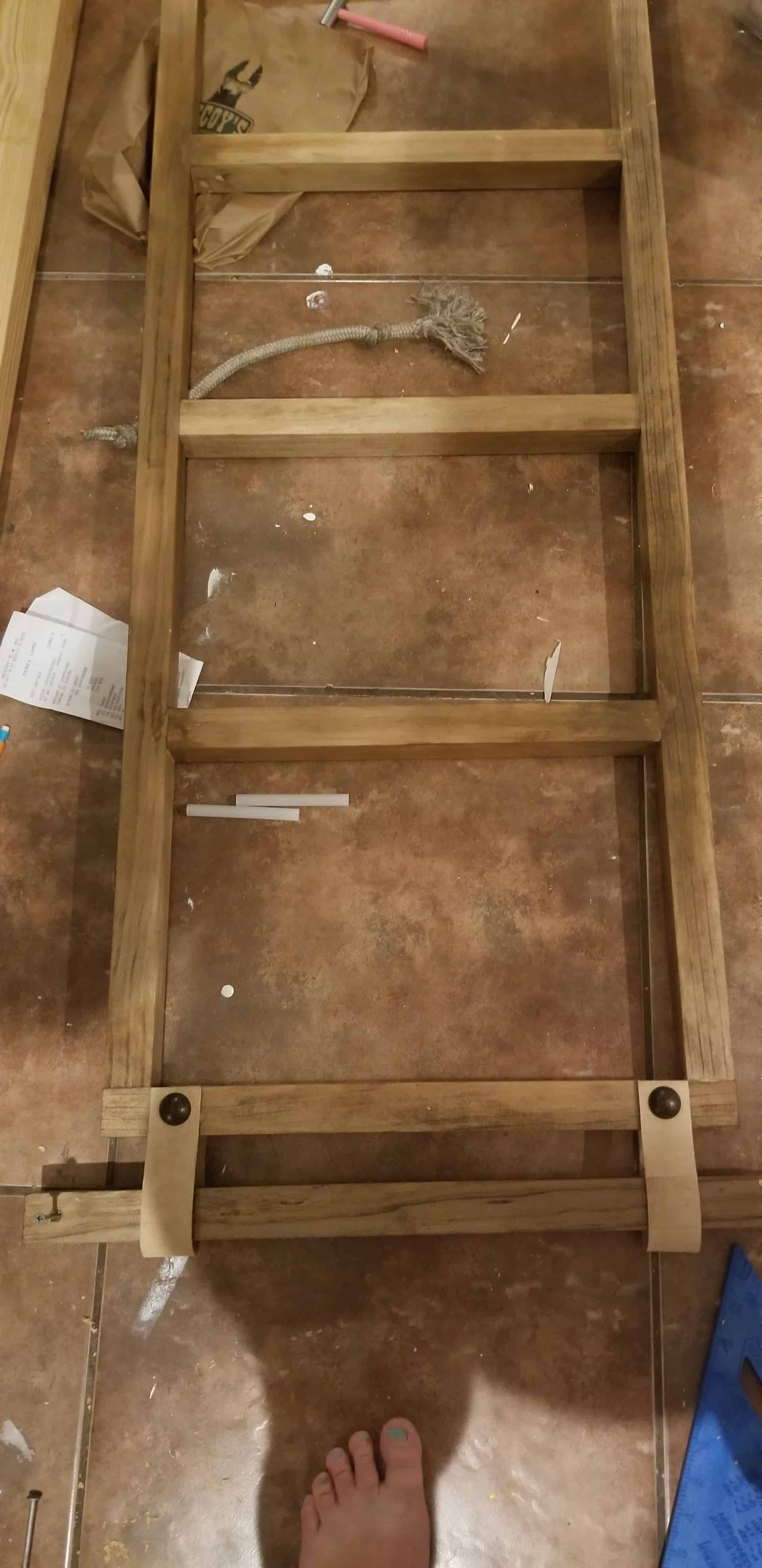 I just used long screws to go through the front of the 2×2 and into the wall! It was the easiest way to hang it, I tried a couple of other ways and was unsuccessful, so this way was what worked! ????
It is done and holding the blankets perfectly!????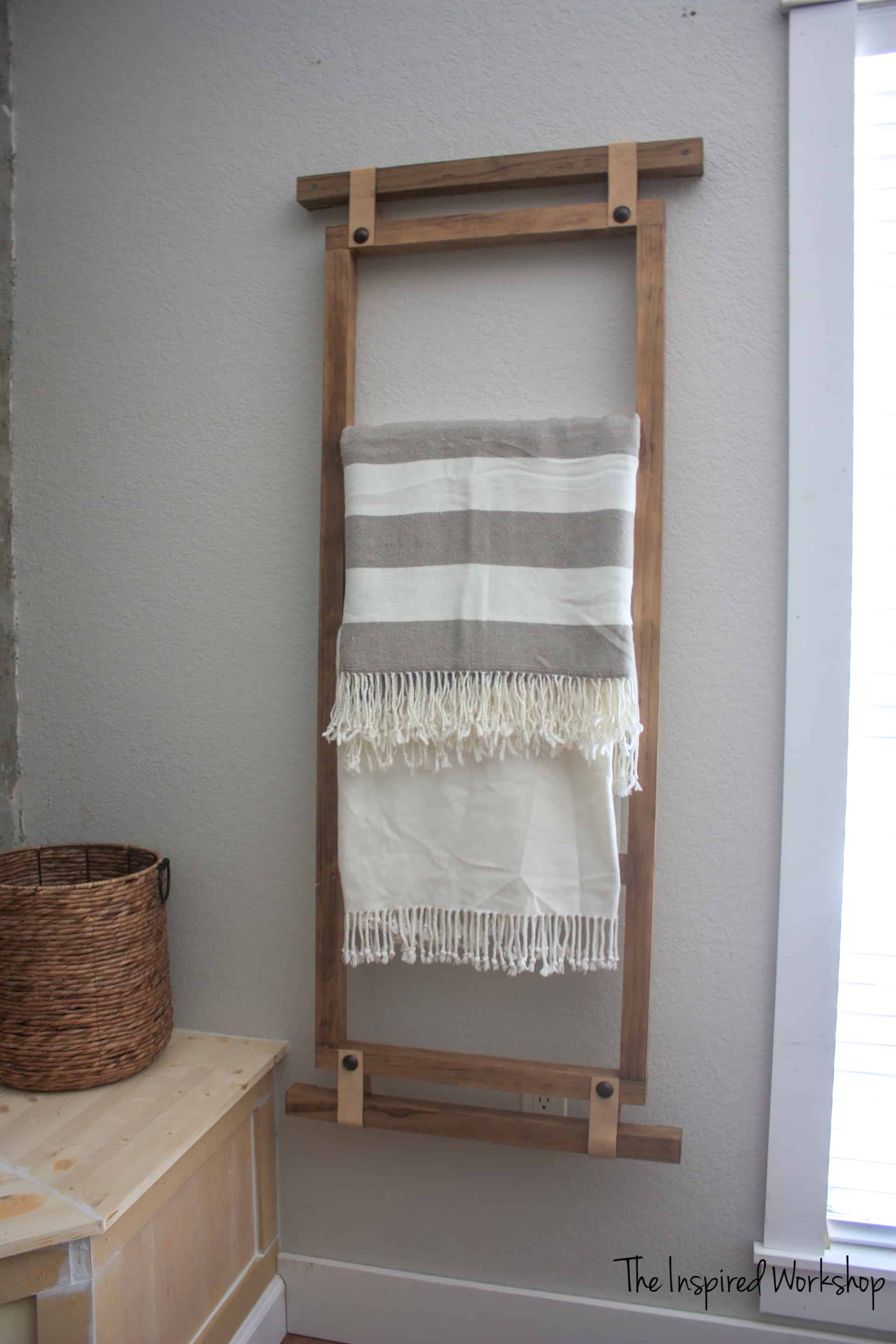 Now, to get back to the fireplace! ????
Thanks for reading and happy building!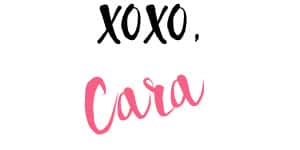 Wanna save this post for later? Pin it!