DIY Mudroom in an Armoire
Hey howdy hey!! It's Monday Tuesday Wednesday!! So I may have started this post with the intention of it being posted last Monday!! Whoopsies!! It's a week and two days late…did anyone here expect anything less?! LOL!! I am trying to soak up the last days of summer with my kiddos before the rat race of school starts!! Did I mention that I am one of the crazy moms who doesn't like school starting? ???? Well, I am a little bit happy to start school this year just so I can see if my new DIY mudroom in an armoire really helps the entryway stay clean!!! ????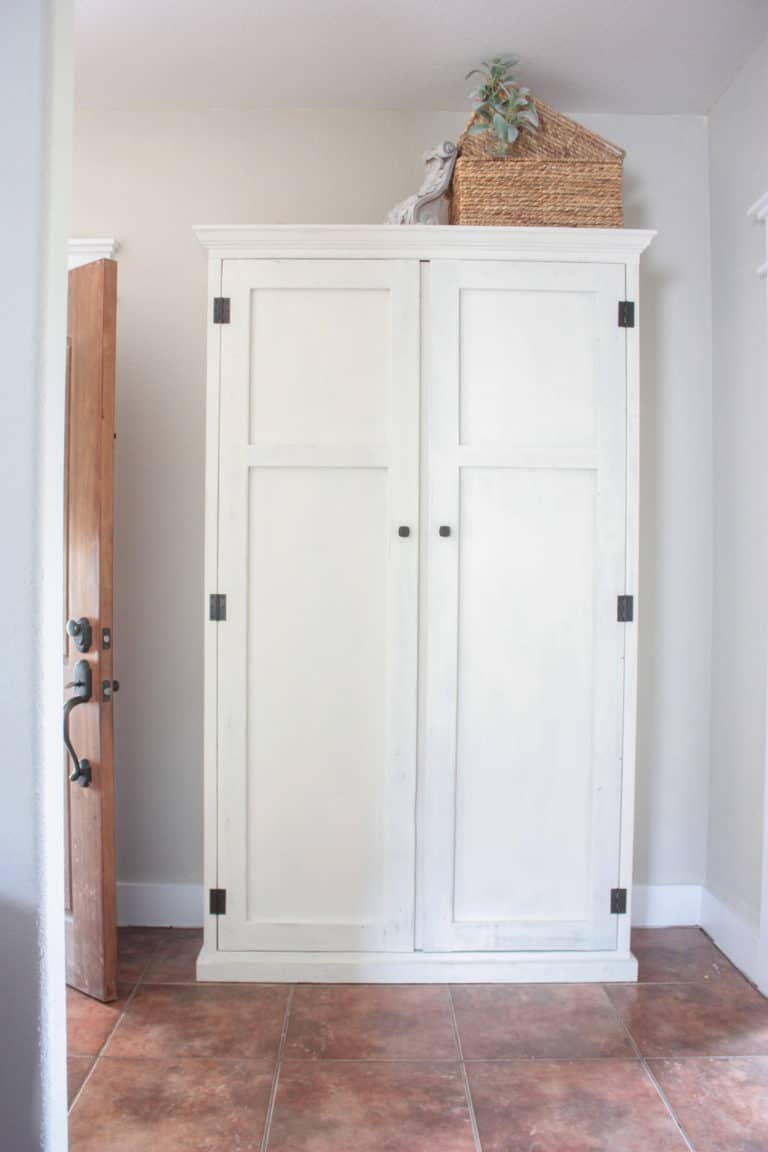 I wanted a mudroom in my house….but I really don't have the room by any other door than my front door, or it would be in my dining room!! LOL!! But after seeing Liz Marie from @lizmariegalvan on Instagram or her blog Liz Marie Blog…go follow her now for some major farmhouse inspo…but be prepared to fall in love with everything she and Jose do!! If you already follow her, then you probably remember, a year or so ago, she bought a gorgeous armoire a lot like this and put it by her door!
Her piece was antique, but it was absolutely beautiful!! I don't have many places around me to find antiques, and when I do, they act like King Edward III owned it back in 1736…totally made that name and date up but you get the idea!! They are way overpriced!! So of course, I thought, that looks simple enough to build…and I could add a bench inside so the kids could still sit and put on their shoes!! It came alive right then…the DIY mudroom in an armoire! Plus I can easily move it to our next house if I want to!! And what is even more hilarious was that I threw a basket on top because I didn't care for the empty space above the armoire…and when I went digging around on her blog…back a year ago…she put a basket on top of hers as well!! Lol!! I didn't remember her even doing that..hers looks a little better than mine but I was just quickly shopping my own house!!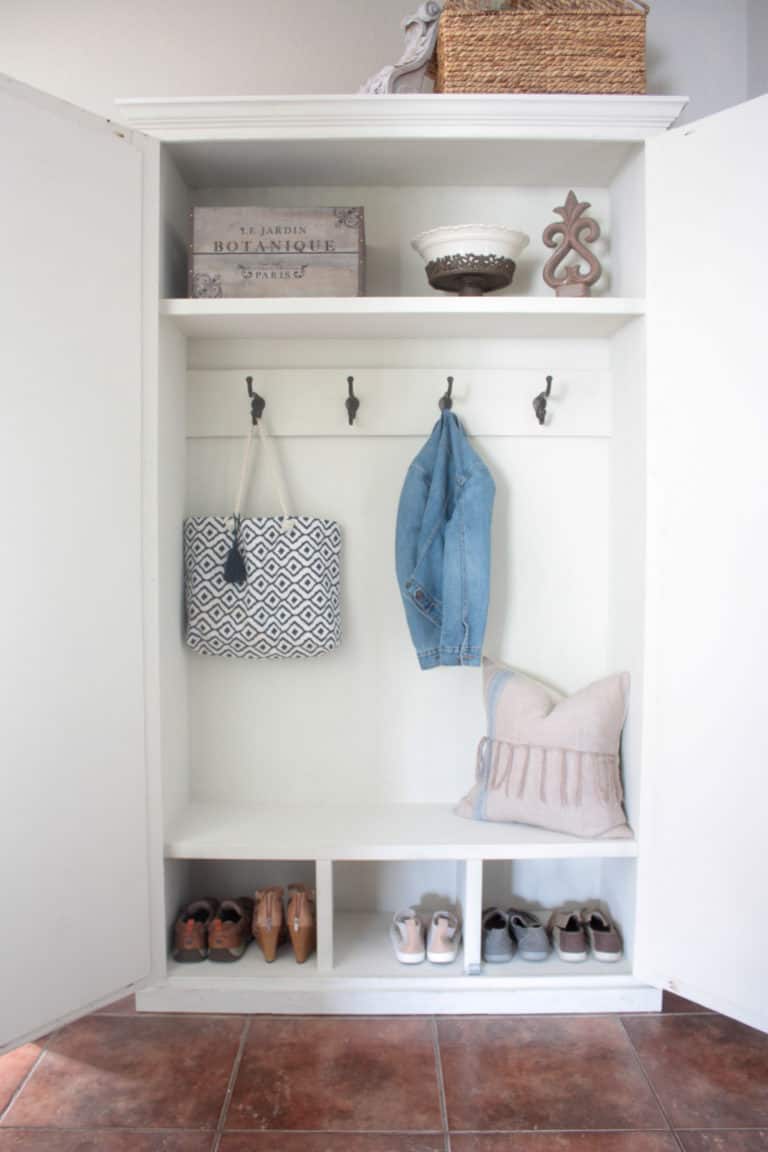 I will also say that I started building this a year ago, right after she bought hers, and accidentally painted one of the doors the wrong color…that's why you shouldn't grab your paint in a dark garage and paint it on a semi-lit porch!! ???? I painted it the same color as my porch swing and it was obvious that they were not the same white! Lol! It seriously took me until just this last month though to finally go sand it down and paint it the correct color so I could put the hinges on and finish it!
Anyway, that said in the year since I started this build, I have fallen in love with the locker style mudroom benches which also hide your crap, so I may take a go at replacing this with a locker/bench system, or adding a locker bench system somewhere else in my house if I can concoct an area to put one!! ???? But for now, I am just going to enjoy and love the armoire!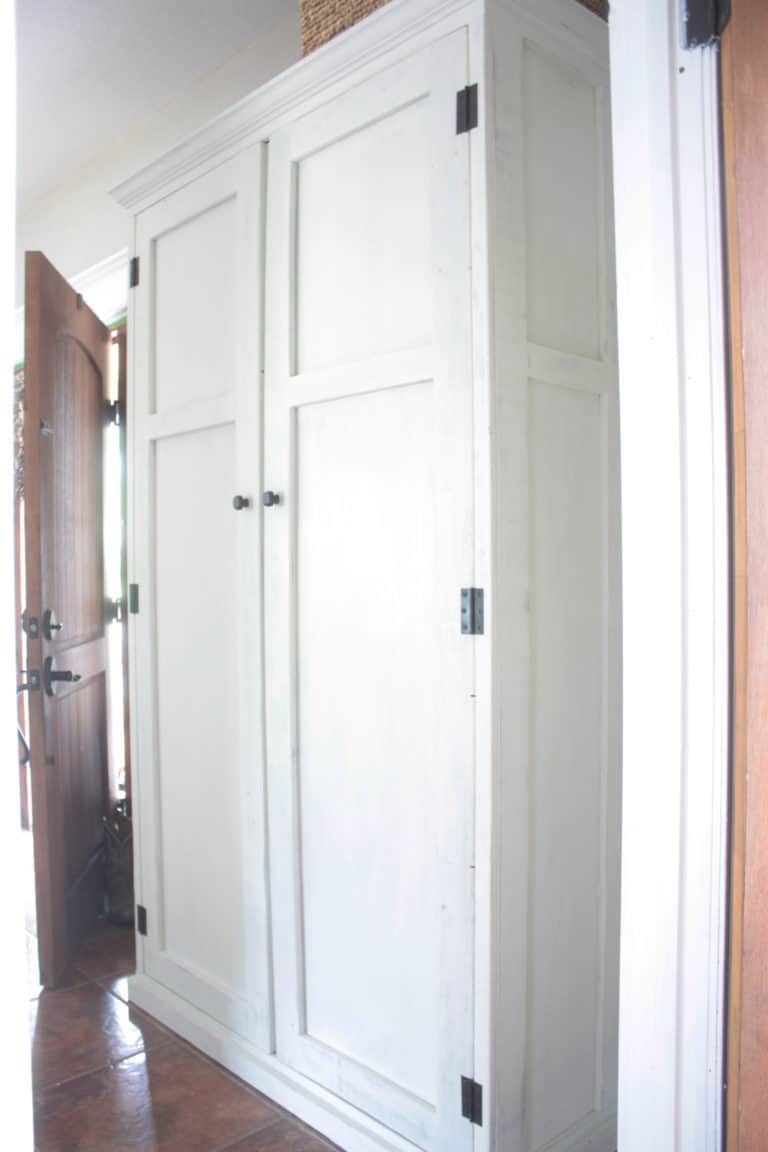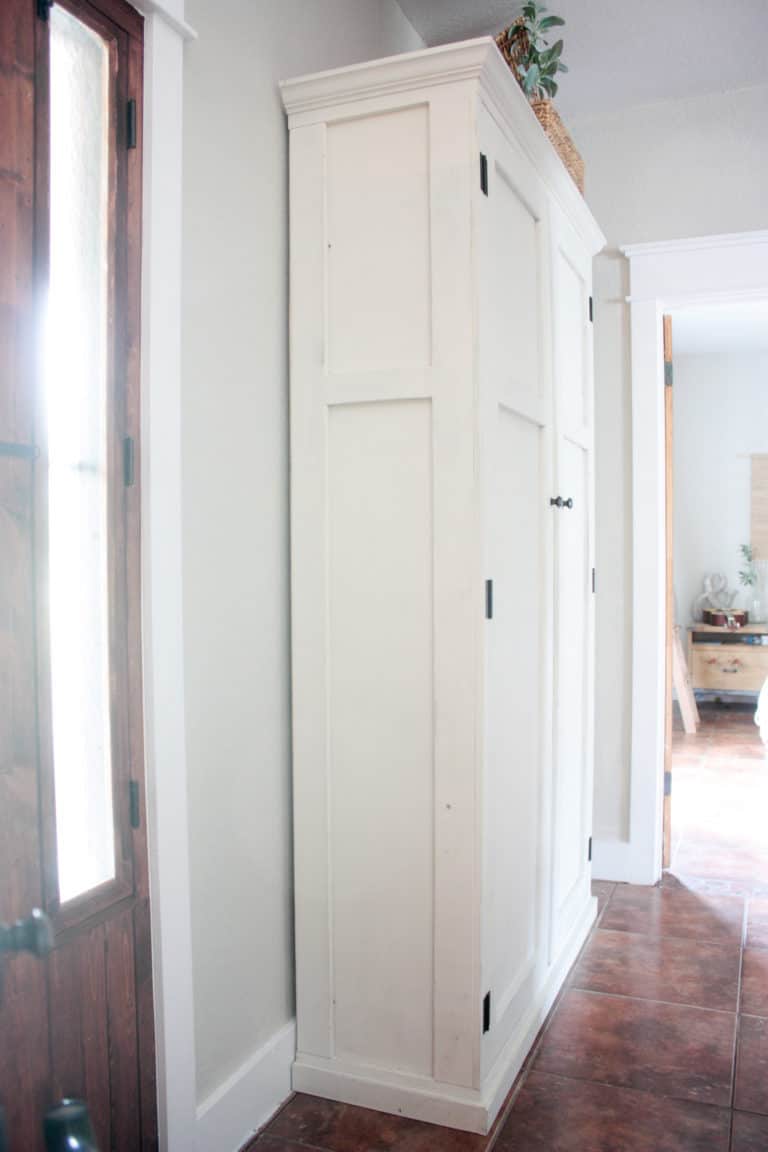 Moving on because I could talk your ear off all day…the armoire stands tall and proud coming in at 7′ tall and 4′ wide but only 16 3/4″ deep!! I didn't want to go too wide since my entryway space is limited, and it saved plywood expense to stay at 4′ but you could ultimately make it as wide as you wanted!
Full tutorial down below!
**Some links within this post may be affiliate links! Affiliate links allow me to make a small commission off of any purchases you may make after you click a link on my site, at no extra cost to you!! I appreciate it and it helps keep all the plans on this site free!!
Material List:
-1 – full sheet 3/4″ plywood
-1 – half sheet 3/4″ plywood
-2 – full sheet 1/4″ plywood
-1 – 1x8x8
-11 – 1x4x8 (I used furring strips to get the old worn look…but it takes a lot of digging to come by straight ones)
-2 – 1x3x8 (I used furring strips)
-4 – 1x2x8 (I used furring strips)
-1 – stick of crown molding
-Saw
-brad nailer
-1 1/4″ brad nails
CUT LIST:
Make sure that you measure if you don't use furring strips as it will slightly adjust some lengths of boards!! Your plywood should not be affected though!
2 – pieces of 3/4″ plywood ripped down to 16″ x 84″
1 – 3/4″ piece of plywood ripped down to 16″ x 48″
1 – 3/4″ piece of plywood ripped down to 16″x 46 1/2″
2 – 3/4″ pieces of plywood ripped down to 14″ x 46 1/2″
2 – 3/4″ pieces of plywood ripped down to 14″ x 12″
1 – 1/4″ piece of plywood ripped down to 84″ x 48″
2 – 1/4″ pieces of plywood ripped down to 18 3/4″ x 74 1/4″
4 – 1×4 @ 84 3/4″
4 – 1×4 @ 8 3/4″
4 – 1×4 @ 77 1/4″
4 – 1×4 @ 15 3/4″
1 – 1×4 @ 76 3/4″
2 – 1×4 @ 46 1/2″
1 – 1×3 @ 50 1/2″
2 – 1×3 @ 16 5/8″
2 – 1×3 @ 15 3/4″
2 – 1×3 @ 8 3/4″
1 – 1×8 @ 46 1/2″
2 – 1×2 @ 84 3/4″
2 – 1×2 @ 12″
2 – 1×2 @ 46 1/2″
Measure for your crown molding!
You see, since I started this a year ago, I have since lost my memory card that has the build pictures on it so I am going to use the Sketchup pics to show you what I did as I went, and the free printable plans are still available above but they are simply the sketchup pics…if you need the actual instruction you will need to use the tutorial below!
Building the DIY Mudroom Armoire
Getting started, I had Home Depot rip the full 3/4″ plywood sheet down into 16″ x 96″ strips, the first two swipes will create 16″ boards and the last swipe will be a slightly smaller board which is great because we want our shelf and bench sat back a little inside the armoire, and we need to put framing boards on it as well! The half sheet of 3/4″ plywood needs to be ripped down to 16″ pieces as well, you only need 2 from this one, but it is best to get it cut at the same time while the saw is set so they will all be the exact same width!! Does that make sense?
Let's start building this beautiful beast!! I started with attaching the sides to the top! The top is on top of the sides, using 3/4″ pocket holes drilled into the sides, attach the sides and top with wood glue and 1 1/4″ pocket hole screws!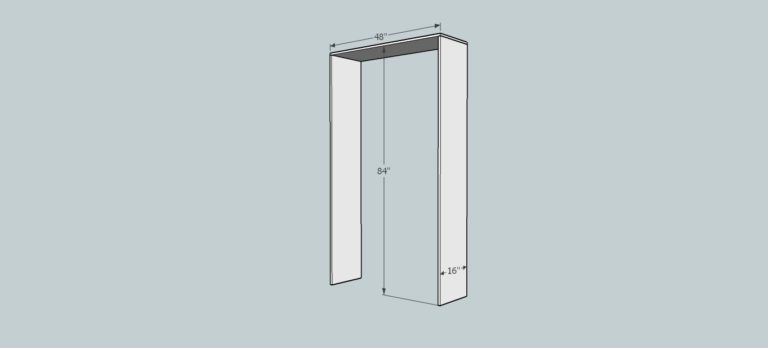 Next, add the bottom! Pocket holes drilled on the underside at 3/4″ will be drilled into the bottom shelf and will be attached to the sides with wood glue and 1 1/4″ screws! The top of the bottom…that's kinda an oxymoron isn't it…Lol…will be at 3 5/8″ if you are using a furring strip. If you are using a regular 1×4, it will be 3 3/4″ high, so make sure and measure what you are working with!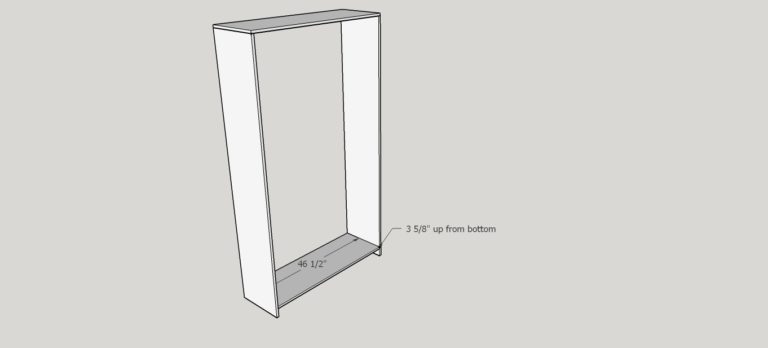 Now you can add the bench seat up 12″ from the bottom! Use 3/4″ pocket holes drilled into the bench seat on the underside and attach with wood glue and 1 1/4″ screws! Make sure it is flush to the back!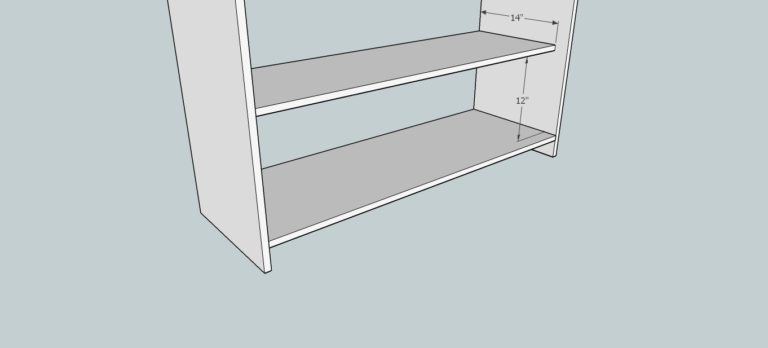 Simply add the shoe dividers in place! Pocket holes will be drilled into the tops and bottoms of the dividers! The spacing can be changed up if you would like!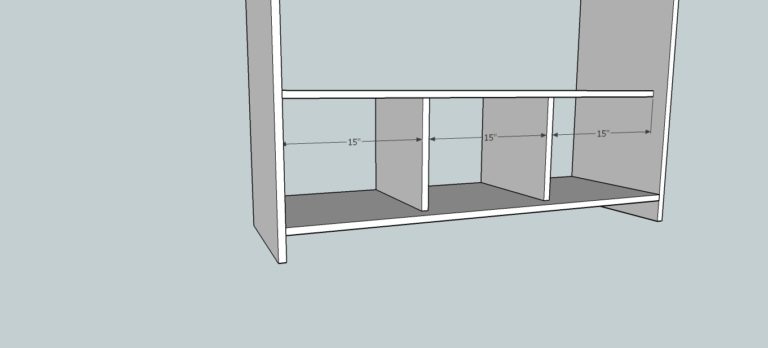 Add the top shelf 16″ down from the top! I placed the pocket holes on this shelf on the top of the shelf but still used 3/4″ holes and 1 1/4″ screws with wood glue!
At this point, you may be thinking this is feeling kinda flimsy!! ????But just give it the next step and it will stiffen up and you will be able to relax!! ???? Add the 1×8 @ 46 1/2″ to the back! Again using 3/4″ pocket holes and 1 1/4″ screws and wood glue!! I placed it 3 1/2″ down from the bottom of the shelf!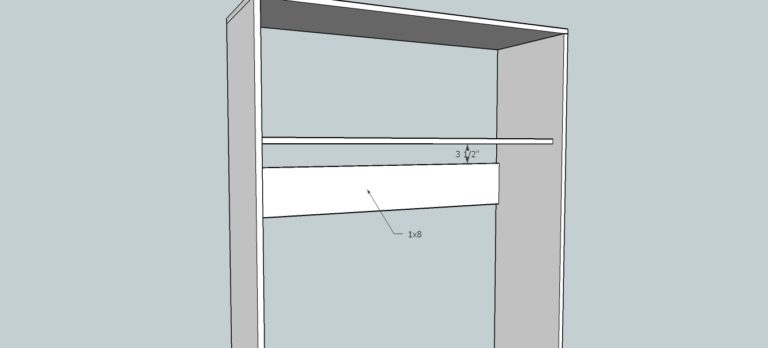 Now comes all the trim which is my favorite part because it all starts coming together and looking like a piece of furniture!! Yay!! I started with the easy ones first and just framed out my shelves and shoe dividers! They are just glued and brad nailed into place with 1 1/4″ brad nails! Make sure and glue as brad nails are not going to hold these on long without it!! (Don't mind that small piece of molding on the bottom…it's not supposed to be there)!!????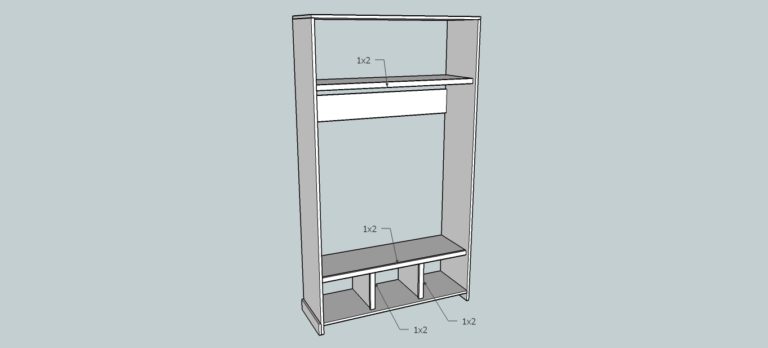 Next, I added framing on the sides! The picture below holds a lot of info! Lol!! Take a moment to take it all in! The 1x4s and the middle 1×3 are 8 3/4″ long, you couldn't read it when I put the dimensions in!! Again these are just brad nailed and glued into place!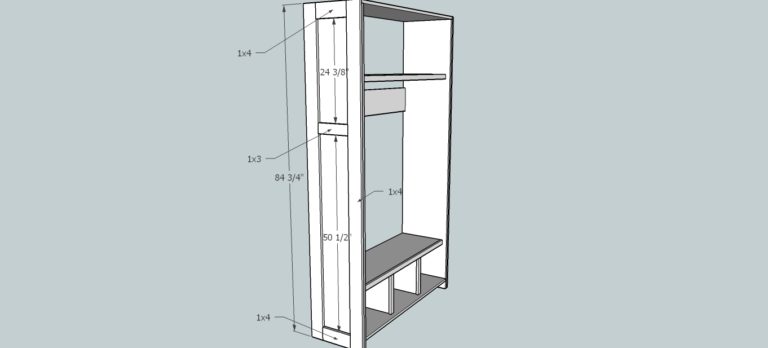 Now that the sides are done we can add the front face frames!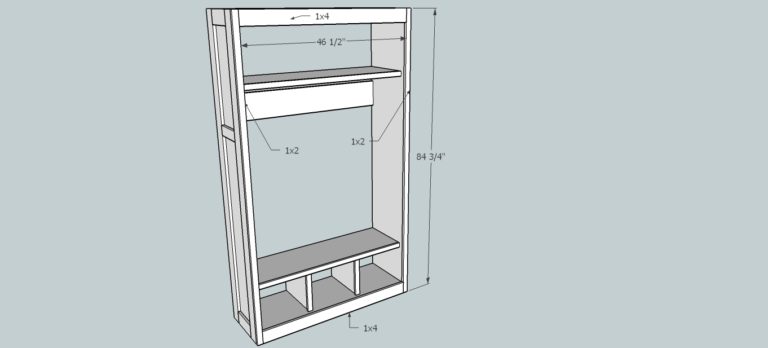 Oh, how it's coming right along! All we have left are the doors, crown molding and base molding (which is just a 1×3 furring strip)! Here goes the base molding and crown! You will notice, I didn't miter my corners on the base molding…I just brought the front out to cover the ends of the side and since it's painted you would never know that they aren't mitered!! So make sure and do your sides first!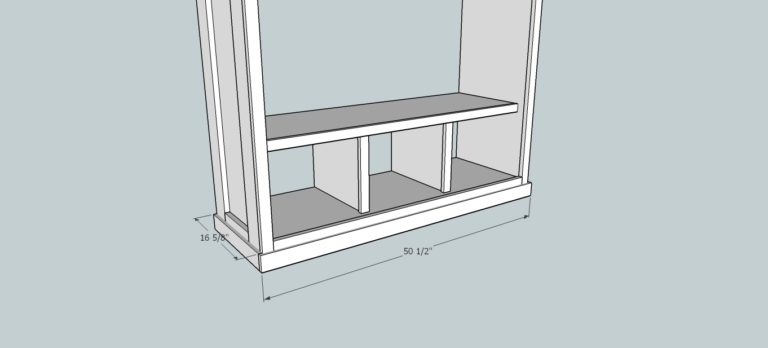 The crown, on the other hand, will have to be mitered at 45 degrees off square, and you will want to do the front first!! I didn't give lengths here either because you have to measure even the smallest hair of being off will create a problem!! Make sure and measure yours…the bottom part of your crown should be the length of the armoire, the top of the crown should be longer than (since it's mitered). The sides are easy because only one end needs to be mitered as I left it a straight cut in the back!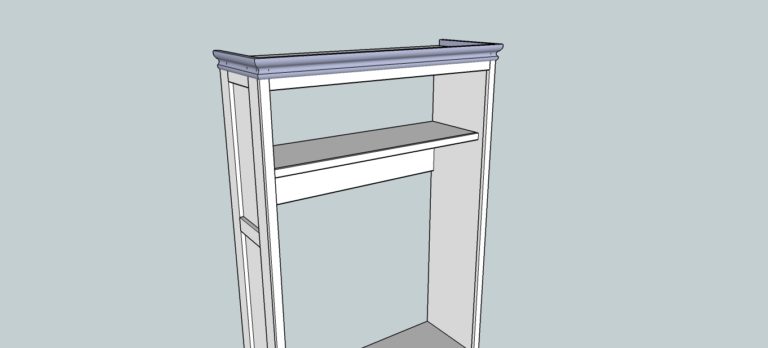 You can staple the back on at this time!! I just used glue and brad nails!
Last but not least, let's build some doors!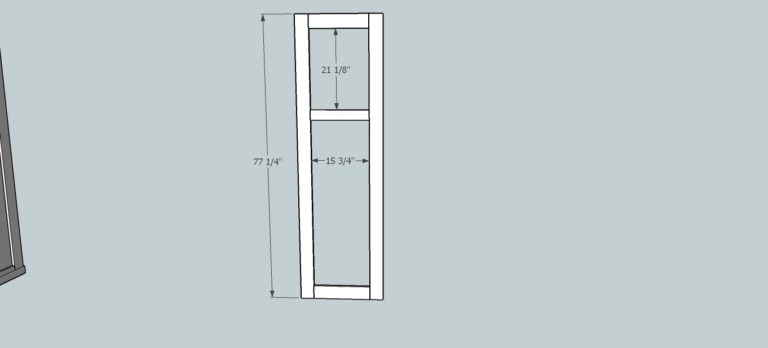 I chose the easy route which was just using 1/4″ plywood stapled on the backs of the doors! But you can get fancy and route a groove for it to fit inside! If I were to build it again I would probably do that but it really doesn't bother me to have it done this way!! LoL!! Plywood pieces are 18 3/4″ x 74 1/4″!
The 1×4 board shown here is screwed to the back of the door and has a 2″ over hang to create a stop for the two doors so that it can fully open without a brace down the middle! It is a 1/2″ shorter than the actual door size! I just used glue and 1″ screws since I was using furring strips, you will need longer screws if you are using regular 1x4s!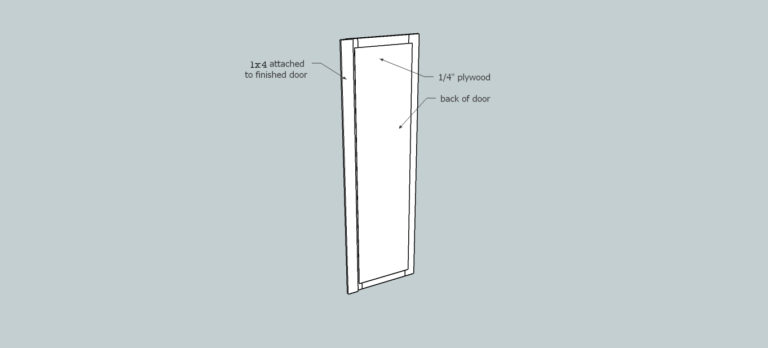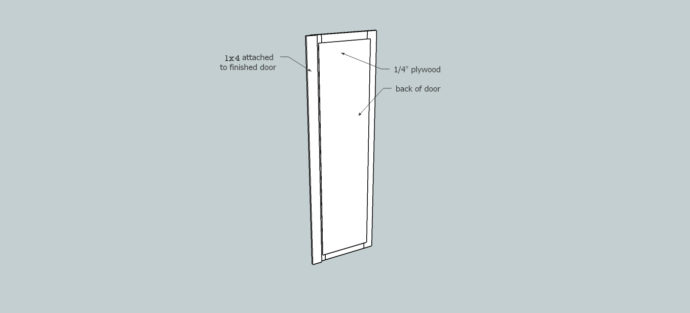 Finishing Touches
I just used regular 2 1/2″ utility hinges placed flat on the outsides of the doors to hang them! I spray painted them with Rust-oleum oil rubbed bronze to make them match my knobs! (affiliate link) I did the same with the hooks that I picked up at Hobby Lobby, I couldn't find the hooks online but Amazon has a ton of great options!
I added magnetic clasps at the bottom to stop the doors from being able to swing back into the armoire too far! (affiliate link)
After sanding everything down, the finish I used was created by first staining everything in classic gray by minwax, I gave it a real sloppy coat not caring if I missed a few spots here and there!
I then painted over the gray with only one coat of Behr Old White flat paint! Lightly sand to revel the gray in some areas!! Bada-bing! Bada-boom! You are finished!!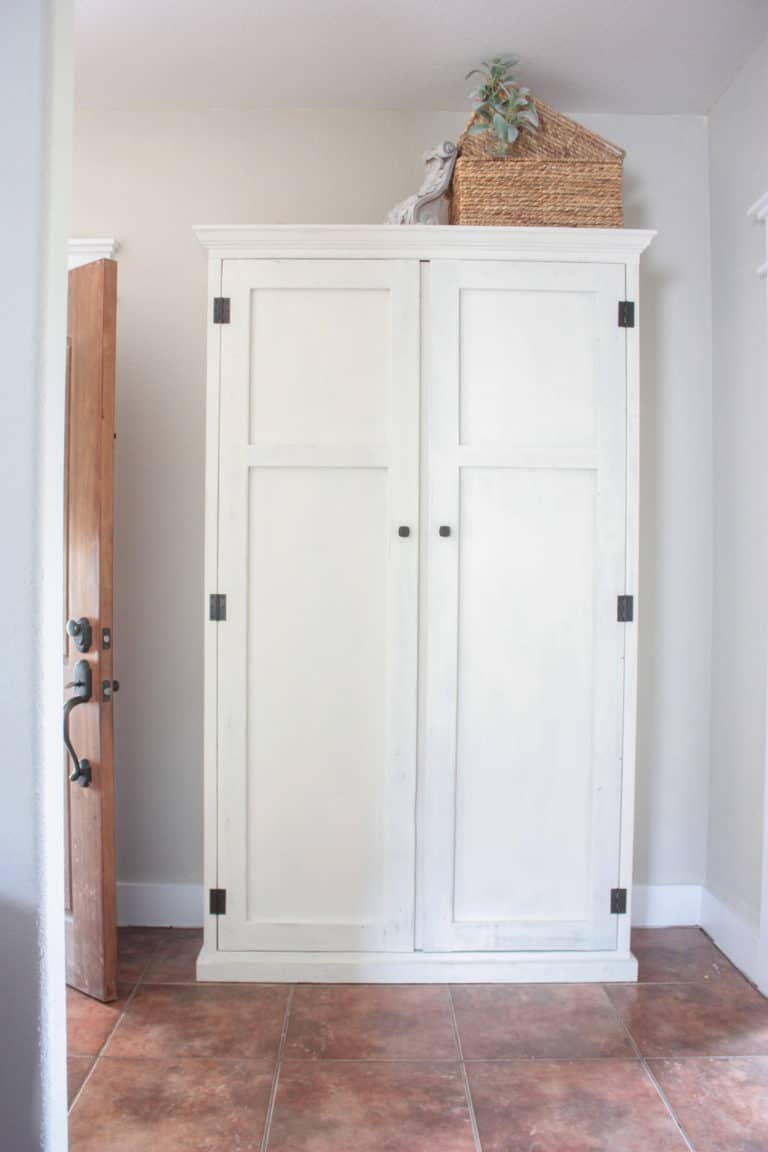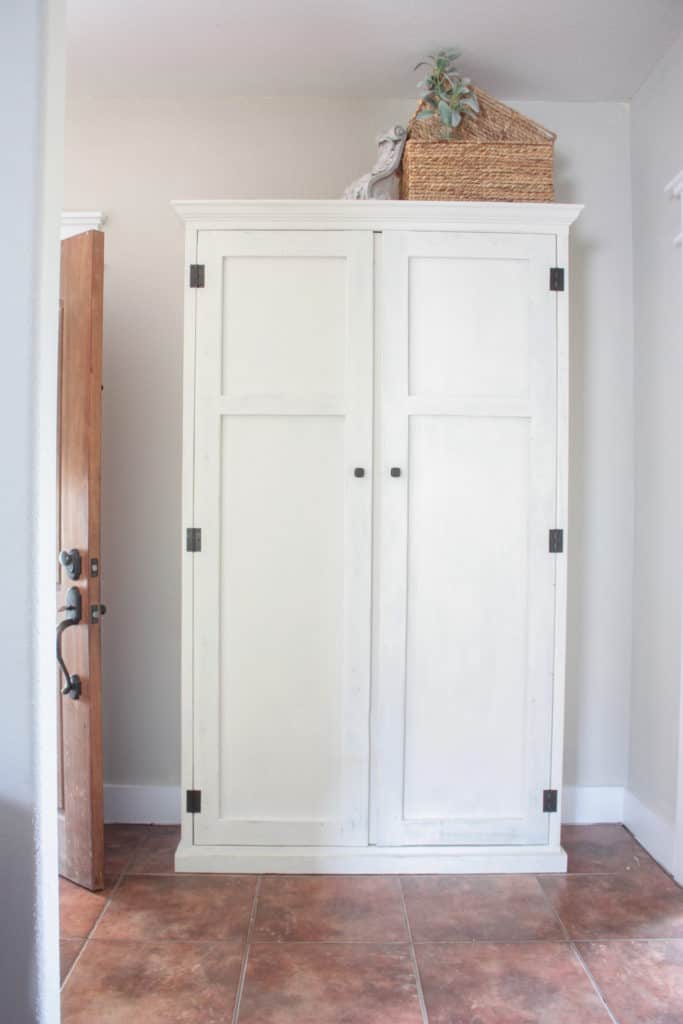 The knobs I used are Liberty Mandara Knobs in cocoa bronze! See them HERE!
I think that pretty much sums it all up!! Any questions, ask away below!! Thanks for stopping by!!
Happy Building!
Cara
Want to save this project for later? I LOVE when you share or pin my posts! Thanks in advance!