DIY Barn Door Bookcase – Arhaus Inspired
This post is sponsored by Build Something and Kreg!
Hey everyone!! I'm so glad to be back today to share this project with you all!! My mom actually sent me a pic of this wardrobe when she and my Dad were in Arhaus furniture one day, and I of course added it to my To-Build List immediately!! LoL!! But like so many things on my list, I had forgot all about it…until the other day on IG (by the way do you follow me on Instagram? If not you better get over there and follow me!! Ha! @buildcraftlove) @McNellyfarmhouselove posted it…and it stopped me in my tracks, and in that instant I knew it was my next project!! Bwahaha!!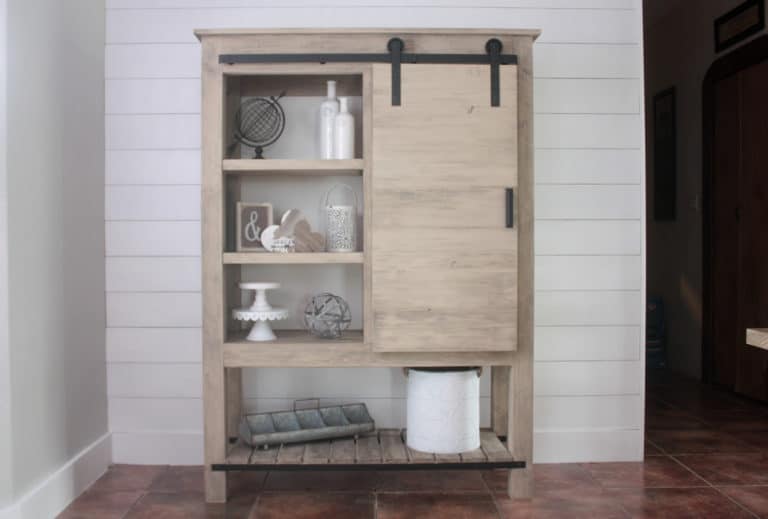 What do you think? I think I'm in love, but I have realized that happens to me with pretty much every project!! Haha!! I think I'm just in love with the fact that I actually got them done!! Not really, I'm sure it's true love!! So, if you are still unsure of what to get your Valentine…problem solved!! You're welcome because I have free plans for you to build this over on BuildSomething.com!!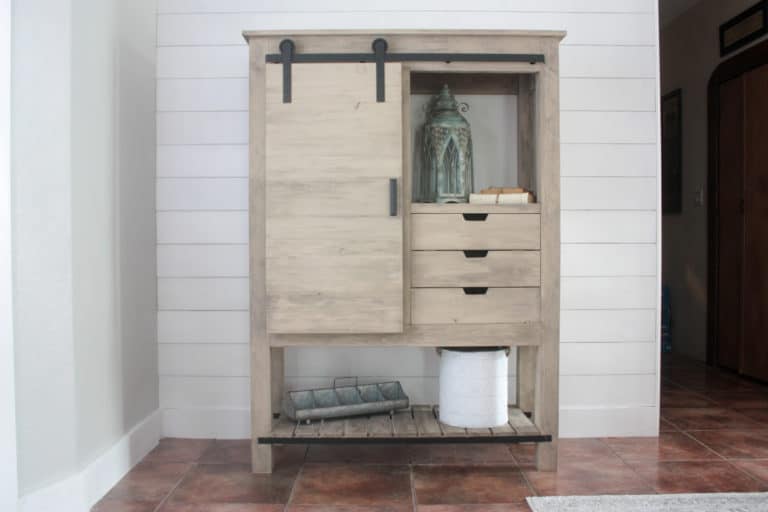 She's a real beauty, you know I almost couldn't even put the barn door on it because I thought it was so gorgeous without it!!! It is unique and I can't get enough of it!! Enough about me, let's see some more of her!! Here she is without her barn door!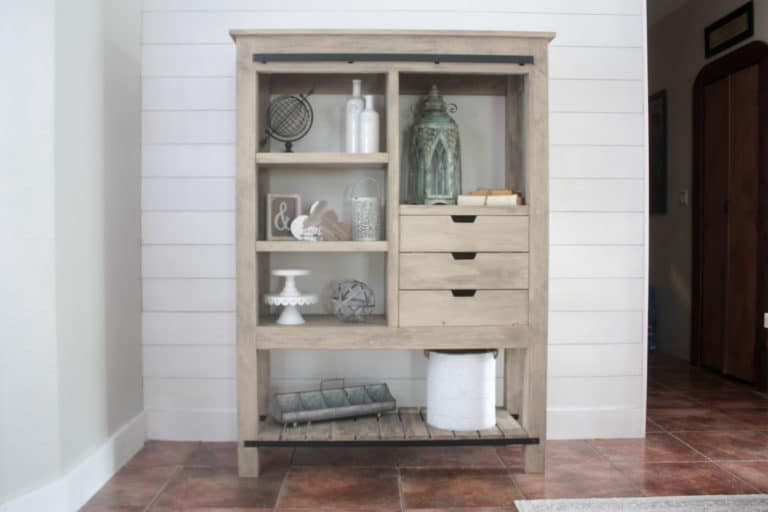 What are you waiting for? Go on!! Get the free plans from BuildSomething!! Have you checked out their site yet? I have done several awesome projects with them and so have MANY other seriously talented bloggers!! You must check it out!! Build Something is Kreg's DIY website where you can get free plans for all sorts of projects, vanities, media cabinets, beds, tables, you name they probably have it…and all the plans include the easy to use Kreg Jig(affiliate link)!!
While you're over there checking out all the UH-Mazing plans, I'll be over here trying to type up the post for the super easy and inexpensive barn door hardware!! UPDATE: Here is the video and the step by step tutorial for the Cheap and Easy DIY Barn Door Hardware! I can't believe I put off making anything with a barn door because I thought it would be hard…Psshhtt!! It was nothing like I figured it would be!! Anyway, I have so much to share in the next couple of weeks!! I can't wait!!
Hope you have a wonderful week, and Happy Valentine's Day to you all!! Hope you get to spend time with someone you love, and maybe get to build something!!! Lol!
Happy days!!
Cara