Ripping Out the Tile and Bathtub – One Room Challenge – Week 3
Welcome back to Week 3 of the One Room Challenge where we are ripping out the tile and bathtub!! I must say that I have lost my mind! LoL! Tearing out this bathroom will be worth it in the end I am sure, but right now I'm at my breaking point!There seems to be white dust all over the house despite my best efforts to cover everything with drop cloths, so I can't wait to clean the house from top to bottom…and I don't think I have ever said that before in my life!???? Luckily, it is about an hours worth of demo work before I am able to start piecing it all back together and being able to CLEAN everything of the dust!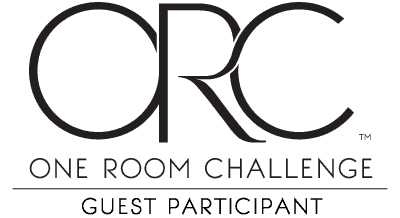 Make sure and check out what all the talented designers are up to at this link: One Room Challenge Designers
And check out the other guest participants at this link: One Room Challenge Guests
Small Victories
So what we are up to this week…we removed the bathtub and found that the sheet rock behind it was moist, so there was a leak somewhere within the mess of plumbing that was behind the tub! So out came the sheet rock from the faucet side of the tub and we decided to just remove all the sheet rock three feet up the wall and we will replace it with hardy board! That way if there is a small leak the cement board will be better suited than sheet rock to handle it! I am not sure if we are going to waterproof it or not just yet!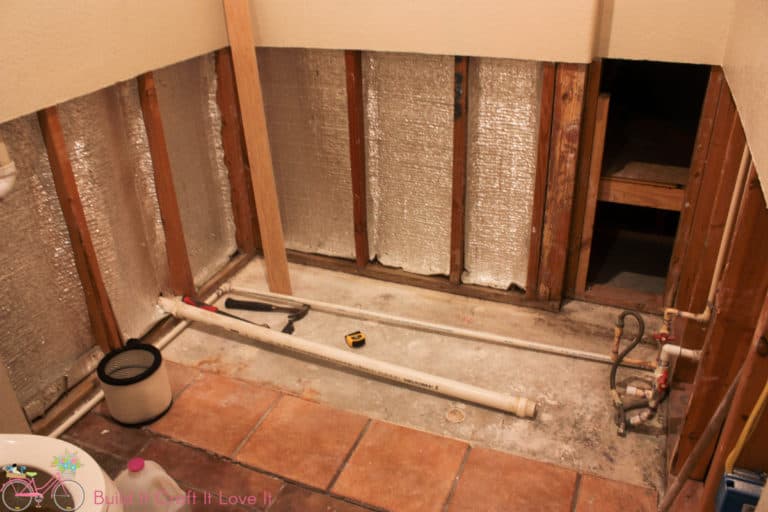 Umm, a little blurry yes, and do you see the pipe that went under the tub and around to the toilet?????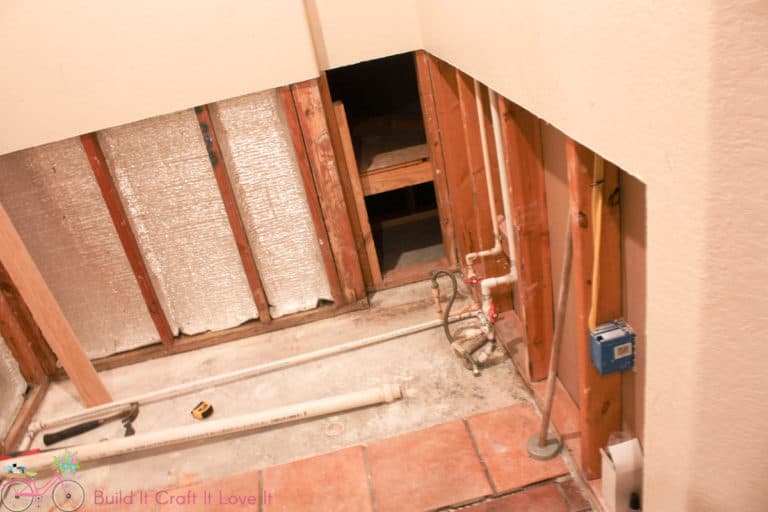 We have to cut out a little more sheet rock and run that pipe in the wall where it should be! Also notice the drain pipe! Lol! I give up! ???? We will just have to work with what we have there because there is no way I am jack hammering concrete and placing it in the foundation, so that will stay!
Moving on from that scary story, we marked and cut out the cement board that was in the shower so we can pour the new shower pan and run the liner up under the cement board… next week hopefully!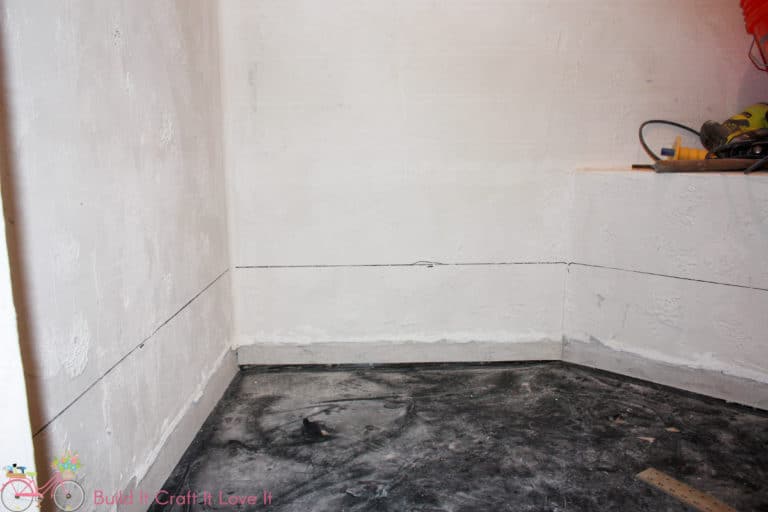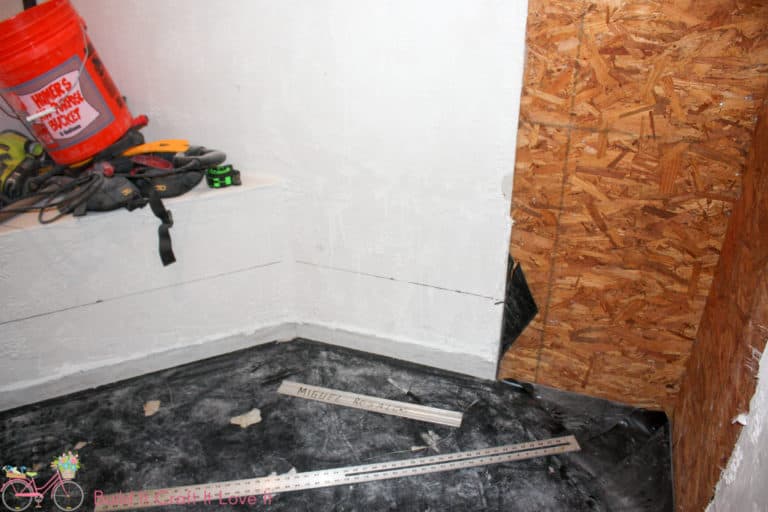 The shelf came out that was in here, you can see it in last weeks post, but it wasn't slopped at all and so we went ahead and tore it out, but the bench seat we can work with.
The shower liner was ripped out as well, and I can't wait to start the recreating instead of demolishing!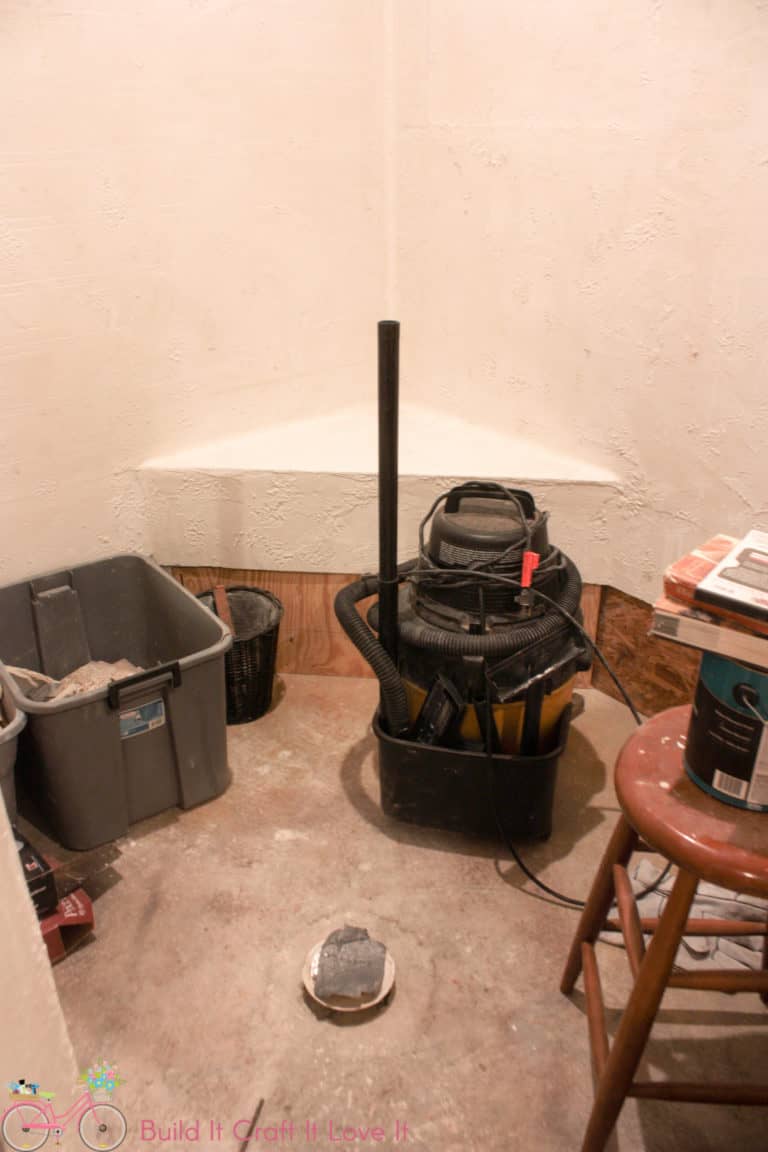 The staggered wall was cut off to make it straight across which really helped open it up, it doesn't seem as closed off now and the shower is able to get more natural light! ✔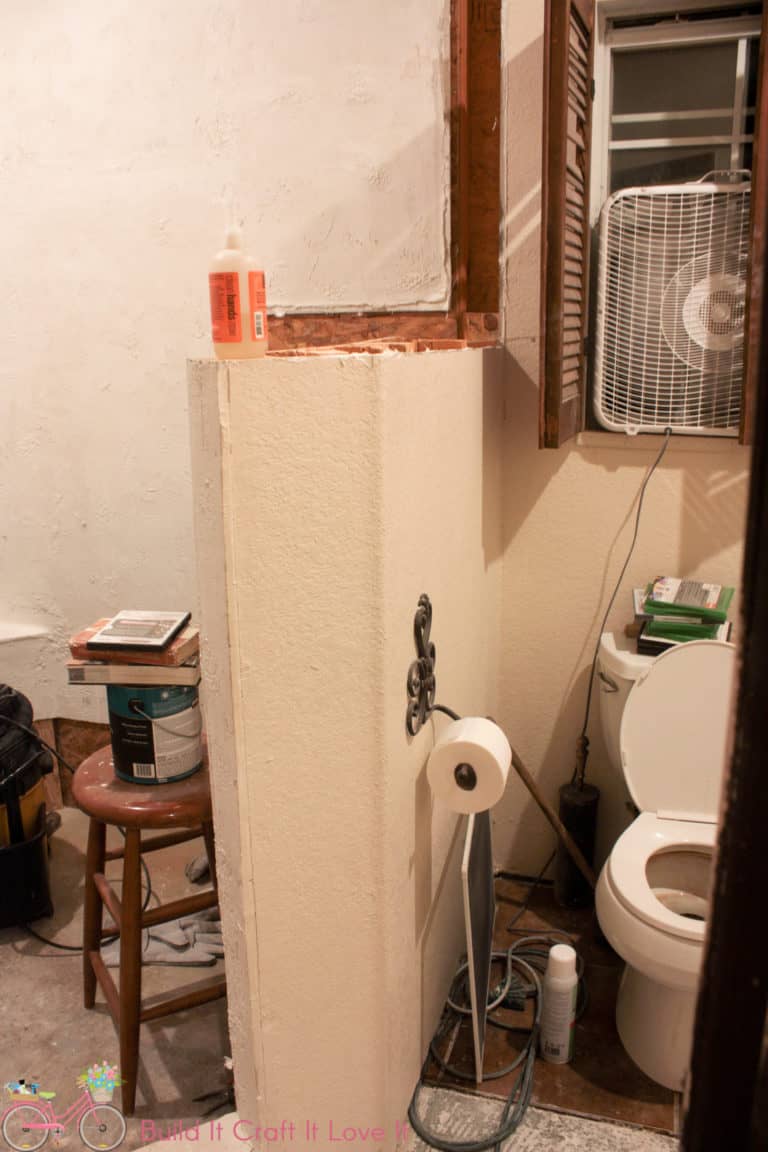 Also, tile came out…almost everywhere in the bathroom!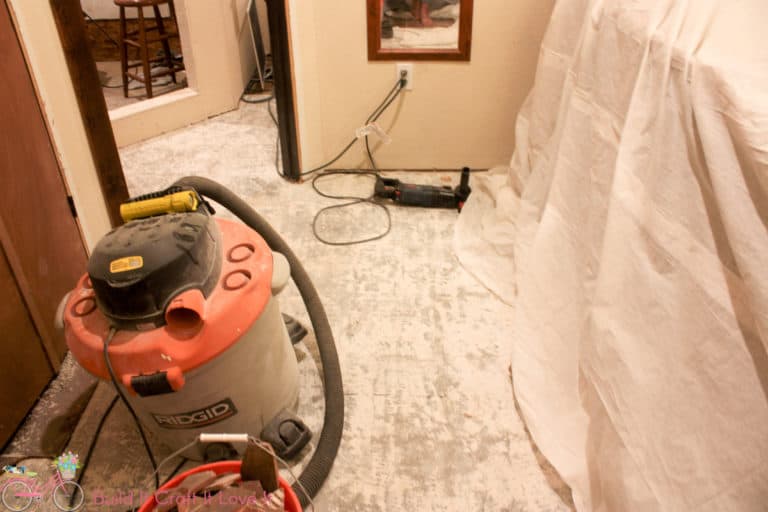 I will have you know…under that drop cloth is a fully painted vanity! Woohoo! There is one positive for the week! lol!
A lot went on in here, but nothing that actually seemed like we were getting stuff done…does that make sense? Now, if all goes as planned…this room will look SO. MUCH. BETTER. next week! We were going to get the tub back in today, but it was damaged when I took it out of the box! Ugh! So back to Home Depot I go for the 5th day in a row!
Fingers crossed I will be able to show you the newly inserted tub and shower pan next week, along with some beautiful floor tile! God, I sure do hope so! See before photos and other progress here!
Hope that whatever you are up to is going so much better than what I am up to! Lol! Have a wonderful week!
Happy Sunday!
Cara