Farmhouse DIY Bathroom Vanity
This gorgeous vanity built to look like I turned a vintage dresser into a vanity is the perfect farmhouse DIY bathroom vanity to polish off that bathroom remodel without killing the budget! Build this DIY bathroom vanity for a fraction of what it would cost to buy a new vanity!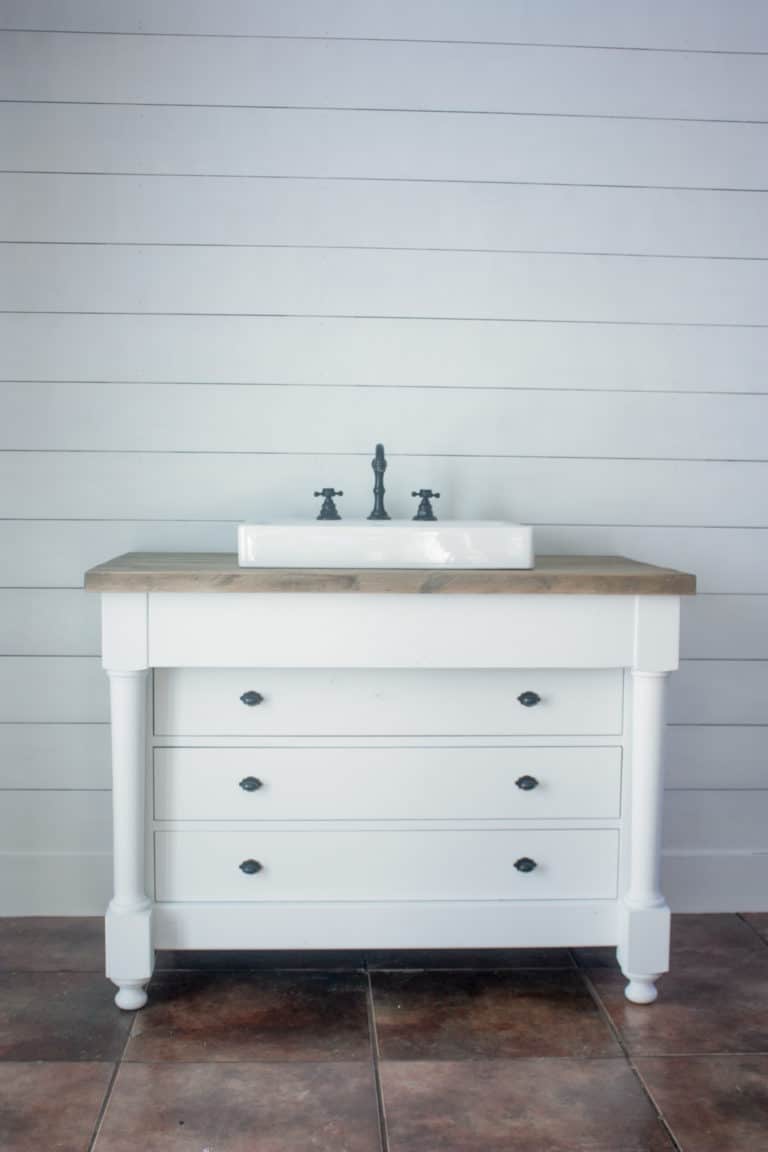 I'm starting the year off with an awesome DIY tutorial straight out of the gate! Have you seen any of the re-purposed dressers turned into vanities? I have fallen in love with them after seeing Jenna Sue's last spring, but of course, I shopped around and couldn't find anything I would want to bring home and upcycle! So naturally, I decided I would build my own farmhouse DIY Bathroom Vanity that looks like an upcycled dresser vanity!
This post is sponsored by Build Something and Kreg!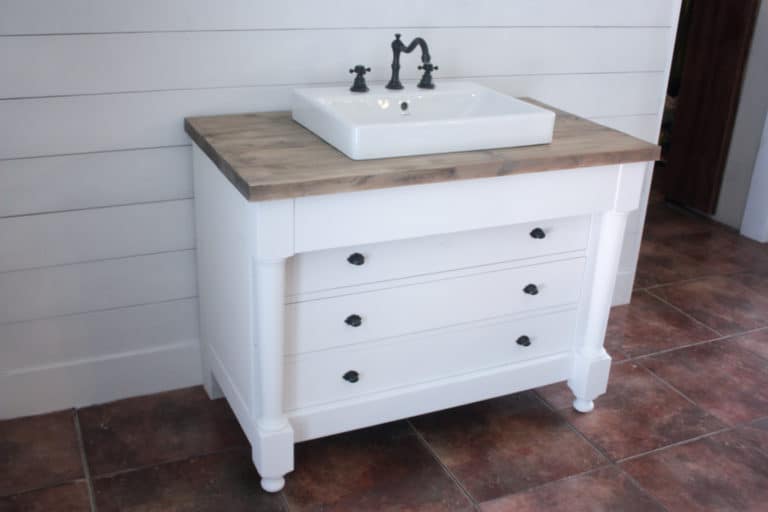 I love it! Just look at that adorable faucet and the sink!! It looks a little funny right now sitting in my dining room since the bathroom is in complete shambles, but I'll get it in its home shortly. Well, hopefully, it will be shortly!! Lol!! And can you believe those legs are staircase posts? Yeah, turn um upside down and they become legs!😏
Love this bathroom vanity but want something a little more modern and a little less farmhouse? Check out this DIY bathroom vanity that I made with a concrete vanity top!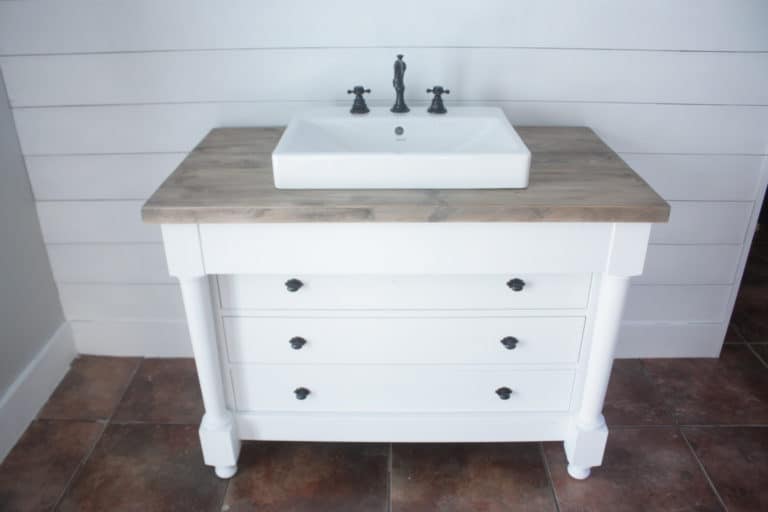 Gathering Supplies for the Farmhouse DIY Bathroom Vanity
You are going to have to go to KregTool.com to get the free plans! Did you know that Kreg Tool is Kreg's new DIY website? Yep, it's an amazing website filled with tons of free plans! Each week on Monday, I grab a cup of coffee and sit down to go through the new plans they have, and I always find something I want to build! It is really great…well great for something fun to do, not great for my already never-ending to-build list!! Lol!!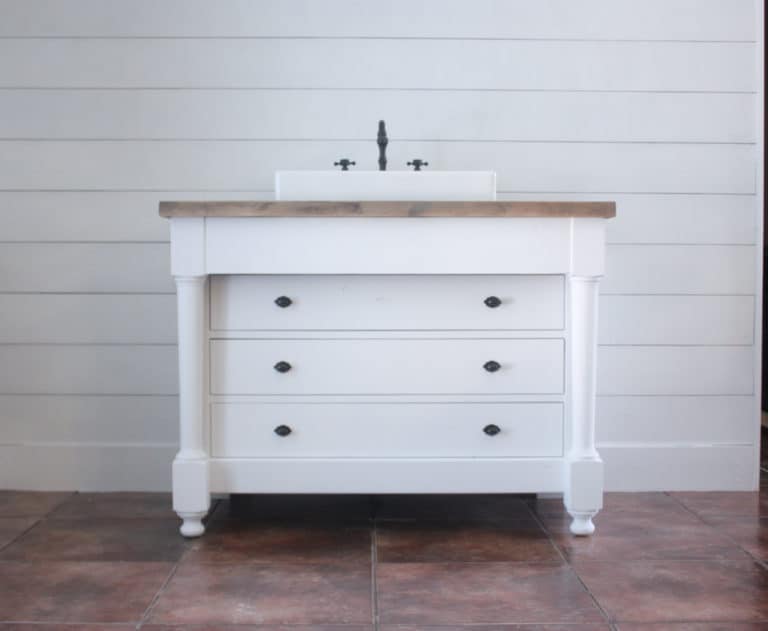 The total cost to build this farmhouse DIY bathroom vanity is around 250 dollars including the sink and faucet! That is a steal of a deal right there! Even the cheapest of cheap particle board vanities at the big box stores are more expensive than that! This baby is solid wood and built to last for a great low price!
Update: with the cost of lumber skyrocketing as it has, the current 2022 cost of this DIY bathroom vanity is 450 dollars with the sink and faucet! Ugh! I want lumber prices back to normal!
Materials for the DIY Bathroom Vanity
**Note: Amazon links below are affiliate links! Affiliate links are links that pay me a small commission (at no extra cost to you) should you make a purchase after clicking a link! Thanks in advance for shopping my links as it helps me keep bringing you awesome plans for free!
1 – 4x4x8
1 – 1x2x8
4 – 2x6x8
3 – 2x4x8
4 – 1x6x10
1 – 3/4″x4x8 sheet of plywood
1 – 1/4″x4x4 sheet of plywood
Cut List for DIY Bathroom Vanity
2 – 4×4 stair newel posts cut down to 31 1/2″ front legs
2 – 4×4 @ 31 1/2″ back legs
2 – 2×6 @ 16 1/4″ side rails – top
2 – 2×4 @ 16 1/4″ side rails – bottom
1 – 2×4 @ 35″ back rail – top
1 – 2×6 @35″ back rail – bottom
1 – 2×6 @ 35 1/2″ front rail – top
1 – 2×4 @ 35 1/2″ front rail – bottom
2 – 2×4 @ 27 1/2″ face frame (notched board)
2 – 3/4″ plywood @ 14 3/4″ x 18 1/2″ side plywood panels
2 – 1×2 @ 35 1/2″ front drawer dividers
6 – 2×4 @ 14 3/4″ drawer slide rails
6 – 1×6 ripped down to 4 1/2″ @ 15 3/4″ drawer box sides
6 – 1×6 ripped down to 4 1/2″ @ 33″ drawer box front and back
3 – 1/4″ plywood @ 15 3/4″ x 34 1/2″ drawer box bottoms
3 – 1×6 @ 35 3/8″ drawer fronts
5 – 2×6 ripped down to 4 13/16″ @ 44″ vanity top boards
Building the Farmhouse DIY Bathroom Vanity
Now's the time to head on over to Kreg Tool and grab your step by step plans to build the DIY bathroom vanity! Make sure and read through the instructions carefully and feel free to ask any questions in the comments below or email me cara.theinspiredworkshop(at)gmail.com
Plus, stay tuned, I'll be back later to share the plans here on my site for this same vanity with two doors…just in case drawers on a vanity aren't your thing!
Hope you had a wonderful holiday season with your loved ones, and I wish you all the BEST that 2017 has to offer!! Happy New Year!!