As winter approaches outdoor animals need a place to keep warm and this DIY doghouse is the perfect space to do just that! Set it up in your backyard for your dog or cats, or place it in your front yard to give unwanted animals a place to get out of the cold! Cheap to build and step-by-step plans make it easy to build!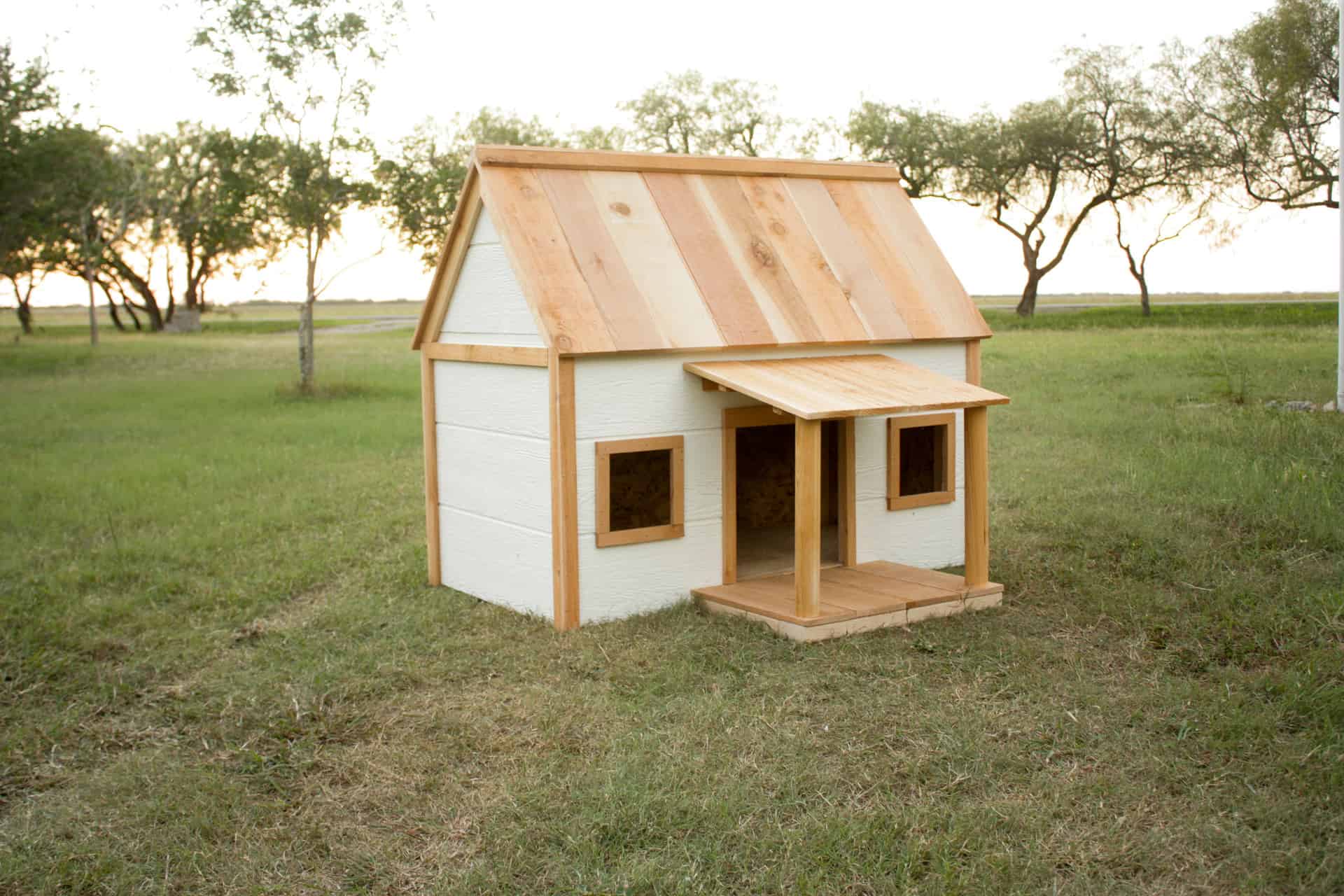 This DIY DOG House Build is sponsored by Kreg tool!
I have teamed up with Kreg Tool to bring you an upgrade to Fido's residence!! I love the little porch on this doghouse and I now think every dog house needs one! Lol!!
My little furballs were going to need a place to keep warm…in south Texas, winters aren't all that cold, but it can still get chilly on a few nights so I built a doghouse for our orphan pups, that's what I call them!! We didn't adopt them, they just live here and won't leave so, you know!! Lol!!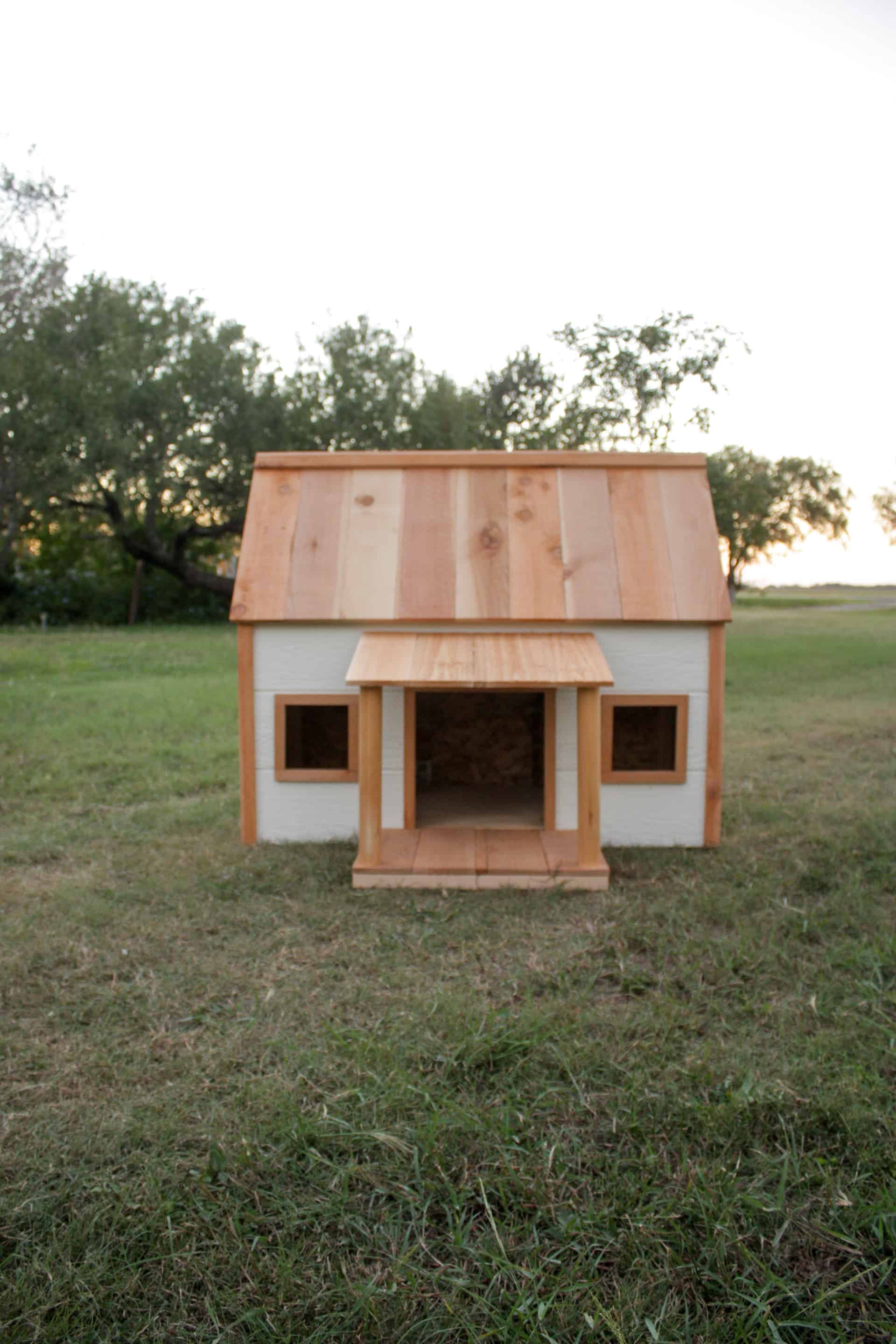 The dogs wouldn't go near the doghouse while I was trying to get them to model for me, but I figure if it gets cold enough they will be begging to go inside!! Lol!!
I was able to build this cute little doghouse for a tiny bit over a hundred bucks, and when I had shopped online for one before deciding to build one, there was nothing really I could buy for around 100 bucks… besides those DogIgloos and they wouldn't fit my four pups in them! Plus it really only took me a day to build…and that was all by myself! Woohoo!! MY kind of project!! You can easily customize the look to match your own home as well so it's not an eyesore sticking out in your yard!!
Free Plans for this DIY Doghouse
If you want the free plans to build your own doghouse, make sure and head over to Kregtool.com! Have you been to Kreg Tool before? It is Kreg's new website where anyone can share free plans, you can make build lists to keep up with all the projects you want to build (this is great for me because I can dream much faster than I actually build! Lol! It's a really great website that I am proud to have my plans on!! Go check it out if you haven't already!! You won't regret it…and they have plans added daily so there is always new content!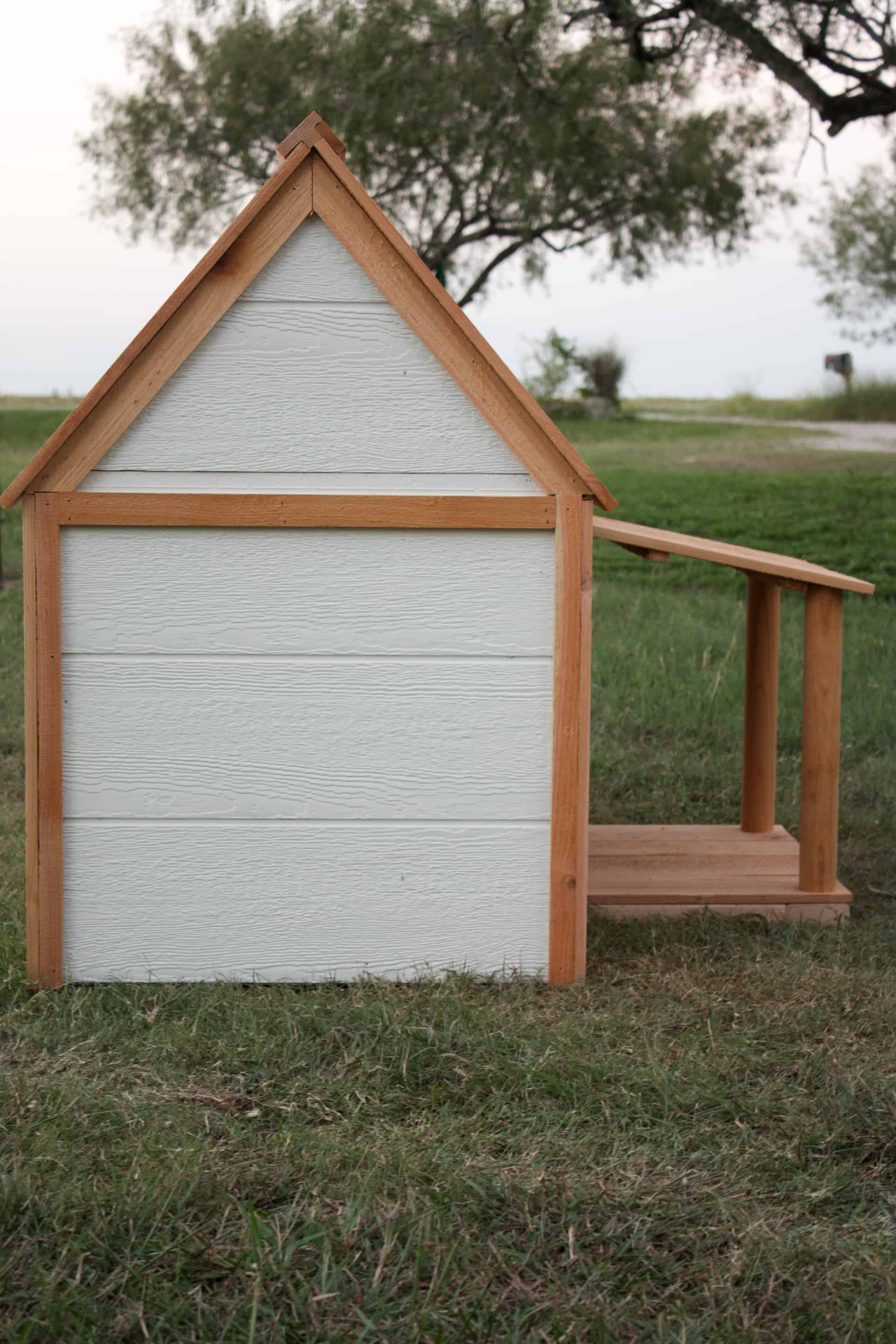 Does your dog live inside with you and need a bed, not a doghouse? Check out these two different, adorable dog beds I have built and offer free plans for, one is sure to match your home decor style! The DIY large dog bed is modern in design with clean straight lines, and the other DIY Dog Bed is farmhouse style with X accents!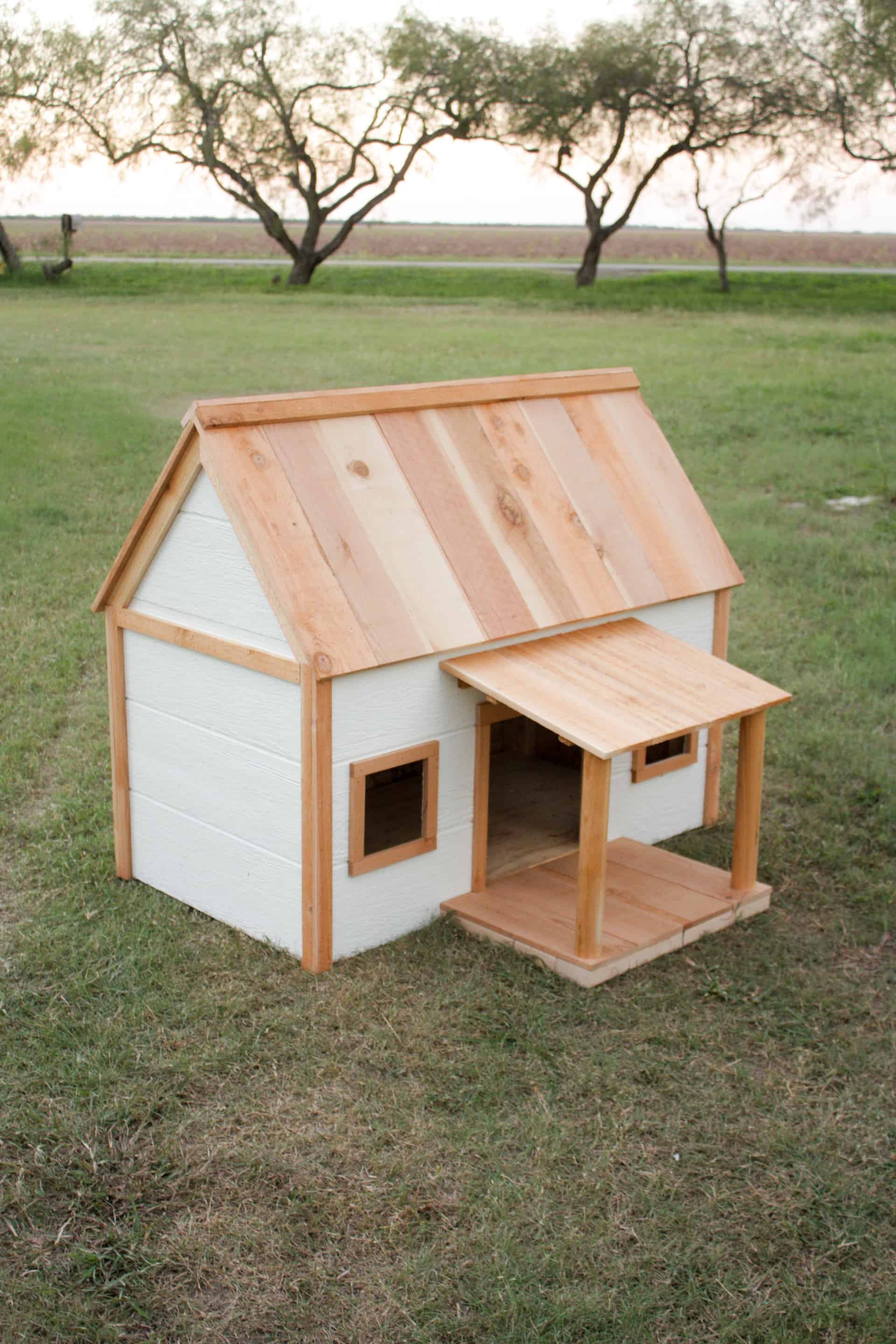 Gathering Supplies for the DIY Doghouse
Materials Needed for DIY Doghouse
**Amazon links are affiliate links! Affiliate links are links that pay me a small commission (at no extra cost to you) should you make a purchase after clicking one! It's a real win-win for both of us, you get what you want/need and I make a little money to keep the plans and content coming for free! I always appreciate it when you shop at my links! Thanks in advance!
8 – 2x4x8
11 – Cedar Fence Pickets – 1x6x6
1 – 4×8 sheet of plywood siding
1 – 4×8 sheet of 1/2″ exterior plywood
1 – 2x2x48″ dowel rod
1 1/4″ screws – these screws are a few dollars cheaper at your local hardware store!
circular saw or table saw – I have the rigid job site table saw but I do not recommend it
Cut List for the DIY Doghouse:
2 – 2×4 @ 44″ bottom rails
2 – 2×4 @ 47″ top rails
4 – 2×4 @ 22 1/2″ legs
6 – 2×4 @ 18″ side rails and support rails
3 – 2×4 @ 20 1/2″ support stiles
1 – 1/2″ piece of plywood cut @ 25″x44″
6 – 2×4 @ 18 9/32″ roof rafters – ends mitered (see step 8 of plans)
1 – 2×4 @ 47″ roof ridge
2 – 1/2″ pieces of plywood cut @ 16 5/8″ x 47 3/4″ roof plywood
2 – pieces of siding cut for sides @ 24″ x 25″
2 – pieces of siding cut for the front and back @ 24″ 47 3/4″
2 – pieces of siding cut for the roof gables @ 14 1/2″ x 25″ make sure and measure yours!
18 – cedar fence pickets cut @ 22″
4 – 2×4 @ 15″ bottom porch frame
4 – cedar fence pickets @ 15″ porch floor
4 – cedar fence pickets @ 15 3/16″ porch roof boards
2 – 2×2 dowels cut @ 16 13/16″ mitered -see plans
Trim Boards for Doghouse – cedar fence pickets are ripped down to 1 1/2″ width for all trim boards below and then cut down to the size listed!
2 @ 14 5/8″ sides of door trim
1 @ 16 1/2″ top of door trim
1 @ 20″ porch roof brace
2 @ 20″ porch roof runners
4 @ 24″ side trim
2 @ 23 1/4″ top side trim
4 @ 20 3/8″ roof trim on sides – mitered the same as the roof rafters
Trim Boards for Dog House – cedar fence pickets ripped down to 2″ and 2 1/2″!
4 – fence pickets ripped to 2″ @ 23 3/4″ front and back trim
2 – fence pickets ripped to 2 1/2″ @ 49 1/2″ roof flashing
Head to Kreg Tool to take it from here and get the full DIY Doghouse Plans!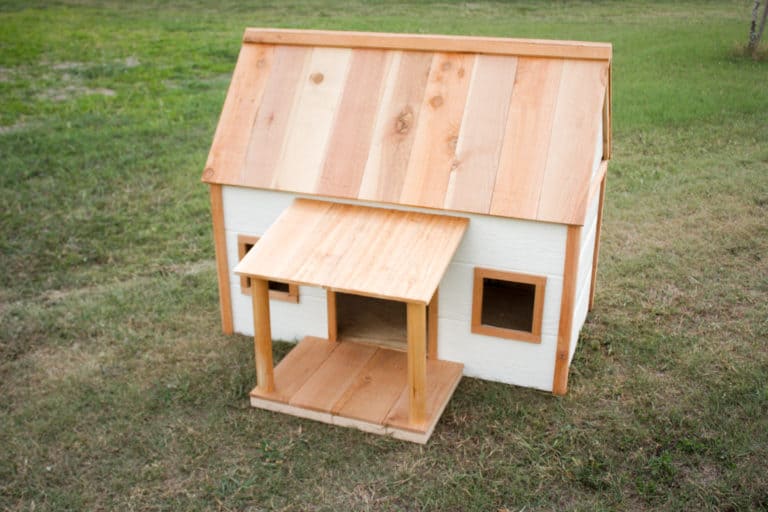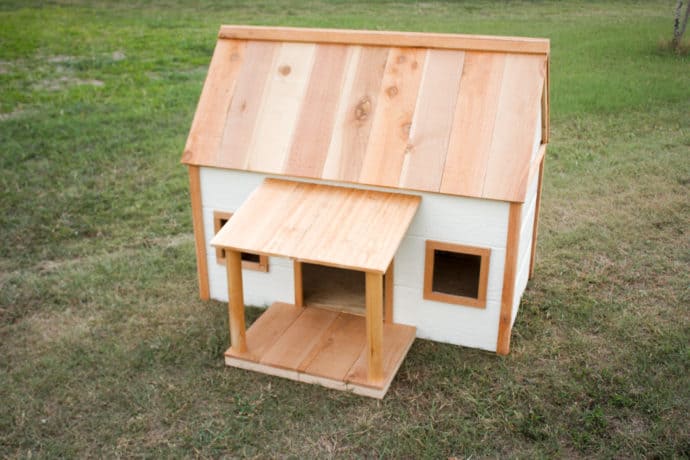 That dead grass is nice, isn't it?! But don't look at that…the doghouse is cute enough to make up for it!! 😅 I am loving it and I'm sure my pups will too as we get colder weather! Make sure and follow along on Instagram and Pinterest to see the latest inspiration, behind-the-scenes, and shenanigans of mine!! 😉 Hope you have a great week!!
Happy Building,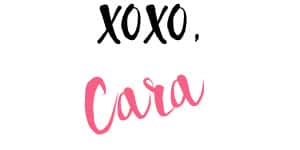 Want to save this DIY doghouse for later? Pin It!