Christmas decor that can be left out after Christmas and become winter decor is the real MVP! These DIY ice skates for decoration are the perfect accessory for your door or wreath! Make some for yourself with the free patterns and leave them up all winter!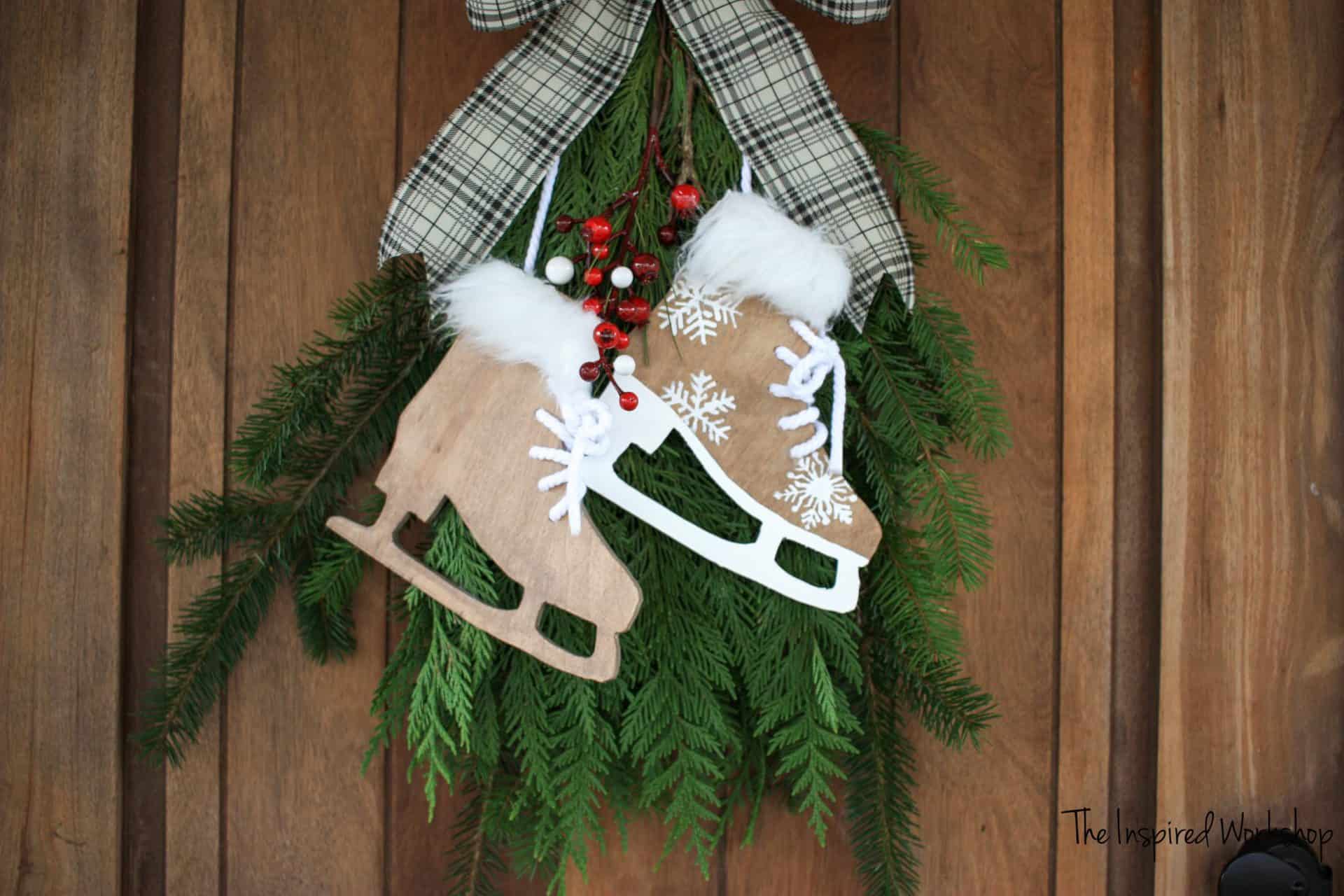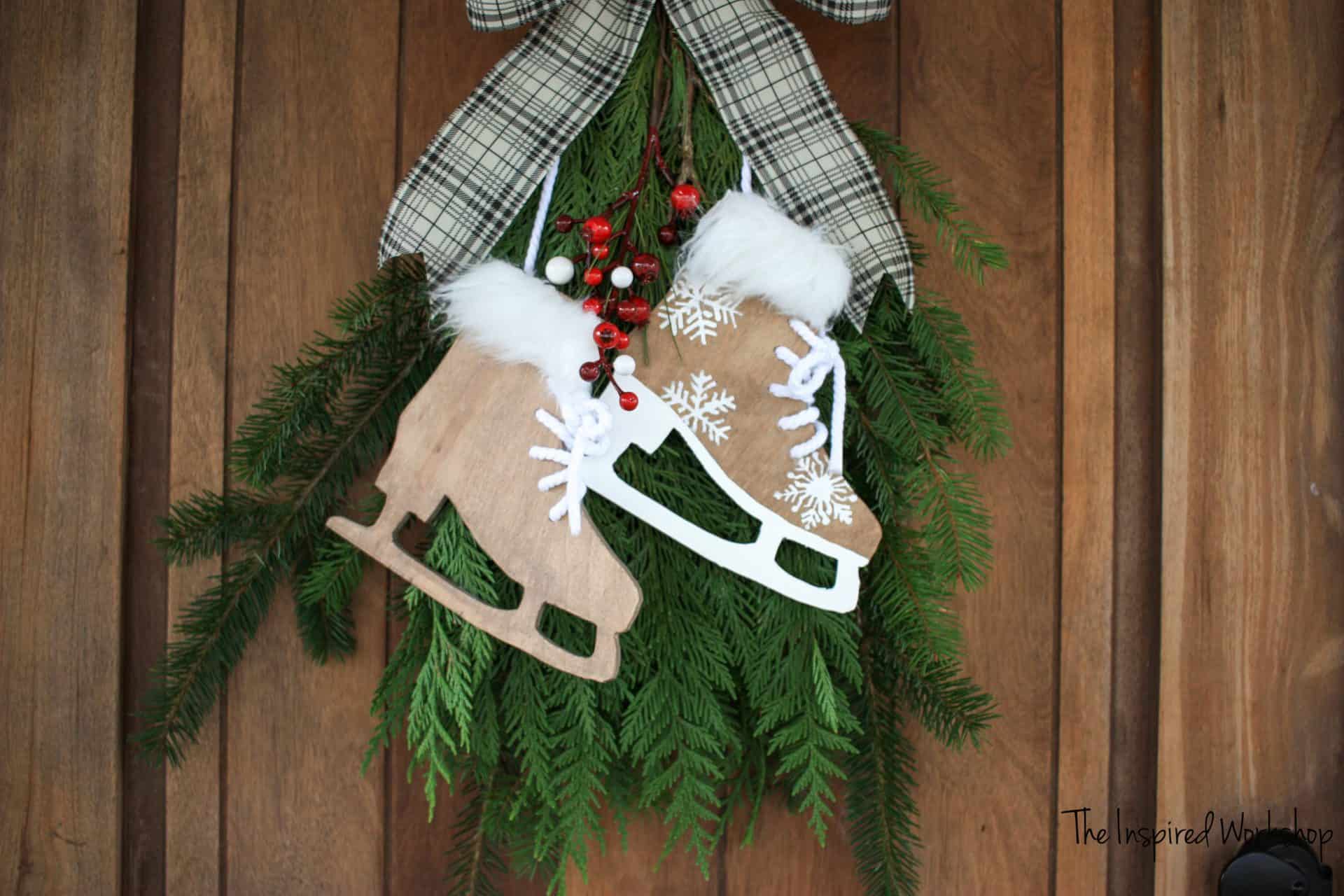 I learned with this project that it is absolutely my (non)skill and not the saw when it comes to scrolling work! Lol! I cut these ice skates on my grandad's DeWalt scroll saw, which as you may or may not know, Lizzy from The House of Timber on Instagram worked absolute MAGIC on that Dewalt saw…but as it turns out, it is actually Lizzy's skill, not the saw! 🥴 I tried though, so there's that! And they don't look THAT bad! If I would have sanded a little more, they would probably look really good!😉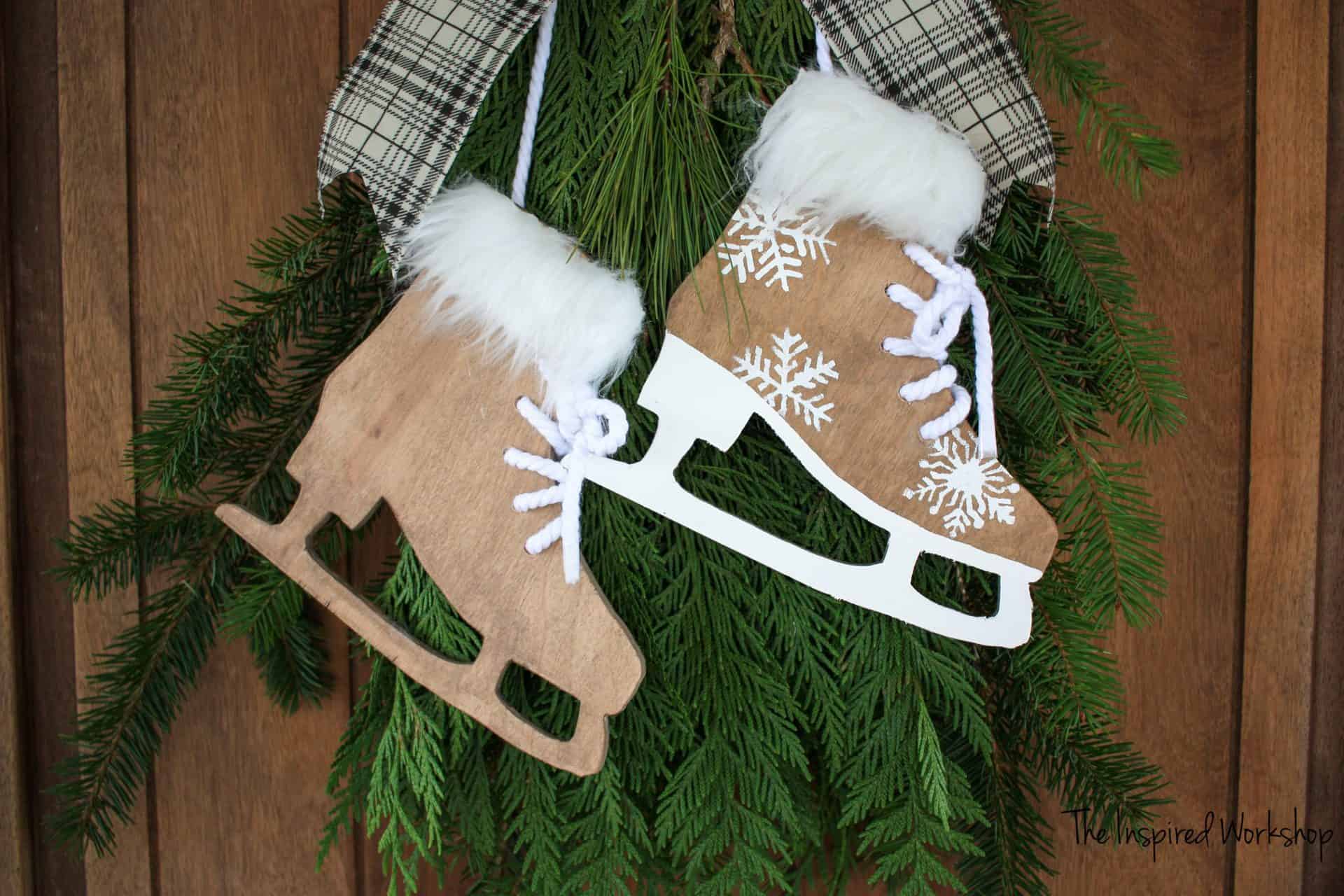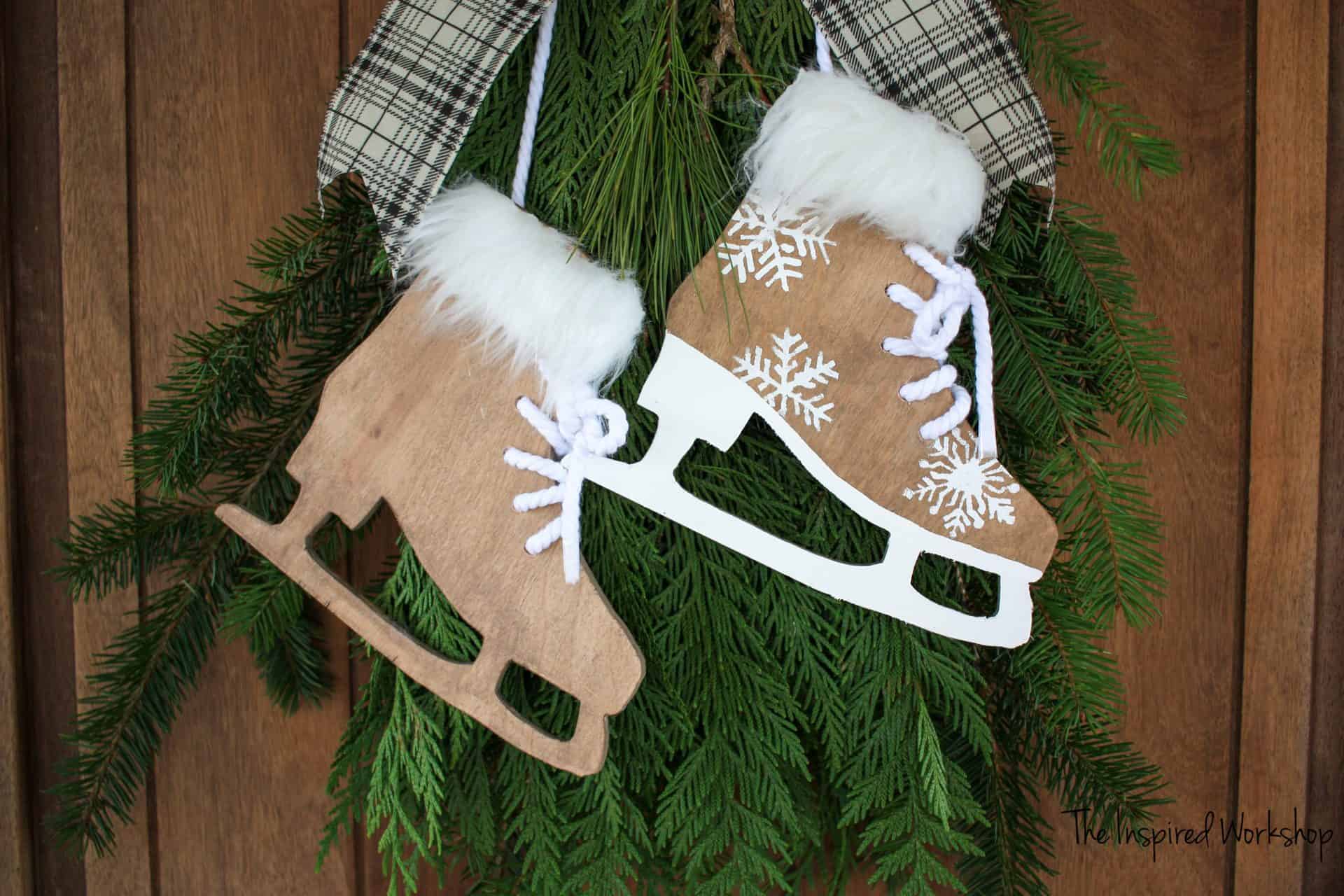 Even if they aren't perfect, I LOVE the ice skates decorating the swag wreath, you know I picked up this fresh greenery at Walmart for 5 bucks! It was a bouquet in the floral section! It smells amazing of course!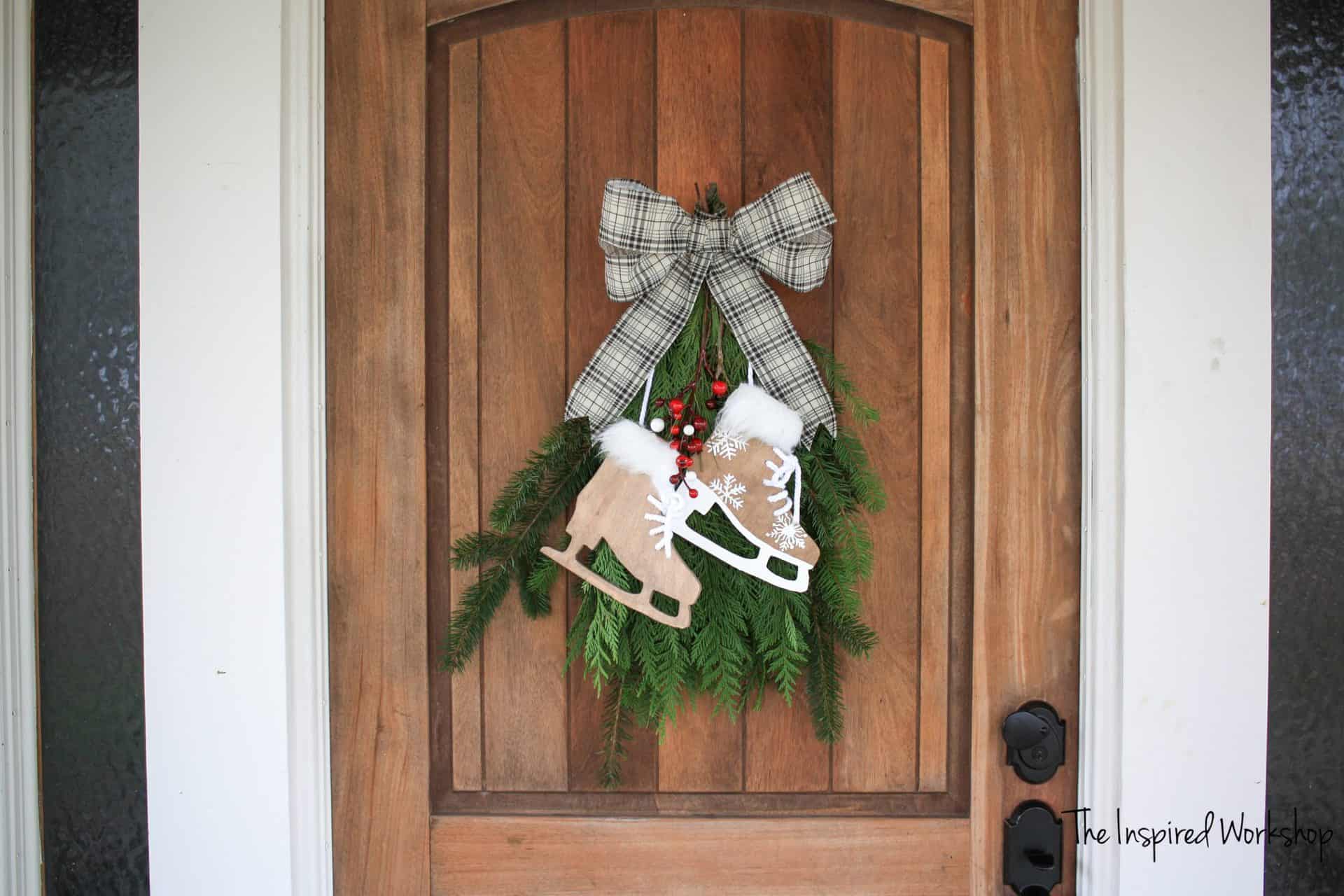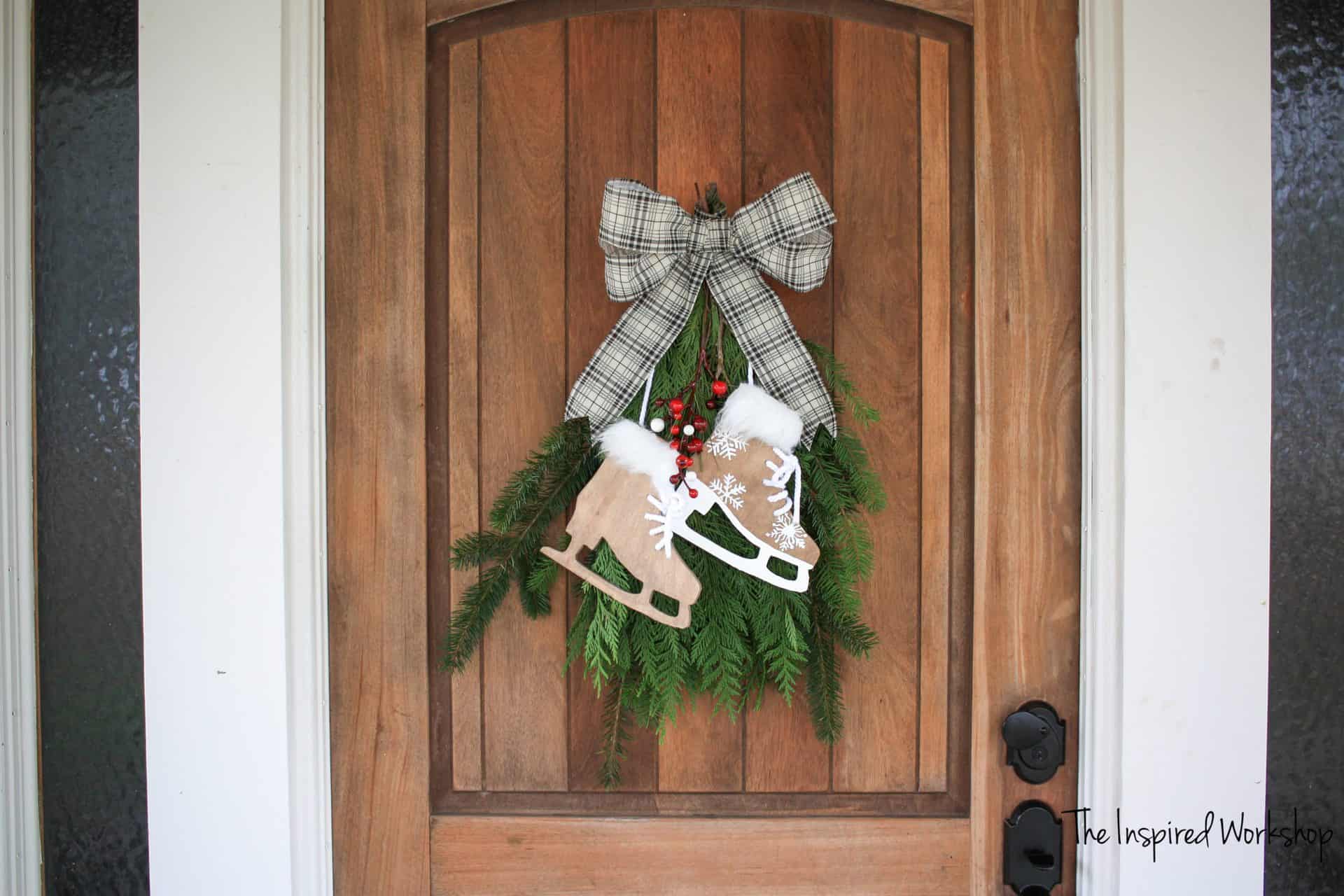 Don't mind my door either that needs to be refinished! 😬 It's 303rd on the list of stuff that needs to be done around here! I'll get to it…that's my motto!
It is a really fun craft that you can easily do, once you cut them out, you can adorn them while enjoying some family time because they really don't take any effort! Just stain, paint, drill holes and attach fur and string! Boom, the cutest wintery ice skates to accessorize any wreath, entryway hooks, or wall decor!
I cannot help but smile every time I walk in my front door, and that is a successful project in my eyes!
Want to make a set yourself but don't have time? Save it for later! PIN IT!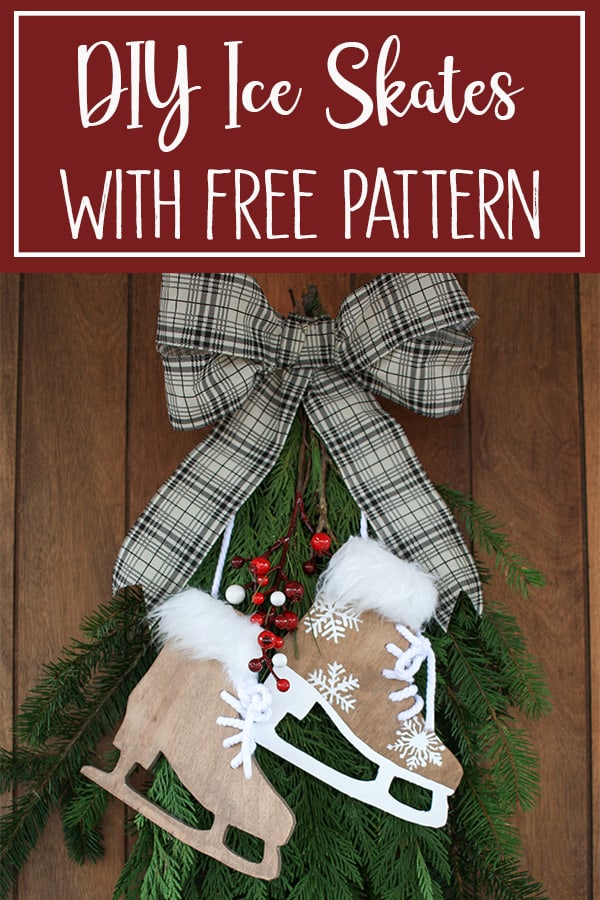 Let's get yours made too!
Gathering Supplies to Make DIY Ice Skates
I have provided the pattern for the Ice Skates so you can make them too!
ICE SKATE PATTERN
If you are a patient person, you will have no problem cutting them out on the scroll saw! You can even use a jigsaw, I honestly think a jigsaw is easier than a scroll saw…well in some ways! Lol!
Materials for DIY Ice Skates:
***Amazon links are affiliate links! What does that mean, you ask? If you click an Amazon link below and make a purchase…I make a small percentage of that purchase at no extra cost to you! I always appreciate your support through affiliate purchases!
2 scrap pieces of 1/4″ plywood (8×8) or if this is the first project you are doing, you can purchase a 1/4″x 2'x2′ project panel at your local hardware store.
Drill and 5/16″ drill bit
1/4″ cotton cord – I purchased mine at Hobby Lobby but can't find it on their website – it was from the area with the jute rope and cotton rope but the cost was only 4.99 and I was able to use a 40% off coupon on it!
stain/paint of your choice
scroll saw or jigsaw
stencil if you want to paint snowflakes
spray adhesive – I found it cheapest in-store at Walmart!
Making your DIY Ice Skate Decor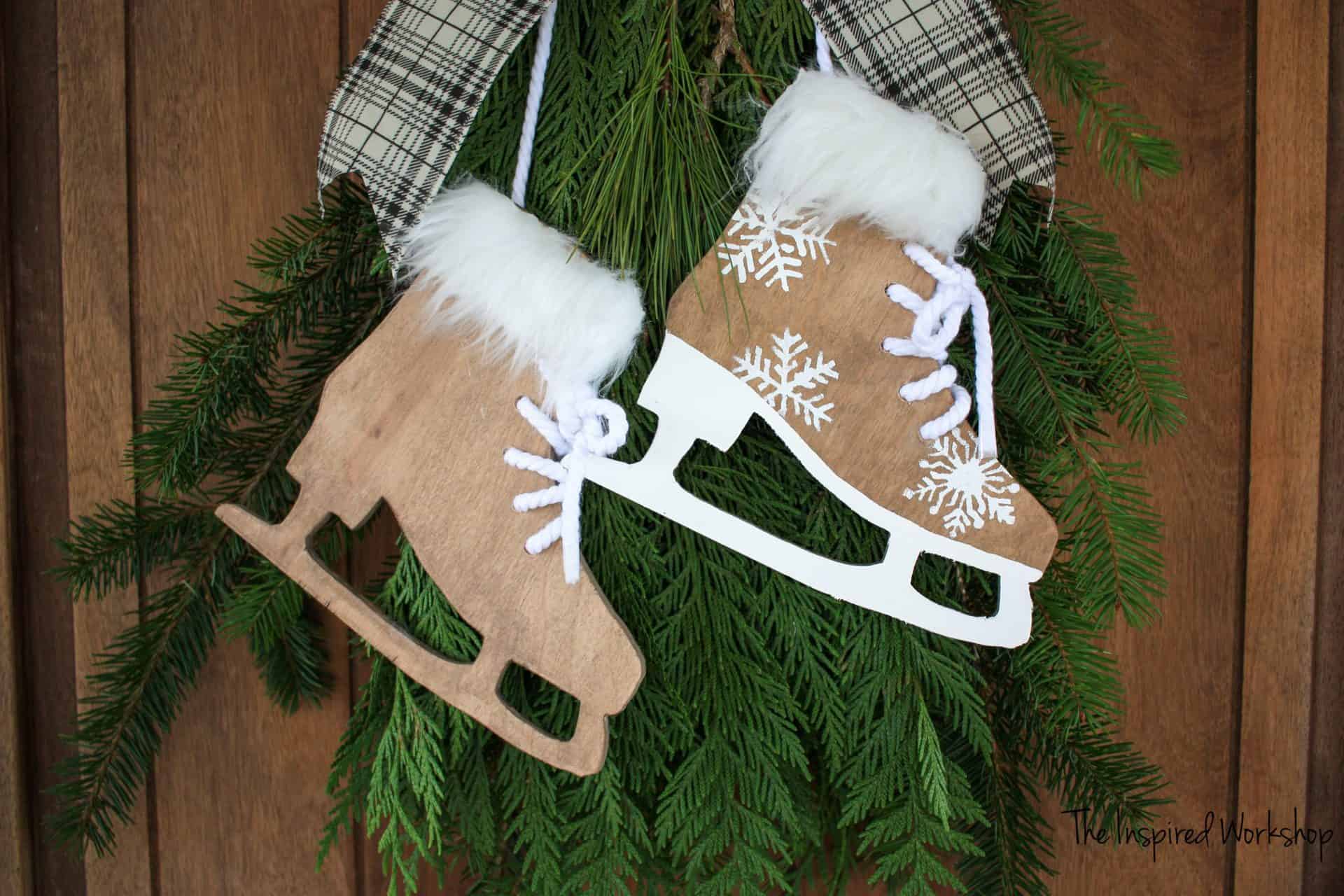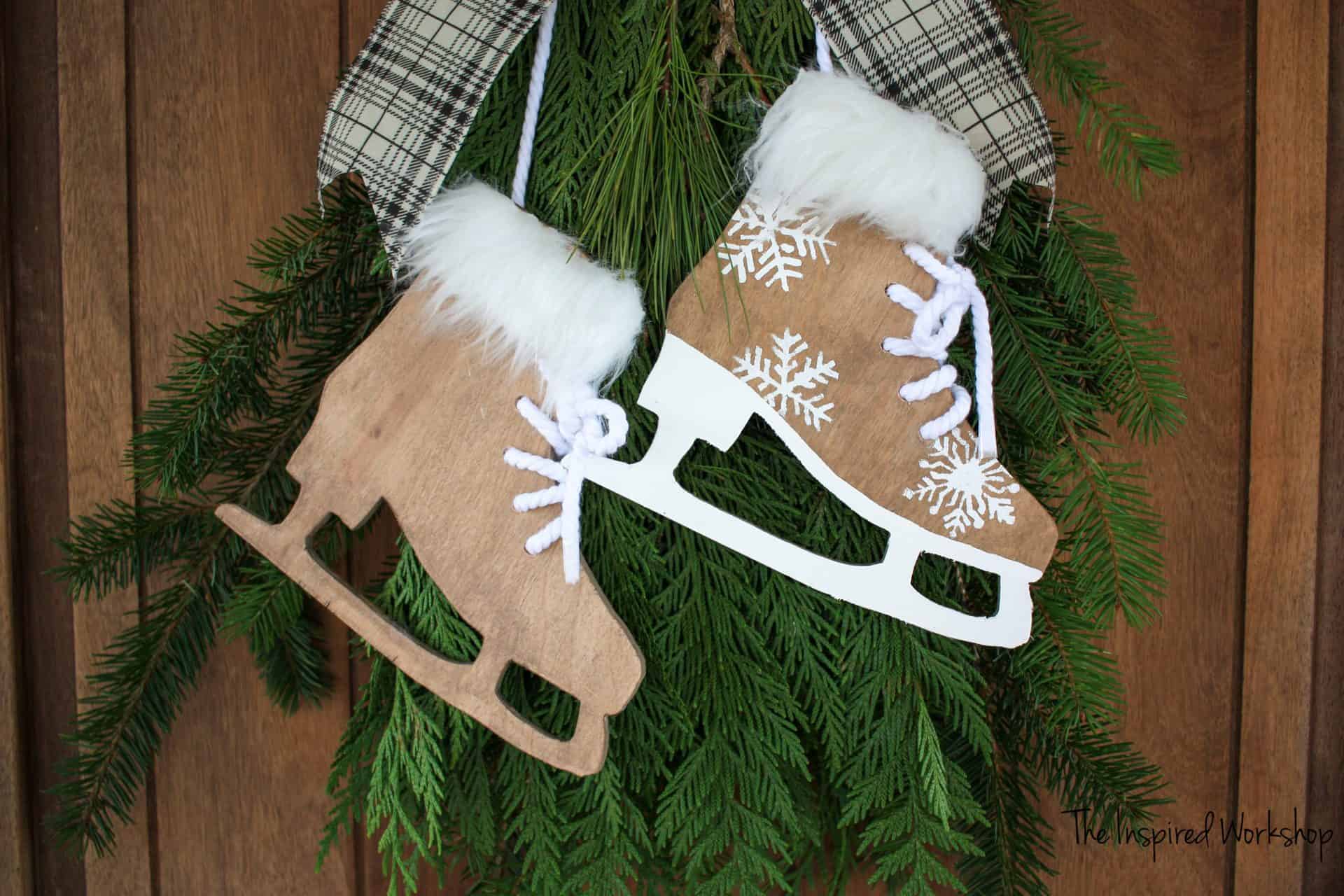 Step 1
Print out your pattern for the ice skates! Get it above if you haven't already!
Step 2
Use painter's tape to cover both sides of one of the scrap pieces of 1/4″ plywood, and on only one side of the other piece! Then use the spray adhesive to 'glue' two painter's taped sides together and then use the spray adhesive again on the one other painter's taped side to attach your pattern to that piece of plywood. You are going to cut the two skates at the same time so they will be identical!
I was working on like 5 crafts at the same time, so when I threw the pattern on the wood and got it ready to cut, I totally forgot to take a picture or video of this step! I apologize, but hope you understand the concept!
I actually forgot to tape the front of mine, and when I peeled my pattern off the top, it didn't leave a residue! I was shocked, but I wouldn't risk it if I were you…just use the painter's tape to be sure!
Step 3
Cut your ice skates out!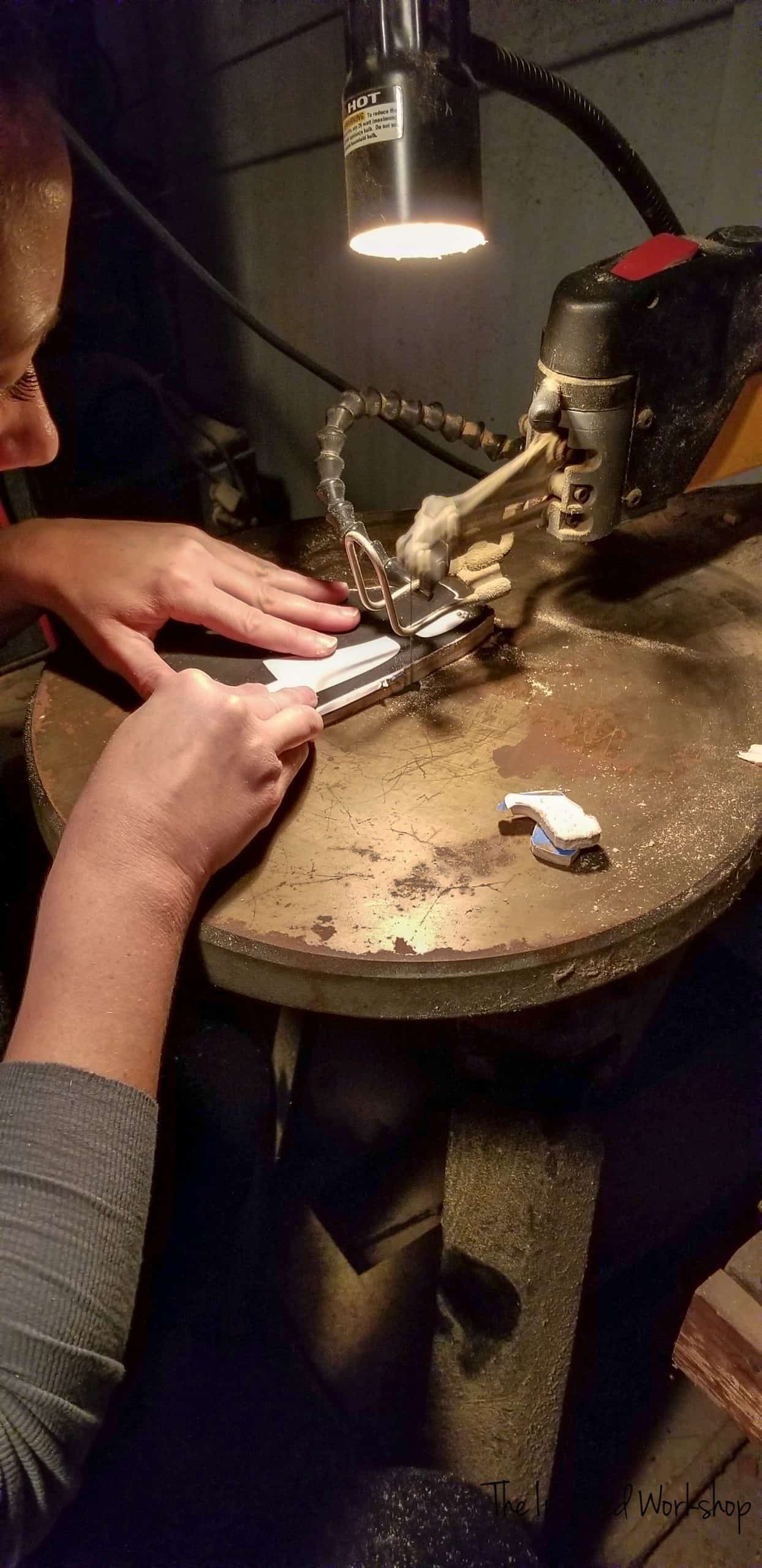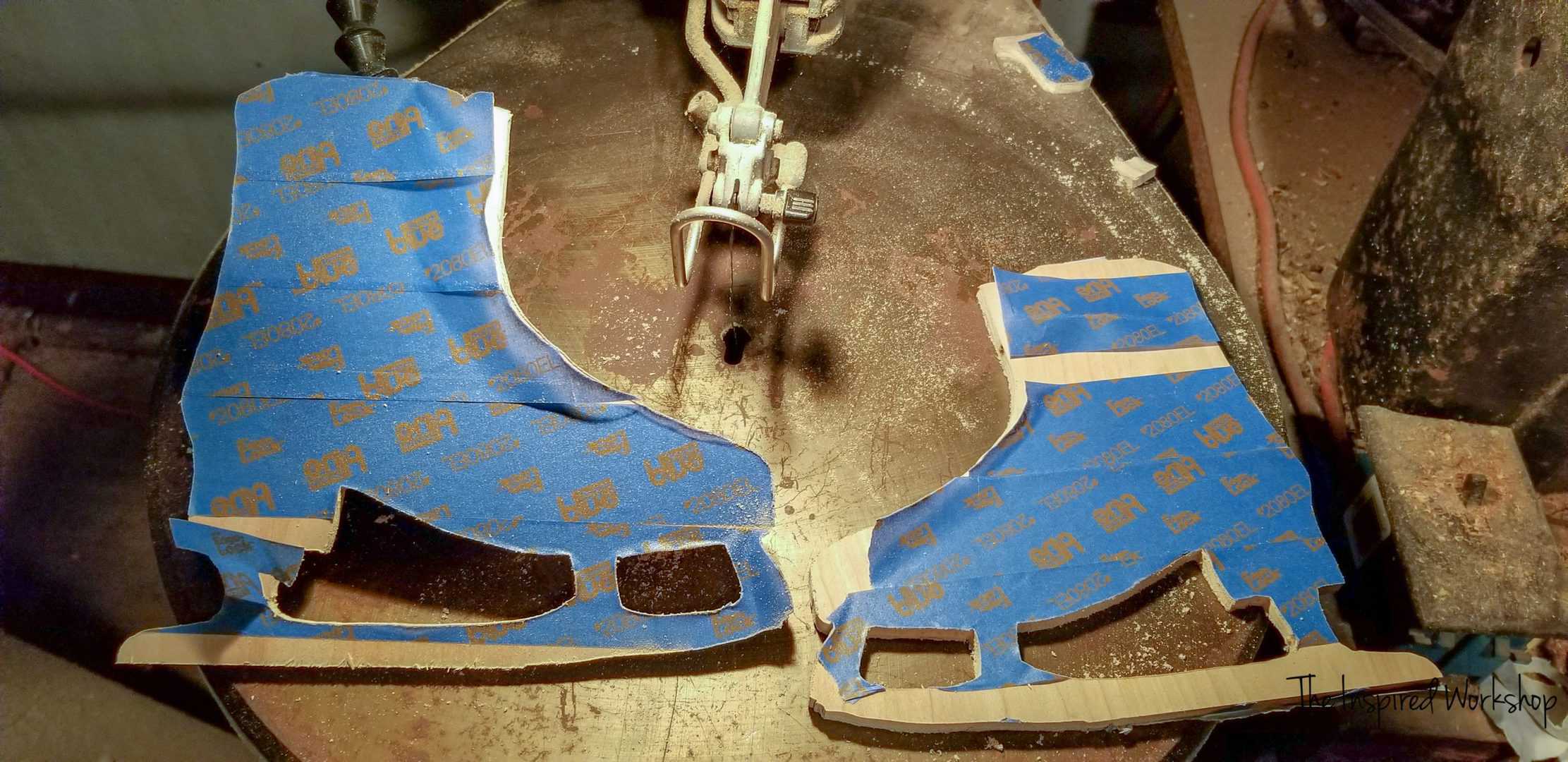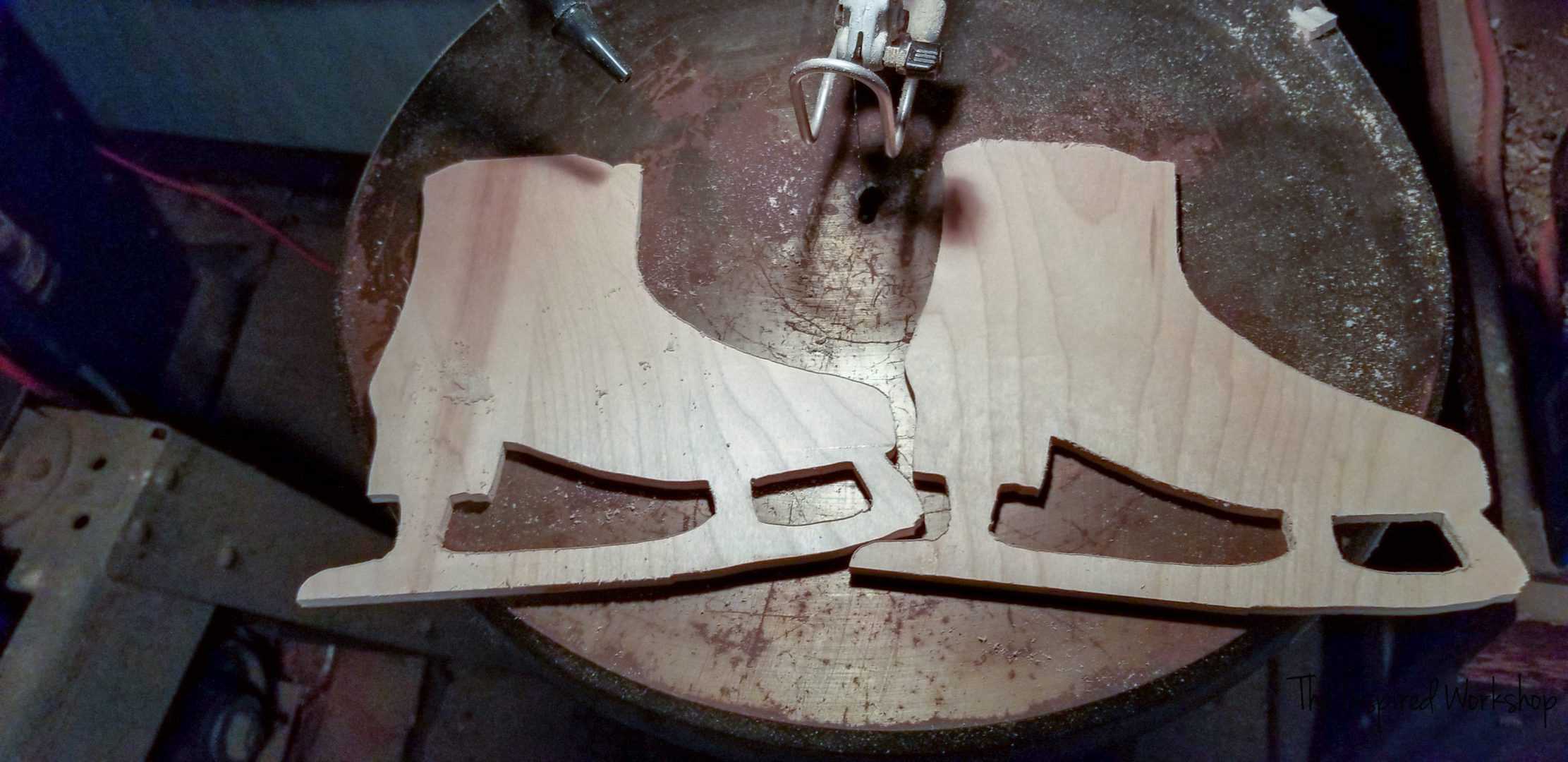 Now that you have the base of your ice skate decor, gather the rest of your supplies!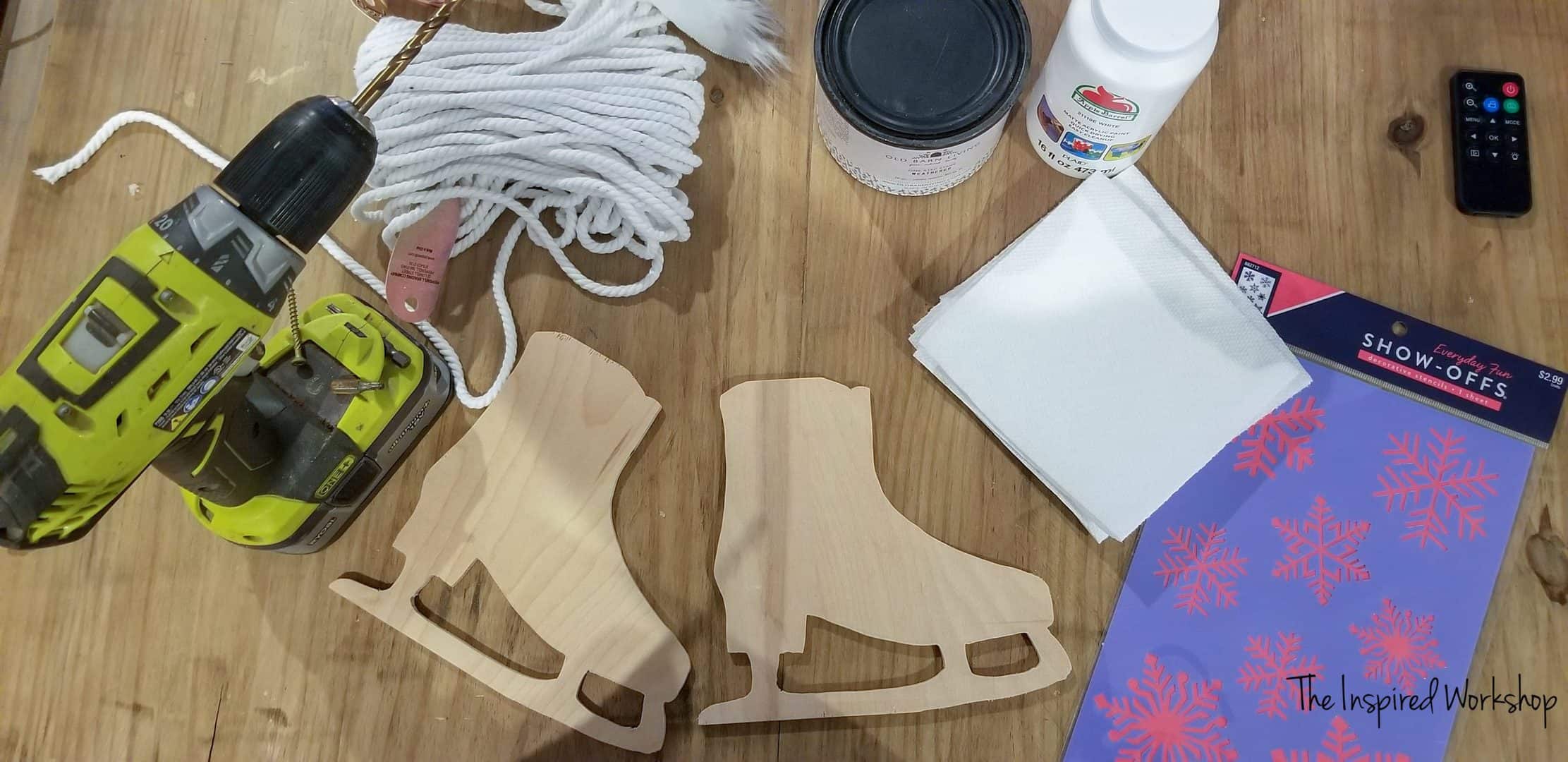 Step 4
Stain or paint the skates! I did my skates in this order, but you should probably drill the holes very first!
I used Weathered Stain by Old Barn Living, it may be MY FAVORITE STAIN of all time!!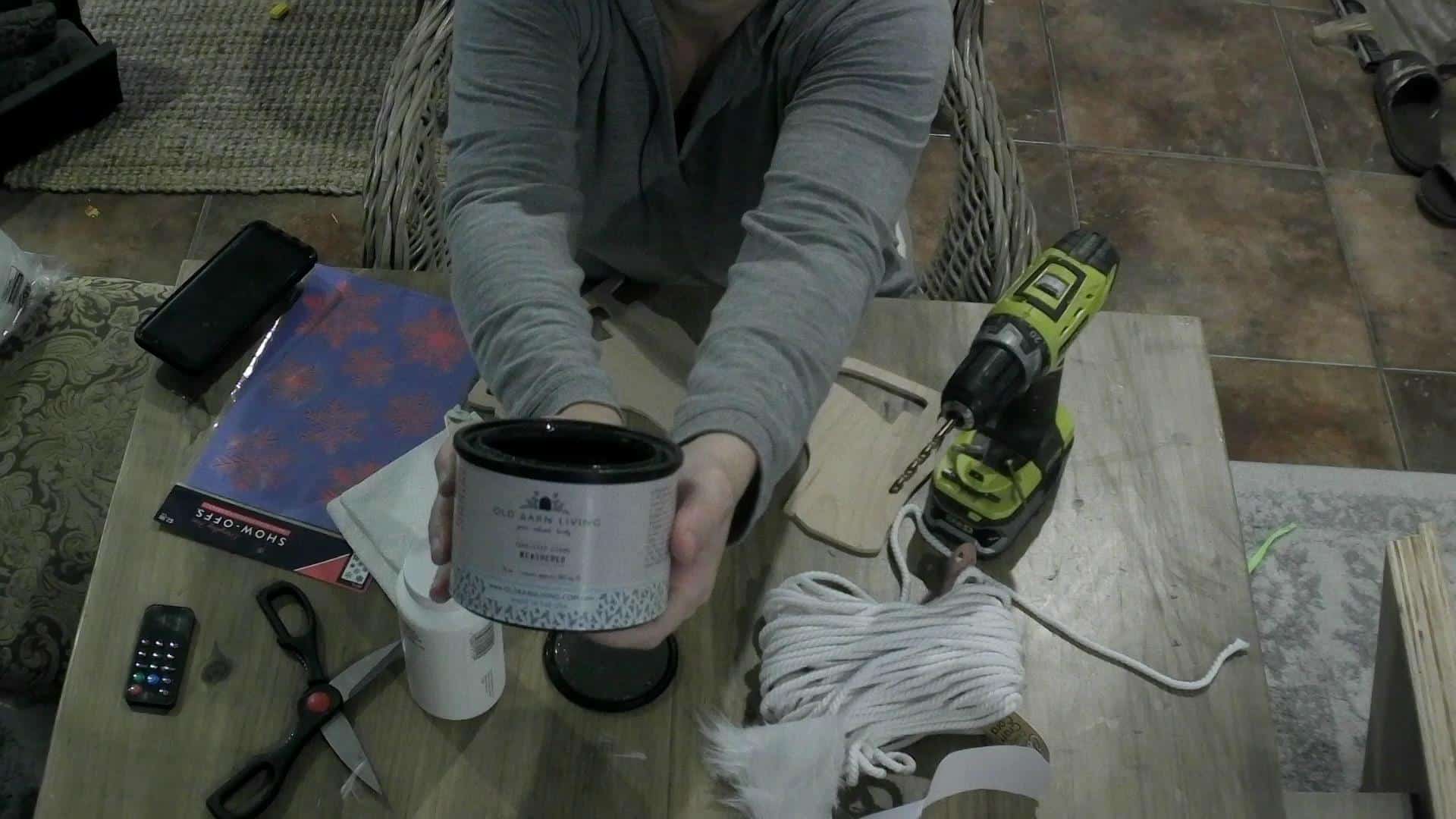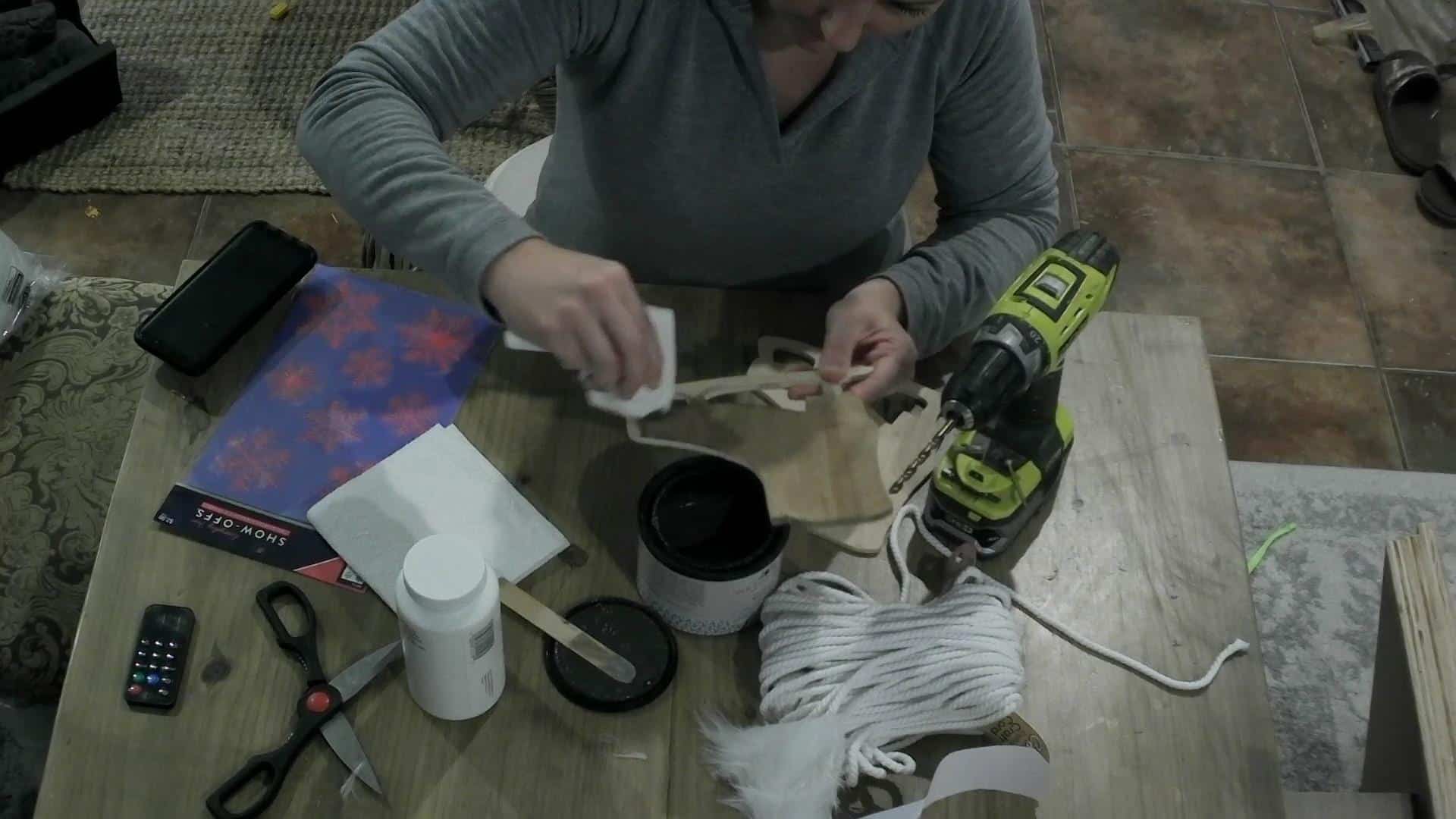 Step 5
Drill the holes for the laces!
Using a scrap piece of wood to keep from drilling into my table, I just measured and drilled 4 holes along the ice skates. I then realized there needed to be another, and came back and drilled an extra one at the top!
The first hole is drilled at 1 5/8″ from the top of the skate and all the holes are 1/2″ from the front of the skate, and then they were 3/4″ apart.
Step 6
Paint the white accents on the one skate, or both if you like that look better!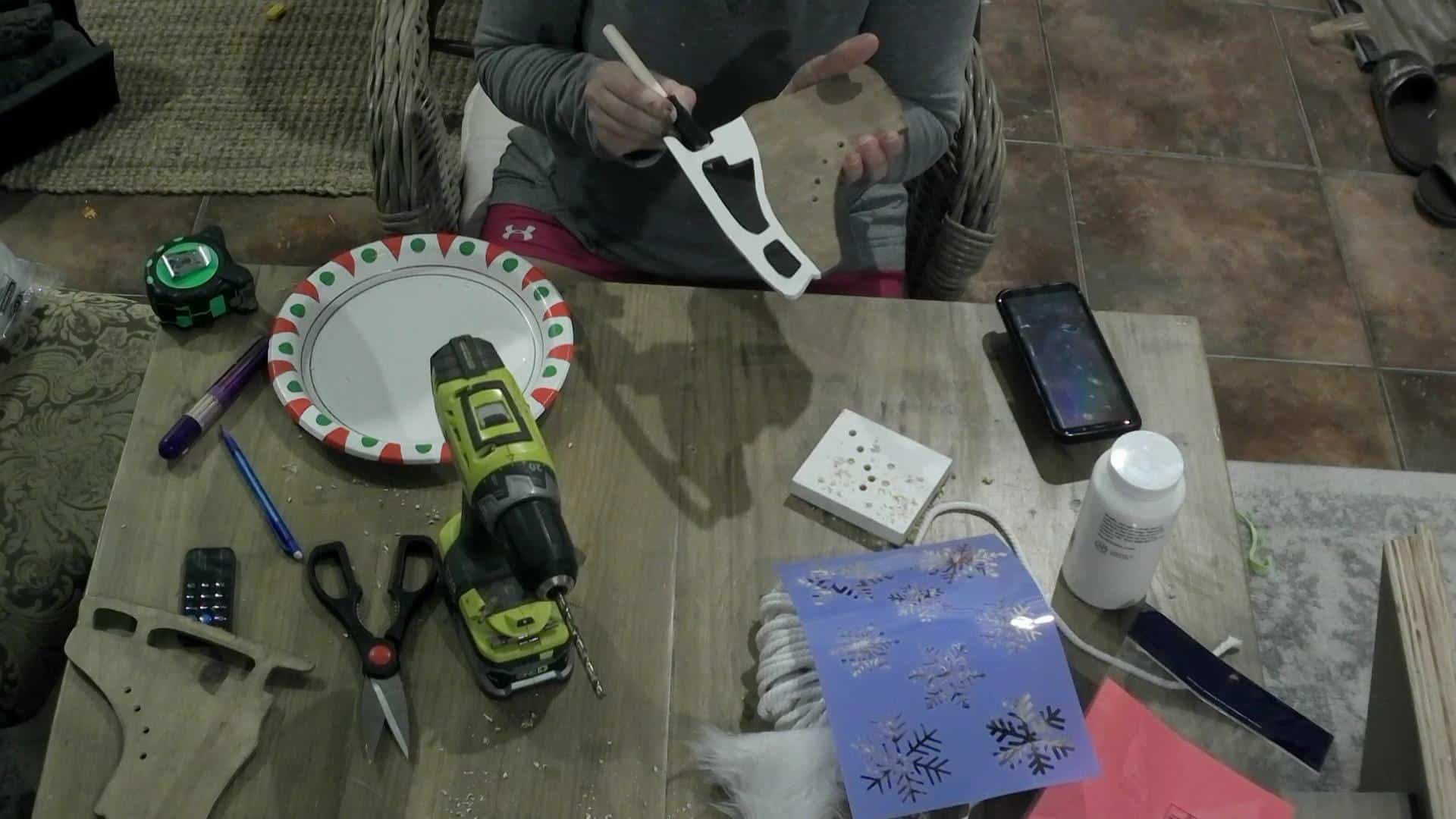 Using a stencil paint the snowflakes…the trick to a stencil is to have VERY LITTLE paint on your paintbrush and slowly build up the color! I went too heavy on my first snowflake! Oops!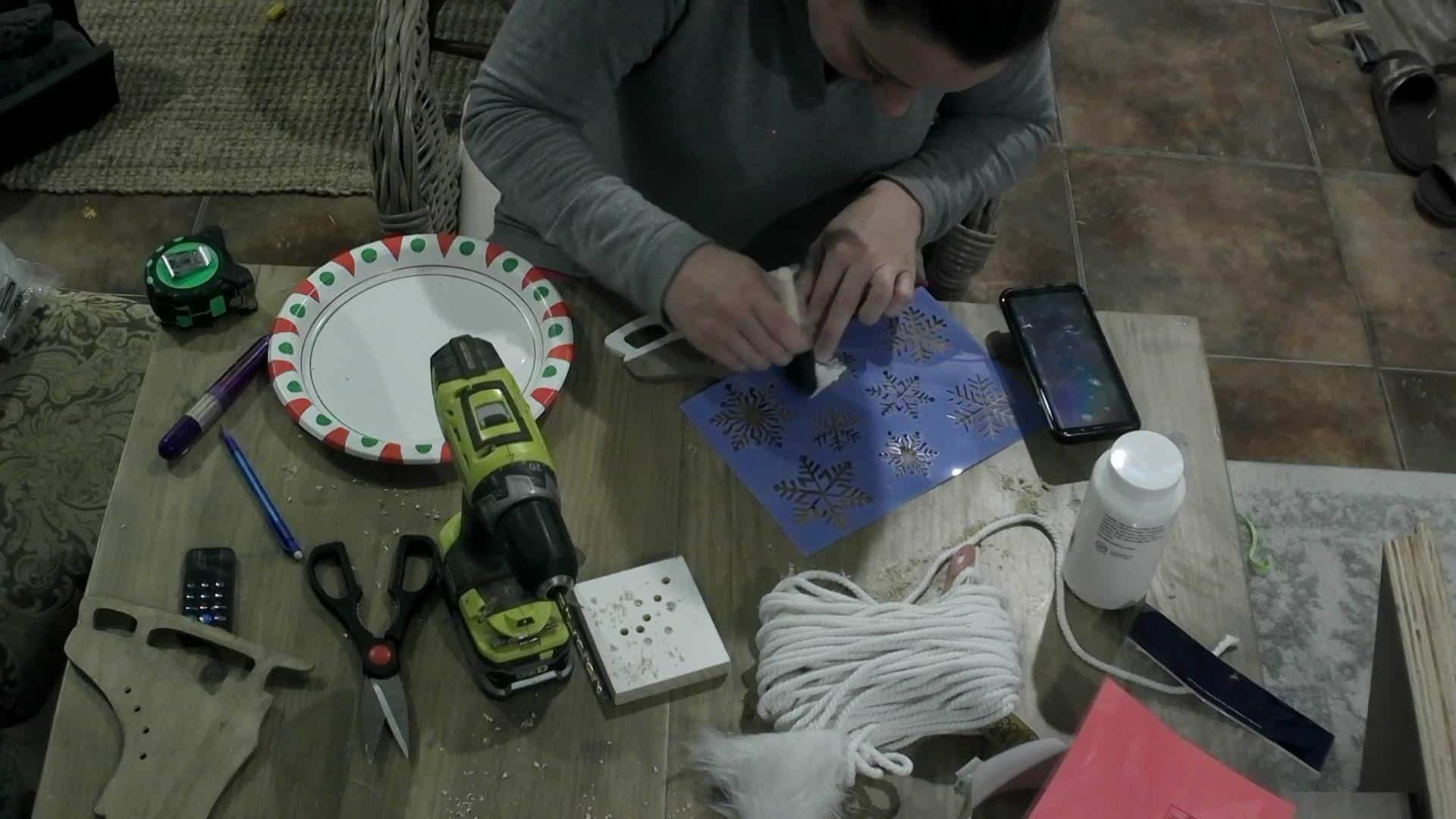 Step 7
Once I painted the first snowflake I set it aside to let it dry, and started lacing the stained skate!
Start at the bottom and only pull half of your string through the lace holes. Leave the string longer on the bottom! (Remember how I drilled 4 holes at first and then decided I needed the 5th hole, this is when I only had 4 holes!) But don't feed your string through the 5th hole, stop at the 4th!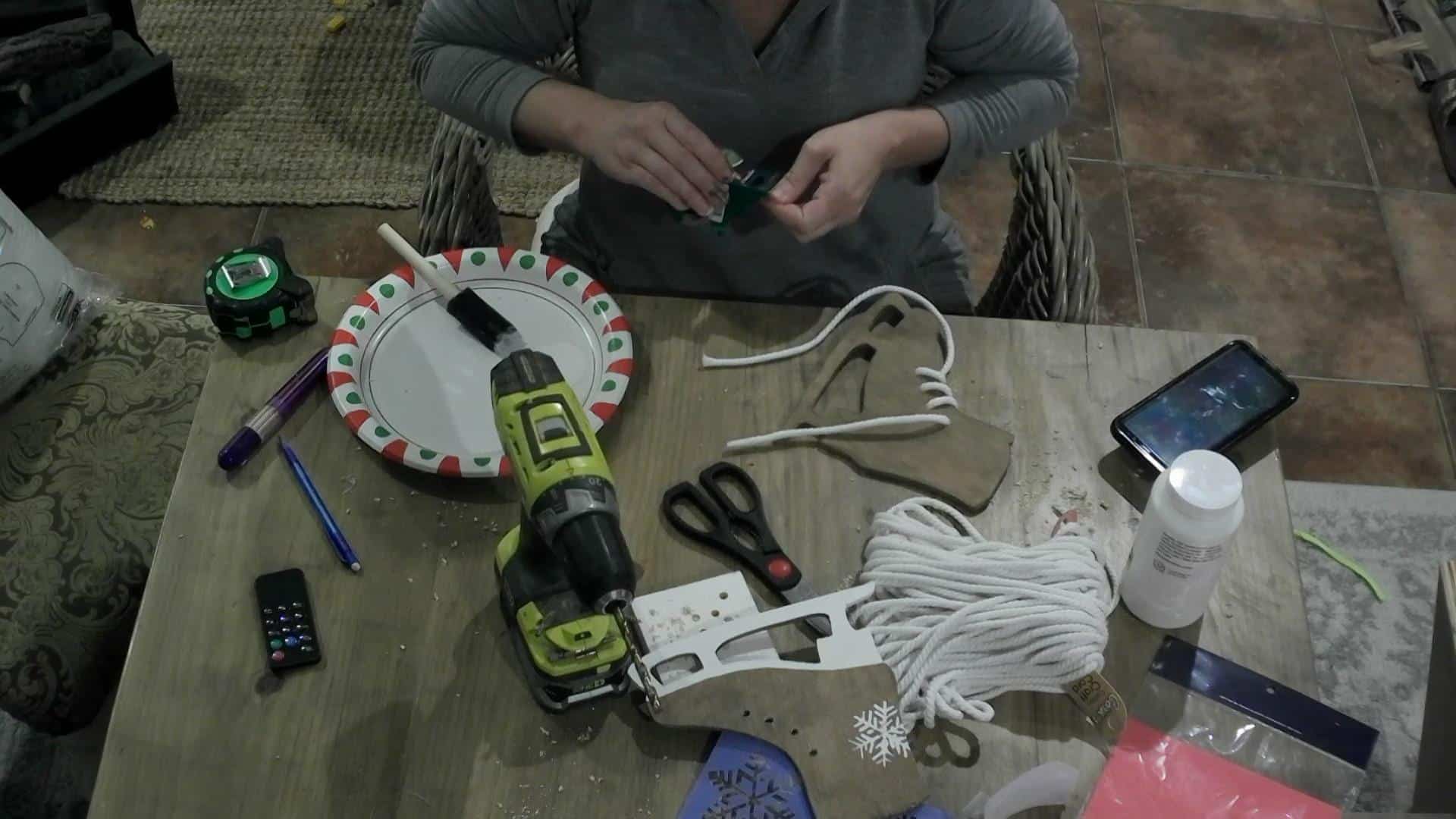 Step 8
Bring the long string from the bottom up through the laces to the top.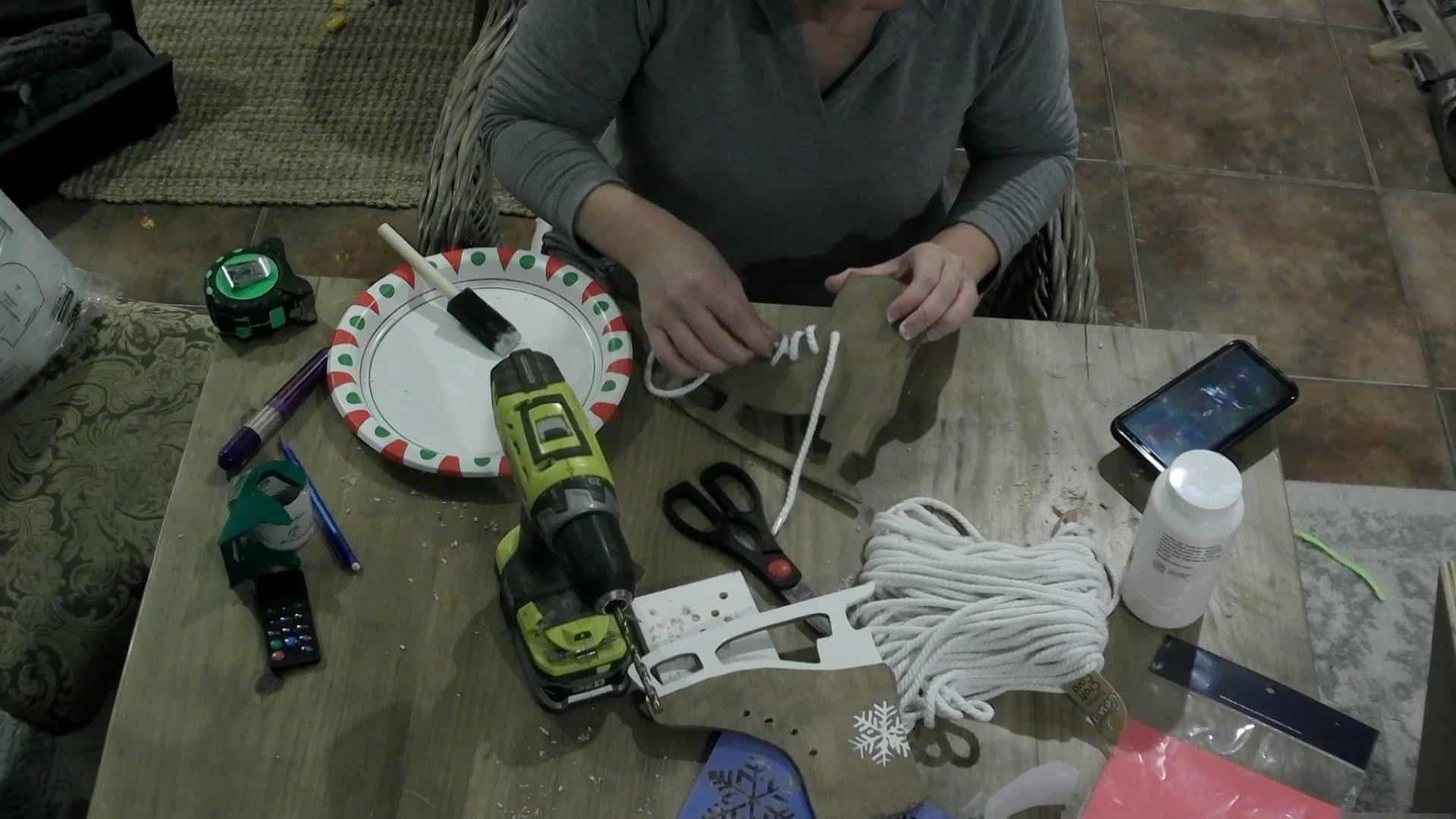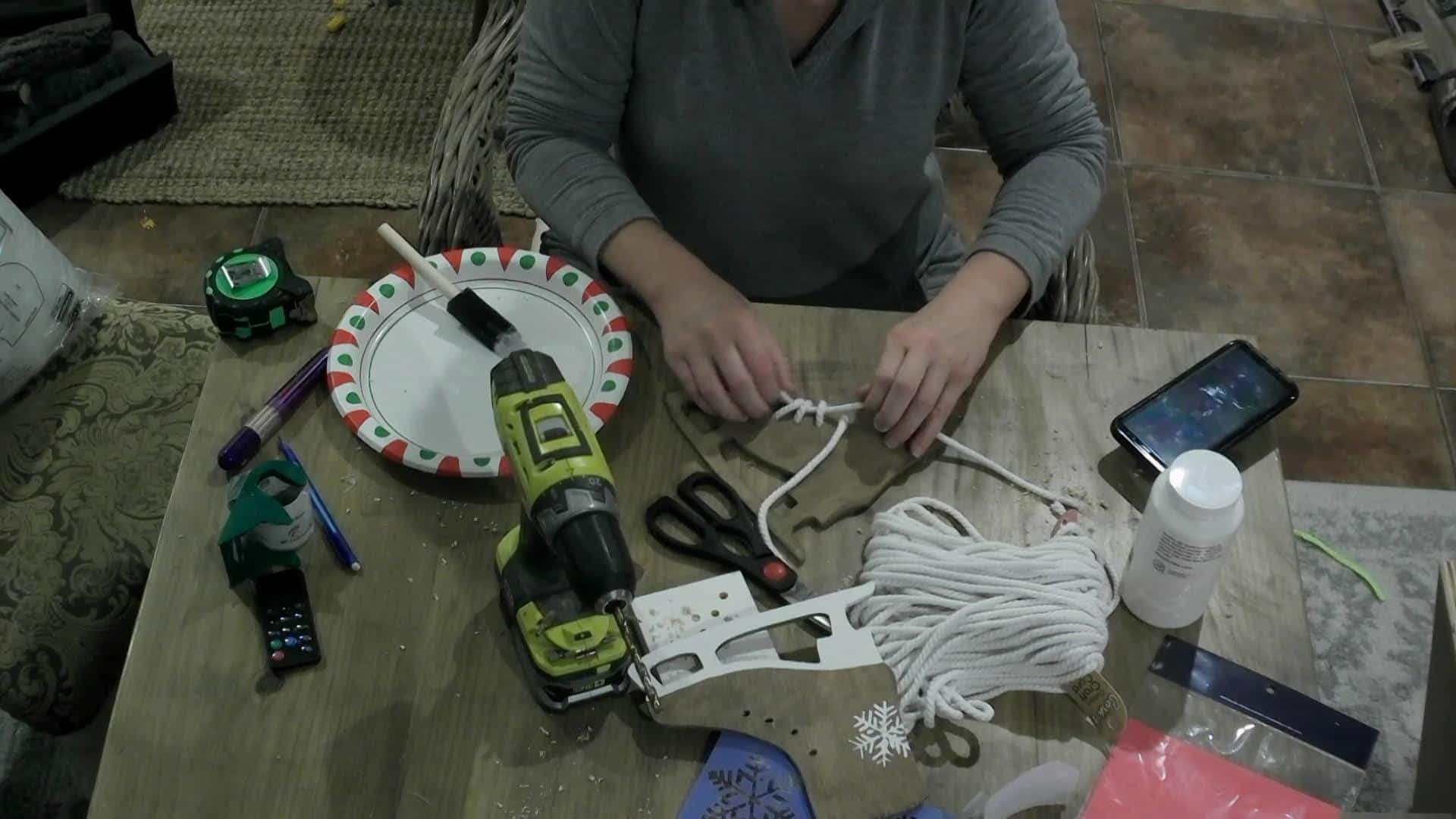 Bring that lace from the backside through the last (5th) hole, and tie the two strings together on the front of the skate!
Step 9
Add the fur to the top of the skate with hot glue! I have used this faux fur a lot this holiday season and one trick I have learned is to cut your fur about an inch larger than you need and then along the bottom, push the fur upwards when you cut it down to size. Then when you flip the fur back down, it is uneven and realistic looking instead of being bluntly cut!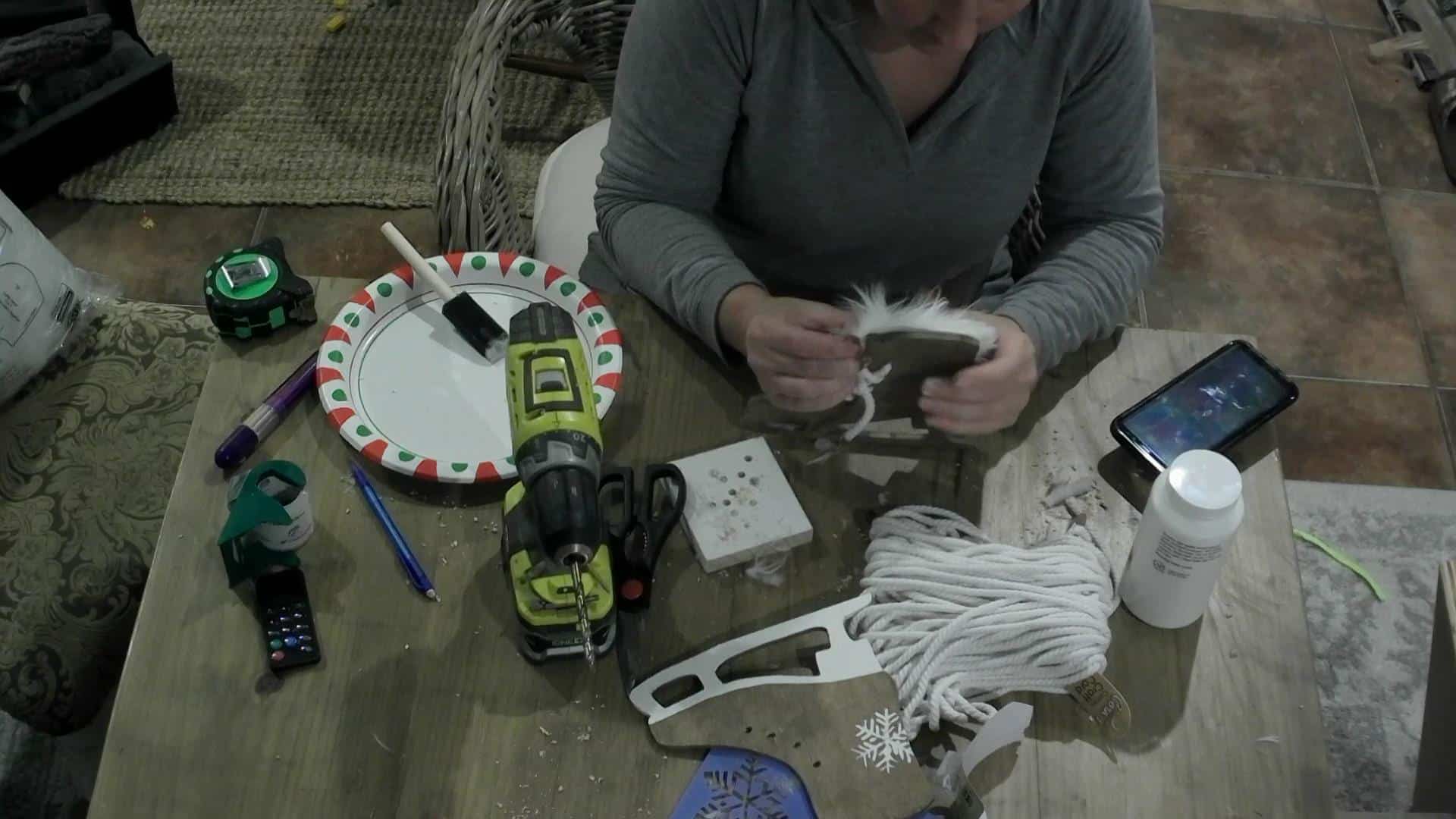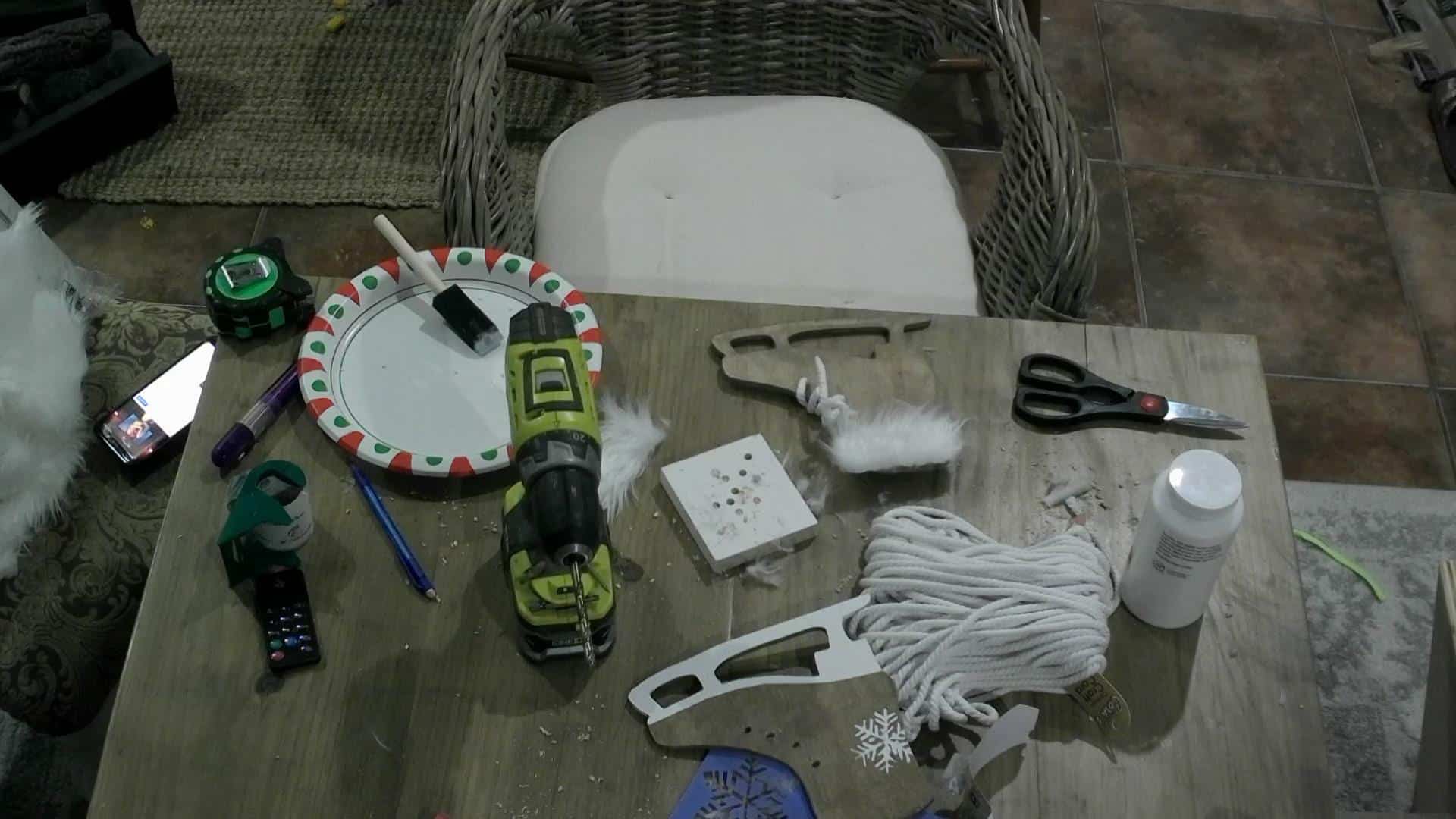 Step 10
Repeat to finish the other ice skate!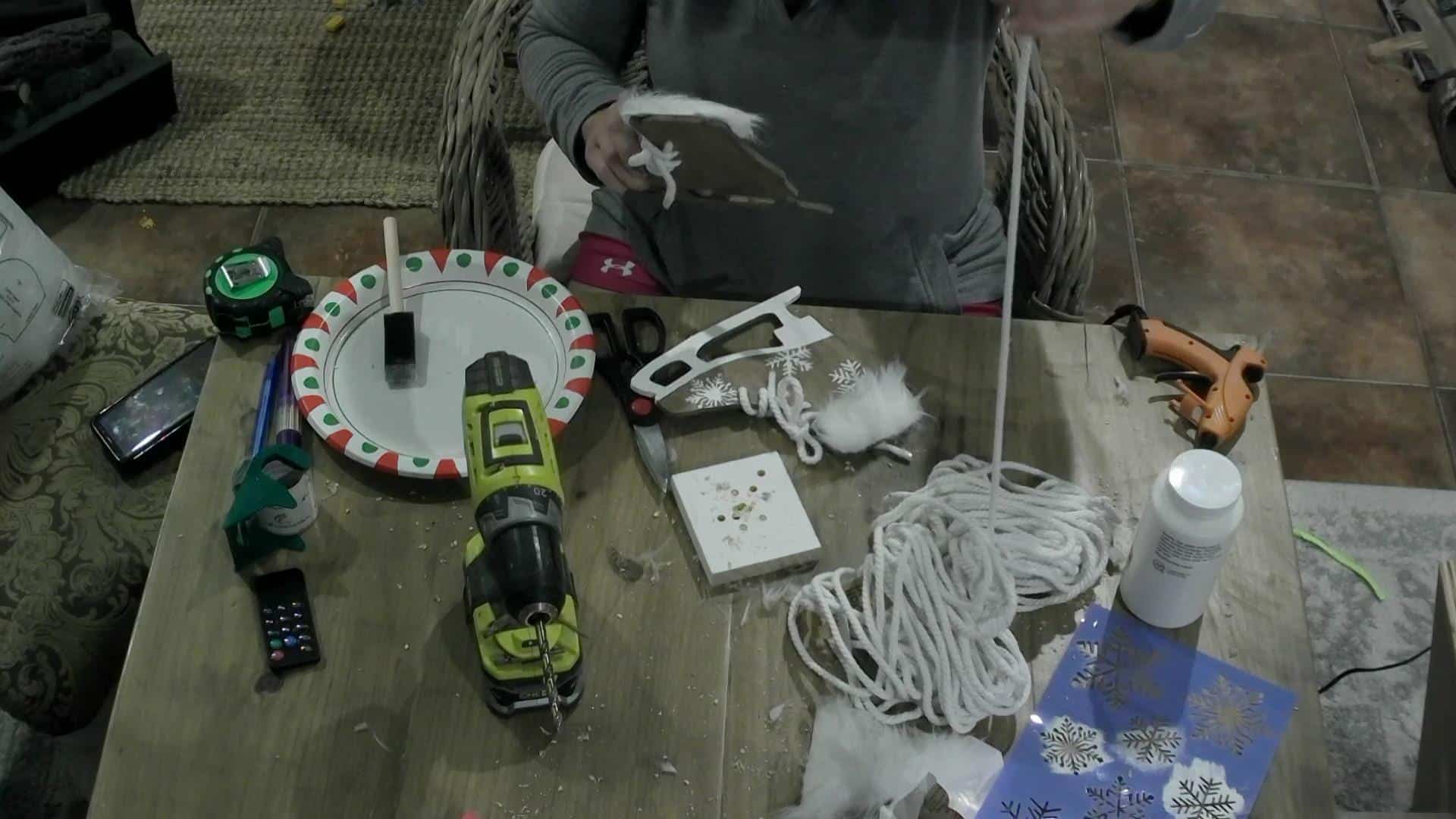 Step 11
Using a long piece of your string, cut it to the size that you want and hot glue it to the back of both skates!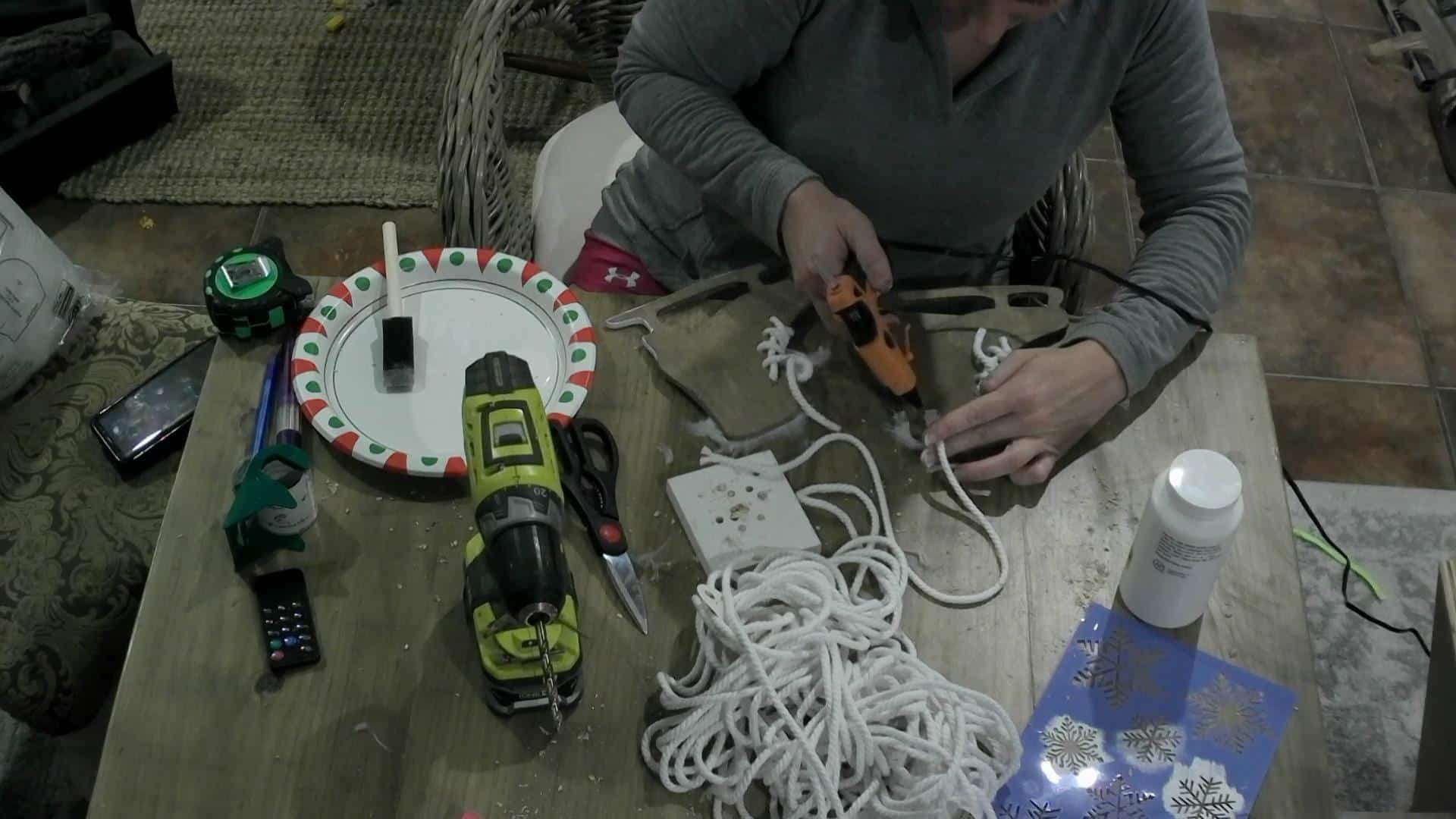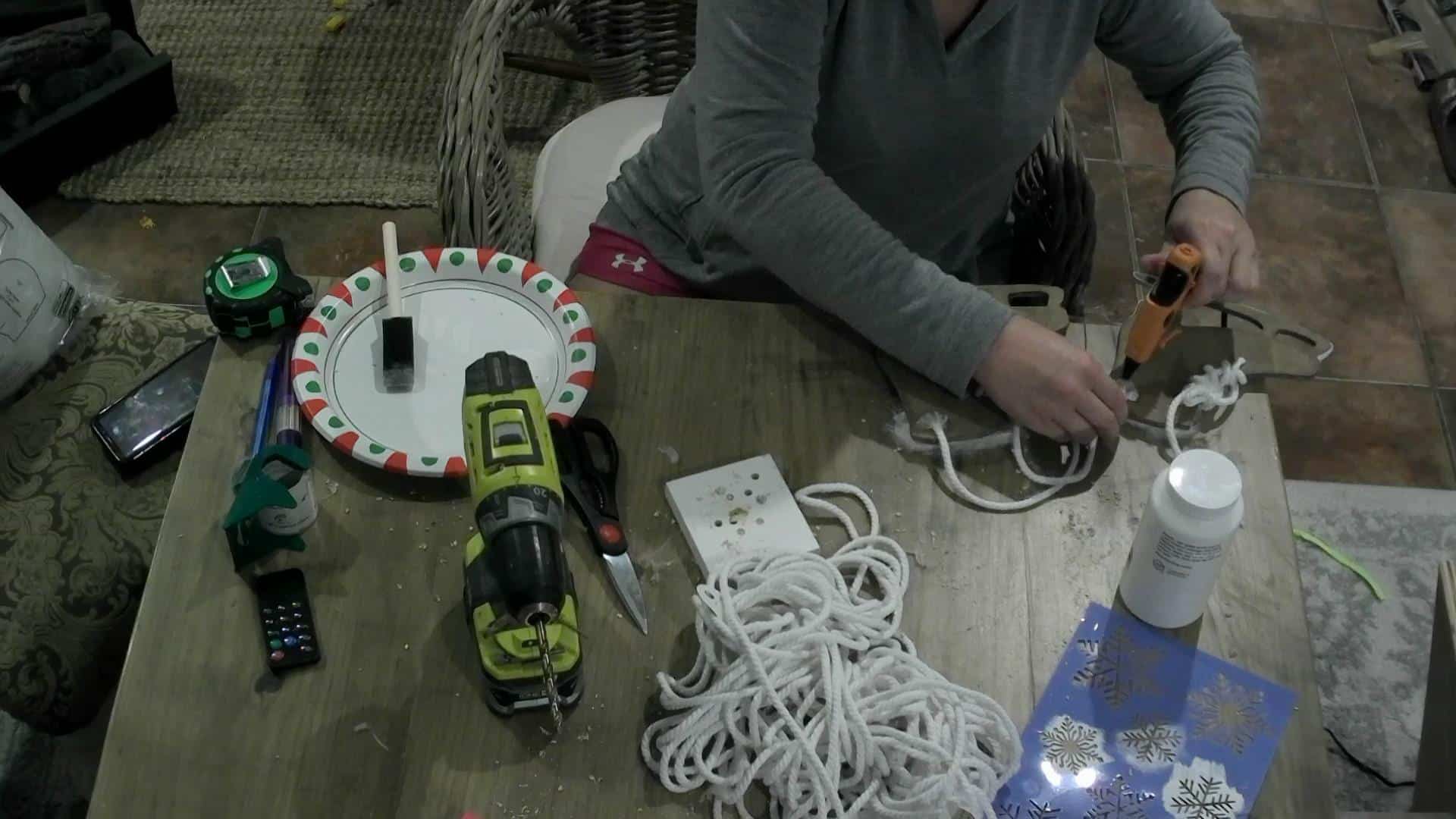 Let it dry and hang it wherever your heart desires to add some wintery / holiday cheer!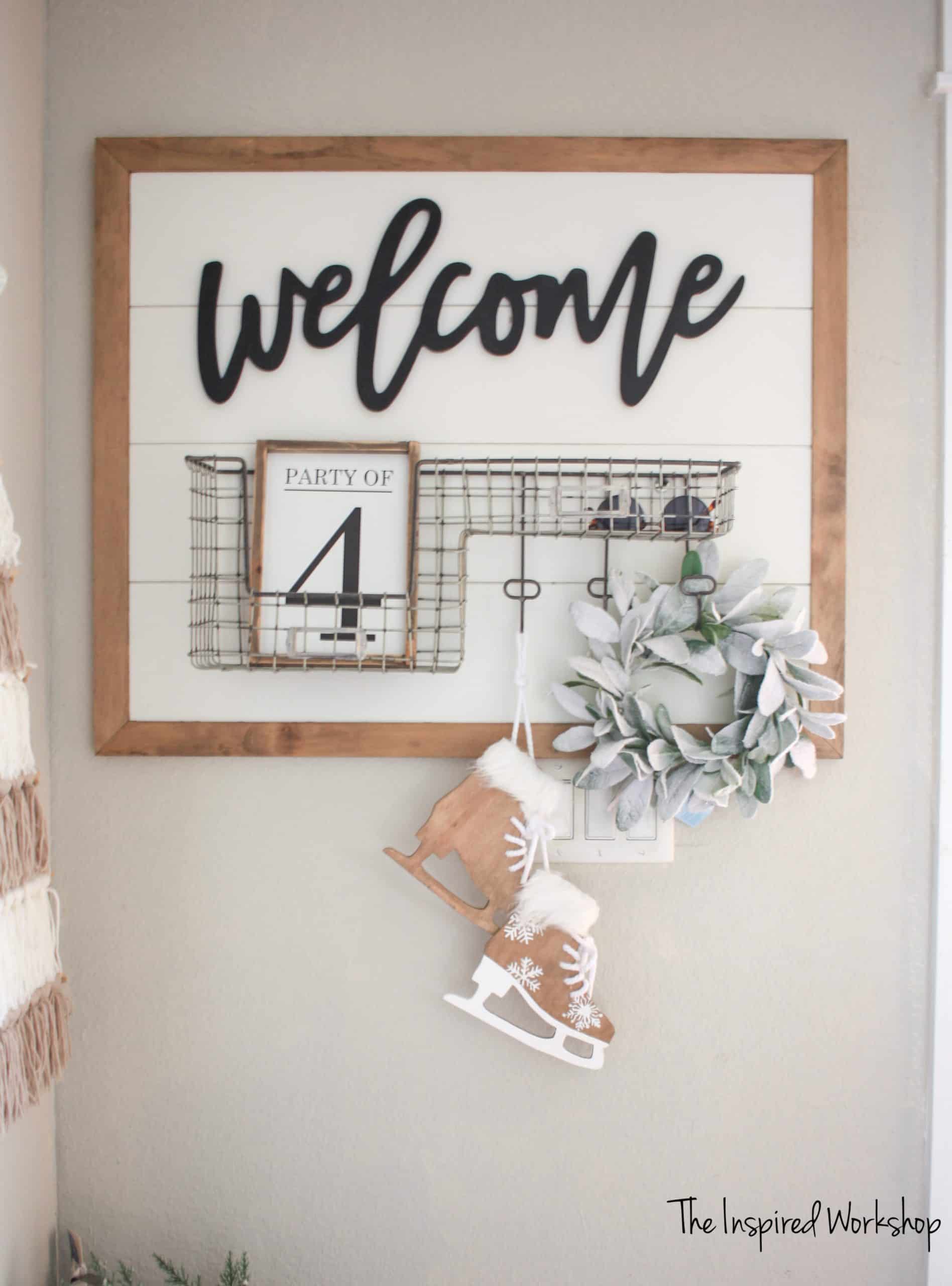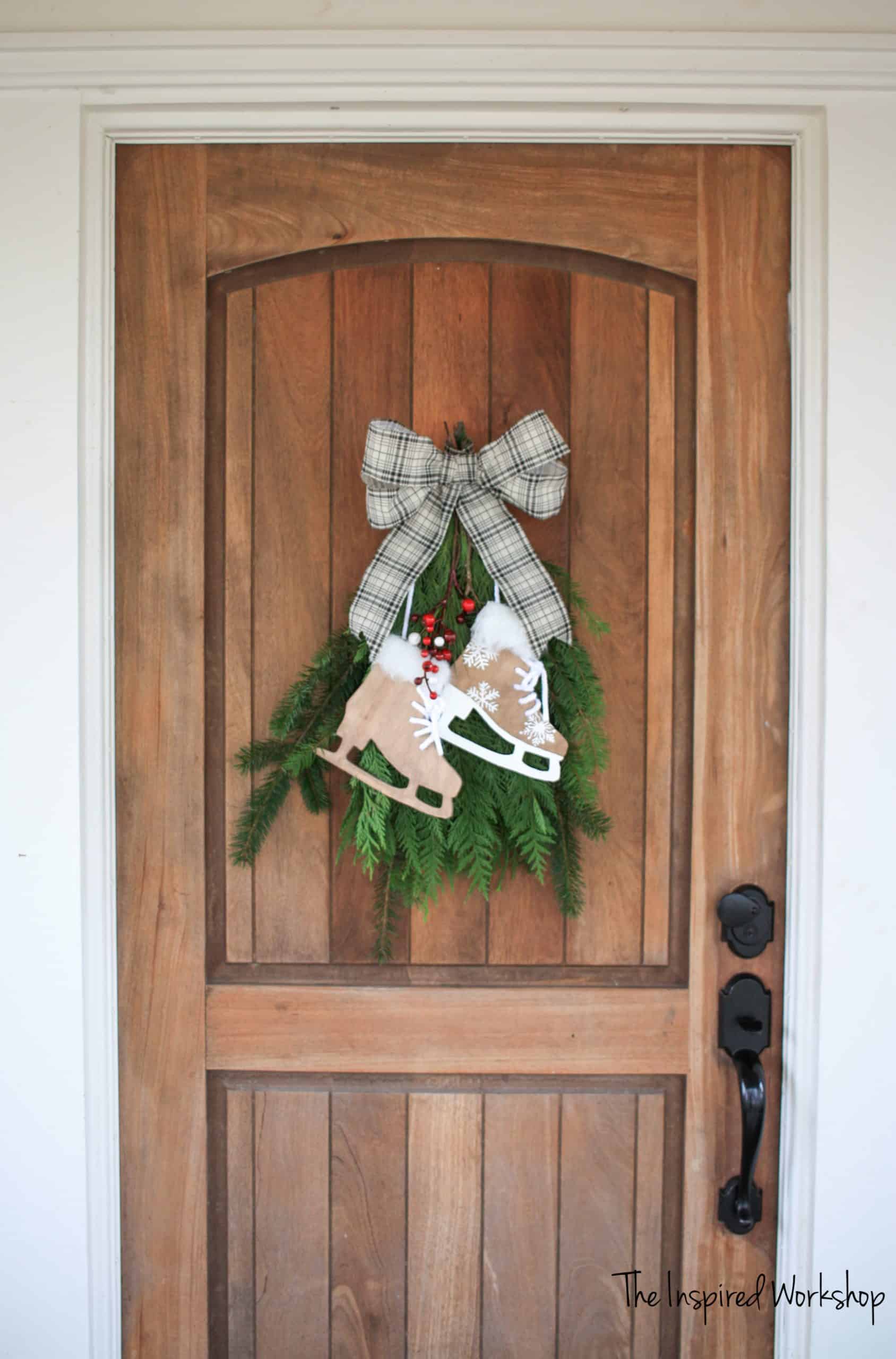 I LOVE mine! How will you use them this Christmas or winter? I would love to see!
Have a WONDERFUL Christmas everyone! I should be back with 3 or 4 more projects before then, but just in case we miss each other…Merry Christmas!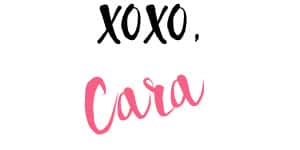 Think your family and friends would like to try this project? Share it with them!