Bathroom Remodel – Mood Board and Plans
Guess what time it is? It's time for the One Room Challenge, Spring 2018 edition!! Woot Woot! I plan on completing a bathroom remodel during this One Room Challenge, but that is definitely going to be a challenge for me! Lol!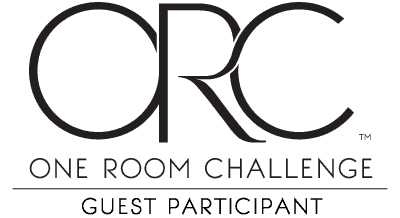 Oh my gosh, can I start this post off by saying how embarrassed I am that I am starting the Spring 2018 One Room Challenge after not completing my Fall One Room Challenge on time…as a matter of fact, my kitchen still isn't finished! UPDATE: I did finish my kitchen, and you will want to see it…here's the link…Kitchen Remodel – the reveal. I thought it wouldn't be fair to enter the remainder of the kitchen for the spring One Room Challenge though and I desperately need my bathroom done as bad as I need my kitchen finished! Lol!! So crazy as it may seem, I really need deadlines to make me work harder…sooooo, yep I am going to try to simultaneously finish my kitchen and redo my bathroom during the next 6 weeks! I can't keep eating out, or fixing food in the bathroom! Lol!!
Let's do this, I don't have time to sit and chat…I only have six weeks! 😳 Let's start with a look at the place! Here is the entry from my bedroom into the bathroom! The bathroom has a dressing area with the sink and vanity that leads into the private area of the bathroom that includes the toilet, shower, and bathtub!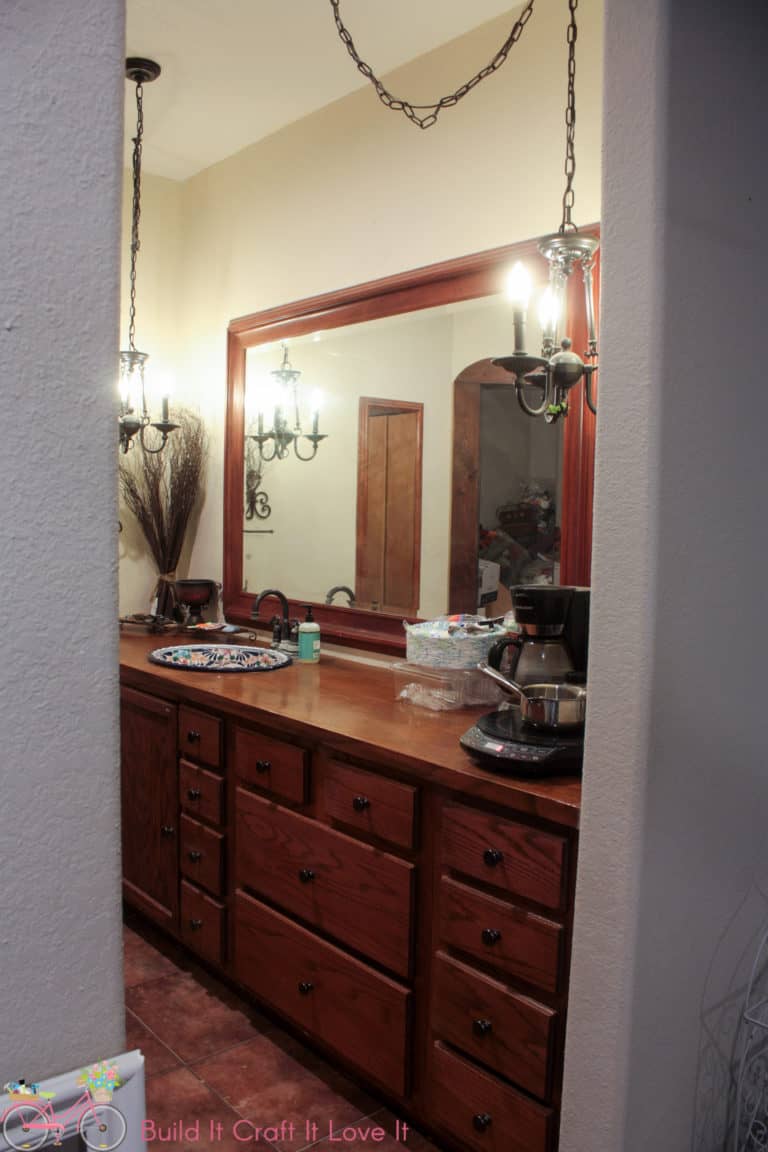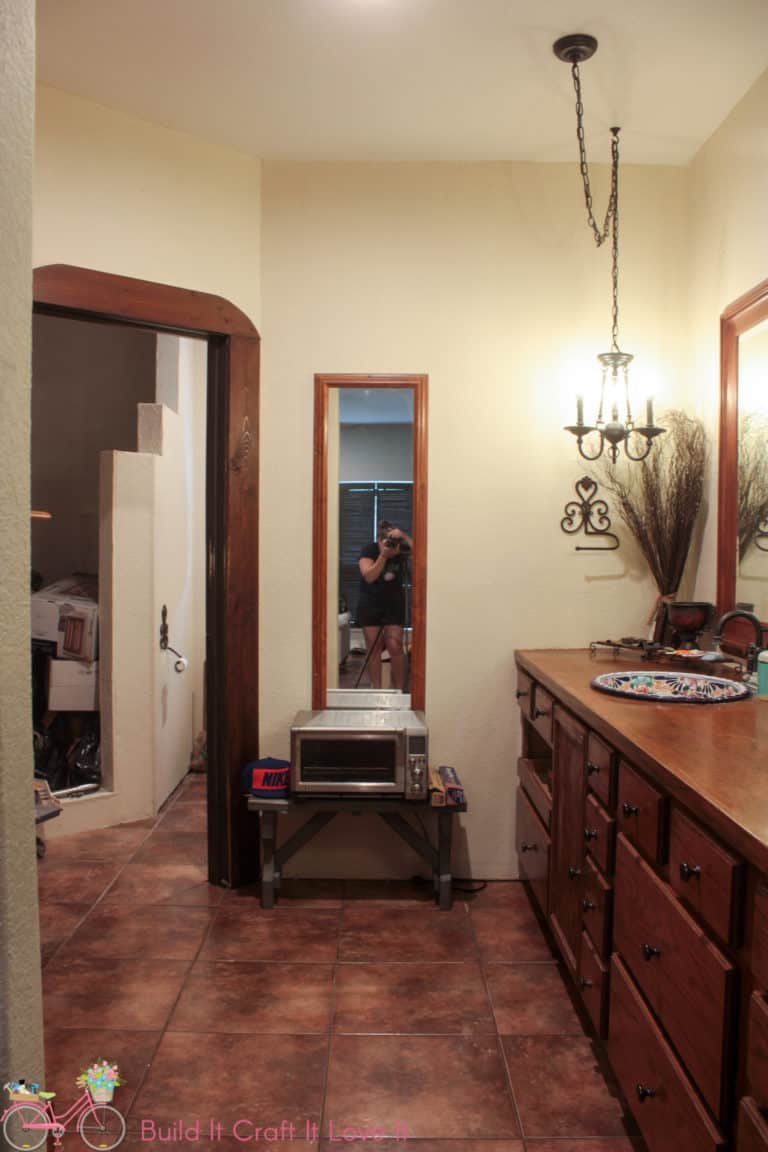 Don't mind me in the mirror!😅 And no that's not a broken drawer…it was cut like that on purpose…but I don't know exactly why! LoL! It's a nice large space, but it just seems all reddish brown to me! That was probably in when the house was built, but I'm just not digging it any longer! Also, this is acting as our kitchen so we don't normally have a small oven on the bench or the coffee pot and burner on the counter!😅
Now for the bath area…this is where it gets bad! The tub was put in by a guy my uncle was trying to help out by giving him a job around the house to make money…but clearly, he never finished the job and raw wood and bathtubs don't mix! It looks scary bad, luckily no one goes in here besides us..but I'm scared to use it at times!!
Promise you won't judge when you look at the before photos…I did not do any of this handy work! Lol!!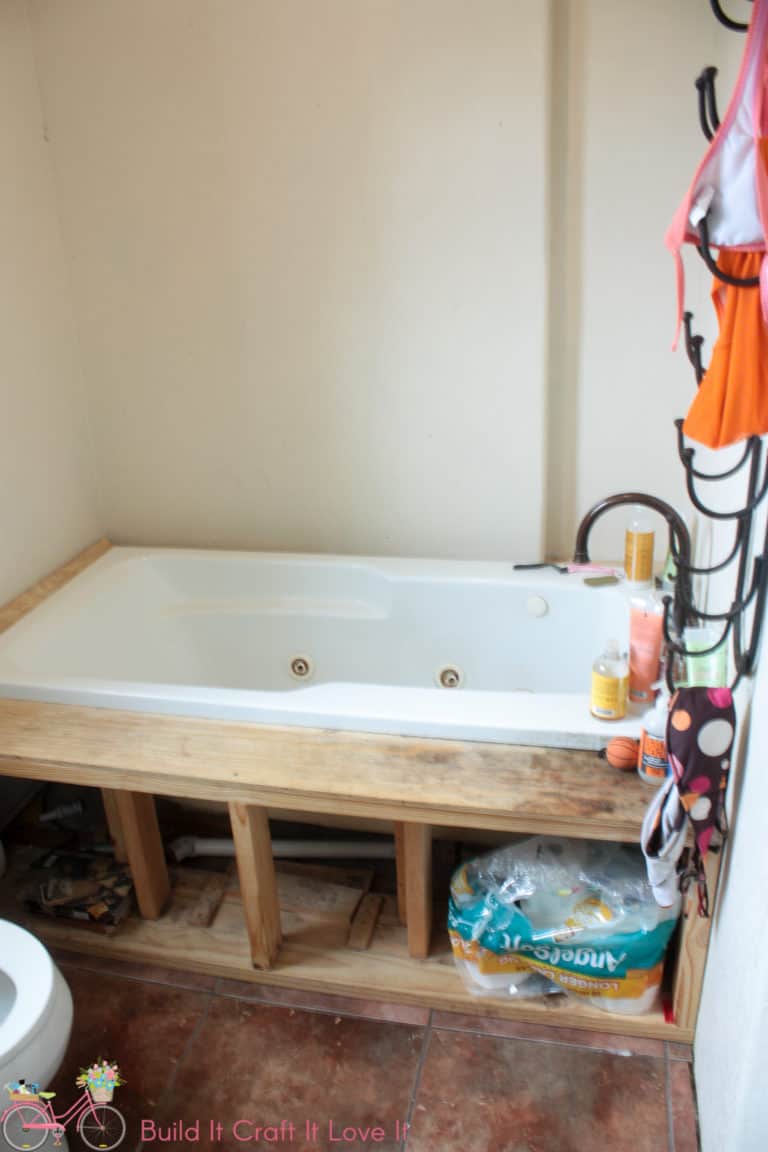 Now the shower is somewhat my fault because we did store some of our stuff in here on top of my aunt's stuff she left to store in here…but it's all coming out this weekend! Oh, and look…there's one of the boards he was going to use to finish the bathtub!
Oh my word, this is embarrassing but here goes!
Bathroom Remodel Plans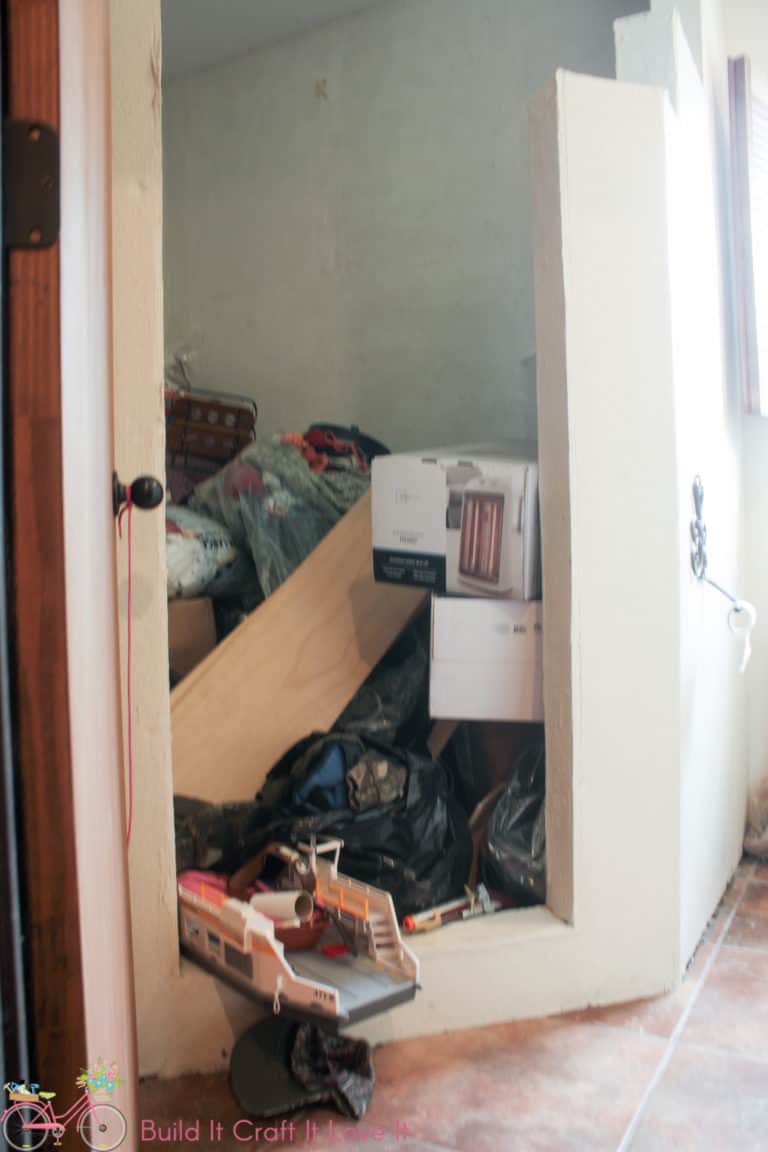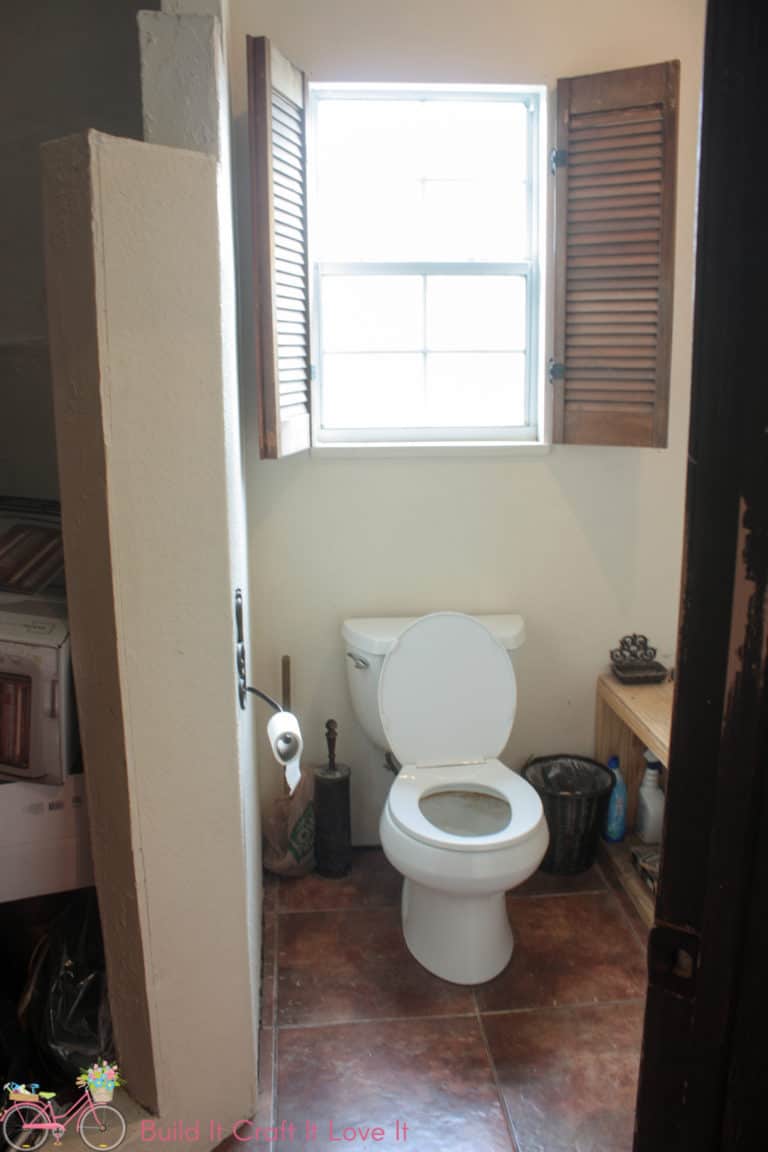 If you notice there aren't baseboards anywhere in any of these pictures either! I will gladly remedy that in the coming weeks as well!
Bathroom Remodel Mood Board
What's my plan of action you ask? Here is my mood board…I really haven't 100 percent convinced myself this is the plan…I keep changing it, so you could see some things slightly different in the next few weeks if I change my mind! 🤔😁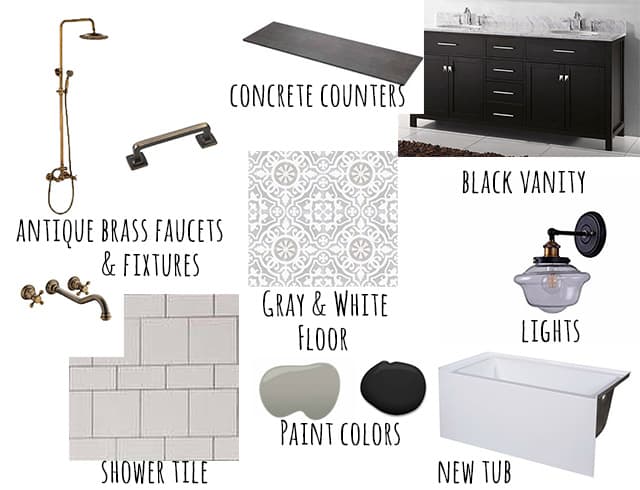 We plan to start by stripping the cabinets and painting them BLACK!! I'm stoked and scared at the same time! I am absolutely in LOVE with black and white bathrooms and actually always have been…my favorite bathroom I ever saw was on an episode of House Hunters where they were shopping for an apartment in New York City and this was way before Joanna Gaines or the year 2000 for that matter! Lol!! Anyway, it was subway tile and black and white penny tile with a wall-mounted sink…it won me over and I have always wanted to recreate it at some point in my life…so now's the time…sort of!
We (I keep saying WE because I pray my hubby helps me out so I can actually get it finished in time…but I can't bank on it, so by saying we I am subconsciously making him help! Or something like that! We will be stenciling the floor with gray and white tile to help soften the black and white…I wish I could afford the beautiful cement tiles but this is going to be on a MAJOR budget and they just aren't inexpensive enough…stenciling for the win! I hope to do all the changes for less than 1,000 bucks! I don't know if I will manage but in the final post, I will give you a total cost breakdown! I love when a blogger actually breaks down how they spent their money in a remodel, anyone can say they managed to stay under a certain amount…prove it!!
Our closet is off of this dressing area and I plan to spruce up the doorway with a barn door of some sort! I am not sure yet about the mirror, it was my Grandma's mirror that just passed away so I am not sure if my aunt will allow me to paint or stain it another color! Walls will be white around the vanity and leading into the private part of the bathroom. And last…if I can SQUEEZE enough money out of my budget I would love to replace the lights, but if I can't I will have to make them work as well!
Let's talk about the storage shower!! Lol! I am unbelievably excited to put this large shower to use instead of it being a storage closet with no door! So of course we will be tiling that, I mean after tiling my kitchen wall I am ready to tile errrything! Ha, yeah right! This will be a beast of an undertaking! But I am ready for the challenge!
Bathroom Remodel Ideas
Here is the idea behind what I'm thinking for the shower…cut the sidewall down a little and wainscot it and carry the wainscoting around behind the toilet! Guess who this amazing image is from… who else besides the awesome and talented Joanna Gaines!! See more pics at Magnolia.com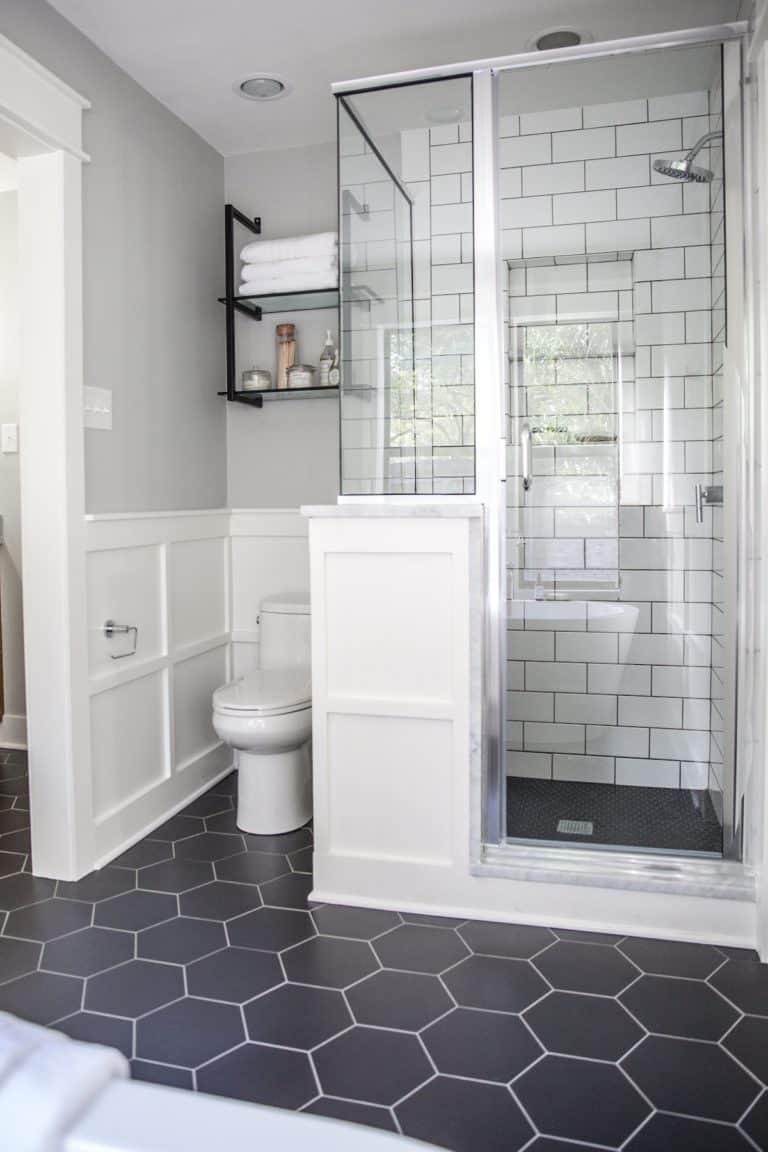 How gorgeous is that? I'm not going to pretend that I will do this amazing but I would love for it to look somewhat like this in the end! LoL!
The bathtub will be replaced! I hate whirlpool tubs, they just seem so unsanitary and this one has no electrical outlet to even plug it into, so you can't even run the jets anyway! I will surround the bathtub with the same pattern tile as in the shower but only going up about a foot or so. And then faucets will be replaced because the hard water has attacked them with vengeance!
That's pretty much the plan! If you would like to follow along with the other bloggers taking on Spring 2018 One Room Challenge then you can do so by clicking the links!