DIY Knockoff Restoration Hardware Printmaker's Side Table
Hello my fellow DIYers!!
Hope you all had a great three day weekend! Whoop! I LOVE it when we have a three day weekend! If you didn't get a three day weekend, give me your bosses number, I will give them a call! Hahaha!
I'm back with a project that you will appreciate if you need a small side table but don't want to spend a fortune!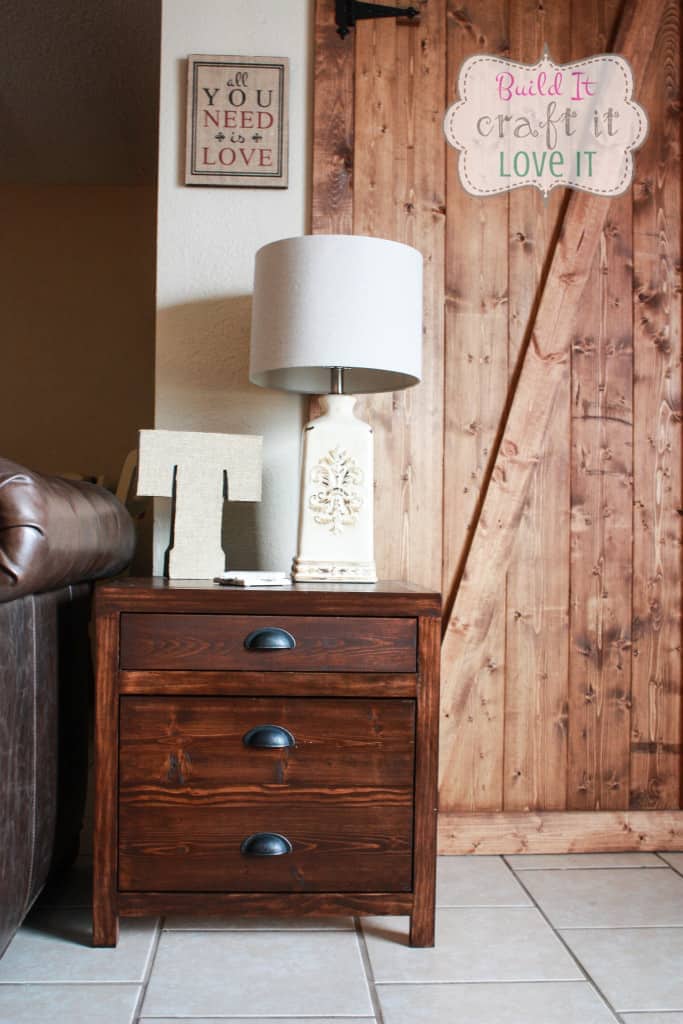 As always, poking around Restoration Hardware's website I found a side table that I really liked. You can see the piece HERE!
It is part of the Printmaker's collection that I have loved ever since Jen Woodhouse and Ana White made plans for the big brother to this piece, the Printmaker's sideboard! You must take a look at it just in case you ever need a sideboard… she designed it to be a bar cabinet & it is BEAUTIFUL!! See it HERE.
After drooling over Jen's sideboard/bar cabinet for many moons, I was certain I needed to build this baby when I came across it!! Another plus was the side table had really straight lines that I could easily recreate without too much skill, but yet it was still a challenge because I have never built anything with a drawer or a door! Which I love the drawer and door because they can house anything I need out of sight…like toys, games, movies…anything I don't want to look at! Ha!
This is a GREAT beginner drawer and door project! I am so glad I didn't build a piece with three or four drawers or doors as my first piece…the dump probably would have had a new pile of wood!! HAHAHA!!! I made quite a few mistakes so I would have absolutely gone crazy if I had to make more than one of each…well I may already be crazy…LOL! I learned so much about what NOT to do! Hopefully, my next project will be easier with all the wisdom I gained from this project! HA!!
So, you think it's good that I have the instructions for this knockoff table…Oh but wait…it gets BETTER! I have easy to follow Sketchup plans as well as my detailed instructions and pictures! Woohoo! Thanks to Ana White and her awesome tutorials…did you know the girl even has a tutorial on how to use Google Sketchup? Well, she does and I read it and tried to do what she said and read it again and tried again…and after much trial and error…something happened…I was able to design a piece of furniture!!! WOOHOO! I was soooo excited you have NO idea!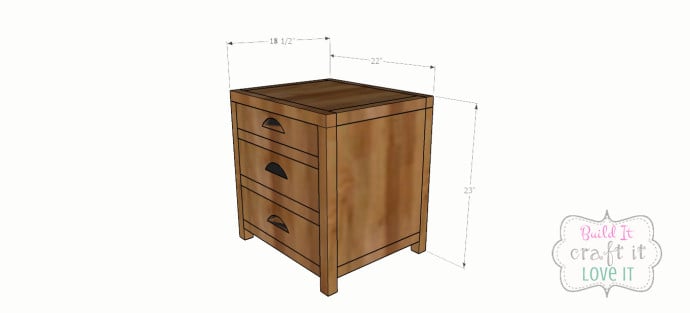 Anyway to get rolling on the project at hand, the material list and cut list are below. The total cost on this project is a little over 100 bucks, that's if you have to buy a sheet of plywood. You will only need 1/3 of a sheet, I was able to use scraps around the garage so I only spent 58.00! Chaching! That is the sound of a bargain! LOL! It also beats the 500 bucks Restoration Hardware wants for theirs! Anyway, if you don't have scraps laying around, buying the whole sheet will totally be worth it… just imagine the possibilities of what you could do with remaining 2/3 of the sheet! Your welcome! 😉
Material List:
3 – 2x2x8 (can be furring strips to save $20)
1 sheet of 3/4″ plywood (I suggest PureBond Plywood)
1- 1x4x6
1- 1x6x6
1- 1x2x8
1- 1x3x8 (can be a furring strip to save $4)
3 – drawer pulls (handles)
2 – inset cabinet hinges
1 – set of 16 in. drawer slides (euro bottom corner mount)
1/4″ piece of plywood for the bottom of your drawer & for the back if you'd like!
2 1/2″ pocket hole screws
1 1/4″ pocket hole screws
1 1/4″ wood screws
wood glue
saw
sanding & staining supplies
Cut List:
2- 2×2 @22″
4- 2×2 @ 21.5″
3- 2×2 @ 19″
4- 2×2 @ 15.5″
1- 1×[email protected] 19″
2- 1×6 @ 19″
1- 1×2 @ 19″
2- 1×2 @ 15.5″
2- 1×2 @ 10.5″
4 – 1×3 (measure in between drawer glides to get precise measurement)
Plywood cuts given are what your measurements should be…in a perfect world…Hahaha! Make sure you measure each frame section before you cut the plywood for it! Several times, my cuts had to be a hair off of what they should have been, I think only two sides were completely true to what they should have been! Oopsies!
4 pieces cut @ 18″ x 15.5″
also you may add a 1/4″ plywood piece to the back of the table which would be cut a little larger than the opening so it can be stapled to the back – I cut mine to 21″ x 20″
1/4″ plywood for the bottom of the drawer should be measured based off of your drawer, I just traced my drawer onto my plywood as you will see in the pictures below!
Okay, so I said there are Sketchup plans, and there are! I will show them first and then if you keep scrolling down you will find my pictures and step by step instructions! Let's go! *Note: click pictures to enlarge!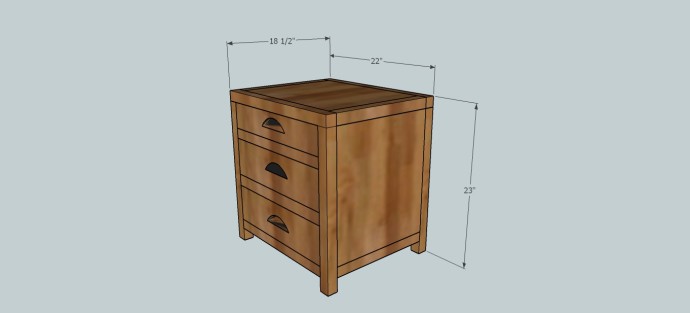 To get started you build the face frame, pocket holes are used to join all pieces unless otherwise stated, placement of pocket holes and more detailed description of what to do are further down in my own pictures! I was able to build a plan in Sketchup but I am not a master builder in Sketchup yet! Ha!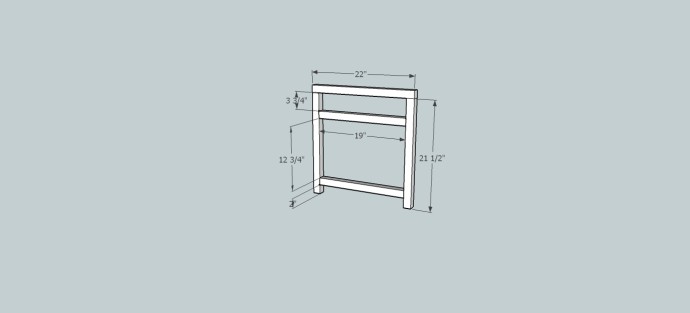 Then your back frame.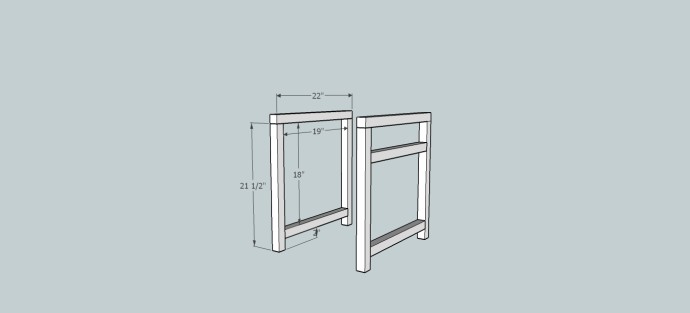 Add side pieces to both sides to join the two frames.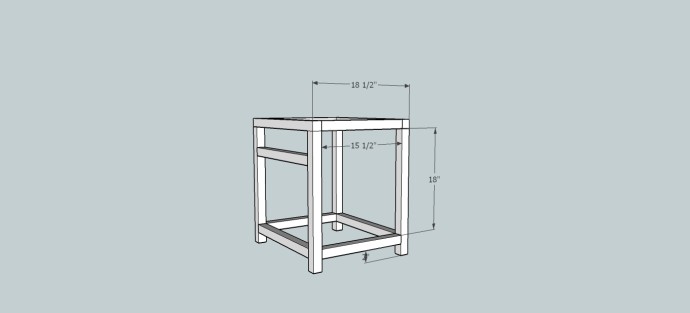 Now the frame is built and it's time to cut plywood to fit inside of all the frames, except the front and back!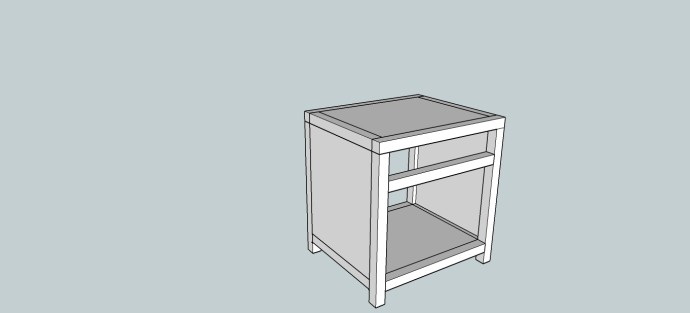 Next we have to create the door, kind of upside down looking…lol! Lay your 2 – 1×6's and your 1×2 together and then screw perpendicular 1×2's onto the back of the door to hold it all together…don't forget the glue!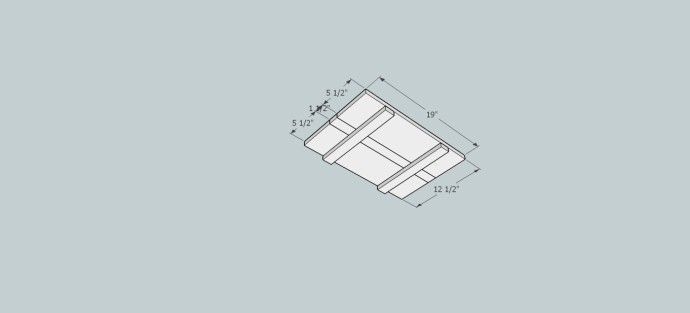 Now build the drawer and attach front drawer face.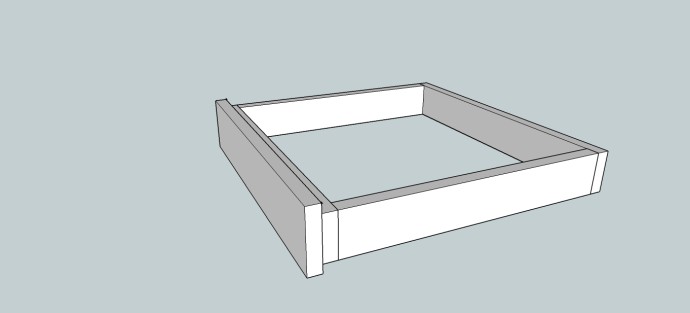 Now you attach 1/4″ plywood to the bottom of the drawer, attach drawer slides and screw in your hinges to the door and put all drawer pulls on!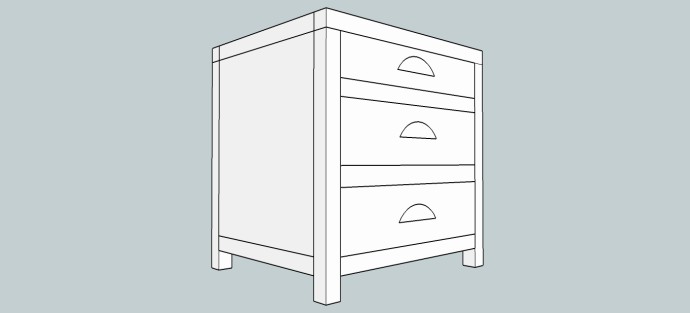 What's UP? Yep, it's built! That fast and easy! Okay, that Sketchup plan made it seem like a piece of cake! My plans are more realistic of the time involved in building this piece! LOL!
Okay so you start by cutting your wood for the frames of the table, all 2×2's.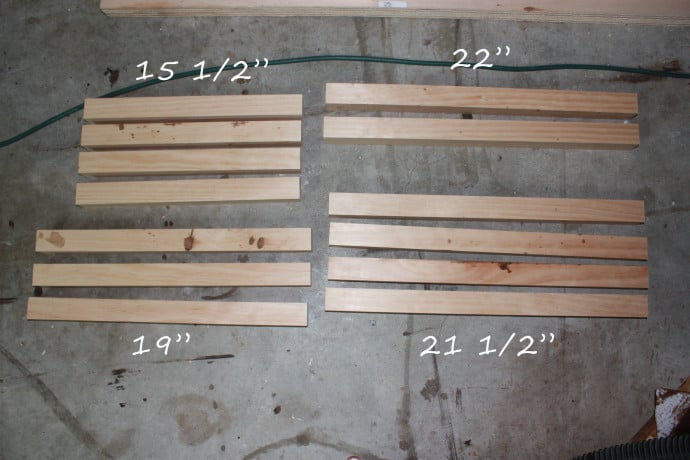 Now, I drilled all my pocket holes at this time so that I could bust it out quick once I started building…it's a mental thing with me, if I "feel" like I am building fast, I will get so much more accomplished then if I "feel" like I am building slow! I know it's silly!
In case you haven't read any of my other posts on pocket holes I will give an quick run down on how to use a Kreg Jig! I have the Kreg R3 model and as much as I want to upgrade to a larger model, I just haven't been able to make myself because it does everything I need! LOL! You can get any model at Home Depot, Lowe's, Woodcraft or HERE!
So the Kreg Jig is basically a drill bit and guide that keep you from being able to mess up a pocket hole! The jig itself is the guide and looks like this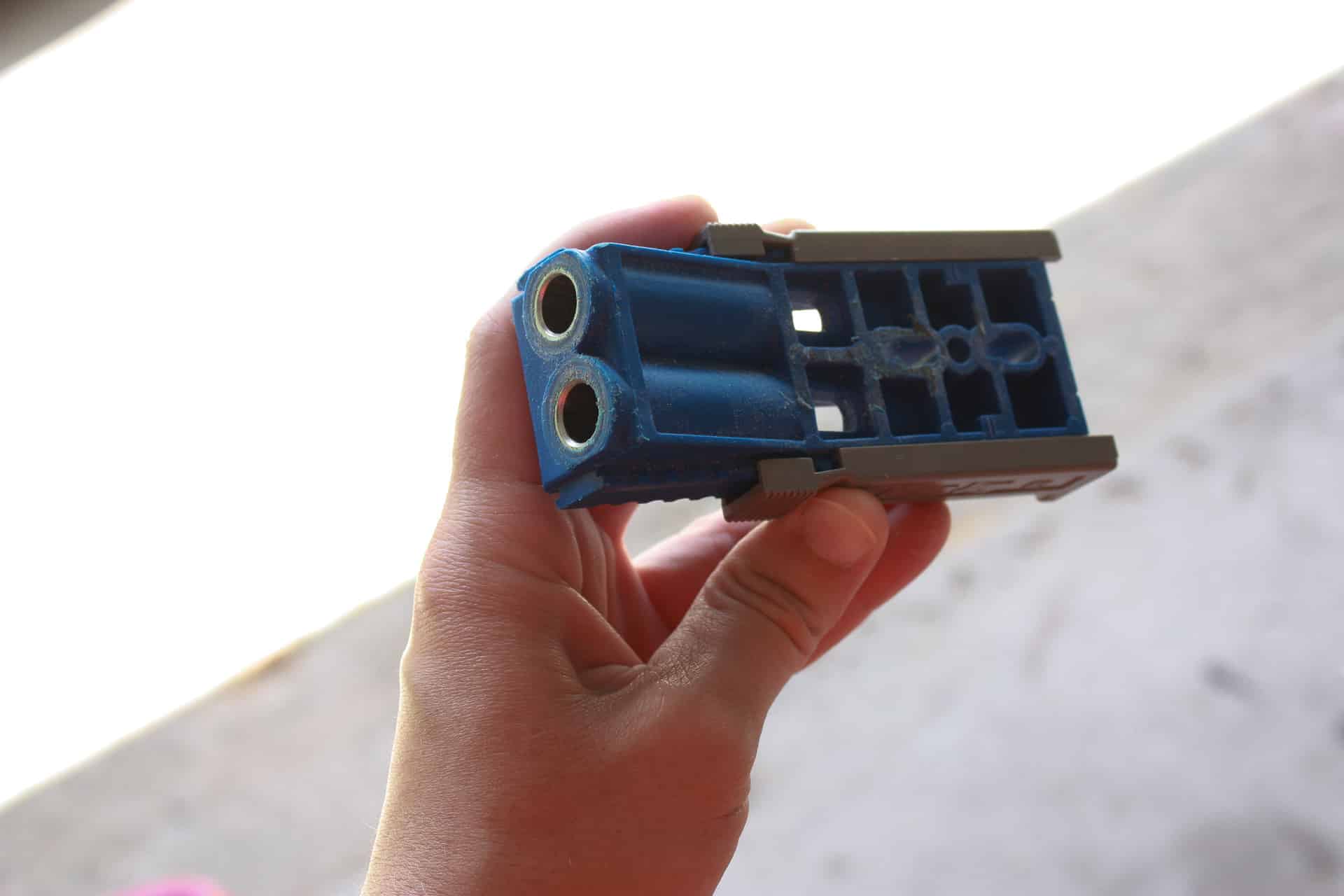 Mine has been well used as you can see! Ha! You set the jig at the thickness of the wood you are drilling into, since we are drilling into 2×2's their actual measurements are 1 1/2″ x 1 1/2″ so we set our Kreg Jig to 1 1/2″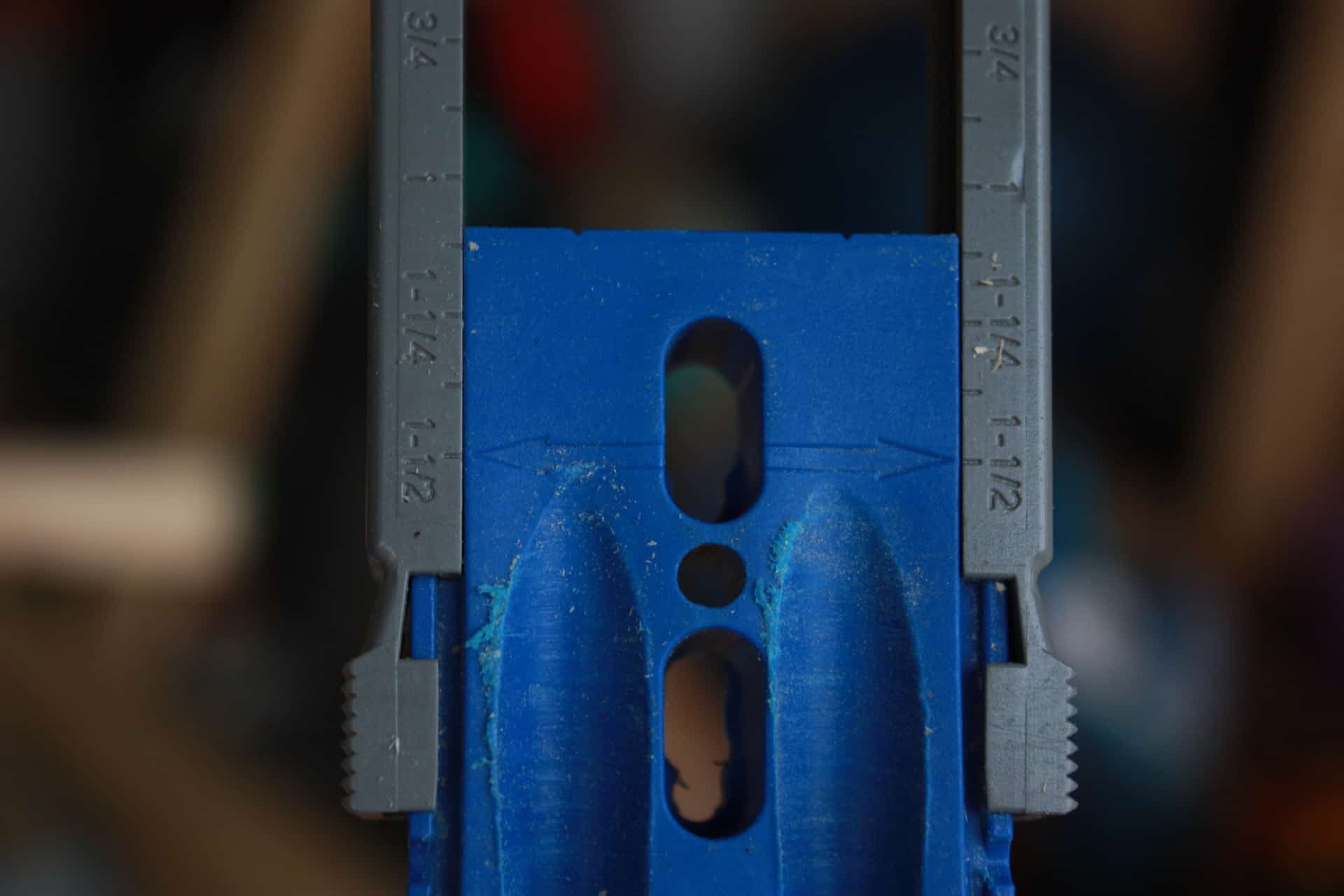 Now you take the jig and clamp it to your wood like so.
*note: this picture is just for an example – you will not be using a board this size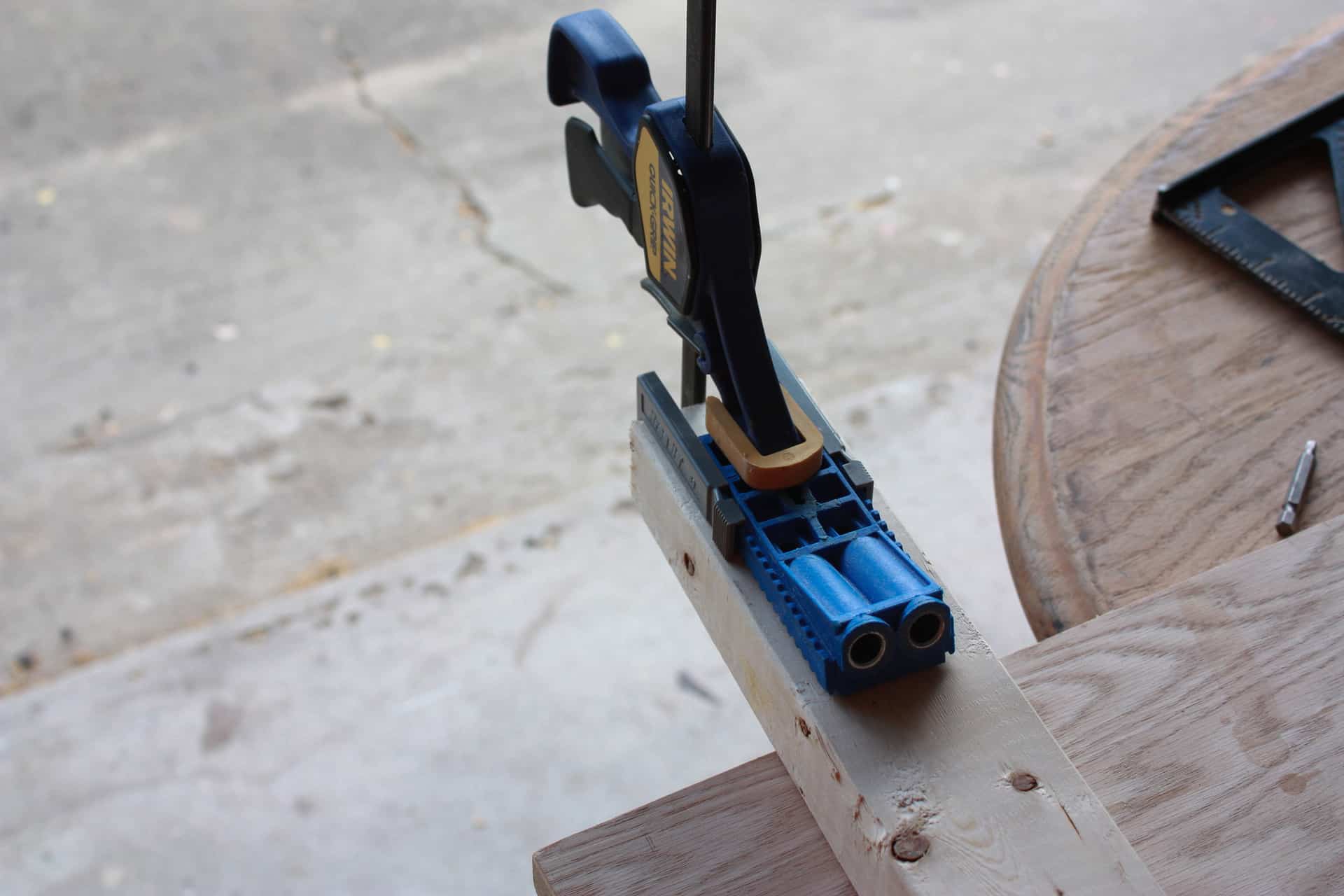 Now with your Kreg Jig R3, you get a drill bit and it has a round ring that you set at the depth of the wood you are drilling into as well, like so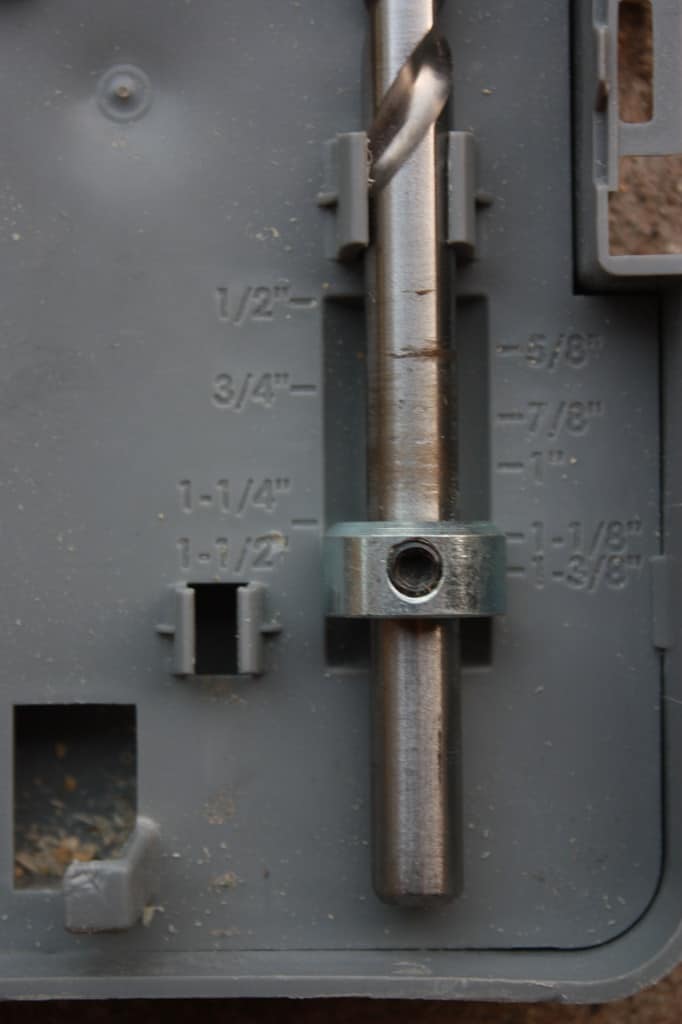 The ring will move up or down and you tighten it where you need it, now that we have it set perfect…insert the bit into your drill…and drill baby!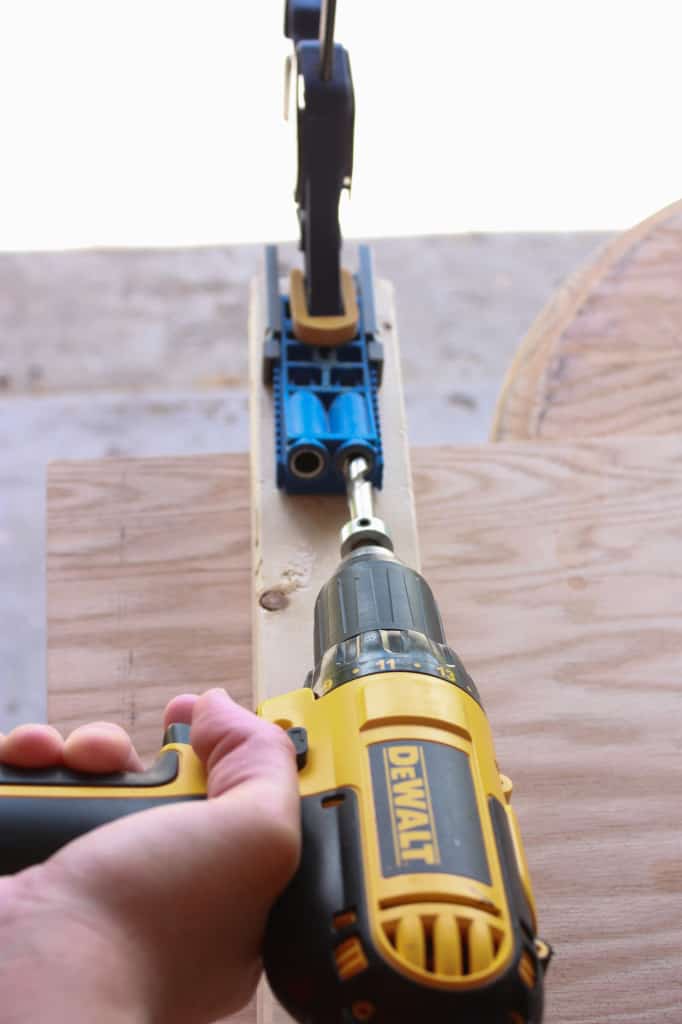 Now you have pocket holes drilled! It's so easy my boys even love drilling pocket holes for me!
Alright so after drilling the pocket holes (you will see where the pocket holes need placed in the pictures below) we can start attaching our boards together to build the face frame! I always glue my joints before I screw them together! Since the frame is 2×2's we are going to use 2 1/2″ pocket hole screws to screw it all together. The bottom board is raised 2 inches up from the bottom and the middle board is placed 3 3/4″ down from the top board. (see Sketchup plans above if you need)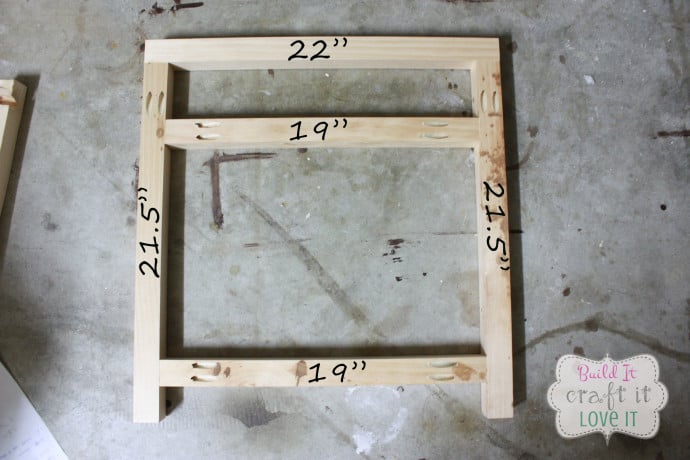 When I was making my faux barn door room divider, I spilled a whole can of stain…my 2×2's were splashed by the crash of the stain…that is why you see all the splotches in the picture! LOL!
Now onto the back frame, the bottom board is placed 2 inches up from the bottom.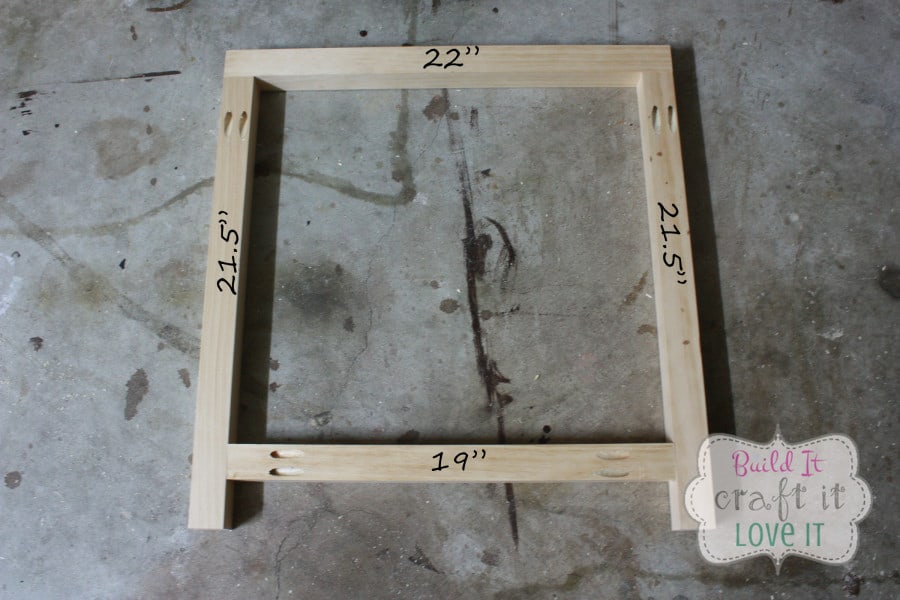 That was easy-peasy! 🙂 And looking good so far! Ha!
Now we can add the side 2×2's, which are all 15.5″ to start making it become 3D and really looking like a table! The bottom boards are placed 2 inches up from the bottom just like the other two were, and of course the top board are placed flush with the other two top boards.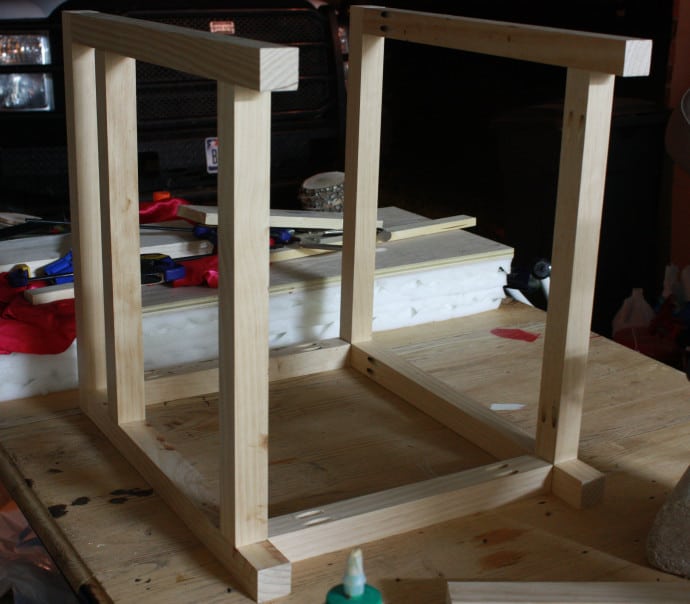 I'm sorry there is always a lot of distracting junk in my pictures…apparently I work well in complete chaos! HAHAHA!
Now when you have both sides on, you can stand it up and it is really taking shape!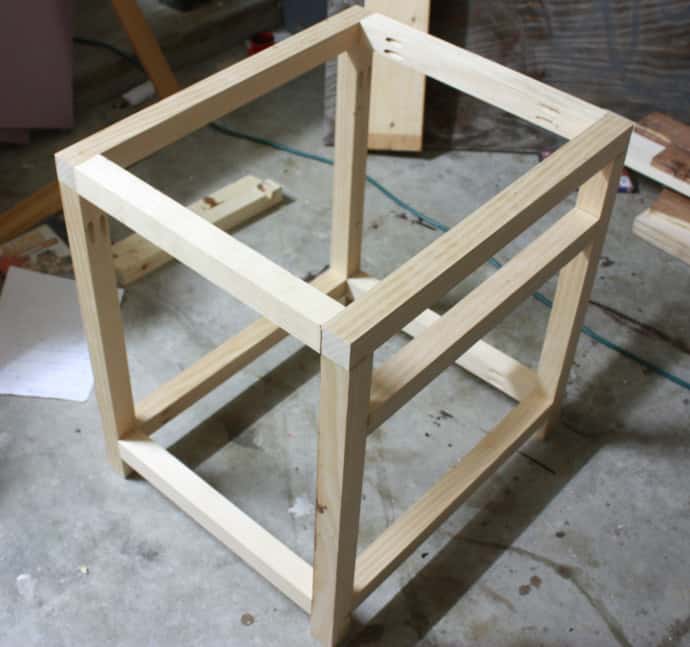 Oooo-la-la!!! Okay now, just measure from top to bottom, side to side, in between the 2×2's on the two sides, top, and bottom! Your measurements should be somewhat close to 18″x 15 1/2″. Then you will cut your 3/4″ plywood to fit.
I chose to use PureBond Plywood on this project… and pretty much ALL projects that require plywood, if they are going to be indoors for sure! Not only is PureBond Plywood the most beautiful plywood to look at, it is different from regular plywood in that it uses soy based adhesives to glue the particles of wood together inside of the pretty exterior, other plywood uses an urea formaldehyde adhesive which then off gases pollutants in to your home! It is also dangerous to inhale while cutting the plywood! You can get PureBond Plywood at Home Depot, if they don't carry it in your store, they can special order it for you! It is totally worth the wait! I have little ones and I try to keep the interior of our home as pollutant free as possible…but that's a whole other blog post! Lol!
After cutting your plywood…and making sure it fits the space you cut it to fit…you will need to drill pocket holes all around the perimeter of the plywood piece. Now that you are using wood that is only 3/4″ thick, you are going to need to change your jig and your drill bit to 3/4″.
And drill them holes!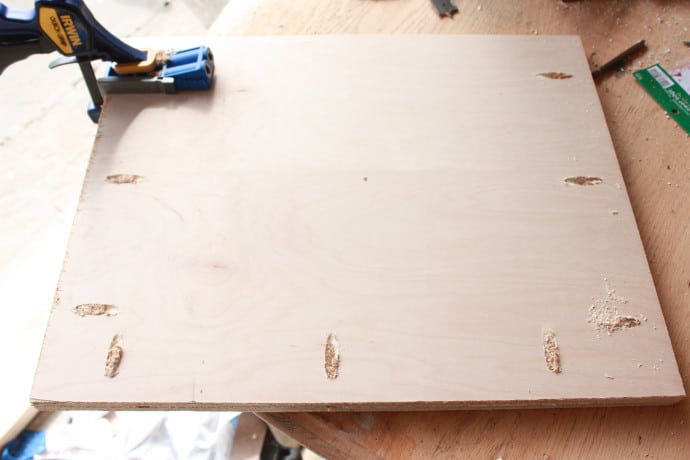 Looking good! Continue this on all the boards…of the sides, top and bottom!
Then using 1 1/4″ pocket hole screws, screw them into place! Whoop!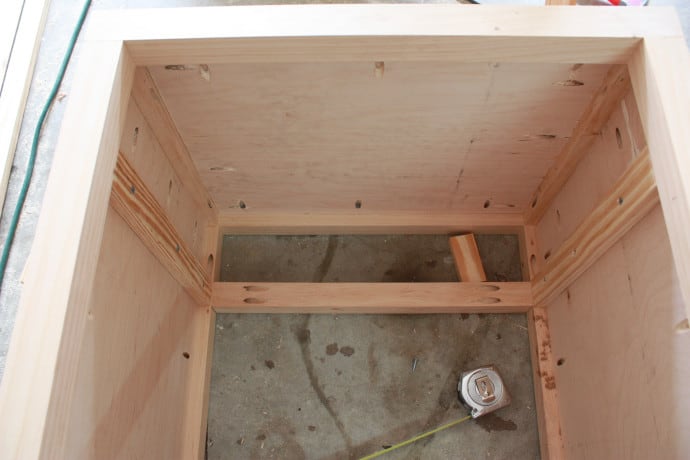 From the bottom.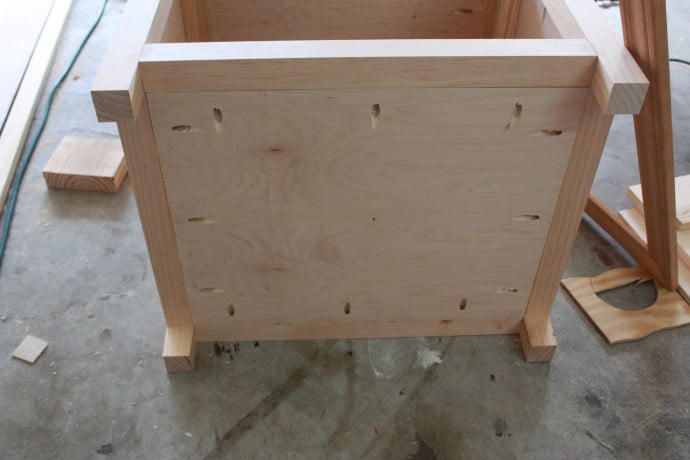 So close at this point I was getting REALLY excited! There may have been some dancing and singing and acting like a young girl all giddy because a boy on the playground just gave her some Valentine candy! If only I knew what my neighbors thought…maybe it's best that I don't!! HA!
Now you have to make the door, apparently, I didn't think you needed pictures of this part since I didn't care to take any! Sorry! It is pretty simple, you are going to use the 2 – 1×6's @19″ and the 1×2 @19″ and put them in the order of 1×6, 1×2, 1×6 and on the back, you will use 1 1/4″ regular wood screws to attach the 1×2's @ 10.5″ to the planked boards – make sure to glue before you screw…sounds kinda kinky!! Here is the best picture to help you see it, the boards are just laying there but it gives you the visual!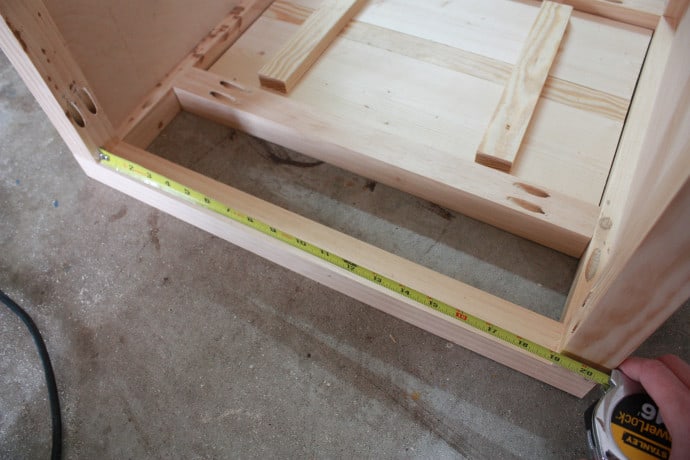 I went ahead and lightly sanded and stained my piece at this point before adding the door and drawer, I just thought it was easier this way rather than trying to contort myself in crazy ways to try to stain all of it put together! But if contortion is your thing…by all means completely put it together and then stain and contort away! Hehe!
I of course used my absolutely FAVORITE stain…just like I do on EVERY project pretty much! Varathane Dark Walnut! This stuff is AWESOME! 1 coat, 1 hour, it rocks my world!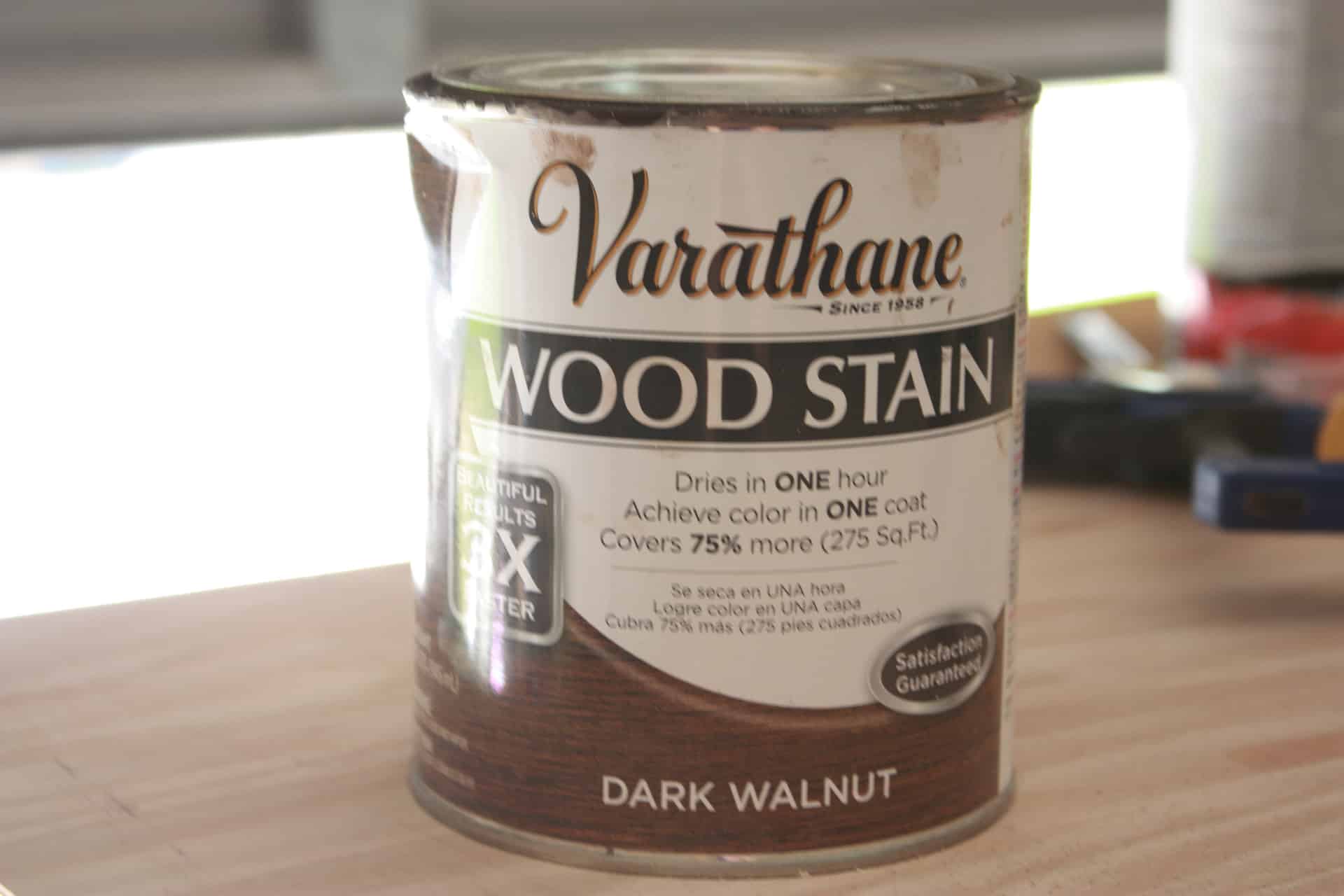 Now it's time to make a drawer! First you have to screw your 1×2's cut @ 15.5″ into the inside of the table.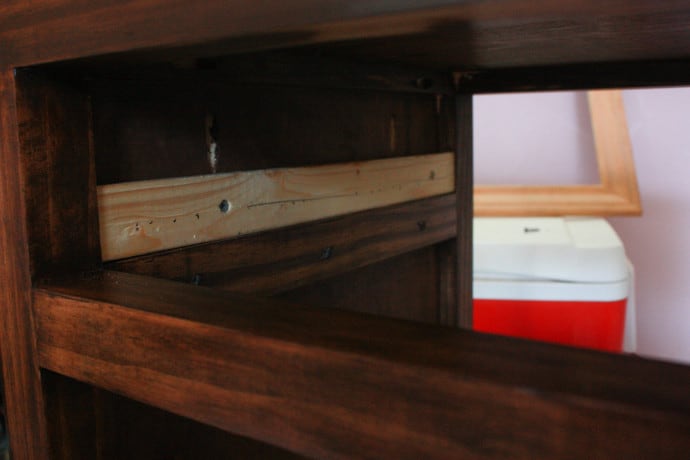 The board that is not stained is the board to look at position wise – the 1×2 down below that is stained was mistake #1 while making the drawer! Haha! I placed my 1×2 at the same height as the 2×2 on the front frame, but you want to make sure the bottom of your 1×2 lines up with the top of the 2×2! Mistake #2 was using a furring strip 1×2 since I ran out of select pine 1×2's and I live an hour away from the nearest Lowe's or Home Depot! 🙁 So I opted to use a furring strip…problem is furring strips are slightly smaller than a select 1×2 so it instead of being 3/4″ wide it is a hair smaller – which ended up making my drawer slide rub the edge of the opening ever so slightly! Ugh!
Moving on…I'd rather not relive that frustration I was feeling at that point in the project…lol! So, you will need to now screw in your drawer slides. There are two parts to the drawer slide…the part that attaches to the inside of the table and the part that attaches to bottom of the drawer.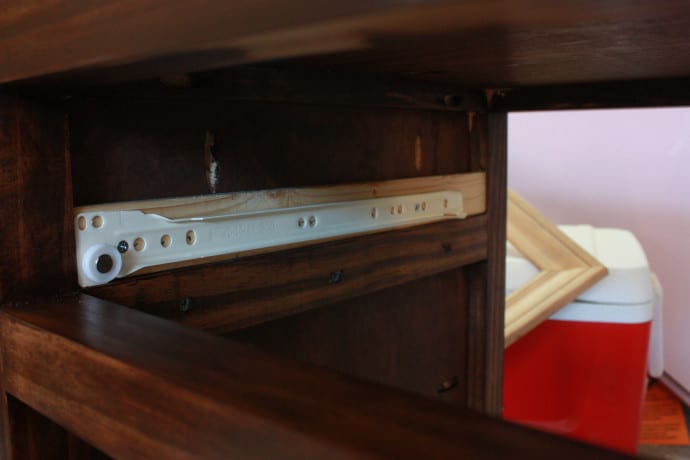 Now another thing – I used a 14 in. drawer slide because of my mistake in using the furring strip- I could not attach a 16 in drawer slide because of the indention of the furring strip that was slightly more narrow than the 2×2, but since you are NOT going to make the same mistake – you will use a 16 in. slide! Kapeesh!
The slides you will need are just like this.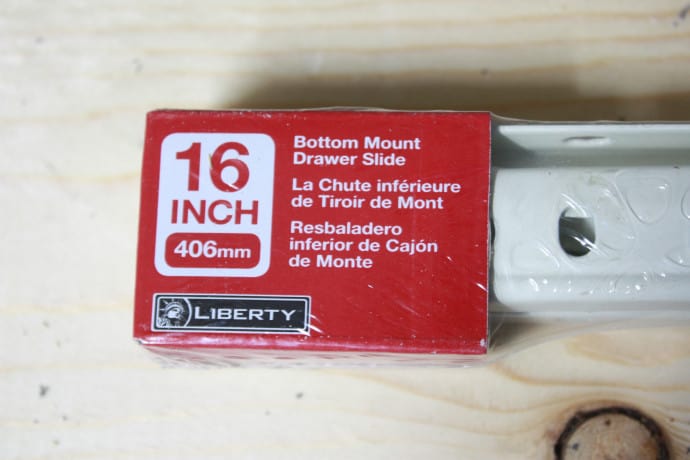 So, you will get your drawer slides attached to the interior of your table and then you will slide the other piece of the drawer slide into the one you just attached – does that make sense? Here's a picture to maybe help. You will measure in between the two slides to get the measurement of the drawer.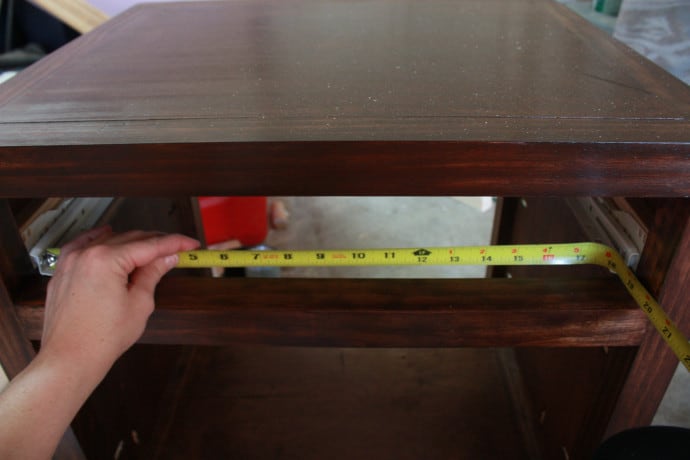 After taking your measurements in between the drawer slides – you will cut 2 1×3's @ the length you measured, this will be the front and back of your drawer, you will need to cut 2 more 1×3's at 15 1/2″ and they will fit inside of the front and back 1×3's you cut. You will place the pocket holes (drilled at 3/4″ again since what you're drilling into is 3/4″ thick) on the outside of your box you make, and drill the holes into the 15 1/2″ pieces.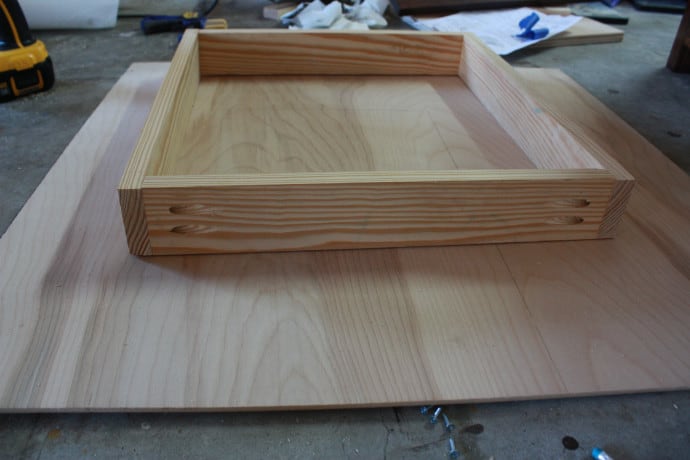 Alrighty then! Moving on…Once you have pocket holed your drawer together with glue and 1 1/4″ pocket hole screws, you can place the drawer on your 1/4″ plywood and trace it. Again, I chose PureBond Plywood even for my 1/4″ plywood! I LOVE this stuff! Look at how beautiful it is!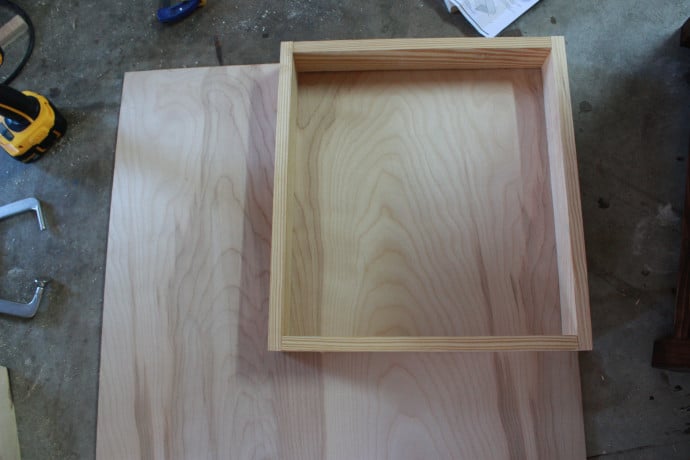 Cut that out and attach it to the bottom with some glue and staples (I just glued mine and clamped it while it dried because I didn't have my brad gun). Now at this point you slide the drawer in to the drawer slides without actually attaching the slides to it. Then mark where you need to attach the drawer slides, making sure the drawer is set back 3/4″ into the opening…I am so upset that I didn't take a picture of this part because it is a little hard to explain. Once you have marked them, while the drawer is still sitting there, make sure and set the 1×4 @ 19″ in the slot in front of the drawer because this will be attached to the front of the drawer. It should line up flush with the front of the table. If it all lines up, you can attach the second part of your drawer slide to the bottom of the drawer at the spot you marked, if not, move it forward or backward to where it is flush and mark! Then slide that sucker in! At this point in the journey I was ECSATATIC that even though it rubbed ever so slightly, it was a working drawer! WHAT? ME? I DID THAT? It was a great feeling…like I could take on the world! Ok, Ok, maybe not quite! Ha!
Now to add the face onto the drawer, I had my hubby help me, we lined it up where we needed it so that all the way around we had an even 1/8″ gap around the board and he held it in the front where we wanted it and I pushed the drawer out from the back of the table, I had not placed the 1/4″ sheet of plywood on the back of the table and I would advise that you not get ahead of yourself and attach it early on – it's really nice to have the back wide open! So after we very carefully got the drawer open with the board still in correct position, we clamped it so we could screw it in from inside the drawer.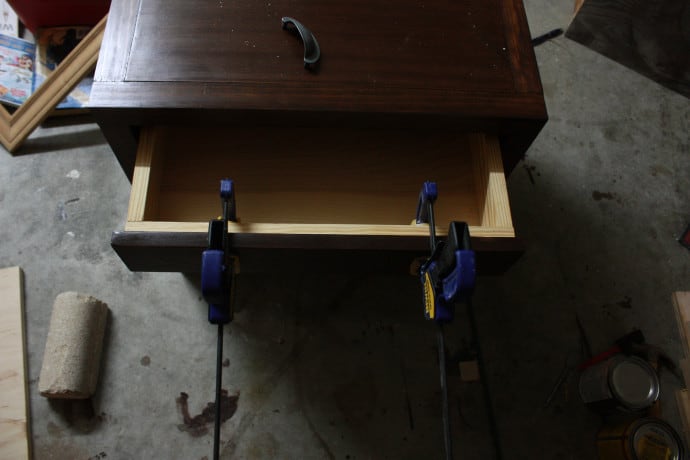 Once that was attached, it was time to drill holes for the pulls! Oh how great it felt, like I was almost at the end of a marathon! Whew!
Now, I did this the hard way and then later found this amazing and inexpensive yet extremely helpful tool at Lowe's.
Get your pulls put on, and one of the last things (not the actual LAST thing but almost) is hanging your hinges and door!! Oh my gosh, excitement is exploding everywhere!
You will need two scrap pieces of 1×2, or I used a 1×4 and sliced it right down the middle and made my own 1×2! This is needed because the hinges are a little bigger than the 2×2.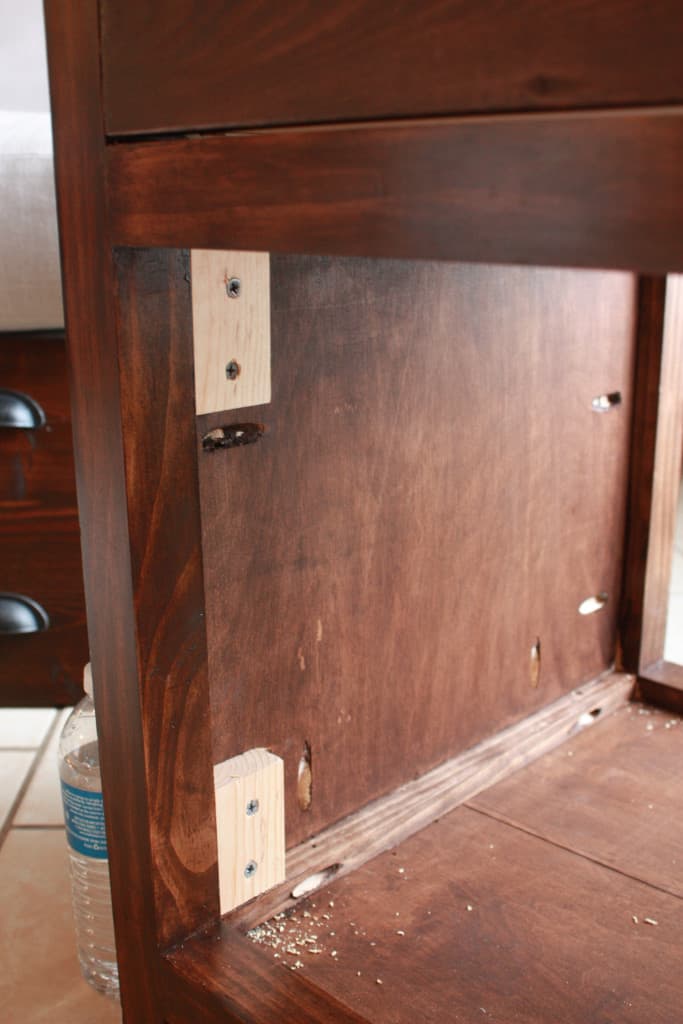 Now you can screw the hinges into the table, I used these hinges here.
I found them for the best price at Lowe's.
Here again I didn't take a picture after I attached them to the inside of the table but you need to make sure and measure where they will need to go, I did this by closing the hinge (as if the door was closed) and measures 3/4″ back from the face of the 2×2.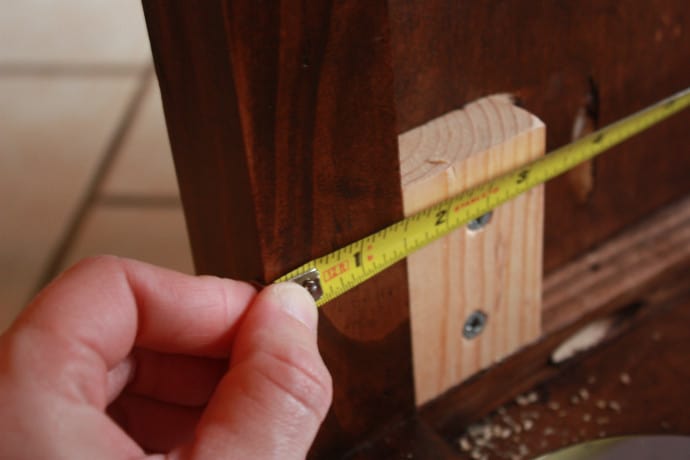 It was tricky because I didn't have anyone to help with this part so there were times I was holding things in place with a foot! Now things are starting to make sense as to why they are not perfect when I build them! LOL!
After I attached them on the inside of the table, I left them "closed" this is not the "correct" way to hang a cabinet door but this is what I found to work since I had no one to hold anything for me! I was able to set the door up against the closed hinges, and to make sure I had the even 1/8″ spacing all around I had to get creative, I found CD's to be the most helpful, I could stack them up perfect, 3 CD's had it just right! Then I painters taped them in place.
I did the same thing for the sides and then I taped around the whole front of the table to help me hold the door in place! It definitely looked silly!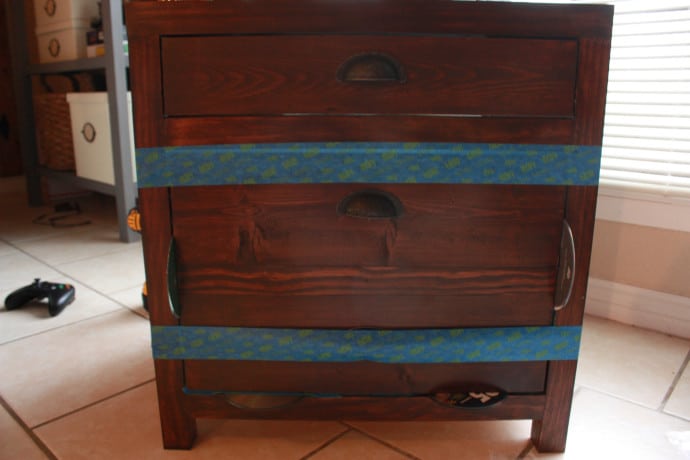 Oh yeah! Looking good! Ha!
One last thing that I didn't realize until I was at the very end of the project, thinking I was finished with my table…well, I wasn't quite! The door will sink into the frame without something to stop it…so I ran out to the garage, grabbed another scrap 1×2 and drilled three pocket holes, stained it quickly, and came back inside and attached it to the table!
You can make this piece smaller if you'd like or you can even make it bigger, if you would want it to fill the whole space…totally up to you!
LAST step…staple your 1/4″ plywood to the back of your table! I still haven't done that…even though I have cut it…Pure laziness! Hehe!
Now stand back at stare at your hard work and determination that has paid off!!!!!
One more mistake I would like to mention is that I cut the boards for my door early on in the project and they warped a little on me, but in my little IMPATIENT brain, I thought the hinges would pull it into place! Well…not really, if you look close here you can see the top of the door bows out a little and is not flush…it's not that obvious in person so it is on my to-do list to make a new door…later! I am not looking forward to rehanging it! LOL! But just FYI, if a board warps on you don't try to use it anyway…it's best to bite the bullet and re-cut it at that time or else, you just pay for later! Speaking from experience here!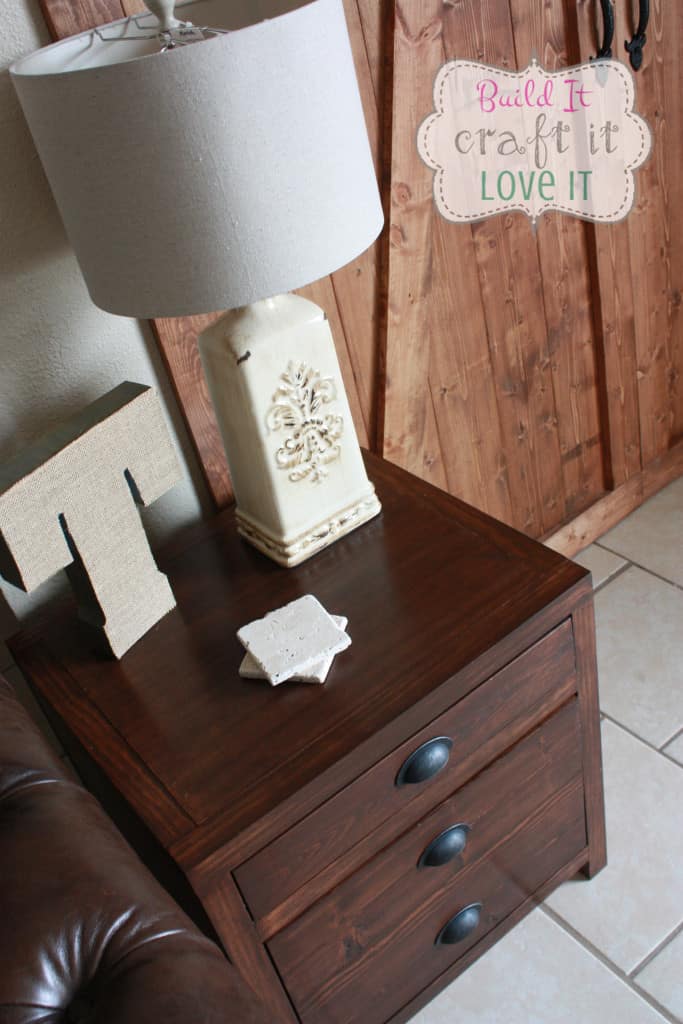 Wow, that was a lot of reading and building! I hope you LOVEd every minute of it!
If you have any questions or comments let me know below! Be sure to follow me on Instagram and Pinterest to get sneak peaks of projects I may be working on right now and any new projects I post, or sign up for them to be emailed to you! Let's keep in touch! Have a great rest of the week!
Lots Of Love,
Cara
* Disclosure: I may be compensated if you purchase from links in this post! What does that mean? If you click on a link and make a purchase, I do a HAPPY DANCE because I make a little money! There is no obligation for you to buy anything…I may cry but I will be fine! Lol! All opinions expressed in this post are my own and no one can influence my opinion with a few bucks! Any product I receive compensation for I used and LOVED before they ever offered me a dime! That's right – no one's buying my love baby!