DIY Chalk and Eraser Holder
Hey guys! Look at that… I am back…so soon! Hehe! Today I am sharing the oh so easy chalk and eraser holder I made to go with my framed chalkboard wall, you can see it HERE if you missed it yesterday! This was such a fun little accessory to the chalkboard but it really was the finishing touch it needed to be just perfect!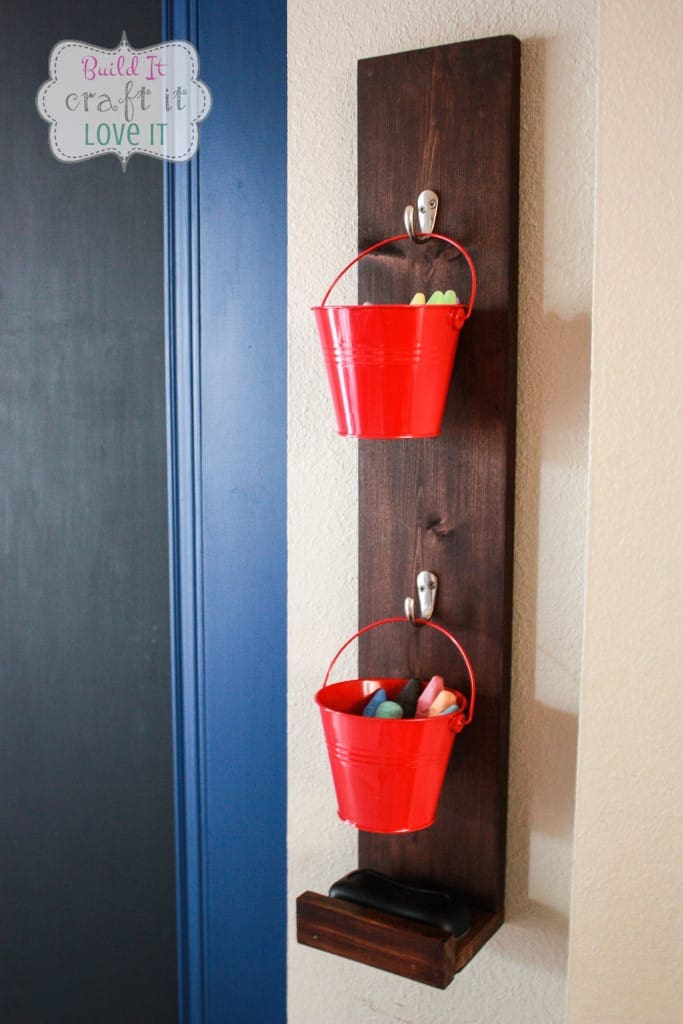 This project will literally only take you a matter of a few minutes but it is totally worth it! When you have a chalkboard you must have some place to put the chalk and eraser right?! Plus if you have some scraps laying around you don't even have to pay for the wood! Woohoo! That's what I'm talkin' 'bout!
Alright, let's get our booties shakin' and start makin' this fantastic chalk and eraser holder!! I am sorry but I just get soooo excited about the really easy projects…can you blame me? Didn't think so!! Lol!
Material List: (this is to make 2)
1 – 1x6x6
1 – 1x2x8 furring strip
2 hooks
2 mini pails
wood glue
brad gun and 1 1/4″ brad nails or finishing nails and hammer
hanging hardware
Cut List:
2 – 1×6 @ 29″
2 – 1×6 @ 4″
2 – 1×2 @ 5.5″
Alright once you have your couple cuts made, we can start the assembly process!
I originally was only making this a chalk holder so I had stained the 29″ boards, attached the hooks, and had it ready to hang when I realized it would be perfect to add the eraser holder at the bottom – so I stained my pieces before putting them together…you can do it whichever way you prefer!
Here are my boards cut to 29″…there really was no rhyme or reason to the 29″…I just was using scraps and this seemed like good size and the buckets had plenty of room to hang! You could go longer or with more buckets if you please!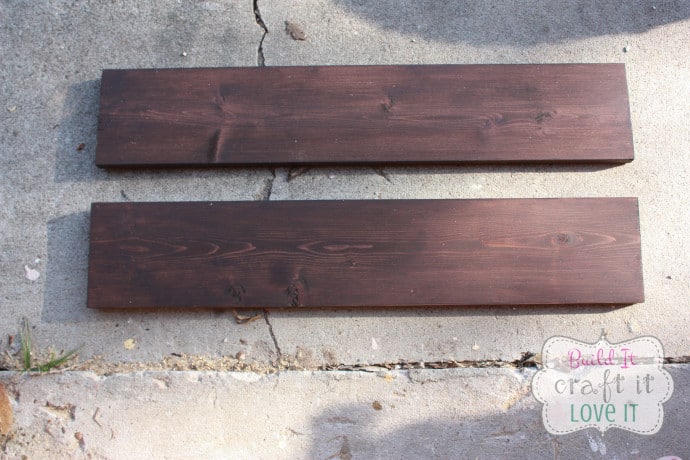 I sanded them down and in the picture above they are stained with my oh so FAVORITE stain Varathane Dark Walnut! It goes on with just one coat and dries in just one hour…what more could a girl want?!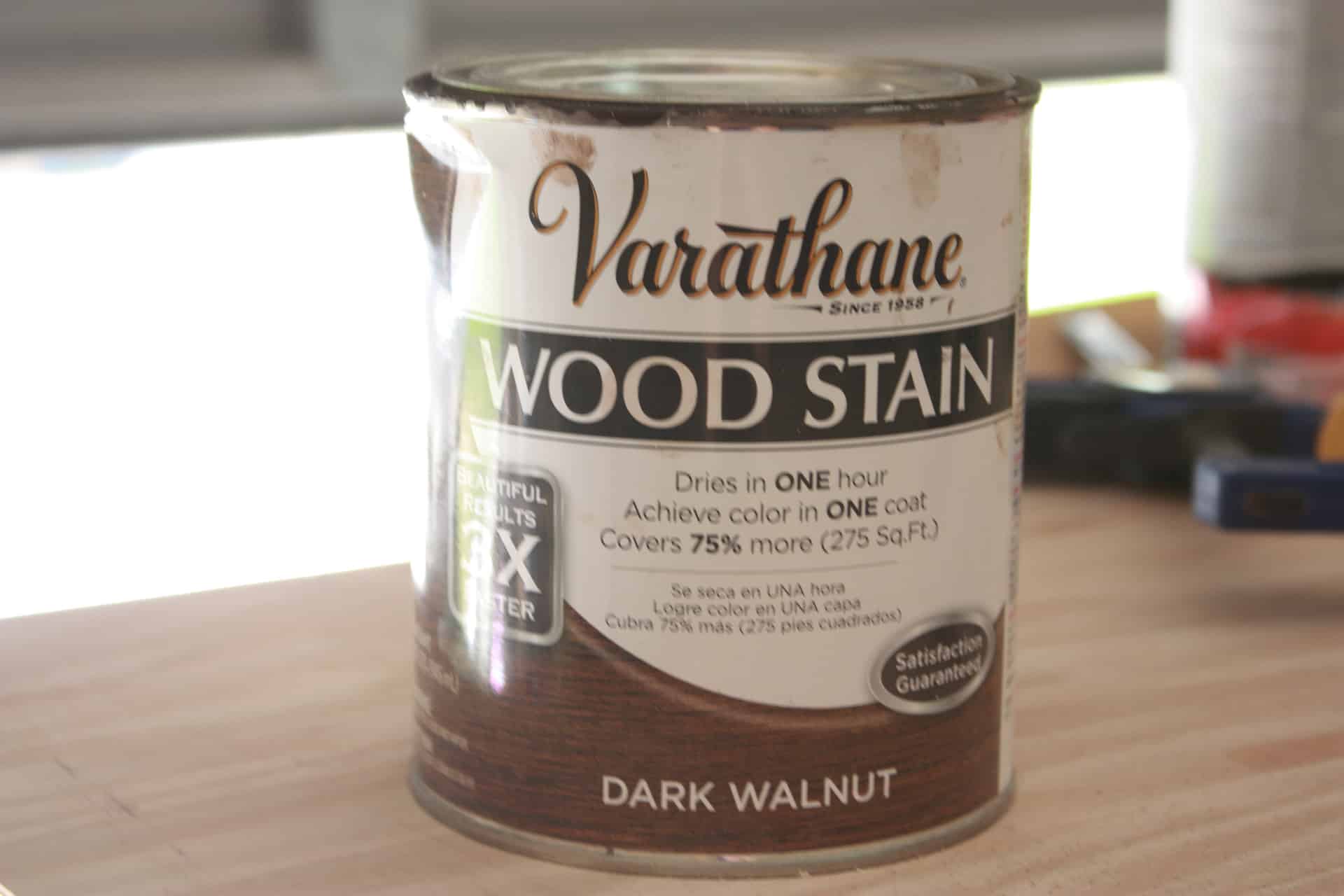 Just a note…it looks like paint going on your wood, but if you quickly wipe the wood, with a lint free cloth or paper towel, in the direction of the grain to evenly disperse the stain and absorb any extra, the result is this beautiful, dark shade of perfection…so I think anyway! Lol!
Since the eraser holder was an after thought, I don't have a picture of all the wood at the very beginning of the project, but here are the little pieces you will cut to attach to the bottom of your 1×6 @ 29″.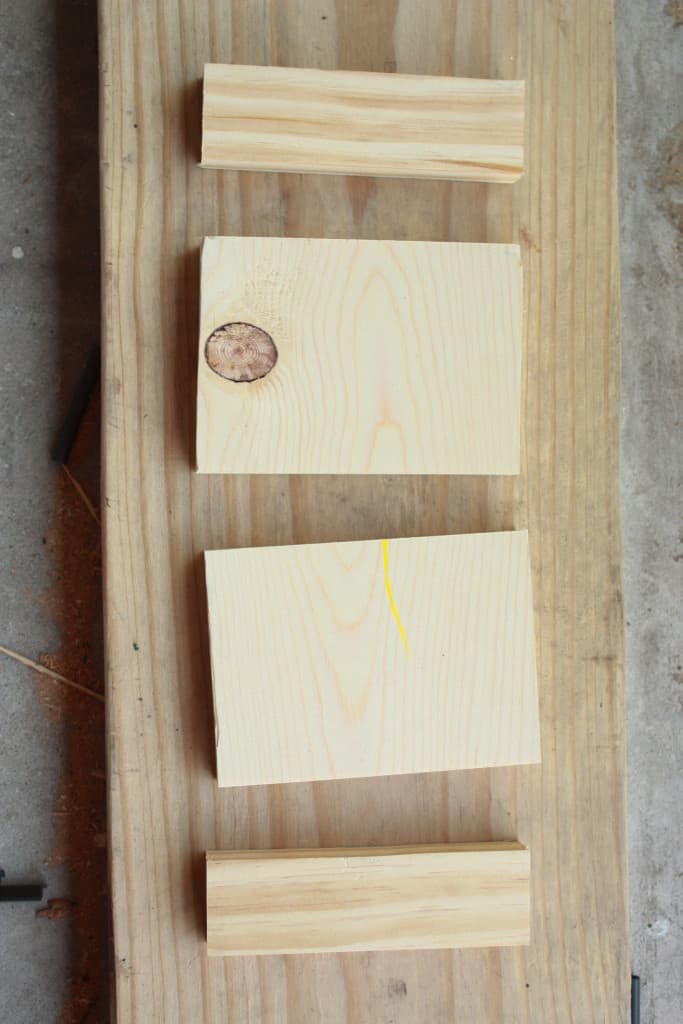 So there I have cut the 1x2s @ 5.5″ and the 1x6s @ 4″.
So then we just grab our brad gun or nails and hammer…and attach the 4″ piece to the bottom of our 29″ piece…make sure to use some glue to give extra strength!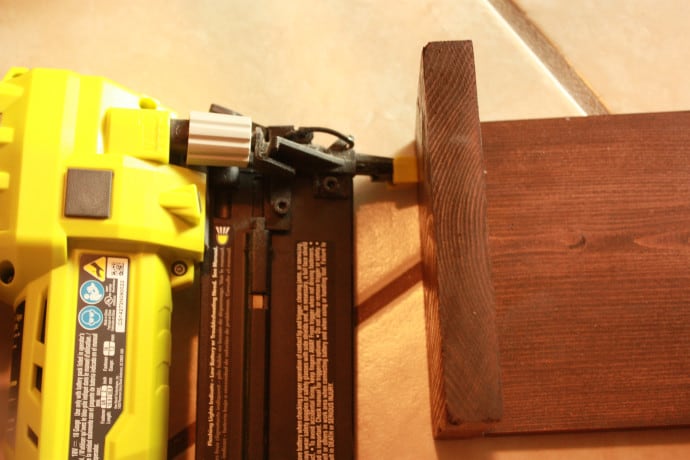 Then we add the 1×2 to the bottom and attach it with your brad gun or hammer!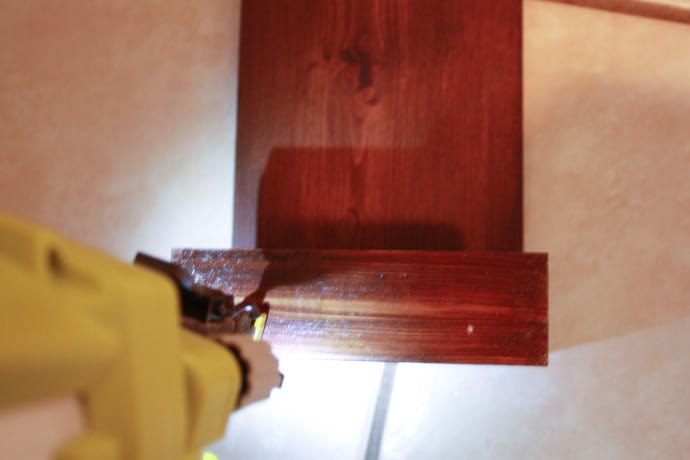 Not a very good picture but you can at least make out what I am doing…I hope anyway! Lol!
Now you can just screw your hooks on to the front. The hooks I bought are from Wal-Mart, I got a package of six for I think 5 bucks…maybe 5.97! That's a bargain!
I just eyeballed where to put the hooks, and then I realized my eyeballs may be a little wack because they are not perfectly aligned…but luckily, it isn't noticeable! You can measure to make sure this doesn't happen to you! Lol!
Last but not least, they just need a little picture hanger on the back…I used some inexpensive ones from our hardware store, here is the package they were in!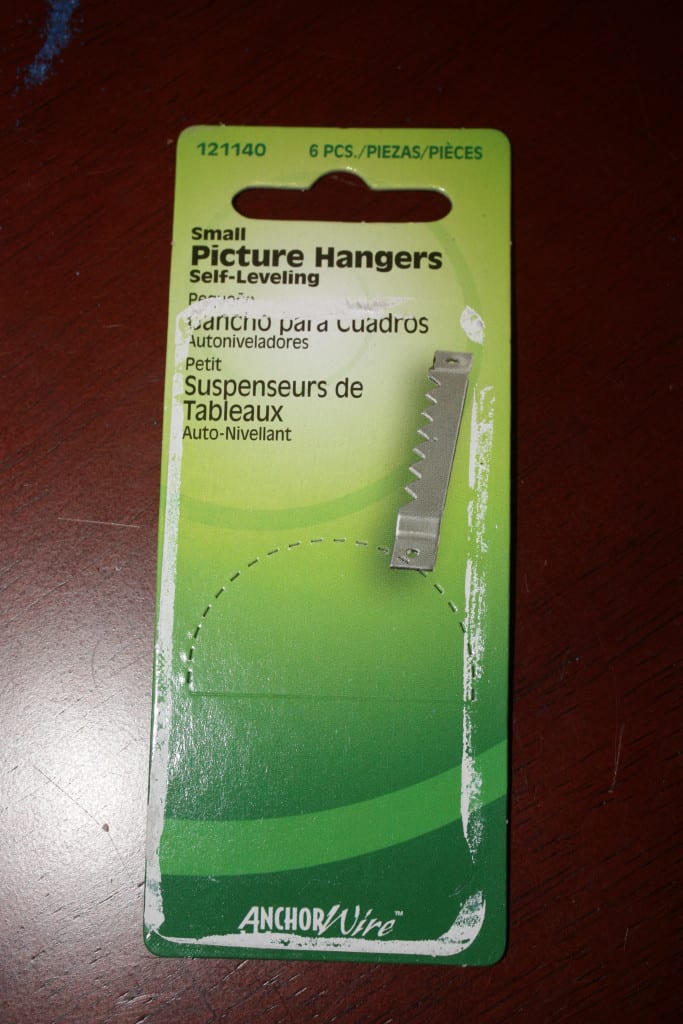 I just placed them about an inch down from the top of the board and hammered the tiny nails… and my thumb! Ugh…that hurts dang it!! Haha! Pick the place in your home that suits you best…and screw a flat head screw into the wall to hang this cutie on! I lucked out and had studs right where I wanted to place mine otherwise I might would have used a sheetrock anchor! They are not that heavy, it's just that with my kiddos digging in the buckets…you never know what may happen!
Last but not least…hang those buckets on the hooks and fill them up with chalk and place your erasers! Awesome sauce!!!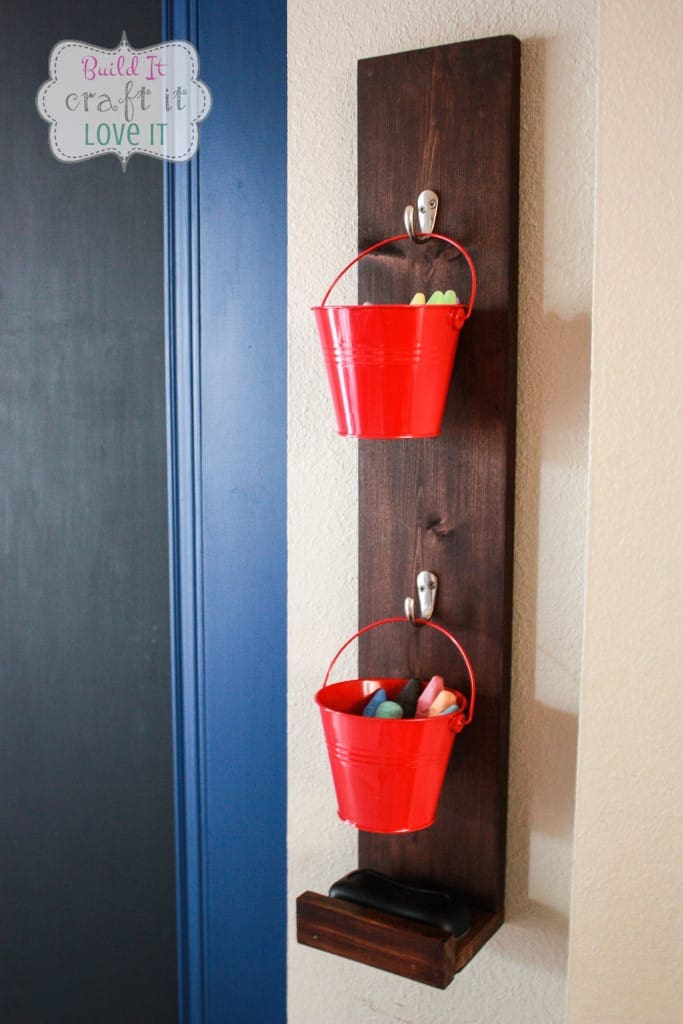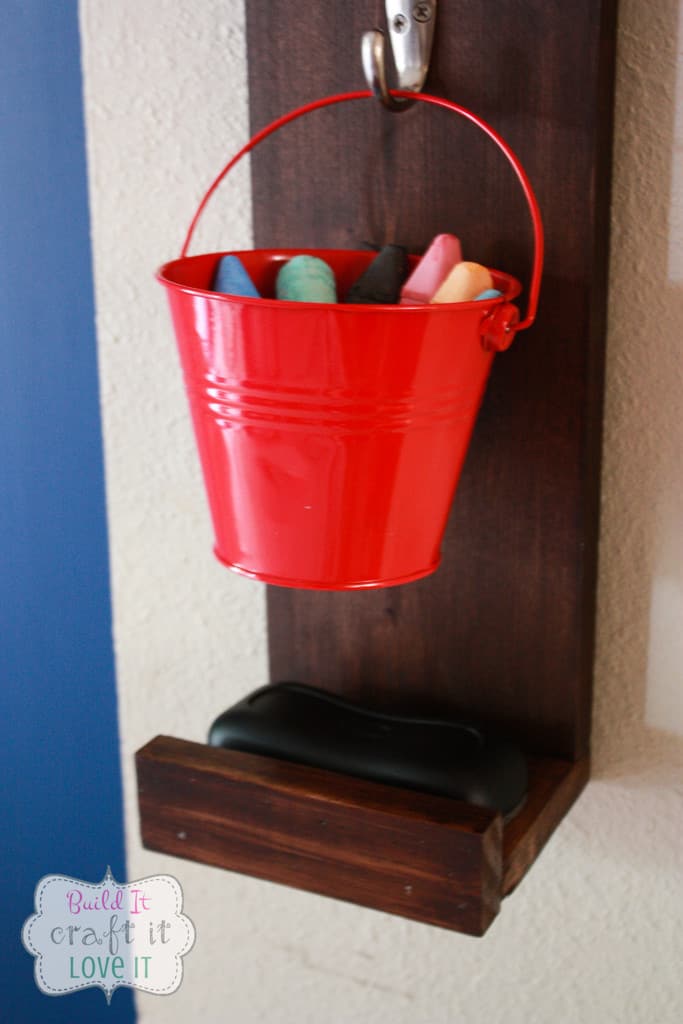 I'm still not sure why my camera is refusing to focus! So again, sorry for the grainy slightly unfocused pics! Also, I see here that I need to cover my brad heads…I plan on just touching them with a tiny paint brush with dark brown paint so they won't show!
FYI: I got the little pails from Michael's but they were in the Valentine section…I know… it took me a while to use them! Ha! I then found out later, that on Amazon
they have many, many options…even some really cute galvanized ones that I may have to change these out to at some point!!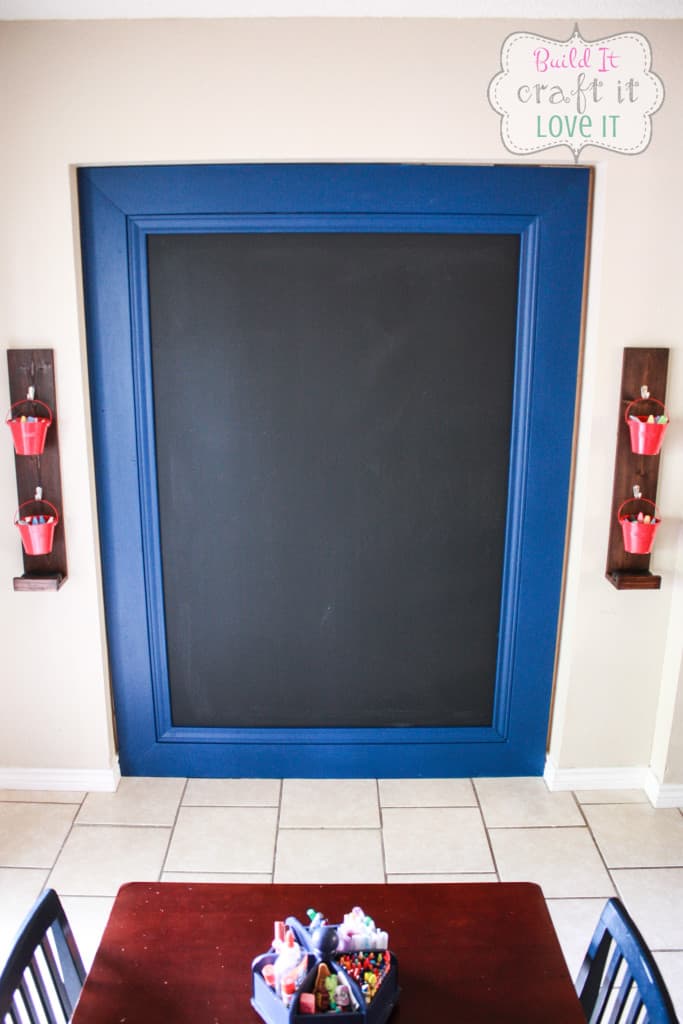 So, so, so easy right?! I love when a project this simple turns out to be the perfect decorative accessory and really finishes the space! Pretty…I mean handsome…(my boy's don't like me to call their stuff 'pretty')… and has a purpose…that's my jam!! Is it silly that I am a bit giddy over a little piece of wood to hold chalk and erasers?!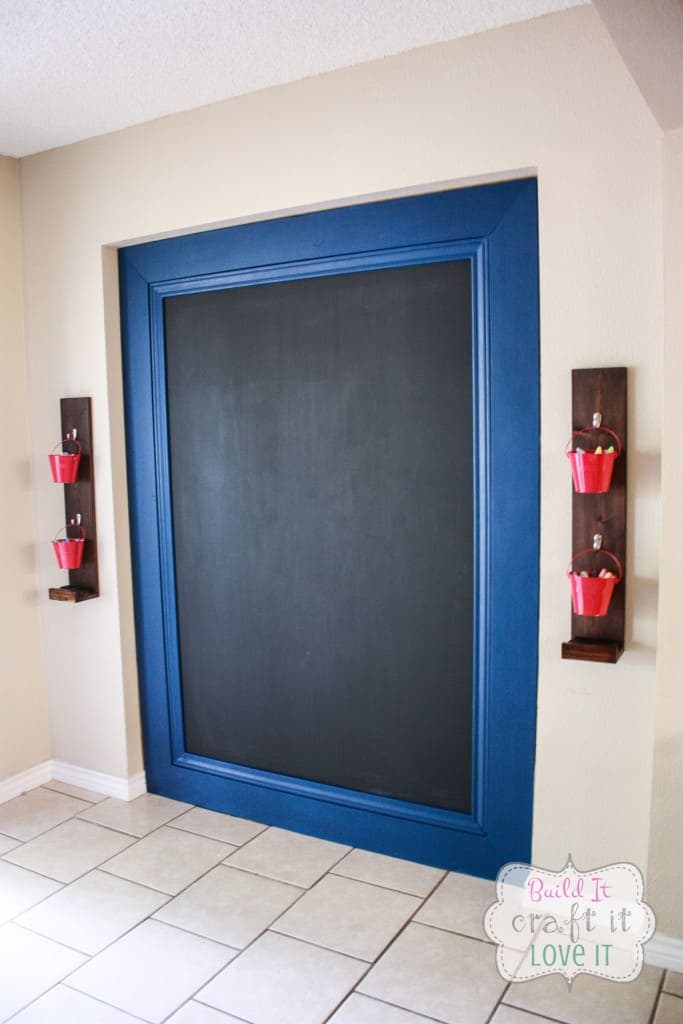 Hope you have a GREAT long weekend filled with love, laughter, family, friends, and worship!!! See you soon!
Lots of Love,
Cara