Blanket ladders have been a staple in homes for the last decade since Joanna Gaines first showed us how she repurposed vintage ladders as blanket storage! We all love this easy simple decor item that doubles as cozy storage, add the fact that they are cheap and easy to build yourself and of course, everyone needs a DIY blanket ladder, maybe even one in every room!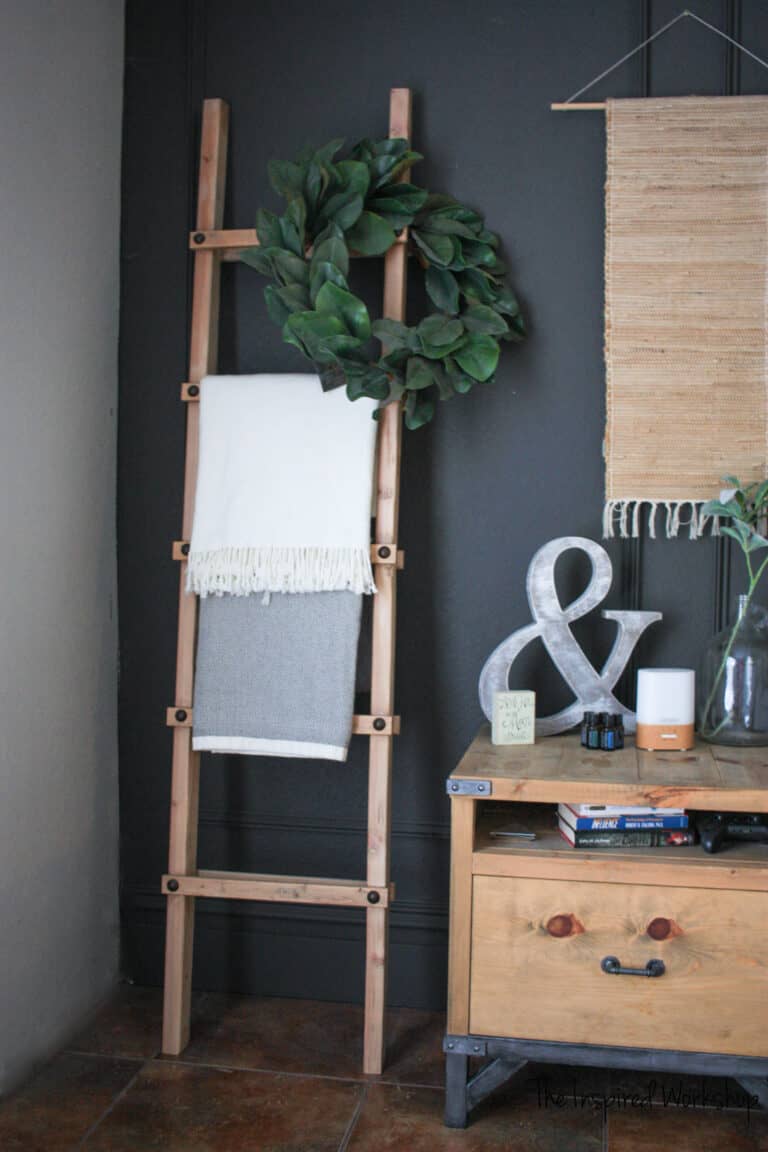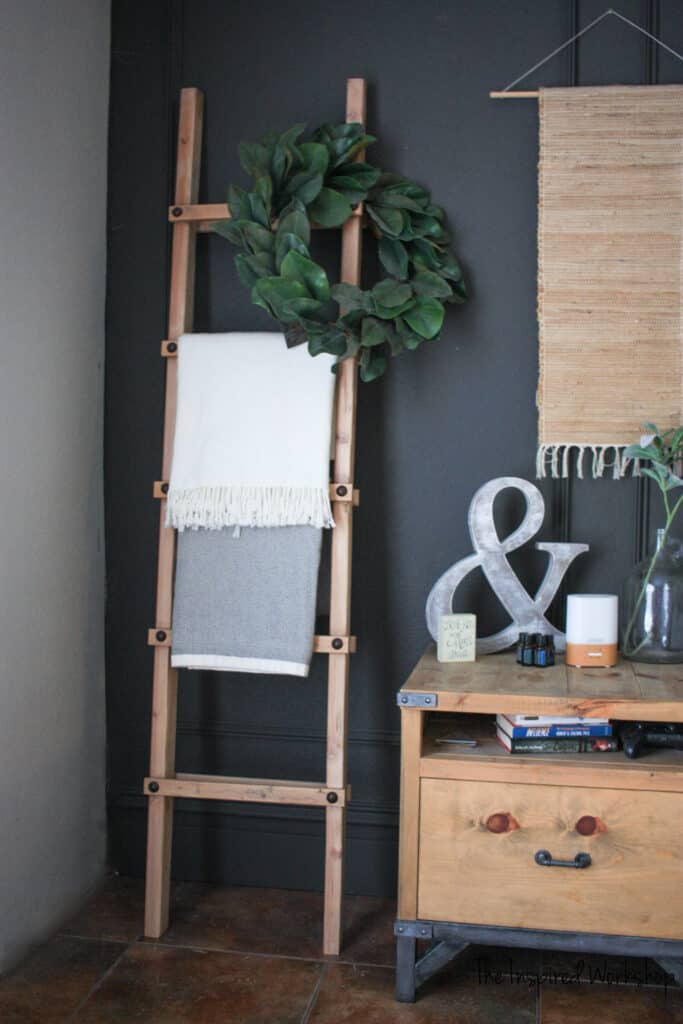 This DIY tall blanket ladder would make such a great gift, it is cheap to build, only takes about an hour to build from start to finish, and looks amazing!
Isn't she cute! I know you can find 800 tutorials for blanket ladders, there is one on every blog, (there's even a blanket ladder tutorial already on my blog! LOL!) but I wanted a tall one for my bedroom that looked sleek and thinner than the first one I ever made! The original one I made, I used plans from Shanty 2 Chic!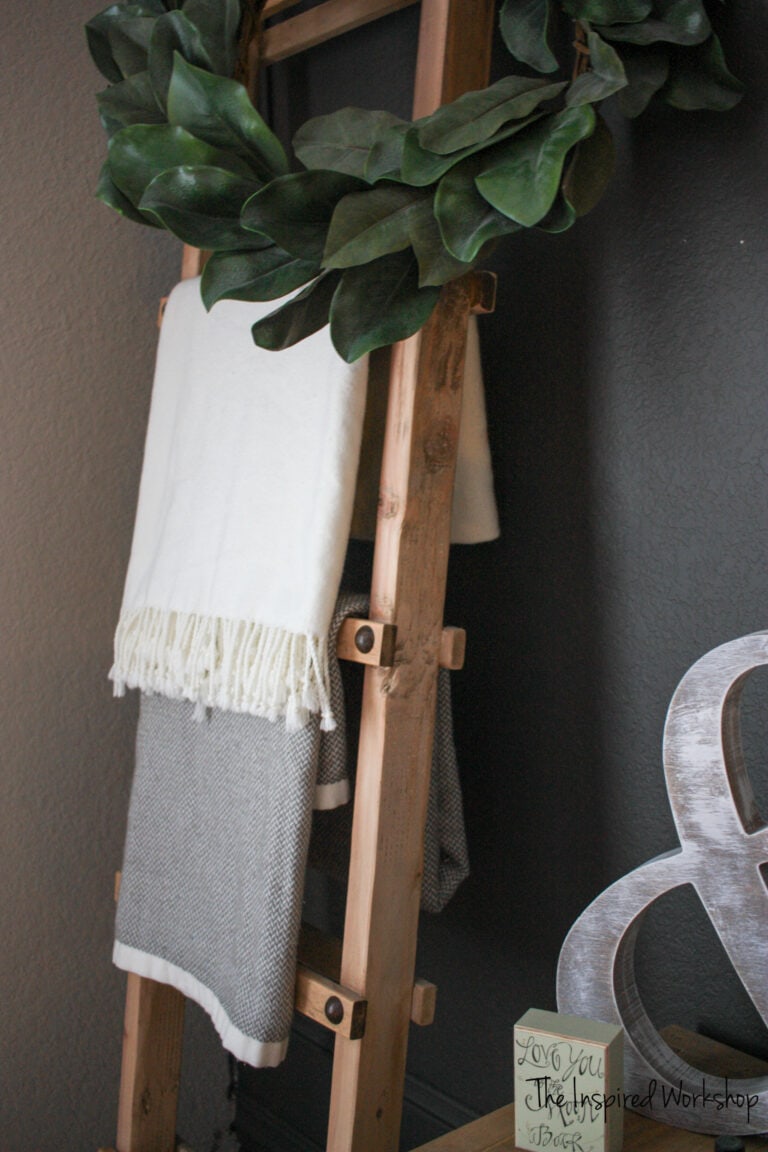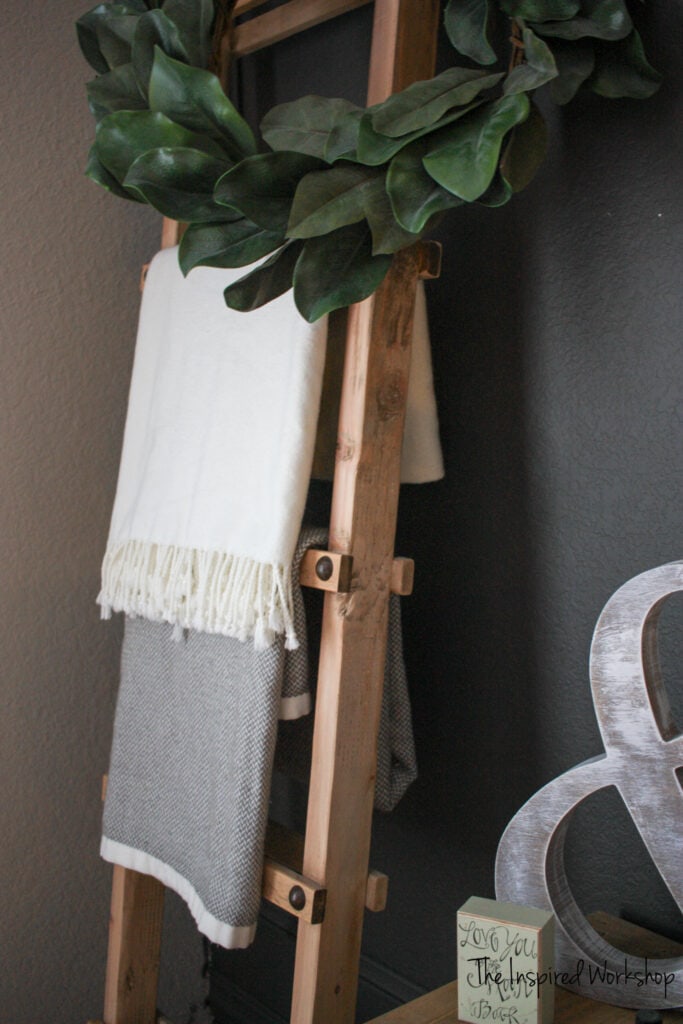 This beauty is 6 1/2 feet tall! I love the look she brings to what was once an empty corner of my bedroom!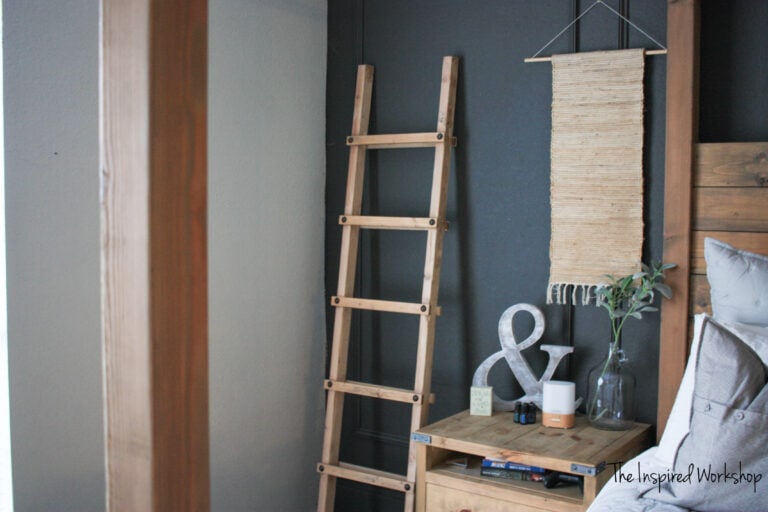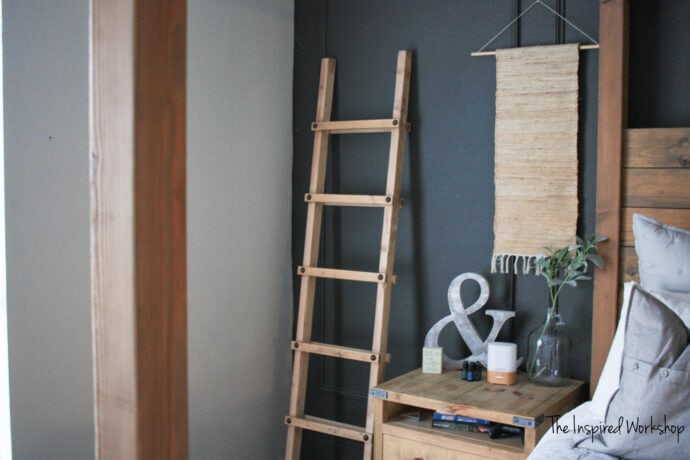 Alright, you know how cute she is, I'm sure you know someone who would love to have one, let's make one! DIY blanket ladder coming right up!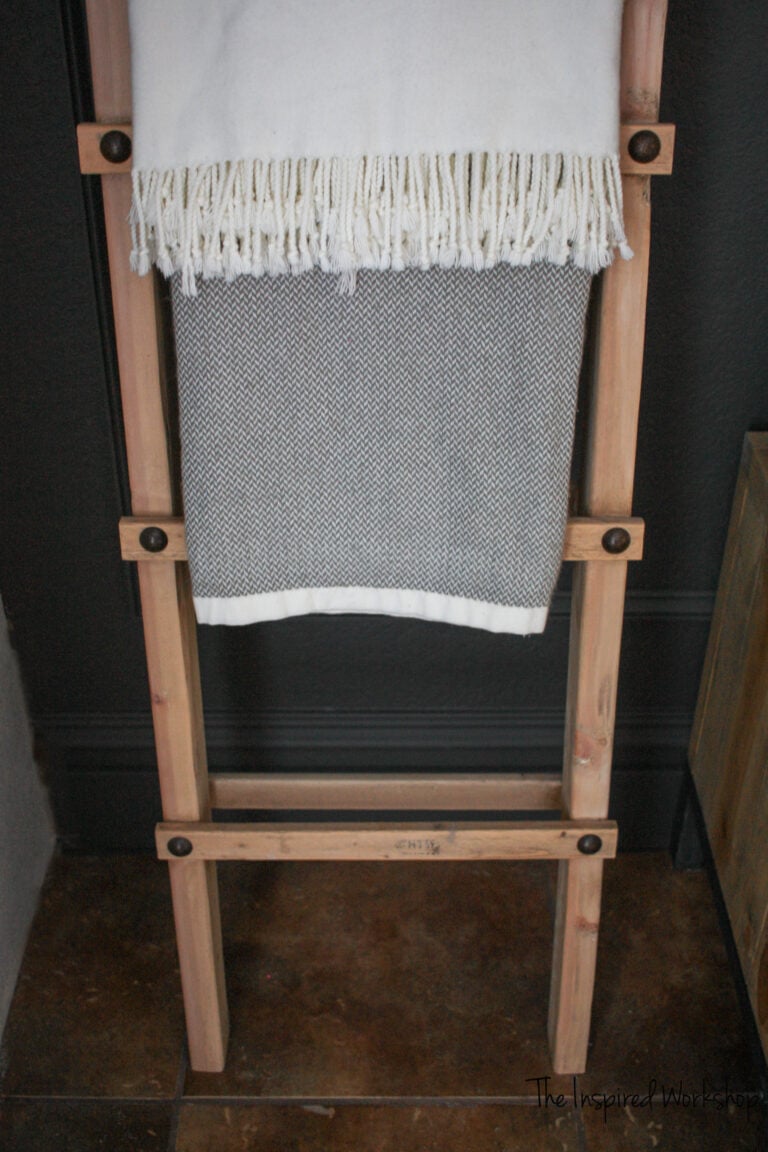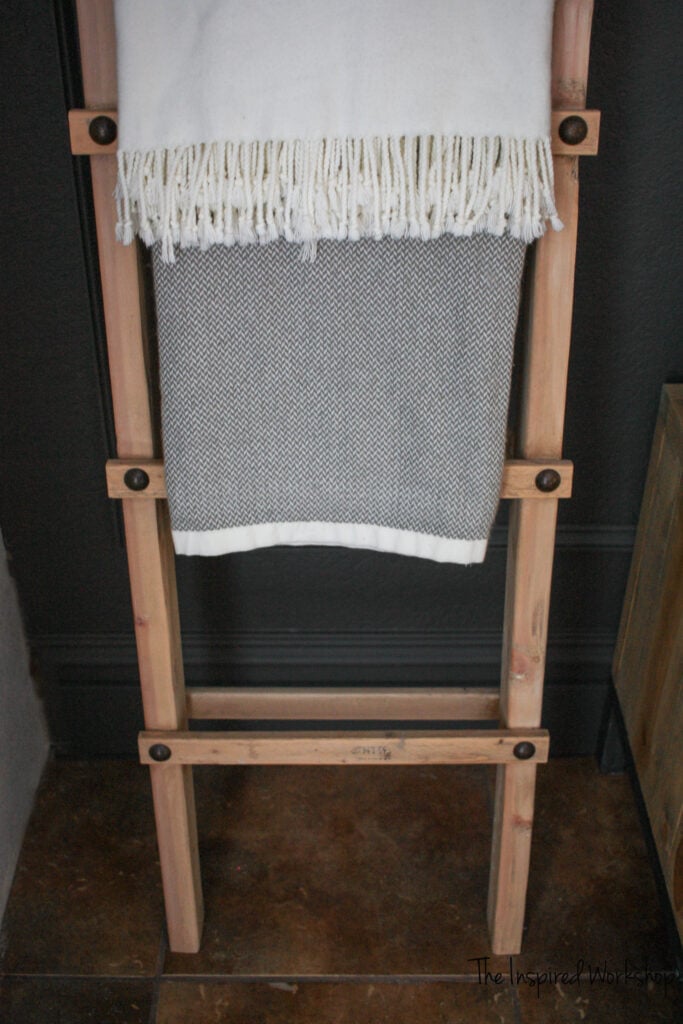 Looking for other AMAZING gift ideas, I've got you covered!
Gathering Supplies to Make a Blanket Ladder
***NOTE: Amazon links are AFFILIATE LINKS! Affiliate links are links that generate income for me if you make a purchase… at no extra cost to you! I'd say that's a pretty great collaboration between us! You get what you want from Amazon, and I get a small percentage at no extra cost to you…and then I am able to offer you more FREE plans!😊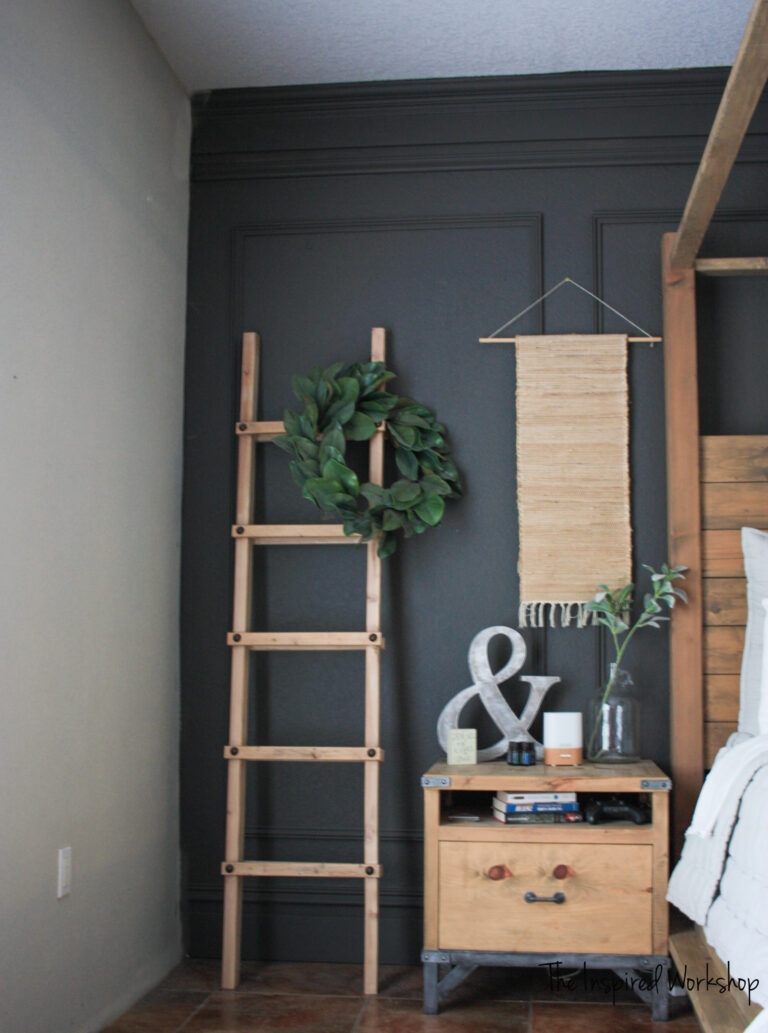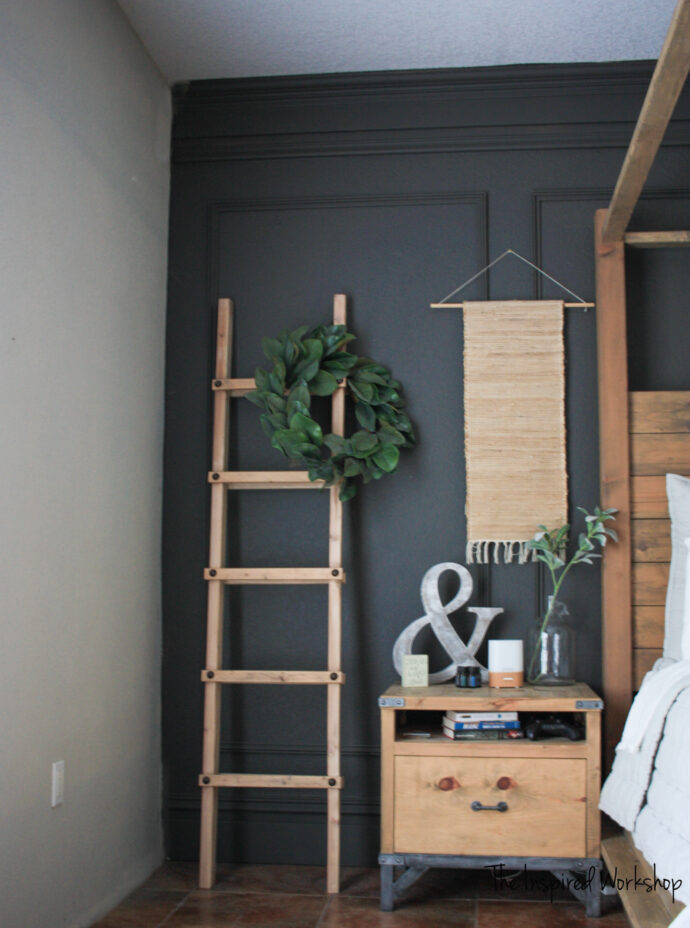 Materials for DIY Blanket Ladder:
Cut List for DIY Blanket Ladder:
2 – 2×3 @ 78″ cut at 10 degrees off square, ends parallel
10 – 1×2 @ 18″
Building the DIY Tall Blanket Ladder
Cut all your boards from the cut list! Of course, I built this blanket ladder 5 years ago, so I am not sure where the pictures from me building it went! Lol! I have like one…I will use Sketchup pictures to show most of it! It is pretty straight forward and easy!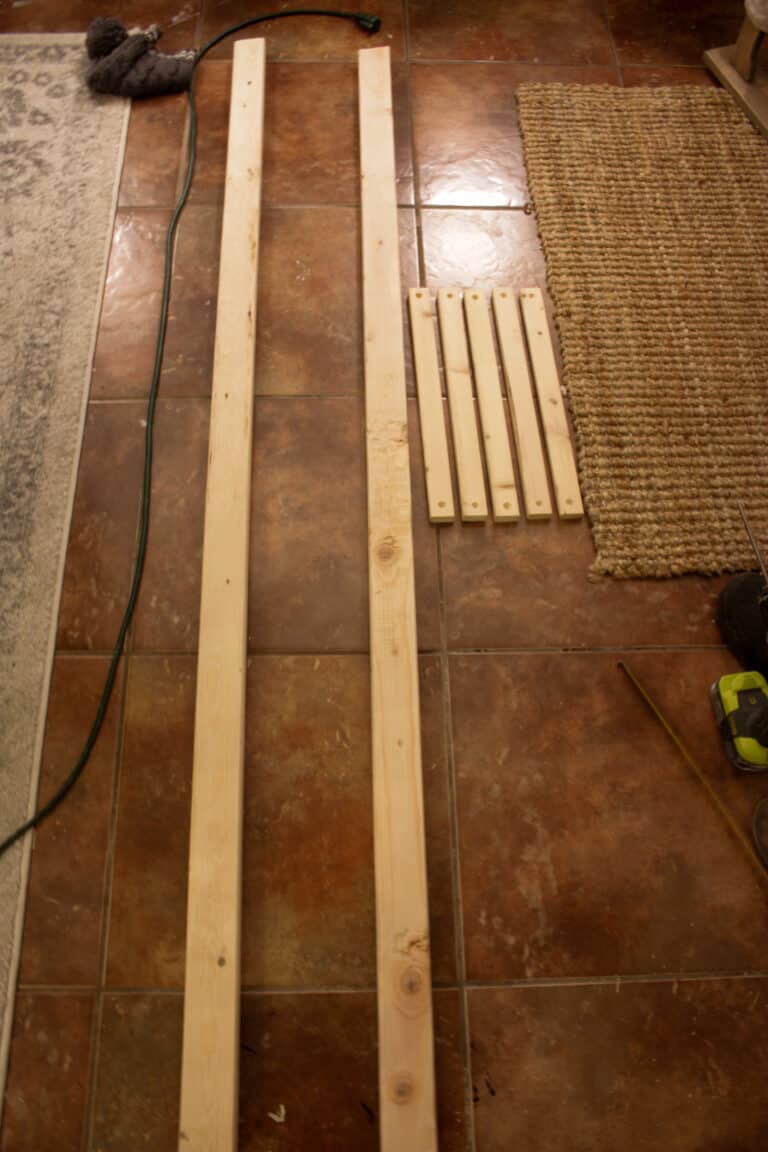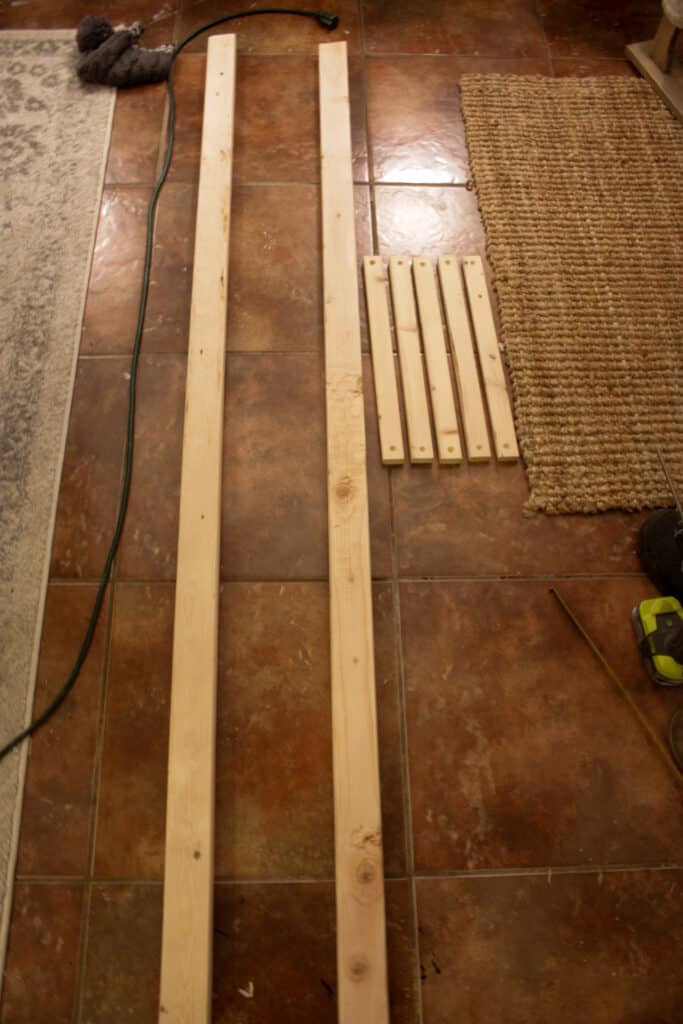 I drilled countersunk holes in my 1x2s because I only had Kreg screws on hand and their head is rounded and sticks up, so I wanted to make sure they were flush with the face of the board. If you use the regular wood screws they will have a flat head that you can lightly sink! I am all about using what I have on hand! Lol!
Layout the 2x3s about 17 1/4″ apart.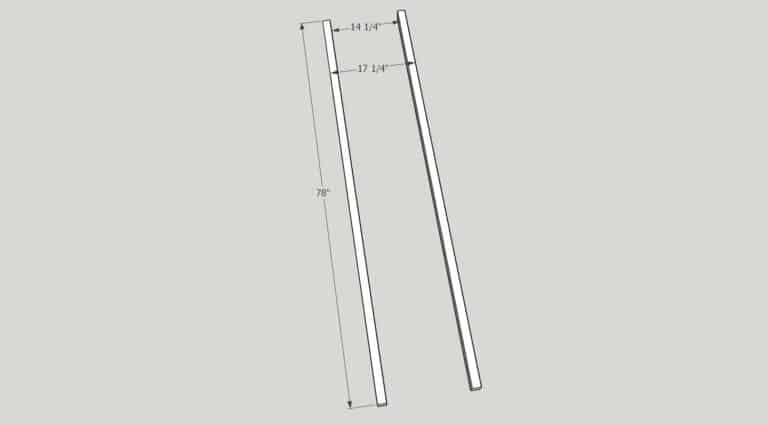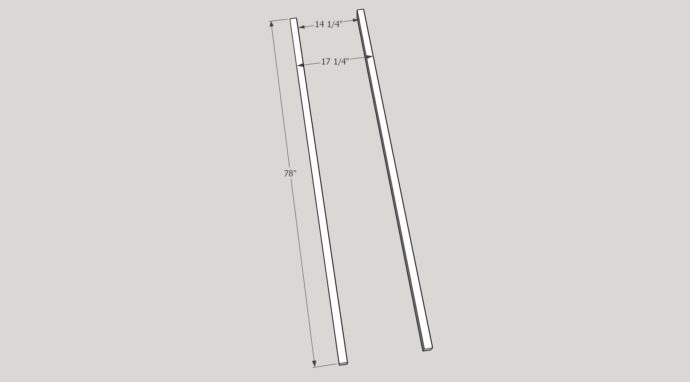 Starting 12″ from the top, set your 1x2s on top of your 2x3s every 11 1/2″ from the bottom of one to the top of the other. Use glue and screws to attach.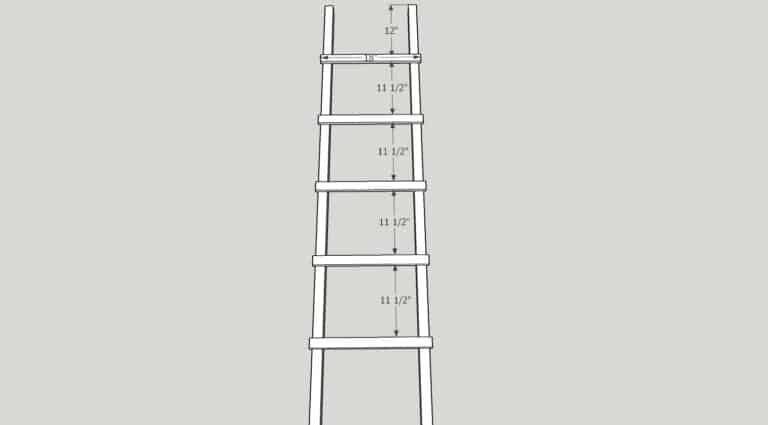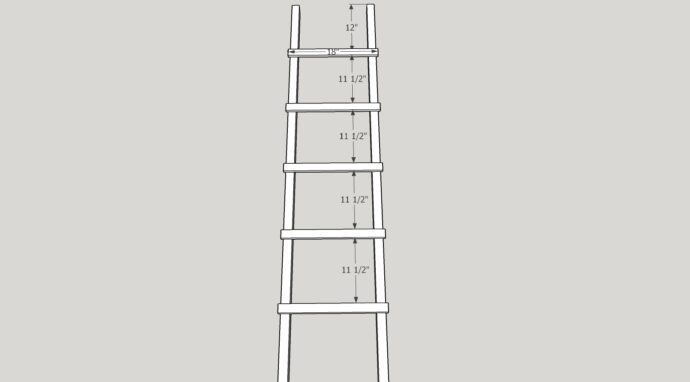 After the screws are in place, hammer the furniture nails into place to where they cover the screw head!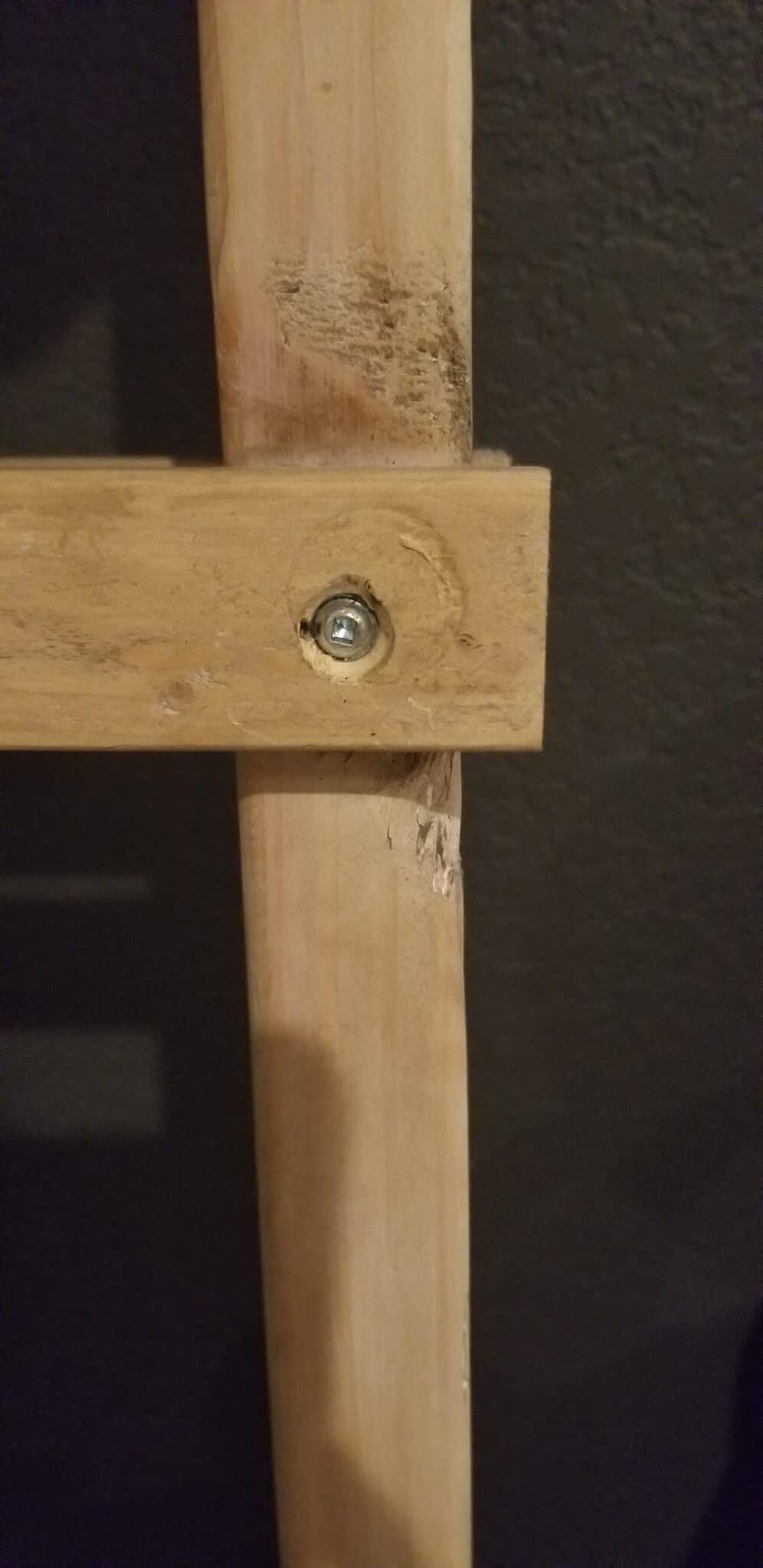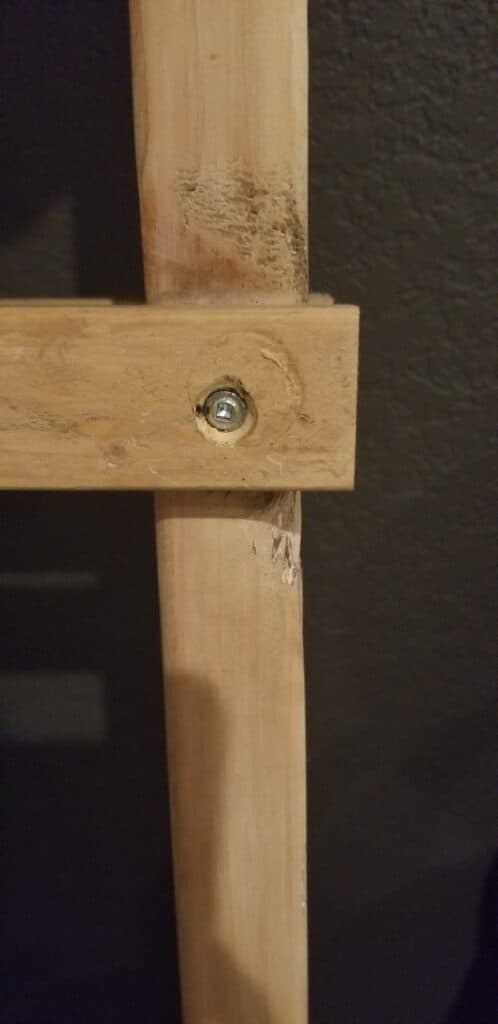 You can see how close to the screw I added the furniture nails…the hole is right there off the left side of the screw. I bent the head of the nail over some too!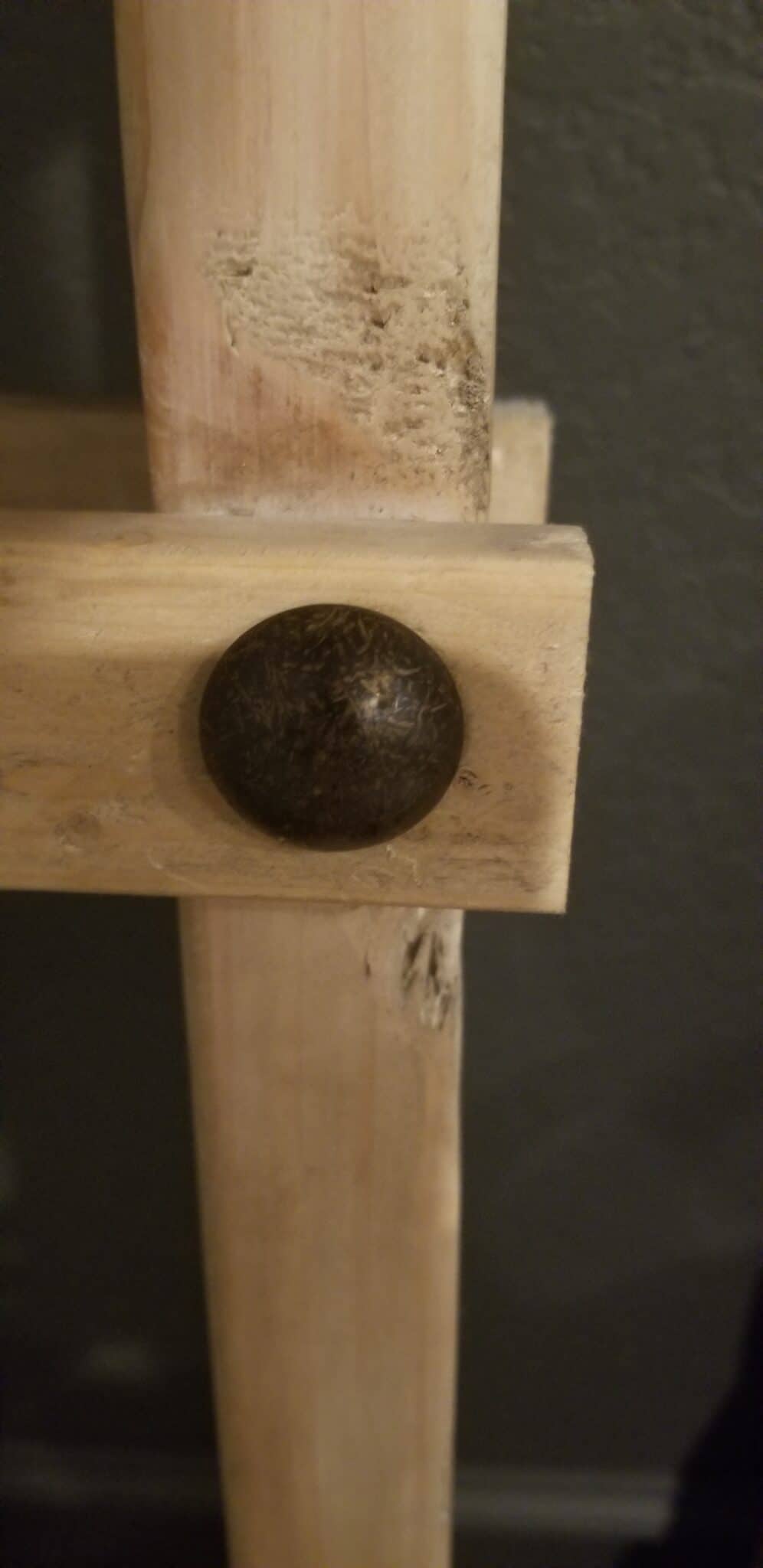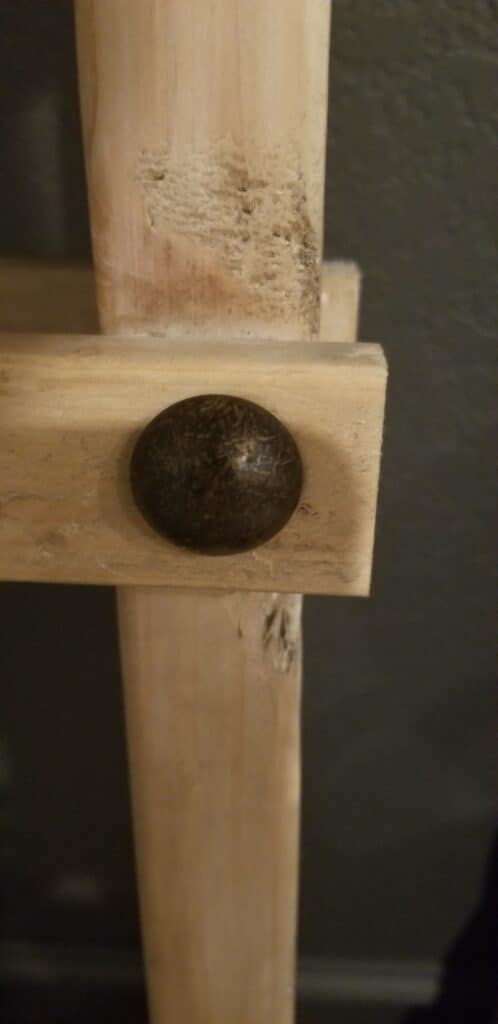 Flip it over and add the 1x2s onto the back, make sure they are even with all of the ones on the front! Glue and screw them into place! These do not need any furniture nails unless you want them to!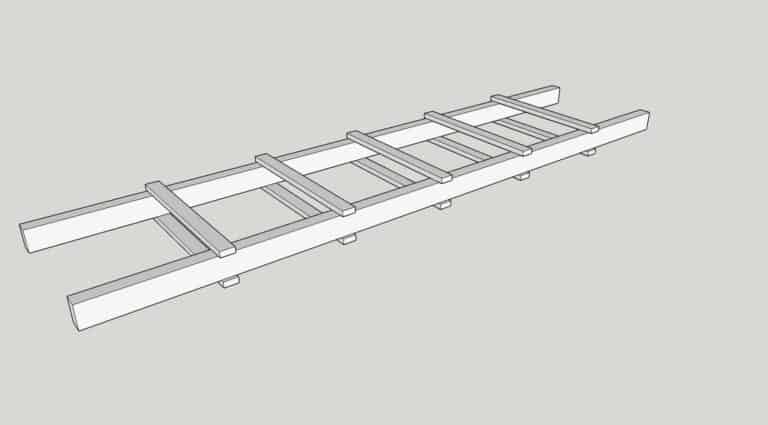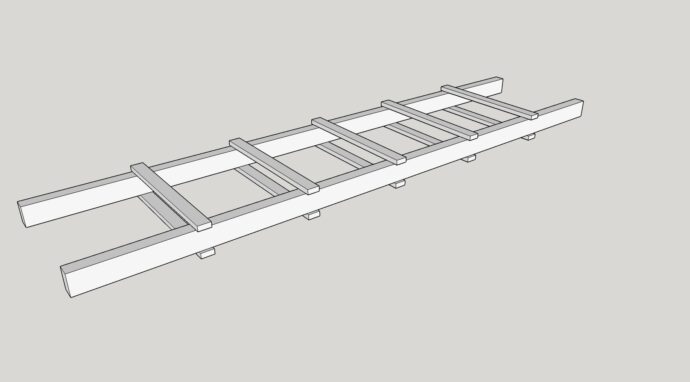 It is pretty much THAT simple! I know, I know, crazy right?! Finish it with the paint or stain of your choice! As I stated in the materials list, I used Varathane Antique White first, and then went over that with Minwax Early America! It makes for such a soft light warm brown that I LOVE!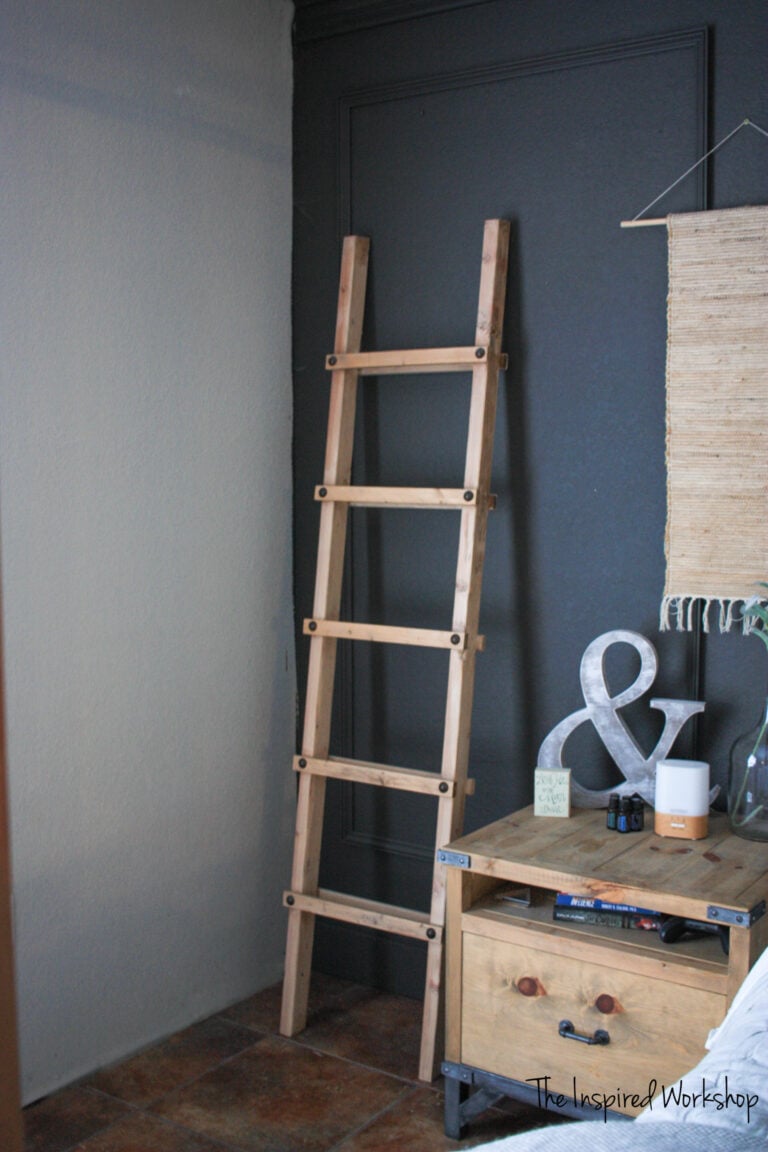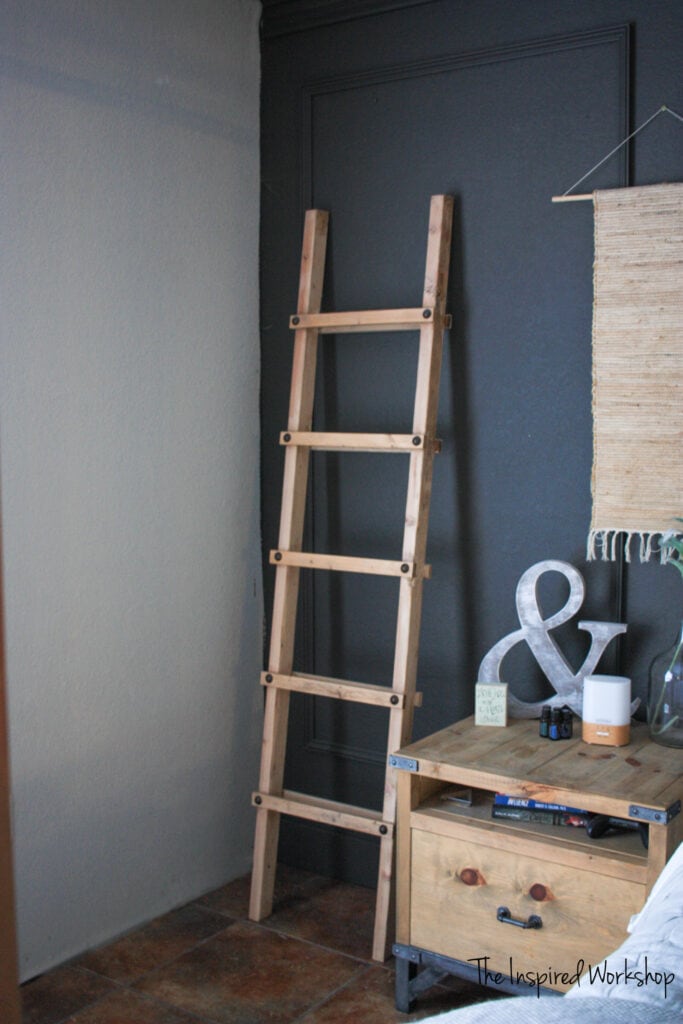 Once I finished it, I fell in love, which I pretty much always do! Lol! And then I decorated it and fell in love again! 😜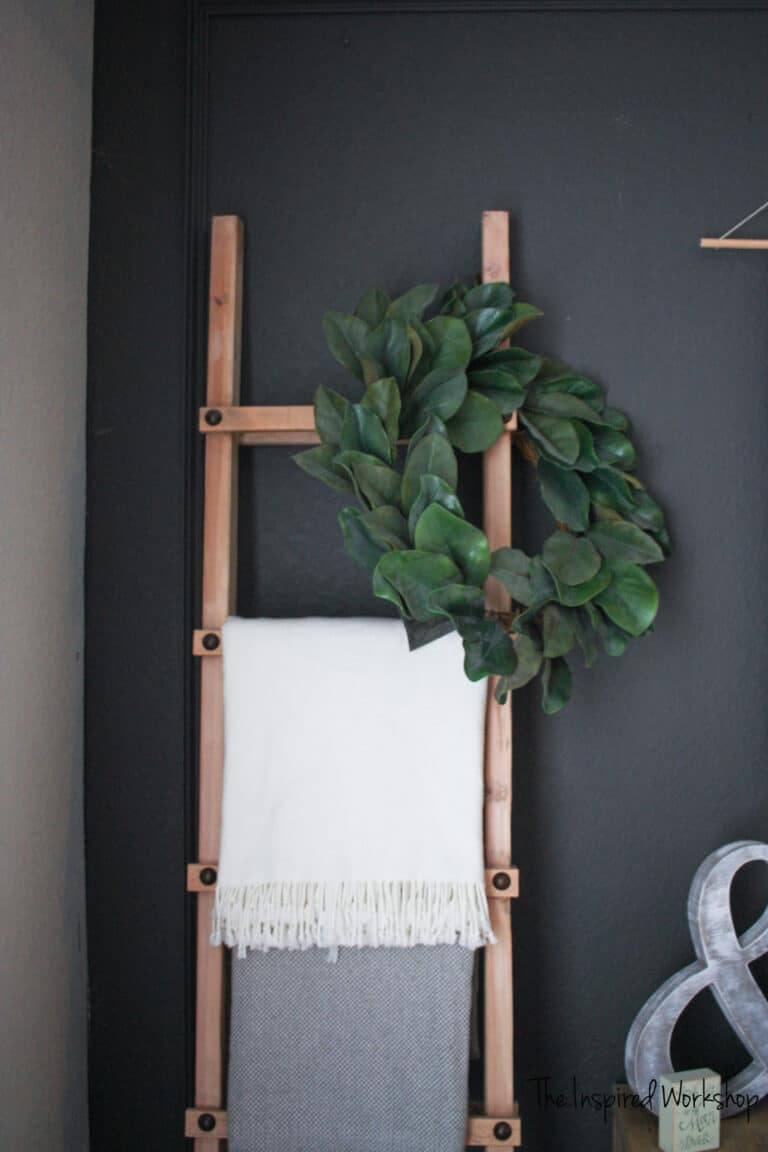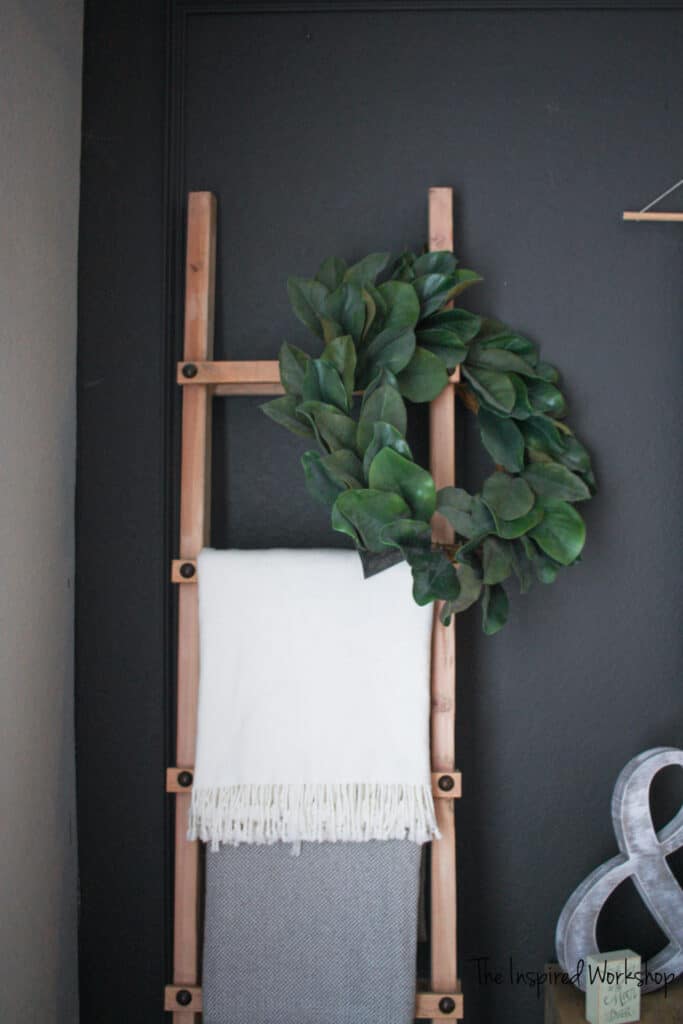 So that is all you need to do to make your very own blanket ladder! If you make one for yourself, or gift one to someone else, I would love to see it! Email me or tag me on social media @theinspiredworkshop! I absolutely LOVE seeing your creations from my plans!
Hope you all have the Happiest of Holidays this season! Stay safe, stay well, and enjoy your time with family and friends!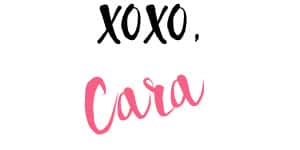 Want to save this DIY Blanket Ladder for later? PIN IT!