DIY Industrial Nightstand
A bedroom isn't complete without nightstands by the bed! This DIY industrial nightstand is a simple straightforward build that gives tons of bedside storage and ease of access to charge your phone or tablet with wood accents that are made to look like metal to give it the industrial vibe!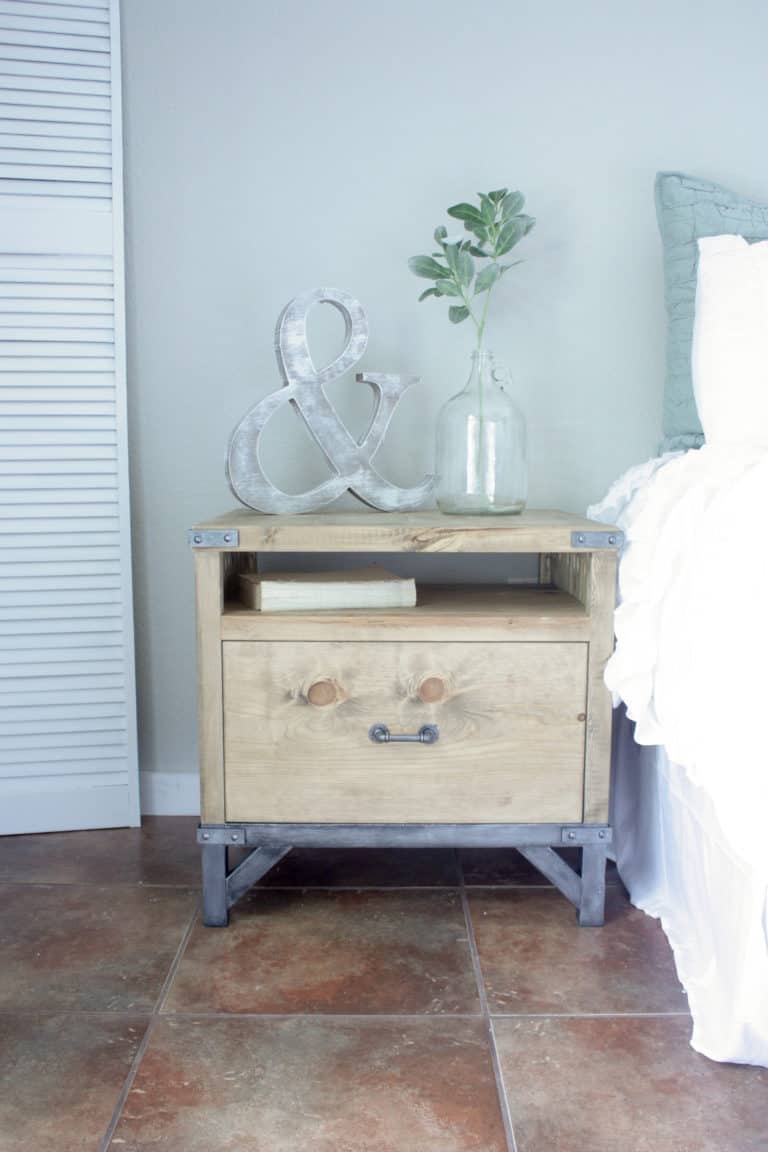 *This post is sponsored by Kreg Tool
I took some new pictures recently and had to share them with you all! This is the nightstand five years later! Still going strong! I still love it and the big large drawer has proven to be my favorite part! Lol!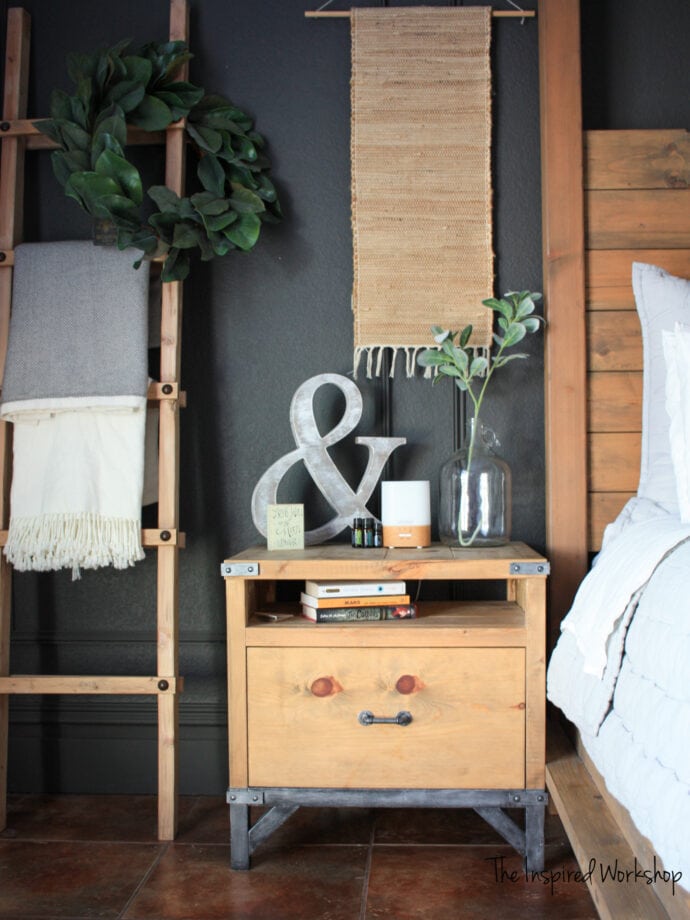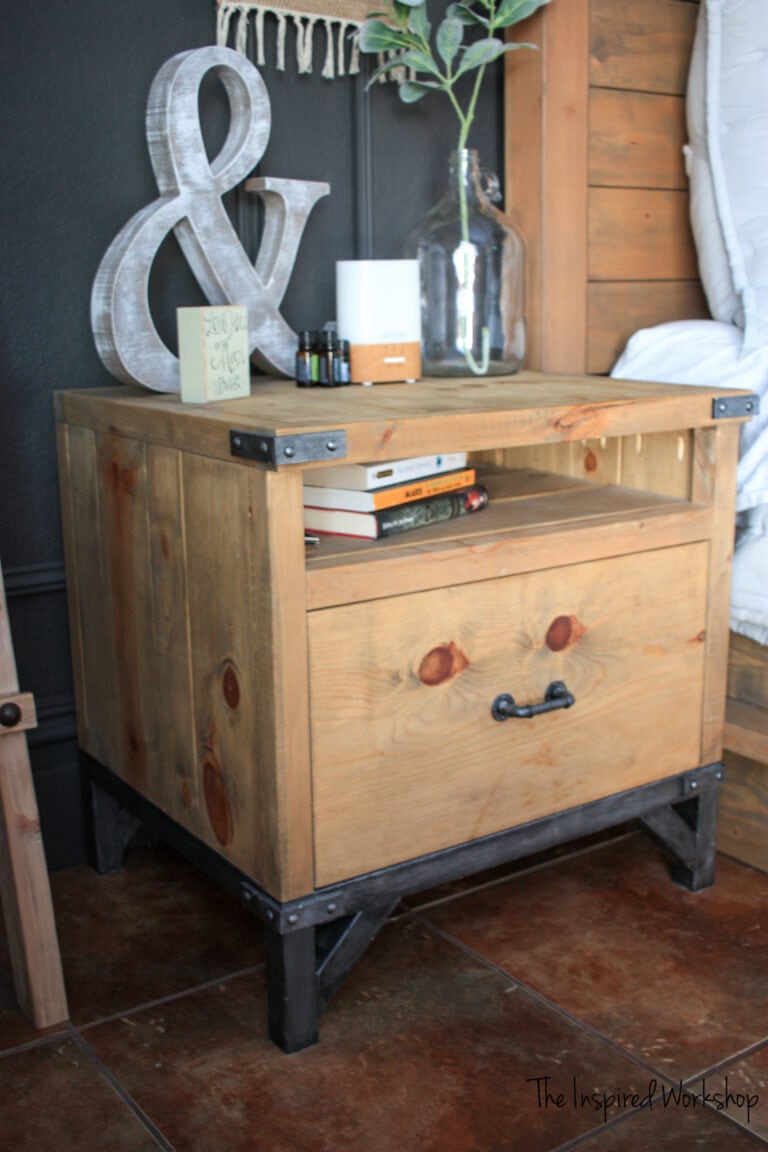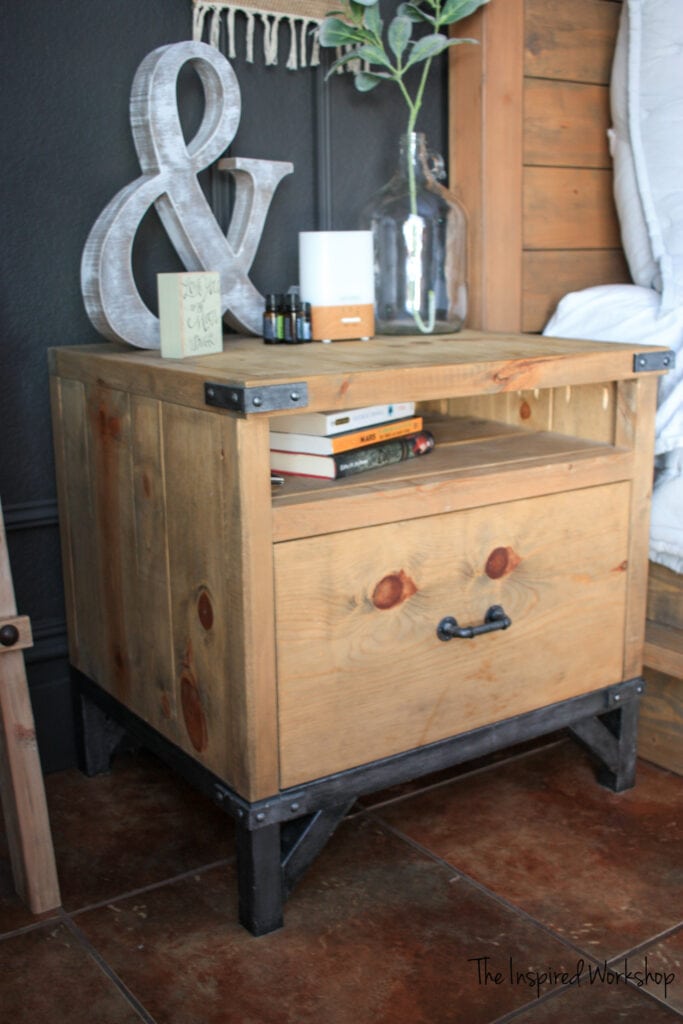 Oh, how my room has changed! The nightstand looks pretty great with all the DIY projects in here! The queen poster bed I built, the blanket ladder, and I even made that wall hanging tapestry!
Building the DIY Nightstand
This was actually not the plan I started with, but since I was in such a hurry to get out in my garage to check out my new drawer slide jig…I kind of rushed through my Sketchup phase of planning, and well, I got a few things wrong that changed the whole thing!! Lol!
There was supposed to be a drop-down door to hide your electronics while they were charging…and that big bottom drawer was not supposed to be quite so fat!! Hahaha!! So lesson learned…pay close attention to the plans…even if they are your own!! Lol!! I may post the other plans here on my site in the next few days because they really were great plans…I just messed them up! If you are eager to get the plans for this nightstand head on over to Kreg Tool and grab them now!!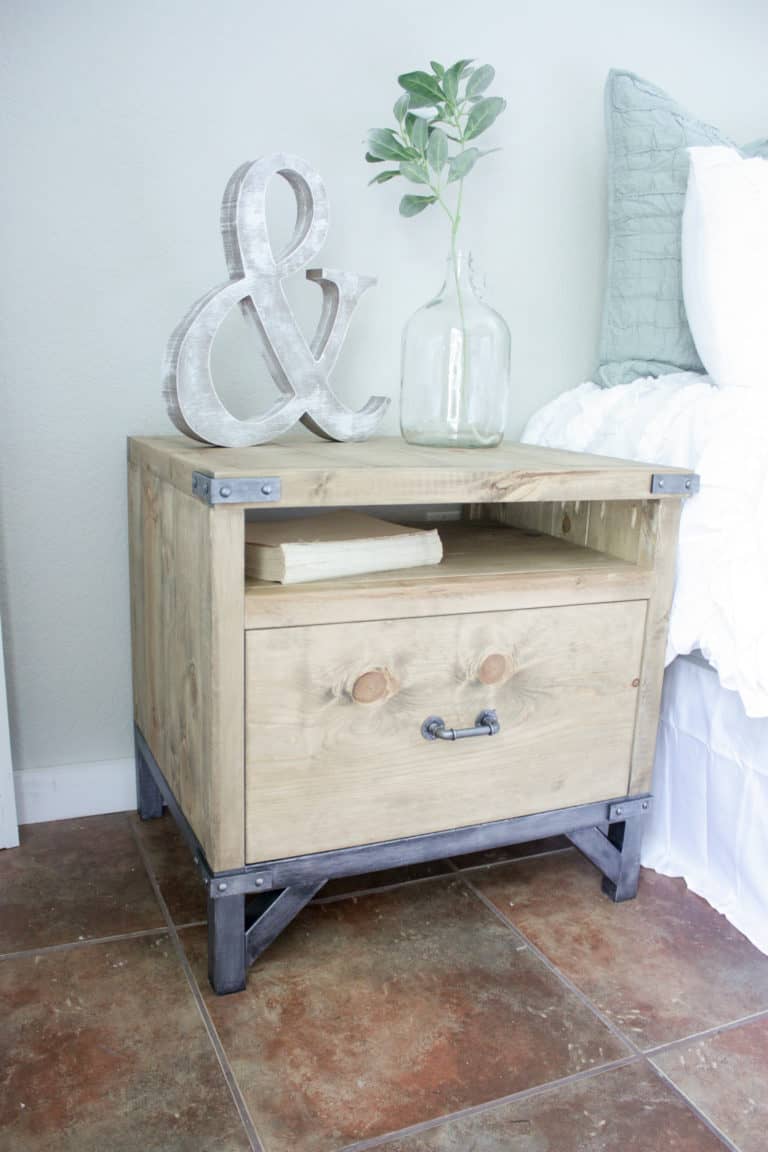 Materials Needed to Build the DIY Nightstand
***Amazon links below are affiliate links! Affiliate links pay me a commission should you make a purchase after clicking one, at no extra cost to you! I always appreciate it when you shop from one of my links, and it helps keep the plans coming free!
4 Board – 2x2x8
2 Board – 1x6x10
1 Board – 1x4x10
1 Plywood – 1/4″ Thick 2×4
1 Board – 1x3x8
1 Board – 1x10x8
1 Board – 1x12x8
1 Drawer pull – if I were to choose a drawer pull now knowing the size of the drawer, I would go with a longer one such as this one. Pipe drawer pull
Cut List for the DIY Nightstand:
2 Top Front and Back Rails , 1 1/2″ x 1 1/2″ x 25″
4 Shelf Rails, Bottom Front and Back Rails , 1 1/2″ x 1 1/2″ x 22″
4 Side Top and Bottom Rails , 1 1/2″ x 1 1/2″ x 18 3/4″
4 Legs , 1 1/2″ x 1 1/2″ x 23 1/2″
4 Mitered Accents , 1 1/2″ x 1 1/2″ x 6″
4 Top Boards , 3/4″ x 5 1/2″ x 18 3/4″
4 Side Boards , 3/4″ x 5 1/2″ x 16 3/4″
2 Shelf Boards , 3/4″ x 5 1/2″ x 23 1/2″
4 Side Boards , 3/4″ x 3 1/2″ x 16 3/4″
2 Shelf Boards , 3/4″ x 3 1/2″ x 23 1/2″
2 Drawer Box Front and Back , 3/4″ x 9 1/4″ x 19 1/2″
2 Drawer Box Sides , 3/4″ x 9 1/4″ x 19″
1 Drawer Face , 3/4″ x 11 1/4″ x 21 3/4″
1 Drawer Bottom , 1/4″ x 19″ x 21″
2 Drawer slide braces , 3/4″ x 2 1/2″ x 18 3/4″
Using Kreg Drawer Slide Jig to install drawers on the DIY Industrial Nightstand
Now, if you want to hear more about this drawer slide jig *affiliate link*…one of the BEST inventions by Kreg…it is right up there with the Kreg Jig itself in my eyes!! This little set of guys is unbelievable how it transforms the drawer building and attaching process!! If you have been afraid of drawers, or just avoided them like the plague like I have, because I hate them so much…this is for you!! I can't wait to do a full tutorial on them so you can see how easy it really is!! Here's a pic from when I was using them on this project!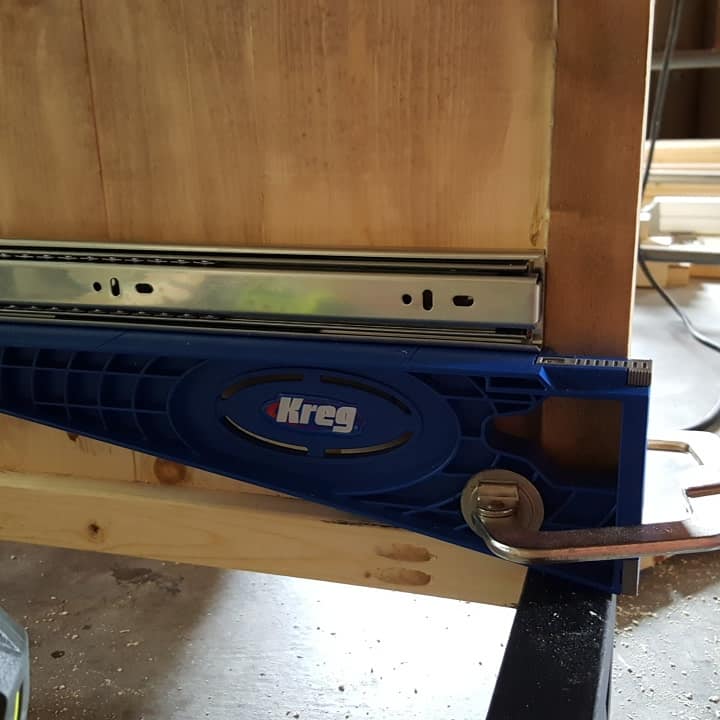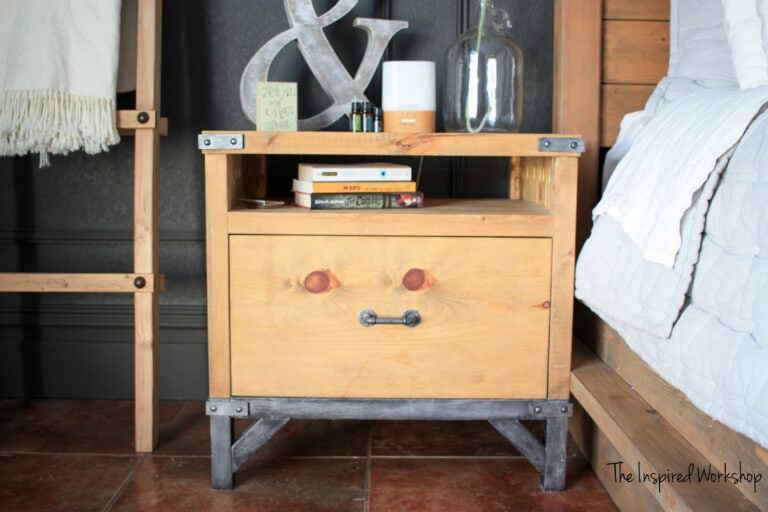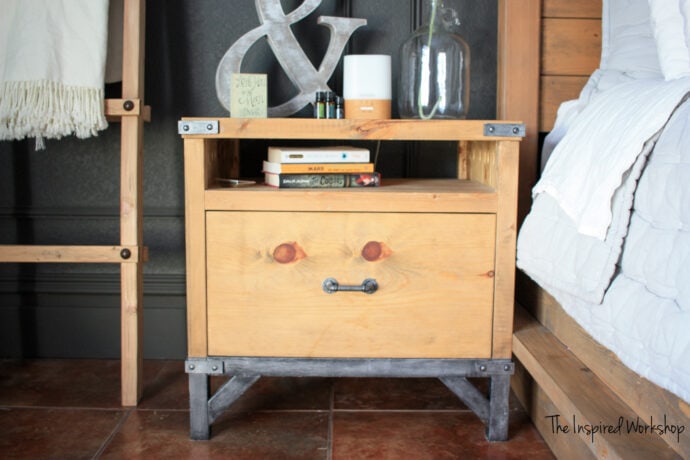 Aren't those industrial 'metal' legs so cool? They are wood of course because I have yet to tackle learning to weld! I added some small pieces of wood and furniture tacks, then painted it black. I then came back with a little silver paint and painted it on and wiped it off! I kept repeating the silver paint process until I liked the color and boom, it looks like metal!
Finding the build plans for the DIY nightstand
In the meantime, if you want to build your own industrial nightstand or just want to browse some awesome free plans, head on over to Kreg Tool!! If you haven't been to Kreg Tool yet, you need to head over and check it out, so many project plans that are all free!! Plans from Kreg Tool, plans from your favorite bloggers, plans for every style and room in your home!
They have so many plans, they really have something for everyone!! Kreg Tool is Kreg's new website where they allow anyone and everyone to share plans!! So have you built something that you would love to share with everyone? Click the link above and share now!!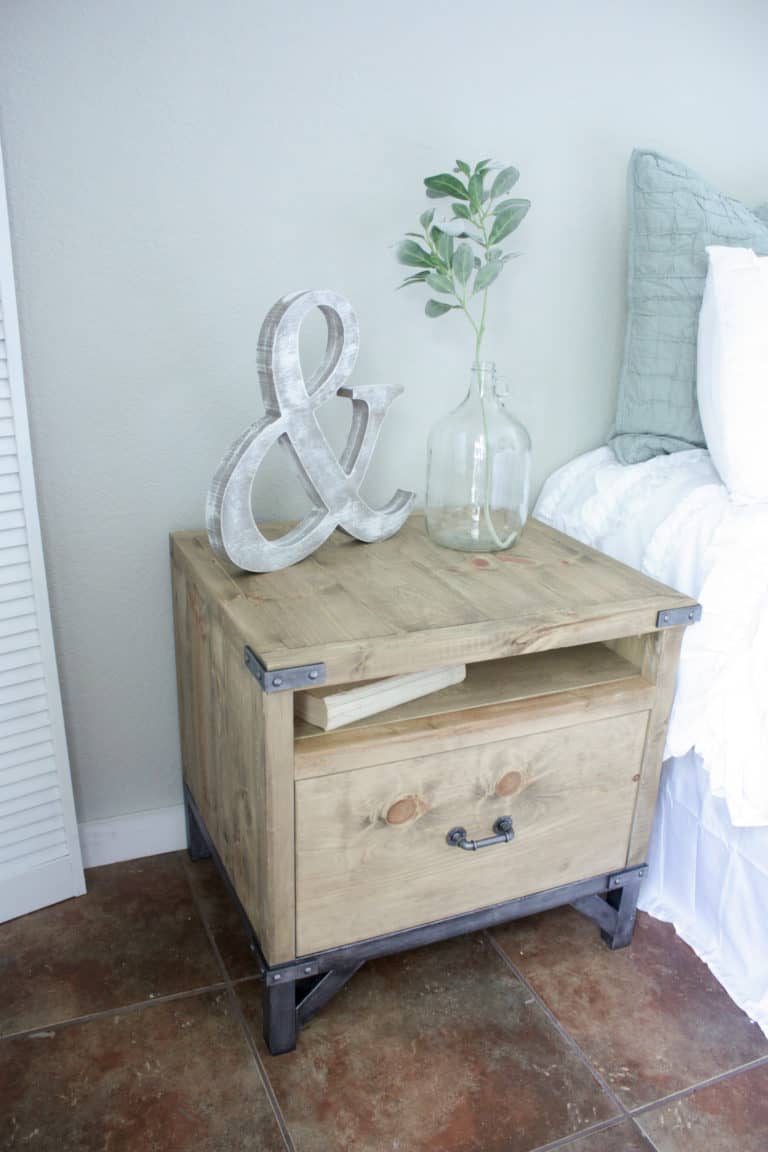 Have a great week!! Make sure to follow me on Instagram to get sneak peeks from behind the scenes!! Follow me on Pinterest to see all the things that make me happy!! And check me out on Facebook if you still use Facebook!
Happy Building!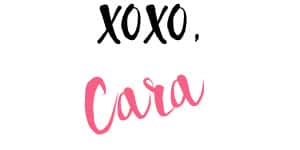 Want to save this DIY nightstand for later? PIN IT!