DIY Industrial Nightstand
*This post is sponsored by BuildSomething.com
Hey there!! Happy National Relaxation Day!! In honor of this holiday…(Lol, I didn't even know there was such a holiday) I am so excited to bring you the plans to another piece of my bedroom furniture collection…this diy industrial nightstand!! 😉 It is a simple straight forward build that gives tons of bedside storage and ease of access to charge your phone or tablets!!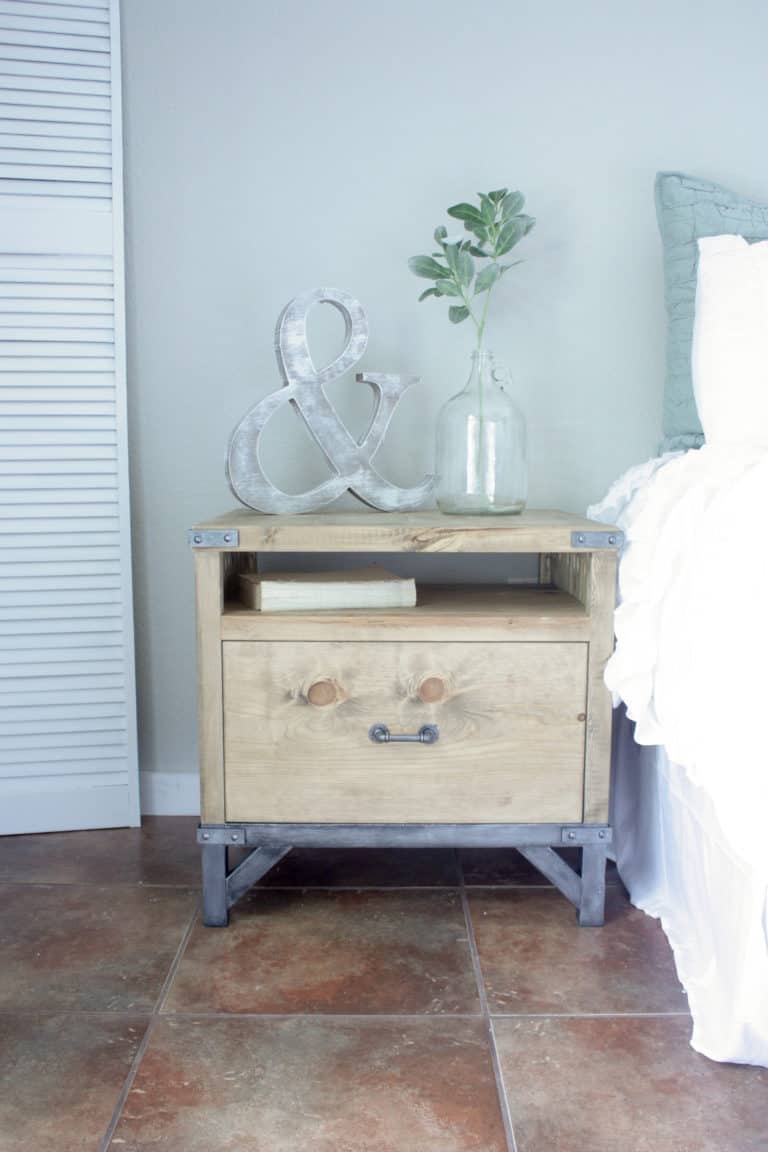 This was actually not the plans I started with, but since I was in such a hurry to get out in my garage to check out my new drawer slide jig…I kind of rushed through my sketchup phase of planning, and well, I got a few things wrong that changed the whole thing!! Lol! There was supposed to be a drop down door to hide your electronics while they were charging…and that big bottom drawer was not supposed to be quite so fat!! Hahaha!! So lesson learned…pay close attention to the plans…even if they are your own!! Lol!! I may post the other plans here on my site in the next few days because they really were great plans…I just messed them up! If you are eager to get the plans for this nightstand head on over to buildsomething.com and grab them now!!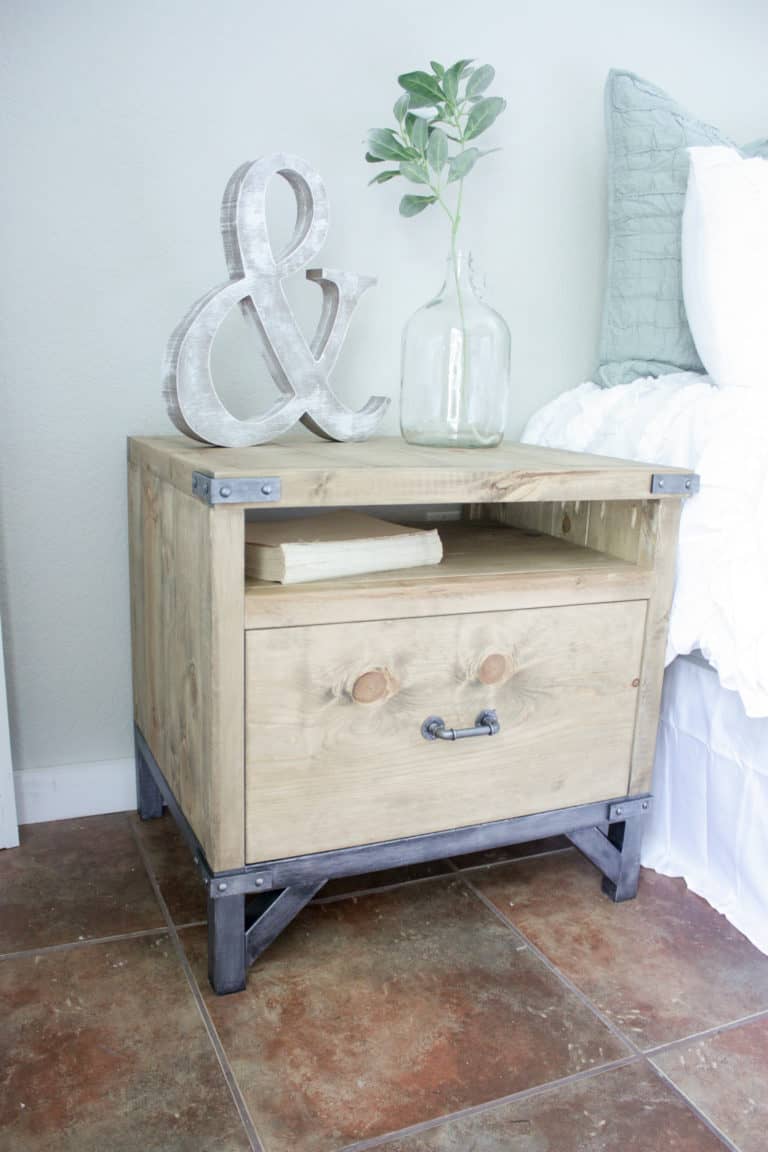 Now, if you want to hear more about this drawer slide jig…one of the BEST inventions by Kreg…it is right up there with the Kreg Jig itself in my eyes!! This little guy is unbelievable how it transforms the drawer building and attaching process!! If you have been afraid of drawers, or just avoided them like the plague like I have, because I hate them so much…this is for you!! I can't wait to do a full tutorial on them so you can see how easy it really is!! Here's a pic from when I was using them on this project!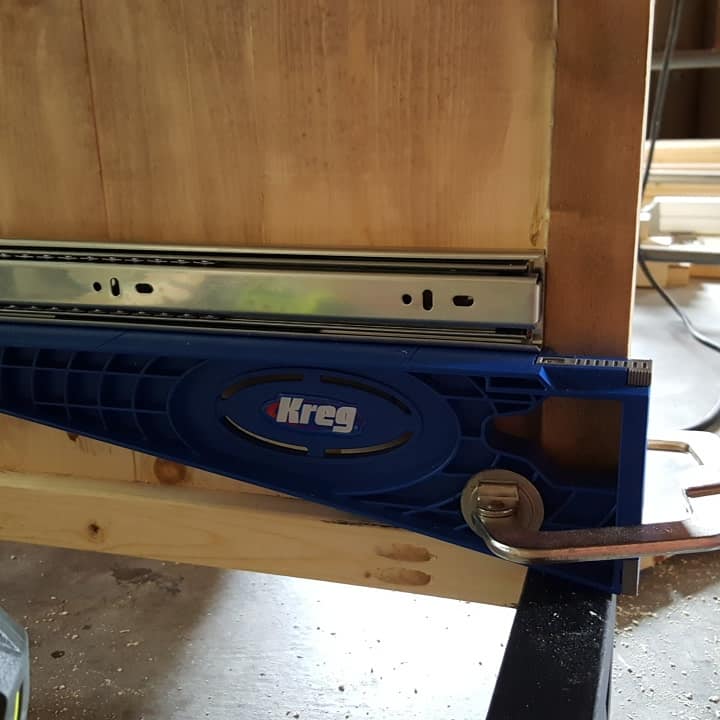 In the meantime, if you want to build your own industrial nightstand or just want to browse some awesome free plans, head on over to Buildsomething.com!! If you haven't been to Build Something yet, you need to head over and check it out!! They have plans from all over the web…all different styles…they really have something for everyone!! Build Something is Kreg's new website where they allow anyone and everyone to share plans!! So have you built something that you would love to share with everyone? Click the link above and share now!!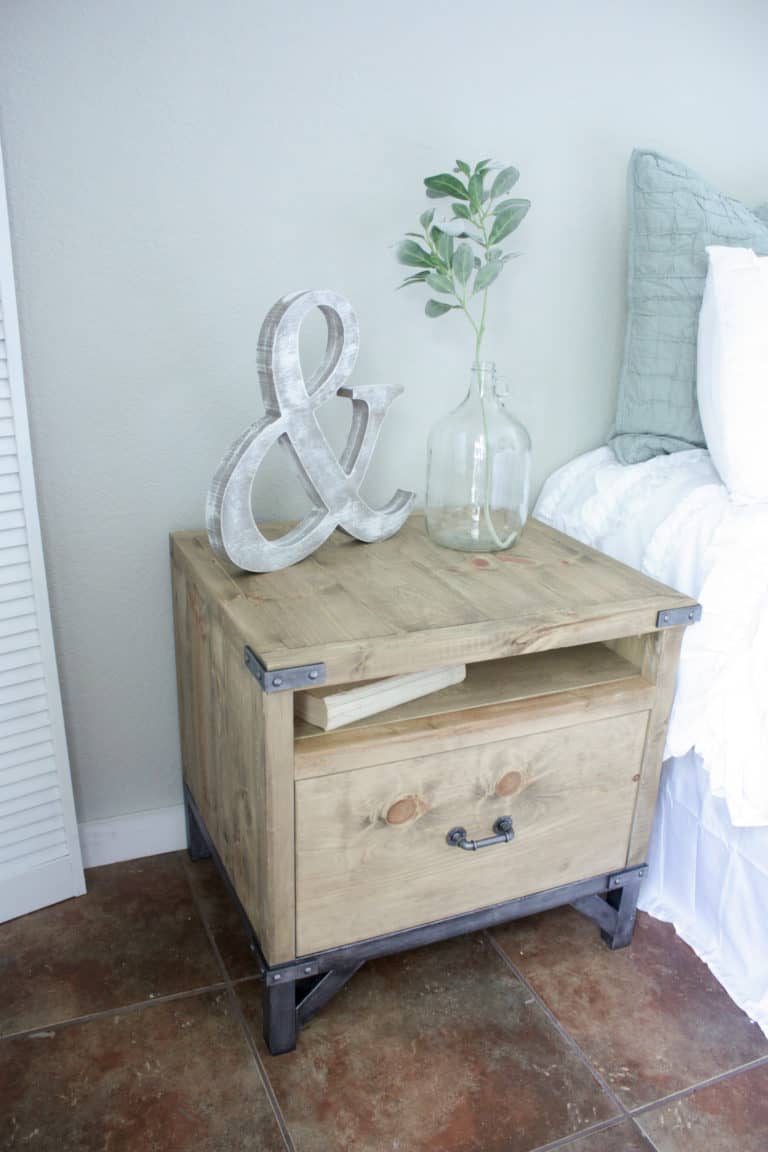 Have a great week!! Make sure to follow me on Instagram to get sneak peaks from behind the scenes!! Follow me on Pinterest to see all the things that make me happy!! And check me out on Facebook if you still use Facebook!! Hehe!!
Let all your DIYs be a beautiful ride!! 😉
Happy Building!
Cara
Have you signed up for emails of new posts directly into your inbox? Sign up now and NEVER miss a thing!!
[email-subscribers namefield="YES" desc="" group="Public"]