Wine Riddling Rack and Mother's Day Giveaway!!!
OhMaGoshhhhh!!!! I am SOOOOO excited for this post today!! I have teamed up with Kreg tool company to bring you today's post and giveaway!!! I built this beautiful wine riddling rack and Kreg is shipping it to one of you!!! Happy Mother's Day right!!! I really want to keep it…but it will be really fun to let one of you have it!! So, without further ado, lay your eyes on this baby!!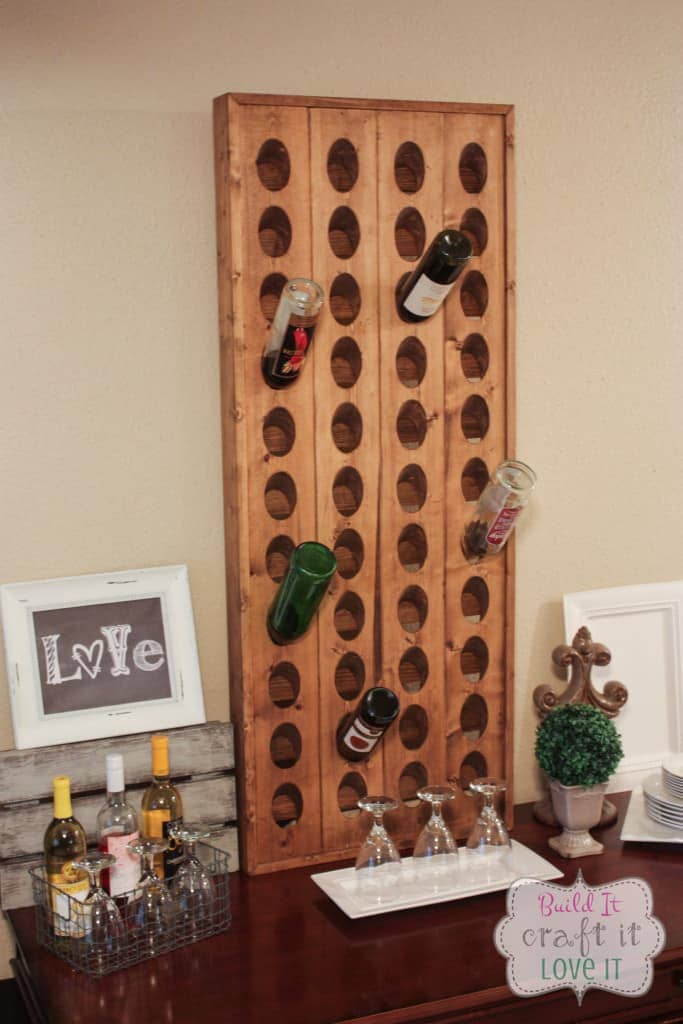 And it's really a win win because if you don't happen to win it…I am still offering a full tutorial to guide you through making your own!! Woohoo!! I'm beyond excited!! And we have made it SUPER easy to enter to win this thing! To enter all you have to do is choose what you want to do: sign up for email notification of new blog posts, follow me on Instagram @buildcraftlove and/or Kreg on Instagram @kregjig, like me on Facebook, comment on this post in the comments section down below, your choice…do them all or just one! If you want even more entries…for everyone you tag on Instagram or in the comments of this post on Facebook, I will give you an extra entry!! No limits!! If you already follow me or Kreg that gains you an entry if you comment or tag yourself!
So, I have LOVED a riddling rack like this from Pottery Barn for the longest time, but since I am not a wine drinker I really hadn't thought too much about building it…that is until Kreg came to me and asked me to build something and give it away for Mother's Day!! I was so excited and thought…here is my chance I can build this amazing wine riddling rack!! And now that I have built it, wine drinker or not, I want one!!! So even if you aren't a wine drinker, it holds empty wine bottles the best and so anyone can enjoy this piece!
This was by far my most challenging project to date even though it looked like it would be so easy to build…I was wrong! I will admit…if I didn't have my Dad's expertise I probably would have given up for now and put this project on the back burner! I thought…oh yea…I will use my Dad's drill press…drill these holes really quick and plank it together…an afternoon of work for an amazing diy wine riddling rack that I can give away for Mother's Day! Yea! …No way…it DID NOT go like that at all! LOL! Lucky for you though, we figured out a way to get it done…my Dad really to be honest…and it is a little time consuming but WELL worth it!! I just LOVE this riddling rack!!! And yes I am building one for myself as well!! Lol!!
Let's get a material list and get this tutorial going so I can go get started building my own wine riddling rack!! Haha!!
Material List:
4 – 2x6x8
2- 1x4x8
3 – 1x3x8
2 1/2″ Hole Saw
drill press (this can be done without one…I just couldn't have done it without one! Lol!)
18″ long 1/4″ drill bit
Kreg Jig
2 1/2″ Pocket hole screws
drill
brad nailer or finishing nails and hammer
1 1/2″ brad nails
1 1/4″ wood screws
wood glue
heavy duty hanging hardware (this sucker is HEAVY)
Cut List:
4 – 2×6 @ 56″
1x4s will be beveled so they will need to be cut after it is assembled
11 – 1×3 @ 21″
Alright…let's build this!!
To get started of course you must cut your 2×6 boards down to the 56″ length. Then we clamped the boards all together…the way they were going to be planked, to line up our marks of where we were going to drill holes! We determined that we were going to drill the top and bottom holes 4 3/4 inches from the ends of the board and then the other holes were measured at every 4 1/4 inch, and then we used a square to draw lines across all the boards at one time… you can sort of see in the picture below…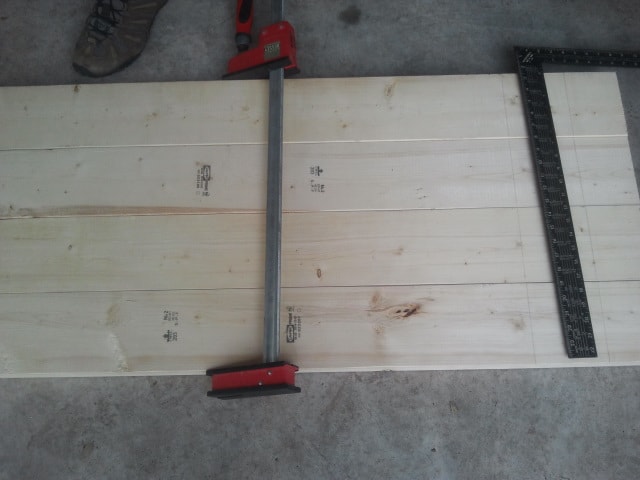 Once you have the lines marked all the way down the board, we then had to find the exact center of each board and mark it on each line going down the board…this will be where you will line the drill bit up to drill those holes! Woohoo!!
Okay now you will have to set your drill press up to bevel the holes at a 45 degree angle, this is easily adjusted if your drill press is able to do it, you just turn the plate that holds the board to 45 degrees. If your drill press does not bevel, there is a drill guide you can buy, they are inexpensive but I am not sure how well they work…I was looking at buying one but haven't yet, so if anyone has experience with any please let me know in the comments below how you feel about them! Thanks!!
Next we had to clamp a scrap piece of plywood to the plate so we could drill as deep as possible without damaging our drill bit and hole saw. And last, we clamped a board to the outside edge so that we would not have to readjust our board every time, we would just push it up against this clamped board…did that make sense?! Here's a picture to try to help!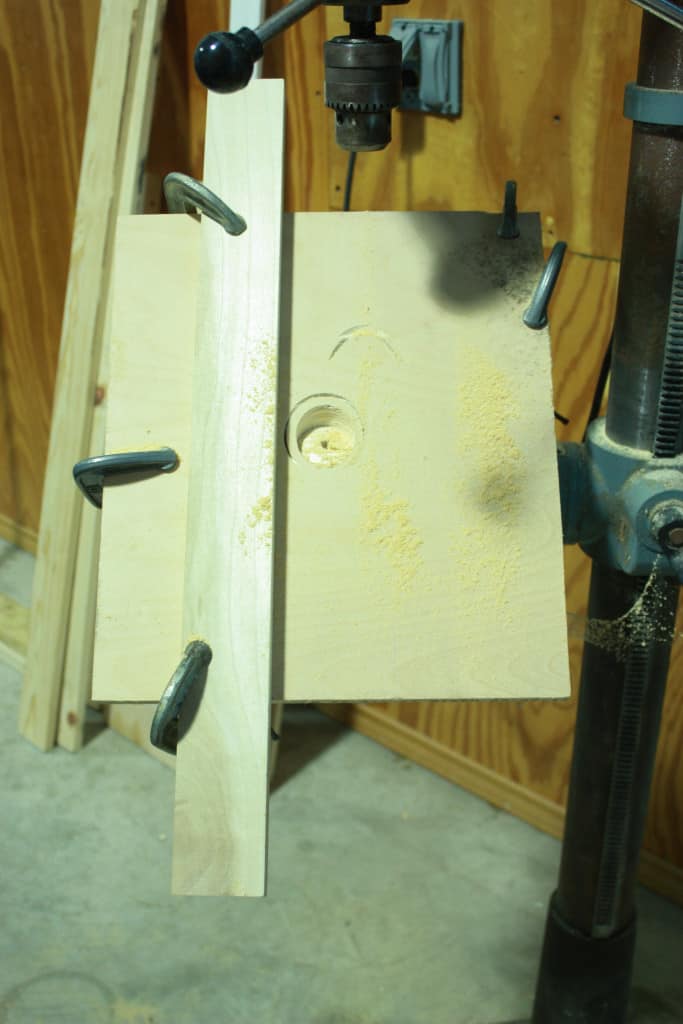 Here the drill press is ready to drill the first round of our holes!! Yea!!!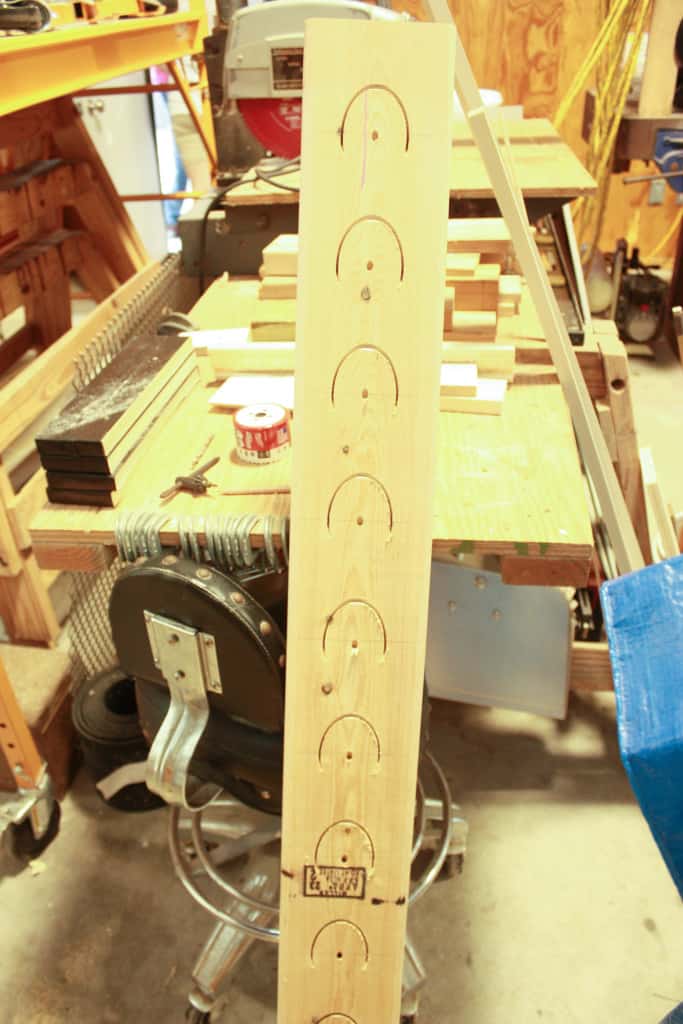 After clamping this board to the drill press and drilling the holes as deep as you can, it will look like this above picture…it reminds me of horse shoes…so just know later when you hear me referring to horse shoes, I have not lost my mind!! LOL!! Now I know this is not exactly what we need them to look like right?! Lol! This is where we ran into our problem…without spending $350 on a hole saw that is 4 or 6 inches deep, this is as far as a standard hole saw can drill into 2x wood at a 45 degree angle! Oh my word…what the what?! That's what we were thinking…there has to be a way!! Well, this was the best way we (my Dad) came up with!! After drilling the holes as deep as you can…you then take an 18″ long drill bit (1/4″) and drill all the way through the board using the holes started for you by the drill press at the 45 degree angle.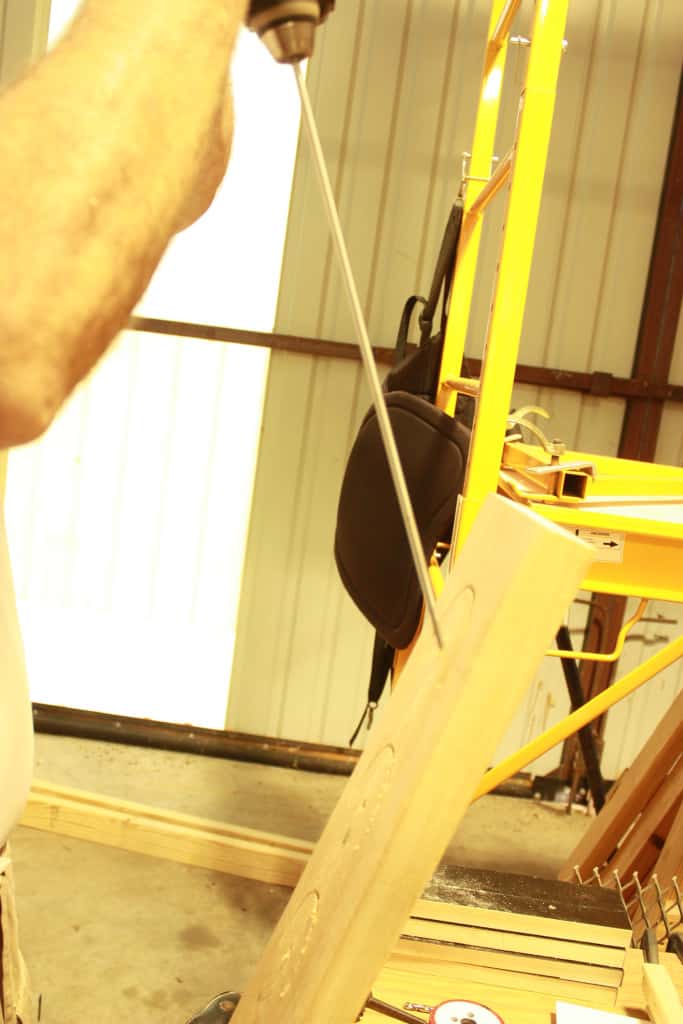 So, you can see how the hole that you started with the drill press keeps the 18″ drill bit at the 45 degree angle and you can then drill all the way through the board. After drilling this pilot hole all the way through, turn the board around and it looks like this!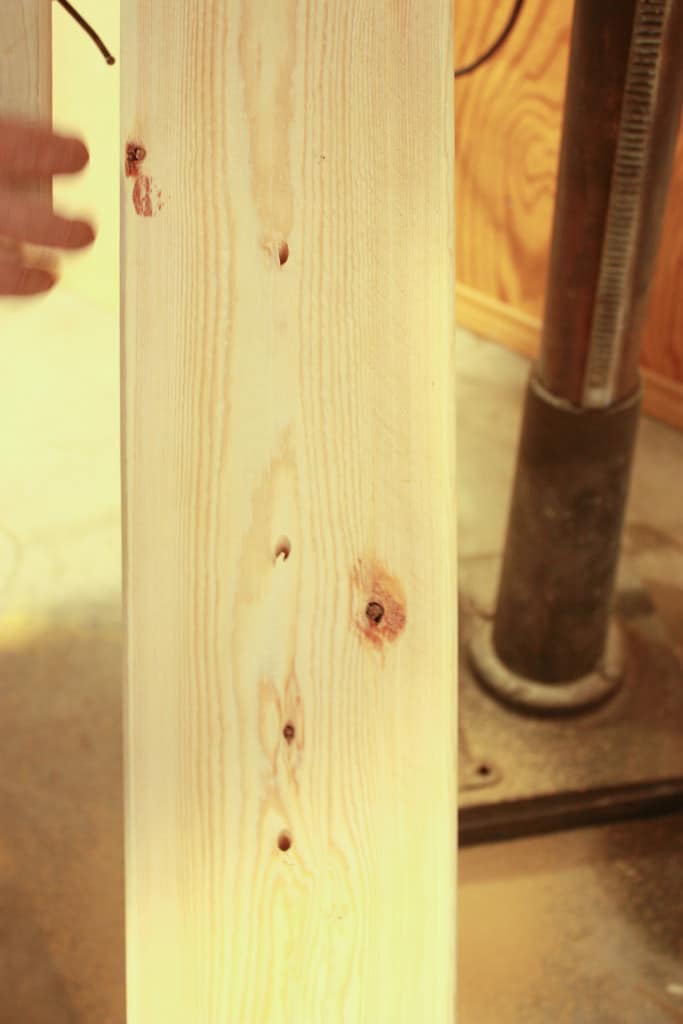 Now you will turn it upside down using this side that only has the holes visible (make sure that the holes are being cut at the opposite direction as the front side which is why I say turn it upside down) you will place it back on your drill press and use the pilot holes to line it up and cut through the other side, it will then look just like the first side we did with the horse shoes.
After that comes the really fun part!! Lol! Not really!! Okay, well it is kind of because it finally will feel like you are making progress which always makes me want to keep going…you have to start chiseling out the horse shoes…you don't have to chisel a lot, it just has to be chiseled a small amount near the top of the horse shoes so that the hole saw can cut deeper, when the hole saw hits the wood, it keeps it from being able to drill any deeper and that is why we only have horse shoes after drilling the first couple of times!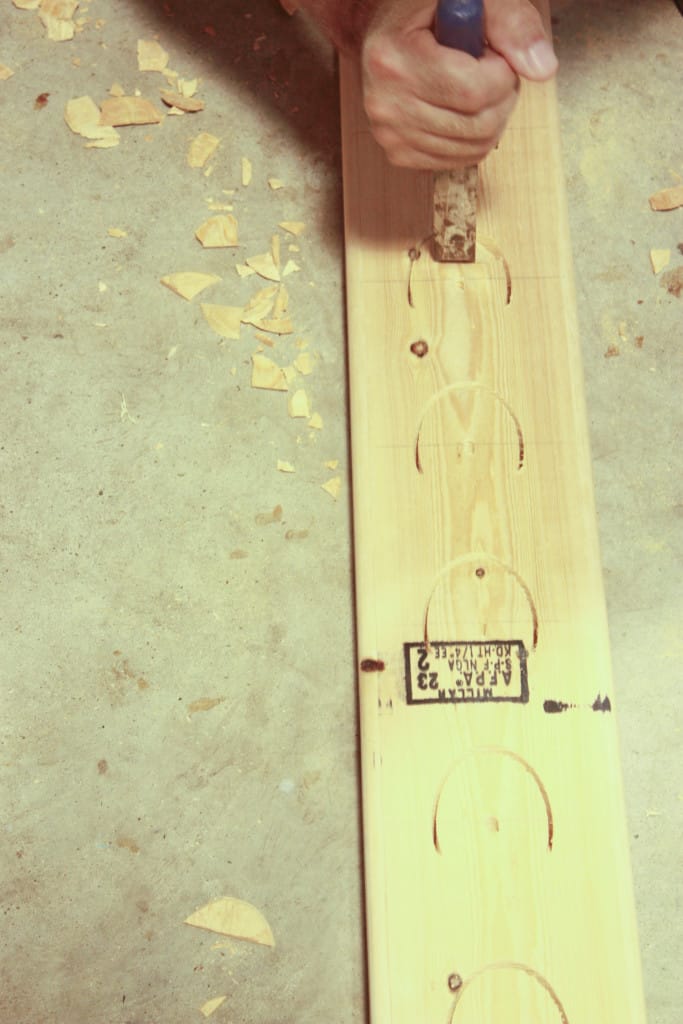 That's my Dad's hand you see in this picture…mine are not that big…hehe!! See where he has the chisel…this is right where you want to place it and hit all the way across the inside of the horse shoe to chip it out…see what I mean when I say it doesn't have to be a lot?! After chiseling it will look like this.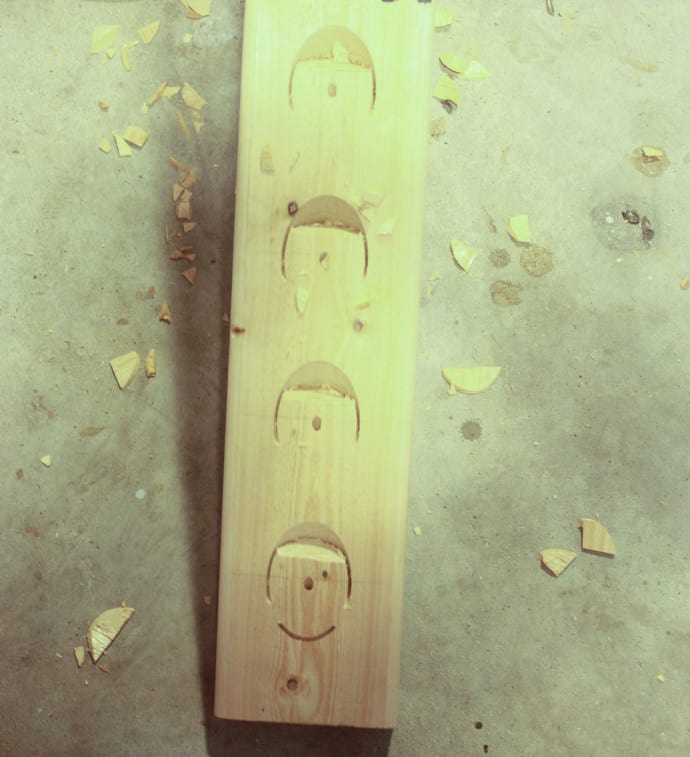 Now that bottom on has a ring all the way around because it was our first hole and we were making sure we had it lined up right, so we had already chiseled and drilled one more time! Nothing to be worried about…at this point yours should look like the rest of the holes on the board, not the bottom one! Now this is REALLY time consuming, it has to be done on EVERY hole on the front and BACK! Yeah I know…that is 88 times to be exact!!! Wowza!! Sounds like maybe it is easier to enter as many times as you can to win it!!! LOL!! But if you don't…it's SOOOO worth it to end up with this BEAUTIFUL wine riddling rack!!!
After all that chiseling is finally done…it's back to the drill press, drilling the same holes again on the front and back but this time they will cut all the way through…you will be able to see the solid ring all the way around on both sides…and oh the excitement you will feel!! Pat yourself on the back if you have made it this far…you deserve it!!! Now you will just use your chisel and mallet and tap the big chunks all the way out of your board and OMGEEEE!!! The boards look AMAZING!!!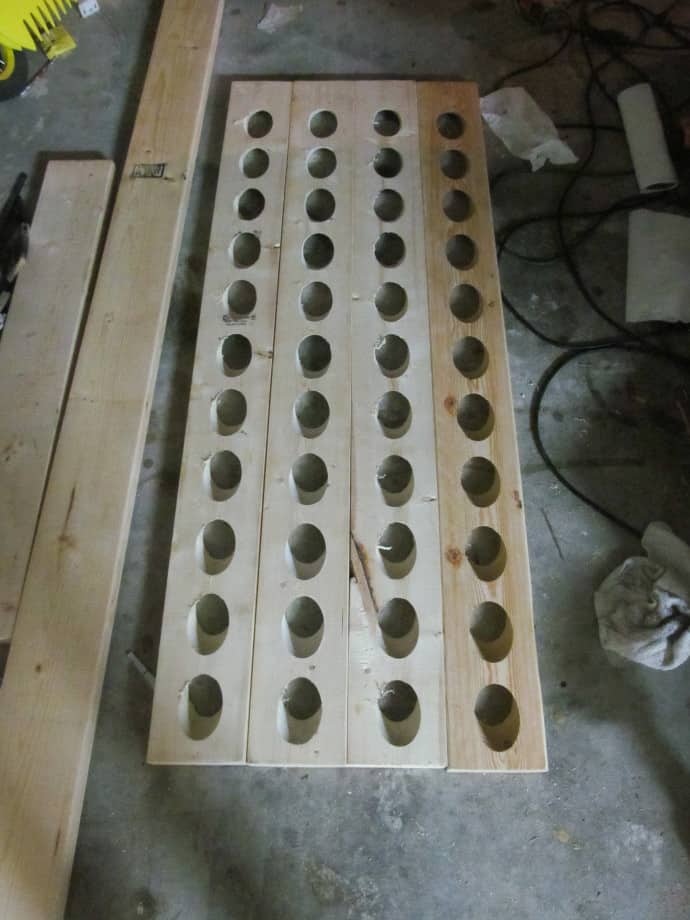 So now we need to take them from individual boards to a planked panel of boards…so we are going to use our HANDY – DANDY Kreg Jig!!! Woohoo!!! My favorite tool!! So much easier than that darn drill press!! Hahaha!! So incase you aren't aware of what a Kreg Jig is or how to use it, I will explain quickly!
I have the small Kreg Jig R3 and I have to say…as much as I use this and have thought about upgrading, I haven't found anything this little jig can't do…so I really can't justify upgrading! So don't be discouraged, if you can't afford to buy the $150.00 model, this little $40.00 one will tackle everything you could ever need! Now, if you do have a little more to spend…by all means just start with the bigger one and you will never have to deliberate buying the upgrade!! Lol!! You can find Kreg Jigs at Lowe's, Home Depot, Amazon
, or even at their website HERE!
So here is my little R3!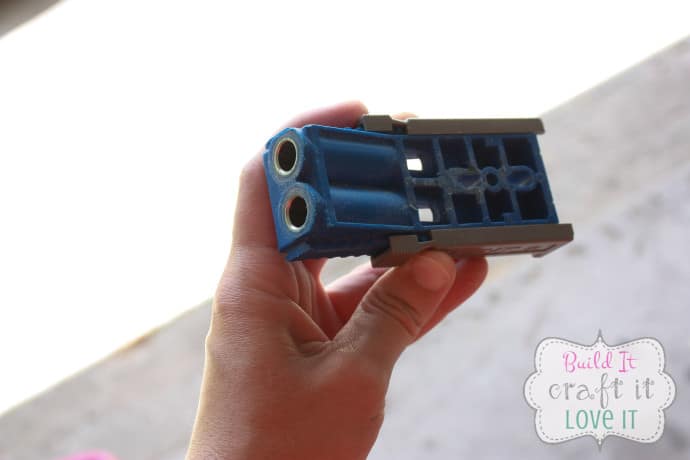 So simple and easy to use…all you have to do is set your jig to the thickness of wood you are drilling into…since this is 2x wood, its actual measurement is 1 1/2 inches thick, so we set our jig to 1 1/2.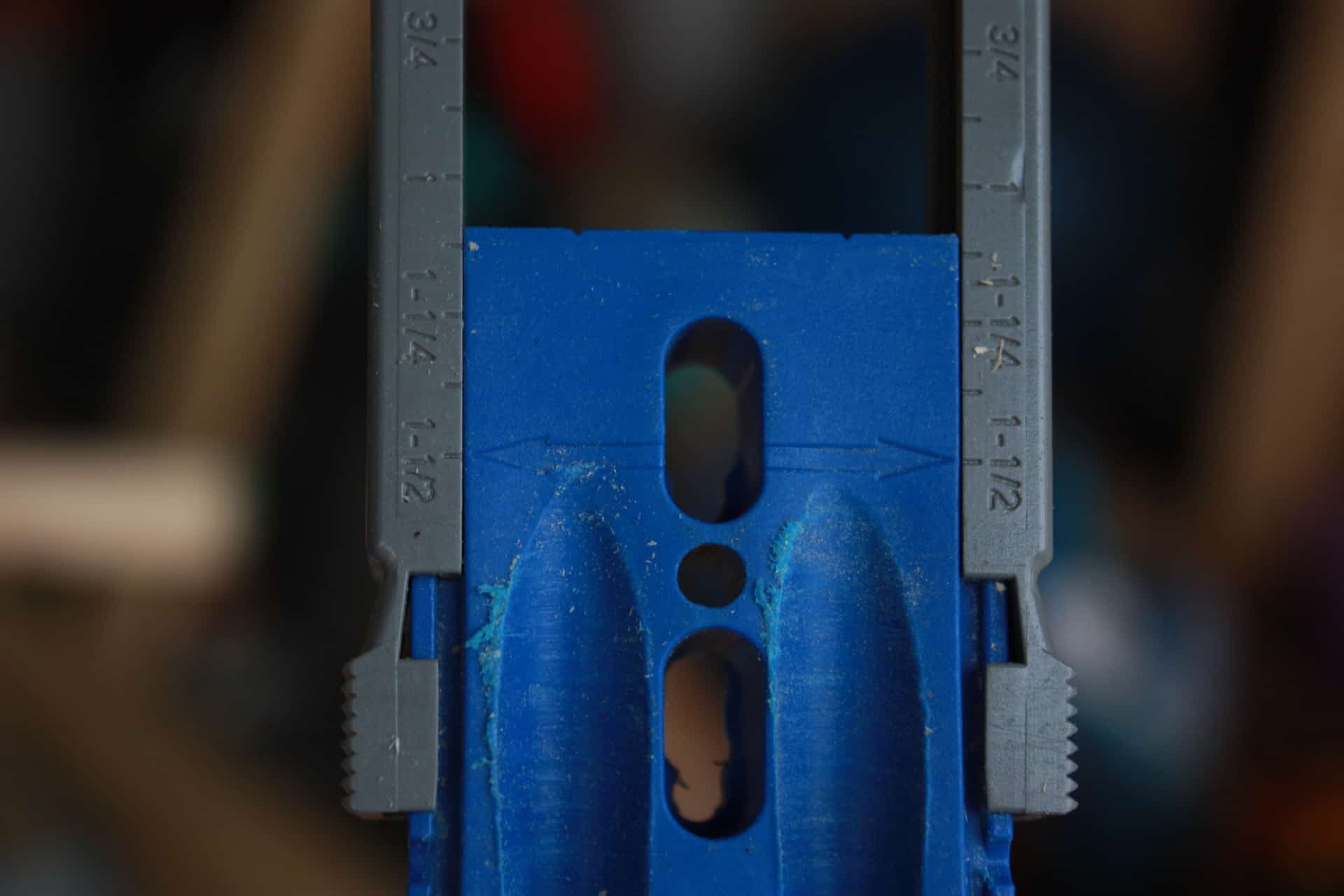 Next we need to set the drill bit that is included in your set to the same depth as the jig which is 1 1/2″ since that is the width of our wood. This set comes with an allen wrench/hex key that tightens and loosens the ring around the drill bit to change the measurement.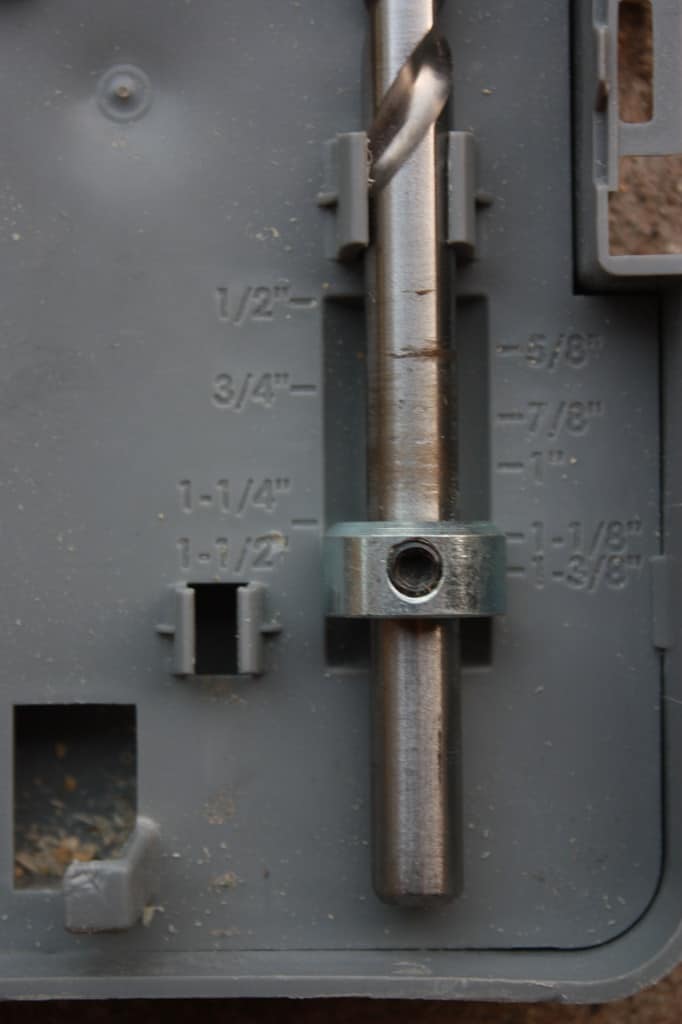 Now you just clamp the jig onto your wood so you can start drilling! Since we are planking our wood together, we are drilling sideways into the wood like this.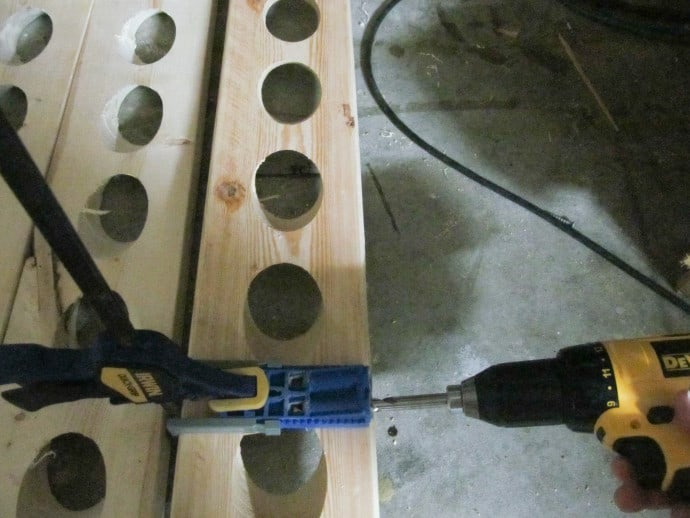 I drilled holes in between every two of the big holes on the board.
After all those pocket holes are drilled, you take your included screw driver bit and drill the screws in to the wood. You will use 2 1/2″ coarse Kreg screws for this…make sure you glue in between the boards, we used clamps to hold it together while screwing in the screws.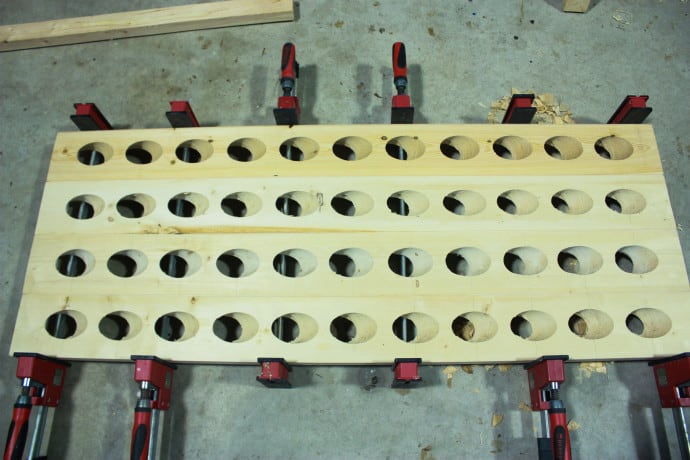 It's starting to look like a riddling rack!!! Whoop Whoop!!! Now it's onto the beautiful frame to make this look complete!
Excitement was bubbling over at this point for me because we had already spent so much time trying to figure out how to drill the holes that I wasn't sure I would EVER get it done…don't loose hope peeps…it can be done!!! Haha!
So the frame is just made of the 1×4's, now that the boards are all planked together, you can measure to cut the 1/4s. Length wise they are still the 56″ that you cut them at but go ahead and measure because sometimes I end up cutting slightly shorter or longer than I intend to! How does that happen you ask?! I do not even know!! Lol! Luckily, in this instance as long as they are all the exact same length it doesn't really matter if they are all 56 1/4″ or 55 7/8″ just measure so you don't cut too short or long on your 1x4s. Now these boards are beveled on the one I made, I am going to give instruction on beveling them but if for some reason you don't want to bevel or don't have a saw that bevels you can easily just cut your long side boards to house your smaller top and bottom boards and not bevel! Up to you, I just loved the look of the beveled edges and hadn't beveled yet so thought I would challenge myself…in the midst of trying to bevel it, I remember wondering why I have to be so stupid?! Haha! This is VERY common for me in the middle of a project but in the end, EVERY time I am happy I tried something new because I ALWAYS love it!!
When beveling, the edge of your bevel has to be flush with the edge of the board…that sounds like,"Huh?"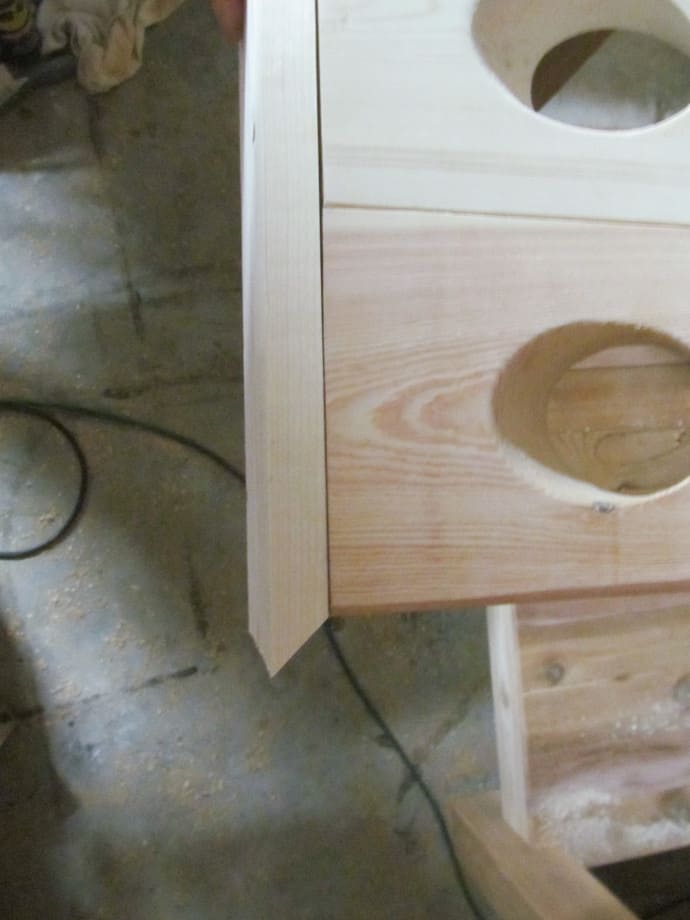 I took this picture at a strange angle, and at first I really thought I had a busted up corner that I hadn't even noticed…lucky for me it was just a funky picture!! Hahaha!! But at least you can see here how the beveled edge needs to line up, so when you are measuring, the shortest part of your board has to be the length that your planked boards are! Once you have cut and recut and recut once more… that's the way I roll, I cut a million times to get it just right! Lol! It may not be the 'correct' way to do it…but it works for me so stop judging!! Hehe!!
After all those trips to the saw, I had a lovely frame that was oh so beautifully beveled! (the cross board behind the holes is just sitting there as I was checking to see what it was going to look like, I will explain the process of attaching those in a moment…I just didn't want you thinking I was leaving you out of the loop here!! Haha!!
So at this point I went ahead and sanded and stained the entire thing, starting with 80 grit and working up to only 120 grit because I did not want this thing looking all perfect…it is supposed to be old and used, worn and beautiful! I hand sanded the holes with 120 and then 180 grit sand paper, if you have an oscillating spindle sander, you can easily sand them with that but hand sanding worked just great for me! (I was soooo afraid I would mess my holes up, I couldn't bring myself to even try the big bad oscillating sander…only one new tool at a time please and the stupid drill press had already done me in!! Hahaha!)
After all that sanding, I had to bathe…well I needed to but didn't…lololol…I was on a roll and wanted to get this booger done!! So, I stained this puppy using Minwax Early American!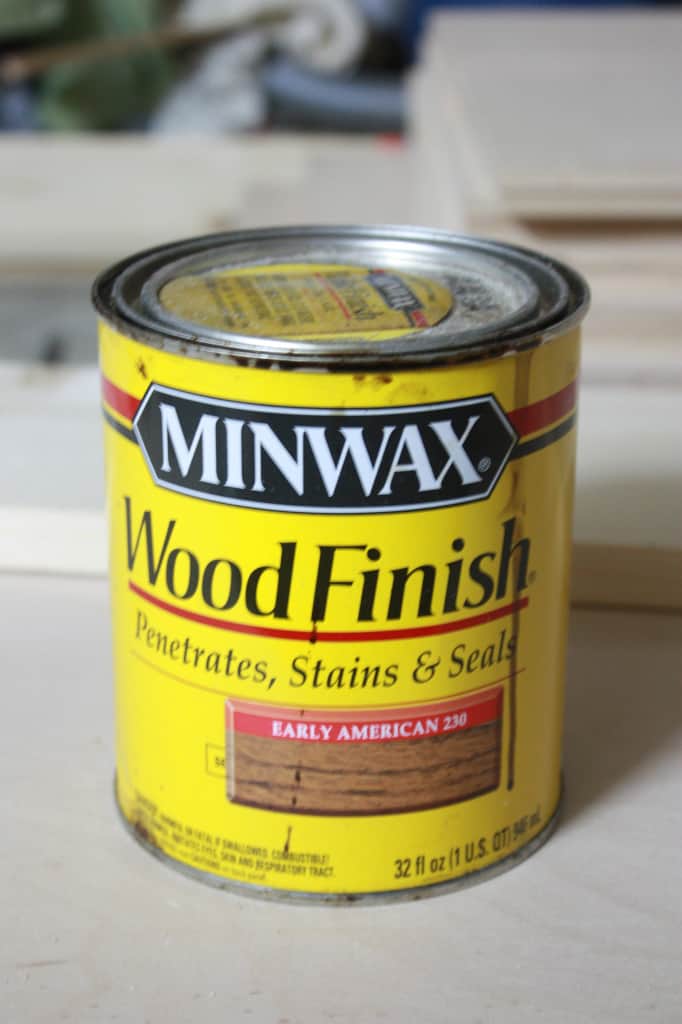 While that was drying I cut all my 1×3 boards that are to go on the backside of the rack to hold the bottle there, you need to cut eleven of them at 21″ long, or you can cut them to fit on the inside perfectly…since mine was all wet with stain I didn't worry about cutting them to fit perfectly, I just cut them to 21″…which this will face the wall anyway…no one will ever know!! Okay, actually I am giving this one away to ONE OF YOU…so you will know but it's okay, just try and keep my secret please!! Lol!
So after I had all of them cut, I went ahead and predrilled five holes along them…I held it near my wet project to get the closest area they needed to be, phew!! They were all drilled where they needed to be…so I just had to sand and stain them before screwing them onto the back.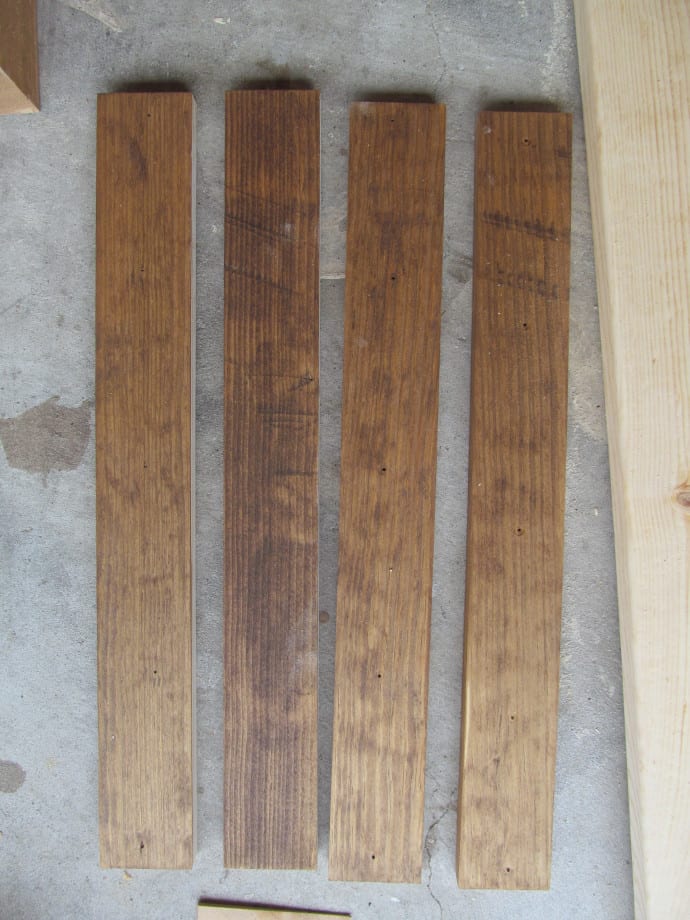 Now, I would do that step before staining the piece if I were you, but it works either way…just hindsight tells me it may have been a smidgen easier to do it first!
Once it has all dried, you can flip it over and screw the 1x3s onto the back…now this part was a wee bit tricky and I had to have my hubby come hold the boards on the back while I tried a wine bottle in several holes on each row. The board has to be placed low enough to hold the bottle in securely but up high enough that the bottle fits through! It was not the most fun I have ever had in my life I will just say! Lmbo!! We stood it up and he was on the backside holding the board and I would test the wine bottle and when we found the perfect level, he would hold it there and I would draw a line along the top of the board.
I was then able to easily screw them into place without worry that it wouldn't work! I placed the stained side down, since that is the part that shows through the holes on the front.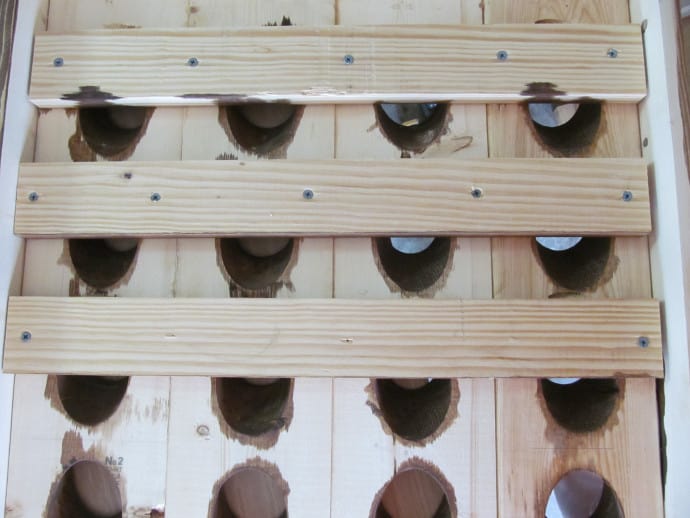 I used 1 1/4″ screws to secure the boards… and adding these eleven boards seemed to add 30 pounds…it didn't really but man it was pretty darn heavy!! It is officially finished for now…this is a wall hanging wine riddling rack though so it needs some fancy hanging hardware…mine has not come in just yet so I will have to update the post as soon as I receive it and get it attached to this piece! I am in LOVE with this wine rack I tell you!!
Now, one thing worth mentioning, even though this is a riddling rack, it is more for the display of empty bottles and can only hold 10 full bottles at any time!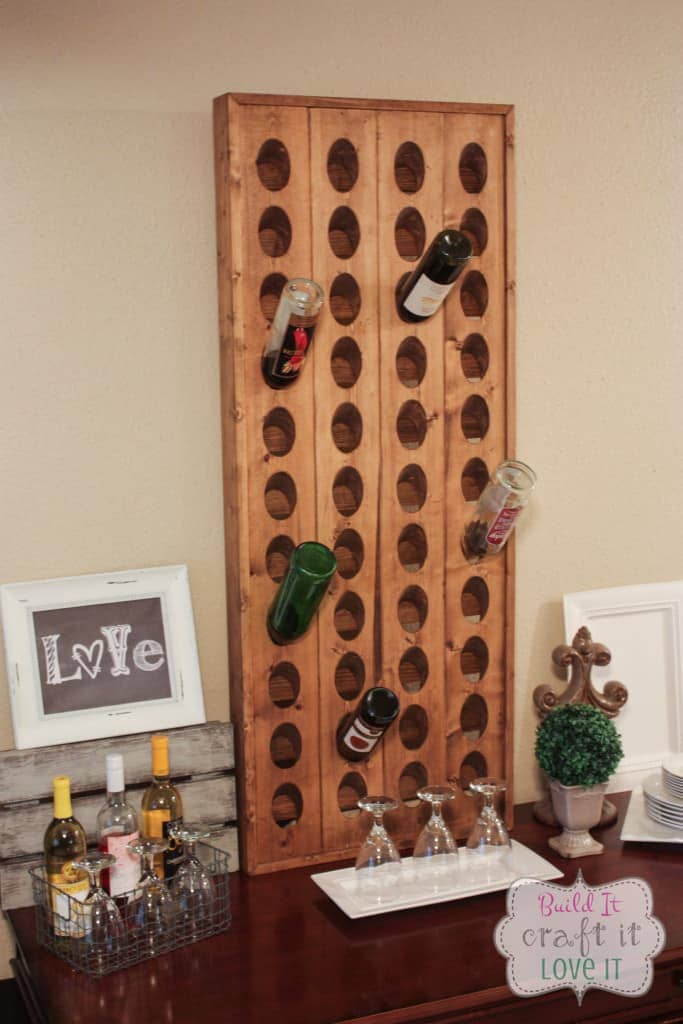 Giveaway has ended!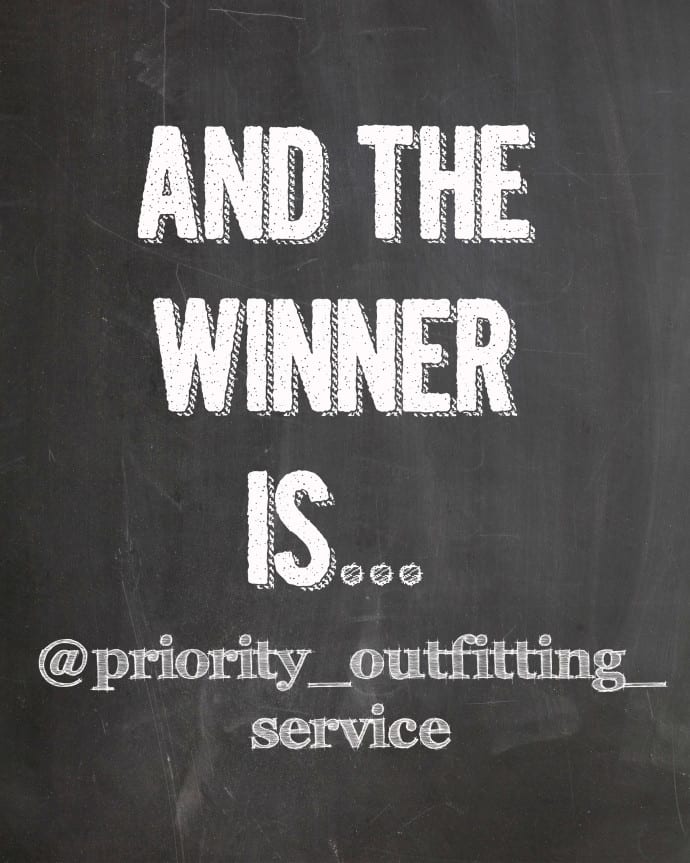 I would like to thank Kreg for making this giveaway happen and I would love for you to show them some love too!! Check out your other favorite DIY bloggers today, because they may be giving away something special for Mother's Day too!! To keep up with all my latest adventures in building subscribe to receive email updates of new posts
[email-subscribers namefield="YES" desc="" group="Public"]
Have a GREAT week everyone!!
Lots of Love,
Cara