Tic-Tac-Toe Game & Printable Valentine Cards
Need a quick classroom gift idea for your child? I have you covered with DIY Printable Valentine Cards that pair perfectly with this Tic-tac-toe game for your child's classroom, or a Valentine get together you may have at your house! They are pretty much cheaper than store-bought cards, and what kid isn't going to want one?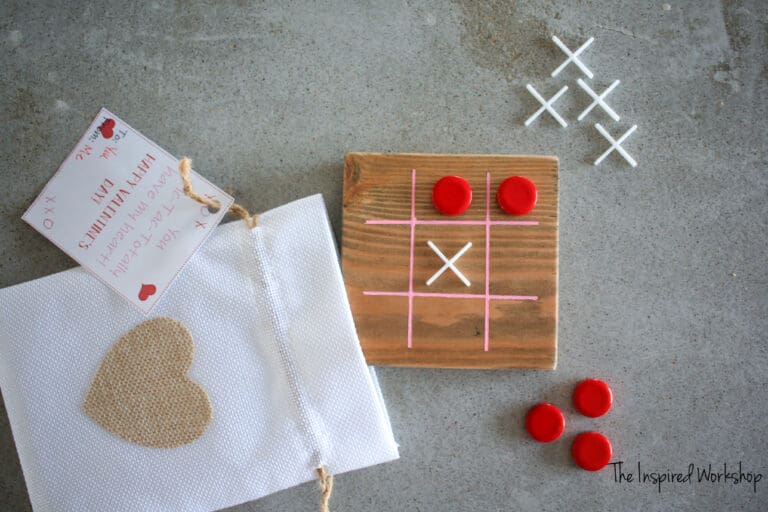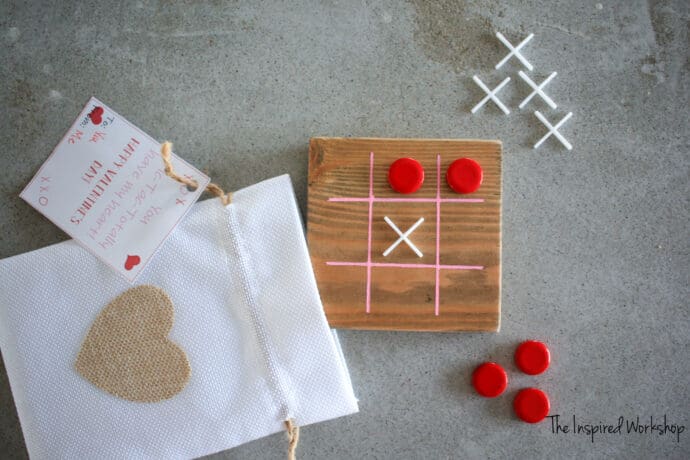 You can use the tic-tac-toe games for any holiday really but they are perfect and so easy to throw together for your child's classroom Valentine's Day party! And with the printable Valentine cards I've made for you, you will have your child's Valentine party in the bag! Get it…the tic-tac-toe game comes in a bag, okay, you get it, right?!🤣😜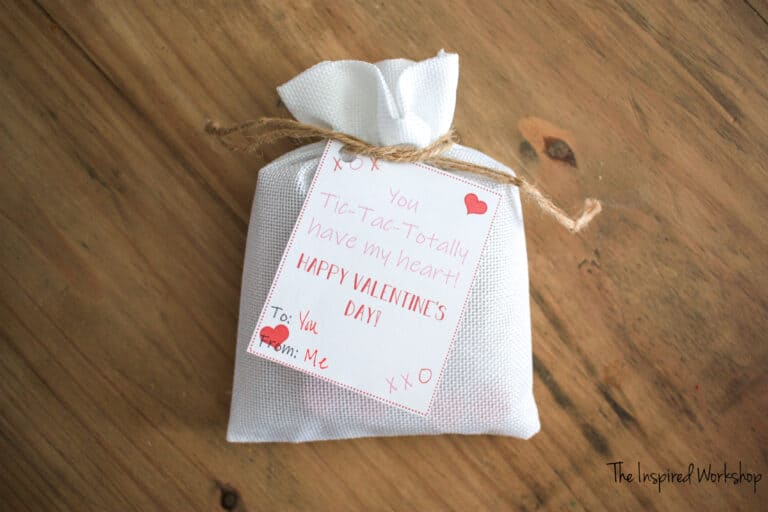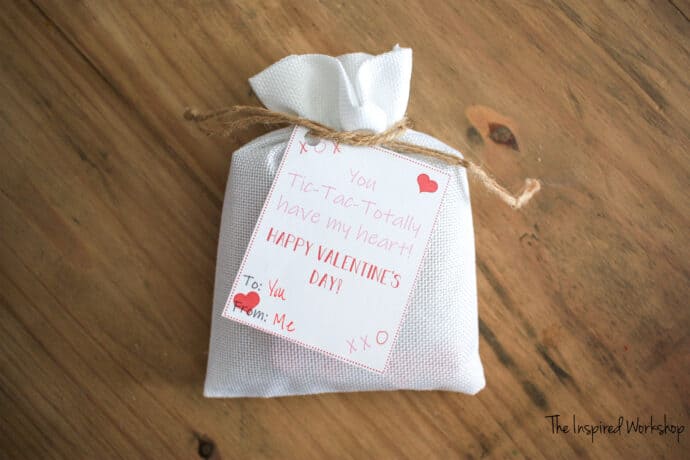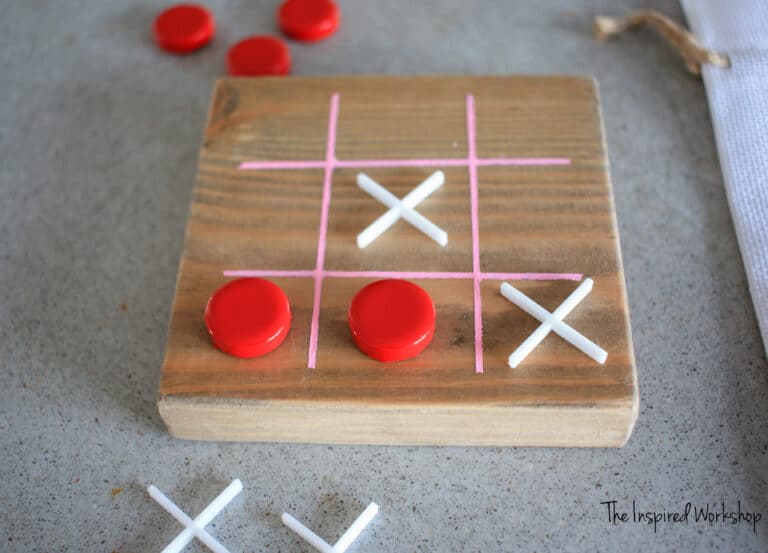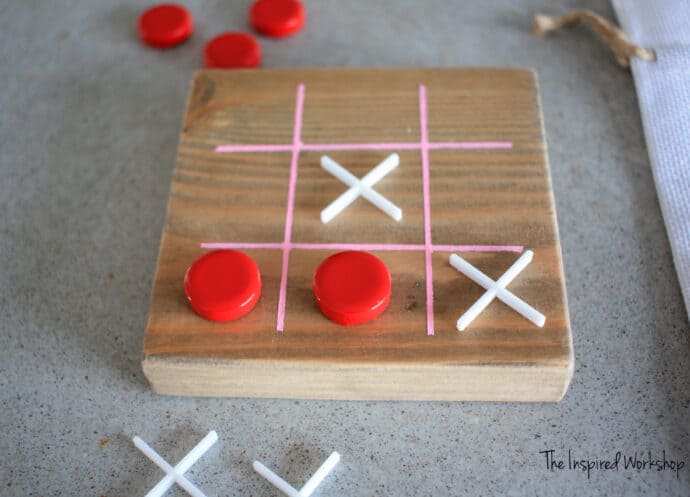 Seriously though, I used scrap wood, tile spacers which are what, 3 dollars for a bag of 300 (mine were the leftovers AFTER I pulled them out of the tile😆), and penny tiles I had leftover from my shower floor! All in all, I only paid 10 bucks for the bags to put them in and $4.60 for a can of red spray paint!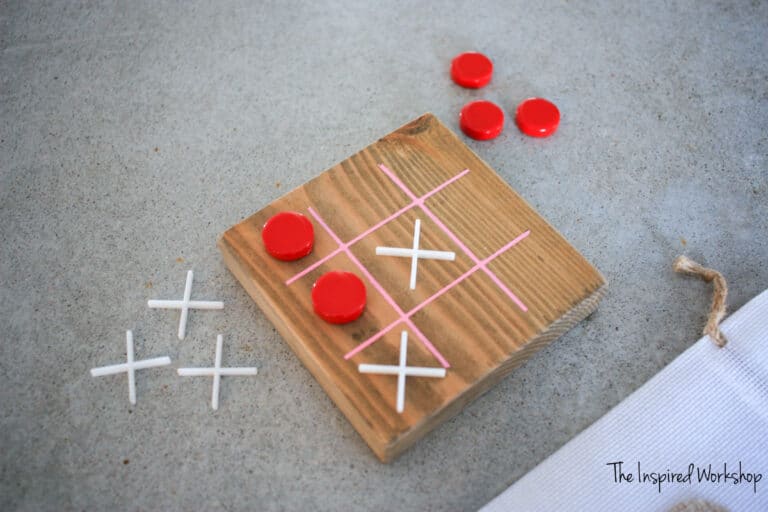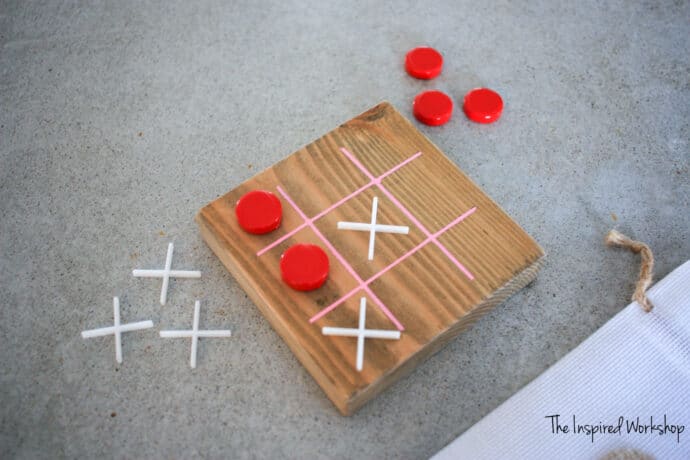 You will practically pay that just for cheesy paper cards from Wal-Mart, and then after grabbing some candy for the class… you are quickly at 25 bucks or more in no time! Plus it's a bunch of candy that they don't need, and this is an adorable game they can keep and play forever!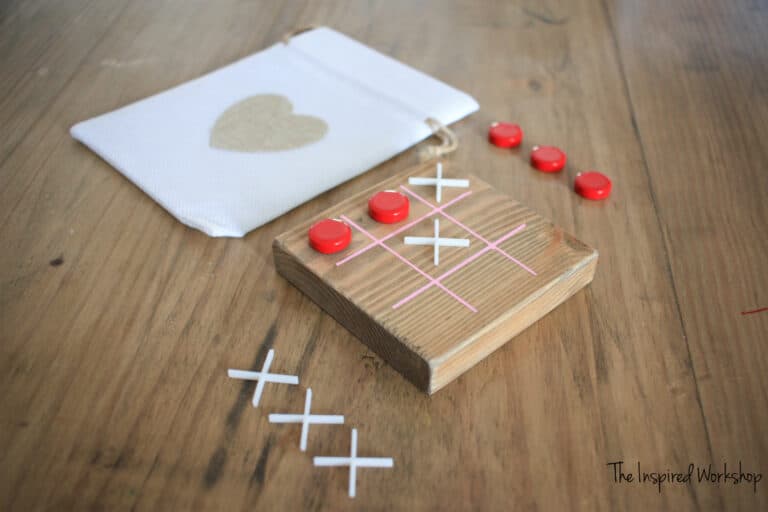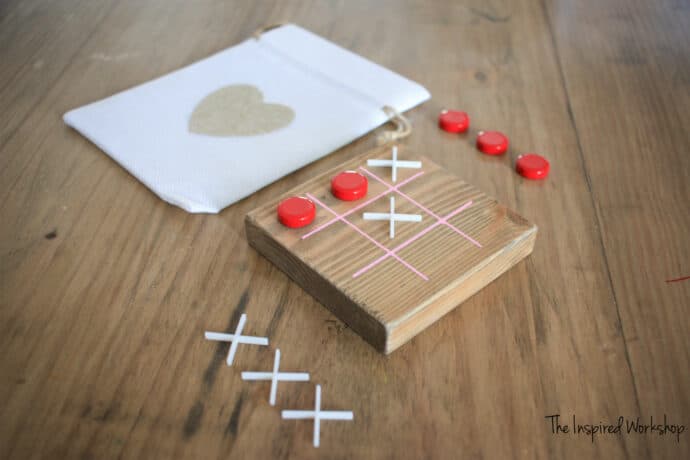 ***Obviously, I feel like this goes without saying, but just in case, these should only be given to older kids that are no longer at risk of putting things in their mouth since they are a choking hazard!
The ideas are endless with this cute tic-tac-toe game, paint some boards white, or pink, stain them as I did, paint the tiles and spacers red and green for Christmas stocking stuffers, make them red, white, and blue theme for a Fourth of July get together! I am telling you, there are sooooo many opportunities to utilize this adorable game!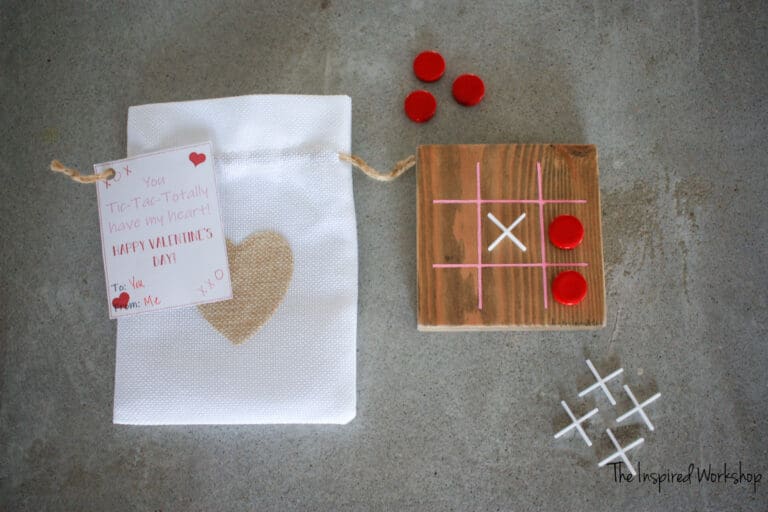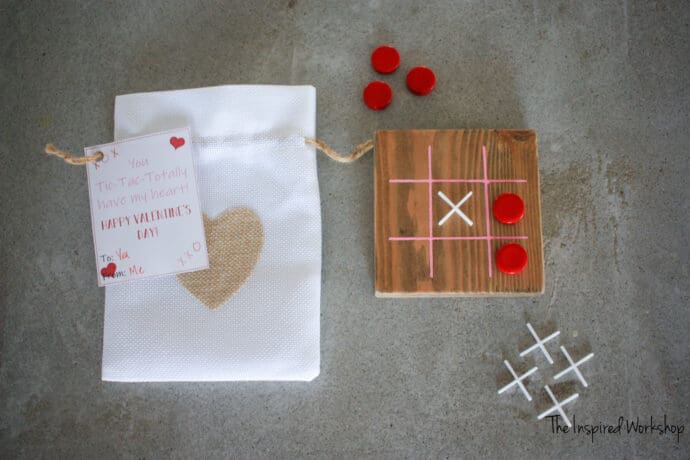 Alright, they are the simplest little gems to put together but I'll still show you how!
Want some other fun Valentine ideas?
Gathering Supplies for the Tic-Tac-Toe Game
Printable Valentine Cards
Here are the printable Valentine's cards for you to add to the tic-tac-toe games! Just print them out on card stock, cut them down to size, and hole punch them on the left corner! Fill in the to and from and the Valentine cars are ready to go! Now you just need to make the tic-tac-toe games!
Valentine Cards for Tic-Tac-Toe Games
Materials for tic-tac-toe games:
***NOTE: Amazon links below are AFFILIATE LINKS! Affiliate links allow me to make a small commission if you make a purchase after clicking one of my links, at no extra cost to you! It is a great way for me to keep my content coming free, and I always appreciate it when you shop from my links! All other links are NOT affiliate links, I only share them so you can easily find the same supplies I used!
small 4″x4″ squares of scrap wood – or you will need a 1x5x8 if you don't have any scrap wood laying around – 1 – 8ft board will make 24 tic-tac-toe games!
5 tile spacers per game
5 penny tiles or any circular item you want to use per game- vase filler spray painted is cheap and cute (grab it at Walmart for .99 for the bag!)…but 1 penny tile sheet you can get for $2.82 at Floor and Decor and that has around 190 tiles on it! That will easily make 38 games! Home Depot has white penny tiles for $3.36! Very cheap and inexpensive, but you could even spray paint pennies if you have a bunch! Just use what you have!
spray paint, acrylic paint and/or stain whatever colors you want – I used Weathered Stain for the board – bubble gum acrylic paint for the lines on the tic-tac-toe board – Rustoleum Apple Red spray paint for the tiles, and the tile spacers were already white!
Making the Tic-Tac-Toe Game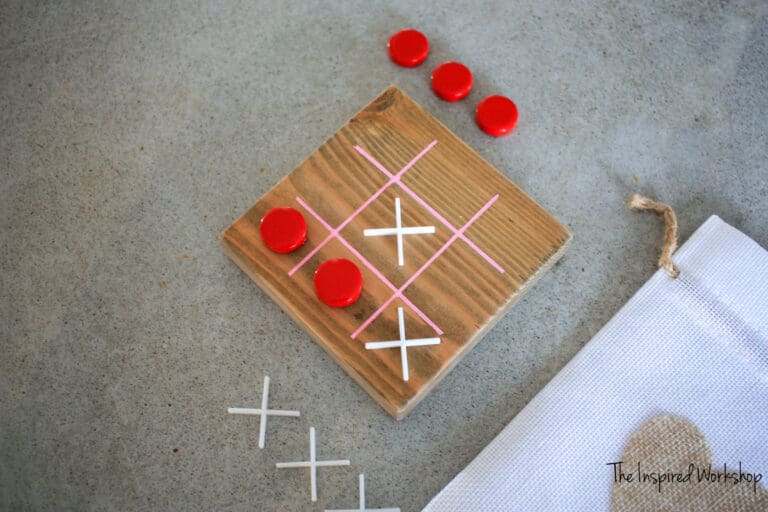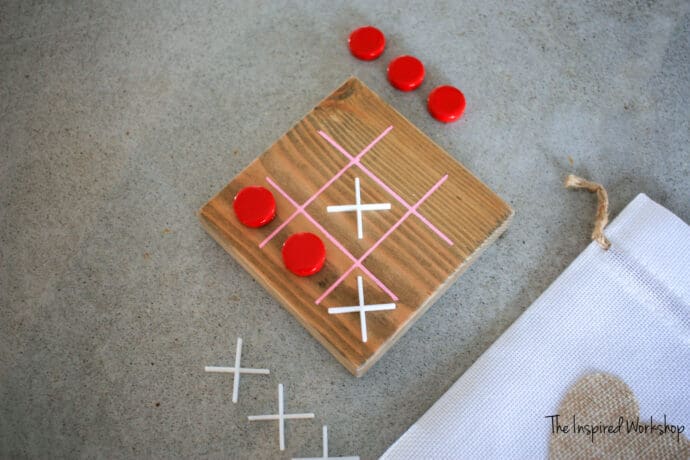 Step 1
Cut as many 4″x4″ blocks as you need for your kid's classroom or whoever you are making them for!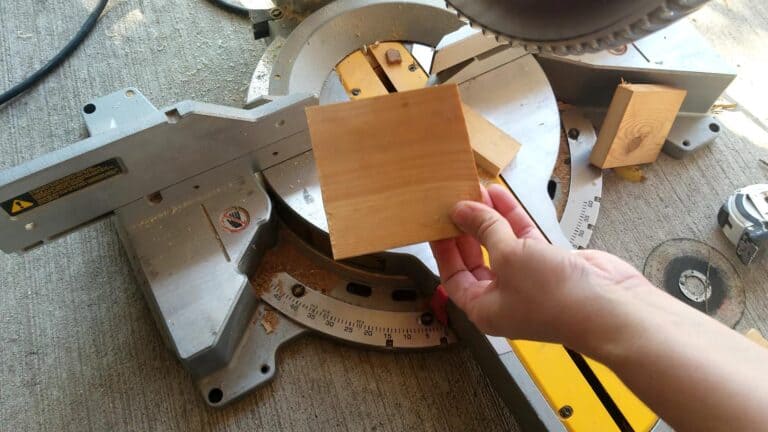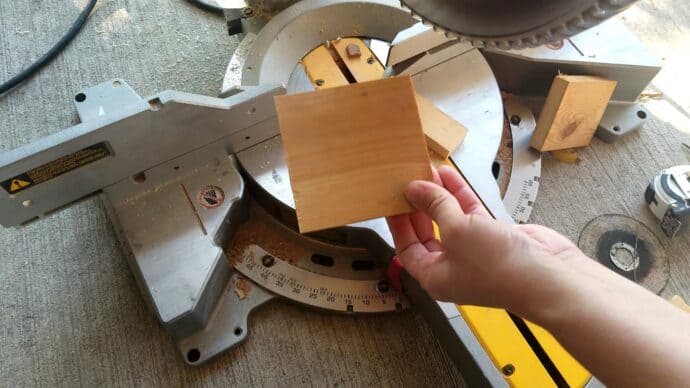 Step 2
Sand the boards!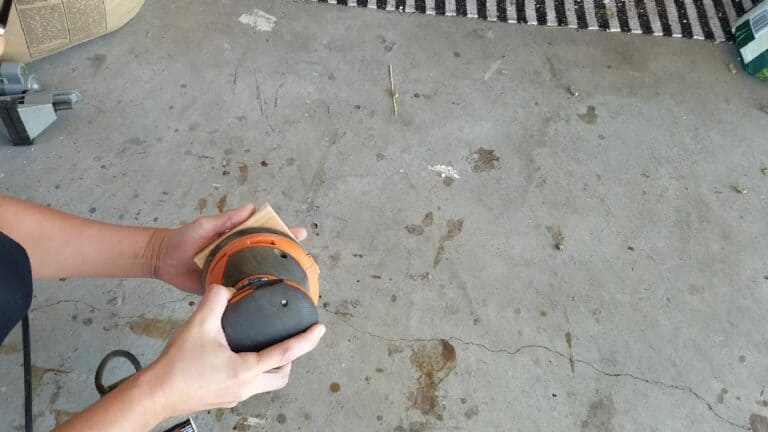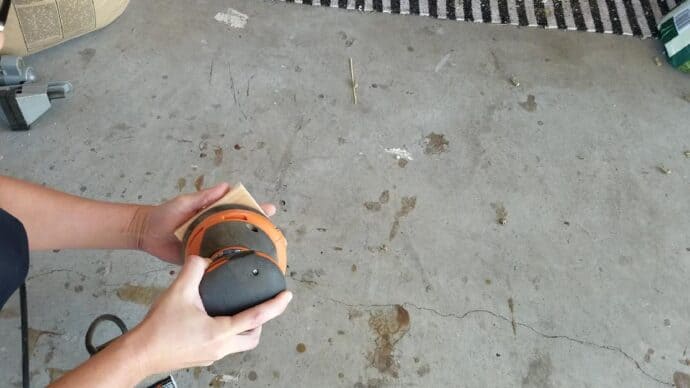 Step 3
Stain or paint your boards whatever color you would like your tic-tac-toe game boards to be!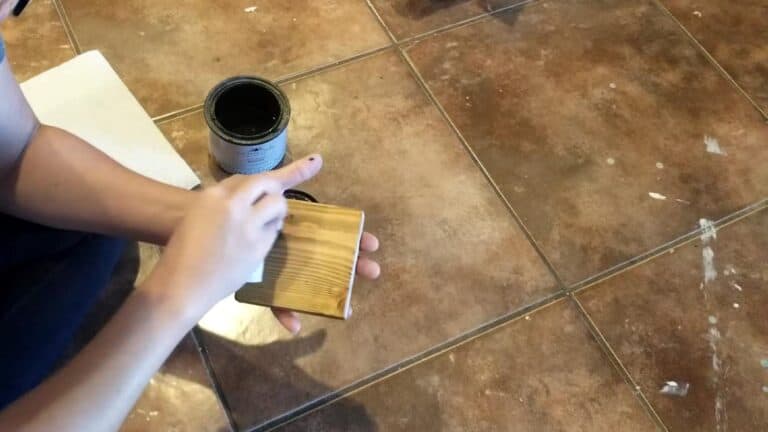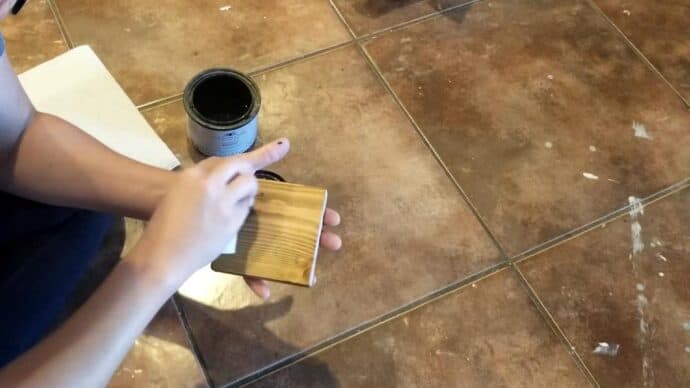 Step 4
Paint lines on the boards to make a tic-tac-toe grid! I used painter's tape to leave small openings to make the lines. I painted the lines with acrylic paint in Bubble Gum. Let these lines dry and remove the painter's tape!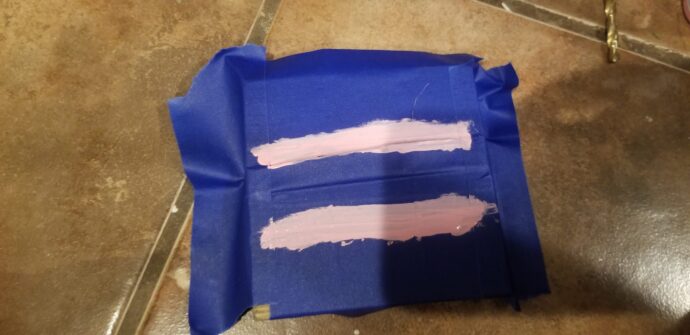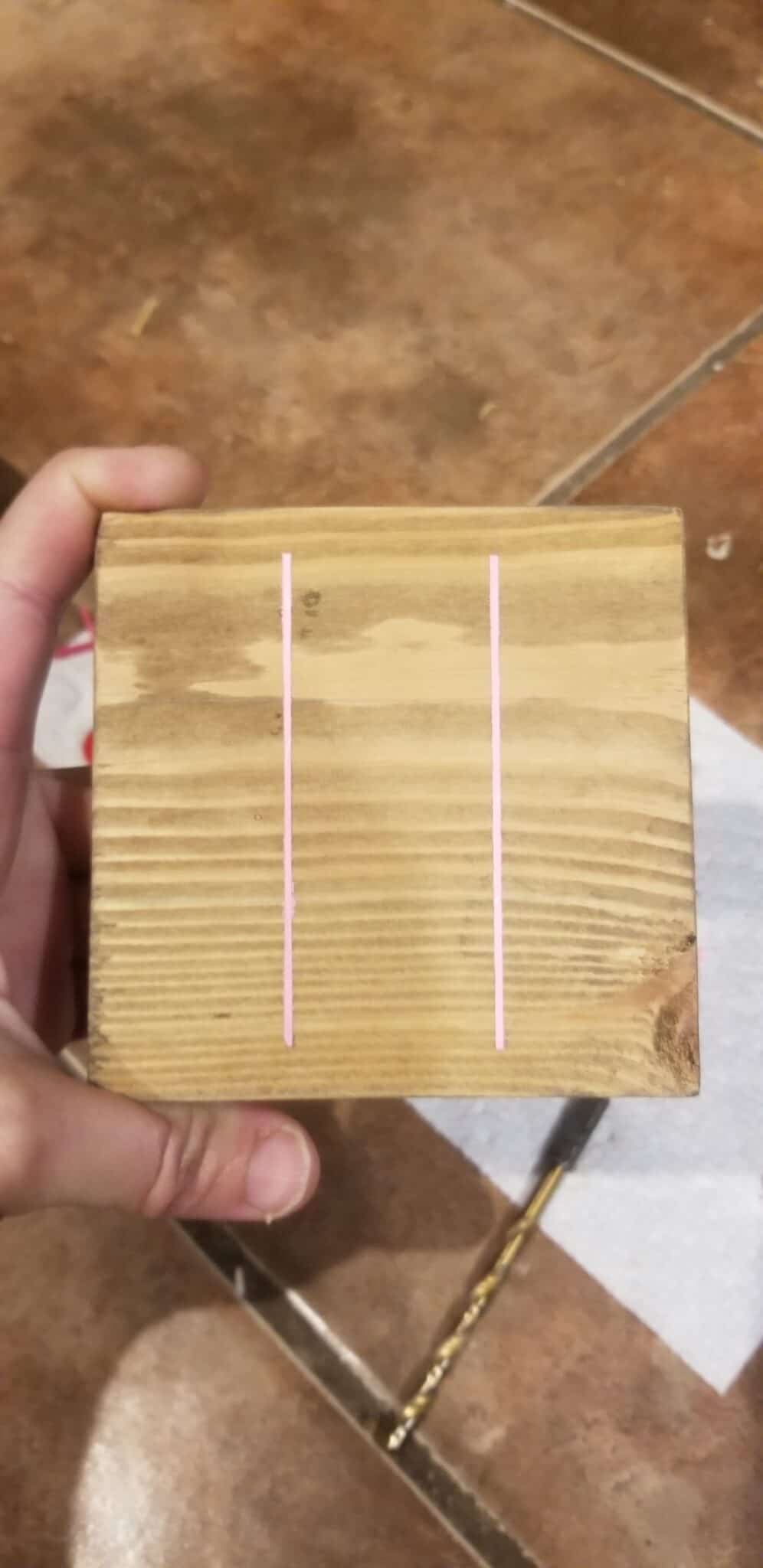 Now tape lines in the opposite direction and repeat!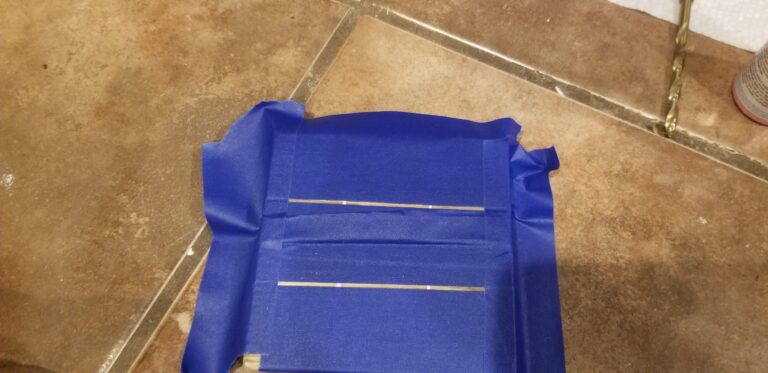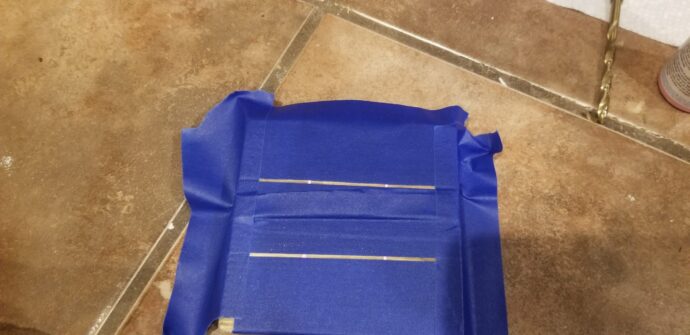 I legit used a napkin to paint the dang lines! Lol!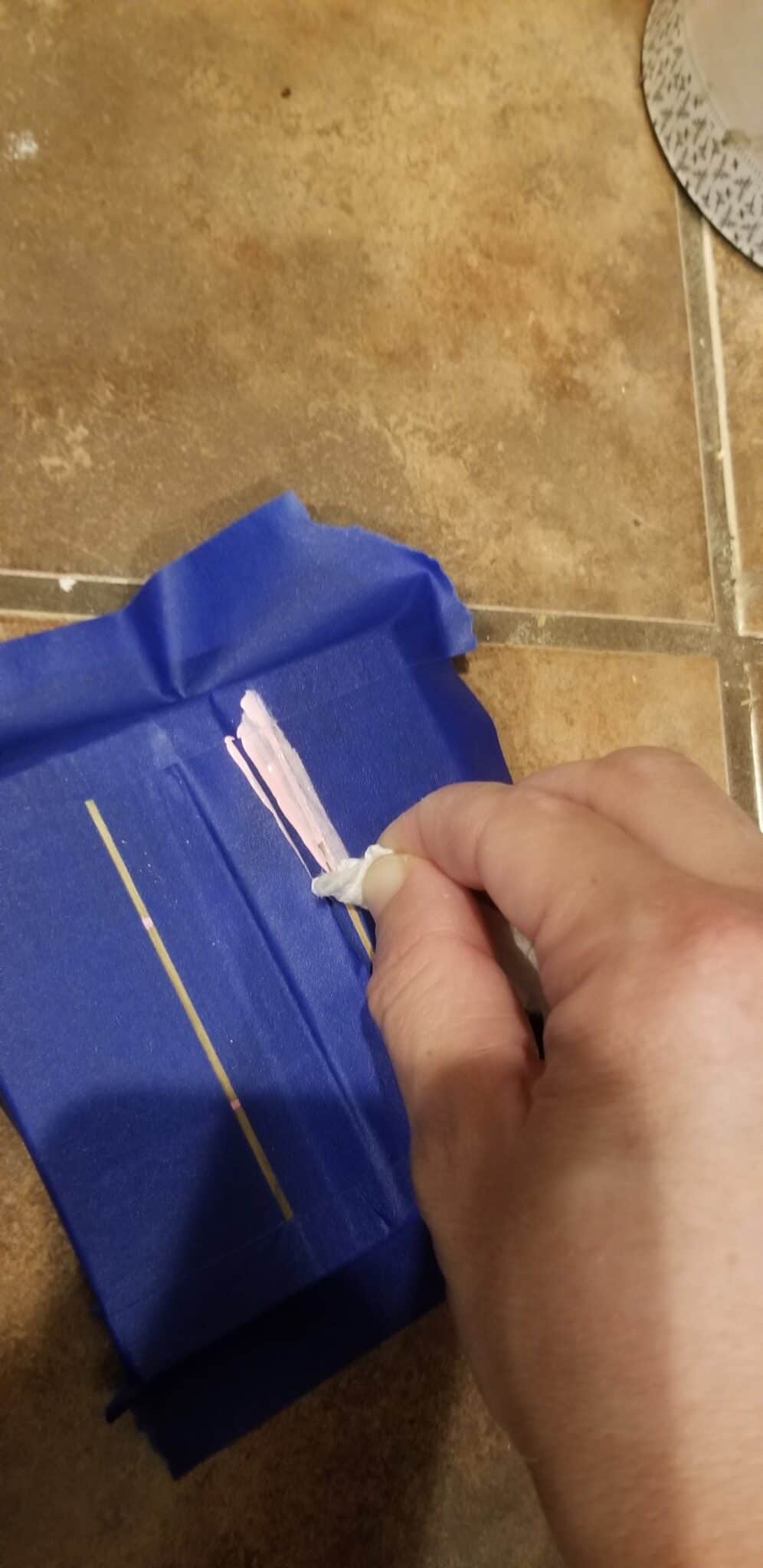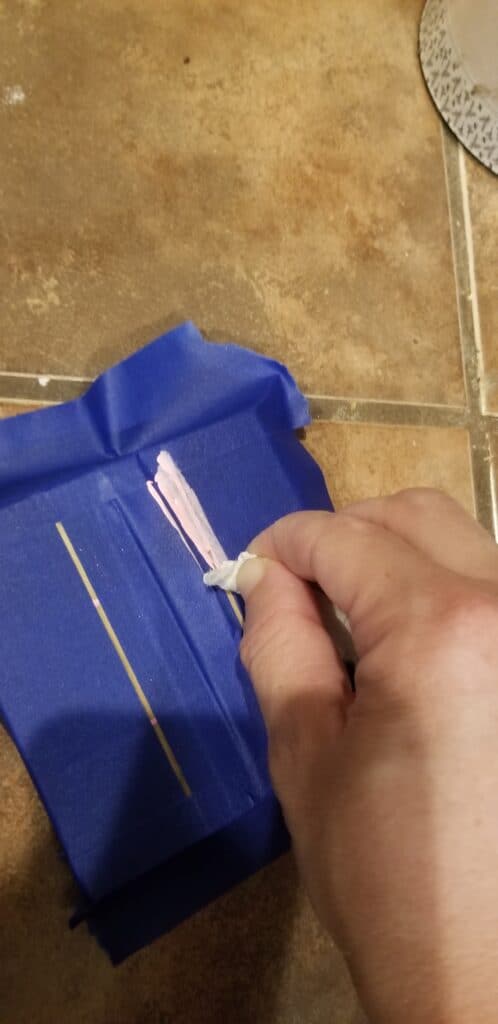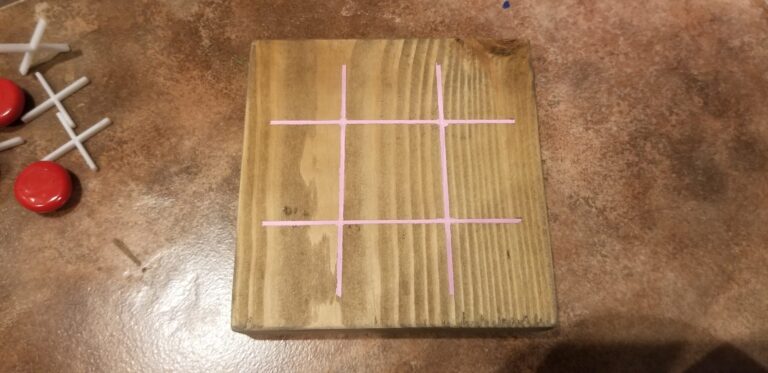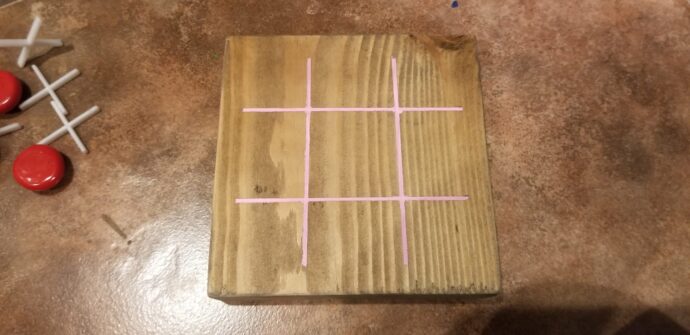 Step 5
Spray paint your tiles or whatever you have around the house to use as O's!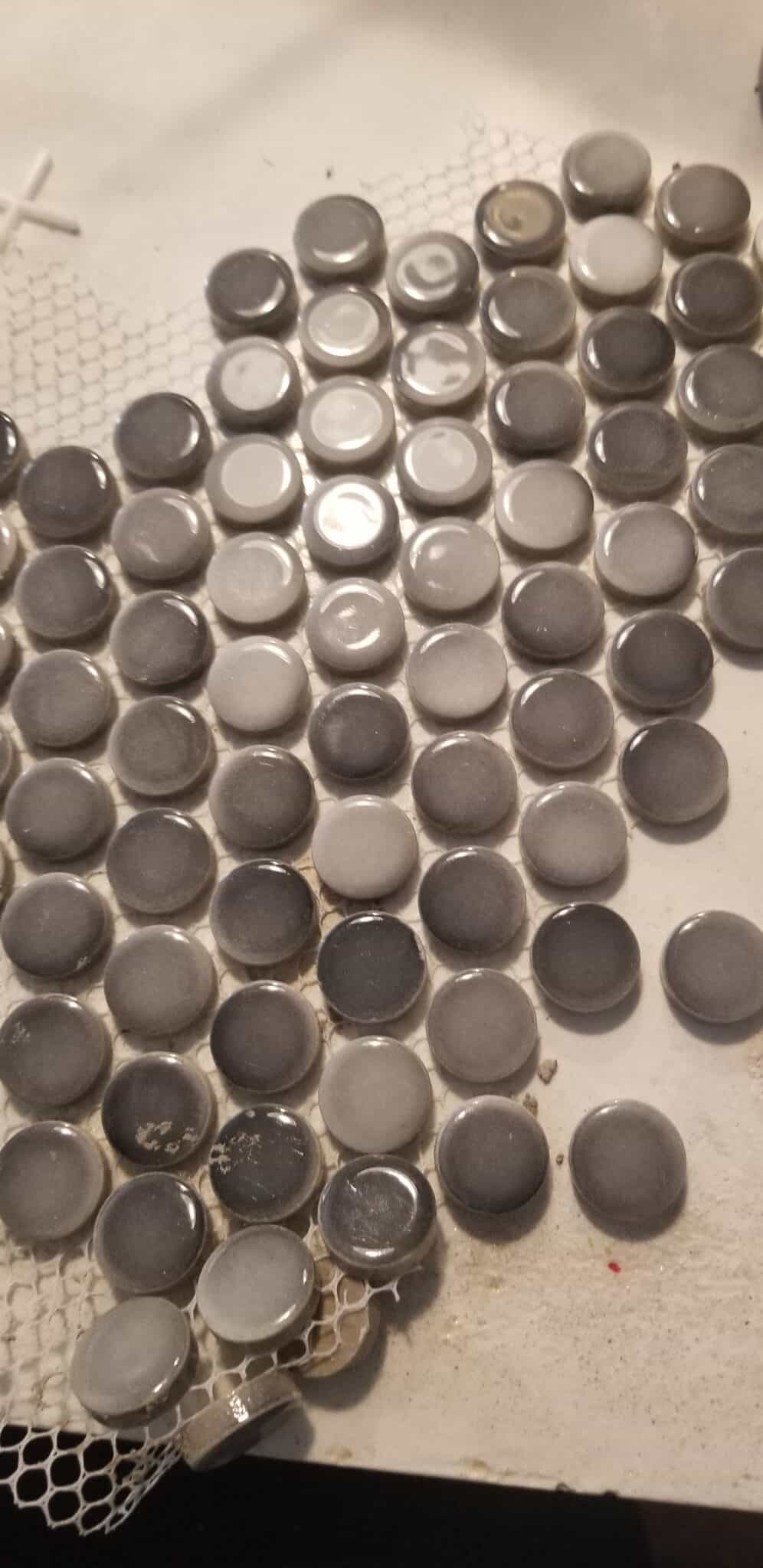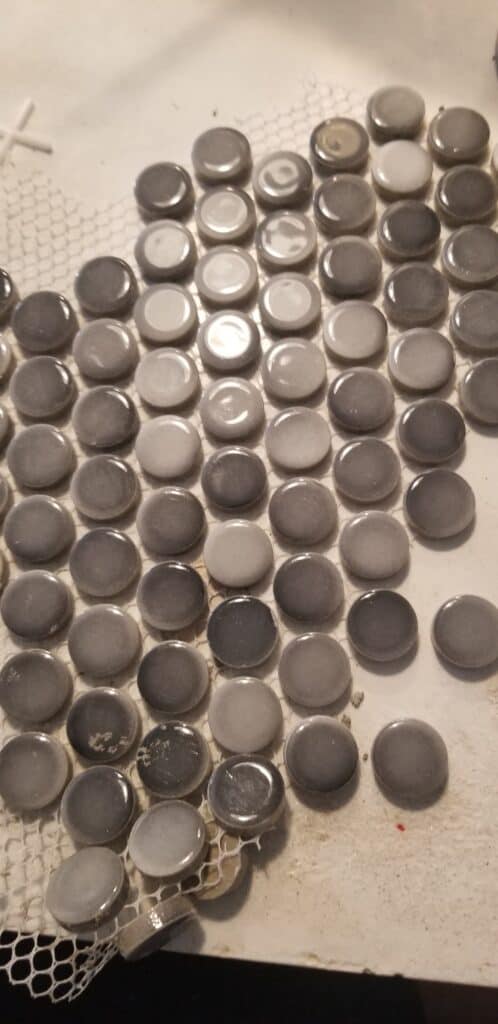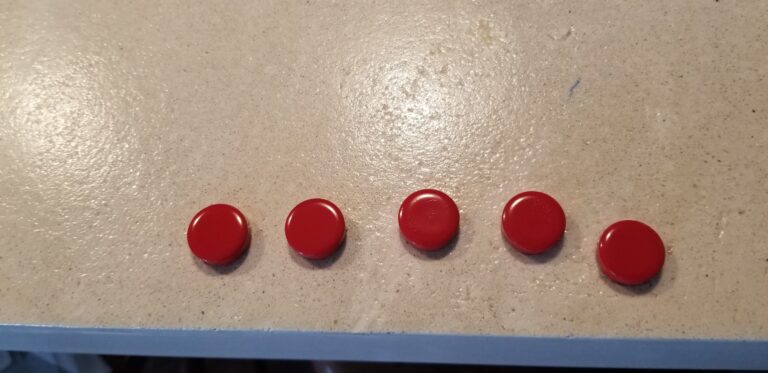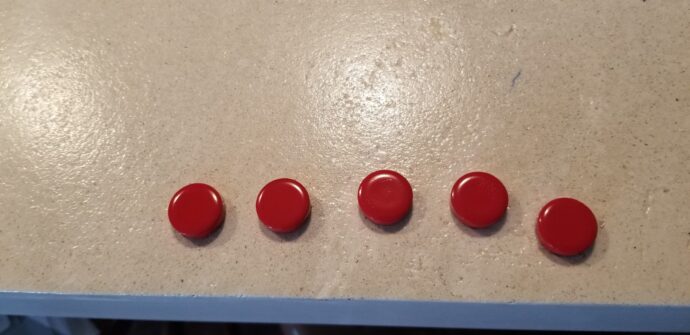 Step 6
Print out your Valentine cards!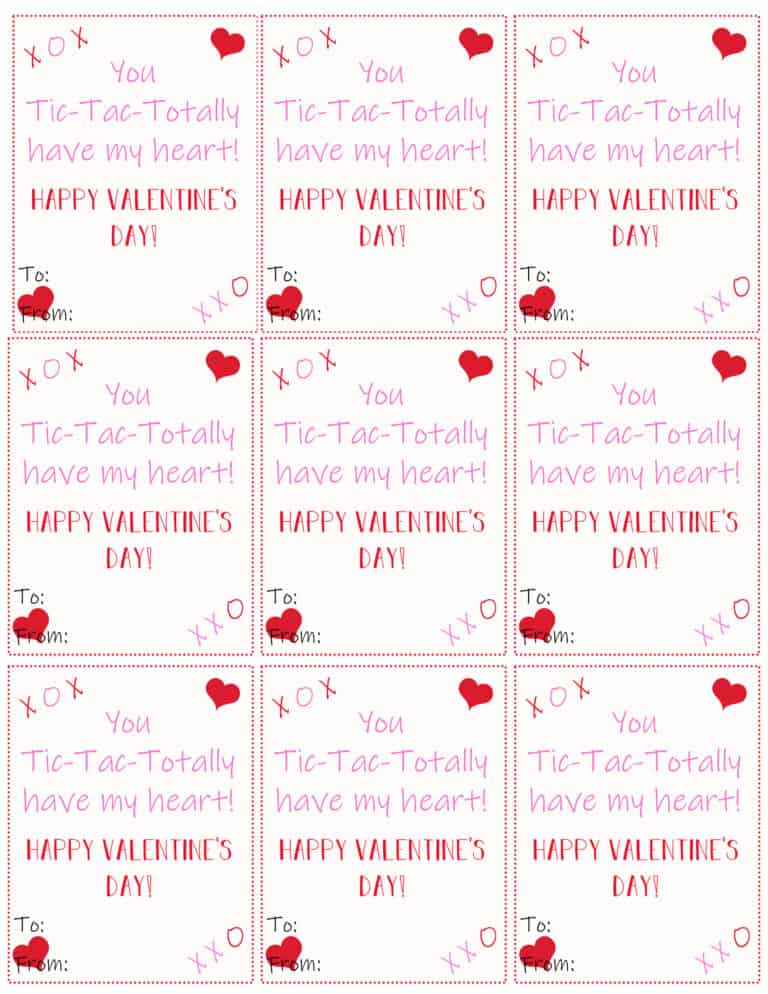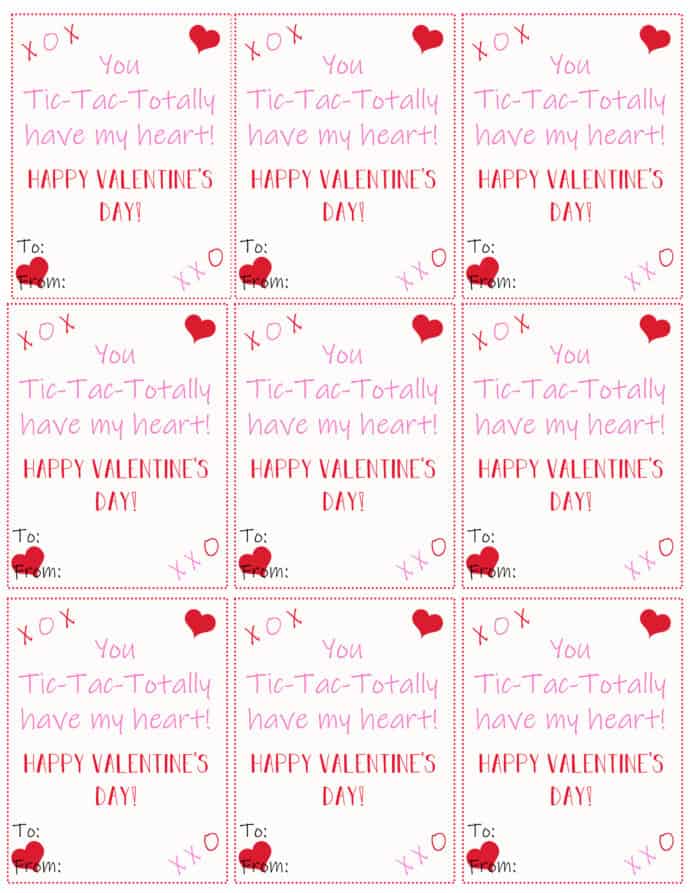 Step 7
Throw it all in a bag and cinch it up!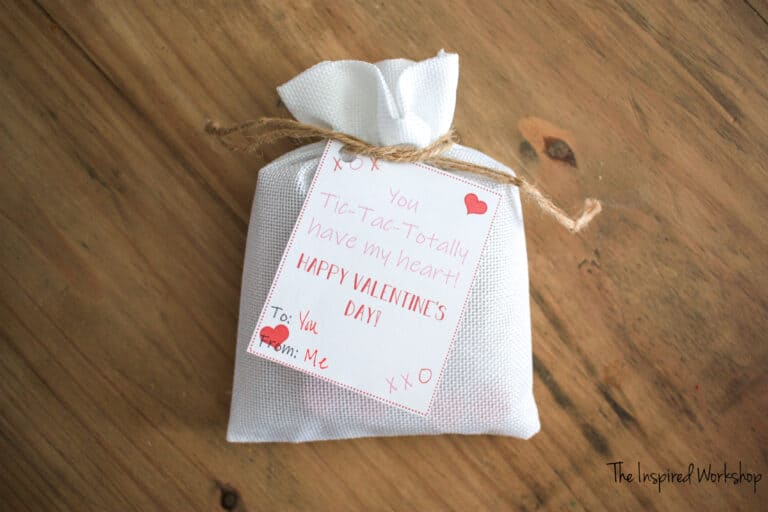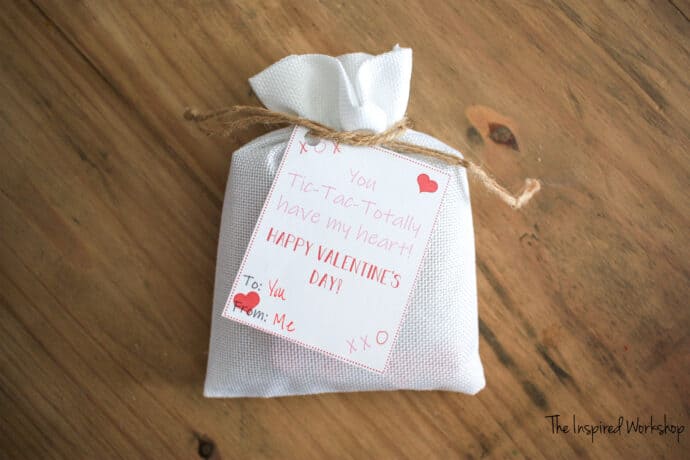 Such a fun and cute gift for Valentine's Day!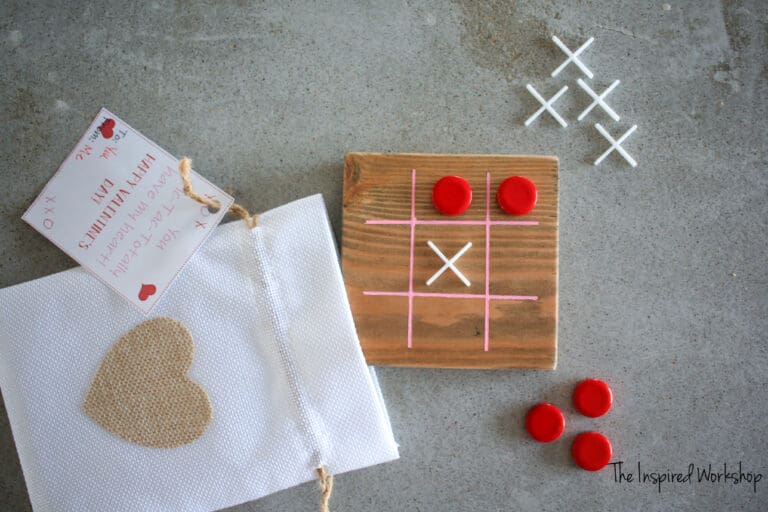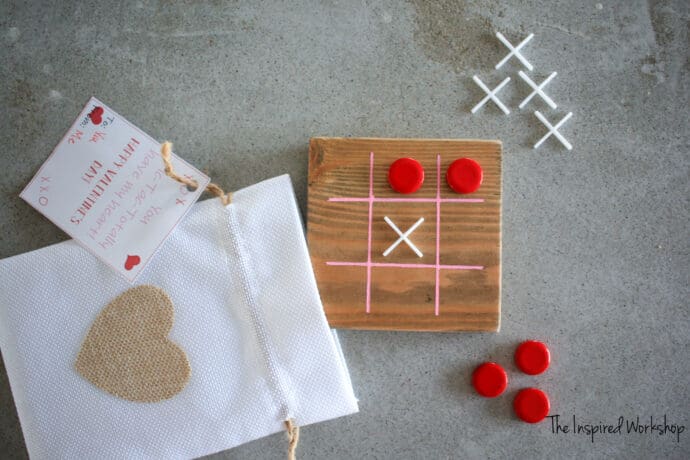 I really couldn't love them more! Tell me you are going to make some for your kid's classroom! Show me them if you do! I would love to see them!
Happy Making!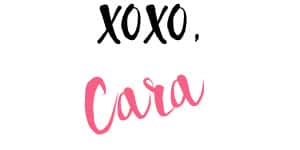 Want to save this Tic Tac Toe game with Valentine Cards for later?! PIN IT!