Coasters are a must to keep the finish on your furniture in tip-top shape! These DIY marble and wood epoxy resin coasters are the perfect addition to any tabletop to keep it from being ruined and looking great while not in use as well! They are so cheap and easy to make, you can give them as gifts or make some for every table in your home!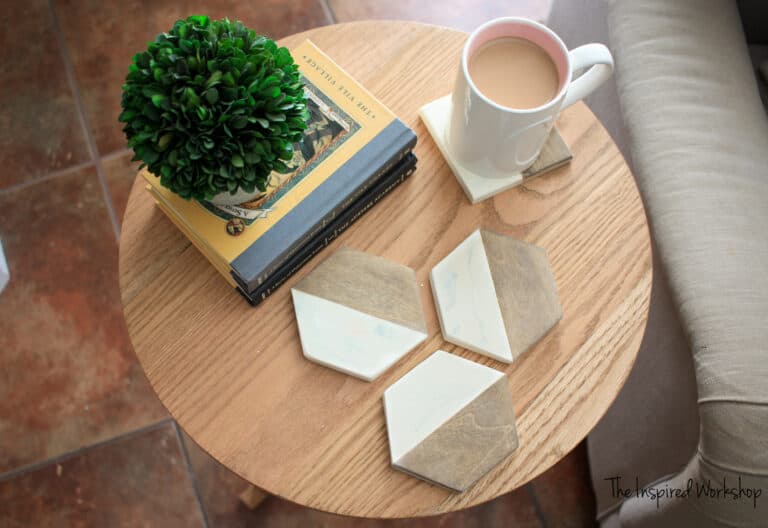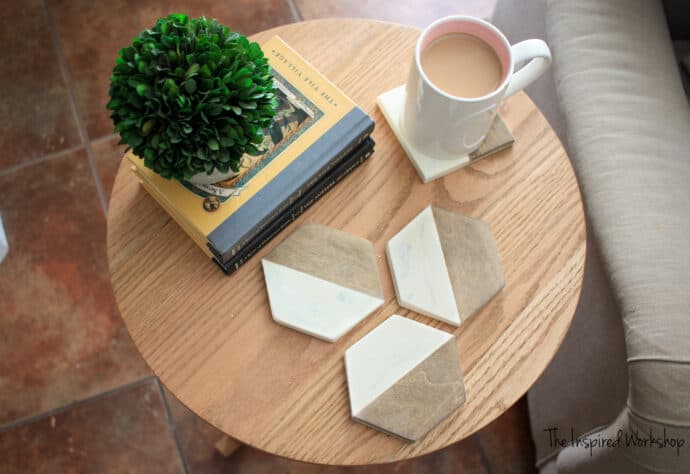 I have been making a few side tables recently, and with that came the need for some coasters to make sure we don't mess up my fine woodworking! These DIY Marble Epoxy Resin Coasters are so inexpensive to make but look like an item you purchased!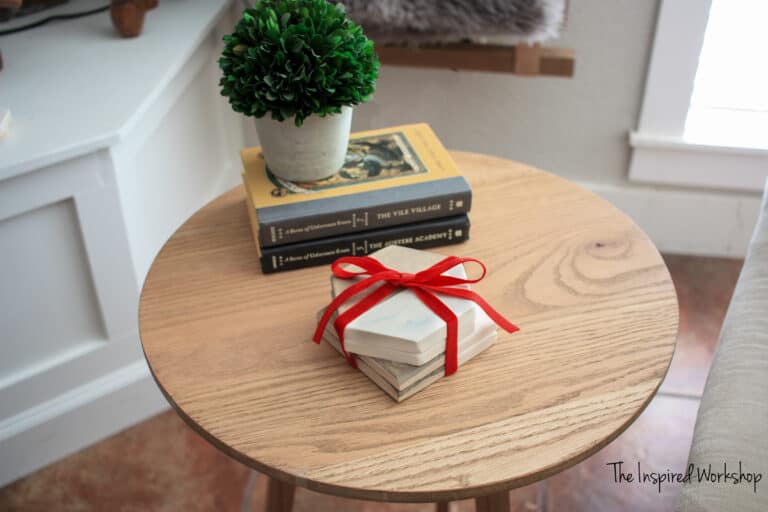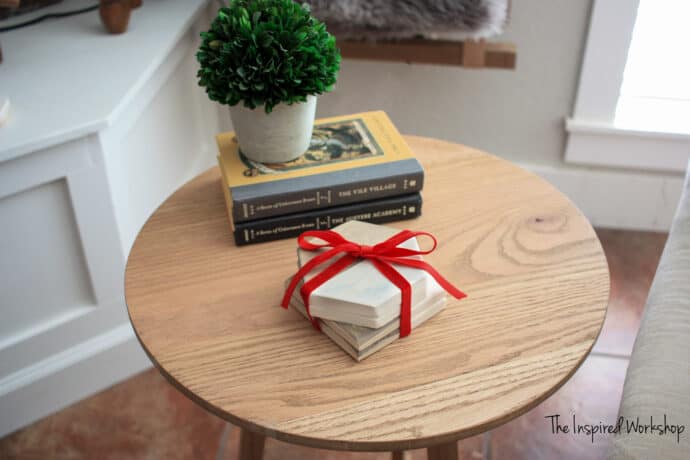 And look how cute they would be wrapped up to give as a gift! I would be so excited if someone gifted me these as a hostess gift or Christmas gift!
There are so many options and ideas, I made some squares, and some hexagons. I probably need to attend resin-aholics anonymous because gosh darn I am addicted!! LOL! I make one item, which gives me another idea, so I make that and that gives me ideas, and it just keeps cycling! Someone help! 🤪😂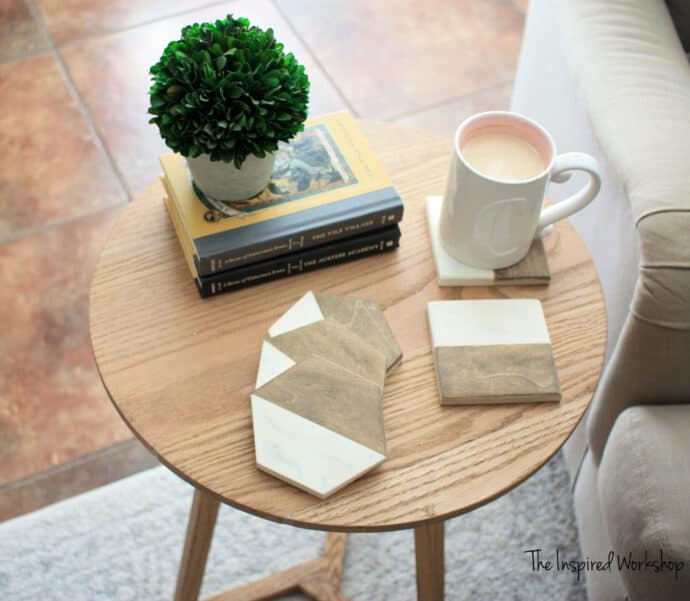 It doesn't even matter if you haven't ever worked with epoxy resin before, you can EASILY make this craft your first epoxy project! Combining the wood and epoxy really elevates the elegance of the project, and then you add the faux marble…and yeah, they look like you bought them at a fancy boutique!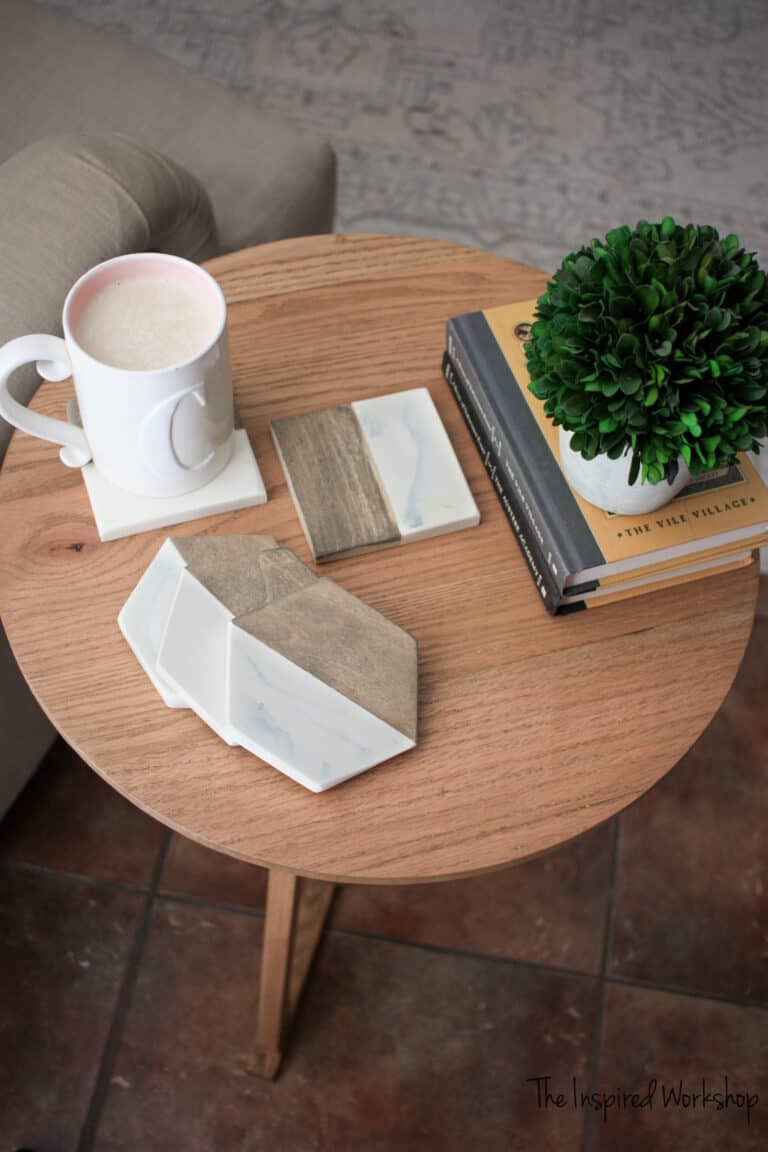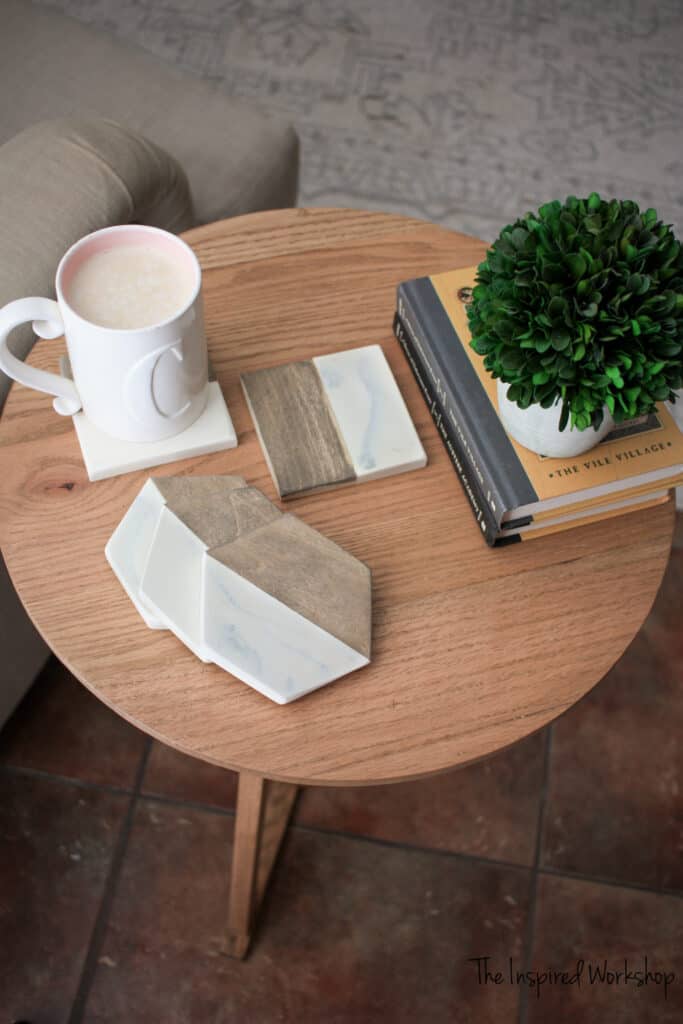 The photos do NOT do these coasters justice, they were so hard to photograph because of the white with the wood, the white was bleached out to where you couldn't see the veining, and then the wood looks bleached, I tried four different days and times of days to capture them…this was the best I was able to capture, and I apologize that my photography skills aren't better than this! 😬🤦‍♀️
The veins are not blue, and the coasters do not have a gray hue over the white epoxy part! Lol!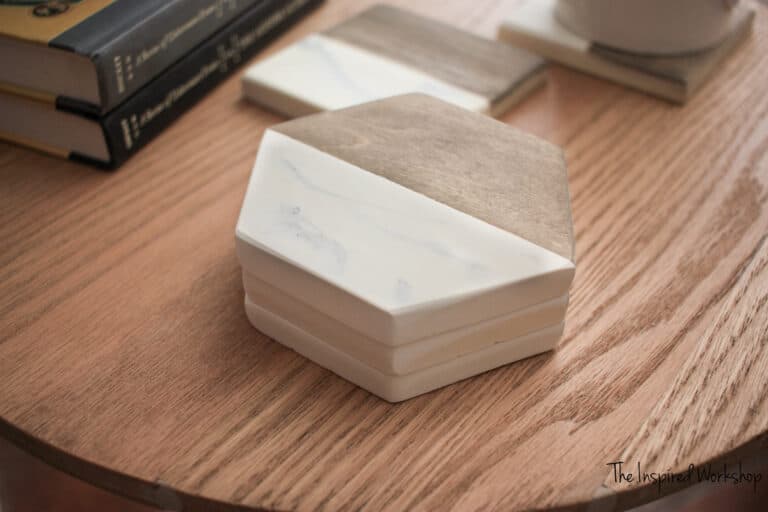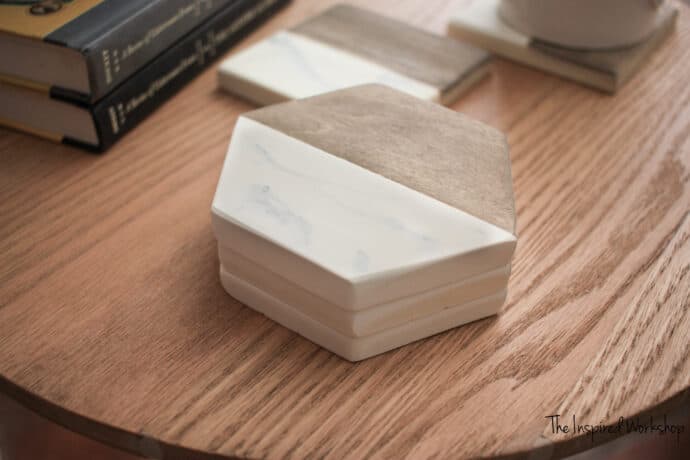 I ended up loving the coasters so much, I ended up making chargers and napkin rings to match! I am thinking about adding a tray as well…someone PLEASE come take the epoxy from me!!!😂😂
Alright, wanna make a few of these to give as gifts? Better get started quickly since the holidays are upon us already! The great thing about these coasters and all of the hexagon wood and marble set is that they can easily be given at ANY time of year, they are in no way held to being used only for the holidays, they are a year-round decor staple!
Do you love this faux marble look? You can even try it out on bigger projects like this DIY Marble Epoxy Top Table! Or look how cute these pumpkin chargers turned out for Thanksgiving!
Let's gather the supplies!
Gathering the Supplies for the DIY Coasters
Materials for Epoxy Resin Coasters:
-silicone molds – variety set – I bought this set because I wanted to try a bunch of different shapes and styles, but if you know you are wanting to ONLY make the square or hexagon, I would go with a 4 piece set so you can pour them all at one time as opposed to one at a time! 4 piece hexagon – 4 piece square – hexagon/square set (best deal)
–Epoxy Resin – depending on how many you want to make the price gets better with other brands in larger sizes! I want to add, I do not recommend Pro Marine epoxy because of how badly it yellowed on my marble vanity top I made a while back.
-1/4″ x6″x4′ Poplar project board (can make 20 – 24 coasters with this one board) Or you can really up the elegance and use a fancy wood like walnut since you are using such small pieces it still wouldn't be expensive!
–matte white acrylic paint – or you can use pigments
-wood stain of your choice – I used weathered by Rove+Dwell (formerly Old Barn Living Stains) – LOVE this stain!
Cut List for the Wood of the Epoxy Resin Coasters:
-4 – 1/4″ x 2″ x 4″ pieces, ends mitered at 30 degrees off square, ends not parallel – to make one set of 4 hexagon coasters
OR
-4 – 1/4″ x 2″ x 3 7/8″ pieces to make one set of 4 square coasters
Making the DIY Wood and Epoxy Coasters
Cut your wood pieces down to size! You will need to rip the project board into two strips that are an actual measurement of 2″. If you do not have a table saw, you can cut the project board down to the 4″ size and then cut that down to 2″ on a miter saw…but this is NOT using the miter saw as intended and I cannot be held liable if you hurt yourself…LOL…I'm just stating that it can be done because I have done it!! LOL!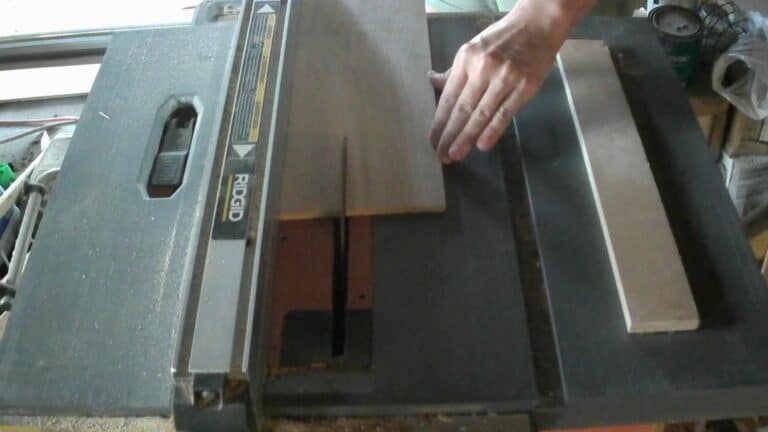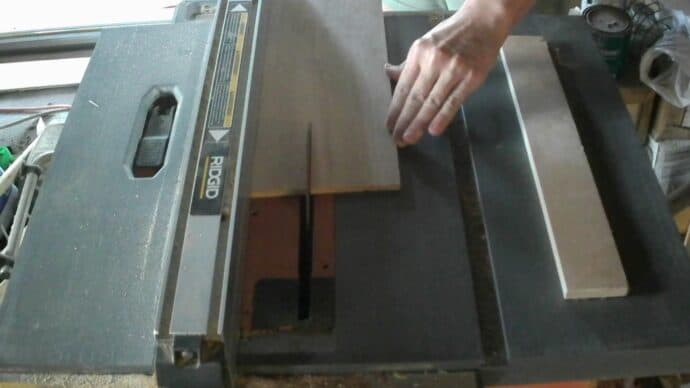 Once you rip it down to size, you will need to cut the angles for a hexagon. You will cut the ends at 30 degrees off square, ends not parallel. The total length will be 4″ from longest end to longest end.
Cut the first end.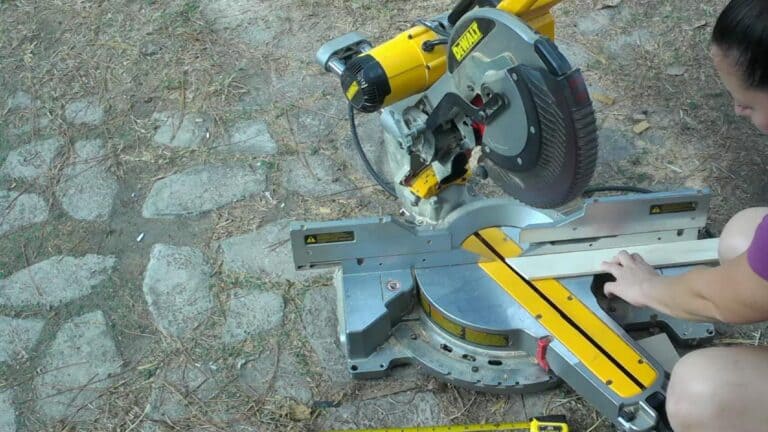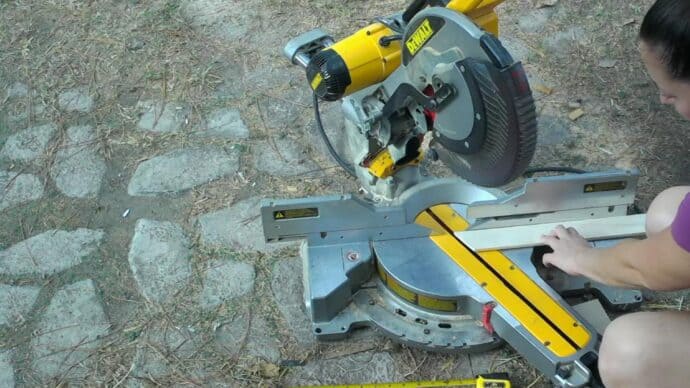 Flip the board over.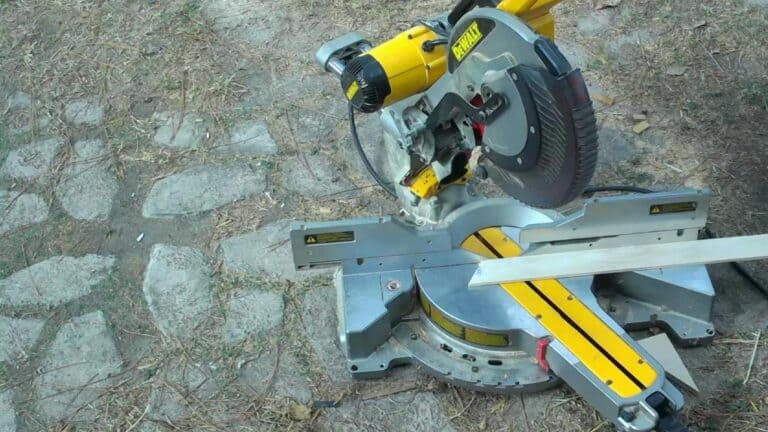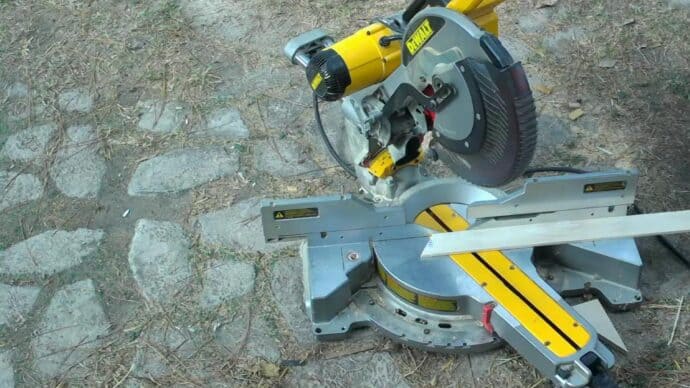 Cut the other end at 4″.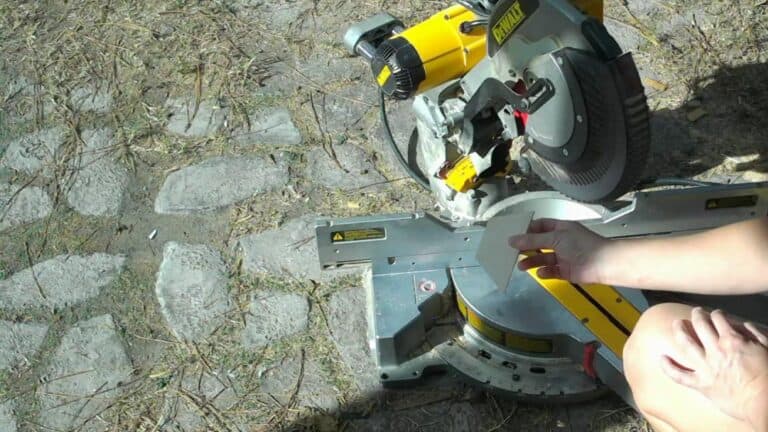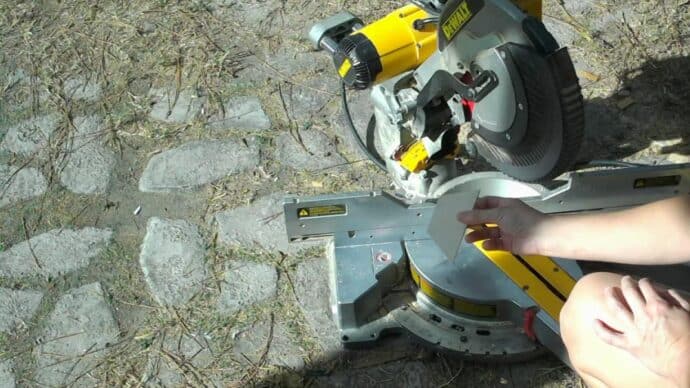 Next place the board in your silicone mold, make sure it fits perfectly! If it fits, gather all your supplies and start your coasters!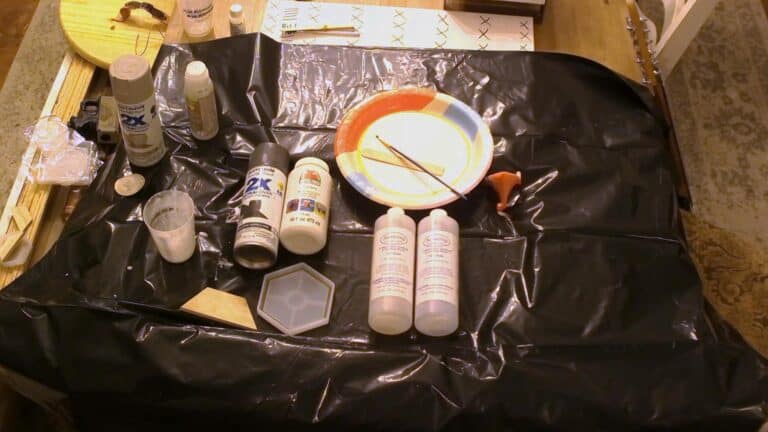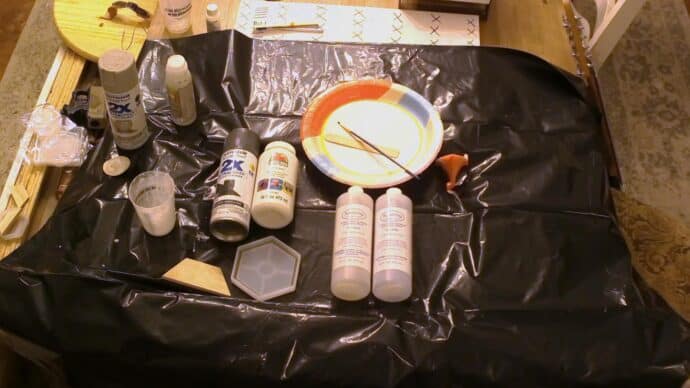 Alright now place the wood in the mold, you will want to place something small but heavy on top just to keep the epoxy from raising the wood by going underneath. It doesn't take much weight to accomplish this!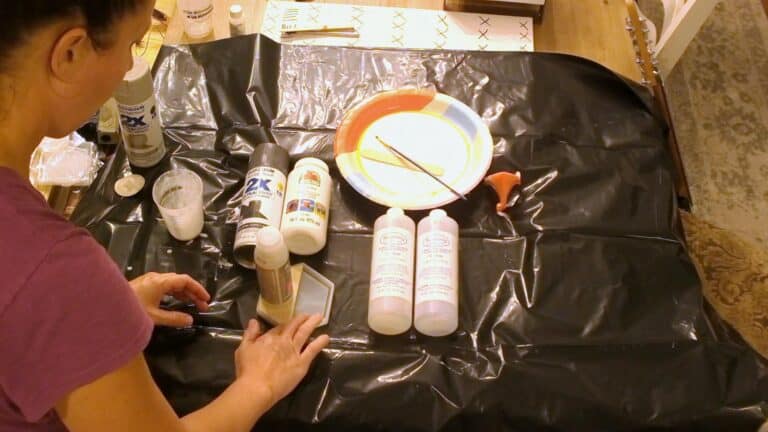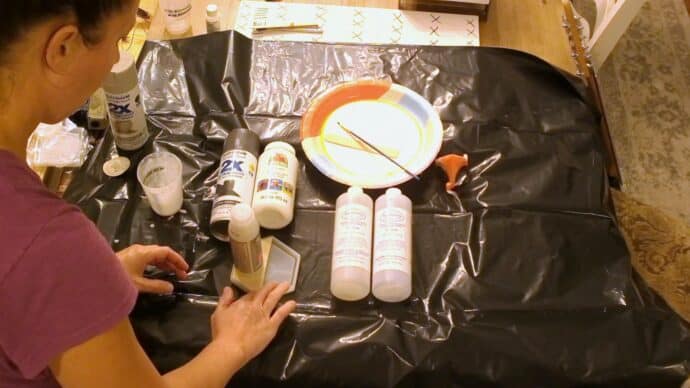 Mix your epoxy! It only takes 1 1/2 ounces of mixed epoxy (3/4 ounce of part A and 3/4 ounce of part B) to make a coaster! Sorry for the awful coloring of the photos!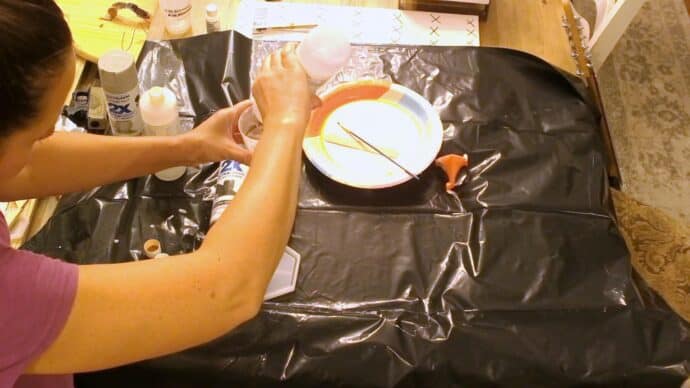 Once they are mixed, add in your colorant of choice. I used white paint because I was wanting the faux marble effect!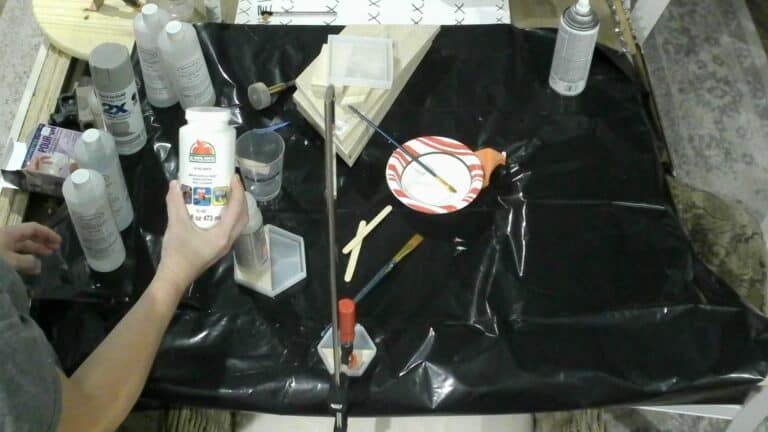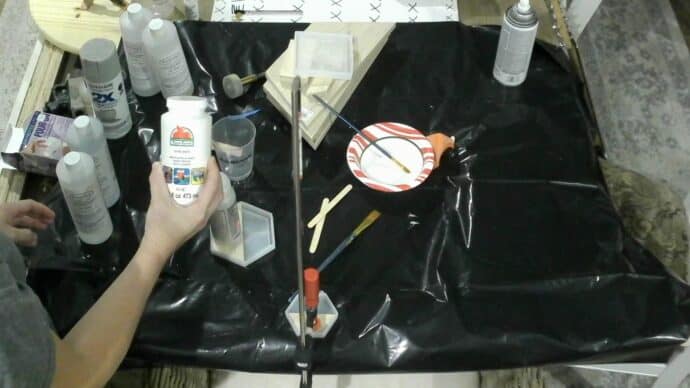 You can get crazy here and do whatever you want! Just an FYI, acrylic paint is the ONLY paint you can add to the mixture without affecting the hardening, oil paint does not work, it turns it into glue! Even glossy acrylic paint will do this as well…so make sure you use mica powder or MATTE acrylic paint when mixing it into the epoxy!
Make sure and only use enough paint to opaquely color your epoxy…too much paint will throw off the mixture and it will be rubbery when it dries instead of hard. Start with a quarter size drop into the epoxy and go from there if you mix it and can still see through it, mix in a dime size more…and continue until you get it opaque.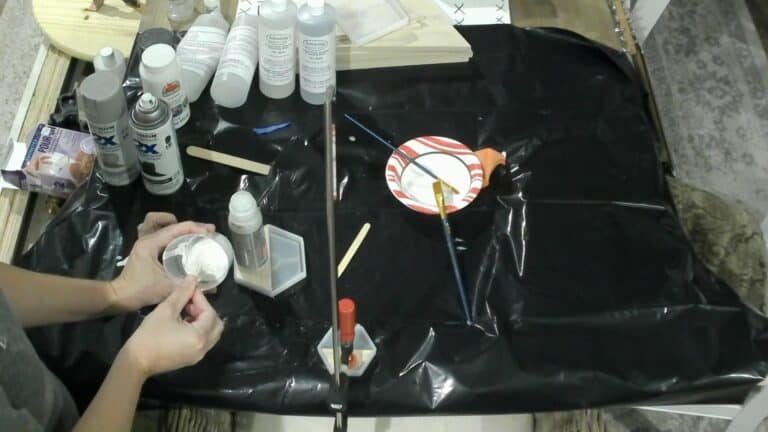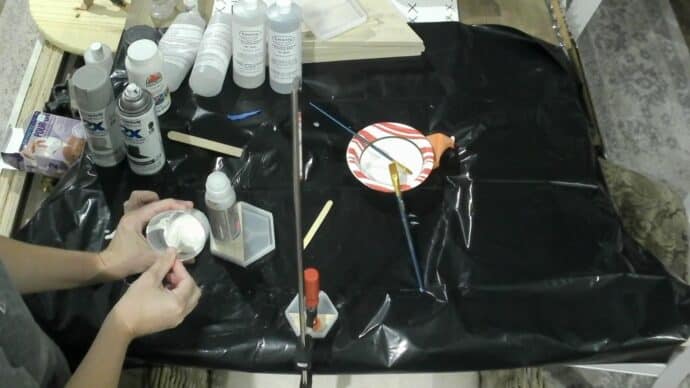 Slowly pour the epoxy into the mold with the wood and be careful not to overfill the mold. You want it as level as possible with the wood so you don't have to sand a ton…but it will fill in the trough below the wood so when you first pour it, it will look level, and then all of a sudden the epoxy will be lower than the wood. Just wait a few minutes and watch until that trough is filled and then add a little more epoxy if needed to make it level!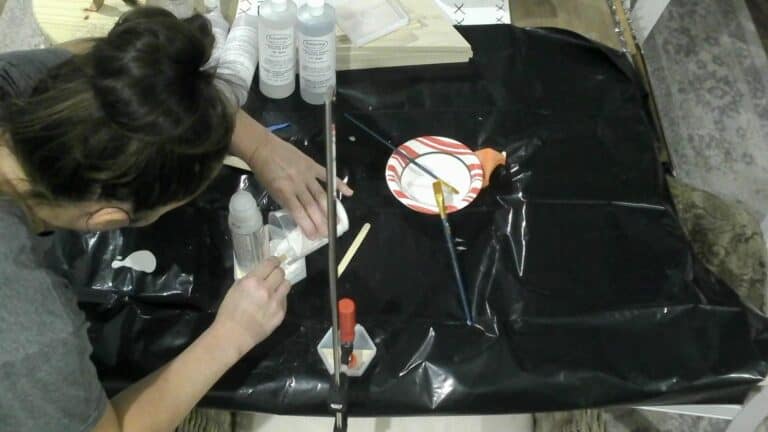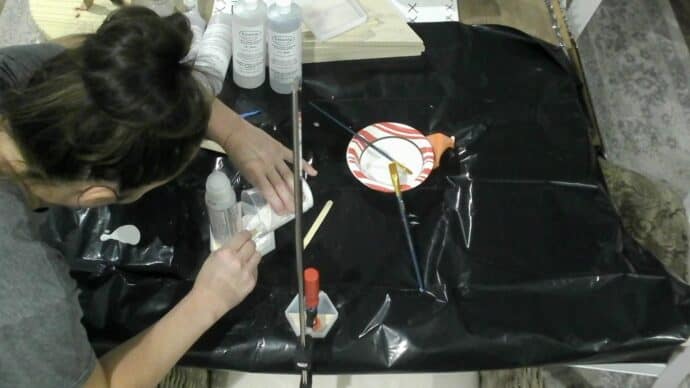 Add the gray paint to marble the epoxy. This does need to be spray paint as opposed to acrylic paint, acrylic paint does not feather the way oil paint does in the epoxy. It created spots and I could not get it to feather out or anything, just spots! Lol!
I sprayed some of the spray paint into a bowl, and then used a paintbrush to get it out of the bowl and then just paint a vein into the epoxy lightly dragging the paintbrush back and forth, or just one way, play around and find the way you like it best!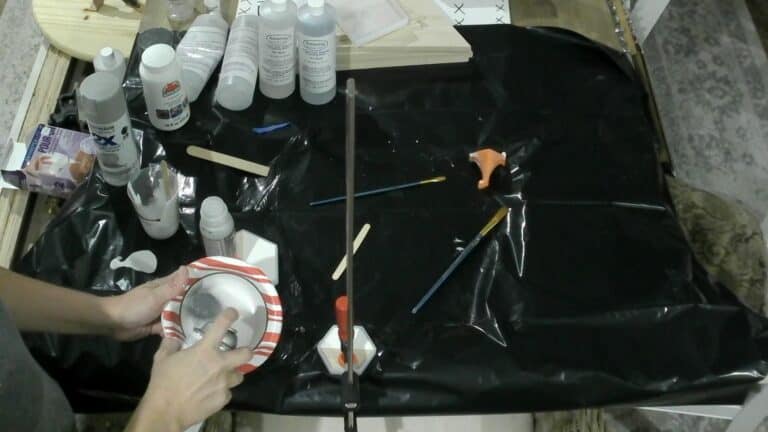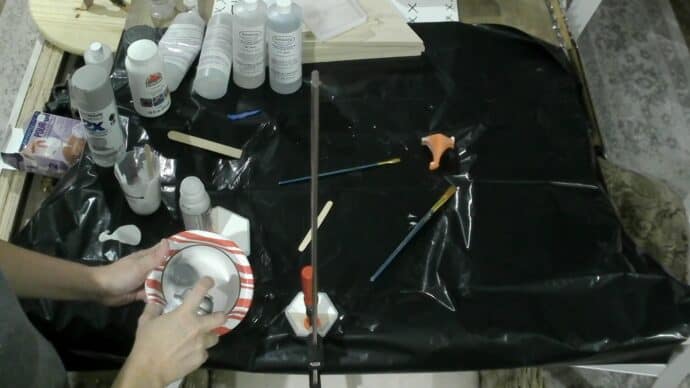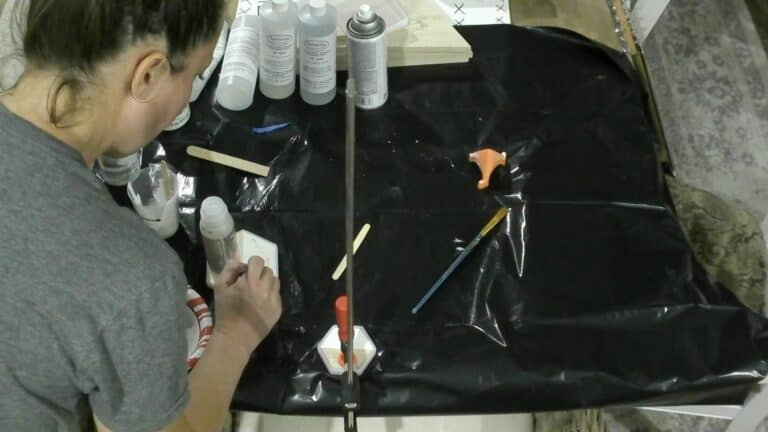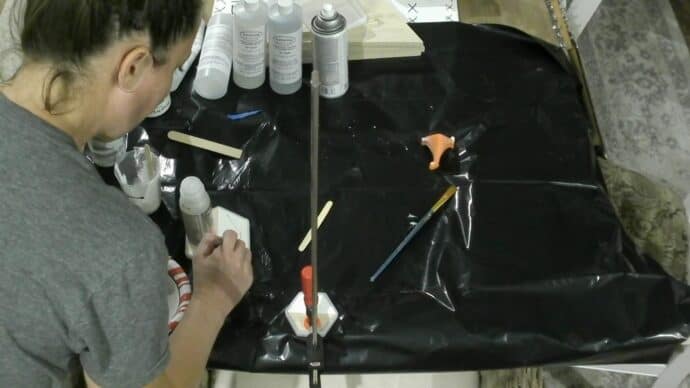 Using a paintbrush move the gray paint around until the like the veins you create and then let it sit for 12 hours!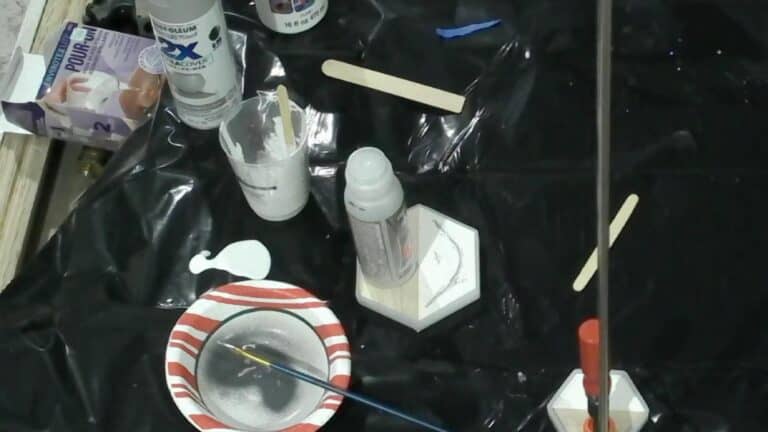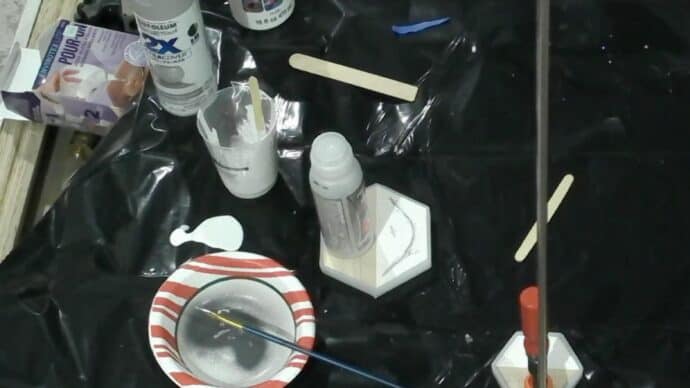 It will lighten quite a bit after it sits, the above photo was how I left it, but when I came back maybe 30 minutes later, it was already this much lighter!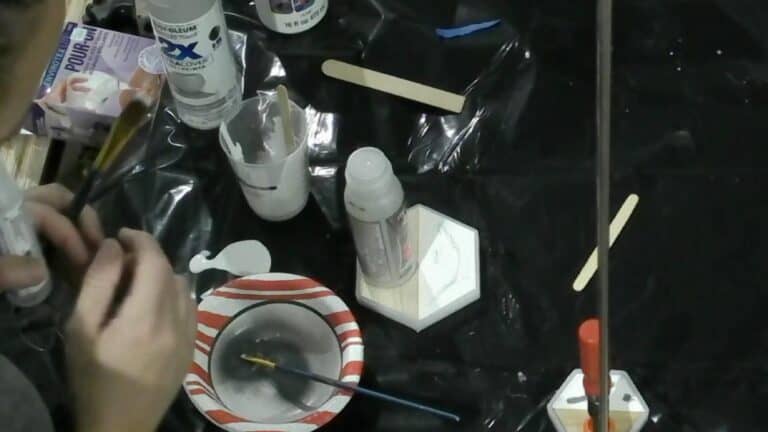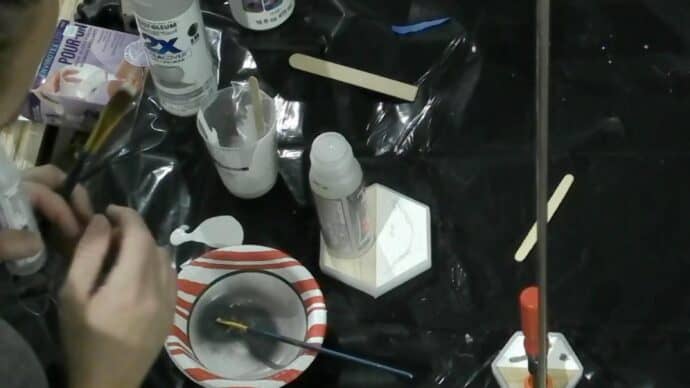 Once it has sat for 12 hours you can pop it out of its mold, sand it, and stain the wood! You can use painter's tape over the epoxy side if you don't want to sand the epoxy, this will keep it glossy. I love the look of the sanded epoxy because it looks like honed marble to me! Completely your choice how you make yours!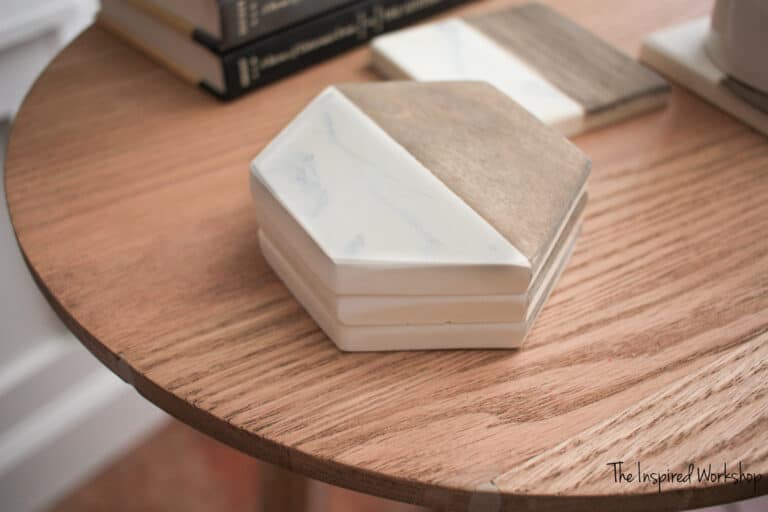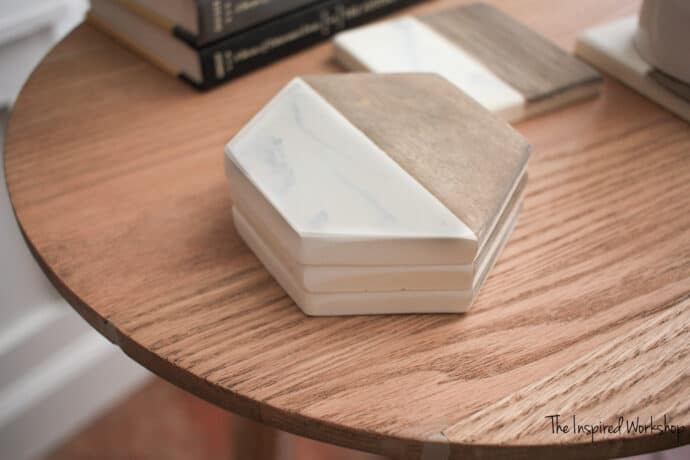 Boom! DONE!! Ready to be used or gifted…your choice!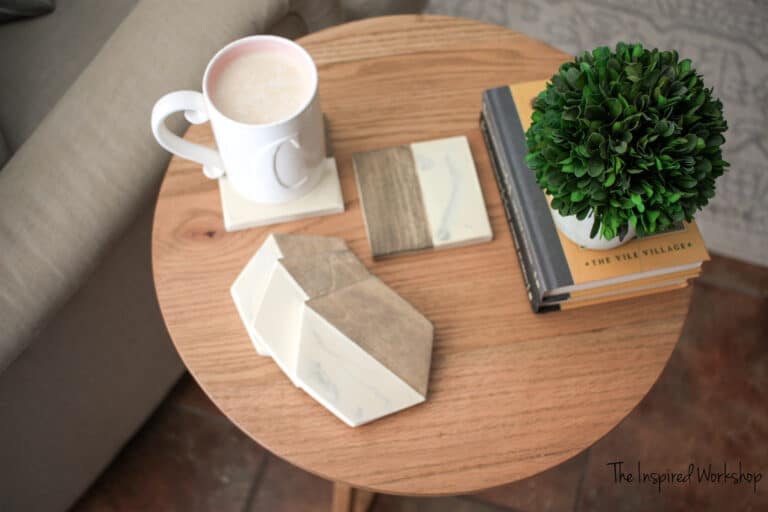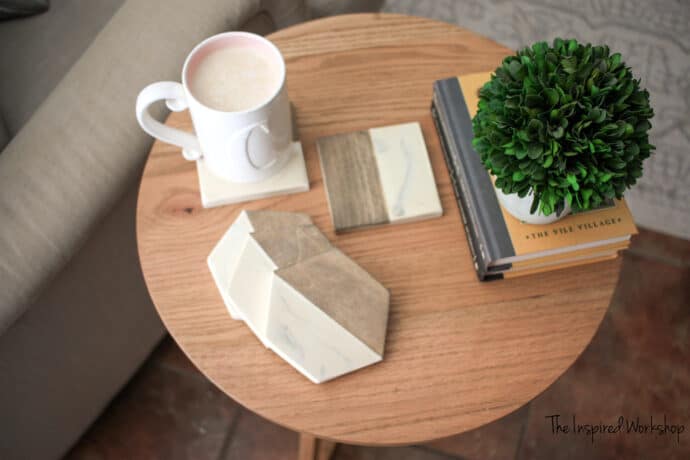 Check out the other matching Wood and Marble Epoxy Projects here as soon as I have the posts completed!
DIY Wood and Marble Epoxy Chargers
DIY Wood and Marble Epoxy Napkin Rings
Hope you enjoy experimenting with epoxy if this is your first time, I'd love to see your designs for your resin coasters! Happy Crafting!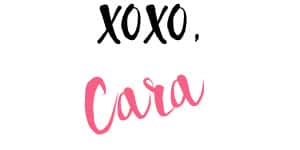 Want to save these DIY epoxy resin coasters for later? PIN IT!