This simple DIY planter box is the perfect addition to your porch or patio! Build plans come in two different sizes so you are sure to be able to build the planter boxes needed to spruce up your outdoor space in time for spring! The simple construction is easy enough for even a beginner!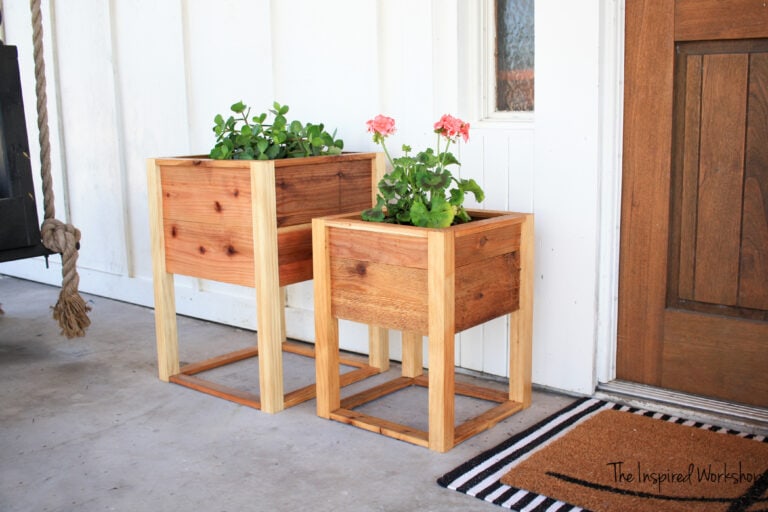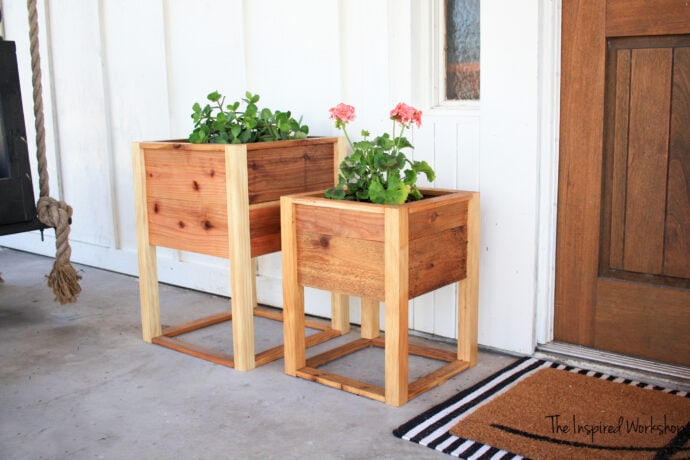 I have been on one heck of a building kick lately building all the DIY planter boxes! Lol! The sun came out for a couple of days and I am over here trying to plant all the plants and become this awesome gardener thinking spring is here…and then we have a cold snap for four days and I spend it in bed cuddled up so glad I didn't actually plant my garden yet!😂
I am not a very good gardener, I actually suck at gardening but I am not going to give up, I am going to grow some darn plants if it's the last thing I do!😅 Check out how great my plants look straight from the store, just don't ask to see them in a few months!🤣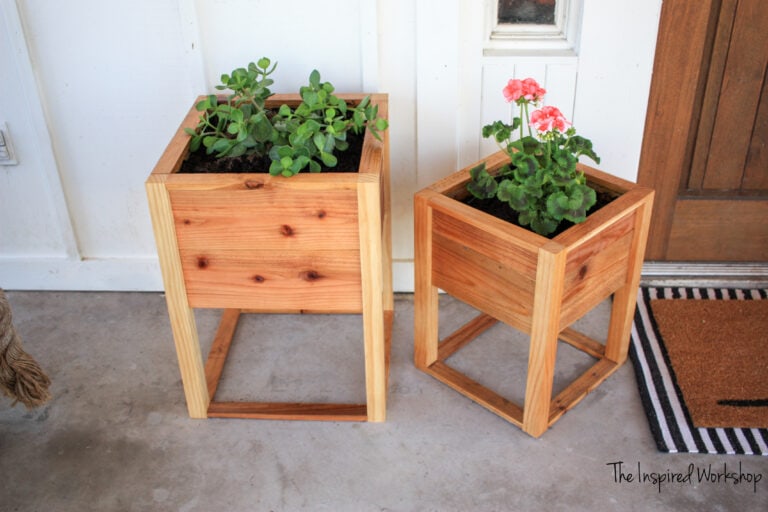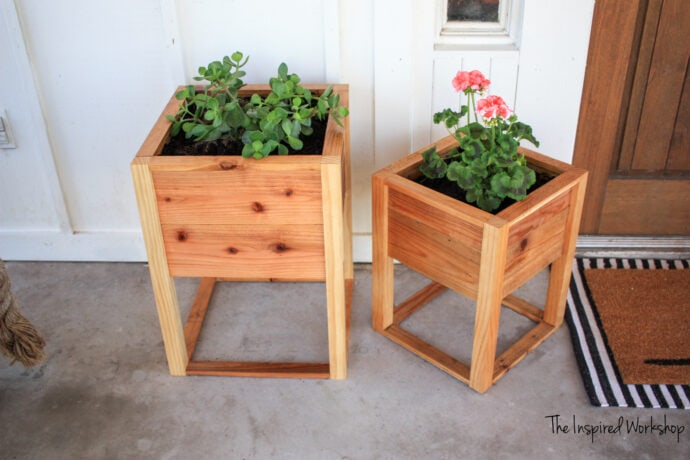 You can see the other planter boxes that I have built recently DIY Scrap Wood Outdoor Planter, the DIY Large Planter Box as well, and check out the cool patio chairs that actually kinda match the new planters and that wasn't even on purpose!🤩
Who even needs to see the other planters I have built recently though when these are as perfect as they are! I love them, so simple you can build them both, or two of matching sizes in a DAY from start to finish…and that is exactly the kind of project I love!
Then you add in the fact that they are cheap to build and dang, I know exactly what you are going to be doing this weekend…building yourself two DIY planter boxes to spiffy up the front porch…or maybe your patio!😉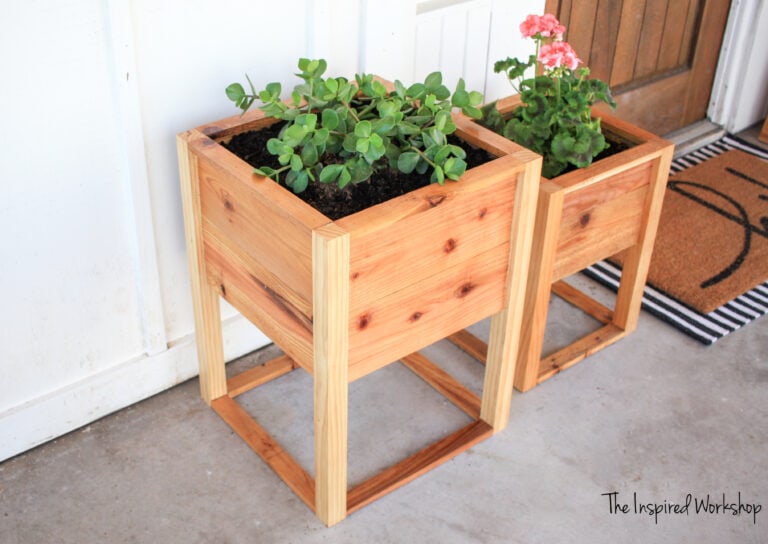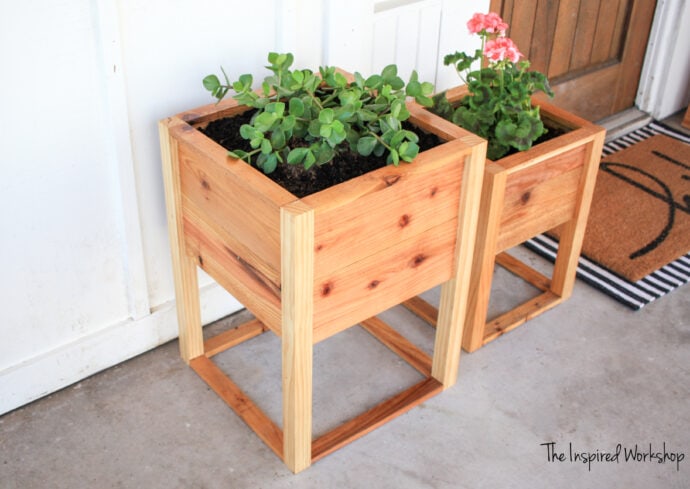 To build one large planter and one small planter box will cost around 50 bucks depending on the prices in your area! You can also build two large planters for this same price, which is pretty amazing if you have priced wood planters lately! They can get VERY expensive!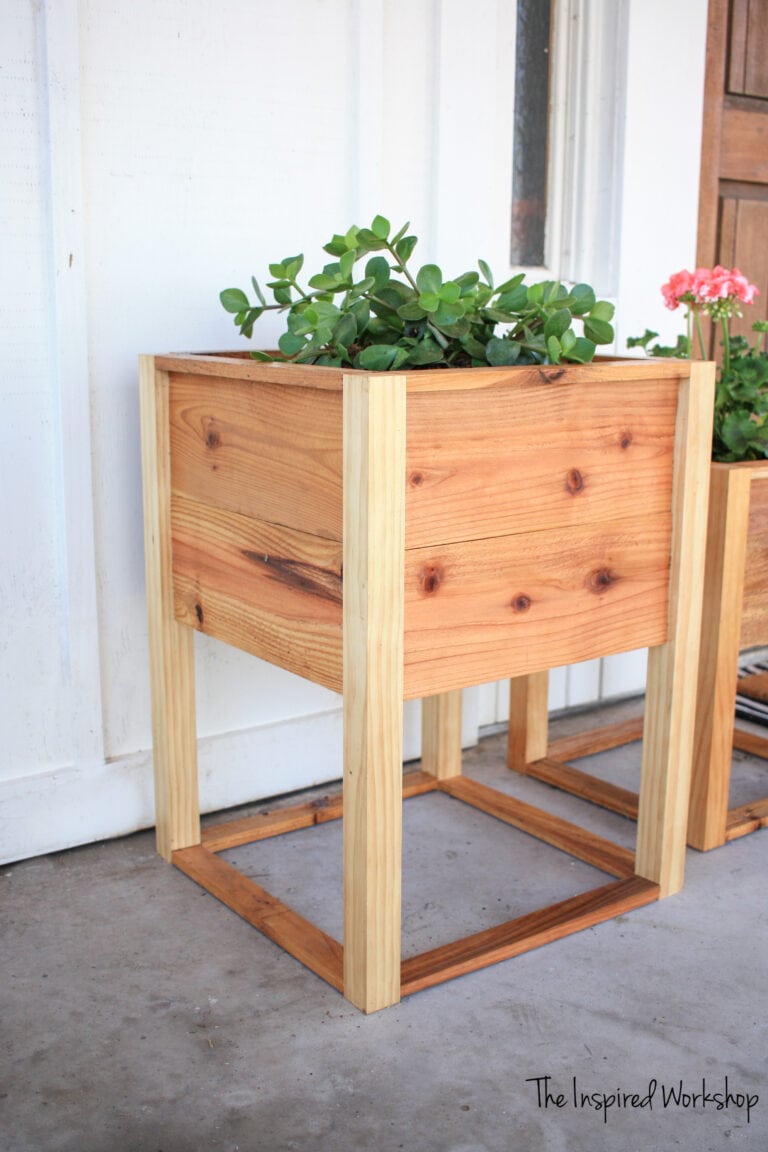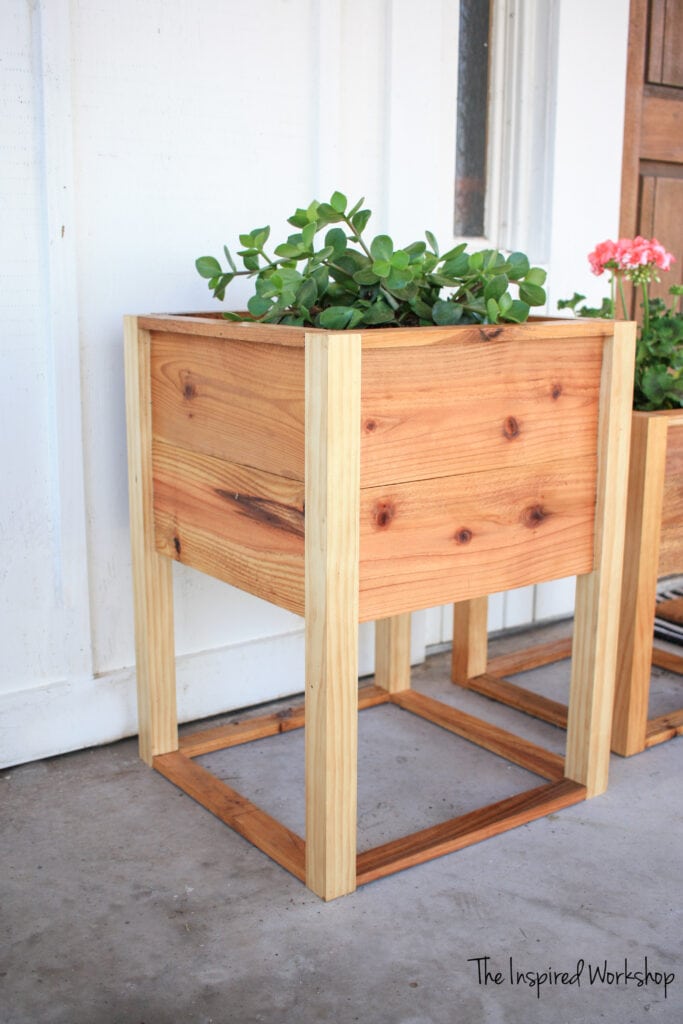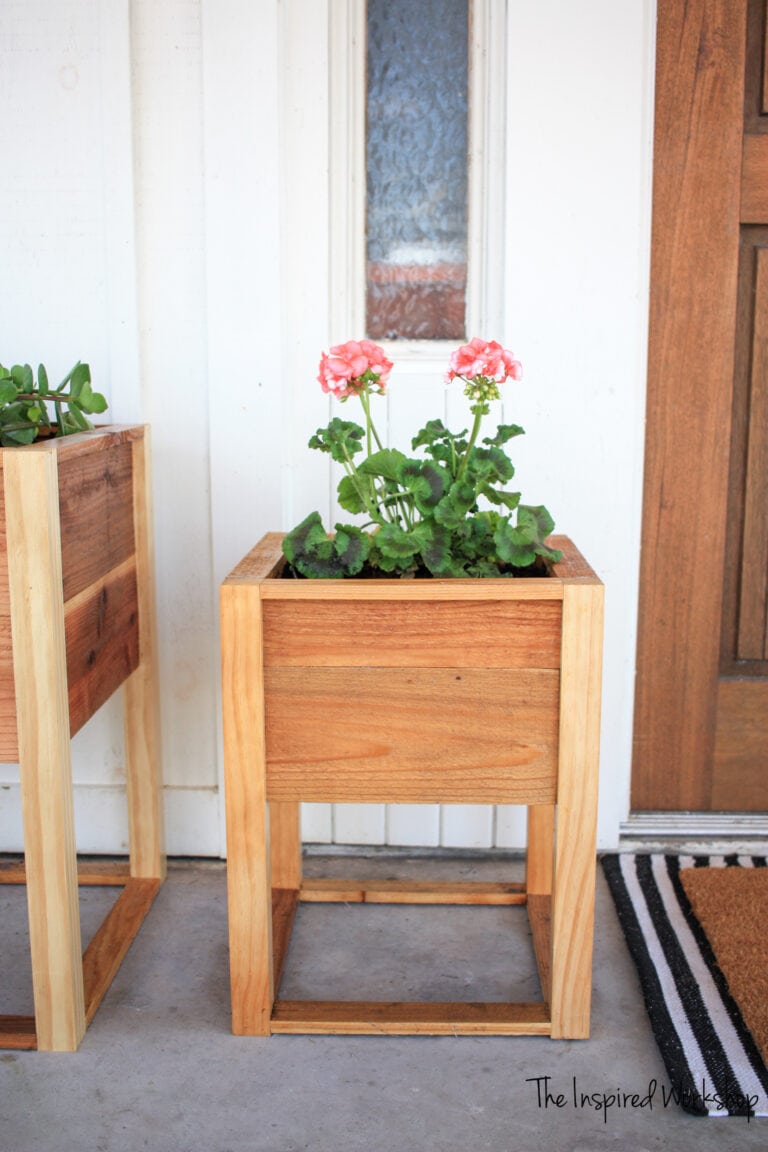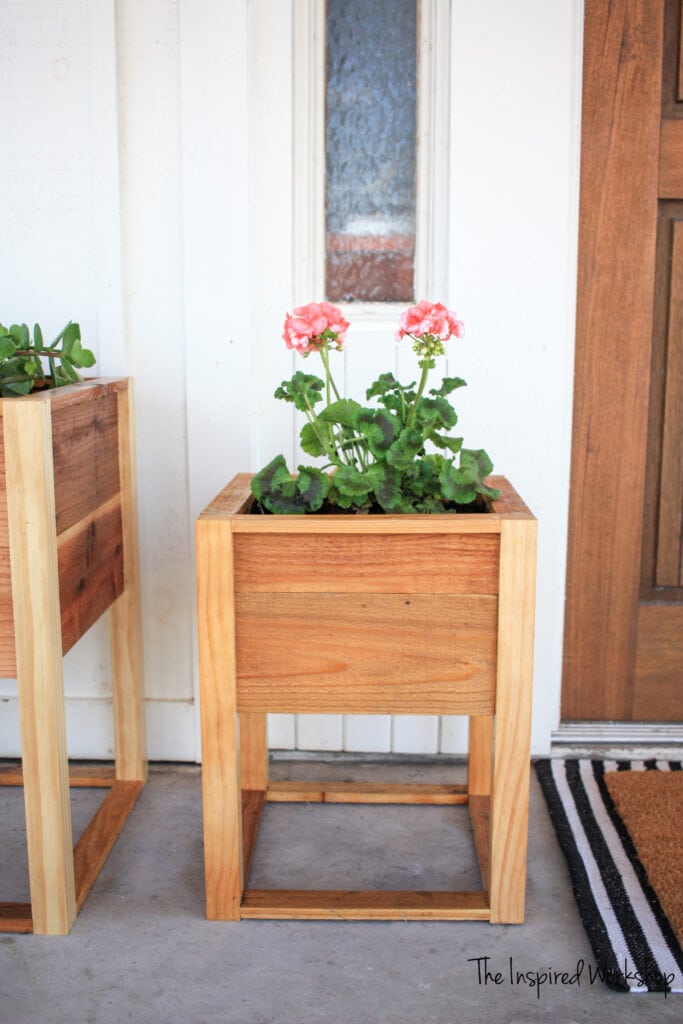 If you would like the printable plans, you can download them here!
Gathering Supplies to Build the DIY Planter Boxes
***NOTE: Amazon Links below are affiliate links! Affiliate links are links that allow me to make a small commission should you make a purchase after clicking on one! It really does help this little ole blog of mine out when you make purchases from these links, it helps me keep bringing great free content to you! And the best part, that commission they pay me comes at NO EXTRA COST to you! So I thank you in advance for any purchases you make at my links, but we can still be friends even if you don't! 😉
Materials for the Large Planter Box:
1 – 2x2x8 – I used a select pine 2×2 instead of cedar because my store had the nastiest cedar 2x2s and they were out of 2x4s…if your store has 2x4s it is cheaper to rip them down to 2-2x2s it will save you 10 bucks if making 2 planters!
2 – 1x6x8 cedar fence pickets – always check in store, I have noticed they are sometimes more expensive online than in store!
Materials for the Small Planter Box:
1 – 2x2x8
2 – 1x6x6 fence pickets
same tools as above
Cut List for the Large Planter Box:
4 – 2×2 @ 23″ – legs
8 – 1×6 fence pickets @ 14″ – sides
8 – 1×2 @ 14″ (1×6 fence pickets ripped down to 1 1/2″ wide) – top and ground boards
2 – 1×6 fence pickets @ 14 1/2″ – bottom
1 – 1×6 fence picket ripped down to 3″ bottom
Cut List for the Small Planter Box:
4 – 2×2 @ 18″ – legs
4 – 1×6 fence pickets @ 11″ – sides
4 – 1×6 fence pickets ripped in half which is 2 11/16″ (when you take out the 1/8″ for the blade) @ 11″ – sides
8 – 1×2 @ 11″ (1×6 fence pickets ripped to 1 1/2″ wide) – top and ground boards
2 – 1×6 @ 11 1/2″ bottom
Building the DIY Planter Boxes
Such an easy-to-build project, I wanted this to truly be a beginner build that had straight cuts, and no scary angles, yet it looked great enough that even the experienced would want to build it! I think that was accomplished!
I went ahead and cut all my boards down to size before I started building the planter boxes! For some projects, I cut as I go, and for others, I cut all the boards needed at once. This was one of the cut all at once builds because nothing will change and you want all the side boards cut to the exact same length! You can even set up a stop block to help make it quick to cut them all!
Building the Large Planter Boxes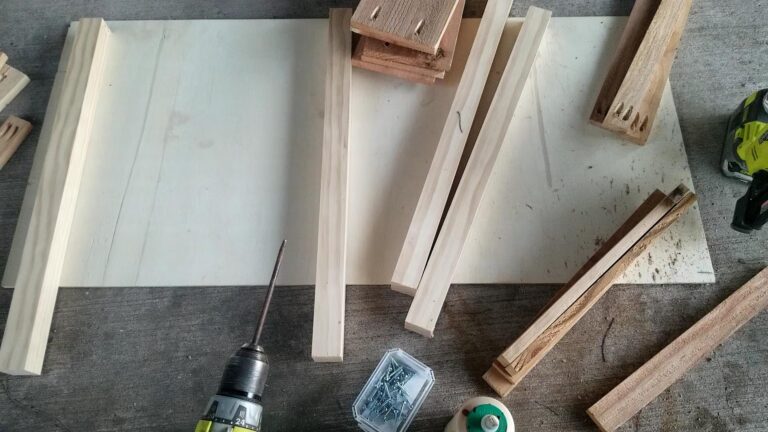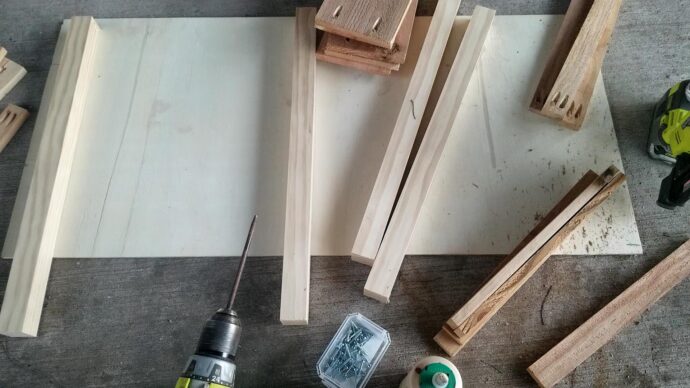 You can drill all your pocket holes in advance on the 8 – 1×6 fence pickets @ 14″ and the 4 – 1×2 @ 14″ fence pickets. The pocket holes will be drilled at 1/2″ depth on both ends, the photo above shows one end pocket holed, pocket hole on the other end the same!
Building Front and Back Frames for the Large Planter Boxes
After I had everything cut down to size and ripped down to size, I built the front and back frames! To build the front frame, you will need to take 2 legs (2×2@23″) and two 1×6 @ 14″ fence pickets.
You will use wood glue and 1 1/4″ screws to attach. Now if you look at Kreg's screw size chart, it will say that for a 1/2″ depth pocket hole, you will need a 1″ screw. And I did use some 1″ screws but they weren't grabbing really well and the small head allows them to slide further into the pocket hole (which is what you would normally want) but it was splitting the cedar going too deep. Using the 1 1/4″ with the larger head and slightly longer screw, helps them attach better, trust me! Lol!
If you are using a 1/2″ pocket hole and screwing into another 1/2″ board, you have to use 1″ screws but since we are screwing into a 1 1/2″ board we have plenty of room for a longer screw, and the screw head sticking out of the pocket hole isn't going to hurt anything on this build!
Alright, let's get building!
I laid the 2x2s with their prettiest side down, then grabbed the 1×2 that will be the top board and placed it where it will go to keep the 1x6s lined up where they will need to go, then laid some spare fence pickets down to set the fence pickets back the way I wanted them!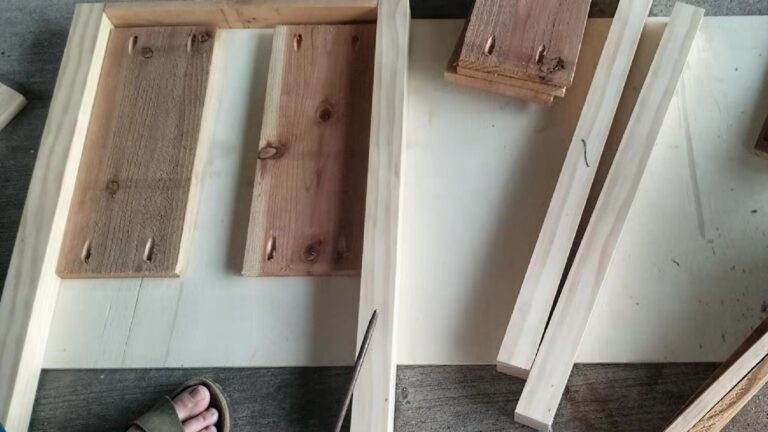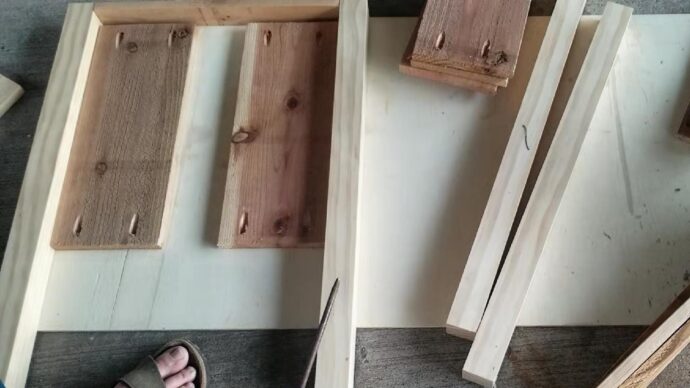 Add the fence pickets and screw into place using wood glue, and in the photo, I was using the 1″ screws but I quickly learned my lesson! Lol!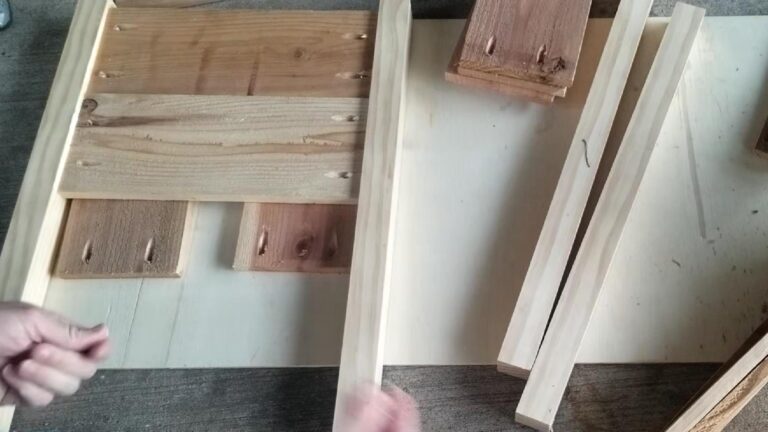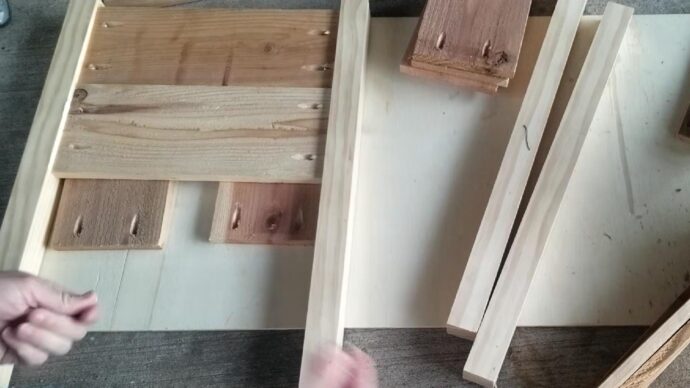 Attach the 1×2 across the bottom, make sure you use wood glue and lift it up slightly, you don't want it flush with the bottom boards only because the 1 1/4″ screws don't fit in the pocket holes so the edge of the screw sticks out slightly and you don't want it causing the planter to rock on the screw heads!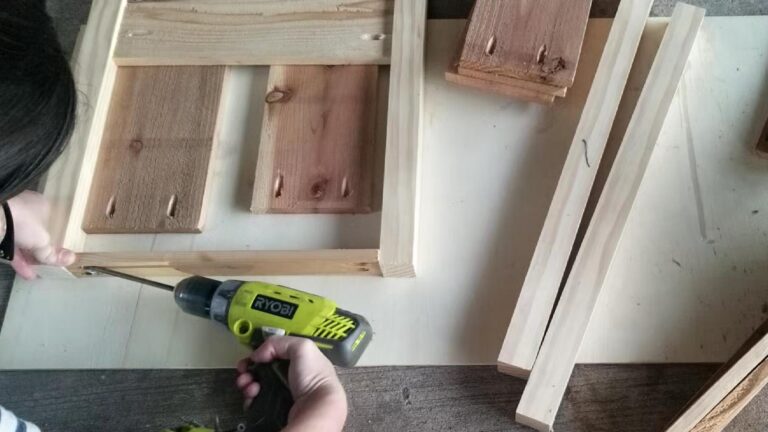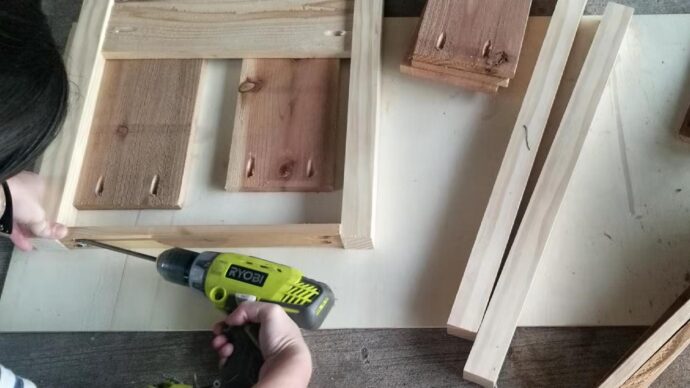 Add the top board with wood glue and brad nail it into place.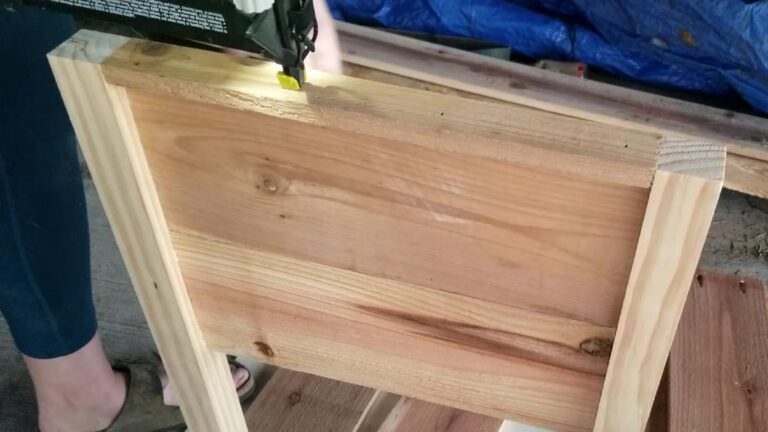 Build another frame exactly like this one to be the front and back frames!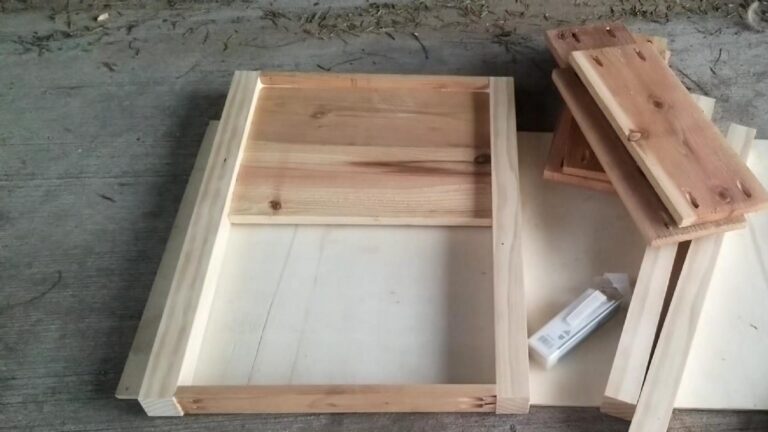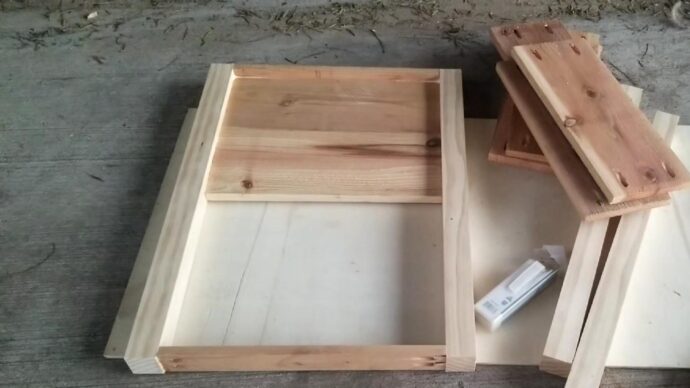 Attaching the Sides to the Front and Back Frames
You will lay the boards out and attach the same boards, the same way as you did in the front and back frames, this time it will be to the frames instead of just 2x2s! Don't mind that the pictures are dark, it got dark really quickly! Lol!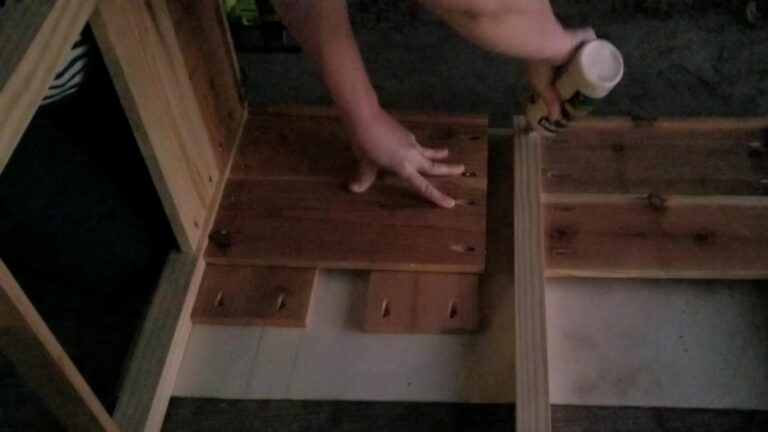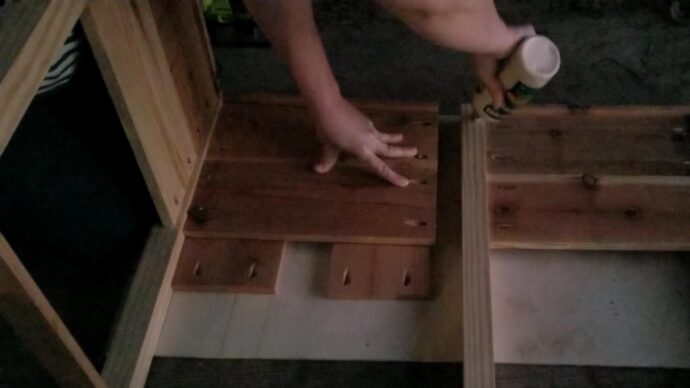 Once you have attached all the boards on this side, flip it over and attach the boards on the other side!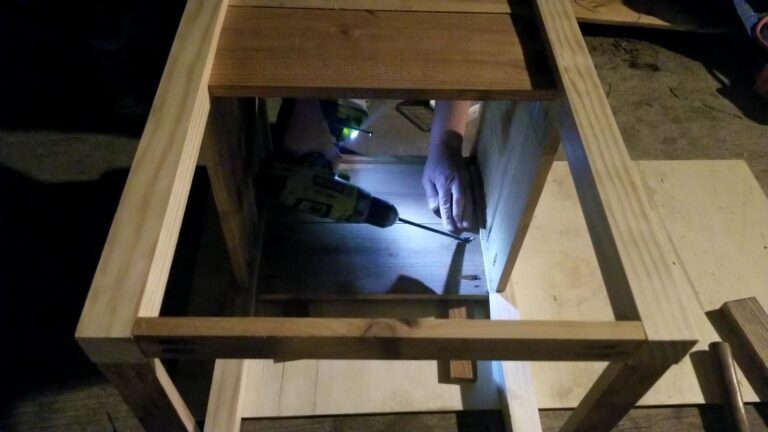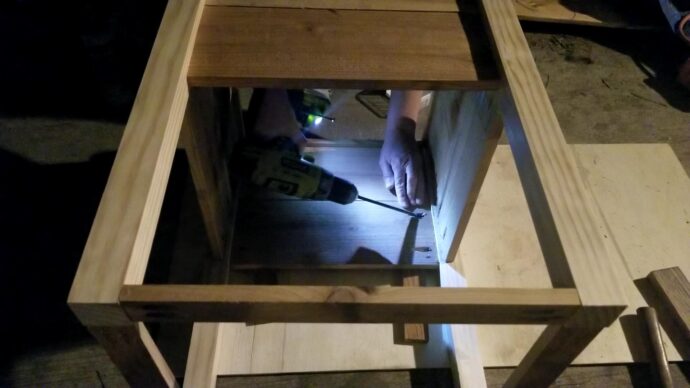 Stand that baby up and acknowledge what a great job you have done so far! 😍 Oh shoot, I didn't take a picture while I was admiring my work! 🤭
Add Bottom Boards to Large Planter Boxes
You will need to add the bottom boards to have a functioning planter! You can cut them to fit perfectly to make a solid bottom if you'd like, I just cut enough to make a bottom and then add a liner!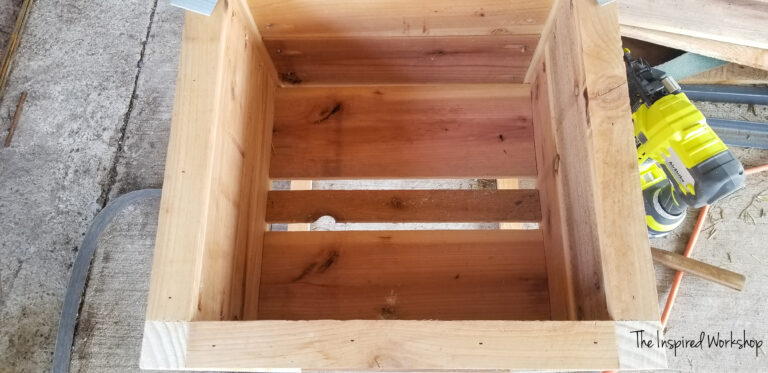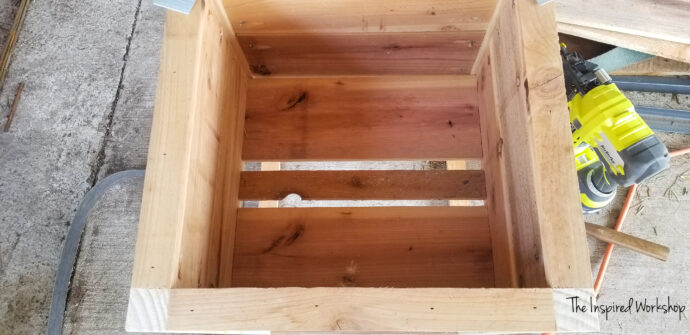 I brad nail the boards into place from the outside of the planter and make sure to use wood glue!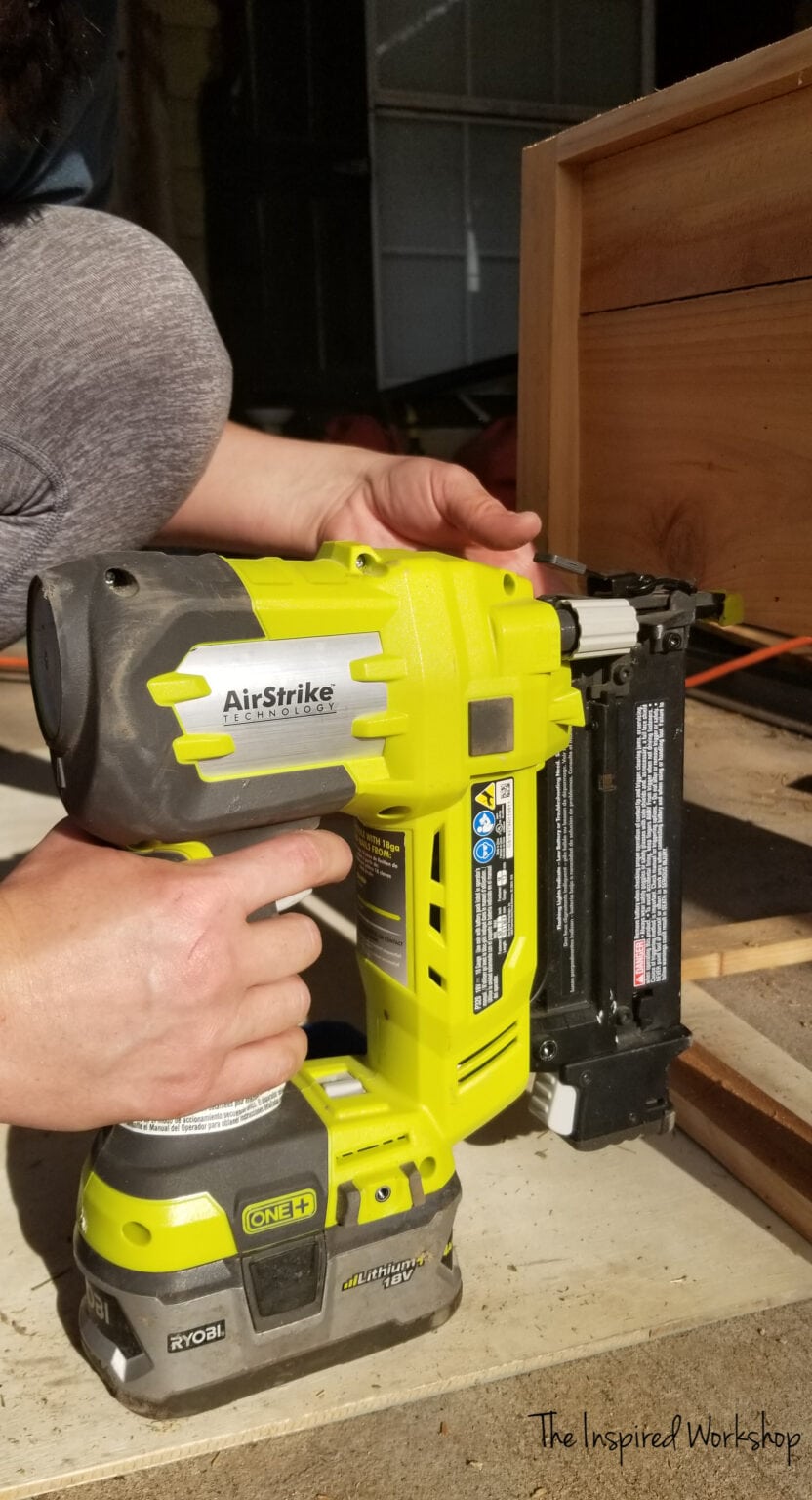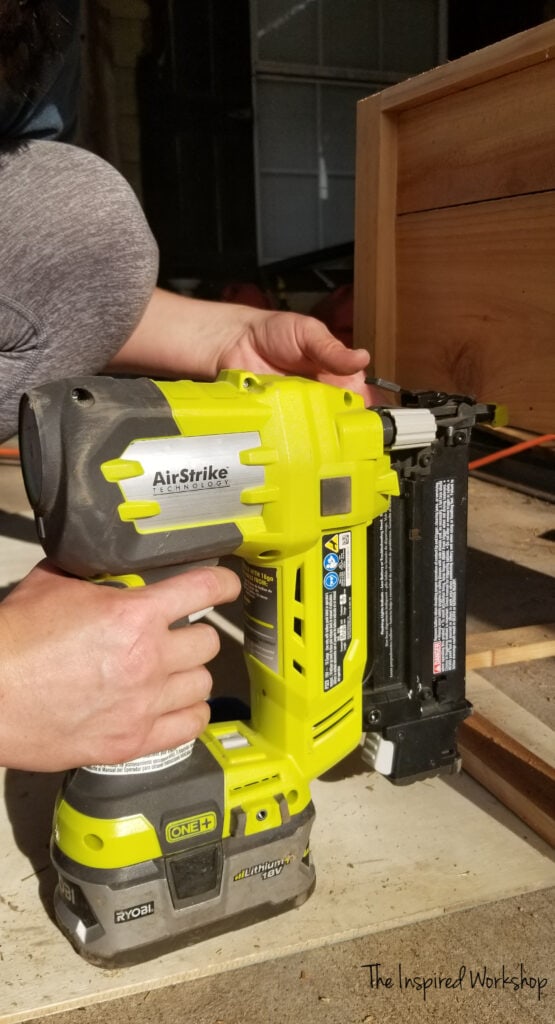 I then just use a contractor bag cut down as a liner, staple it around the edges and add a few rocks to the bottom!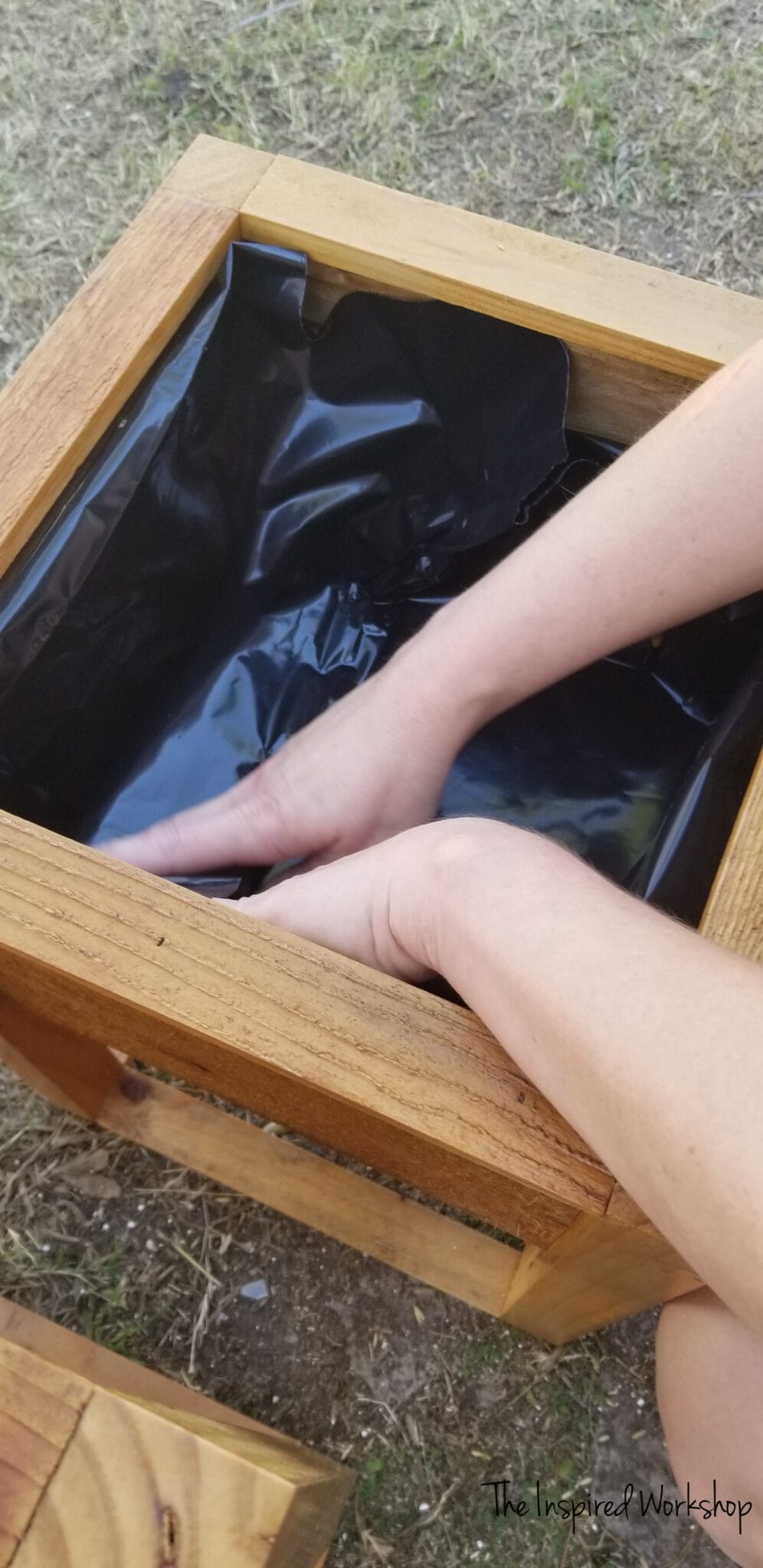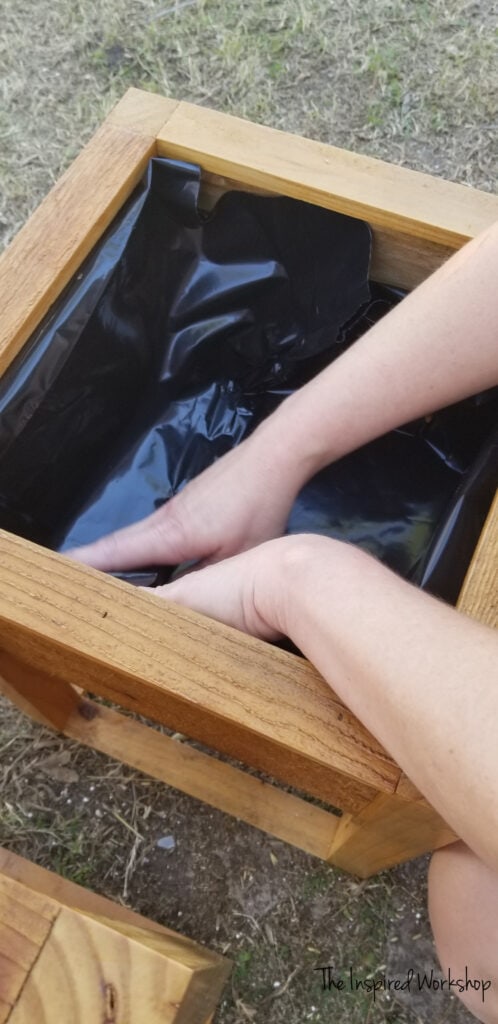 Add potting soil and a plant! BOOM! DONE!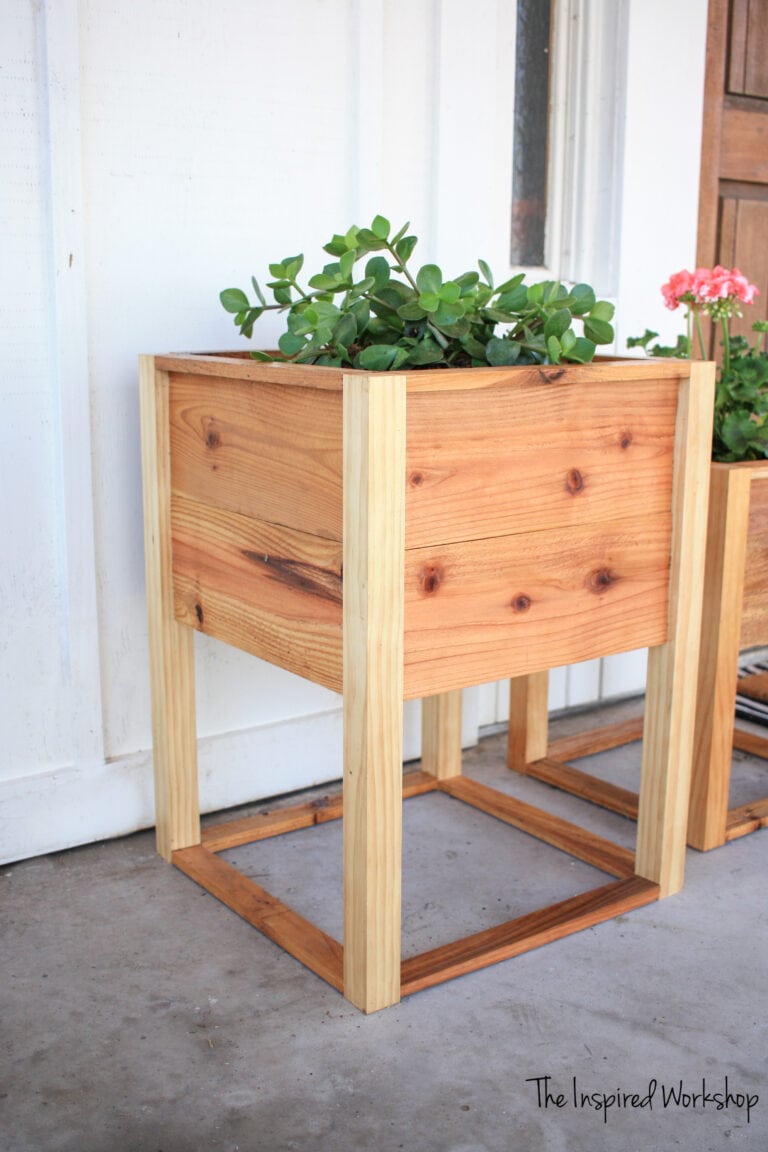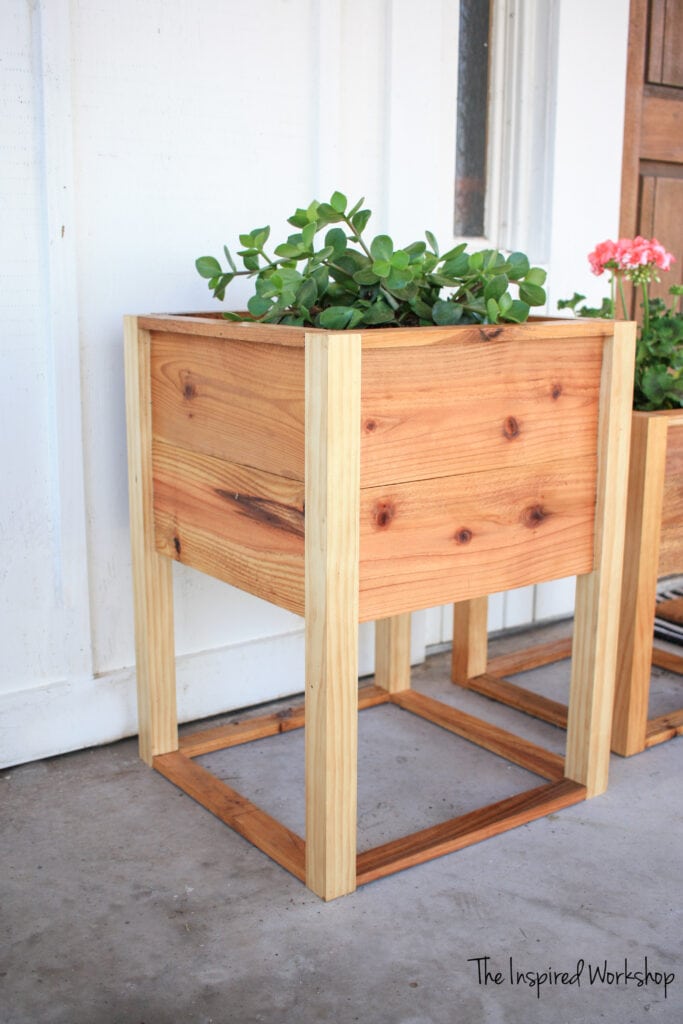 Ahhh!! Gets me so excited for spring! Everything is dead right now from the hard freeze we had the other night and it's depressing, but these flowers put a smile on my face every time I walk in and out of the front door!😍
Building the Small Planter Boxes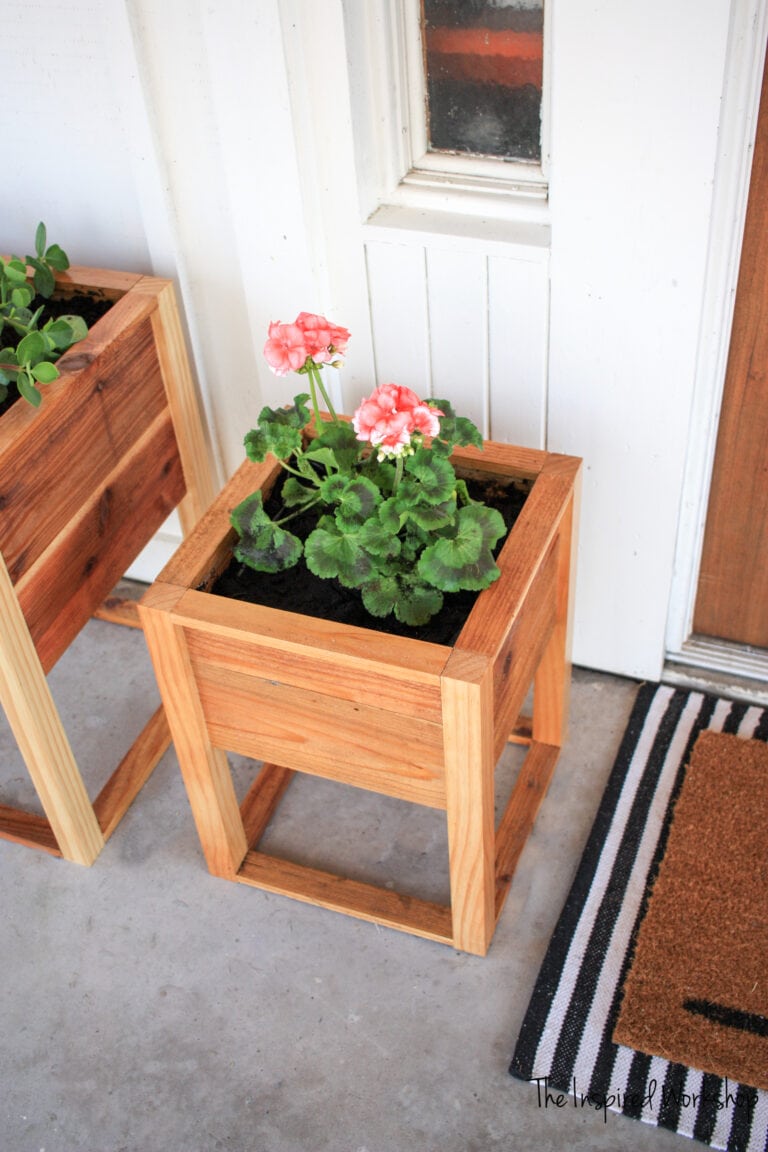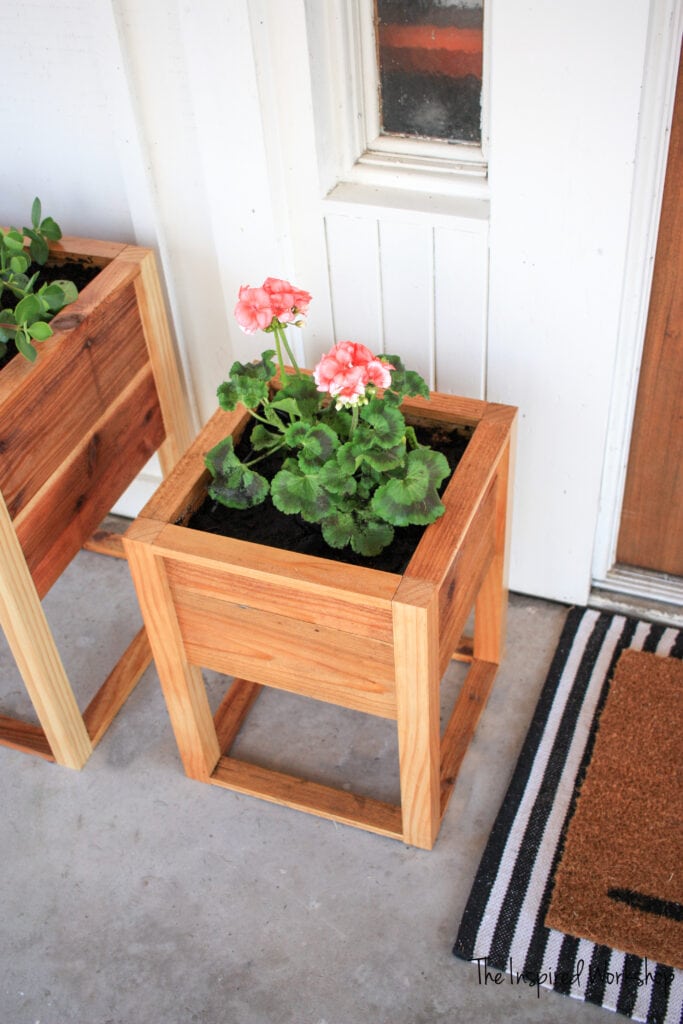 You will follow the same directions as to how to build the large flower boxes but change out the boards for the small planter boxes lengths.
Building Front and Back Frames for the Small Planter Box
Build two frames for the front and back of the planter boxes. You can see here I finally started using the blue-kote screws that are 1 1/4″ long!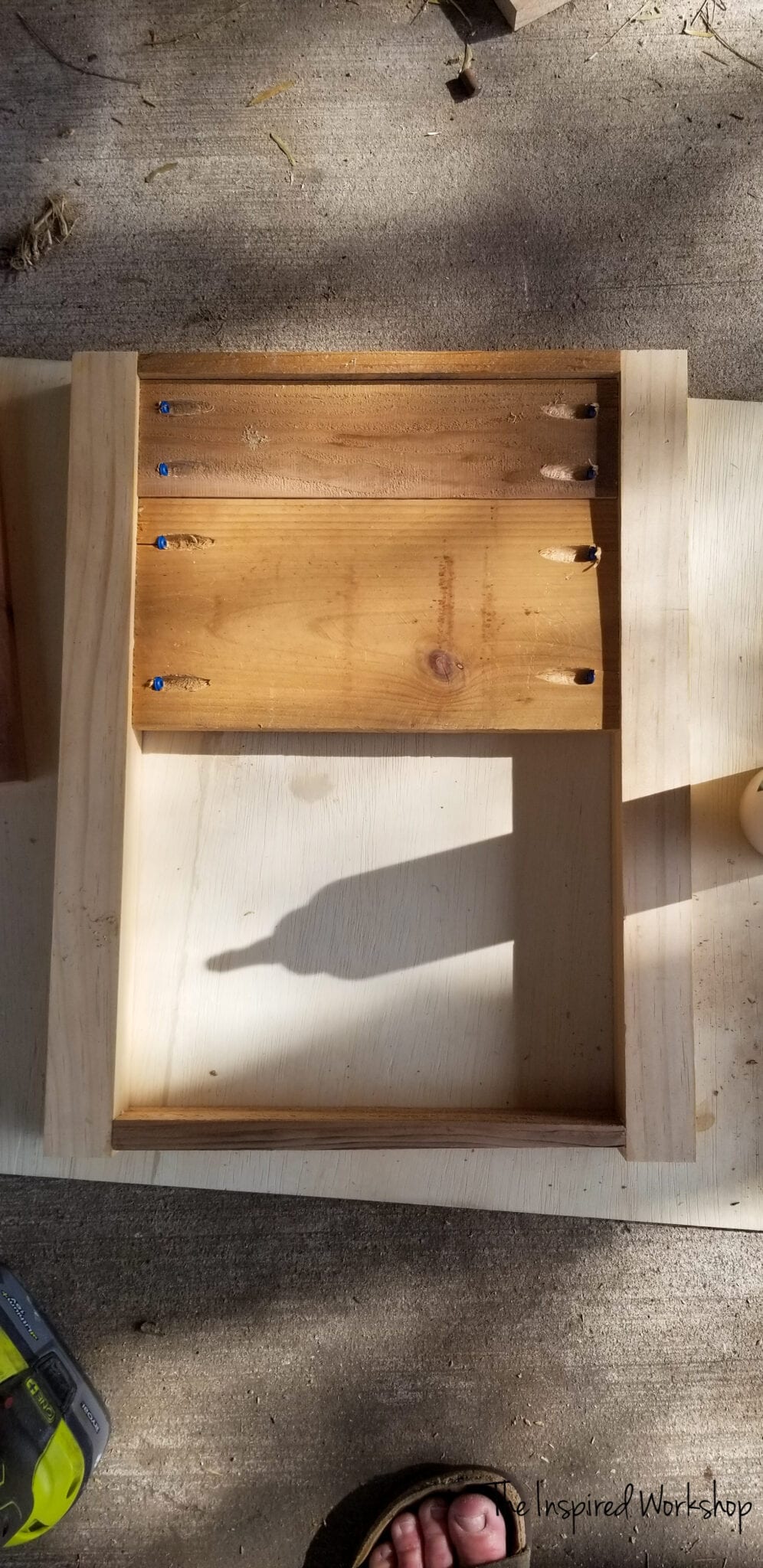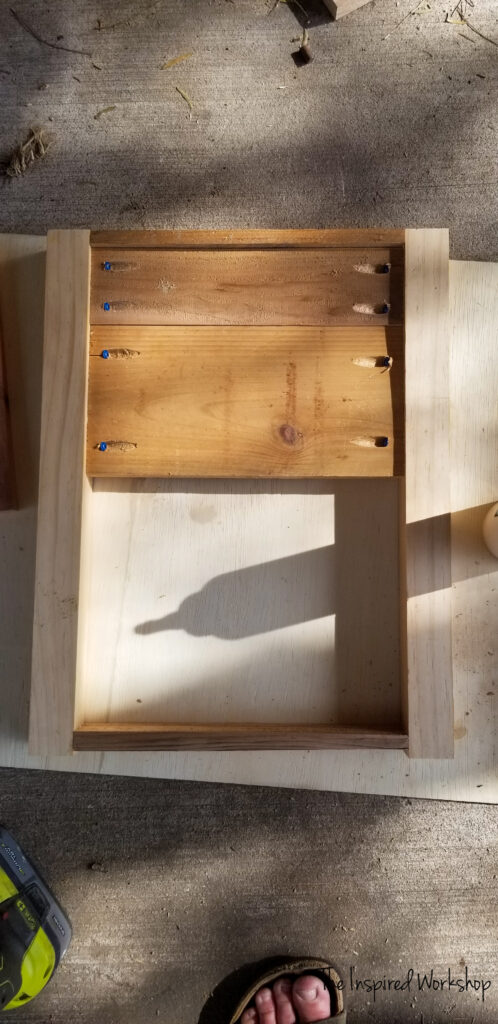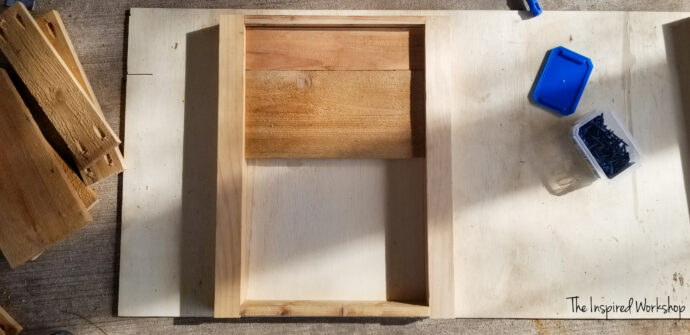 Attaching the Sides to the Front and Back Frames
Once you have the front and back frames built, you will put them together! This is where you will need to use the right angle drill attachment because the boards are only 11″ long and the drill with the square bit is larger than that! You will need help holding the boards in place while using the right angle attachment or you can use clamps to hold everything in place!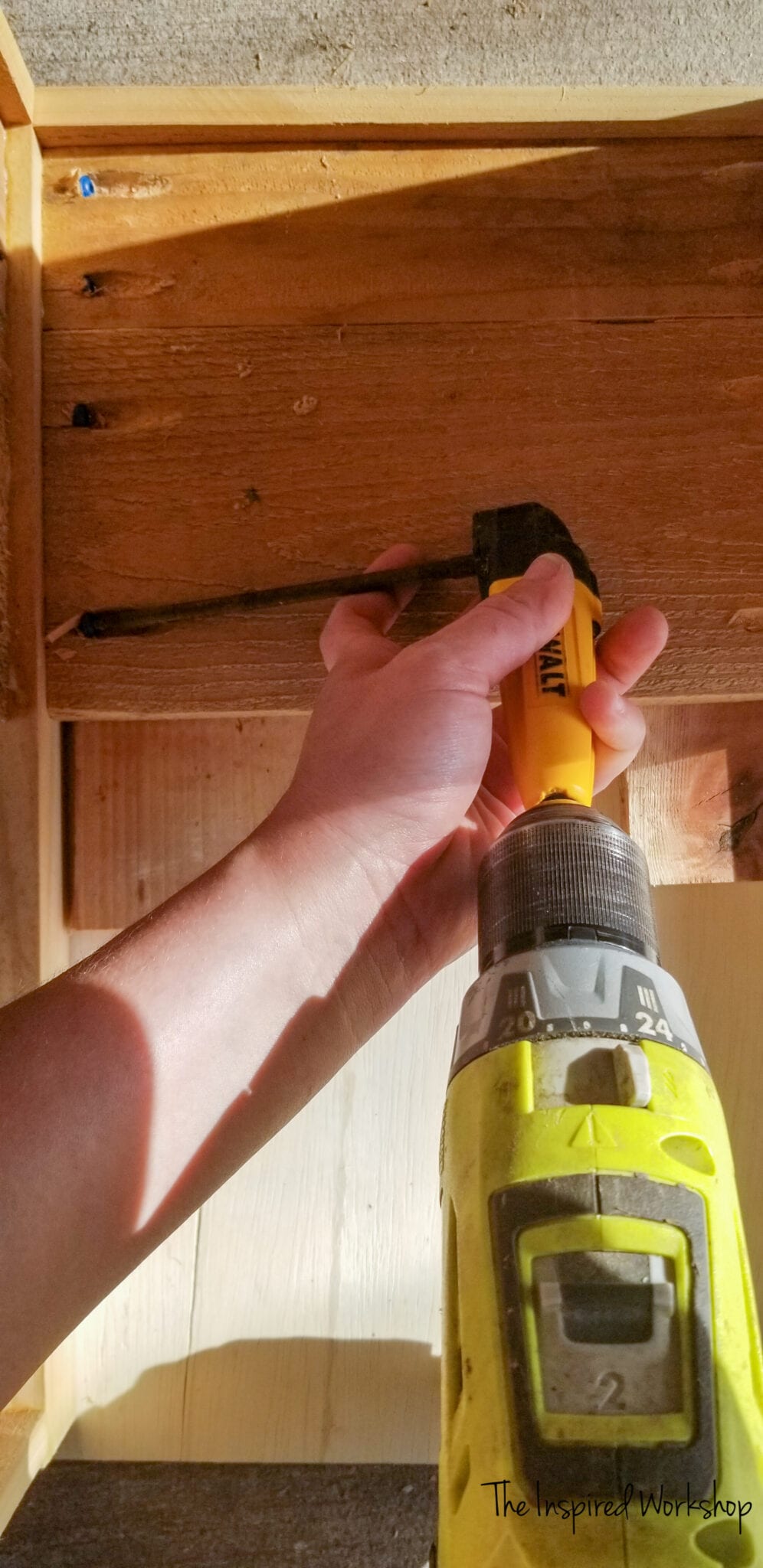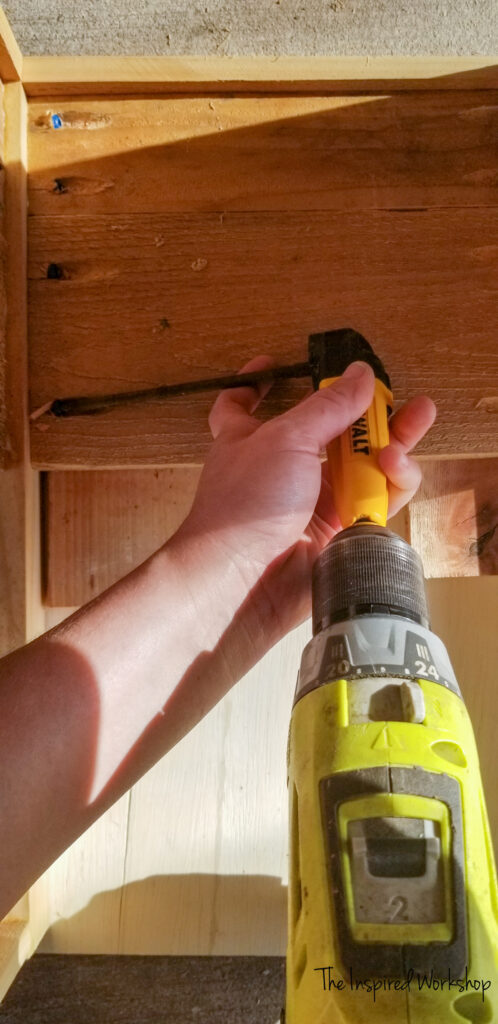 After adding both sides to the front and back, you have your small planter almost built! Pick it up, marvel at your work…and then add the bottom boards!👌
Add the Bottom Boards to the Planter Boxes
The small planter box fits two 1×6 fence pickets really easily! If you want a solid bottom, you will have to notch the boards and add a small one to the middle. It is so easy to add a liner and not worry about the boards rotting or water draining on your porch!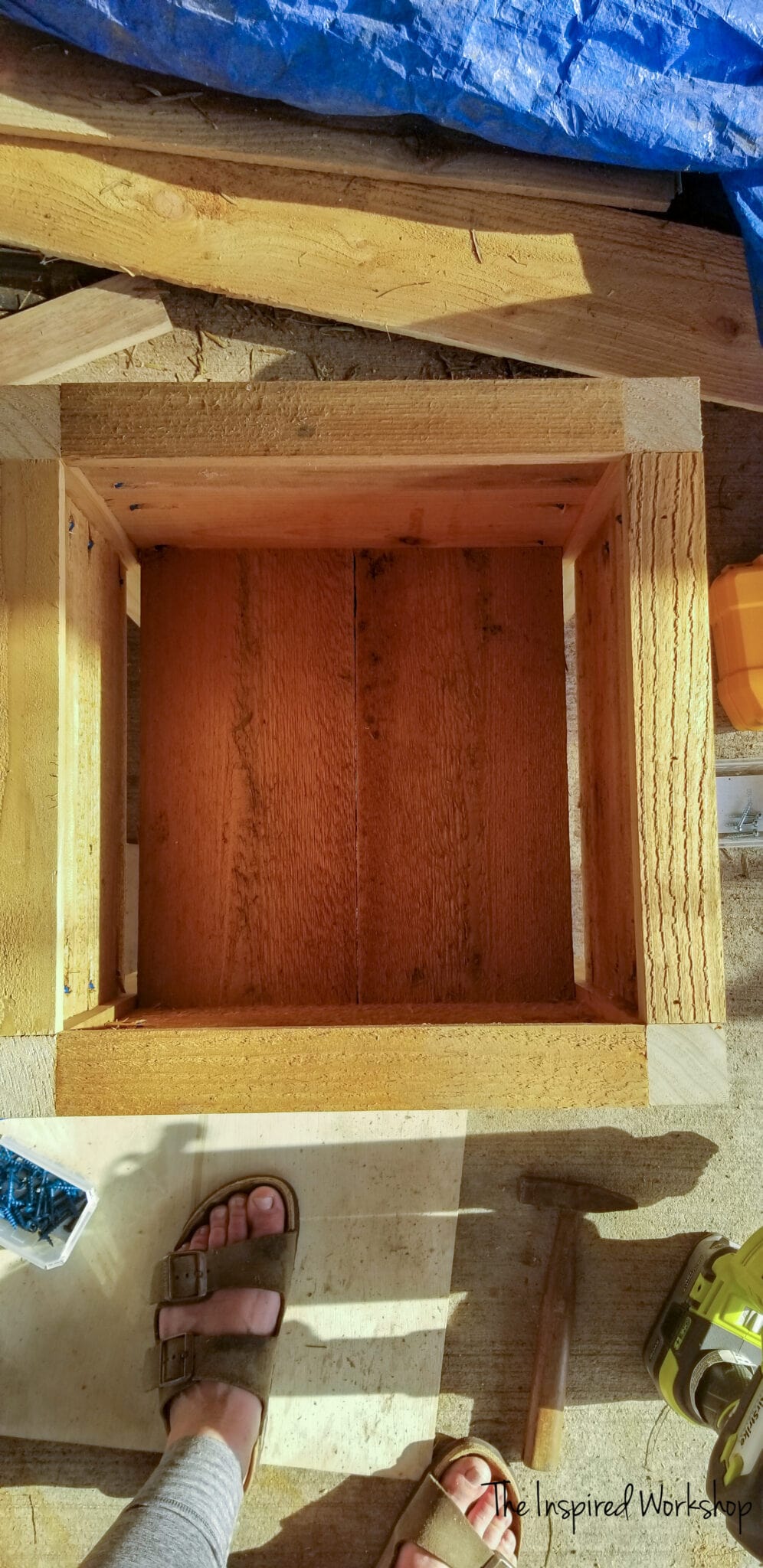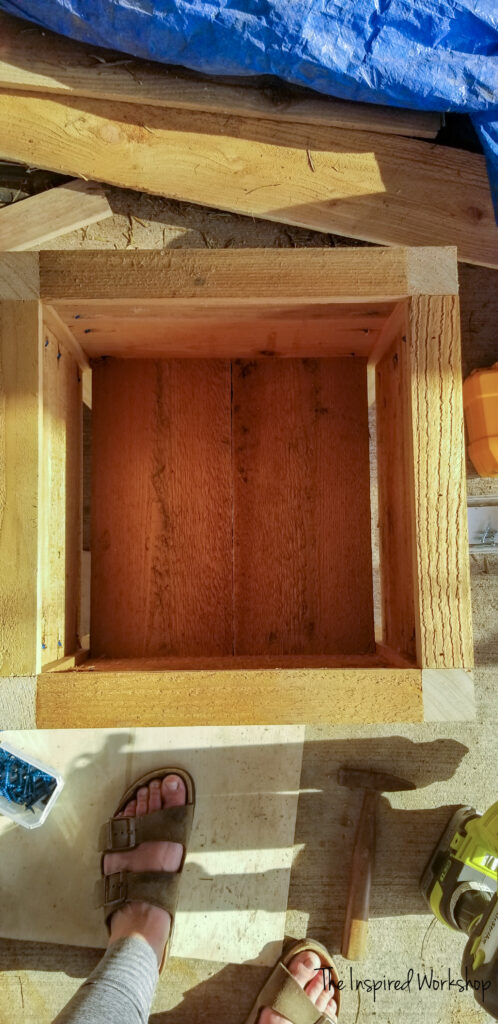 Brad nail the boards into place just as the instructions for the large planter show, use wood glue on the bottom boards!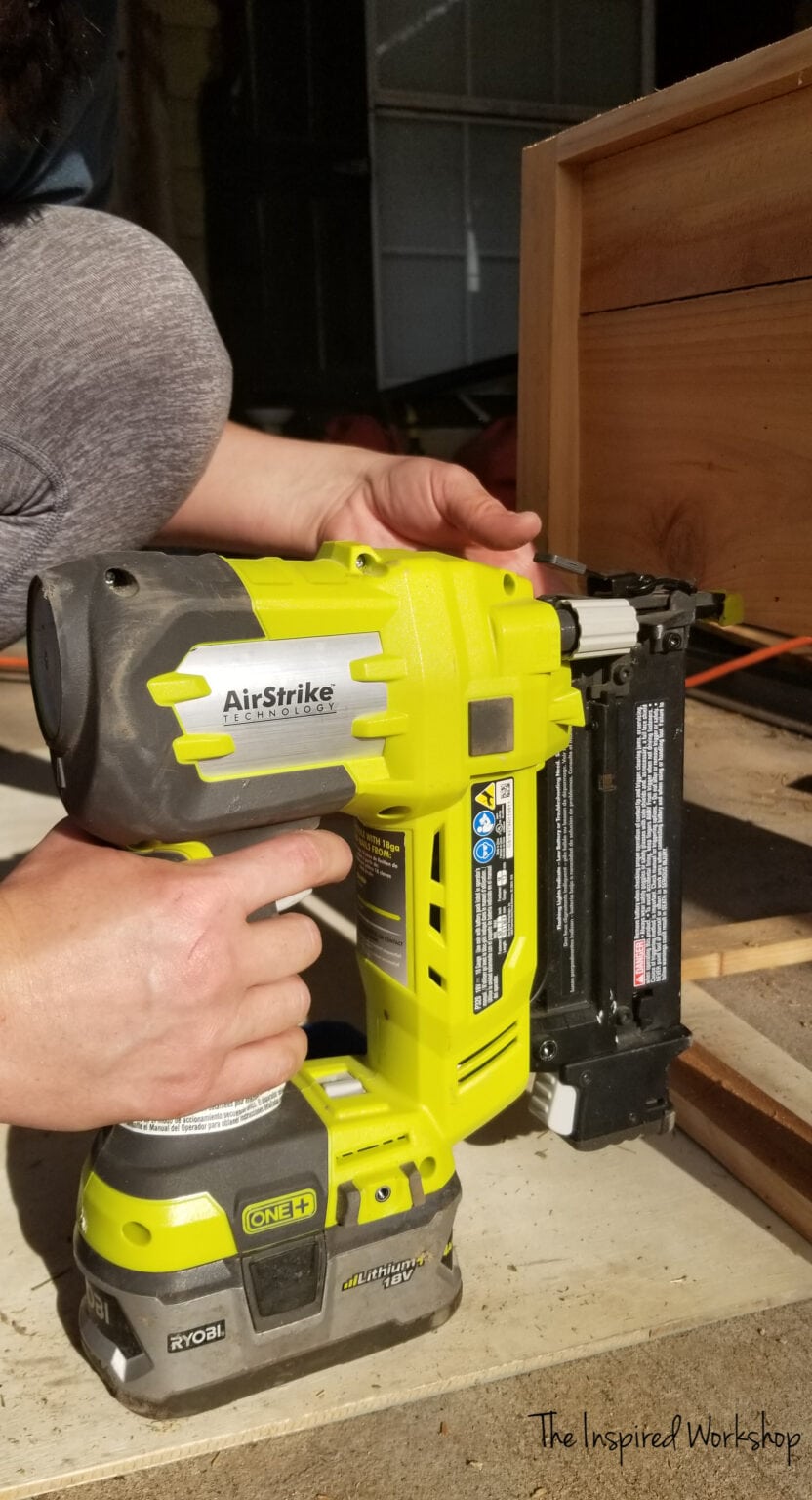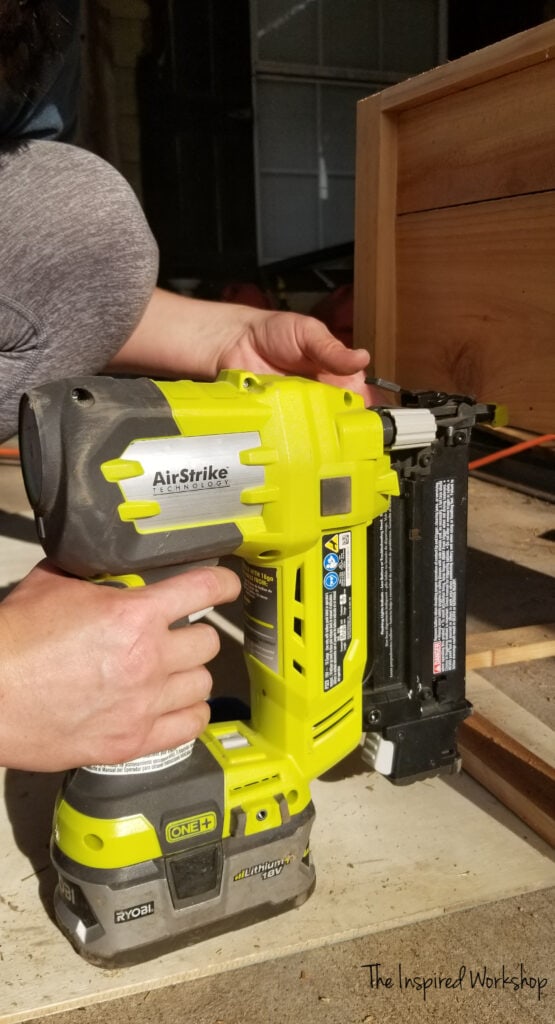 Add the liner, potting soil, a few rocks, and beautiful plants!
Yep, you guessed it, it's DONE!!! Small and large planters make your porch or patio look amazing!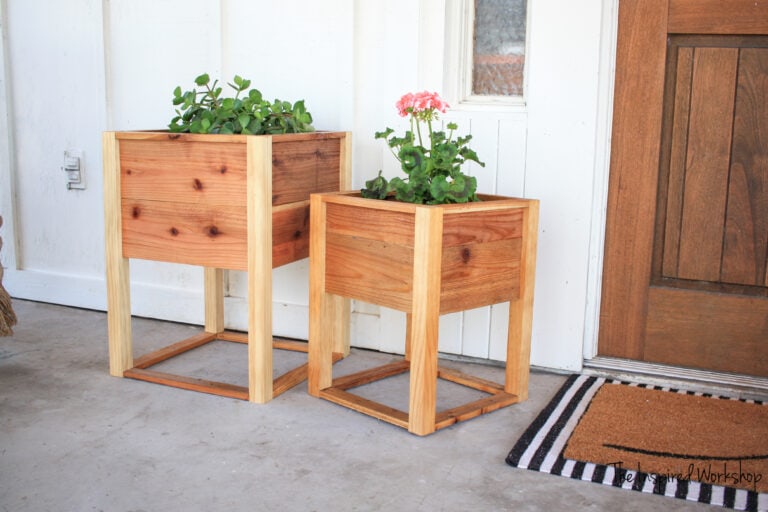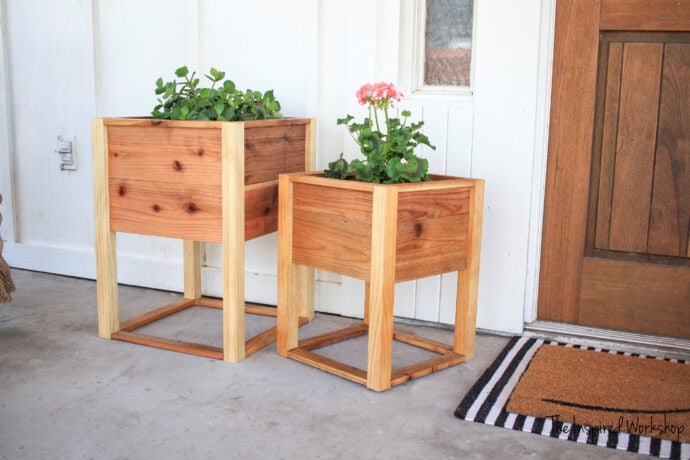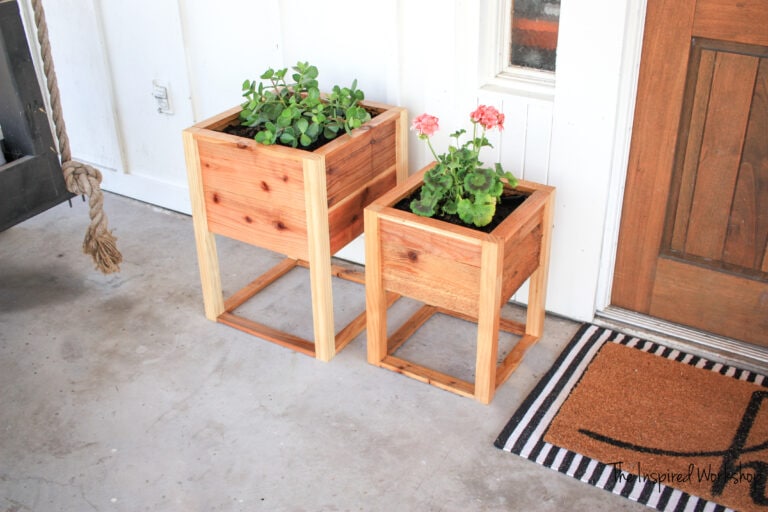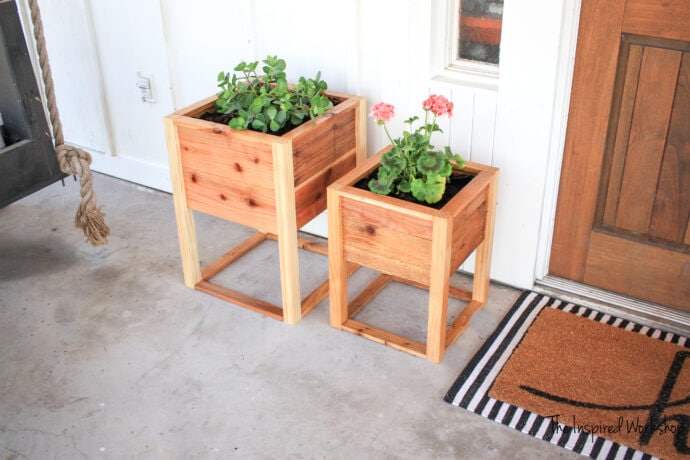 Well, that's all there is to it! Are you going to get out and get building to beat those winter blues! You know where you can find me! Hope you have a good time building these, heck build them for your special someone for Valentine's Day and give her flowers that won't die!
Happy Building!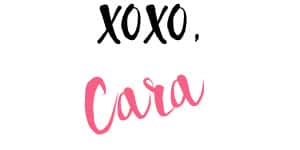 Want to save the DIY Planter Boxes for later? PIN IT!