Stall Dividers for Goat Shed
Here's the how-to on the stall dividers for goat shed if you prefer to have two stalls, you will need to divide them somehow. You are welcome to do this any way you see fit, I am just sharing how I did it after having to fix it because the first way didn't hold up! Lol!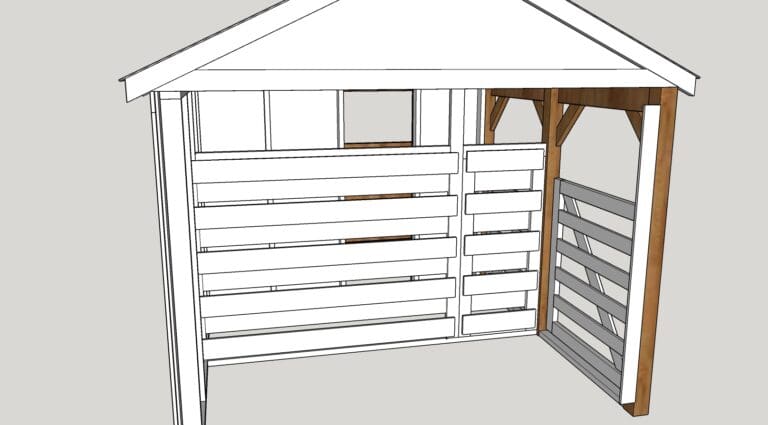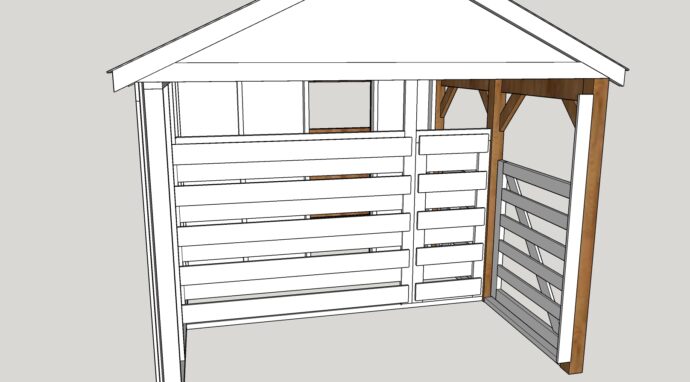 The first time around, I used the same frame, but I used hardware cloth along both sides of the divider frame when I had a horny buck on one side because of the freeze, he broke through the hardware cloth and broke my gate so I came back in and used 1×6 fence pickets instead and it has held up to all the crazy the goats have tried to pull even though I will tell you I think it looked far better with the hardware cloth! 😅
Alright, let's jump right into it! I would show you interior pictures, but that will take a lot of cleaning since some of my chickens roost in there at night and you know how they poop while they sleep…yeah, it's not pretty! Lol! I will get in there soon and get that done, but for now, a Sketchup picture will have to suffice!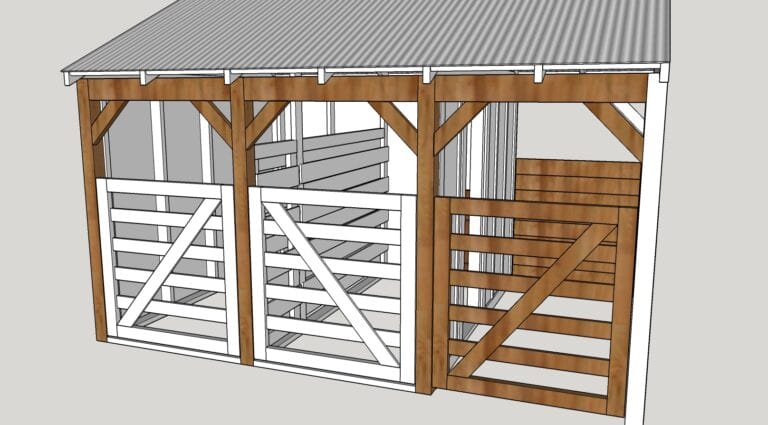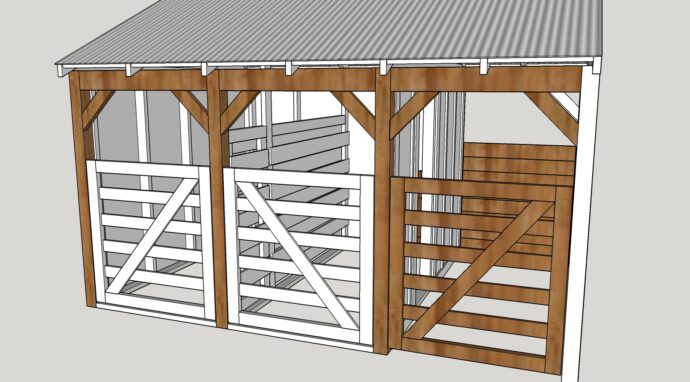 In case you need to easily find the other Goat shed posts, here they all are!
And the printable plans can be printed from here, they should also be in your inbox if you came here from the DIY goat shed post and entered your email!
Gathering Supplies for the Stall Dividers for Goat Shed
There really are only a few 2x4s and 1×6 fence pickets to get the dividers installed!
Materials for Dividers of the Goat Shed:
*NOTE: Amazon links below are affiliate links! Affiliate links are links that pay me a small commission (at no extra cost to you) should you make a purchase after clicking a link! I always appreciate you shopping at my links! 😉
Cut List for the Stall Dividers:
1 – 2×4 @ 92 1/2″ bottom rail of divider
1 – 2×4 @ 65″ top rail of divider
1 – 2×4 @ 85 1/2″ vertical board of divider mitered on one end at degrees off square
1 – 2×4 @ 23 1/2″ top of gate
1 – 2×4 @ 17″ bottom of gate
2 – 2×4 @ 50 1/2″ sides of gate
9 – 1×6 fence pickets @ 70 1/2″ middle boards of the divider
9 – 1×6 fence pickets @ 22″ middle boards of the gate
Building the Stall Dividers for Goat Shed
Start by pocket-holing the top and bottom rails of the divider into place! Use pocket holes drilled at 1 1/2″ depth, and then attach with the 2 1/2″ screws!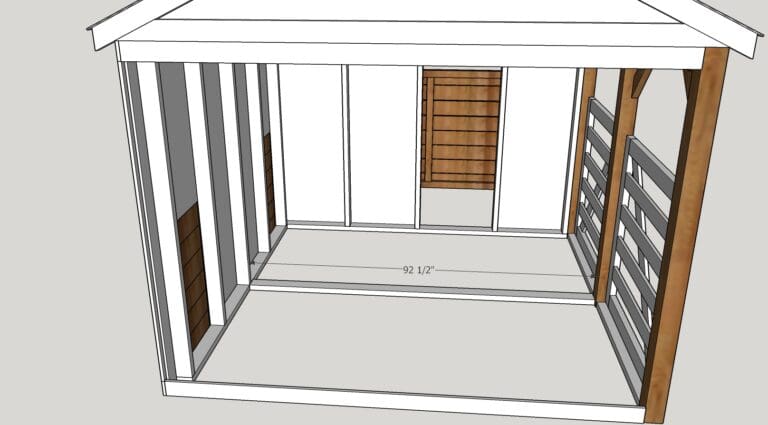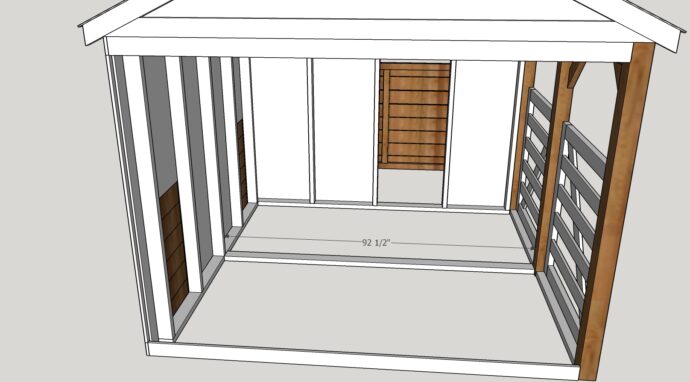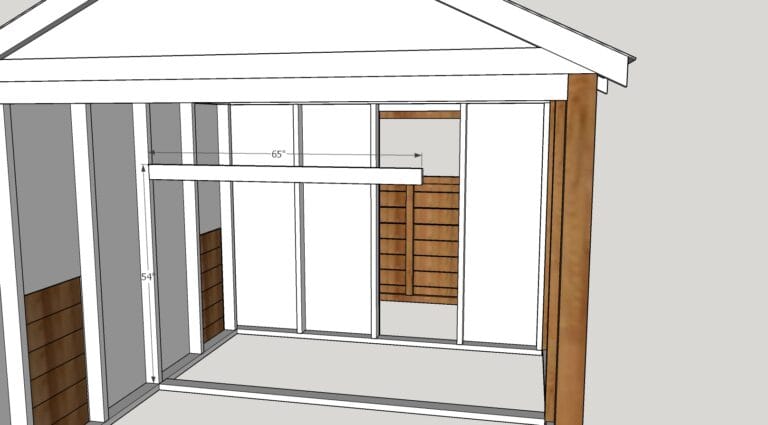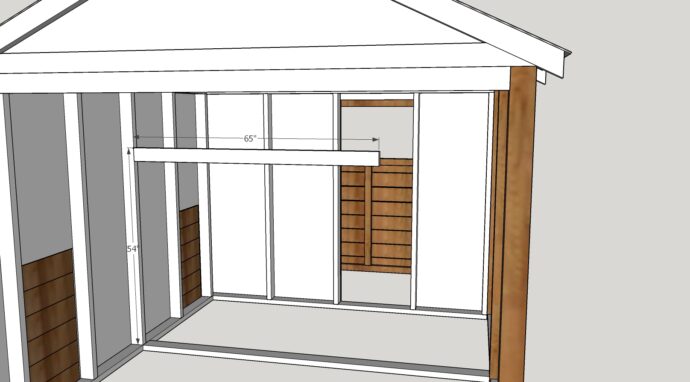 Once the rails are in place, add the vertical board using the same 1 1/2″ pocket holes and 2 1/2″ screws!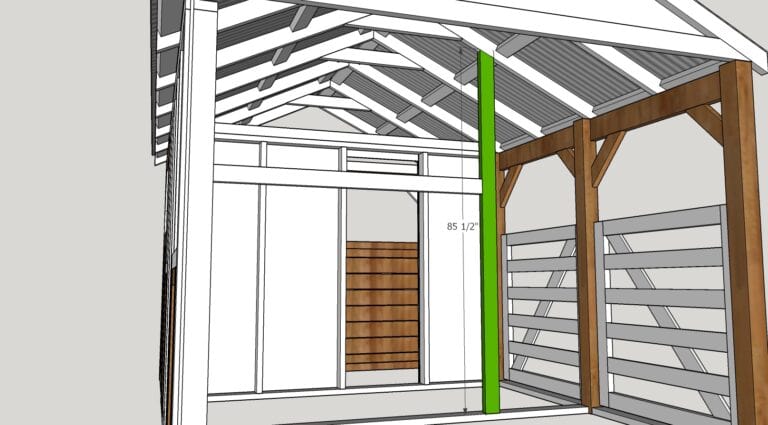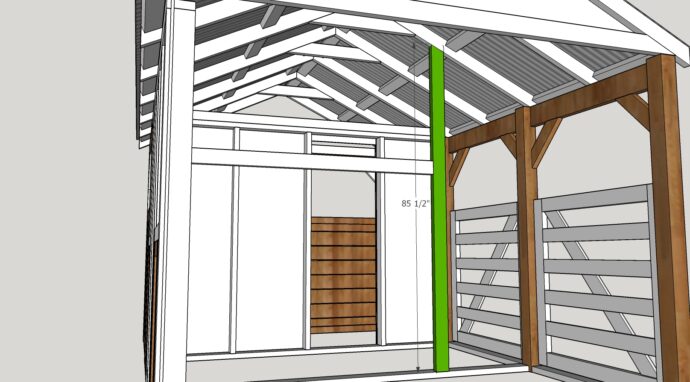 This should leave an opening to the front where you can put a gate, you do not have to have a gate here, I just wanted one and it has come in handy to let goats roam and have a little extra room if only one or two have to be couped up for some reason!
Add the fence pickets over the frame! Just screw them into place on one side, leaving a 6 inch gap but alternate boards on the other side so there is not actually a gap at all so no babies are made if you have to keep a girl on one side and a boy on the other side! Lol! But it also doesn't take a ton of boards!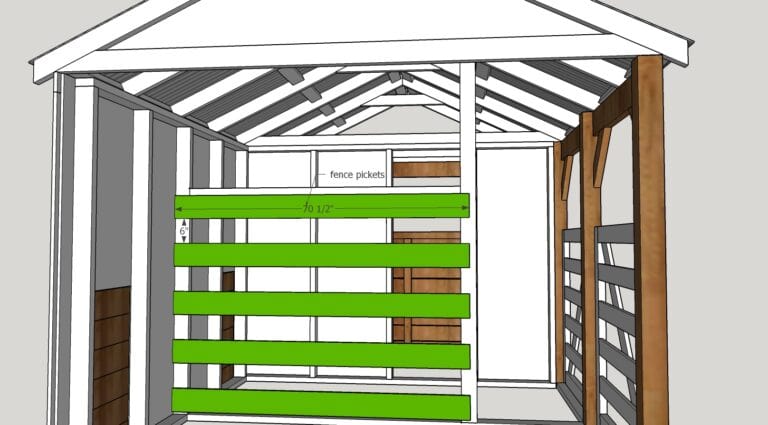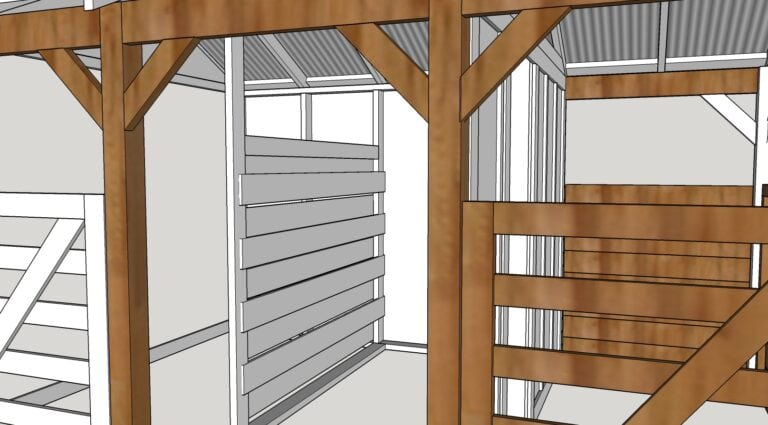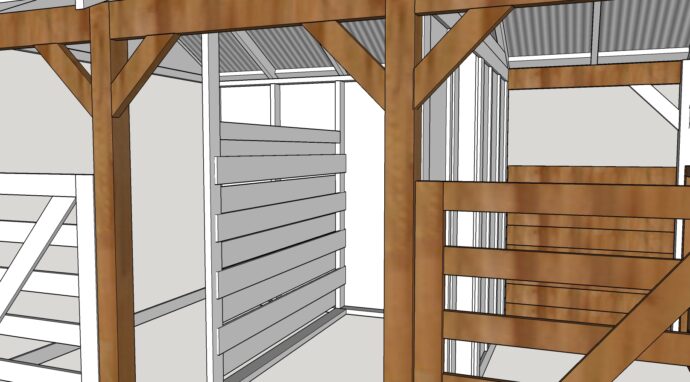 Once you have the stationary divider done, build the gate frame!
Attach the side gate boards to the top and bottom gate boards with 1 1/2″ pocket holes and 2 1/2″ screws with wood glue!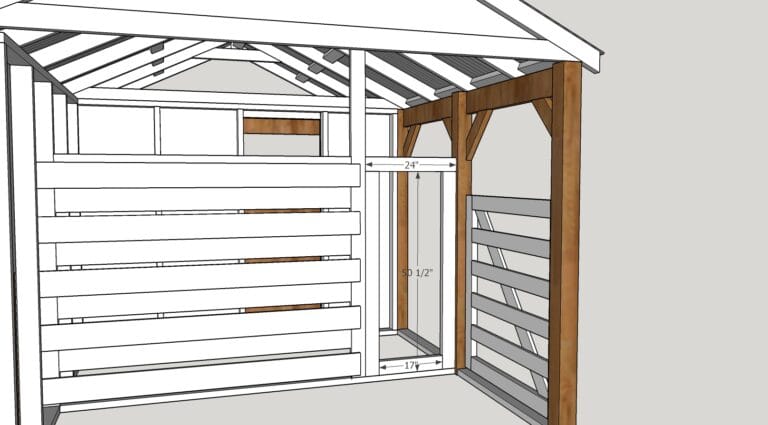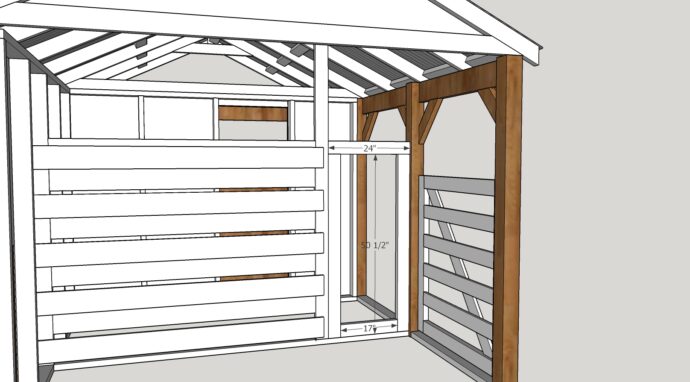 Then just as you added the fence pickets to the stationary divider, add the fence pickets to the gate frame as well!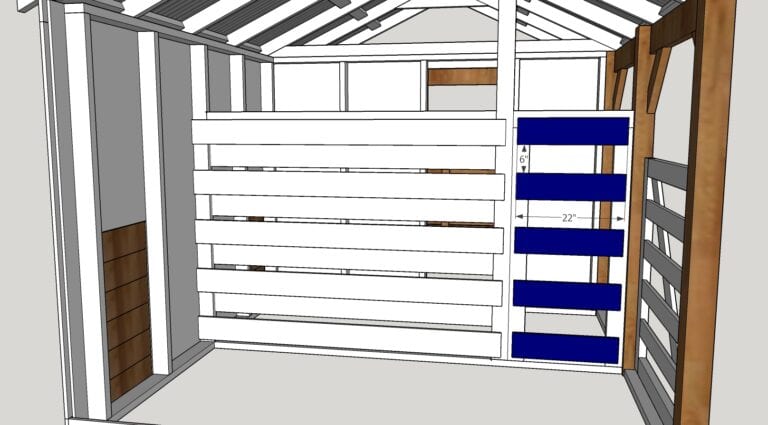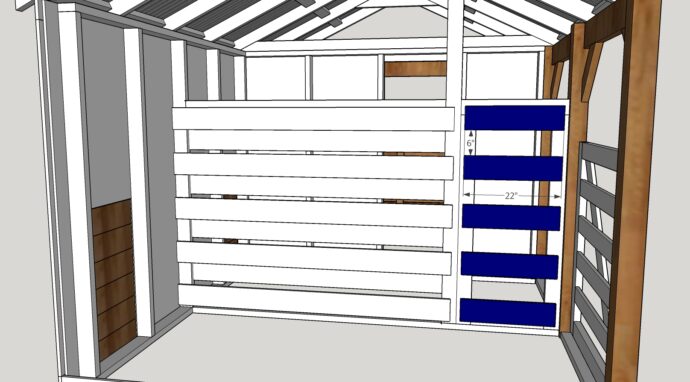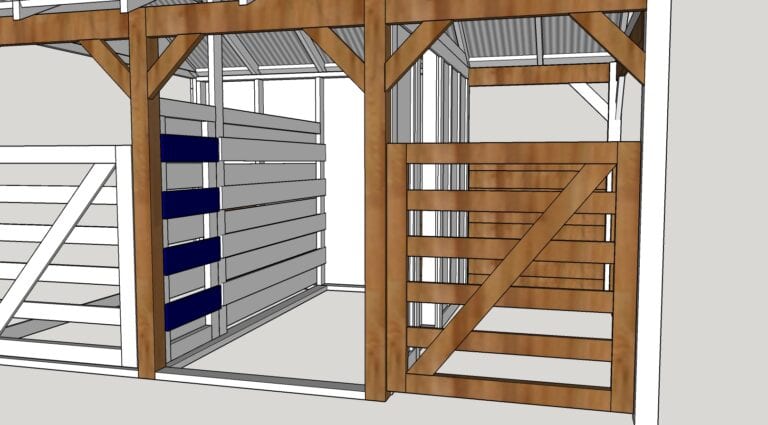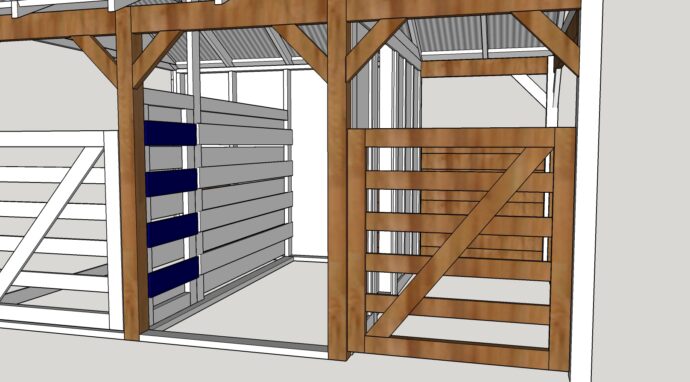 Hang the gate, add a latch, and VIOLA!! You now can keep your goats housed separately when needed! I usually only separate my mamas when they are nearing the end of their pregnancy and for a couple of months after they give birth, only at night though!
Isn't this DIY goat shed absolute perfection? I still just can't get enough of it even two years later!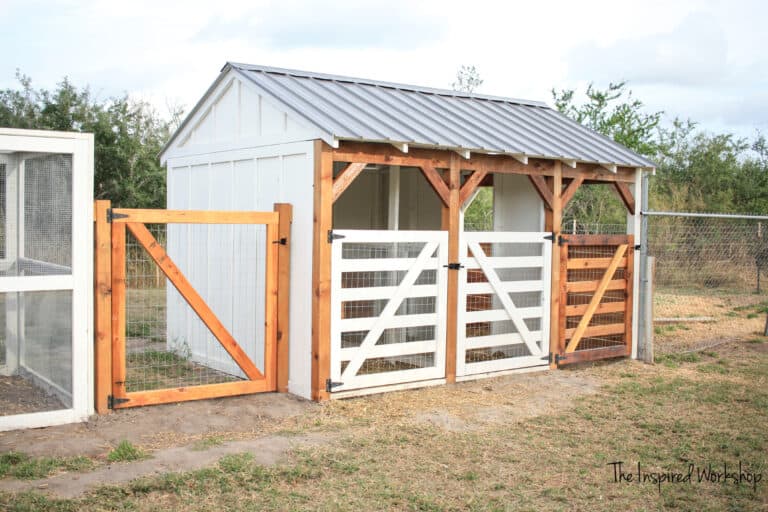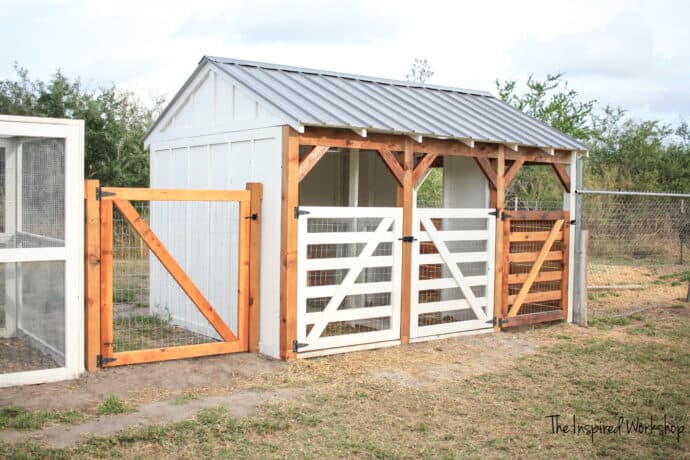 If you enjoy all things homesteading and goats, you will also love these projects, DIY milk stand for goats, DIY garden planter with trellis, or this Large Chicken Coop that matches the goat shed!
If you build yourself this little beauty I would love to see it!
Happy Building!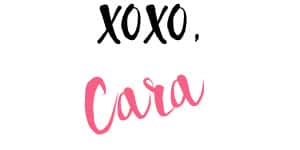 Want to save this DIY Goat Shed for later? Pin It!