DIY Framed Chalkboard Wall
Hello Everyone! Happy Hump Day!! The week is already half way over and I am about half a month behind!! Lol!! Today I am back to share with you the other side of my faux barn door…remember that tutorial…if you missed it, see it HERE! Well, this framed chalkboard side was a lot of fun…super easy…and my kiddos LOVE it! Whoop! Sounds like a winner to me!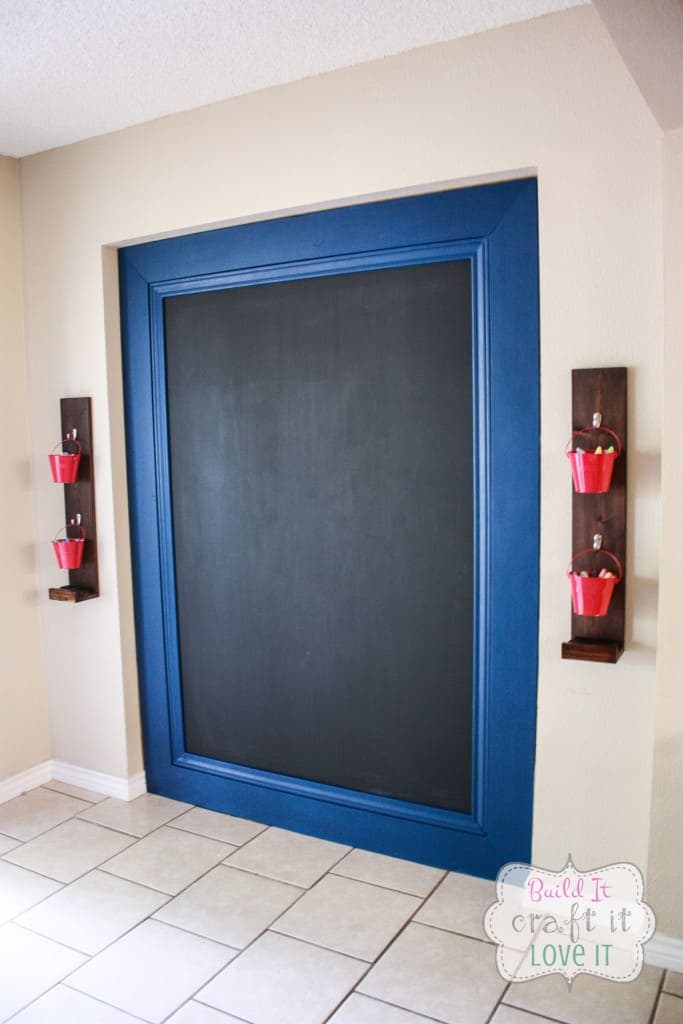 I am not sure why my camera is having a problem focusing but it is! Lol! So please excuse the slightly grainy, out of focus pictures if you will!…Thanks you guys! Y'all are the greatest! Hehe!
Okay so there are two great DIYs in this photo…the framed chalkboard and the chalk and eraser holders. I will share the framed chalkboard today but rest assured I will post the chalk and eraser holder tomorrow! You will be able to find it HERE!
So to get this framed chalkboard started: Material List: 1 sheet 1/4″ in plywood 4- 1x6x8 4 – 8ft strips of base molding scrap pieces of 1/4″ plywood chalkboard paint paint in a color of your choice 1 1/4″ brads and brad gun or finishing nails and hammer 3/4″ nails wood glue Cut List: You can still use the same materials list I have provided but your cut list will be based off of your space and size you want your chalkboard to be!
Let me show you what I was working with after I made the barn door, here is the back: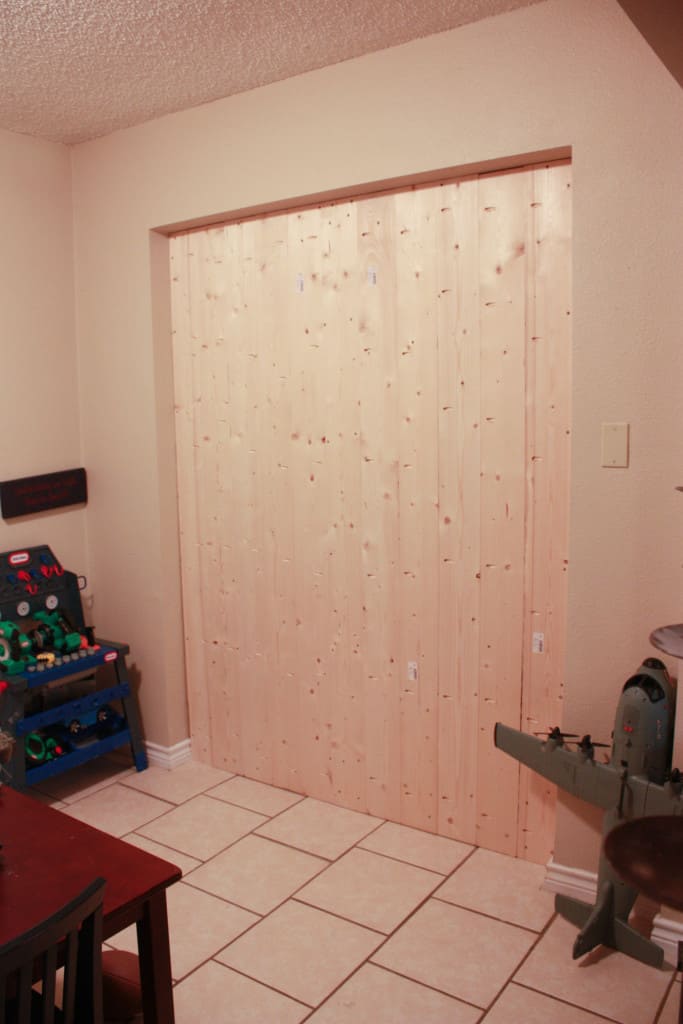 Now, I knew right away when planning this door that a chalkboard would be the perfect solution to the backside since this is my kids art/play/homework area! Originally I thought I was just going to fill in all the pocket holes and then use chalkboard paint to paint the whole back of the door…but after seeing ALL those pocket holes, I figured I would never get a smooth surface and it would take me FOREVER! Lol! So I decided on taking a sheet of 1/4″ plywood and screwing it to the back.
I did not want to have to use two sheets of plywood so I settled for a larger frame but slightly smaller chalkboard so I could just use one sheet! I used PureBond Plywood on this project because not only is it sanded so perfectly smooth but as you know…if it's going in my home…I would rather not have toxic junk filling up our air!! Lol! PureBond Plywood is made using a soy based adhesive as opposed to urea formaldehyde and so there is no off-gassing! Woohoo! That's what I like to hear! Hehe! If you would like to know more about PureBond Plywood you can find it HERE!
So I started by cutting my 1/4″ plywood to size, since I was only using one sheet, I only needed to cut the length of the plywood because I was leaving it at the four feet wide! I just used my circular saw to cut the bottom off! If you wanted you could make it 8ft long…my opening just wouldn't allow it, so I cut mine at 57″ long and put a descent amount of glue all over the plywood and screwed it onto the back of the door with 3/4″ screws. I am not sure why I didn't take pictures of this process…even though I am almost certain I did…I cannot find them anywhere! It was sabotage, I'm sure! Hahaha!
After screwing the board up…not like that…I literally screwed it up…not like I messed it up!! Hehehe!!! I used Rust-oleum chalkboard paint to paint three coats on the plywood! It is pretty thick and really forgiving…while I was painting I was thinking it was not looking so good…my boys were helping as well, so you can imagine…but it was really smooth once it dried!
Now since the board was 1/4″ thick, if I just stapled the 1×6 to the planked boards underneath, my molding would stick out past it because it would be on top of the plywood…but I didn't want to waste my extra 1/4″ plywood that I had just cut because it was a pretty nice slice…so I used some other small scraps I had laying around the garage to give the 1×6 boards a "little lift"!
My son was really excited about this project and so he was helping all along the way! We first laid our little 1/4″ plywood strips down and started our nails into the board (I didn't have anything smaller than 1 1/4″ brad nails and the hardware stores here in town didn't carry anything smaller either so we had to make due with the ole hammer and nails…lol!)
And then my little handy helper nailed them up for me!! No ladies…he is too young to date…try back when he is 25!! Lmbo!!!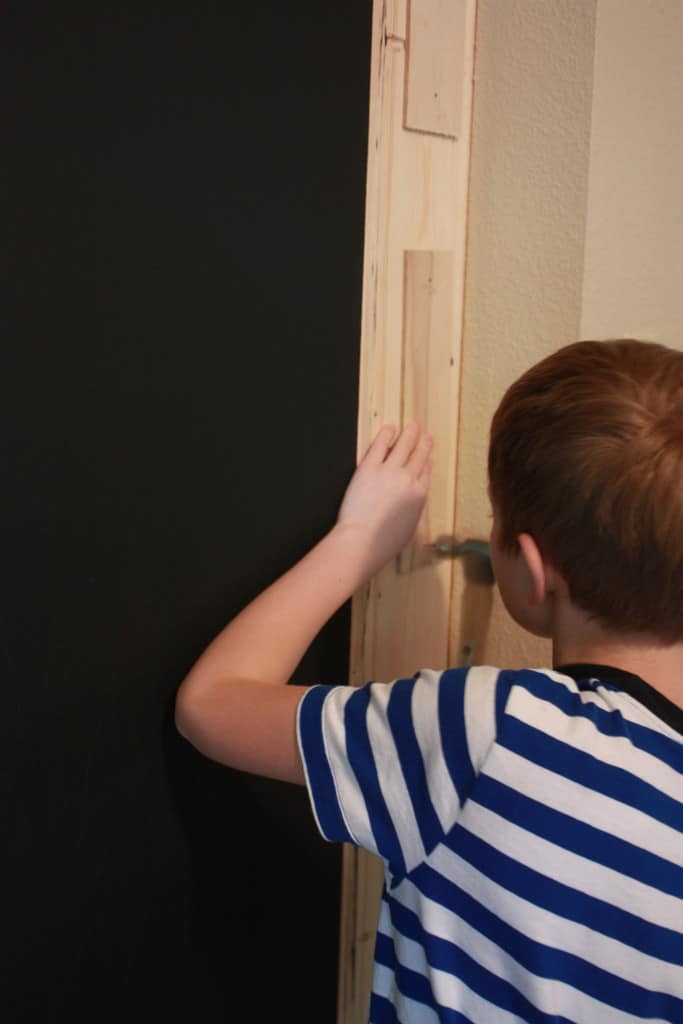 After all that work from my little helper it looked a little crazy!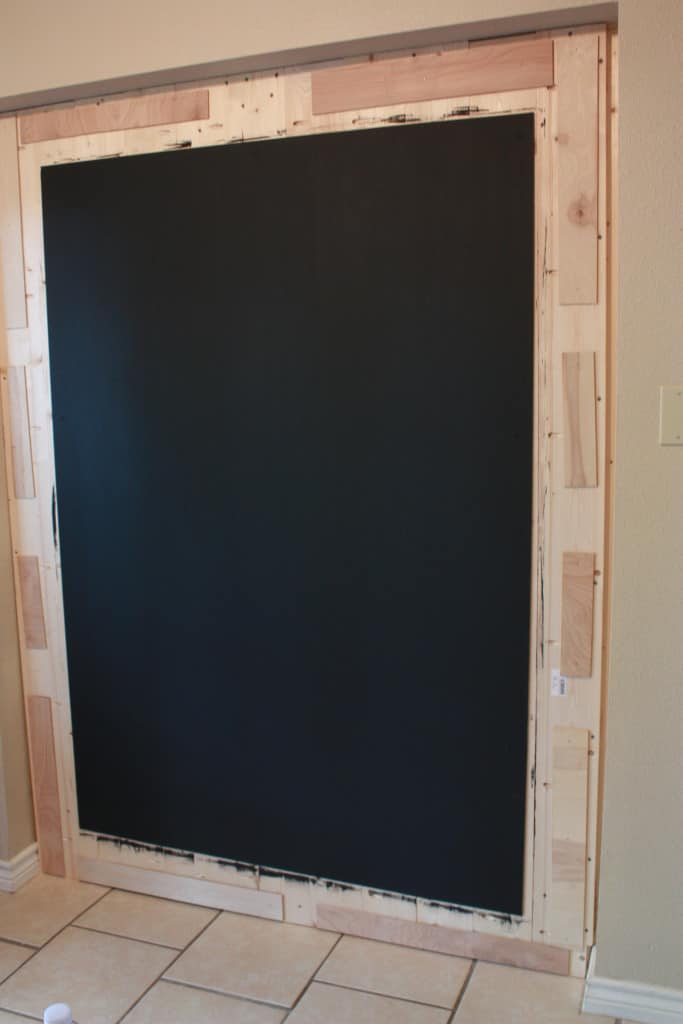 That's perfect! Just how I wanted it…that's it, you're done! Haha! Okay I'm only kidding…it looks hideous! But not for long! Now, this part is not hard but it does have to be very precise…don't get scared because you have to miter…get scared because I wasted 3 boards trying to get mine right! Haha! I wish I was lying to you right now but embarrassingly enough…I am not! Lol! To save you from having this problem…first thing to do is make sure that your saw is set correctly to the 45 degree setting!! Mine was at 40…I wasn't really paying attention and it clicked into place…yeah, the wrong place…but since I didn't even look, I didn't know this until I had cut two boards! Stupid, stupid me I said to myself! Hehe! That's how you solve one of my problems…and the other…well I stopped using the tape measurer and started just marking on the board as I will show you and it worked like a charm! Phew!
Also, if you don't have a miter saw, you can always make your own 45 degree guide for a circular saw or jigsaw!
So here goes! I measured the bottom one first because I was not working with a square space to begin with…I do not know who built this opening…but they did a horrific job I tell ya! It is WAY off! So I was working at a disadvantage but I was okay with the fact that it wasn't going to look perfectly square! Now when you are making a mitered square the ends of your board will NOT be parallel!! This is important to remember!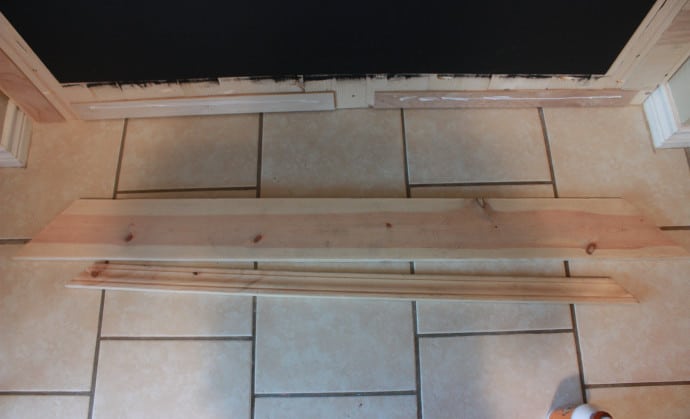 I went ahead and cut my molding at this time for the bottom section only because it was easier for me to line it up with my board that I had already cut to size! Note how the ends look, not parallel, this will mean you will either have to rotate your saws miter platform to the opposite side, or you will have to flip your board over and turn it around, my saw is capable of cutting either side miter but I didn't risk changing it once I had it on 45 degrees!! Lol! Now, I sanded each board before I stapled it as well so that I would not have to have the sanding mess inside. I did have to fill in the brad nail holes after, but I just hand sanded the little spots so there wasn't too much of a mess! Next, you just add your glue and get your brad gun…I bought this Ryobi cordless brad gun mainly because I had to assemble this project inside my house and our compressor cord couldn't reach…good excuse right…I know!!!! Bwahaha!! I could have used a hammer and finishing nails but I would have had to wait for my hubby to hold them for me…well it was much easier to just buy this cordless brad nailer…and let me tell you, I am walking around looking for something to staple! It is beyond fun!! So yes, run out and get this bad boy…I can wait until you get back!! Hehe!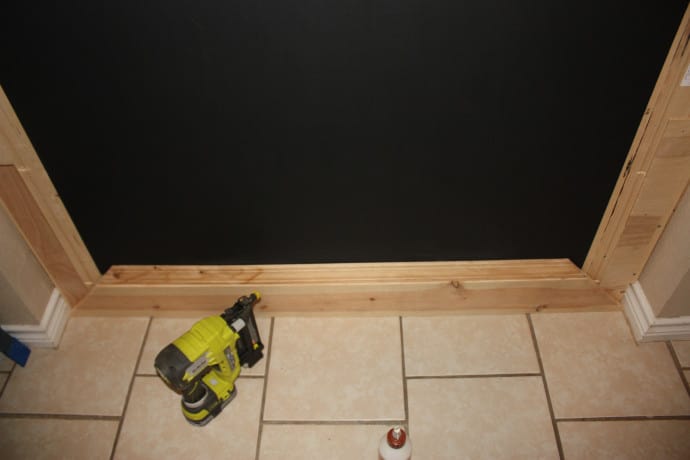 We are getting there…one brad at a time! Lol! To do the sides, like I said earlier…I gave up on measuring and just mitered the one end, brought it in and held it in place like so.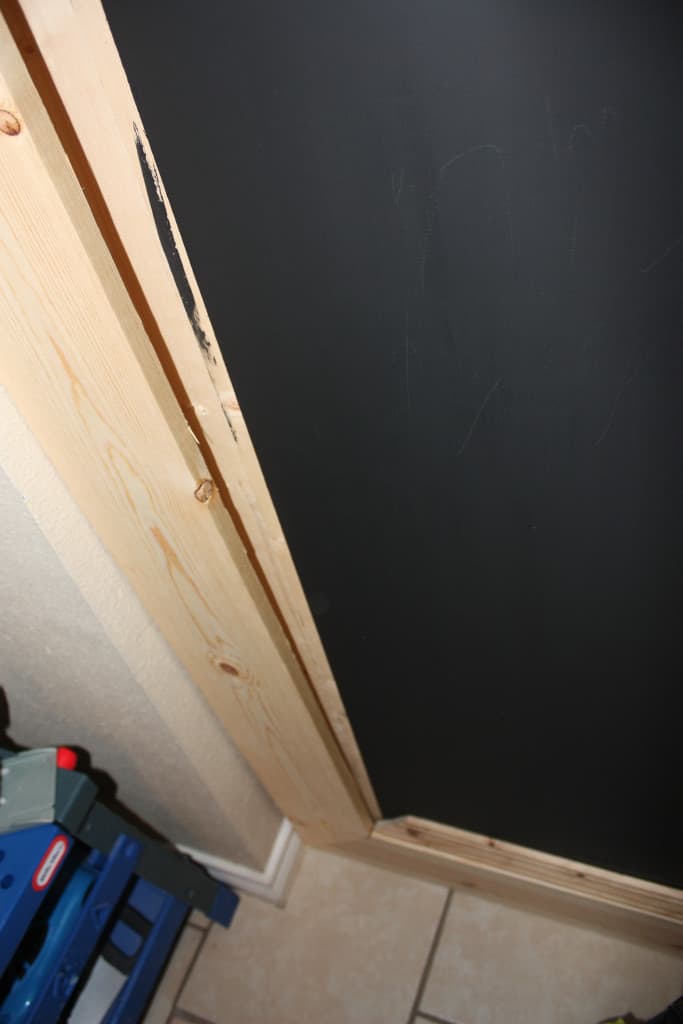 Sorry, bad picture, but I am placing the mitered end to fit with the board we already stapled and now I just drew a line at the top of the board where I needed the longest point of my miter to be like so.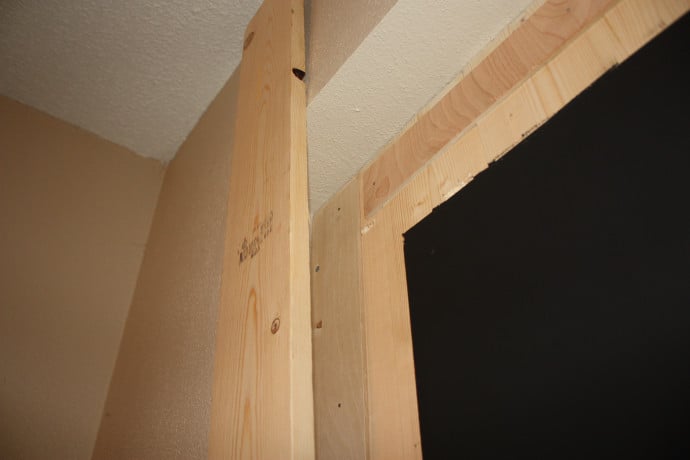 Marked it, went out and cut it! I would bring the board inside after making a cut and check it to size, once I had it the perfect size, I took it back out, sanded it, brought it back in and glued and stapled it right on up there! Yeah man, we are getting this done!
I continued this process until I had the 1×6 frame complete.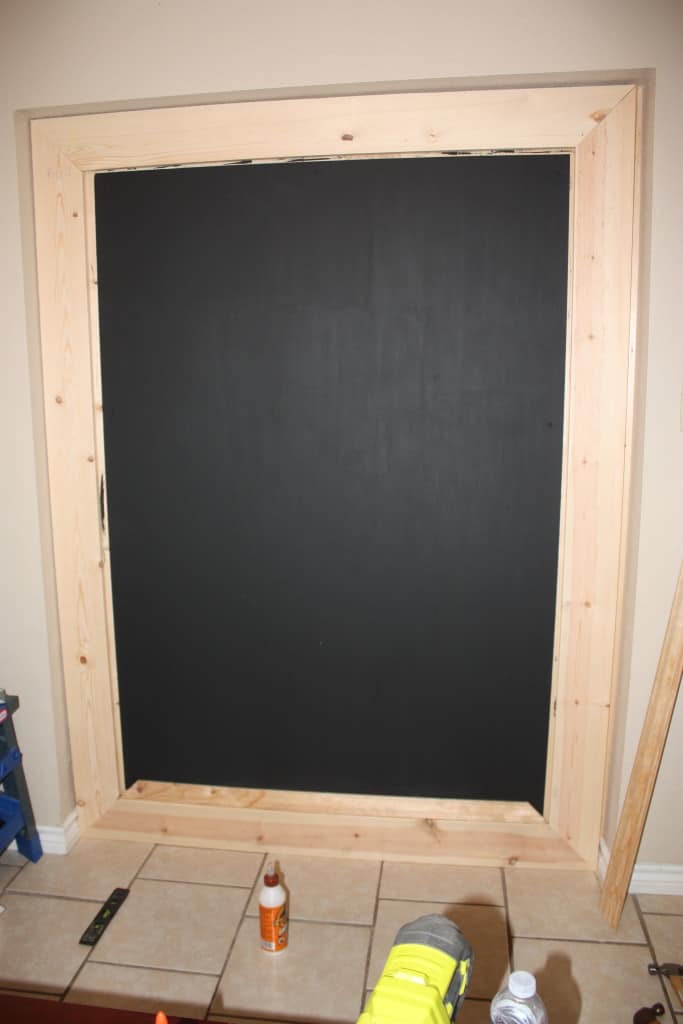 Now I continued the same process with the molding, mitered one end brought it inside, set the mitered end with the bottom mitered end and mark it at the top like so.
Then you just put glue on the boards and staple away!! Yea!! That rhymed!! Now you have a completed framed chalkboard that just needs a little paint!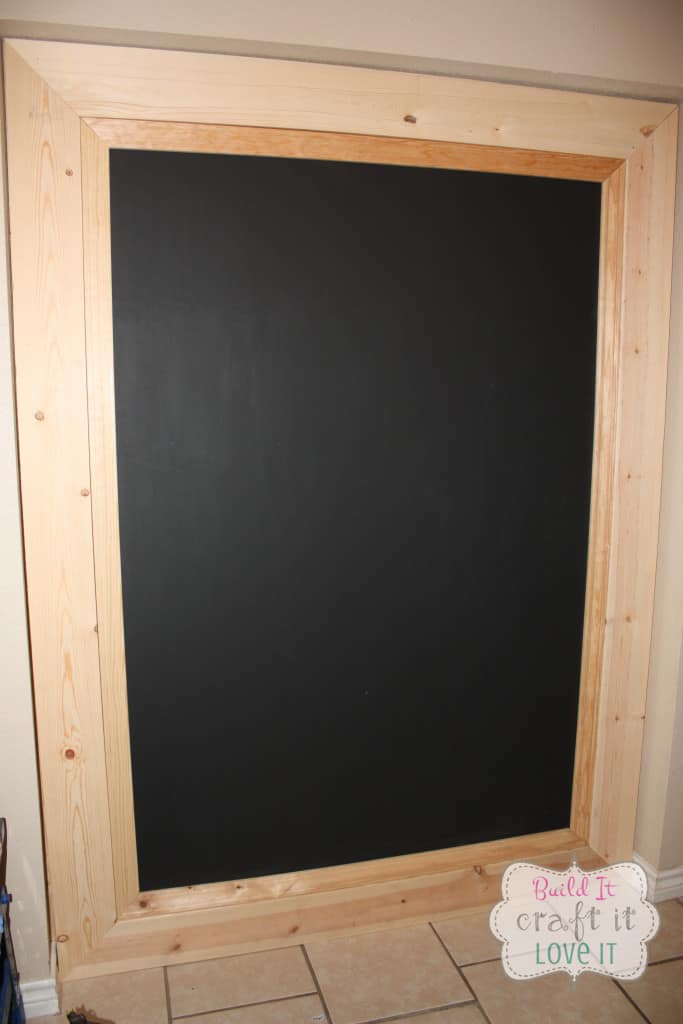 I filled in all the brad nail holes with regular wood filler, waited for it to dry and then hand sanded them! I then used painter's tape to tape off the chalkboard and along the sides of the walls!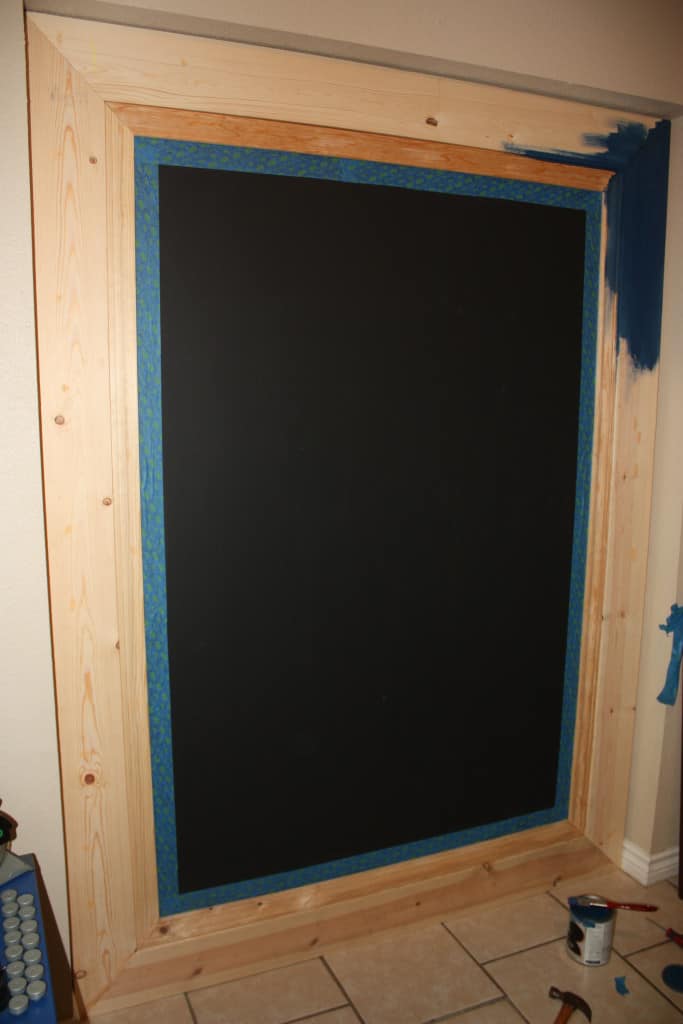 After getting it all painted it's ready to go!!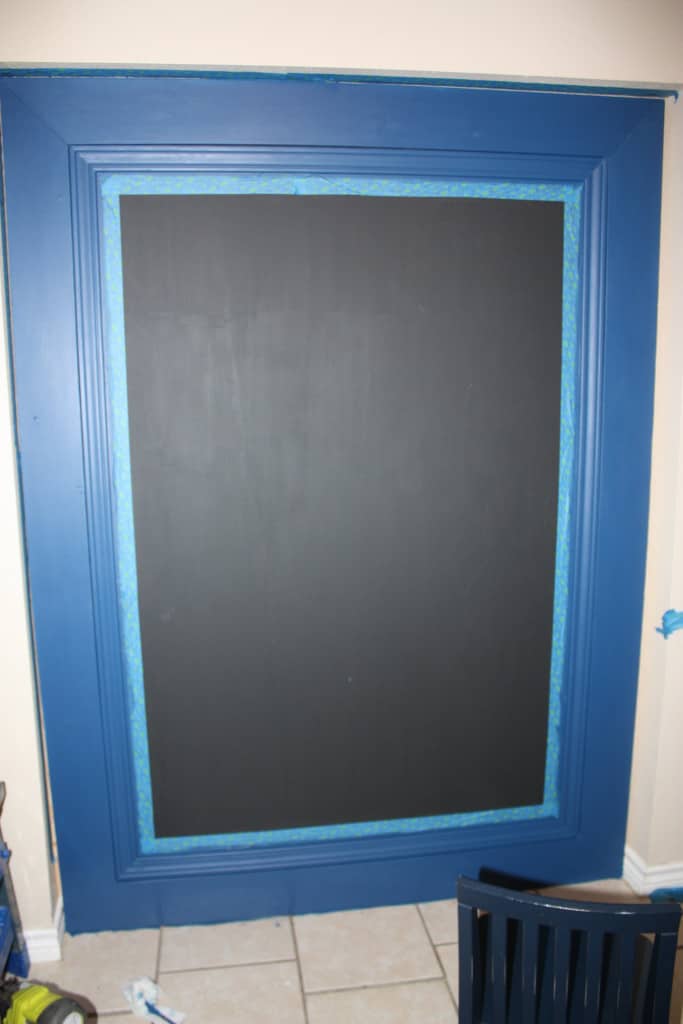 Yes, this is a bad picture and yes I painted on the floor!! Lol!! Luckily, it comes off very easily with a little water and a napkin! Take off the tape, make some cute little chalk/eraser holders and bata-bing bata-boom!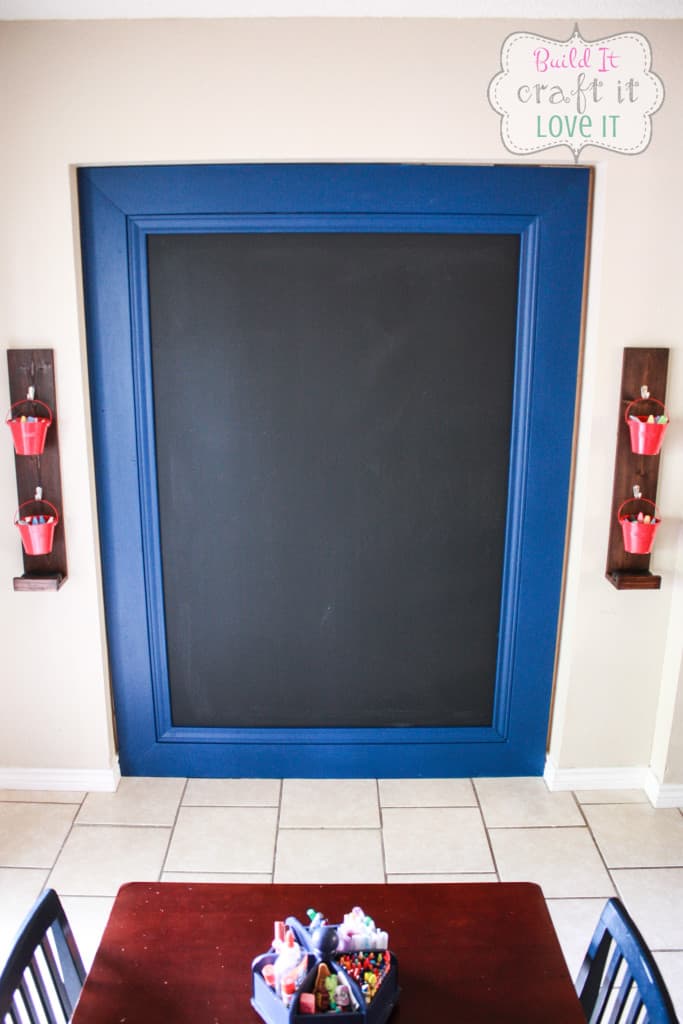 Oh, I love it!! My boys love it too!! An afternoon of work with my little handy man and what a great space it turned out to be! You can see in this picture the "not so square" opening I was talking about!
Follow me on Instagram and Pinterest to see all my latest projects! Or subscribe to receive my emails and have new post notices delivered straight into you inbox!!
Feel free to ask questions or comment below!
I'll be back tomorrow to show you how to make the chalk and eraser holders! See you then!
Lots of Love,
Cara