DIY Dining Bench – Emmerson Bench
This gorgeous faux pallet wood DIY dining bench is the perfect addition to the DIY Emmerson Dining Table! Build yourself this Emmerson dining bench to complete your dining room furniture and make room to gather friends and family around the table!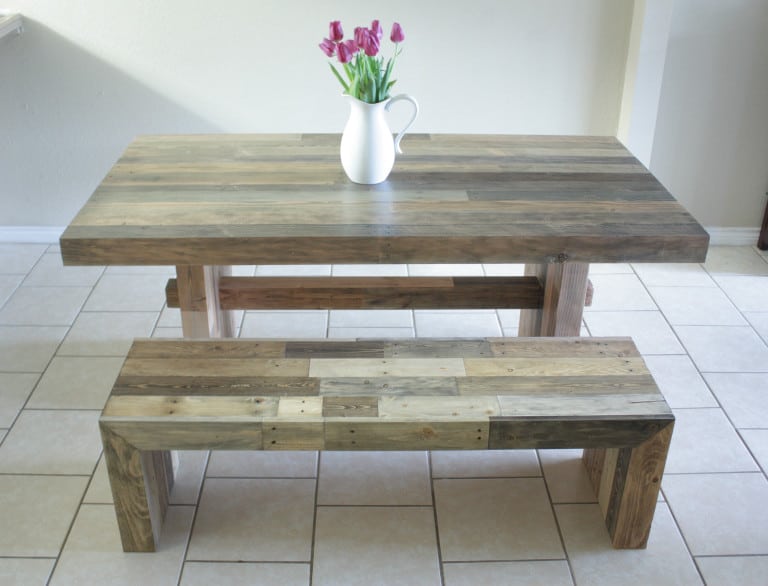 Now looking at these photos, I need to drill more holes in the tabletop…They are not nearly as obvious as the ones on the bench! Lol!
I love the casual seating that a bench offers, and with kids, you can't beat it, they love to sit next to one another, and their little booties don't always need a full chair…but I still love a little elegance mixed with the casual…so I have a few builds in mind to dress the space up a little too! I cannot wait to fill in the blank room slowly but surely!! Make sure to follow me on Instagram to see sneak peeks and we can get to know each other better!
So this DIY dining bench is built the way I found out later that they built the table, it is a frame with 1x4s over it (their table is pallet wood, not 1x4s but you get the idea😉) I originally thought, "Oh, that will be so much easier!" But of course, it had its own share of tricky spots too! But overall it was pretty easy and not nearly as painstaking as the darn dining table!
Gathering Supplies for the Emmerson DIY Dining Bench
The total cost of the DIY dining bench came out pretty darn cheap too which is always awesome, I was able to use scrap 2x4s and some scrap 1x4s but even if you buy all the materials brand new from the lumber yard…you only spend…drumroll please…$27.00! This may be my cheapest DIY yet!! Lol! The savings are great too… it saves you exactly $525.00 plus shipping! Cha-ching!! Let's get on with the plans already!
UPDATE: Lumber prices have soared and the current price would be around $60 bucks to build! Still a fraction of the cost of the Emmerson bench from West Elm as it has gone up in price as well!
To download the printable plans click –> Knockoff West Elm Dining Bench! Otherwise, if you have any additional questions they may be answered in the step-by-step walkthrough below…and of course, if you still have any questions feel free to leave them down below in the comments section!!
Materials for the DIY Dining Bench:
**Amazon links below are affiliate links! An affiliate link means if you click a link below and make any purchase, I make a small percentage off of that purchase at no extra cost to you! It's a really great way to help me keep my plans on this site free of charge!**
Cut List for the DIY Dining Bench:
2 – 2×4 @ 54 1/2″
4 – 2×4 @ 13 1/4″
8 – 2×4 @ 7″
8 – 2×4 @ 2″
4 – 1x4s mitered 45 degrees off square longest end 17″ (make sure and measure)
4 – 1x4s mitered 45 degrees off square on one end…any length you would like!
8 – 1×4 @ 17″ beveled 45 degrees off square on one edge (outside leg pieces)
8 – 1×4 @ 14.5″ (inside leg pieces)
1x4s cut at various lengths that you prefer to make the top – 8 will need to be beveled 45 degrees off square on one edge!
Building the Emmerson DIY Dining Bench
To get started we have to build the frame! This is the fun, get it done quick part!! I cut all my 2x4s first to make sure I had all the exact same sizes in each piece, I then drilled all the pocket holes as well before proceeding to put any of it together…this helped it seem as though I getting done really quickly!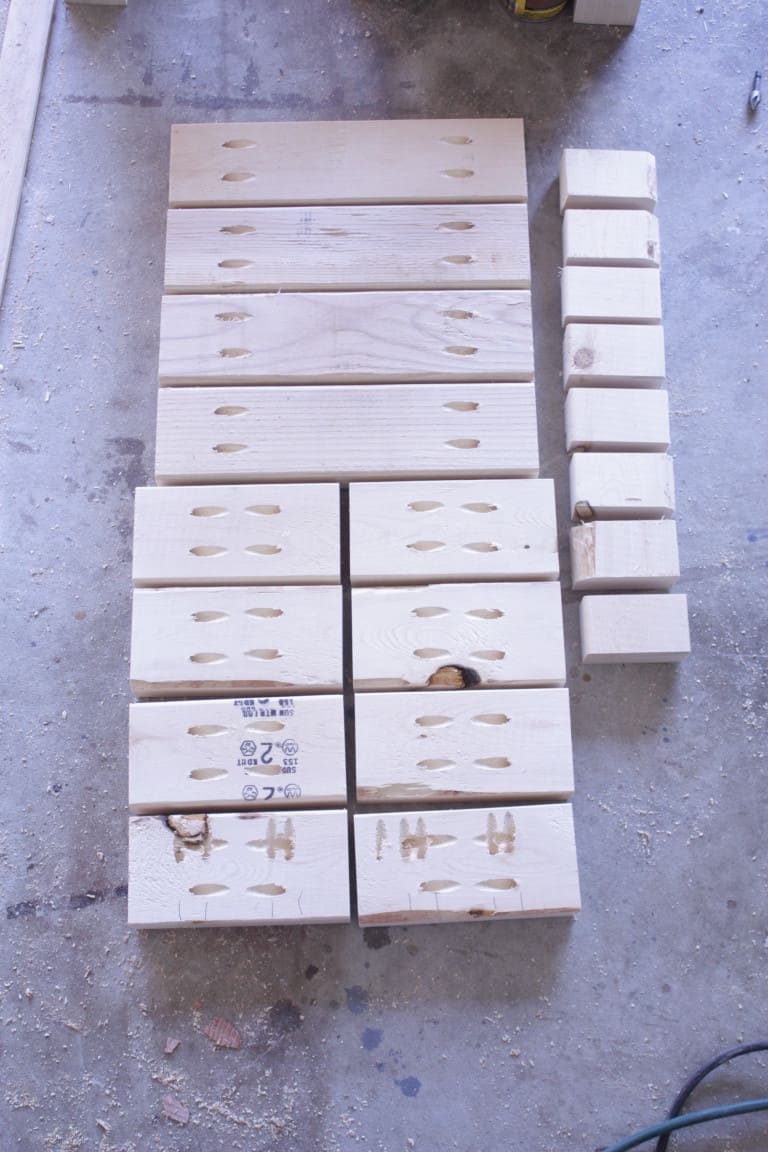 The bottom two have holes drilled out the ends and downwards because of how they attach…see later steps below!!
I used my Kreg Jig to drill the pocket holes…I wouldn't really want to build this without a Kreg Jig because of the way you have to screw the boards! You can grab a Kreg Jig at Lowe's, Home Depot, or Amazon and they have Jigs that fit all budgets!
I have recently upgraded to the K4 master system and it is more convenient and faster than my little R3 but yet my R3 was able to tackle any job I put before it, and I built many, many things with it… so don't let the expense of the larger models hold you back from purchasing one! Anyway, if you have never used a Kreg Jig, I will give you a quick run-through, and if you are quite familiar just scroll on down to where I start building! 😉
The Kreg Jig looks like so.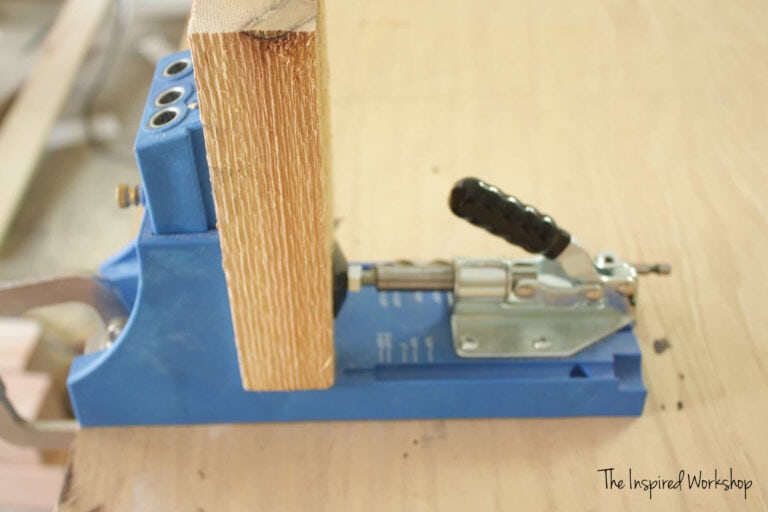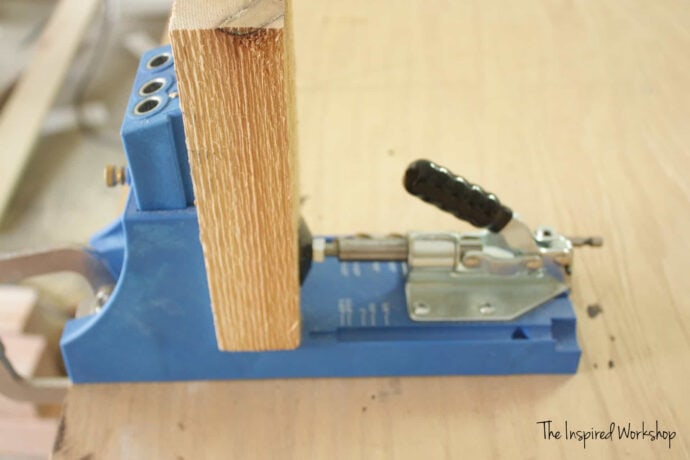 It has numbers all along the side of the jig…you set this according to the wood you are drilling into…on this project, we are drilling into 2x wood, the actual measurement of wood that is considered 2x is 1 1/2″ so we set the jig to 1 1/2″ and screw the little gold screw back into place! The jig is now set!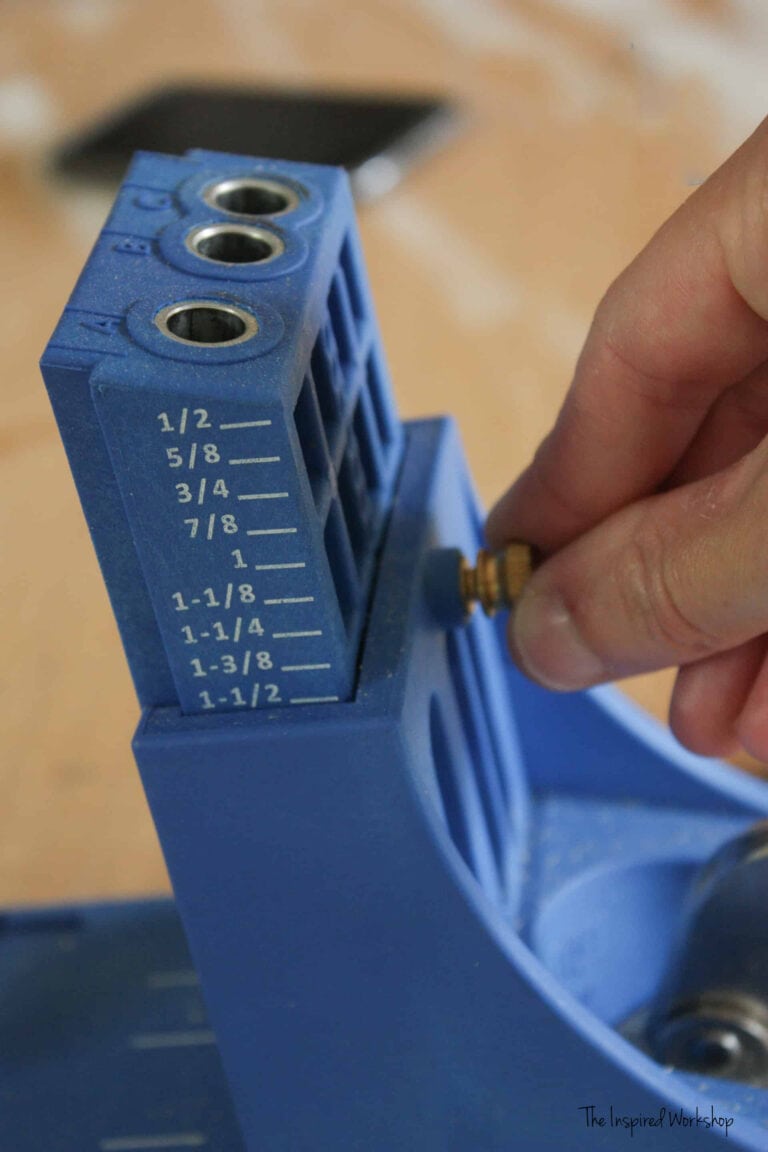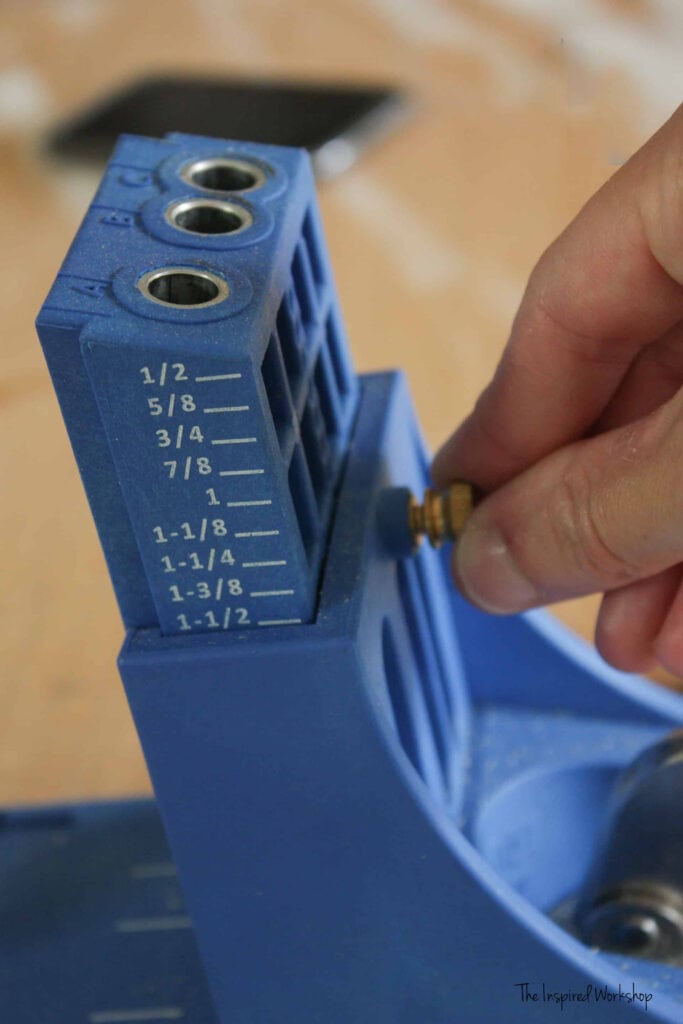 Any Kreg Jig you buy will come with a drill bit as well, the drill bit has a ring that goes around it that serves as a stop when you are drilling into the jig! You are also given a hex key/allen wrench to loosen and tighten this ring! You set the drill bit into the base or box it comes in, depending on the model, and tighten the ring around the bit according to what size wood you are drilling into…so the drill bit will always be set to the same size as your jig, which in this case is 1 1/2″.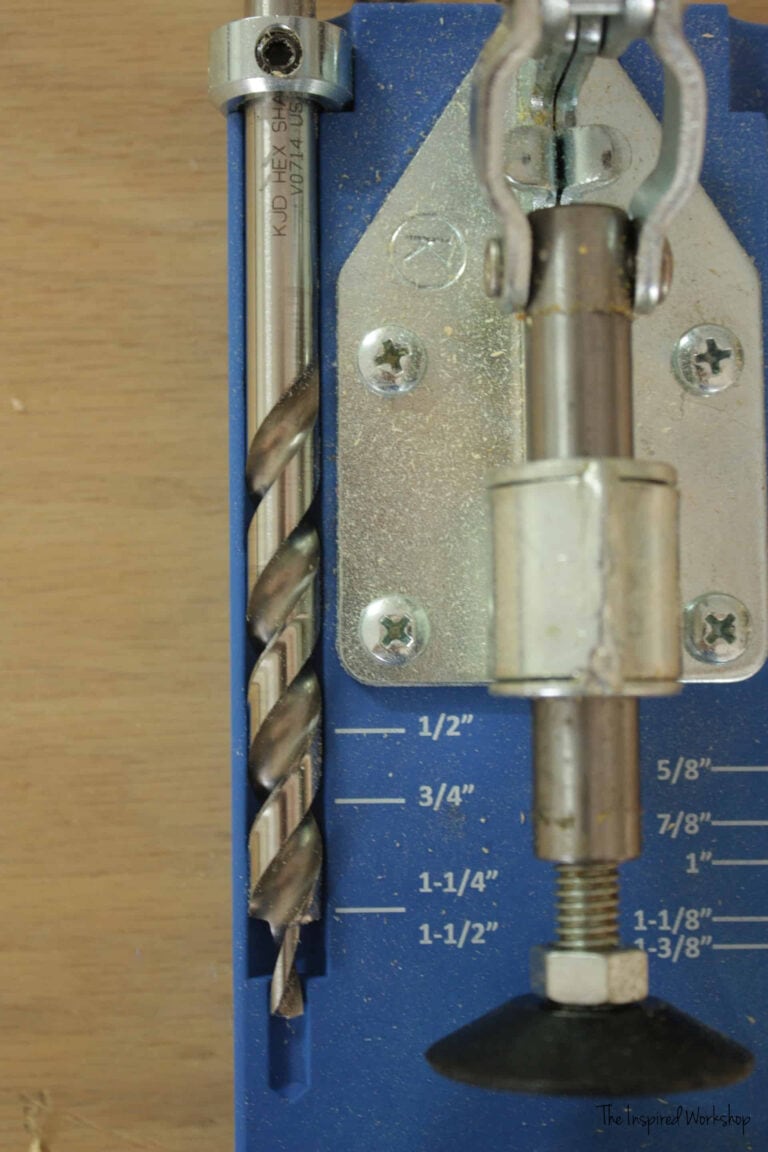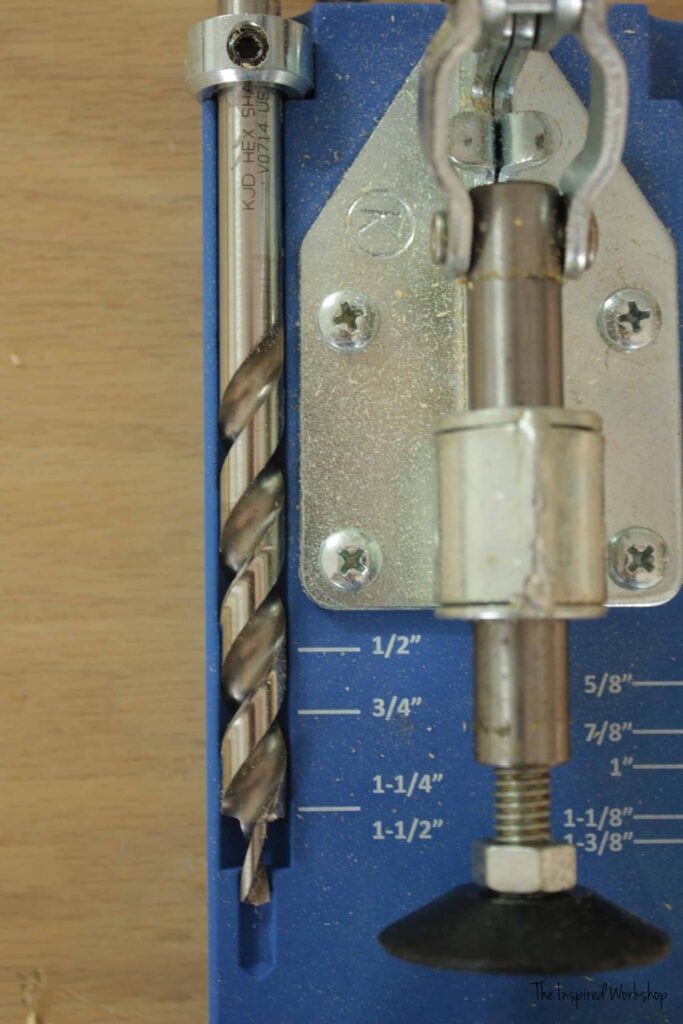 Make sure to tighten it tight! Now you are all set to start drilling pocket holes, just place your board in the clamp and start drilling…and just a WARNING: This can be very addicting to use a Kreg Jig, you may start dreaming of furniture building while eating, sleeping and working at your normal job!! I am not responsible for anything that may happen to you because of such addiction!! Lol!!
Now, where were we? Oh yes, going to actually start building this puppy!! So we have all of our 2x4s ready to go and now we need to take two 13 1/4″ pieces and connect them with two 7″ pieces. Now, this part was a little tricky, some of my 2x4s were slightly under 3 1/2″ so I had to cut my 7″ pieces to 7 1/16″ to make sure my 1x4s had enough room on top of the bench. My 1x4s actually measured 3 1/2″ as they should but my 2x4s didn't.
Luckily, I measured them and was able to compensate for this before getting the whole frame built! Make sure and always measure your boards because I have found this to happen A LOT!! The 7″ pieces will connect flush with the bottom and flush with the top…make sure to use plenty of wood glue before screwing them together…using 2 1/2″ pocket hole screws! This will make the 'legs' of your bench!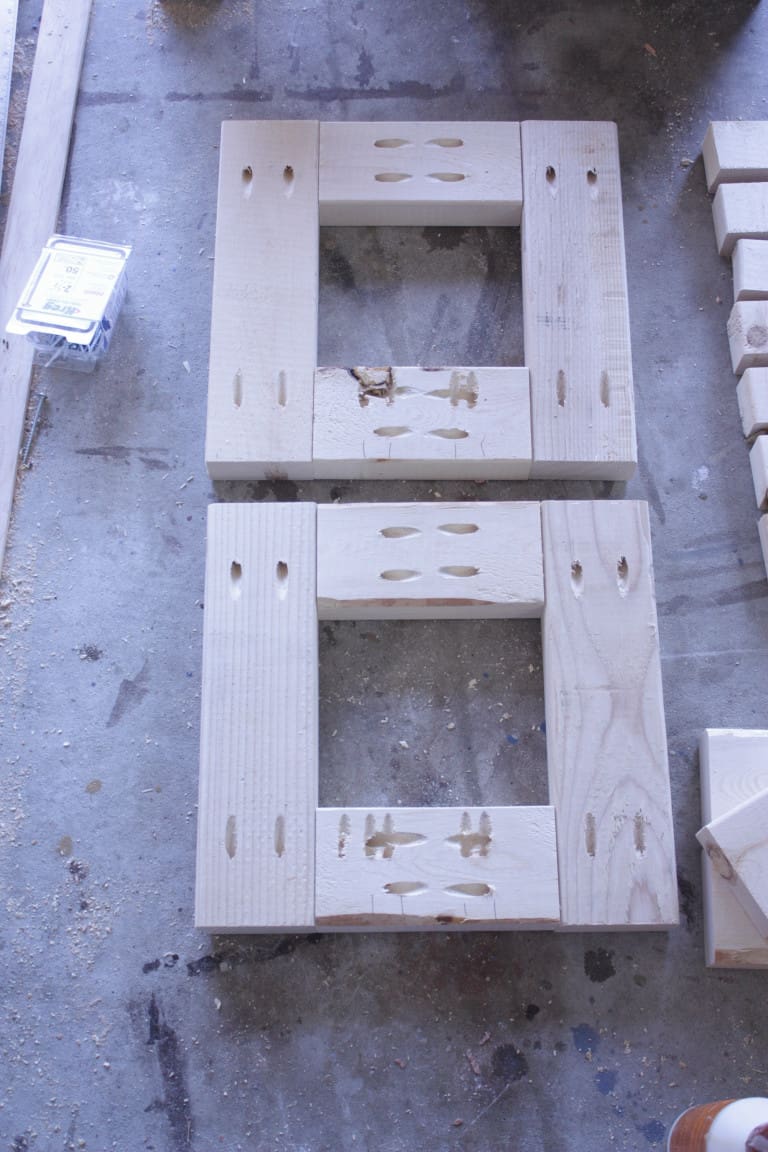 After making two of those above…we need to put the little 'feet' on our 'legs'! Attach the 2″ feet to the leg with one side flush to the leg like so.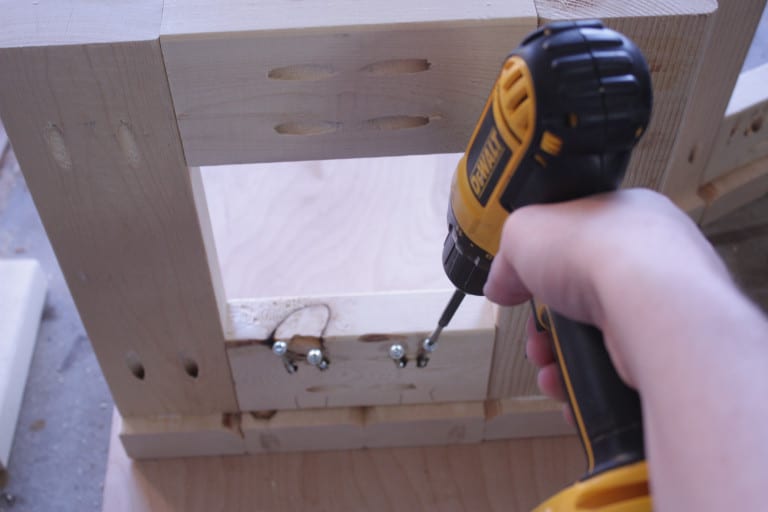 The backside is flush with the feet…the front side shown above is sticking out and going to be to the outside of the bench! This is where why we drilled the holes downward earlier!!
After attaching all those little 'feet', now we need to make the top brace. Take the 2 – 2×4 @ 54 1/2″ and your other 4 – 2×4 @ 7″ and we are going to attach the end two flush with the ends of the 54 1/2″ boards and the others I placed at 14″ down from the others. They can really go wherever you would like, this will be where your boards will stop and start if you like the pieces look! The top of the frame will look like so.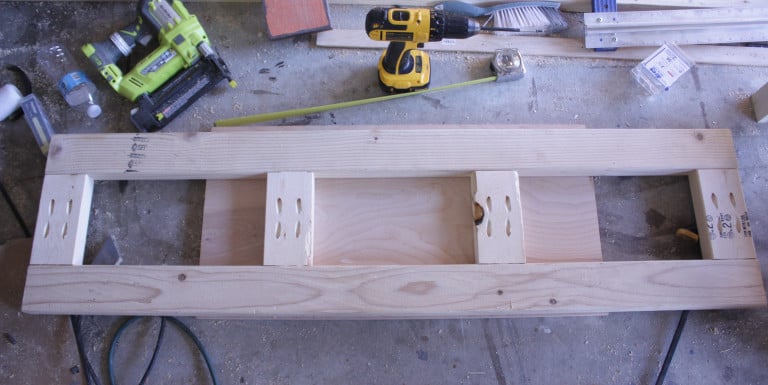 Now, all there is to be done is attach the top to the sides! Make sure and turn the legs to where the 'feet' are sticking out towards the outside of the bench and the top needs to stick over the 'leg' by 1/2″ to line up with the feet!! Did that make any sense?! I hope so but maybe a picture will help!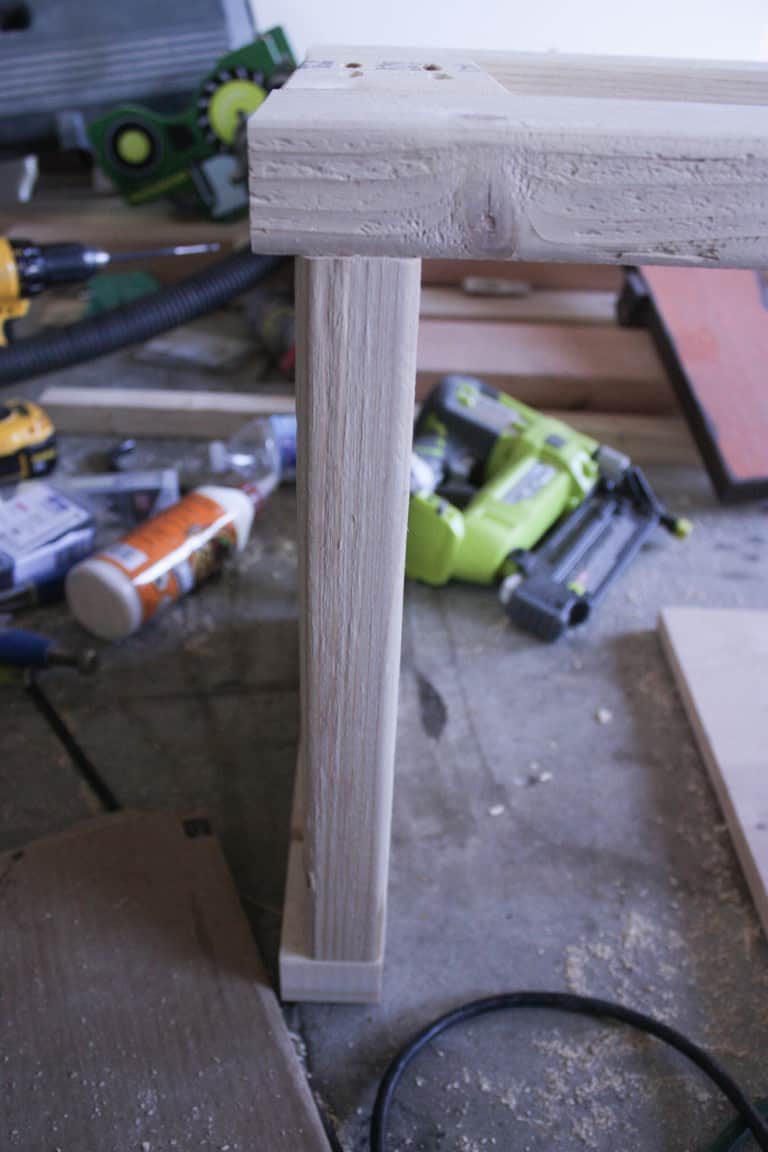 Try not to look at the complete disaster around the piece I am trying to show you!! I am not sure why I make such LARGE messes?!
So, the frame is already complete!!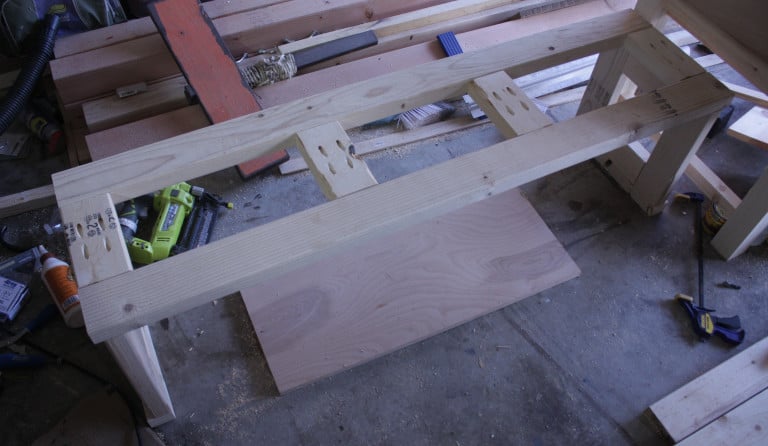 Moving on to the 1x4s to complete the look! This part got a little tricky because it was all puzzle-like, this had to line up with this, but you don't know how long to cut this because this wasn't on there yet!! Lol!! Sounds crazy right?! That's how I felt out there, and then I decided I would clamp the longboards, not cut down to exact size, along the front and back, so I would make sure my boards on top didn't go past the edge…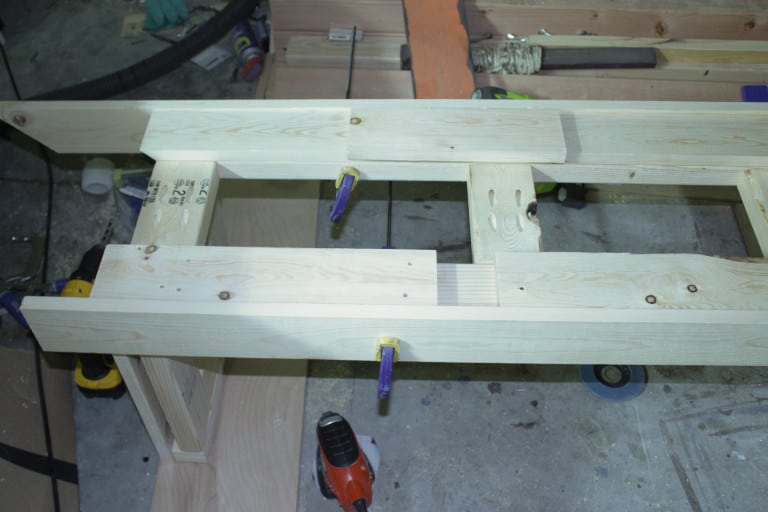 Then I slowly started cutting a board that went from the ground up to the top, they are beveled 45 degrees off square on the edge that meets the top of the bench but cut normal on the bottom. They should be 17″ at the longest part of the bevel but make sure to measure and cut as you go and always cut a little longer and trim it down versus undercutting and wasting your precious materials!!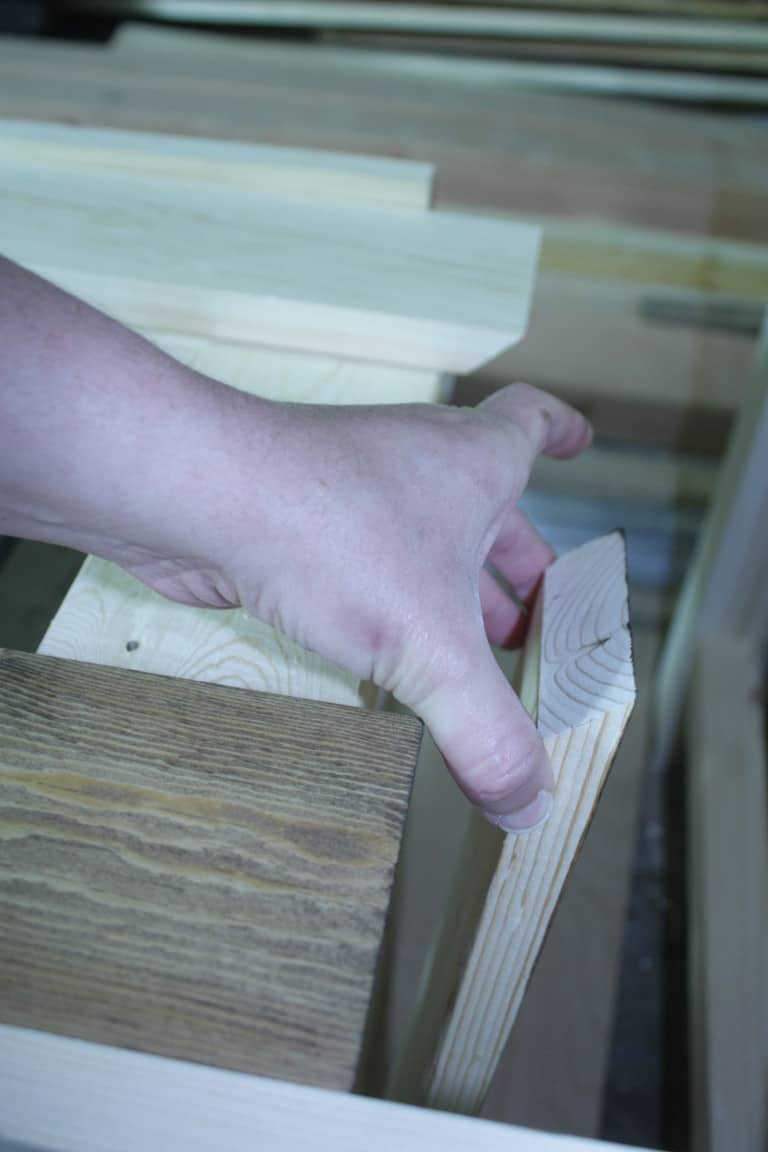 I would also bevel an edge of another board, this one can be any length but needs to at least reach your support brace (unless it is on the outside edge where there is a 2×4 running all the way the length of the bench…they can be ANY length here!!) I would set that one at the edge and make sure I had both the side and top matching up perfect before gluing and stapling!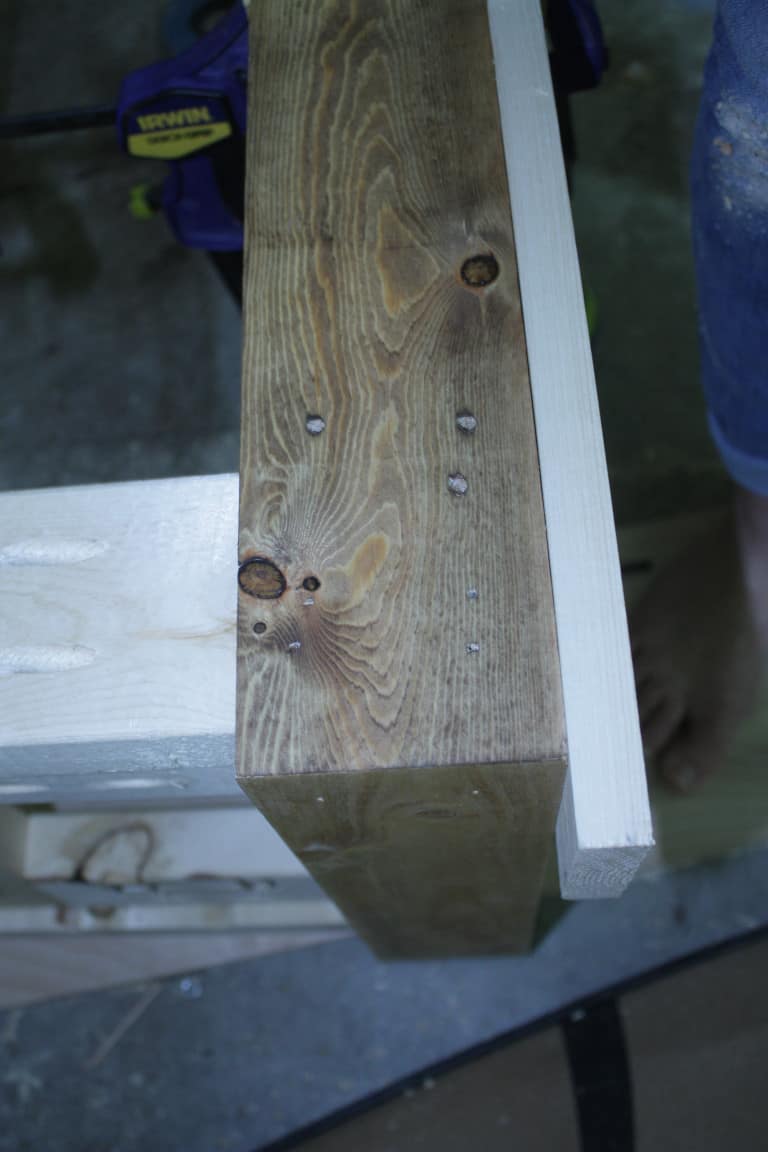 I stained the boards as I went so I wouldn't have to tape off as I did on the table…this seemed much faster, but when I added the time up both ways I did it… it wasn't much of a time saver!! LoL!! It is funny too because I used all the same colors on the bench that I used on the table but yet they look so much different on the bench vs the table since the wood on the table had a pink hue! If you would like to know all the colors I used, be sure and check out my post on making faux pallet wood, you can see it here, Faux Pallet Wood Tutorial!
Once the beveled edges are cut, you can then just fill in the remaining area on top of the bench with as many or as few pieces as you want! I did one whole row at a time moving across the bench!
Then when it came to framing the front, I cut a board mitered at 45 degrees off square and clamped it to the front of the bench so I could cut the leg piece perfect before gluing and stapling!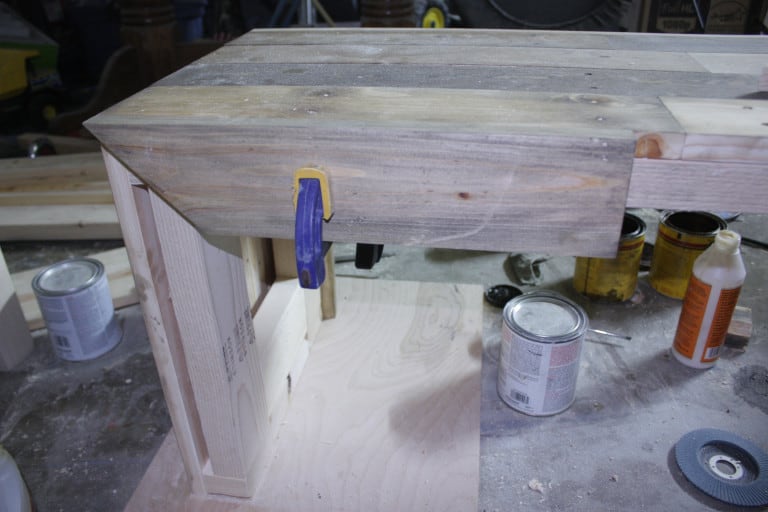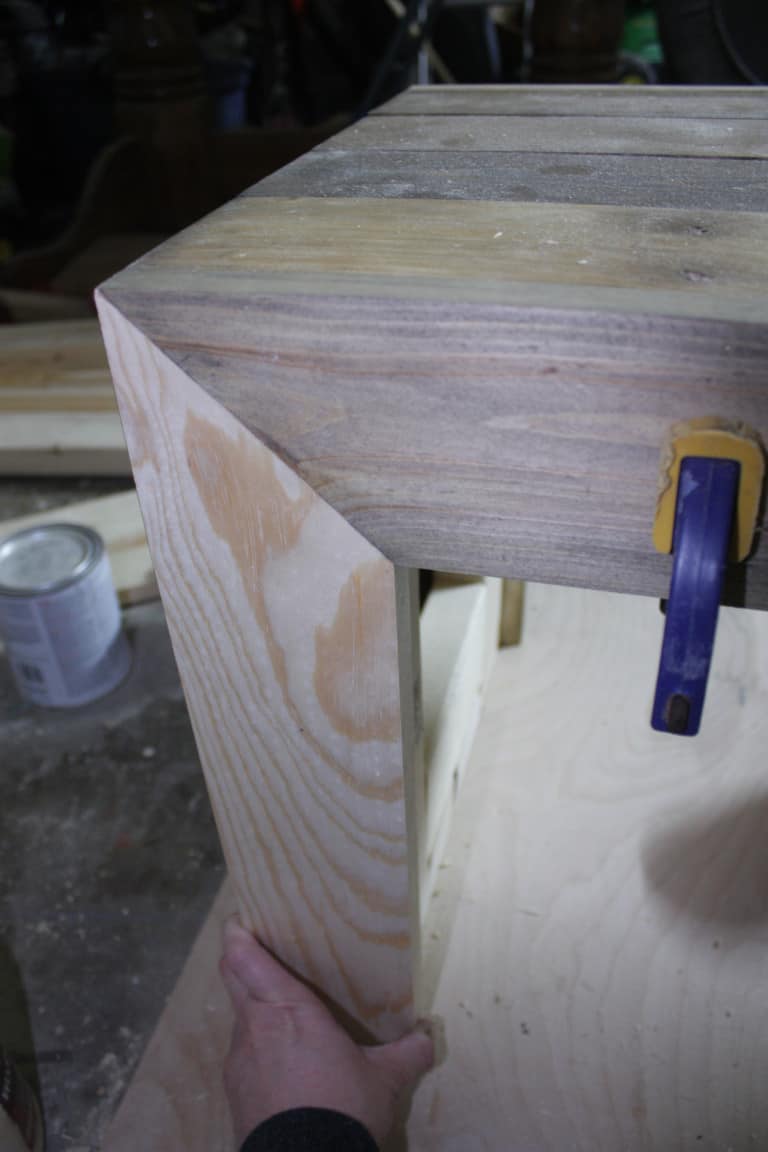 Once you have all of the corners of the bench done then you have to move on to the inside of the legs! Now, I had a slight problem with the back 1x4s, somewhere along the way I created a slight problem when I was trying to place the backside of the legs because they were wanting to stick out a little past the front board, I think all my little feet were not lined up exactly flush with the back and ever so slightly off boards at the top as well created my problem!
So make sure and do a better job than me building your frame and you won't have this problem!! But, just in case you have this problem, I fixed it by using furring strips that I had in 1x4s since they are more narrow than 3/4″ they worked great…except they are not as wide as regular 1x4s so I had to use a little piece of filler material! Oh, the drama some days when you are building!!😅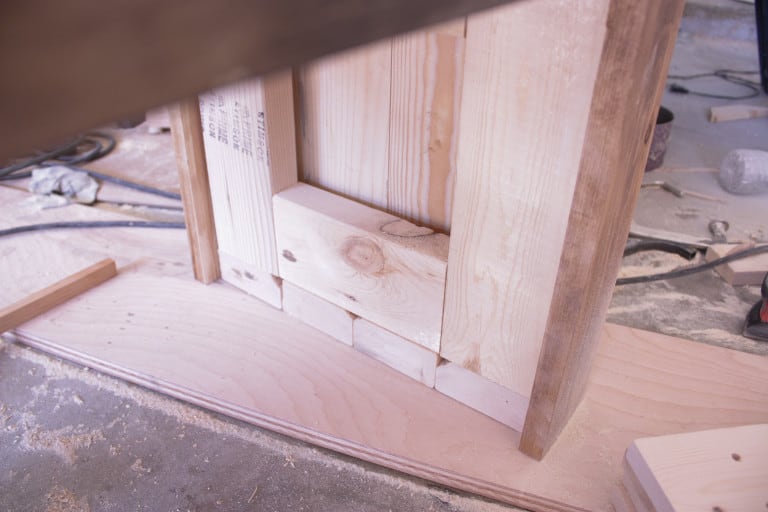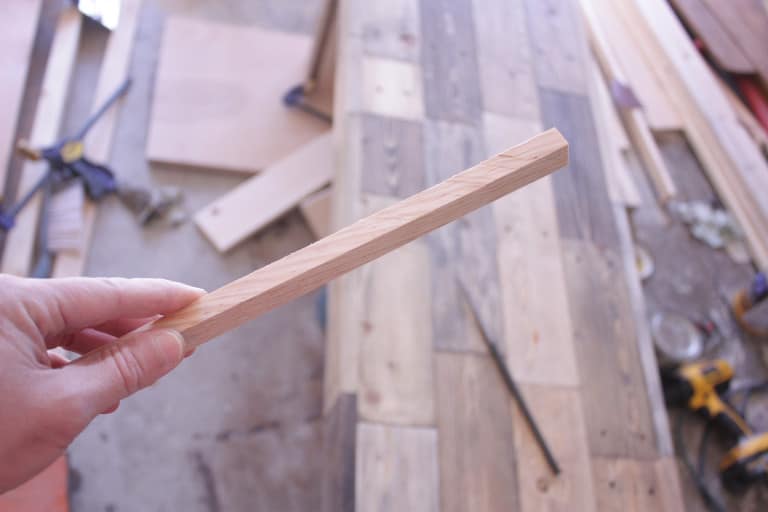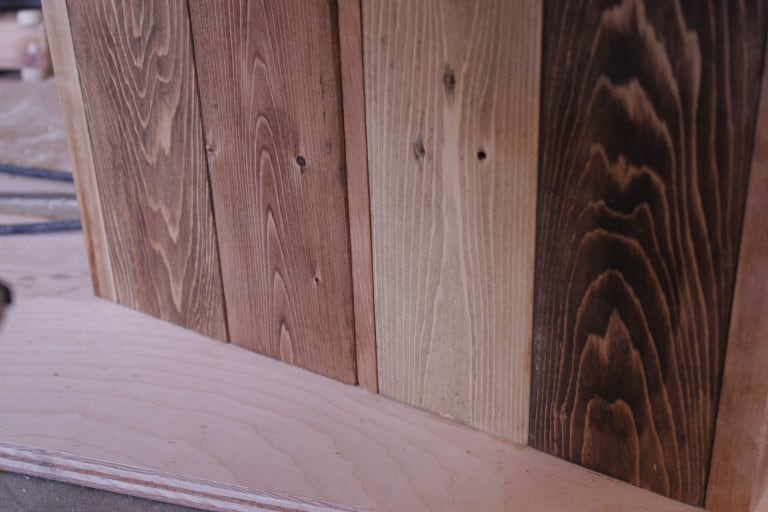 I did have to do some sanding on the furring strips too to remove the real rounded edges that they tend to have! But since they were on the inside they aren't that noticeable!!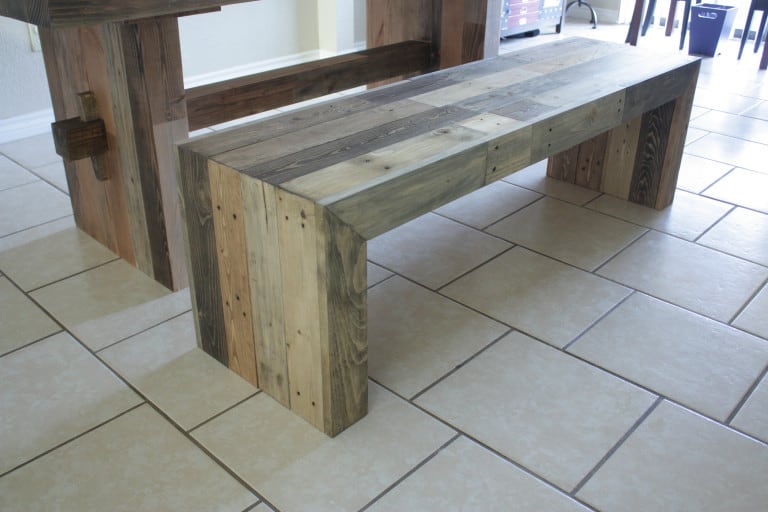 Well, that was it!! I added three coats of poly and it's all done! And for only 27 bucks!! So, the total dining room redo has only cost $147…that is for a table and a bench!! That is amazing!! I love it!! Now maybe I can decide on a rug and find the money for it in my couch cushions!😜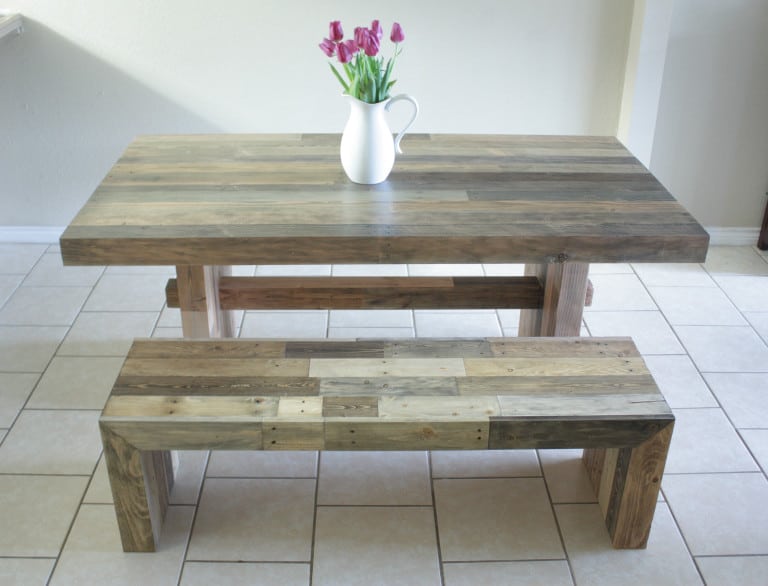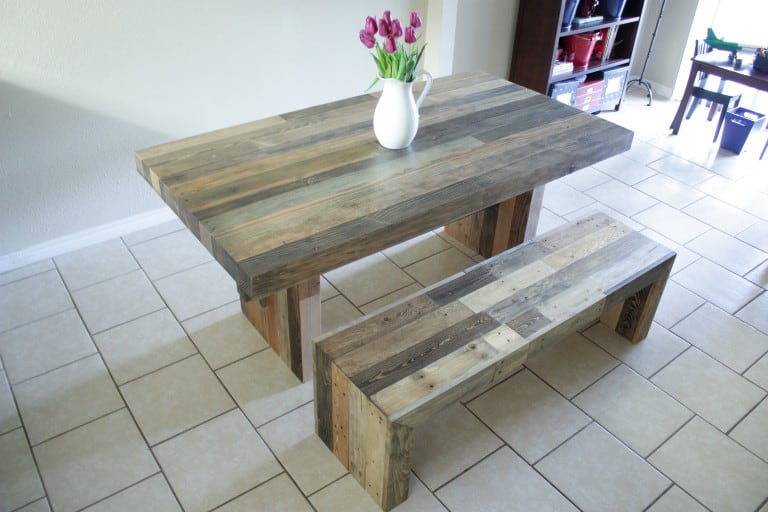 If you build a DIY Emmerson Dining Bench of your own I would love to see it…you can email me pictures at cara.theinspiredworkshop(at)gmail.com or tag me in your photo on Facebook or Instagram!! Whatever you build or craft I just hope you LOVE every minute of it!!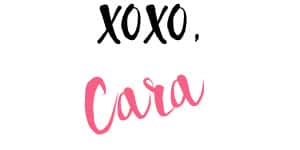 Want to save this Emmerson DIY Dining Bench for later? Pin it!