How to Plan a Great Trip to LegoLand Florida
Hey there! Happy Hump Day! Spoiler Alert: Today's post is different than my usual post, with no free plans, and no craft project, but it will help you plan a great trip to Legoland Florida! I am sorry if you are disappointed, make sure and come back sometime though because there will be plenty more of those posts!! Lol!!
Today I am sharing all about our recent Legoland Florida vacation! If you have been around here very long you know that I don't share any personal posts, they all involve tools and such, but after doing a ton of research before deciding to head to Legoland Florida, I was helped so much by bloggers who had already been there and shared about what they thought and any tips they had, that I wanted to try to do the same for you! And if nothing else, it does have some really great pictures of the park!! Lol! No, you don't have to worry about me spamming you with travel blog posts or anything but I will try to include helpful posts about places or things we truly enjoy, have no fear, we don't get out much!!😂 (NOTE: This post is NOT sponsored in any way, we paid for our entire stay, tickets, food, and rental car…nothing was given to us for free)!!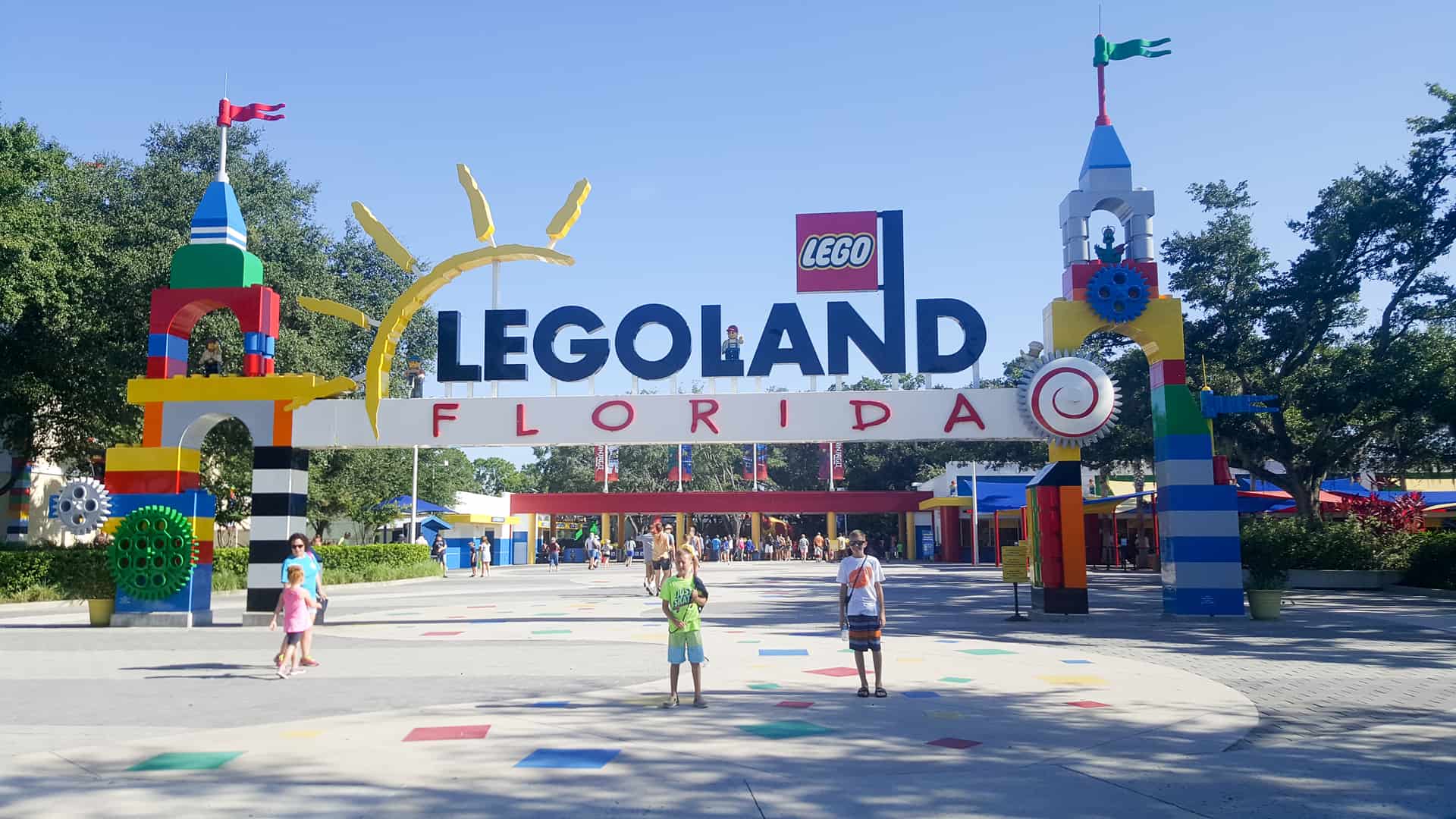 Now let me start off this post by making you aware that my kiddos LOVE Legos…heck I'd be lying if I claimed I didn't get a little excited about certain sets and lose all self-control when it comes to purchasing them for myself kids!! 😂 They are the ultimate DIY toy, hello…that's kinda my thing you know!! 🤓 So, now that I have put that out there, you are aware that we have a slight Lego addiction…but I will try not to let that skew my Legoland opinions!!😅
Load up the car, let's start this road trip!!
Heading to Legoland Florida
We road tripped from Texas to Florida and I will tell you, it's not the most scenic route ever…I mean if you enjoy pine tree lined roads for hundreds, I mean, thousands of miles, then you will love the drive!! But for my family and I, we were pretty sick of seeing them about a hundred miles in…you know at first they are beautiful being from South Texas and all. Then, it's just overkill.
Family time in the car is always a blast! Well, none of us were thinking that in the car at the time, but looking back it was a really fun time of the trip!!
And the Florida sign just so happens to be the best roadside state sign I've seen so far on our road trips….but then again I think we have only road-tripped through 11 states!! Lol!!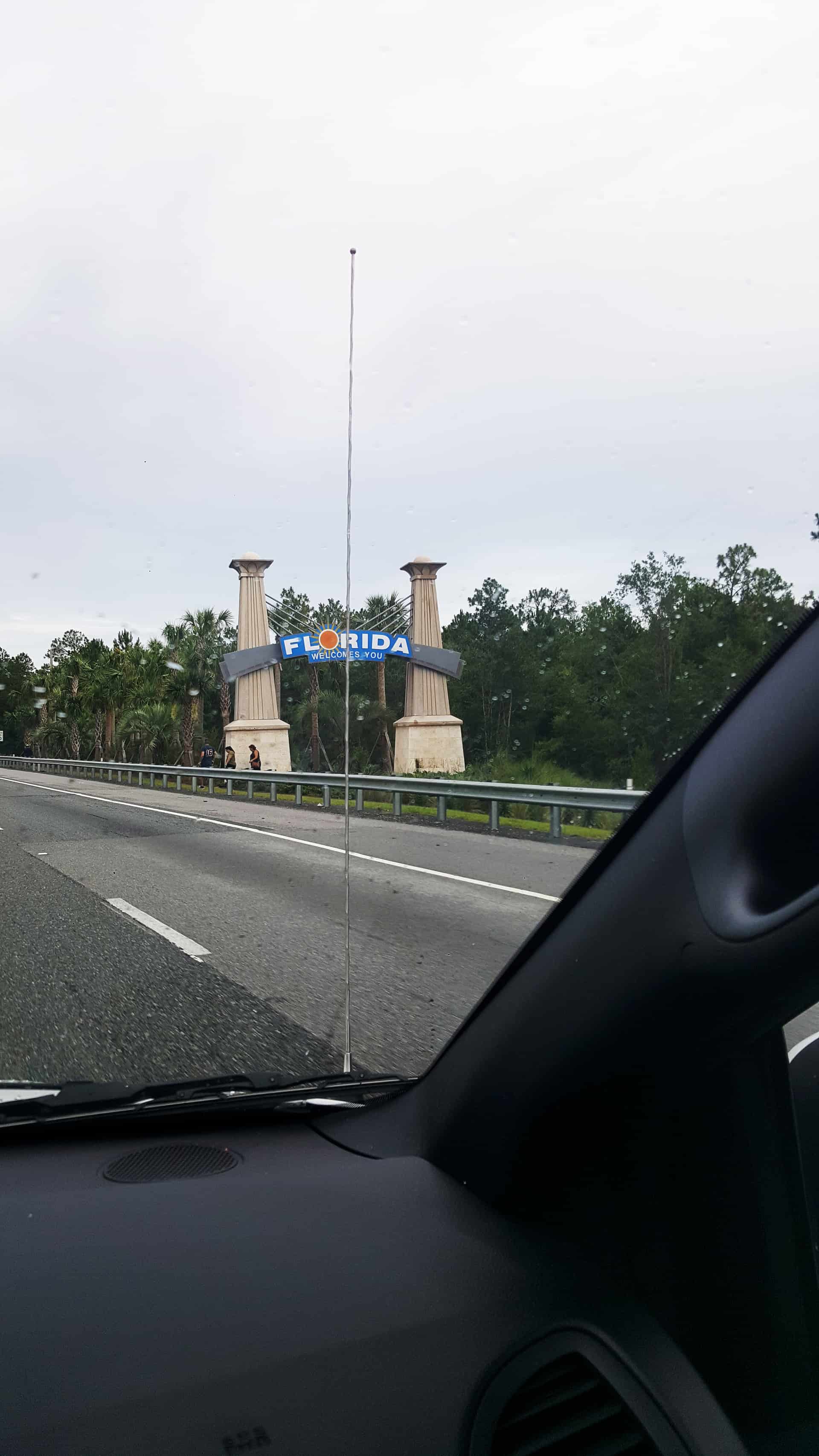 We stopped in Tallahassee and stayed the night, I will tell you, I have never stayed in a dirty Hampton Inn…until this trip, Hampton Inn Tallahassee I-10 W, you have some cleaning to do!!
Arriving at Legoland Florida
Once we arrived in Winter Haven, we stayed at the Legoland Beach Retreat which look like individual beach huts that are absolutely adorable! I would have been just as happy just lounging around this place and not even heading into the park! Oh, wait…my bad, this wasn't about me…it was for the kids…silly me I keep forgetting!! 😏 Just look at them though!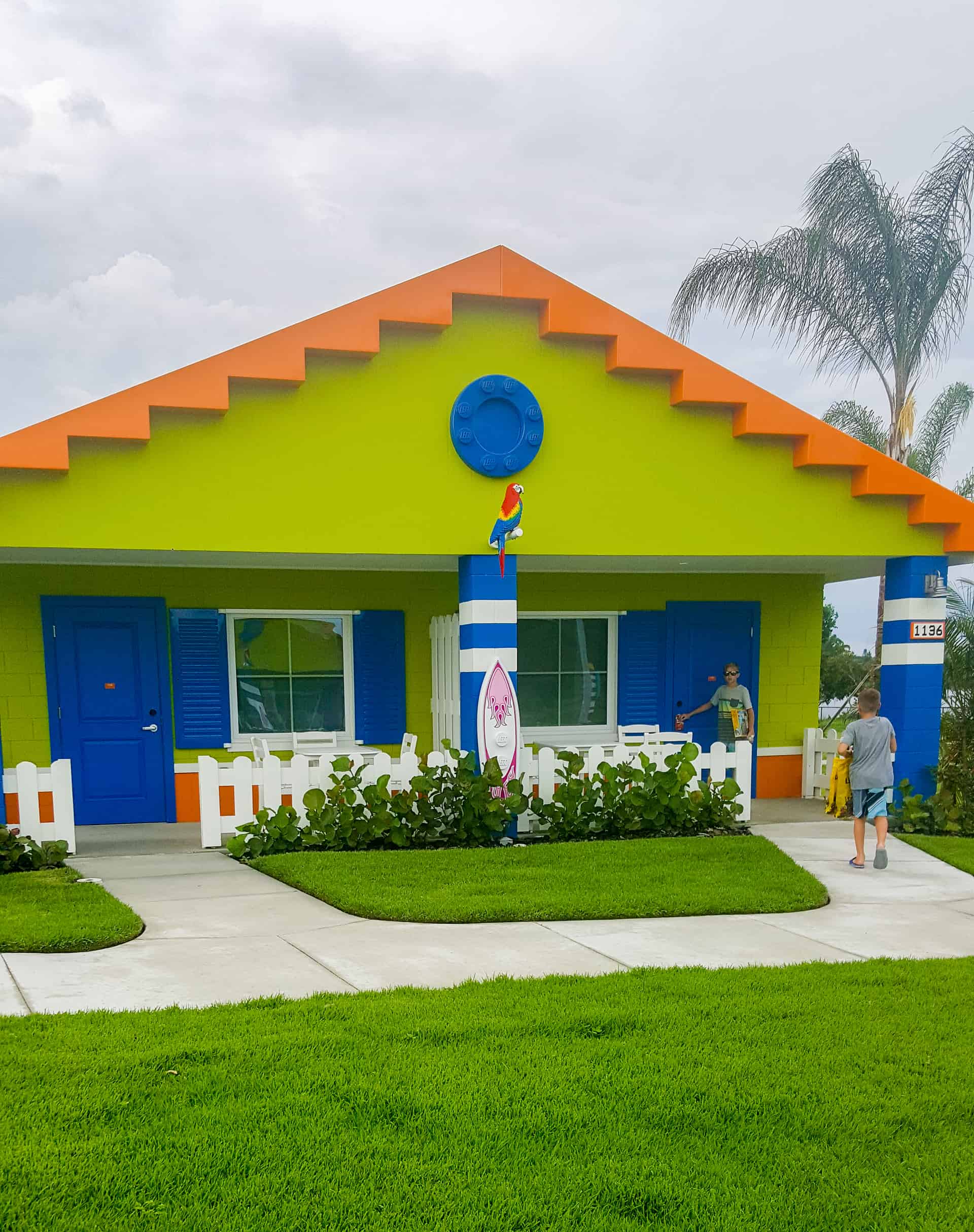 Fair warning, when we went on this trip I never planned on writing a post…so my kids are present in pretty much all the pictures…you're welcome for their cute adorable faces, but I am sorry if you wanted kidless pics, I don't have any!!😜 Plus, all the pics were taken with my phone so the quality is not the greatest, but the content is worth reading!!
Inside you felt like you were cast alongside the Lego people in the next Lego Beach Movie!!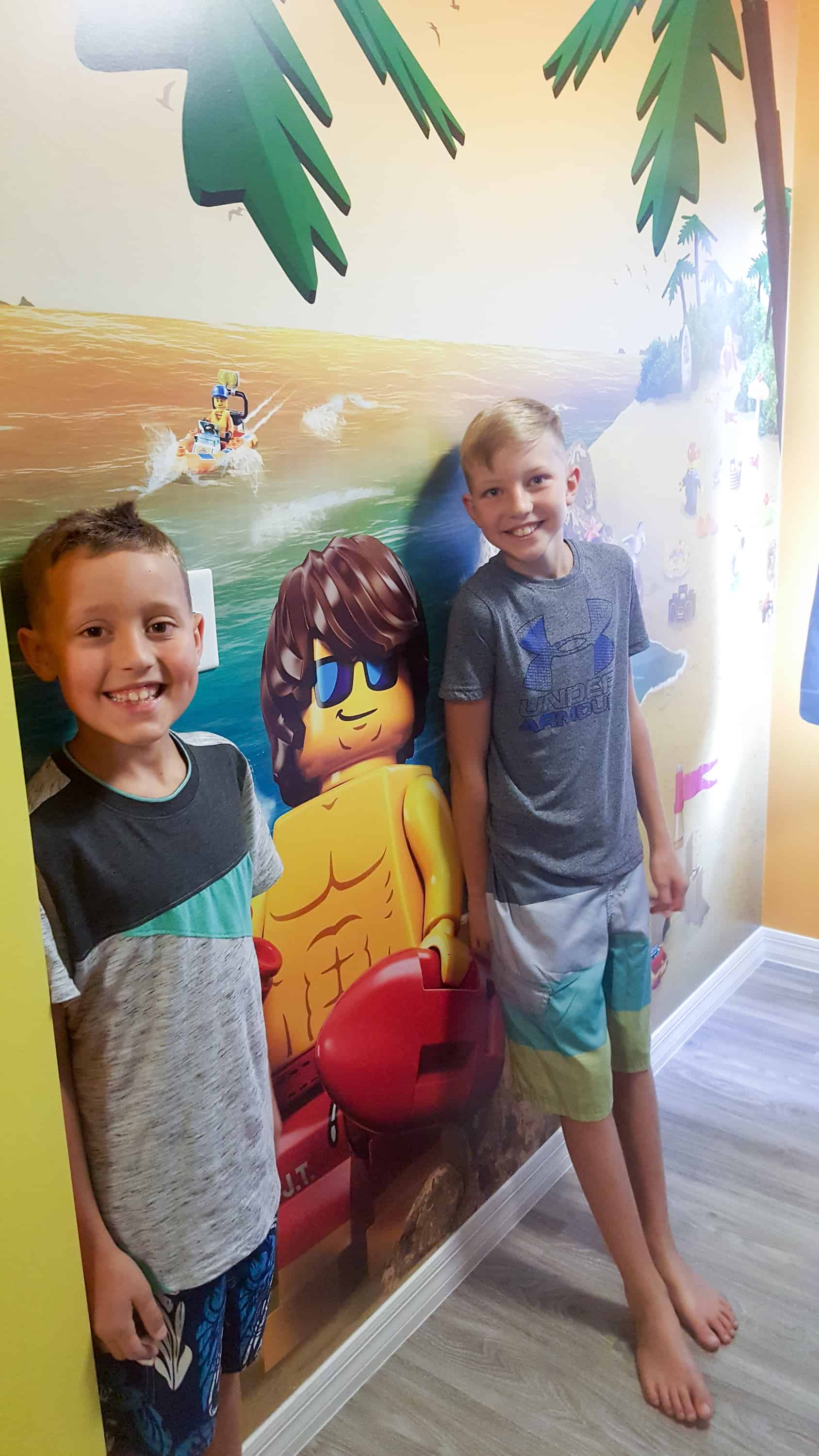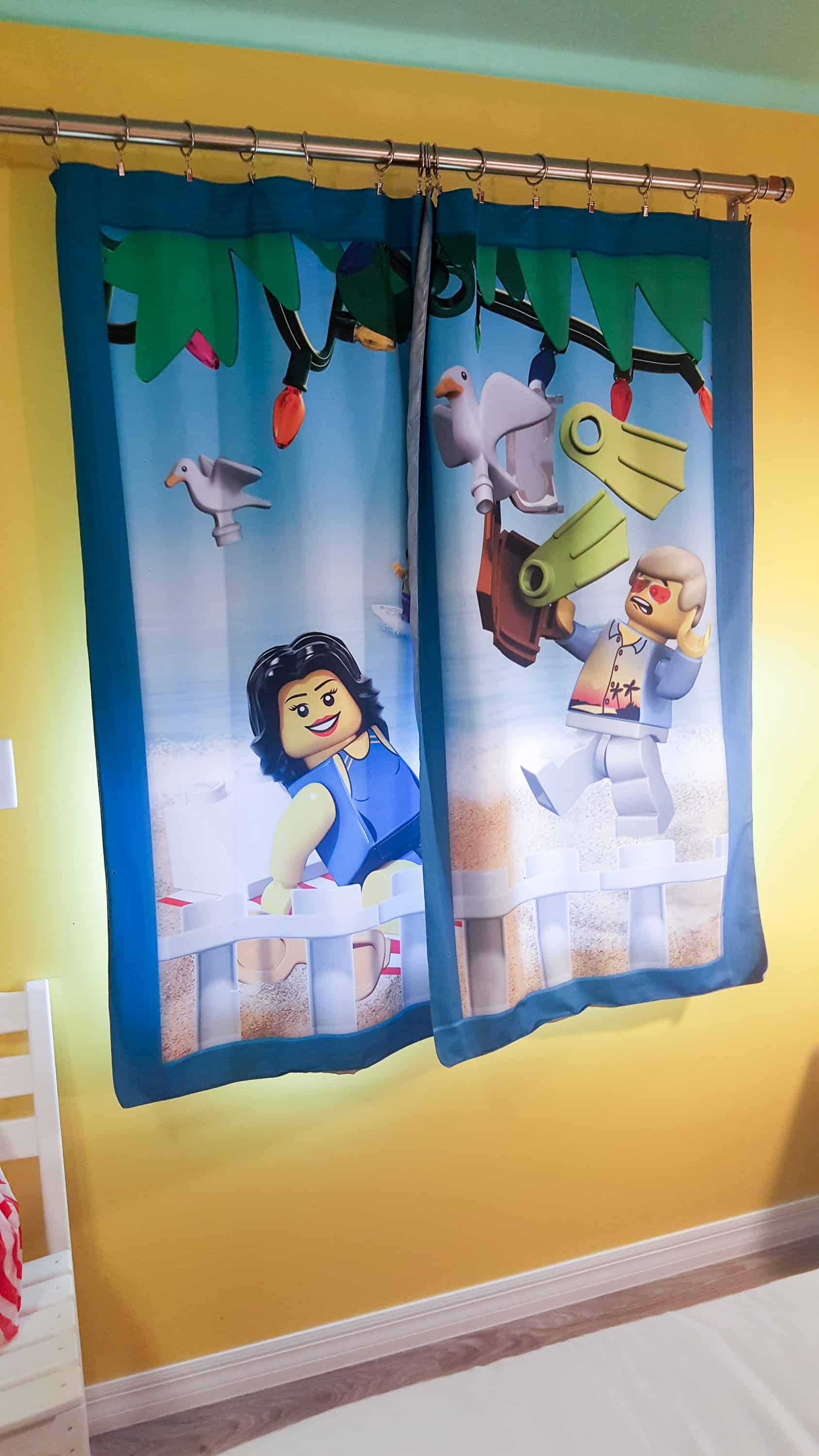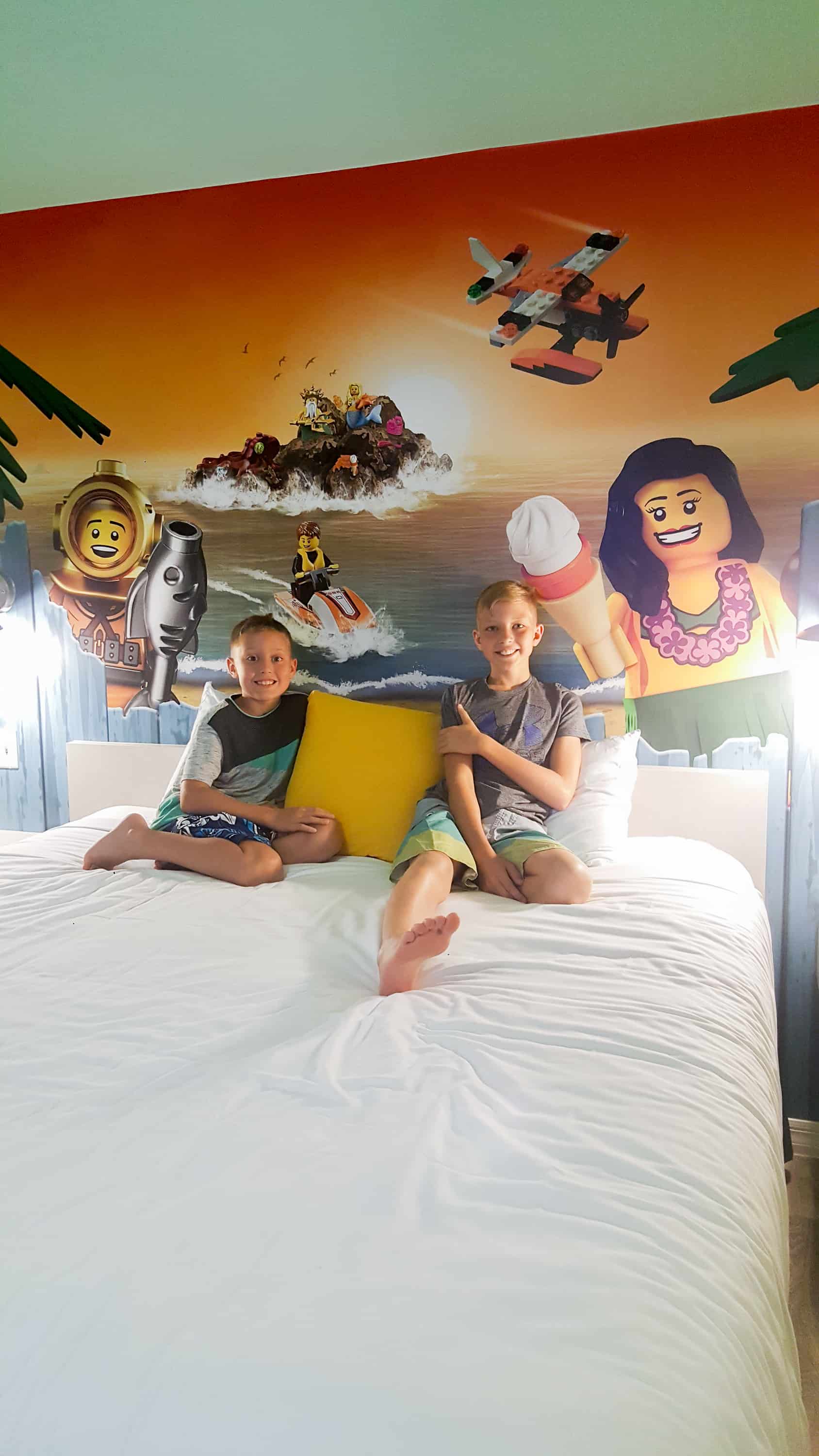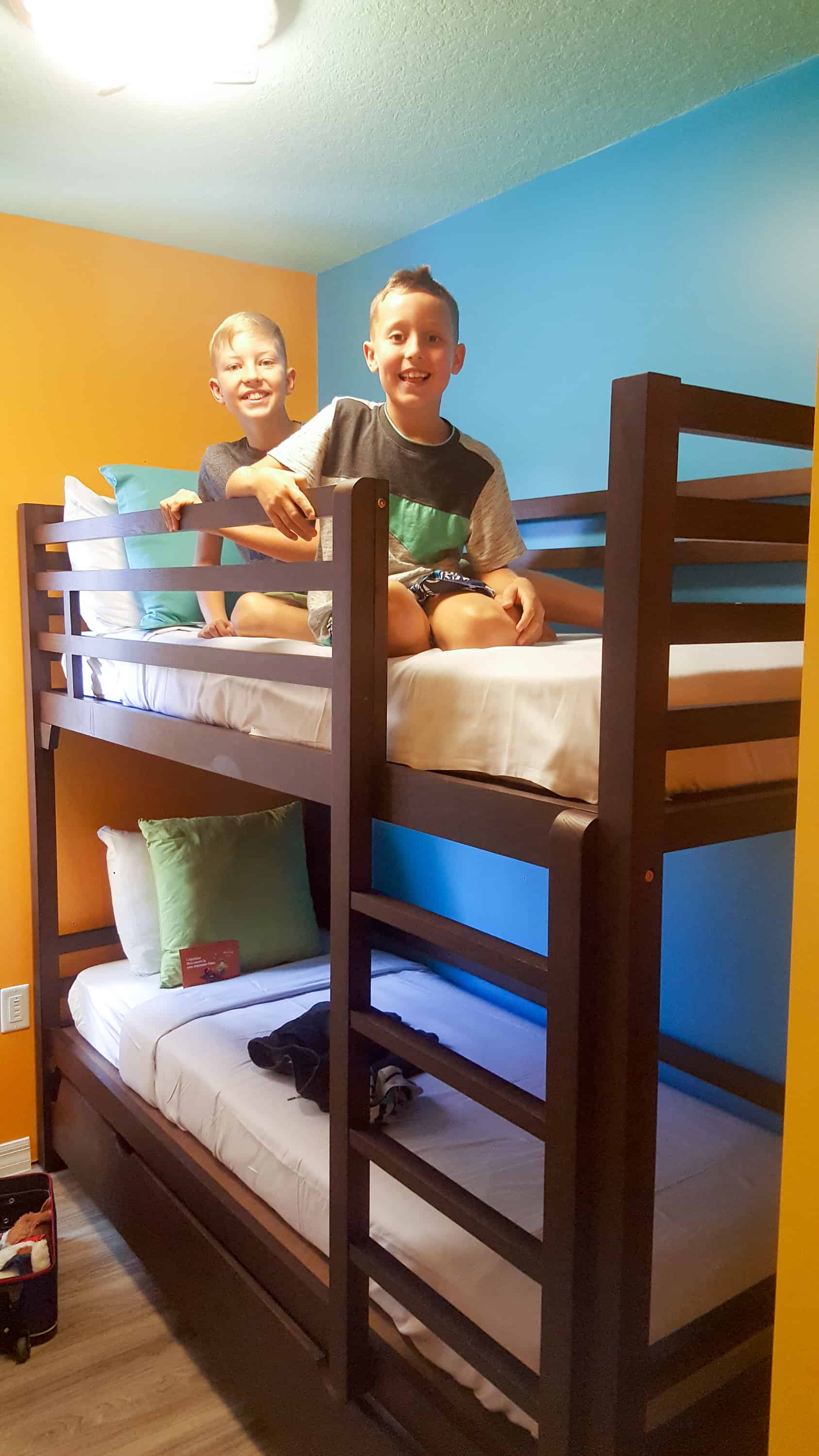 Even the bathroom which I don't have a picture of was adorably colorful and perfect for kids! On the side of cleanliness, I could not give them a better or higher review…it was spotlessly clean, smelled fresh and it is a single story so the floors are vinyl wood planks, and easily wiped down so I didn't have to worry about what had previously happened on the floor that my children may be rolling around on…know what I mean?! 😬 So it definitely has the highest cleanliness rating I can give a place!!! A++
On the first day of getting there, we didn't plan on going to the park because we weren't sure what time we would actually end up there! Lol!! We are well aware that Google Maps lies and so we planned to get there around 1 (they let you pay a little extra to check in early which I also liked and paid for), though we did not arrive until regular check-in around 3 or 4 anyway!!😆 I just love to throw that money out the window!! 🙄 We were just going to try out the on-site restaurant and enjoy some swimming on Day 1! Luckily we had plenty of time to do that since it was a short walk from our room!
This turned out to be the boys' FAVORITE thing of the entire trip, every night they would swim and build with the large, floating Legos in the pool! They were constantly trying to build a raft that would actually hold them up! #easytoplease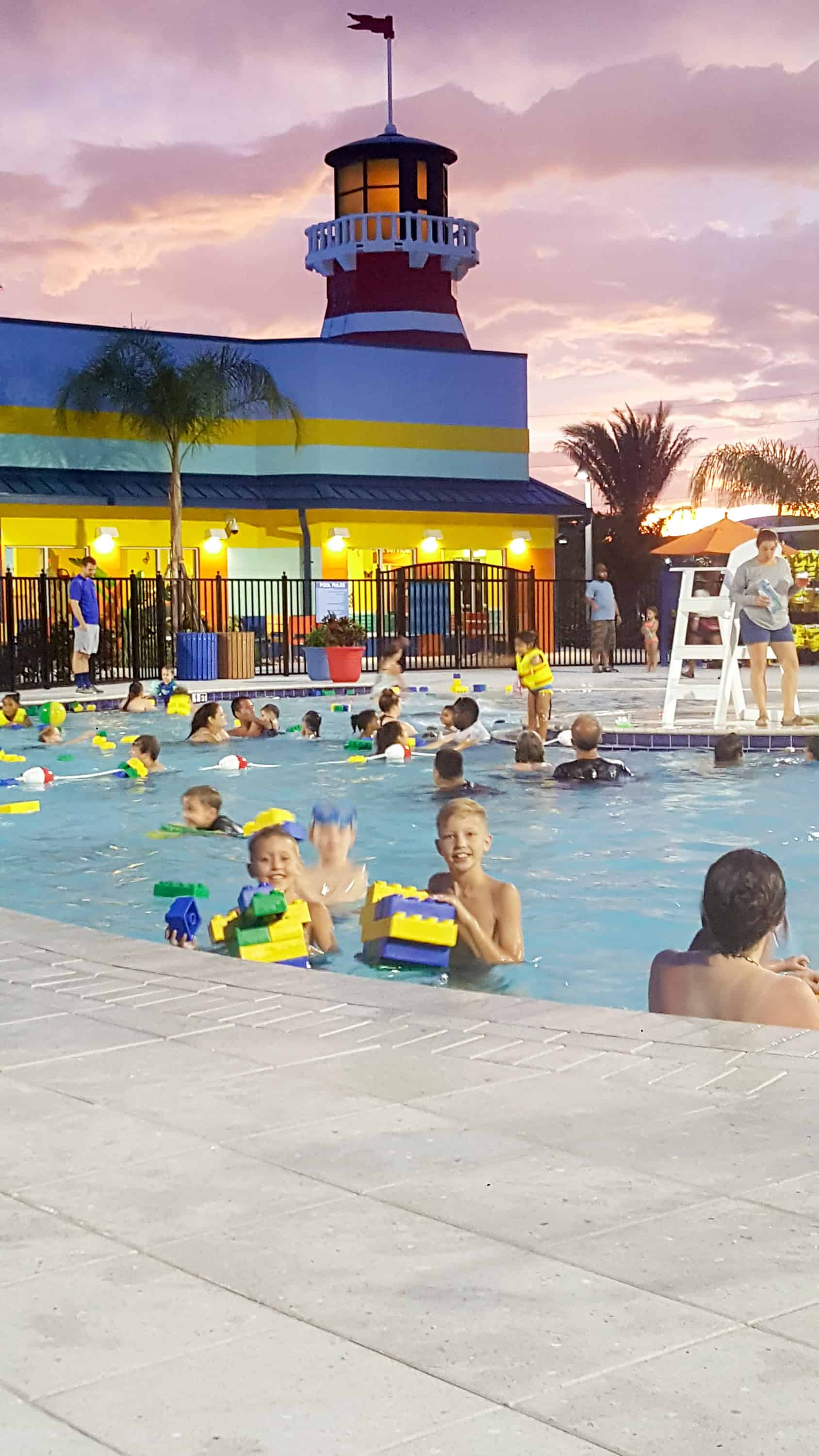 So the on-site restaurant offers free complimentary breakfast which we all enjoyed! There were plenty of options to make everyone happy!! Buutttt, the dinner meals there were not so hot, one advantage of the Resort Hotel vs the Beach Retreat is that there are three restaurant options vs only one at the Beach Retreat!
I don't know if that means any better food or not as I realized this was kind of a theme around the Retreat and the Park…food was slightly costly, (as to be expected at a theme park) but NOT yummy! Pretty much every meal at the retreat or park costs about $60 and I would compare it to my children's school cafeteria…which just to let you know is not good!! 😂 I think a $60 dinner for 4 people is pretty fair when the food is tasty, but when the food is sub-par, I get a little irritated at spending more than I would on Chick-fil-A, which is right down the road by the way, and what saved my sanity!! I would much rather go spend 28 bucks for us to eat a meal that is tasty as opposed to staying on property for meals!
This was the general consensus from the entire family, not just me!! Again, I have to give them props though because the atmosphere was perfect…and they did have a bar to help get the food down if you needed it!! And other chain restaurant options such as Panera Bread, Starbucks (not a restaurant but a lifeline😉), Outback Steakhouse, and more just down the road, maybe two miles or so! I would just plan on eating off-site!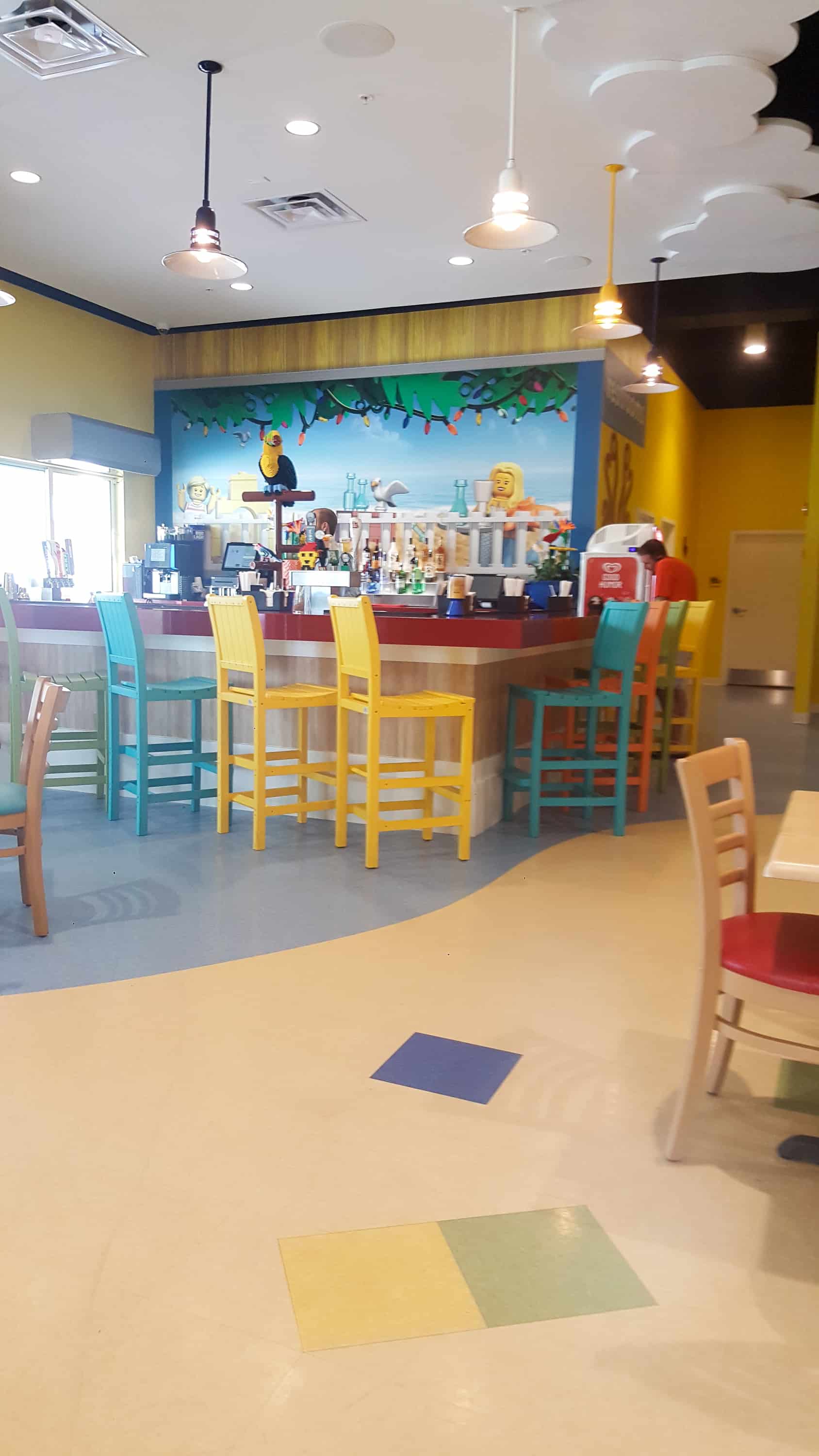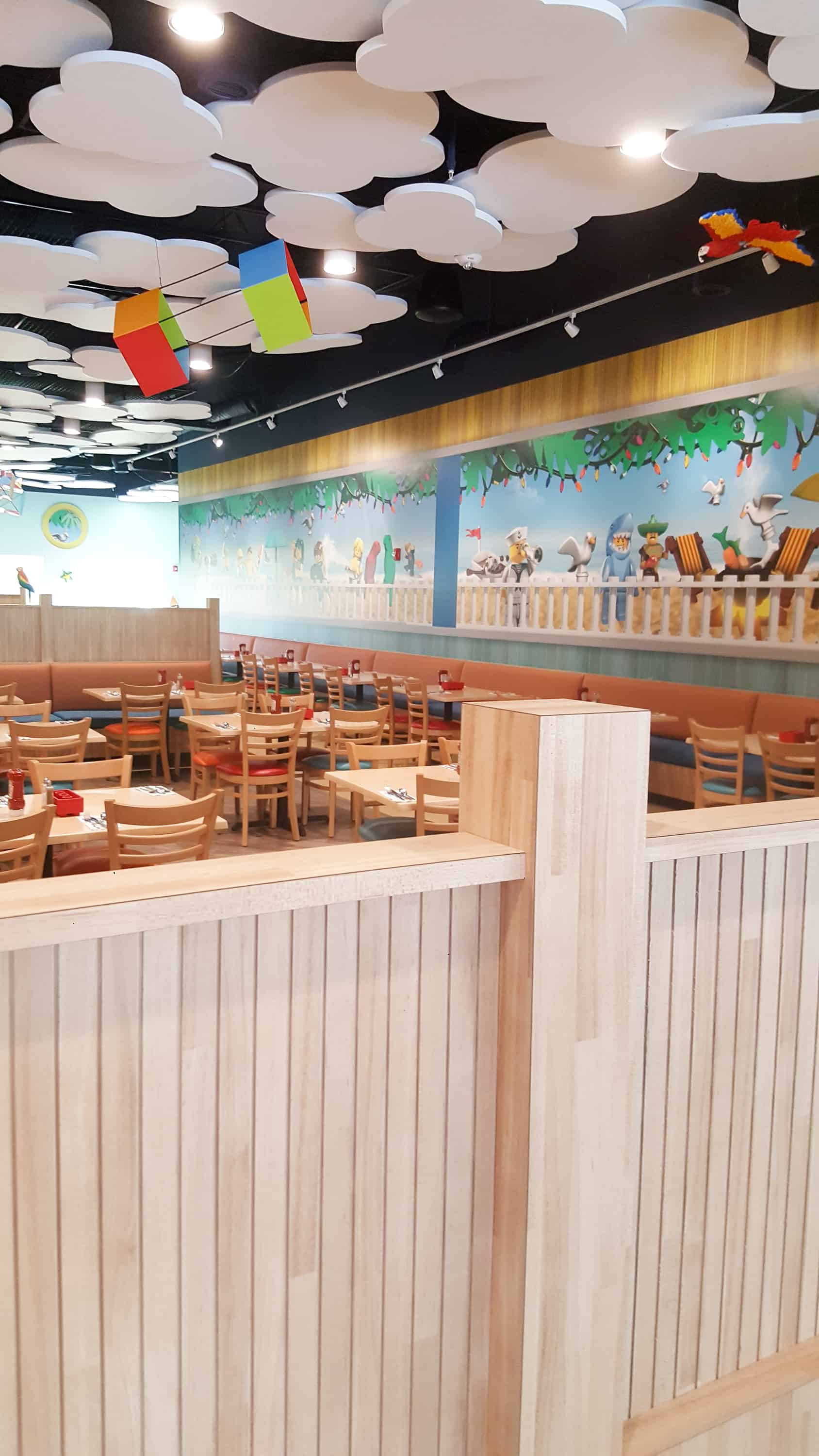 I love how they incorporate legos everywhere! The kids LOVED playing with the legos while waiting!! And they did a fantastic job of providing legos anywhere and everywhere you had to wait, in line for rides, at all the restaurants, and they even provide a small bucket in your room!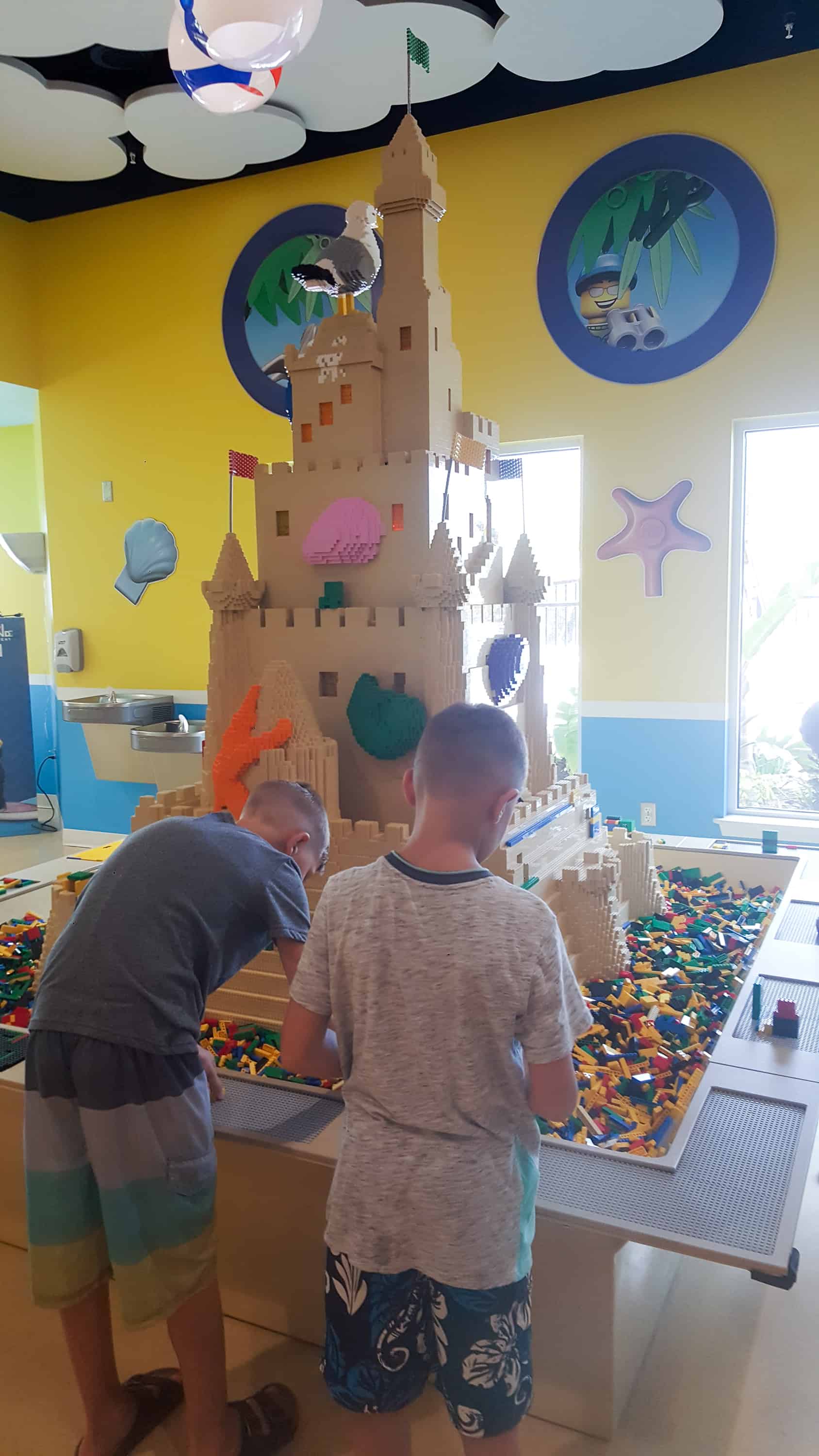 When we booked our trip they had a deal going on which was to buy one day at the park and or water park and get the second day free! I felt this deal made the trip worth the money, I don't know if I would have felt the same if we would have paid full price for both days! Just food for thought!
Headed into the Park – Legoland Florida
Day two we headed into the Park! The Beach Retreat is right across the road from the Park, they offer a shuttle that runs every fifteen minutes. But, the thing that I loved most was that you were given Free Parking for staying at the Retreat and it was covered, upfront parking at that!! Couldn't be beaten!! They get an A++ for that feature as well!! And, they let you bring food and drinks into the park! Say, what?! Here in Texas, they don't do that at very many theme parks so I was shocked!! But a huge plus when all of you drink tons of water every day and inside the park, they cost five bucks each! No thank you….plus not to be a water snob but I hate Smart Water and Dasani and that is all they offer, so when a place allows me to bring my own water, they instantly become my BFF!! Lol!
I have to admit here again I am still a kid at heart so this trip was just as exciting for me as it was for my kids…maybe even more so! But I was in absolute awe along with the kids with all the sculptures in the park so that gives the park a super high rating because it's just mind-blowing some of the stuff!! Like this big guy!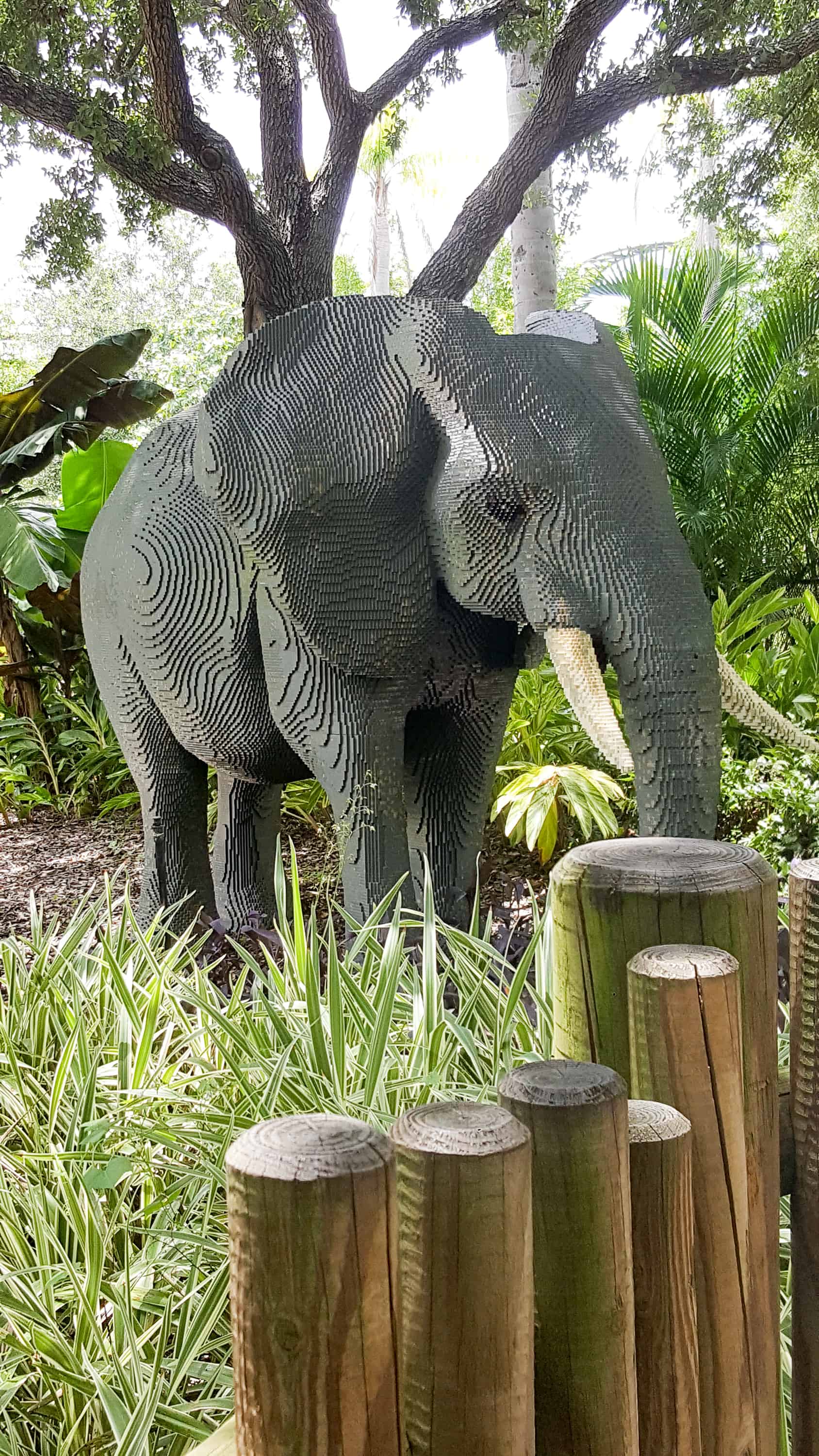 I mean the hours and hours they spend building, I just can't even imagine making these giants creatures…it is a real thing of beauty!! I was awe struck…I might as well have seen Leonardo DiCaprio sans 1996 as a sixth grade school girl! (is that even the year of Titanic?) Okay, it was better than if I'd seen him…you know why?! Because of this guy…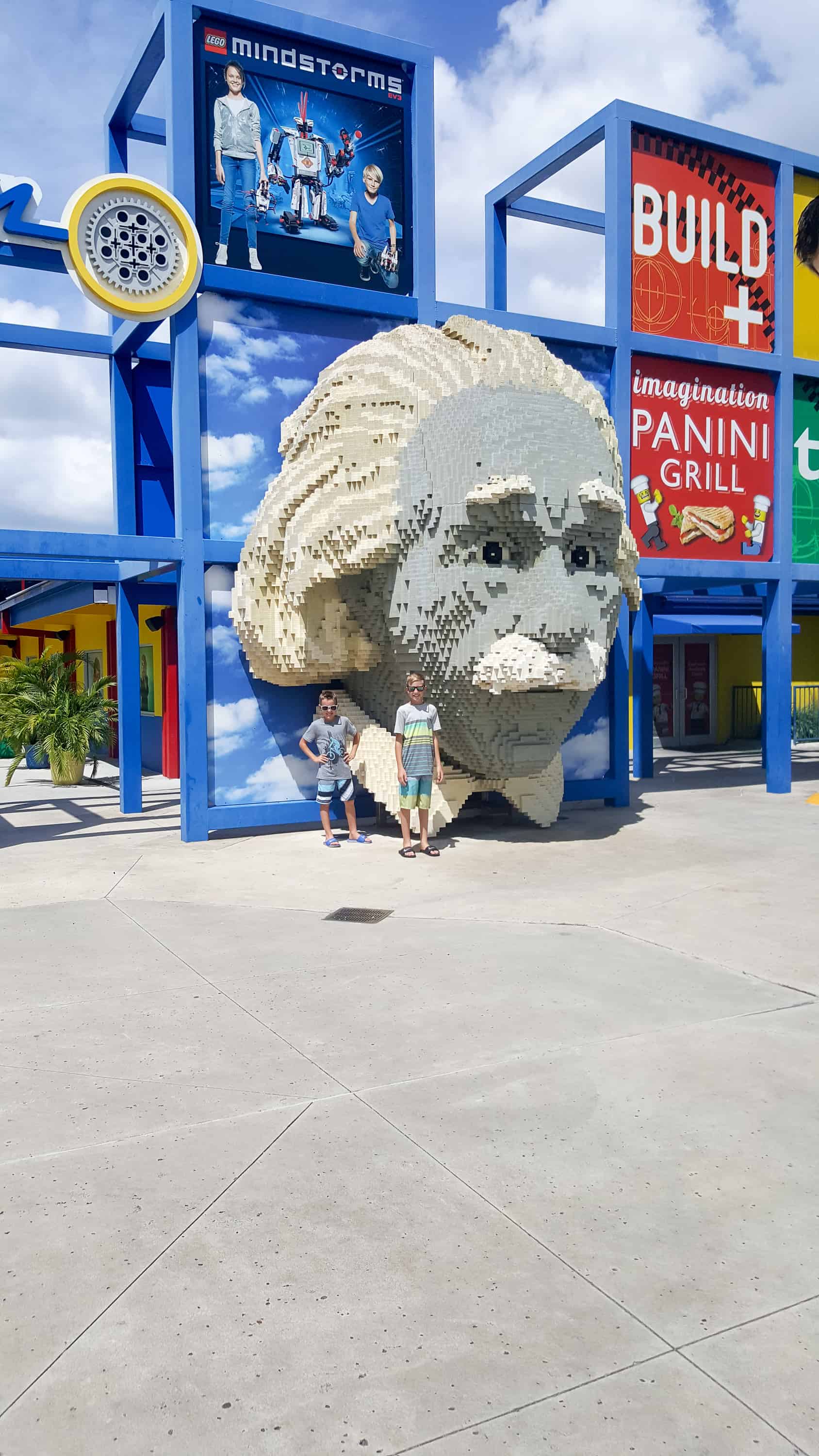 Wait a minute, I never told you about my infatuation with Albert Einstein?! 😂😂 I'm only kidding, it was actually this guy…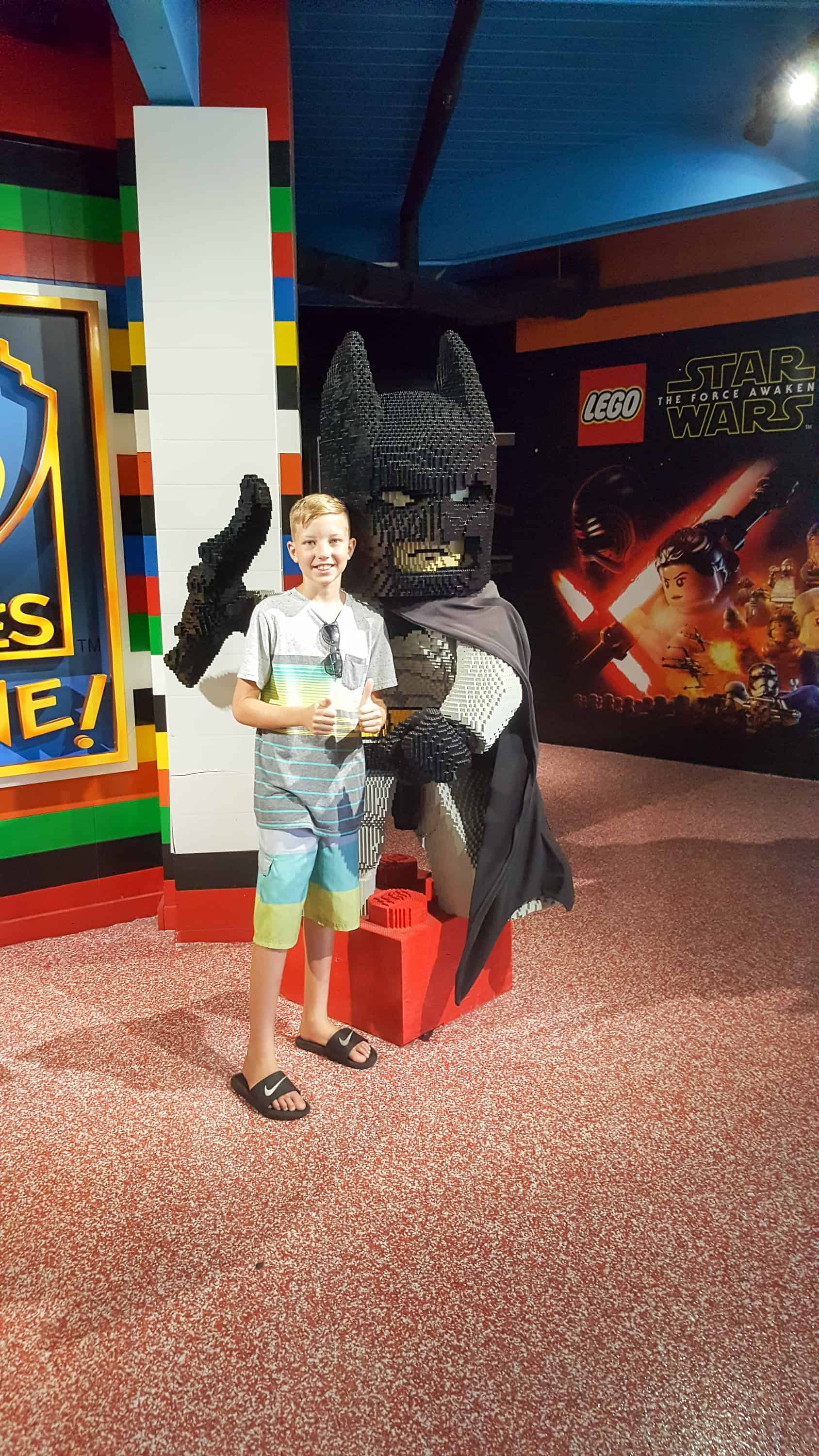 Yep, I have a thing for Lego Batman, I don't know what it is, he's so freaking cute, and hilarious!!
And his adopted son was there too!😂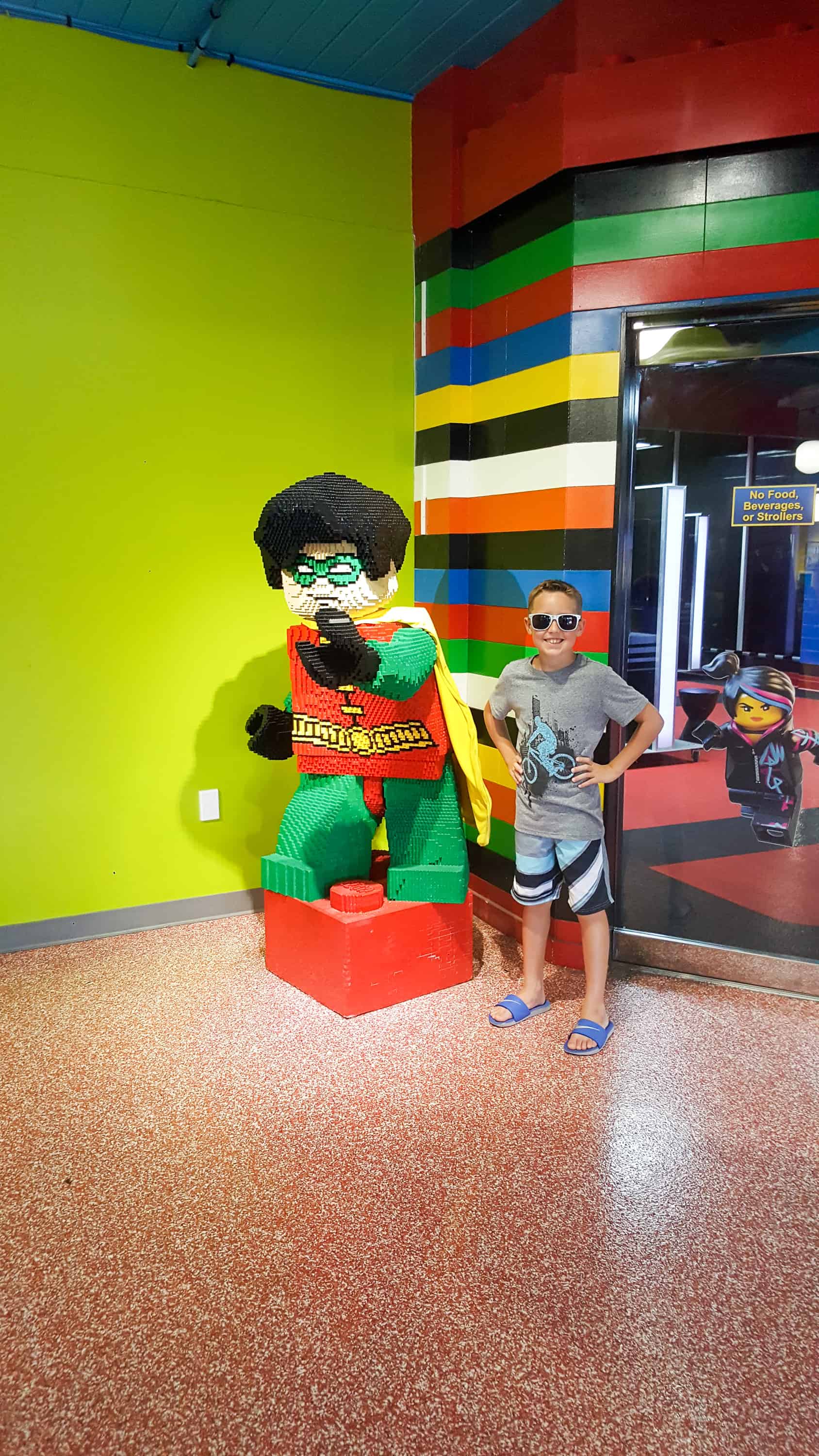 That hair though!😂
And these cool cats we ran into!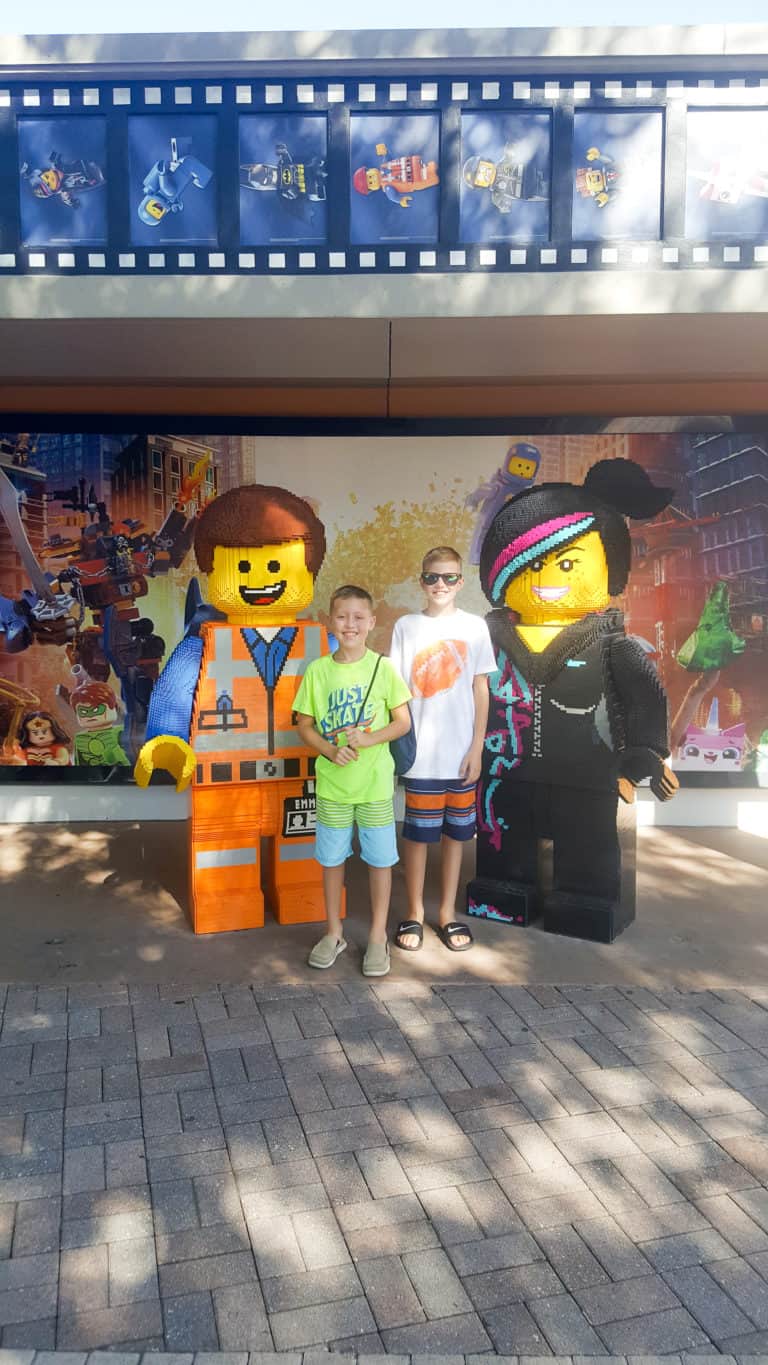 Now where was I? Yeah, we pretty much just walked around in awe for the entire first day at the park! Something worth mentioning here: Staying at the Resort or Retreat gets you into the park an hour early! This was worth every. extra. penny. of staying at their hotel! At nine a.m. it is not too hot, there are only a handful of other people in the park and you can literally ride any ride without waiting. We were able to just stay on most rides as many times as we wanted! Best. feature. ever. That made the trip perfect! And actually, the park didn't have bad lines until the afternoon I would say! I am not sure if it was because of the weather or what…it was forecast to rain each day we were there…the park was not bad even afternoon, just not as good as before! make sense?!
So the park is set up for ages 2 – 12 they say, and I would agree with this age range completely! My oldest is 11 and Legos are pretty much the only toy he will still buy, other than that he has moved on and you know scooters and skateboards, basketball, and flipping his brains out on the trampoline are things he enjoys right now! But he is not a daredevil when it comes to rides at all! If he were a little more daring on rides, he probably wouldn't have had all that much fun! Although, the Project X (Lego Technic Coaster) was pretty awesome and the Flight School I thought was pretty good even at my age, so maybe not! But in a couple of years, he wouldn't have probably had nearly as much fun!
I loved that they offered a DigiPass for the pictures, for $55 we were able to get all our pictures from the rides on a card and I was able to download them to print on our own instead of paying $17 per picture! Here are some of the fantastic shots they were able to capture!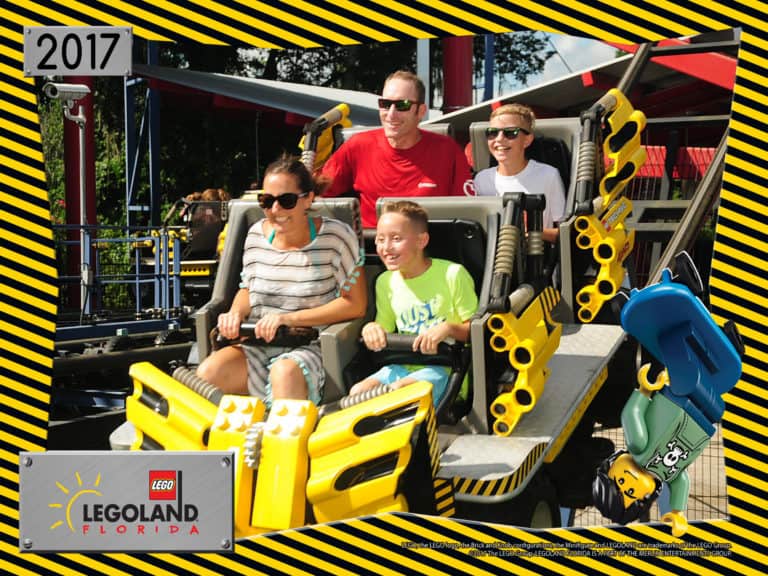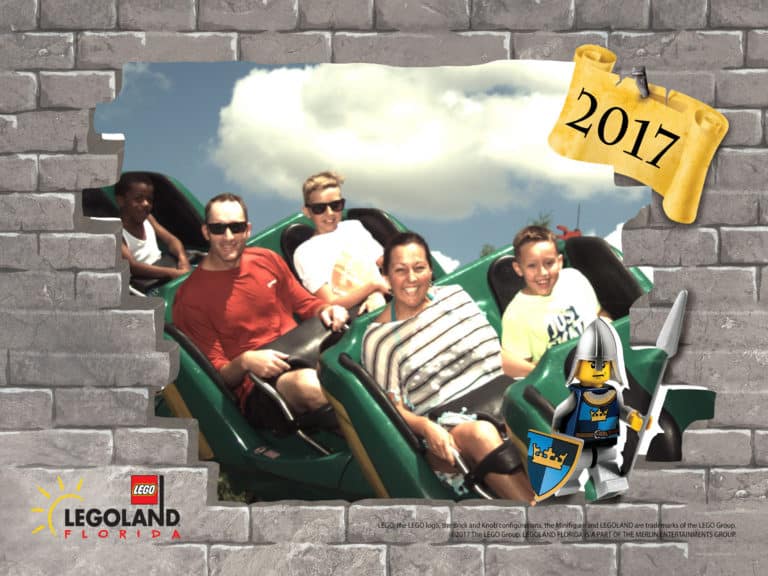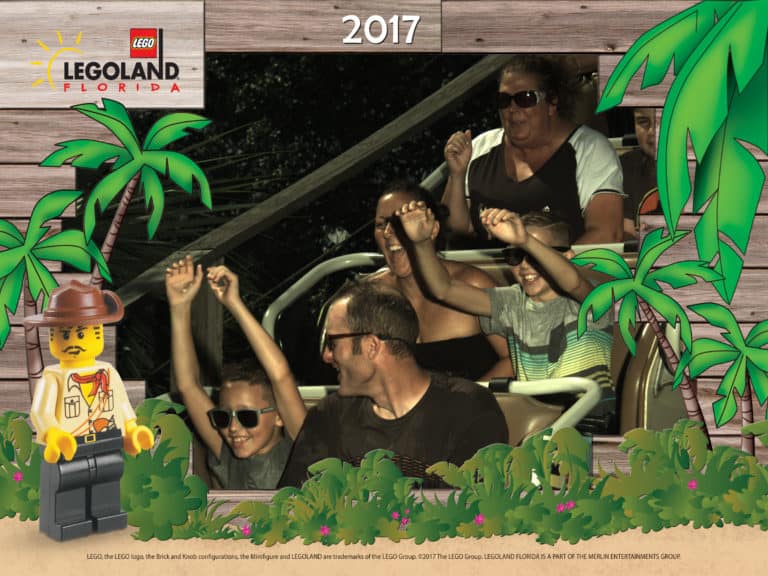 I love the adorable borders around the photos! Some of our photos did not end up on our card even though we stopped and got it scanned, so that would have been a bummer, but I think they just felt sorry for me I looked so bad in one of them!! 😜
When it warmed up throughout the day it sure was nice to go cool down in the water park! They had the large, floating Legos in a large wave pool and they had build-able floats in the lazy river that you could use them on too! So of course my boys really enjoyed this! I don't think we took any pics in the waterpark though because we put all of our belongings in a locker! Darn it! The waterpark was definitely on the small side but in the Florida heat worth the $80 extra for all of us, for both days!
Each day we partied in the park from 9 in the morning until it started raining around 4 p.m. and then we would head back to the room and get cleaned up. The boys would usually rest a little, and then we would grab dinner and head to the pool at the Retreat! There was a large playground within the pool area as well, so if the kiddos didn't want to swim they could still have fun! There were also small play structures in the middle of every five or six beach bungalows as well!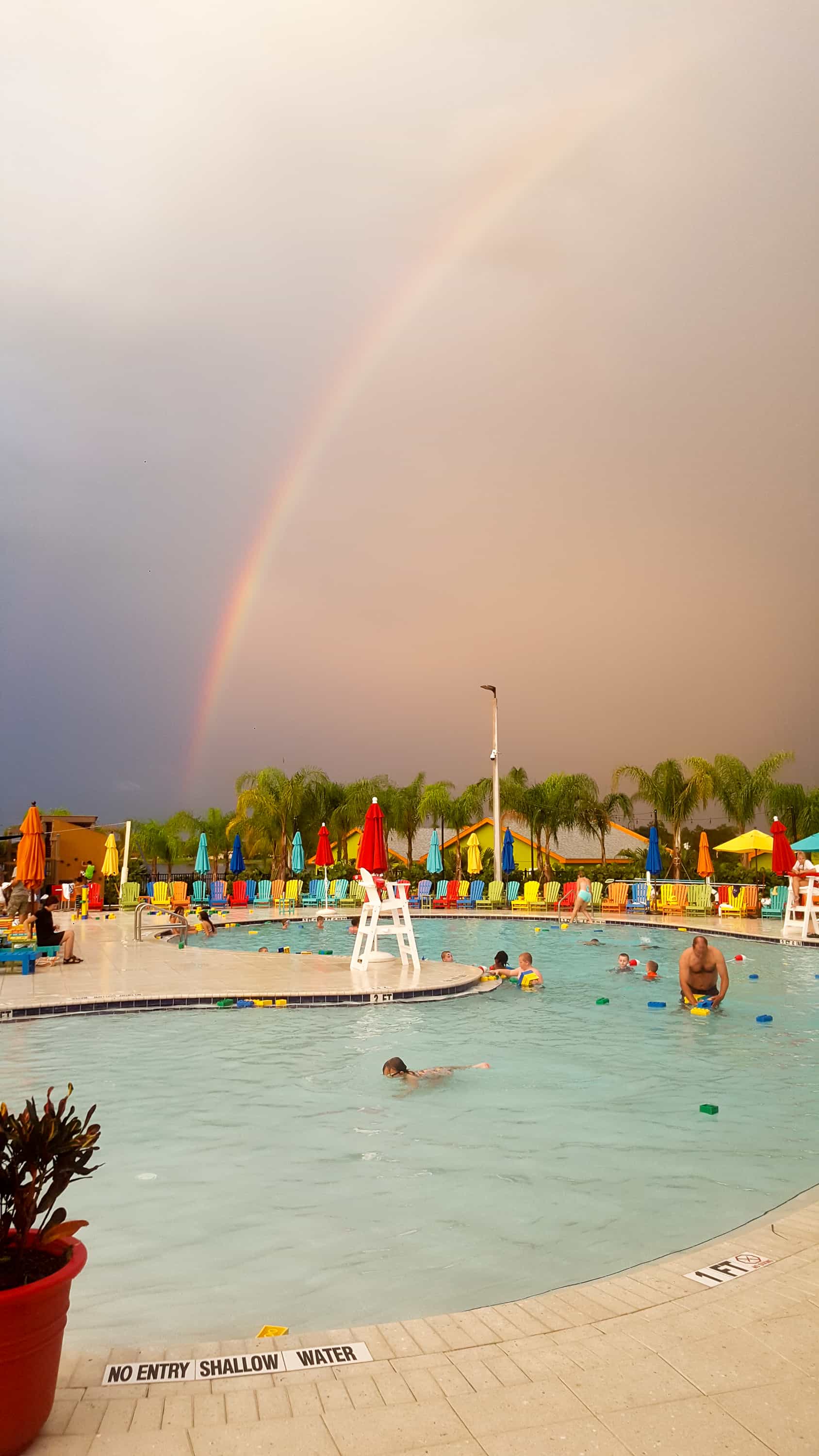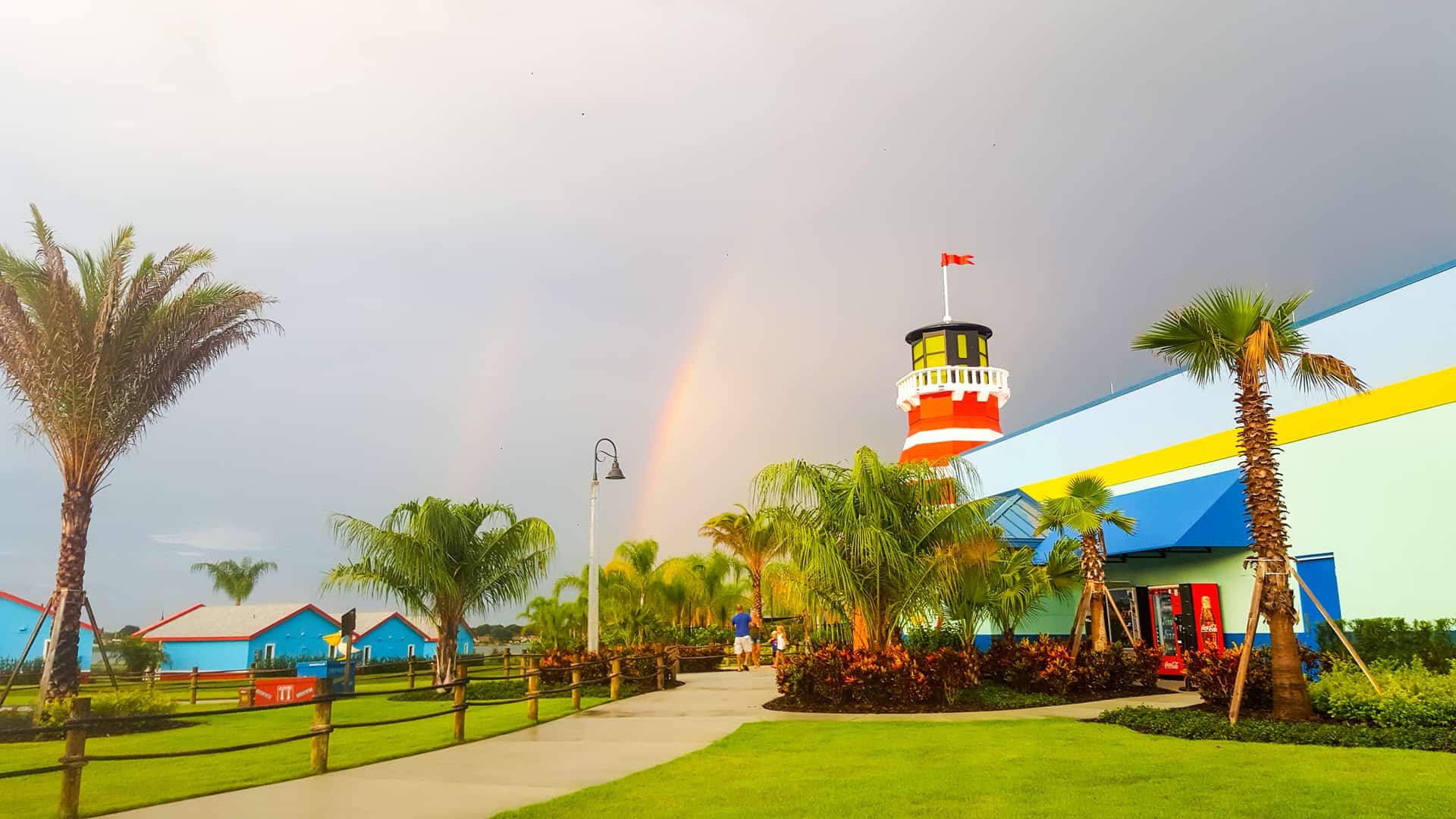 Is that not the prettiest picture ever?! Lol!! Double rainbow right after a large rainfall!!
We made sure to hit up the shops several times! I was slightly disappointed with the stores within the park simply because they didn't offer any exclusive sets, they only had one set that was a small train, I'm talking small, ten dollar set! And, there were two bargain stores but they didn't have anything more than 10% off and it was on one set that the box was heavily damaged! Not what I would expect when they advertised discounted and discontinued sets! But they still managed to shop and have a good time doing it!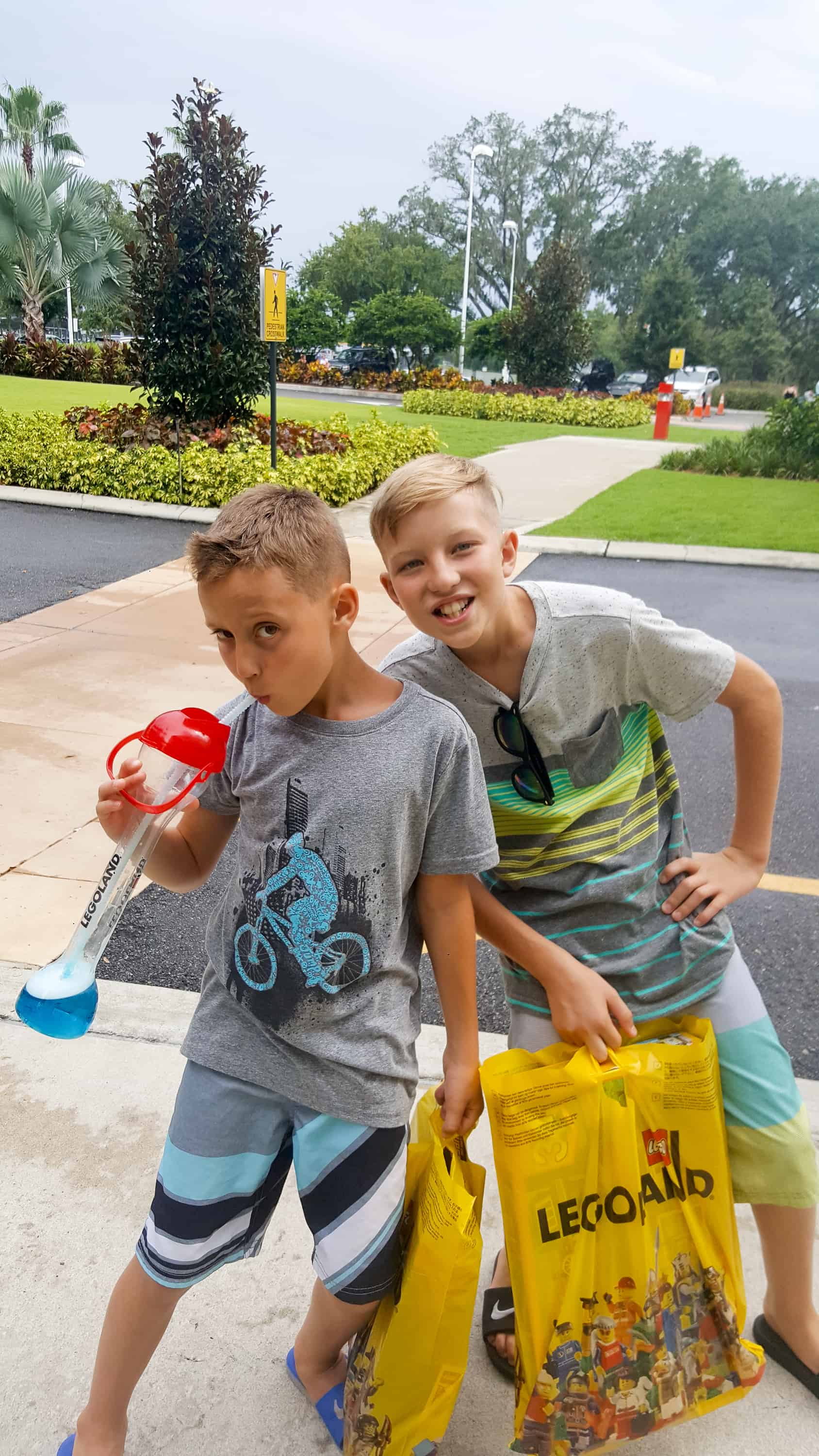 Second Day – Legoland Florida Vacation
Having two days in the park really was great since we didn't get to do much exploring the first day, we were just hitting all the rides they wanted to ride!
The second day, we rode all the rides again in the morning, and then we were able to catch the show! Pirate's Cove Show was a pretty good water ski show! At first, all of us were thinking, "Cheesy!" But it got better and turned out pretty cute!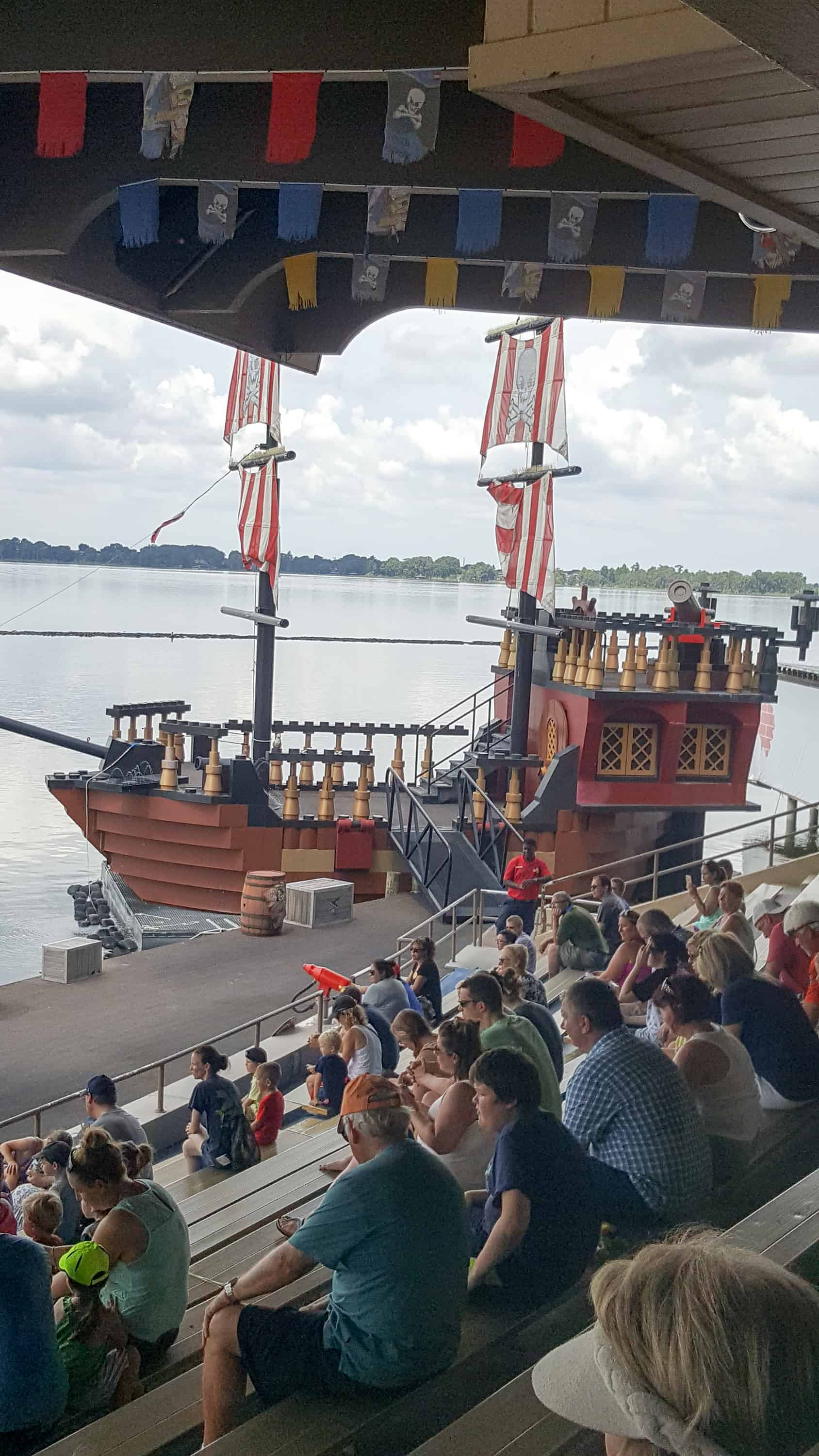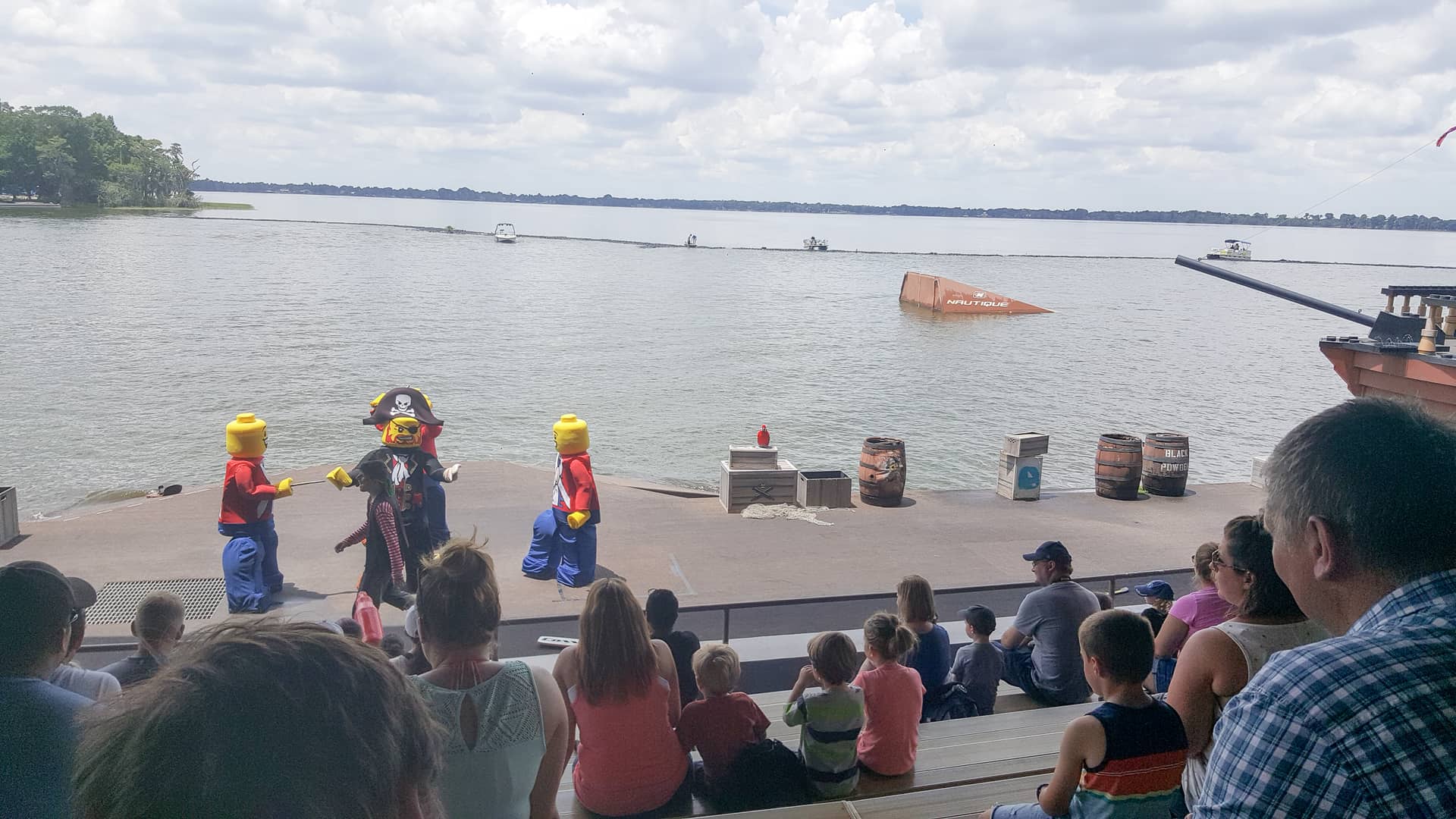 I had a video of them skiing in a pyramid but couldn't upload it for some reason!
We also were able to tour the Gardens, I was told later at Haven that Legoland used to be Bush Gardens….it all made sense why there would be this amazing garden among this kid's theme park!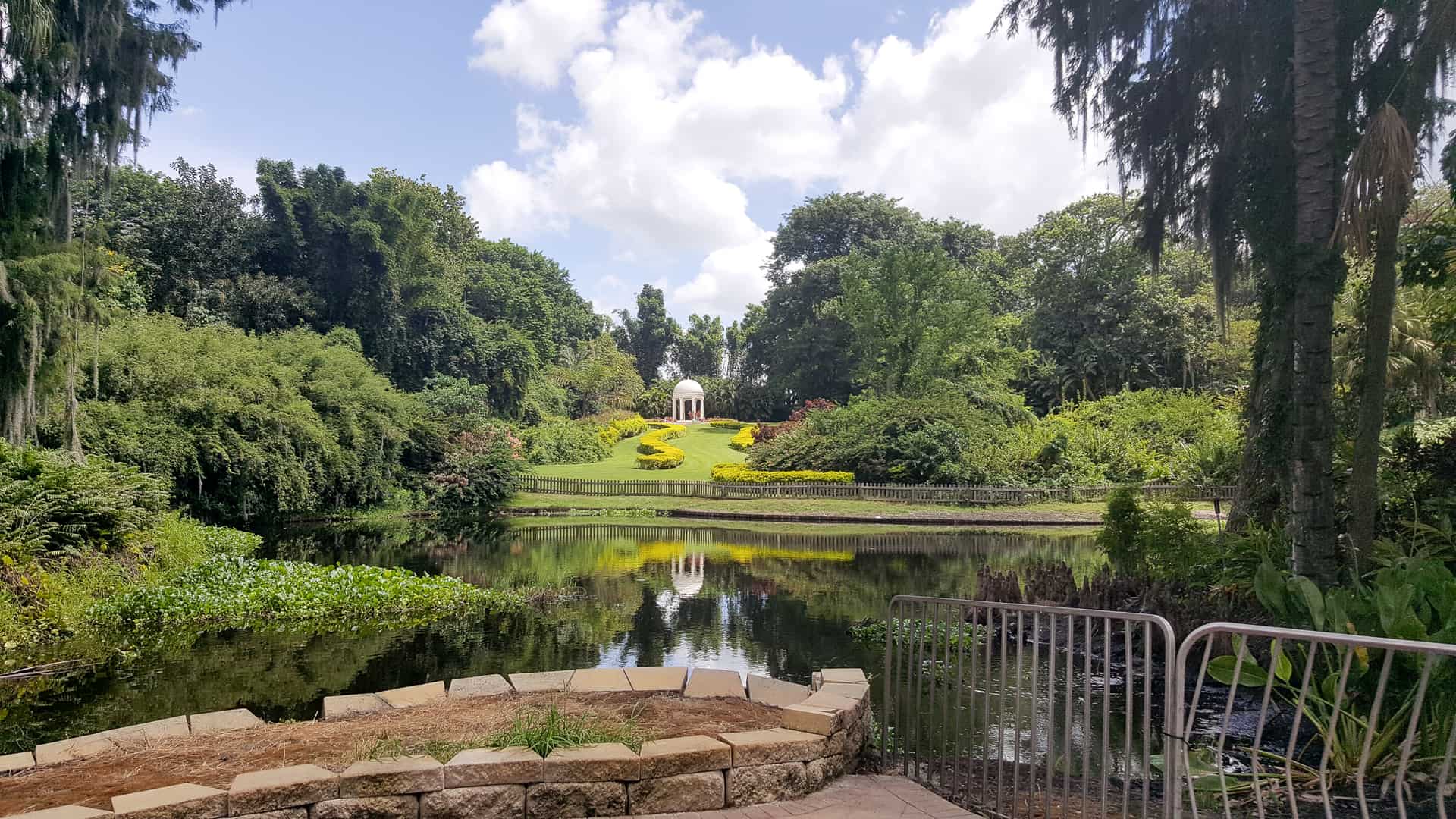 Mini Land was a huge hit with my boys as well! The mini famous US cities such as Las Vegas, New York, and Legowood!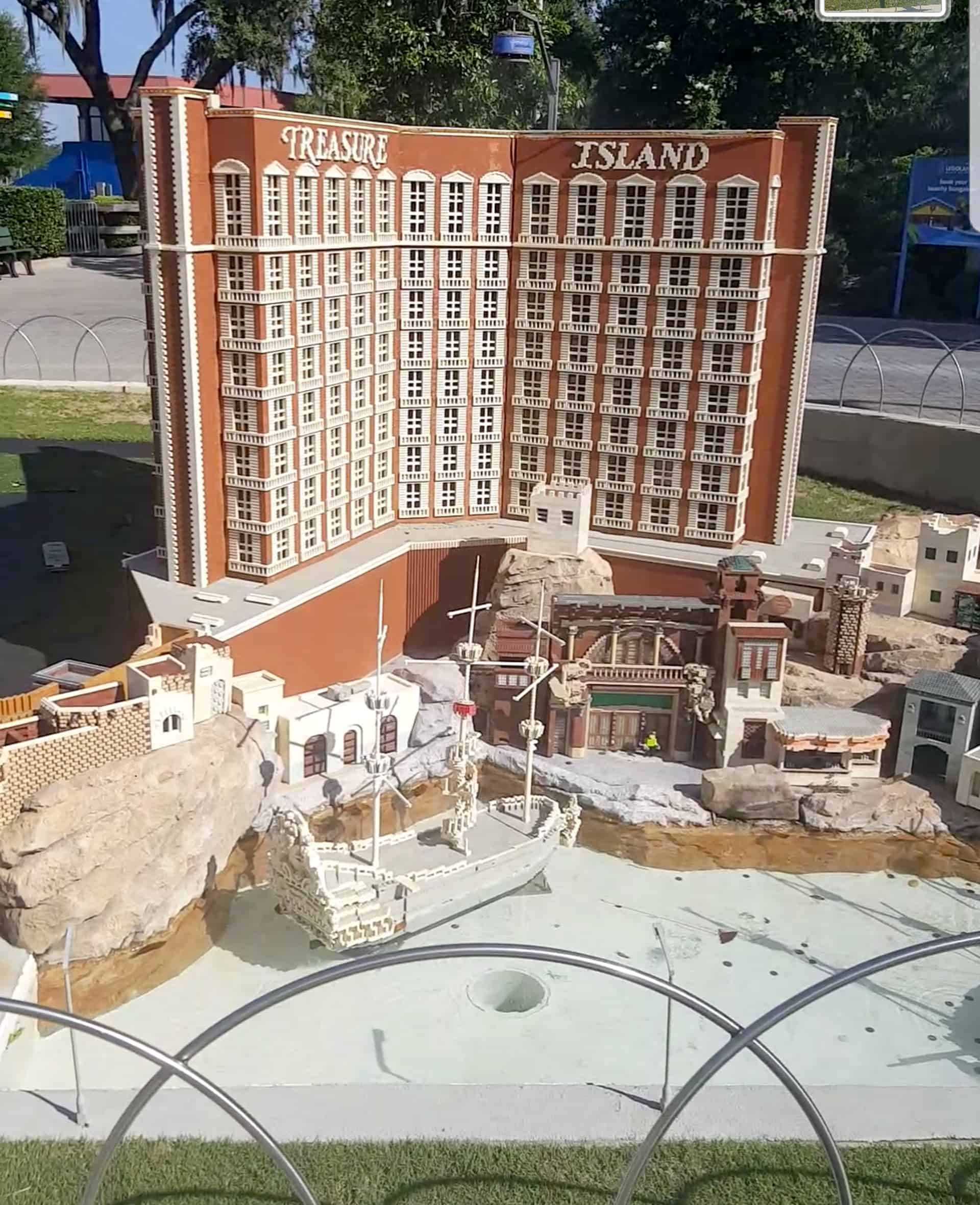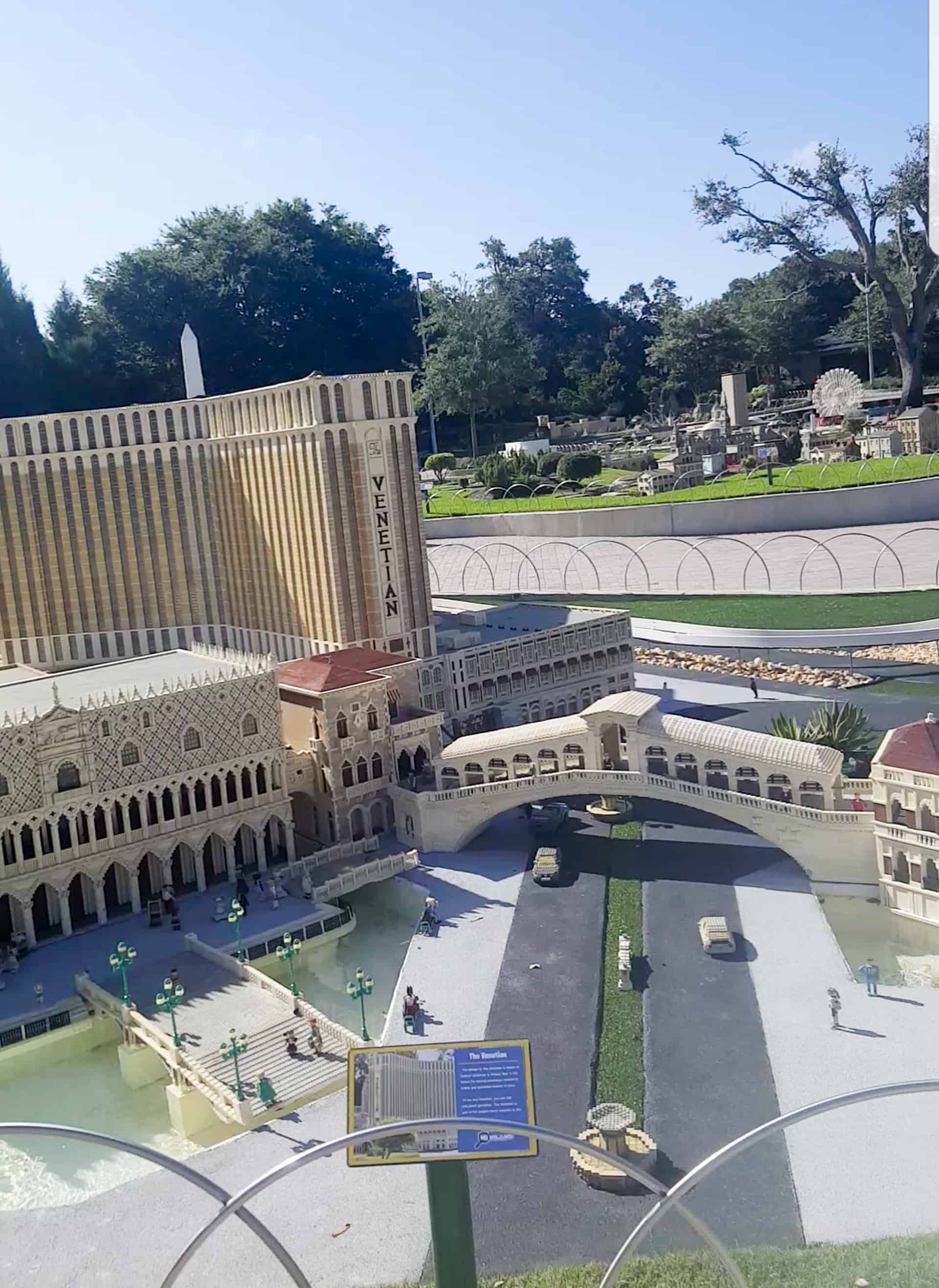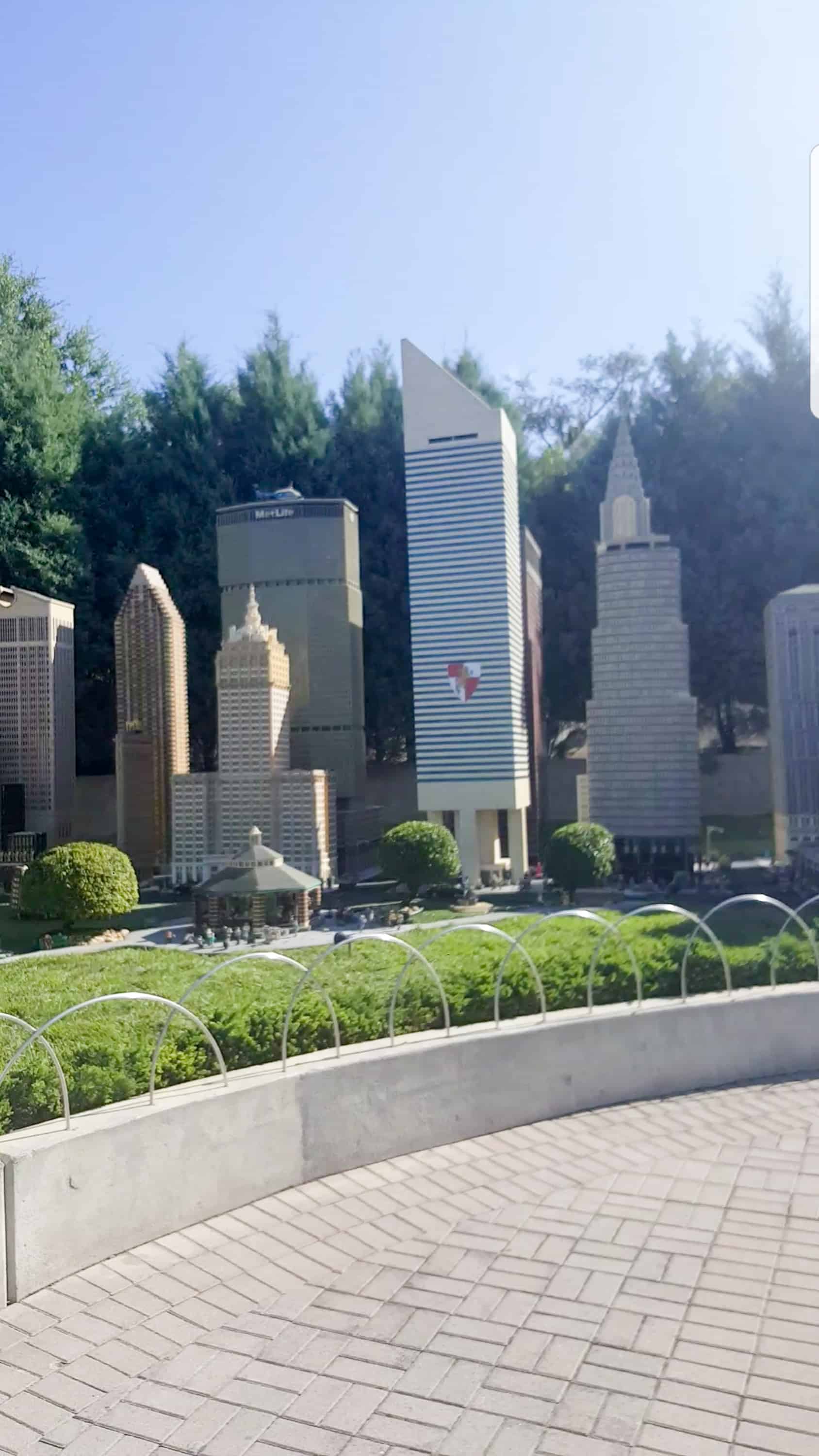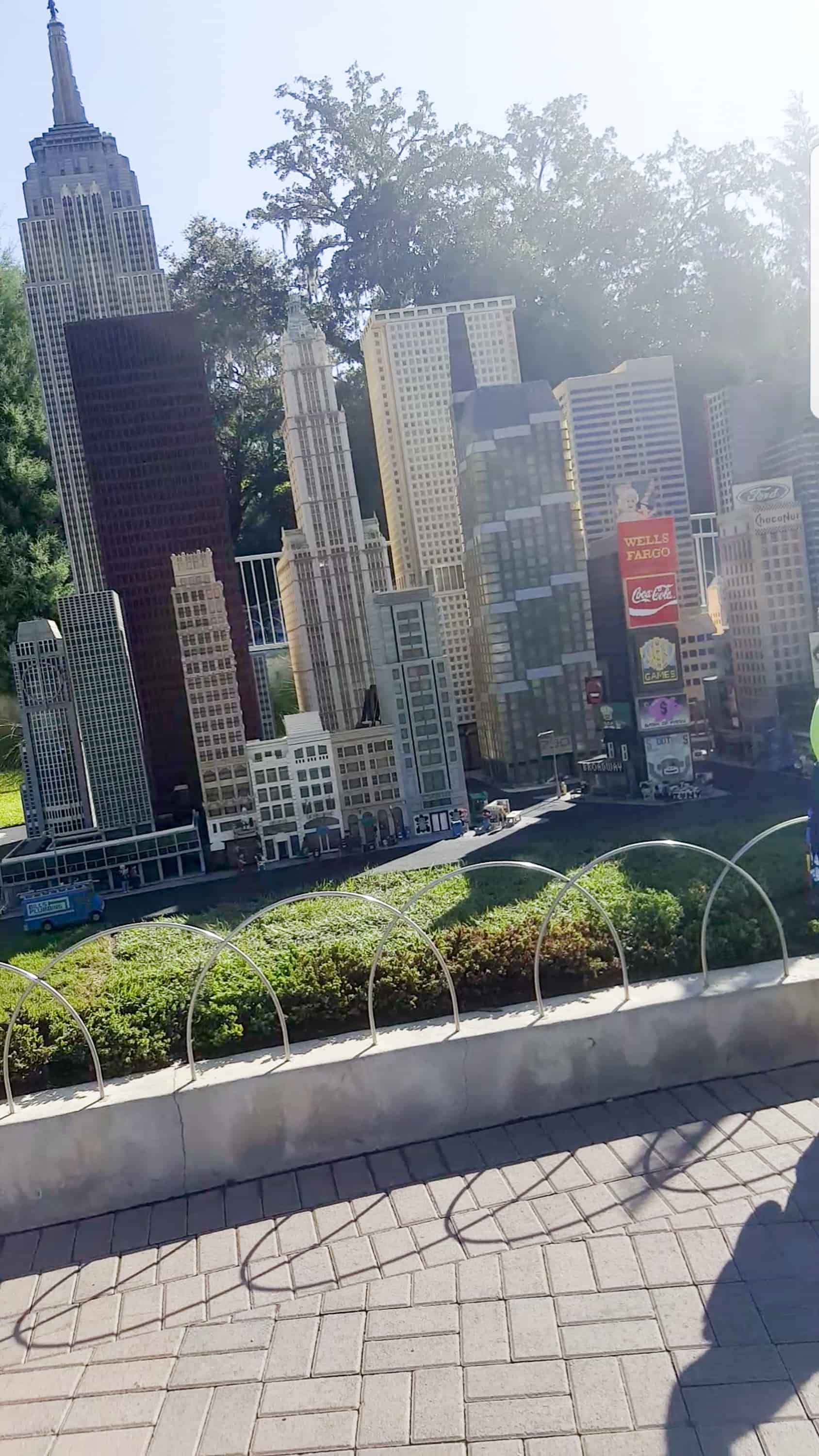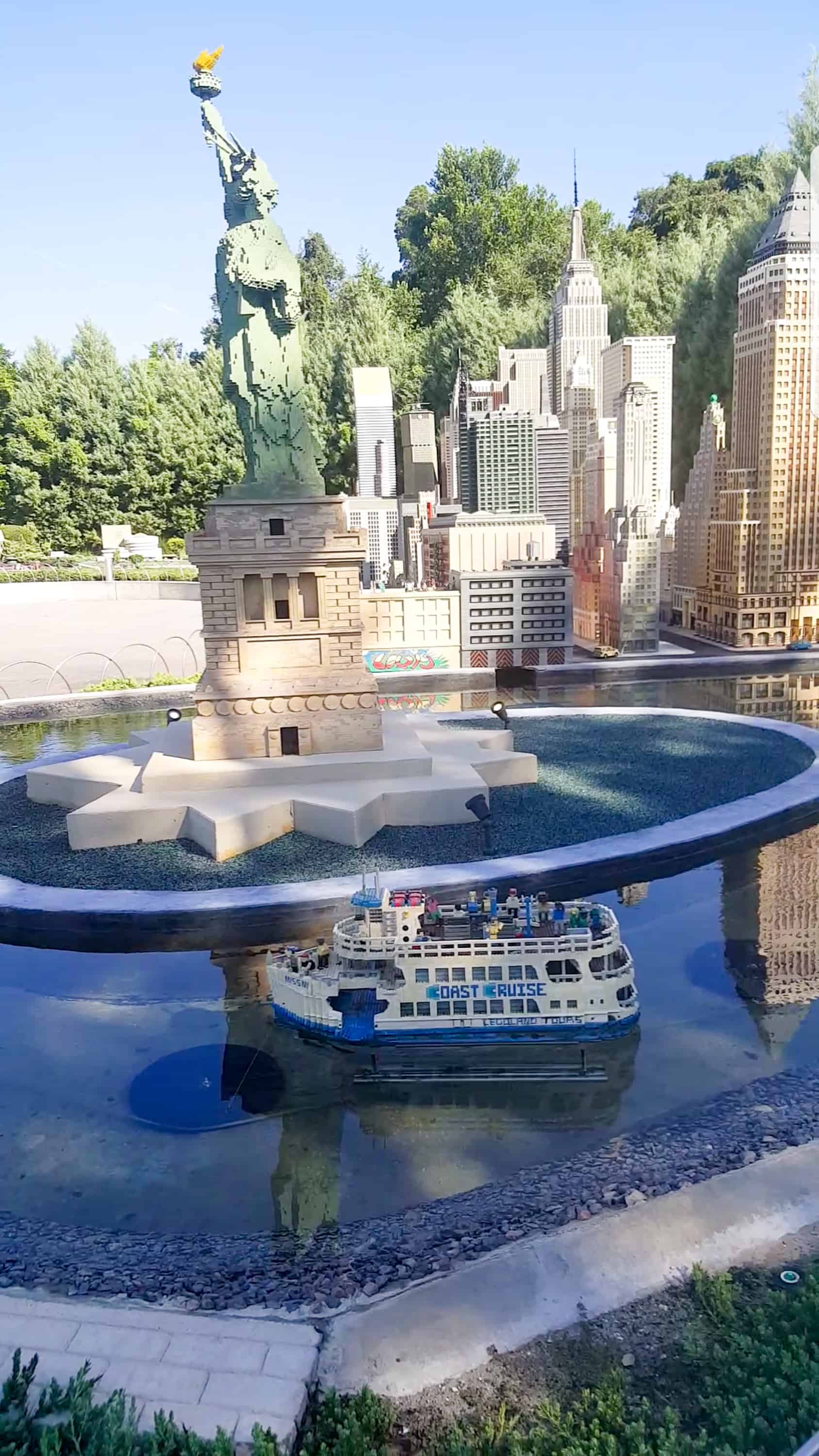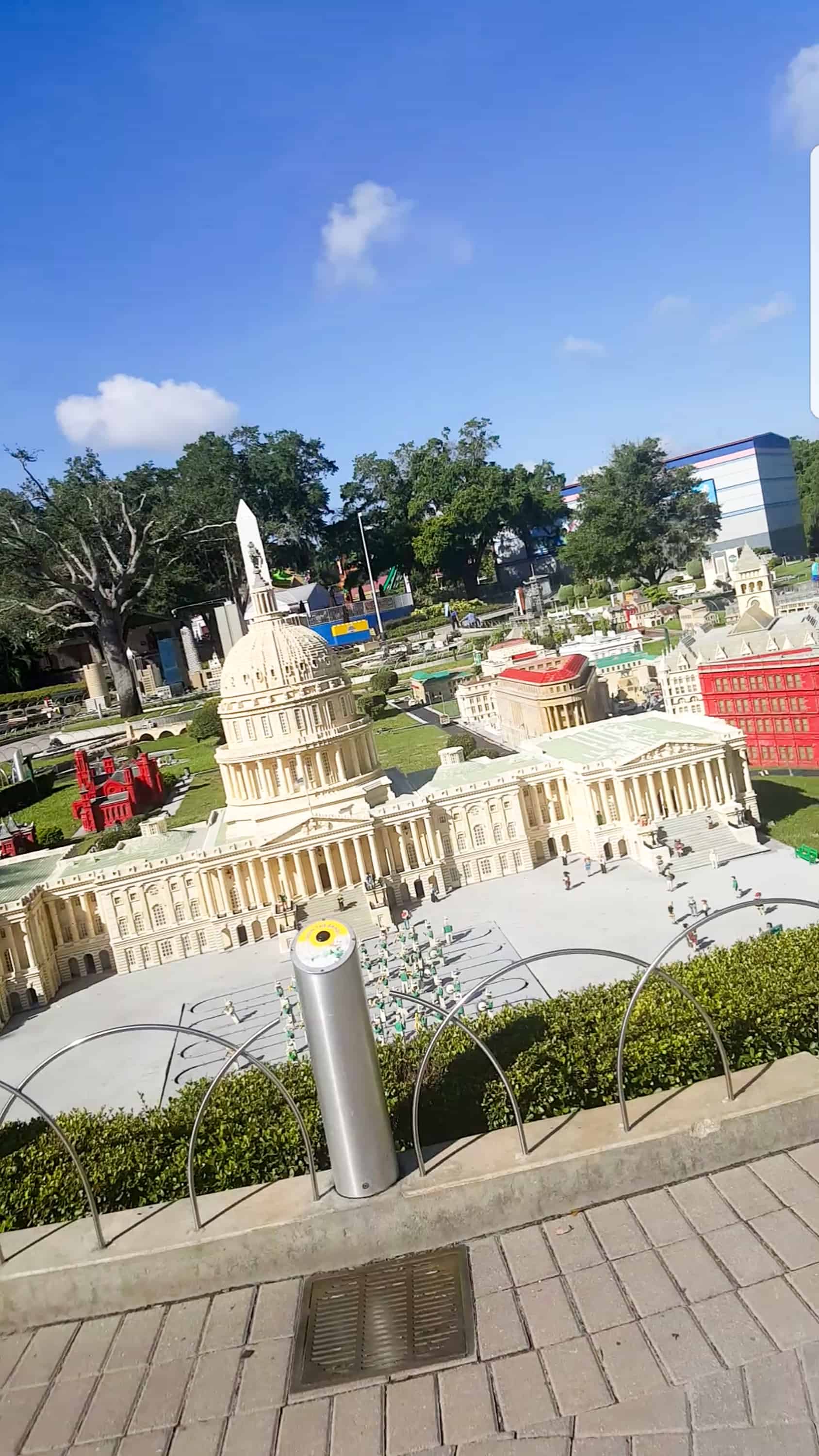 The Star Wars area blew our minds! The Millennium Falcon moved up and down!! It was just amazing!! If you have Star Wars fans, this will be a hit!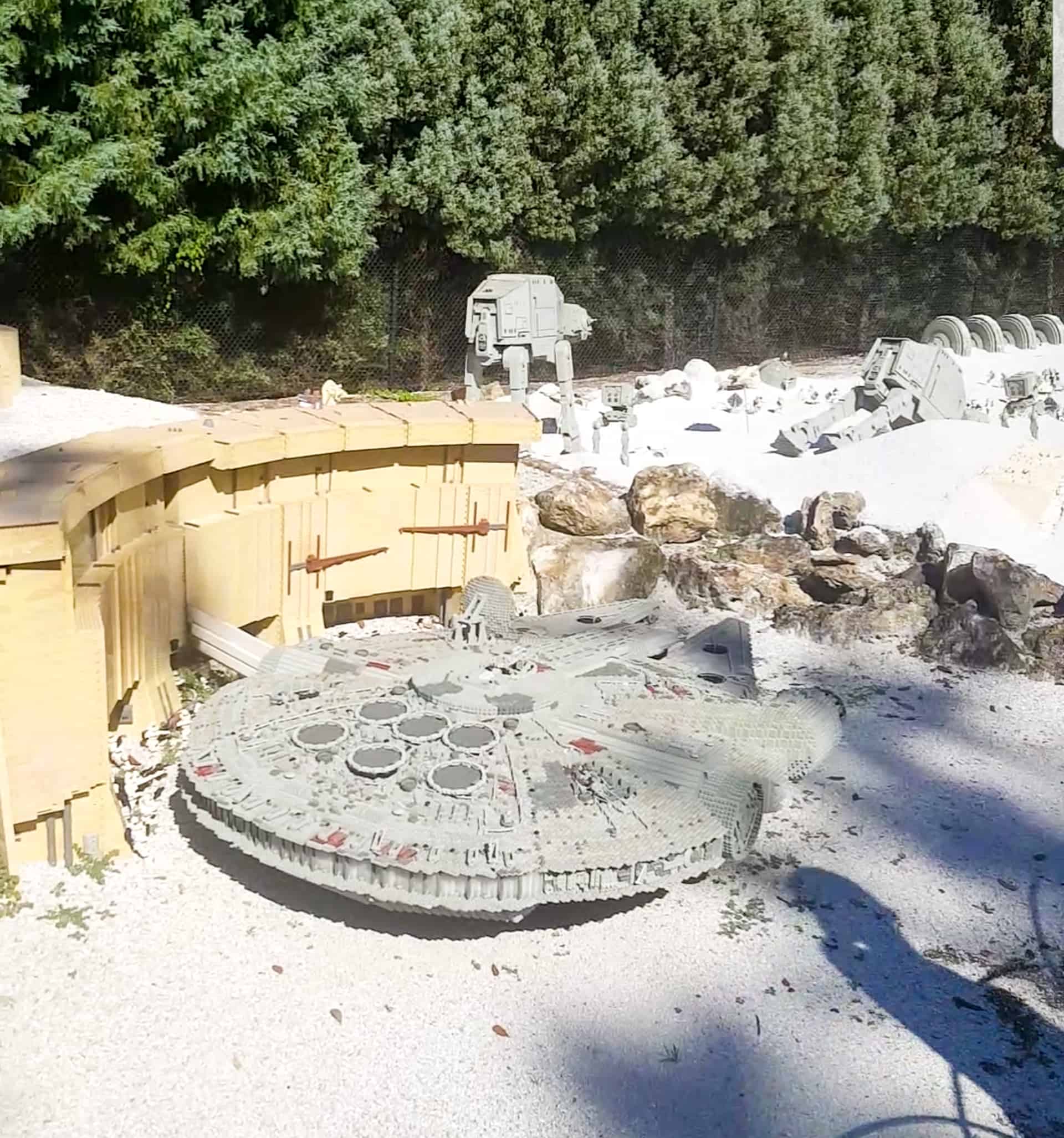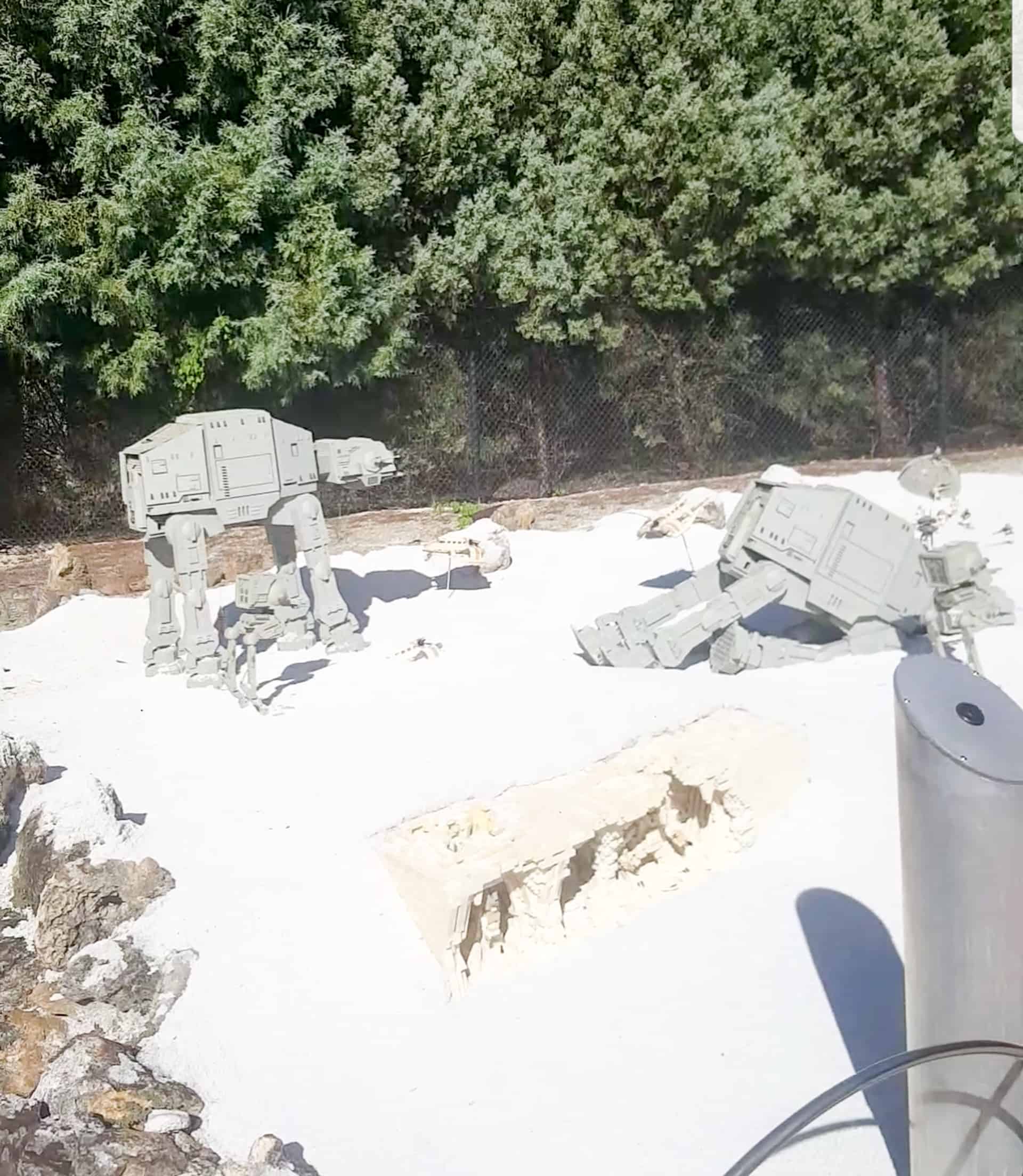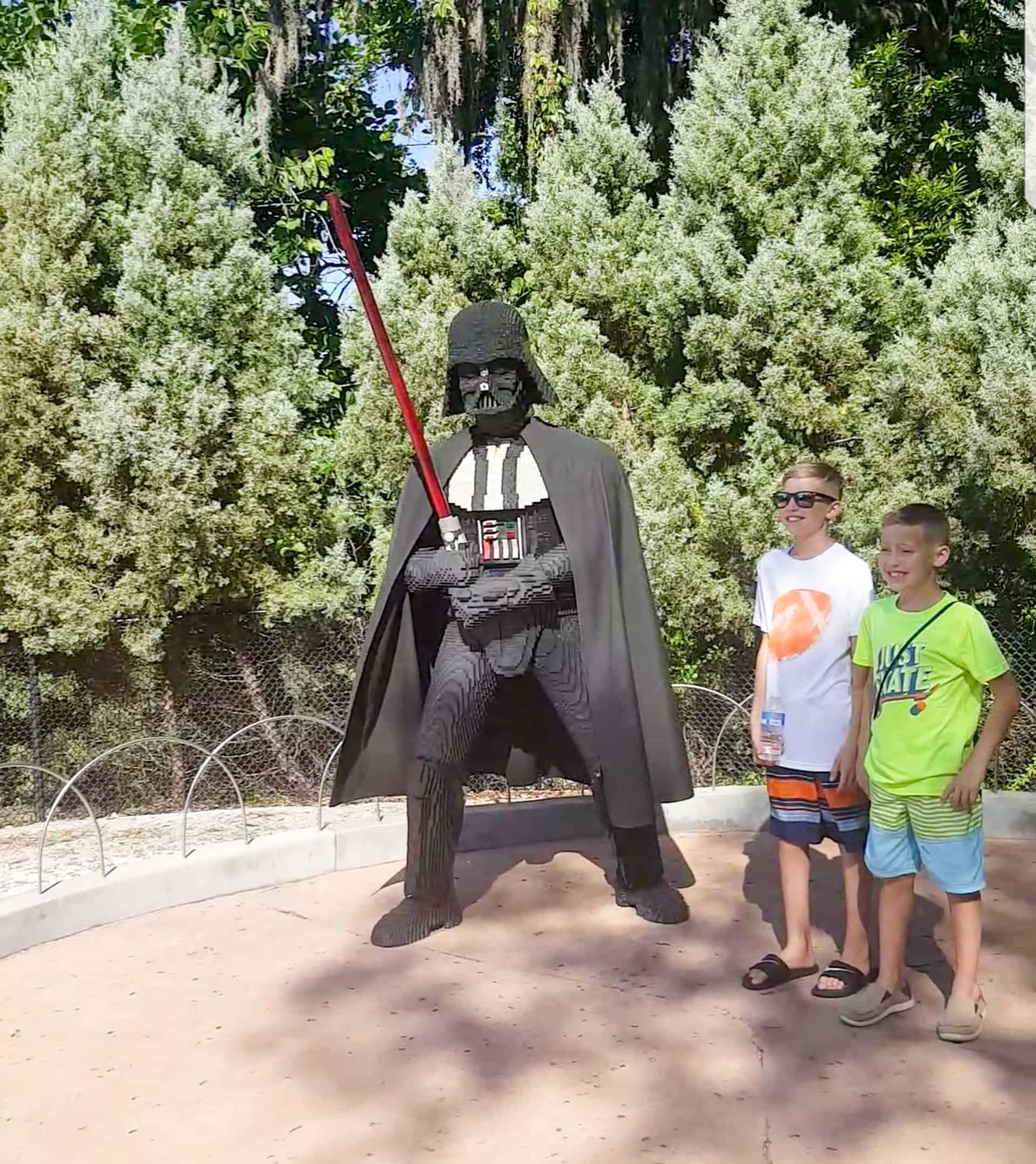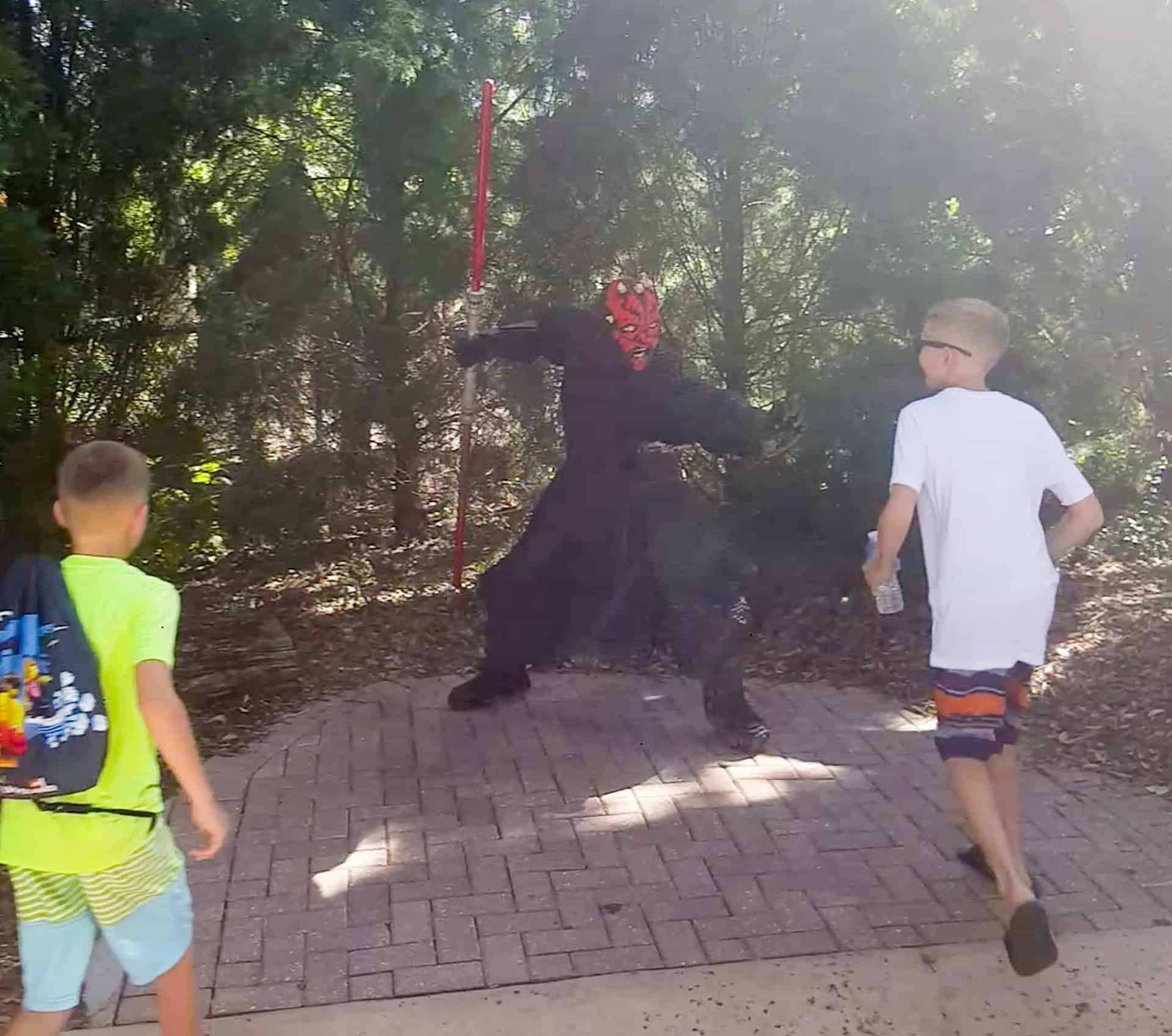 They look like they were going to attack Darth Maul!! 😁
I begged the boys to walk through Heartlake City with me even though it was all pink and girlie!! Let me tell you, they were so glad they did….we found our favorite ride!! The pony ride was one of the large spinning disks that slide along a huge U shape, and was a blast!! We probably rode it 15 times!!😂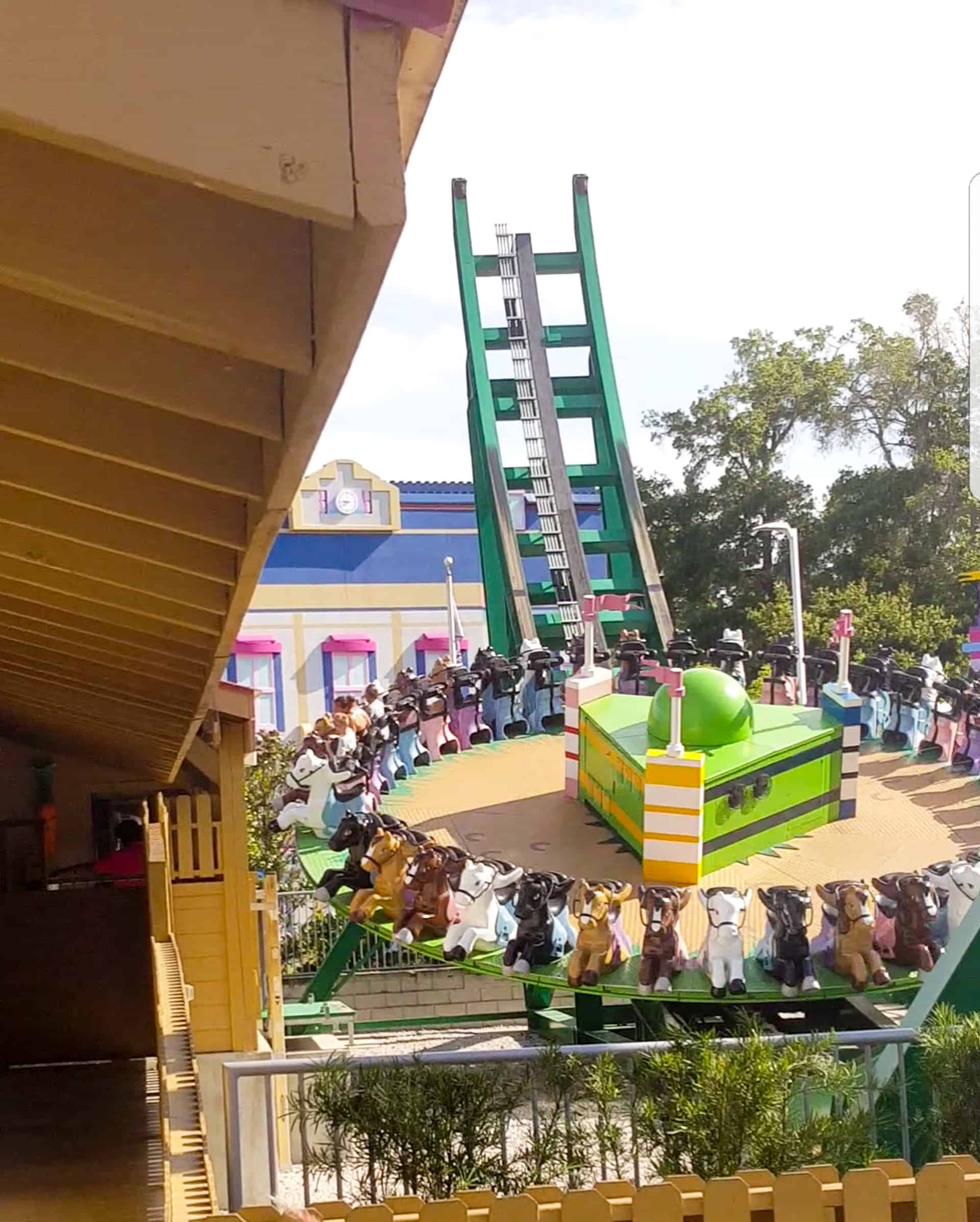 Notice we are the only three on the ride (far left of the ride)…I told you, no lines before noon!!
We enjoyed Ninjago City as well which was a 2017s brand new attraction!! My youngest is ALL about them ninjas!! The ride was a 3D ride and though we all enjoyed it, ultimately we prefer outdoor rides!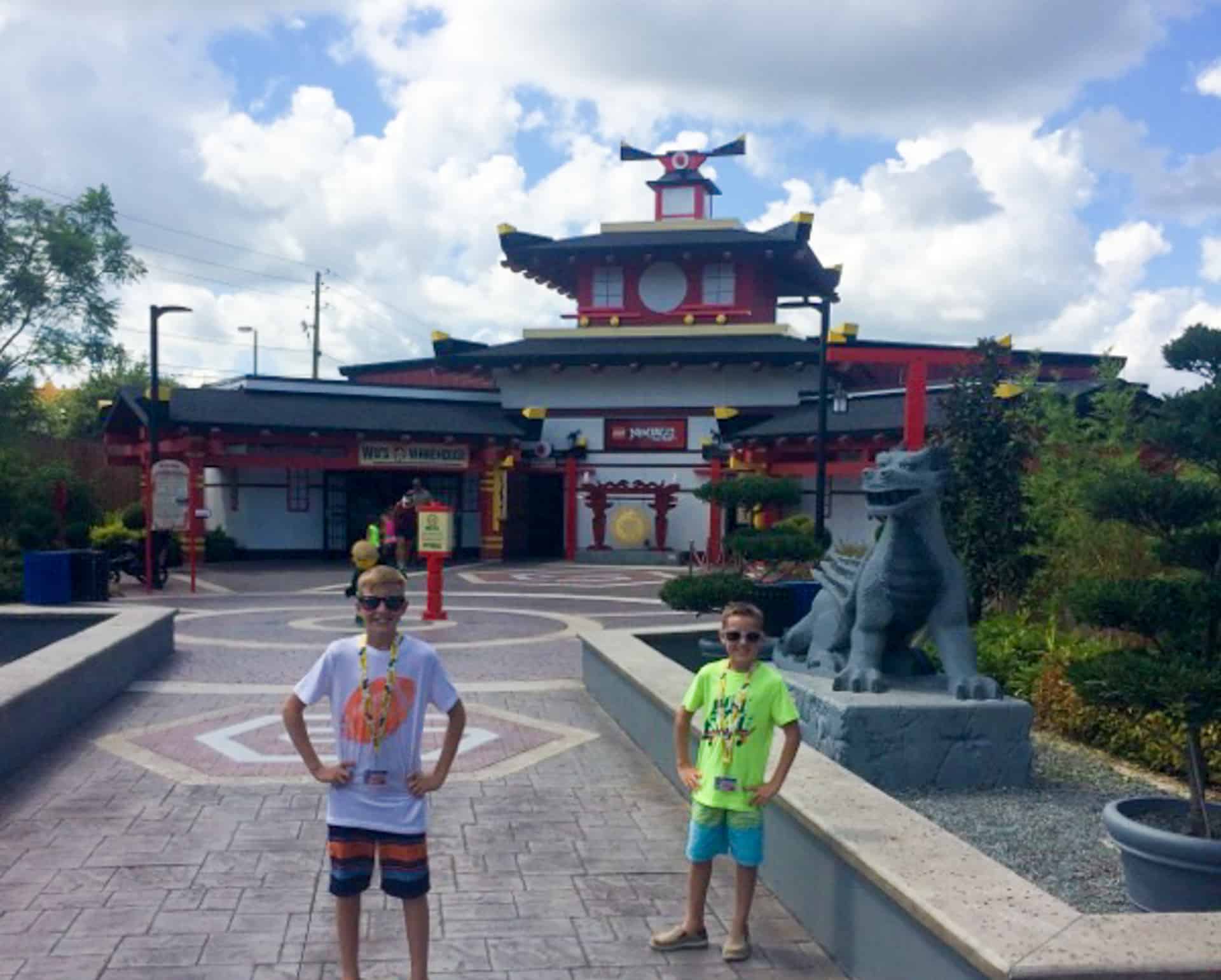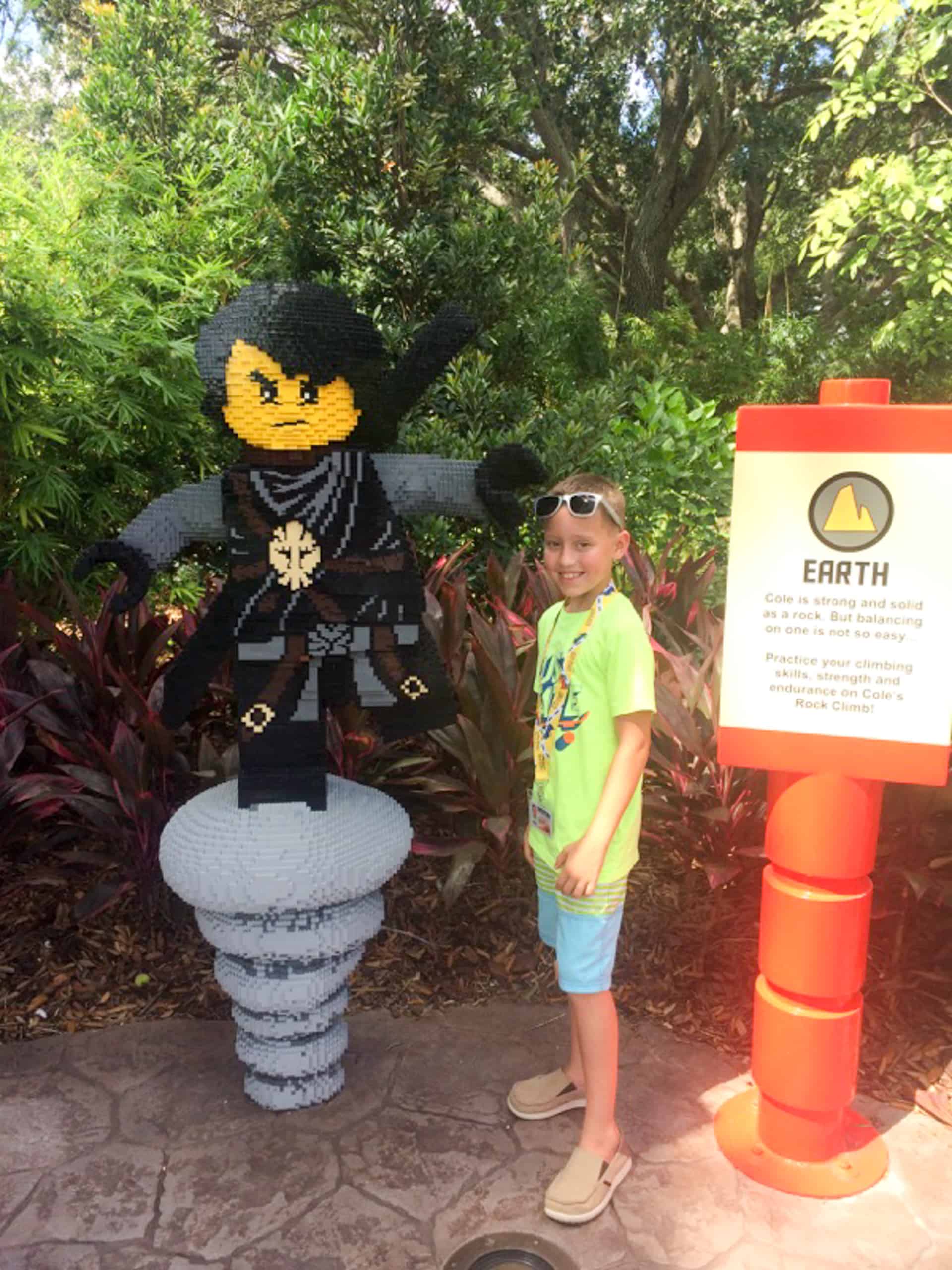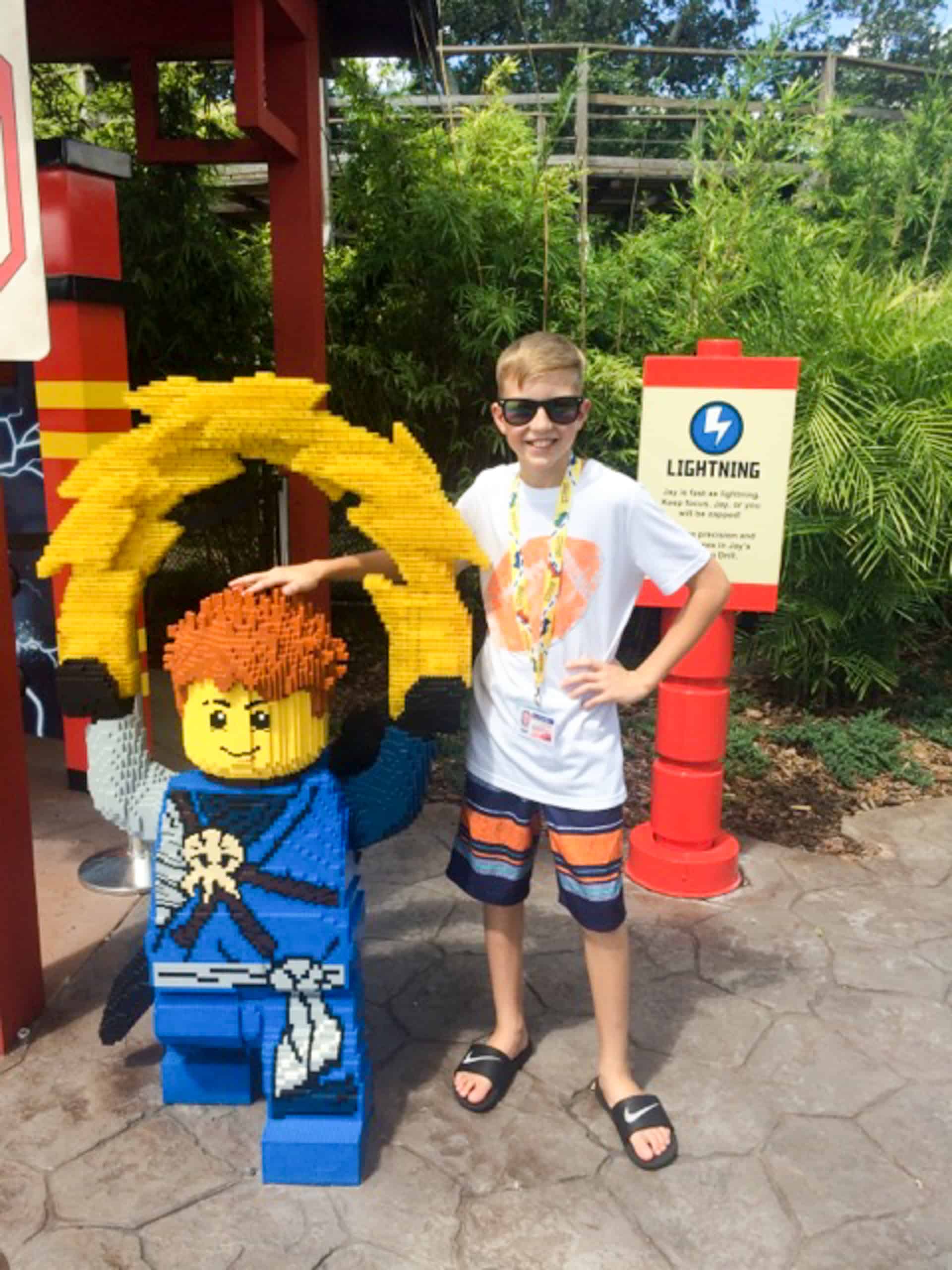 Lego Driving School was probably one of my boys' favorite places too, even though the cars went super slow! Lol! They had fun watching the video and then the moment they had been waiting for since before we ever left to go on our trip…Legoland Driver's Licenses!! What kid doesn't want a plastic license with their picture on it?
It does cost extra to get their license…of course right!! Plus outside of the driving school was my absolute FAVORITE sculpture in the whole park!!!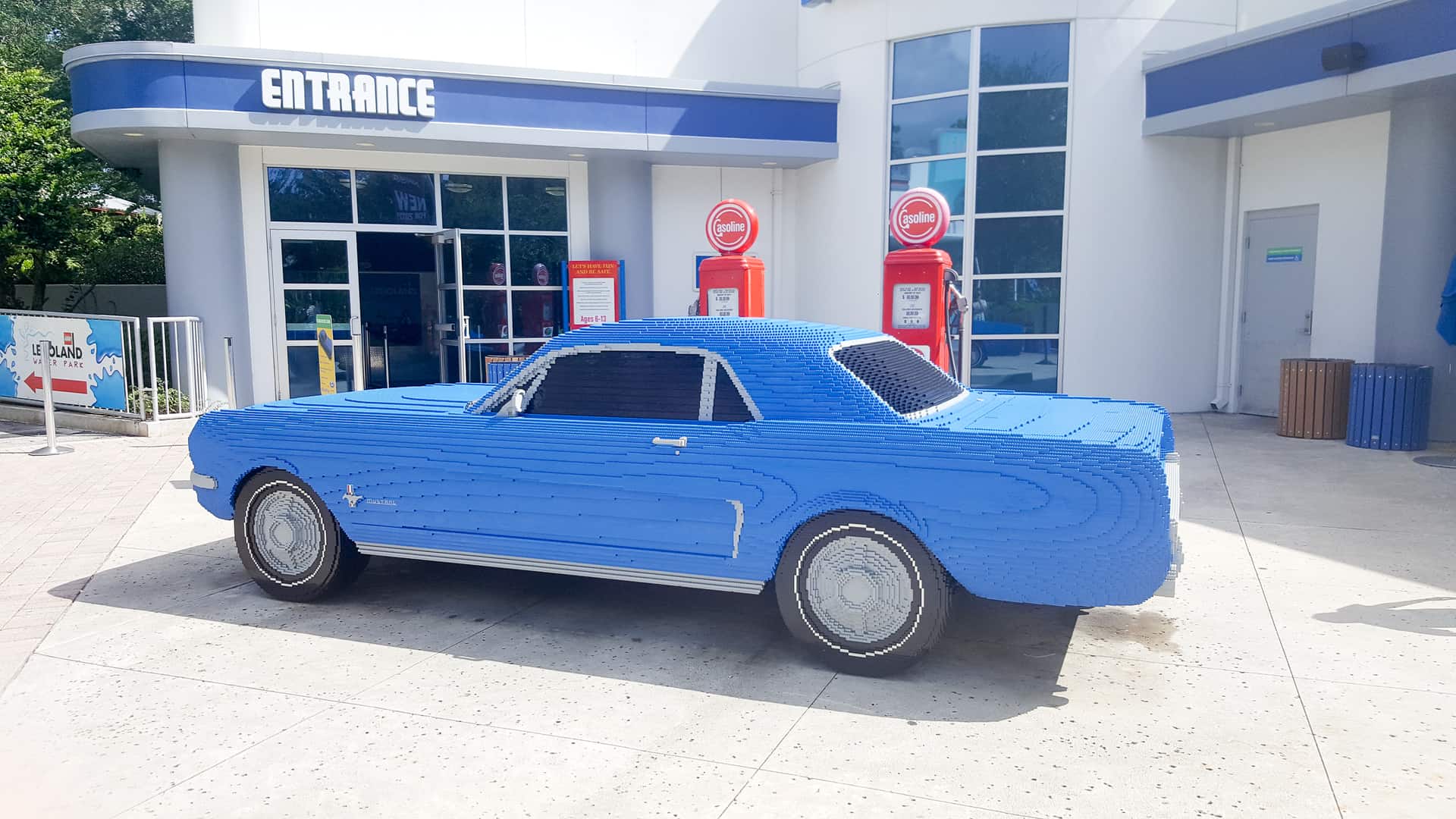 It even made real car sounds!!! I am trying to build my own since returning home since I didn't figure stealing it would be possible!! 😂😂
On our way back to the retreat on our last day in the park, we walked over to the resort to check it out since we didn't stay there! It was pretty cool too!!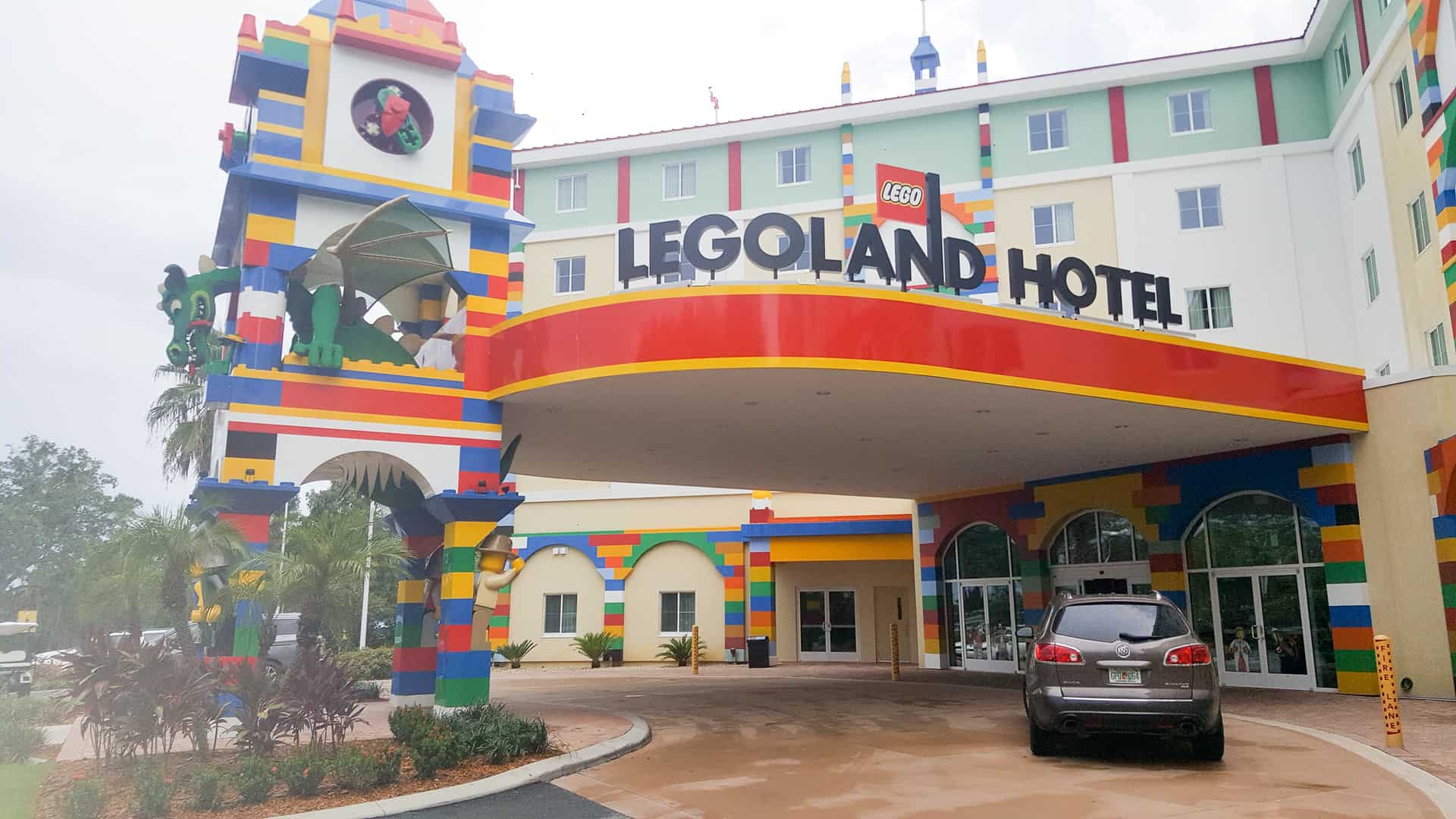 This little indoor play area was something the Retreat didn't offer!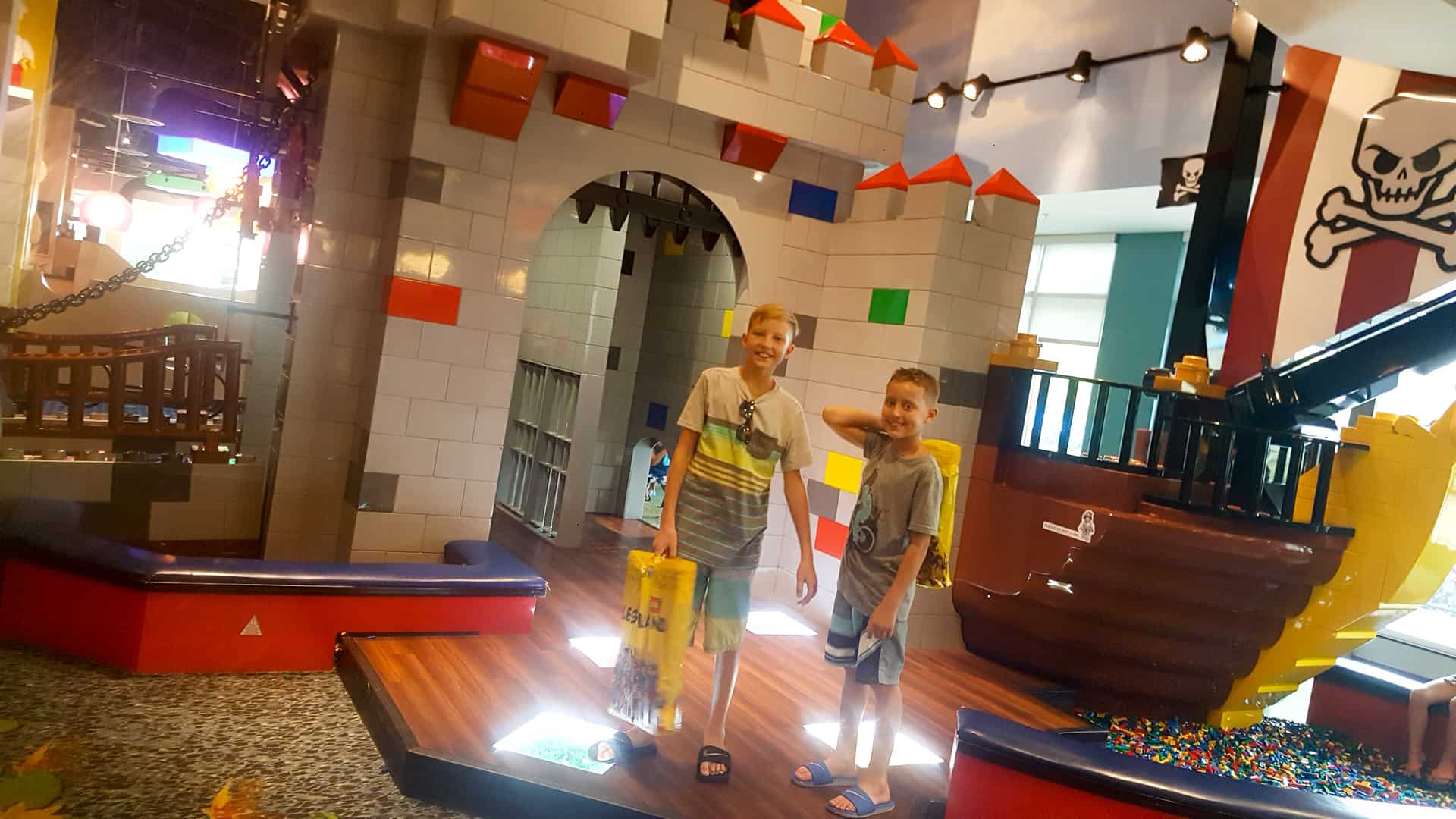 And one of my favorite features of the resort was this Lego Minifigure Wall!! Behind the check-in desk was a solid wall of minifigs!!! Way too cute!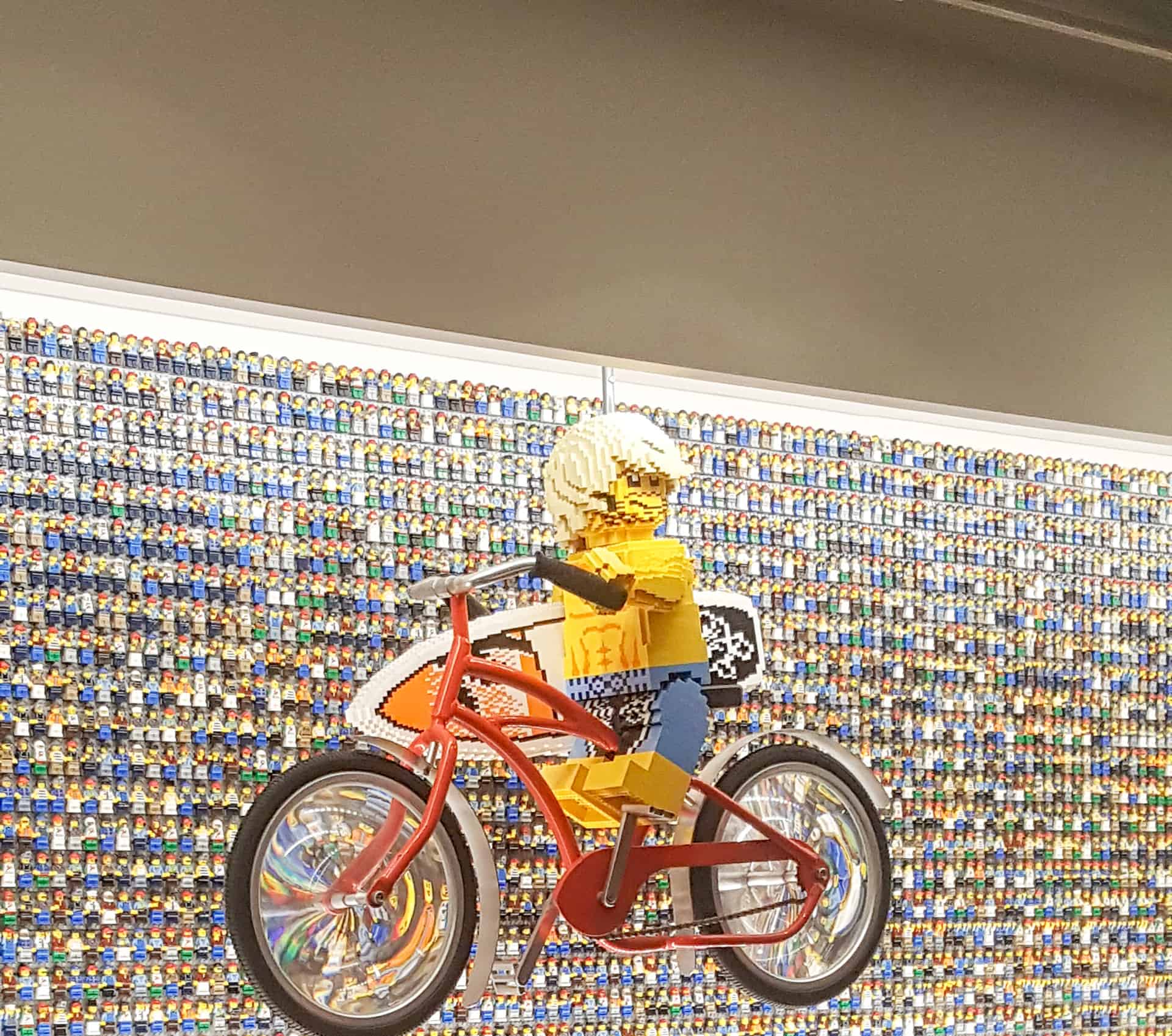 But after comparing the two on the surface, I can say I would probably stay at the Beach Retreat if we went again! Most people want to stay at the Resort so it fills up faster, and ends up costing more if you wait until a few weeks or so before your trip to book! If you book a couple of months in advance though, you can take your pick of either and they are the same price! I kind of like the calm quiet of the Beach Retreat and the resort was much louder, being all indoors, but I haven't stayed at the Resort to give a complete comparison!
Oh, one thing I almost forgot was the 6-inch cake delivered to the room! I paid the extra $12 for this and was really impressed! It is considered a Birthday Cake so they give a card too, but I just ordered it thinking the boys would love getting a cake delivered to the room…and they did!!! It was also the best cake I have had in a long time, and I don't even like vanilla cake!! Lol!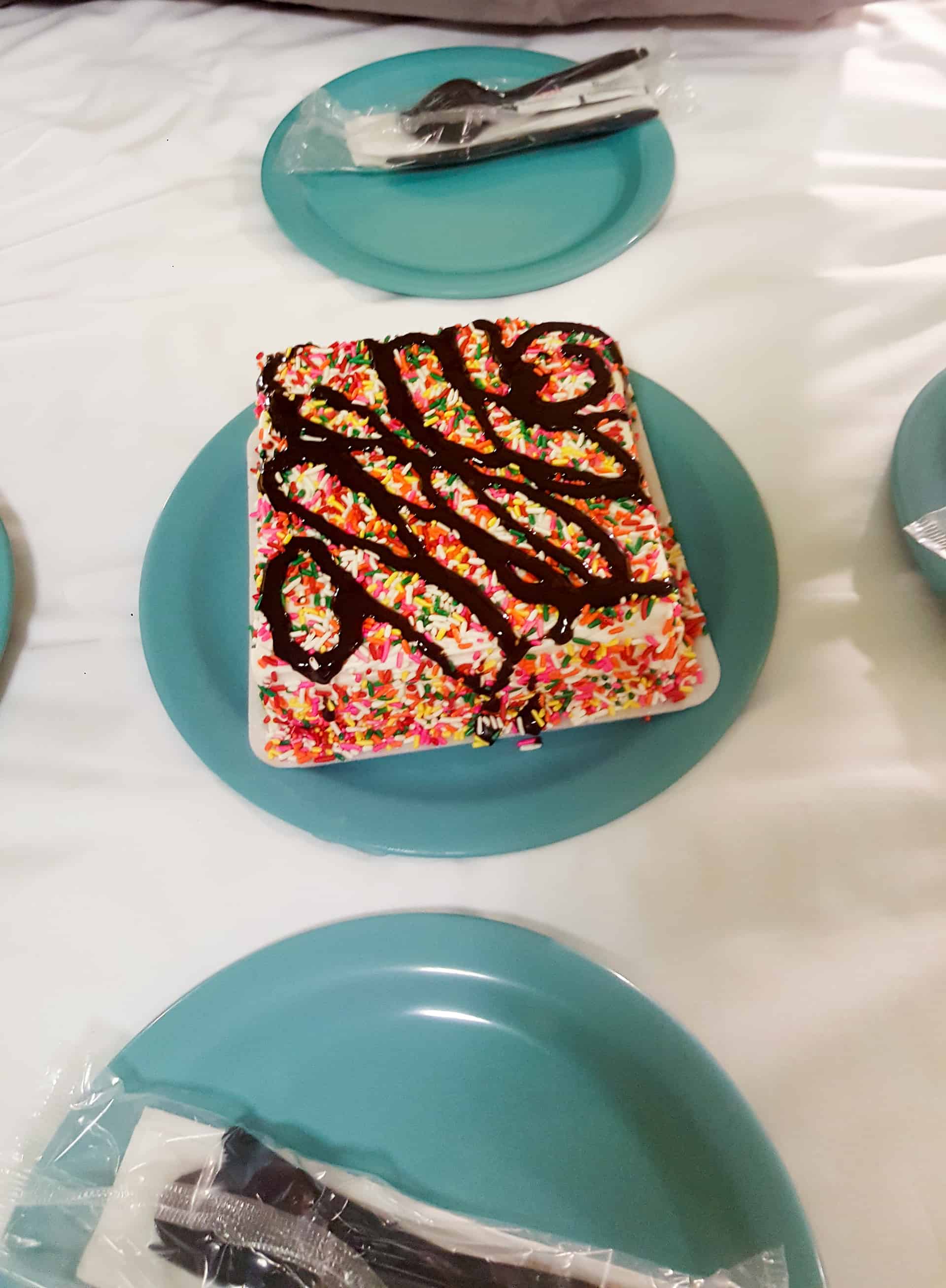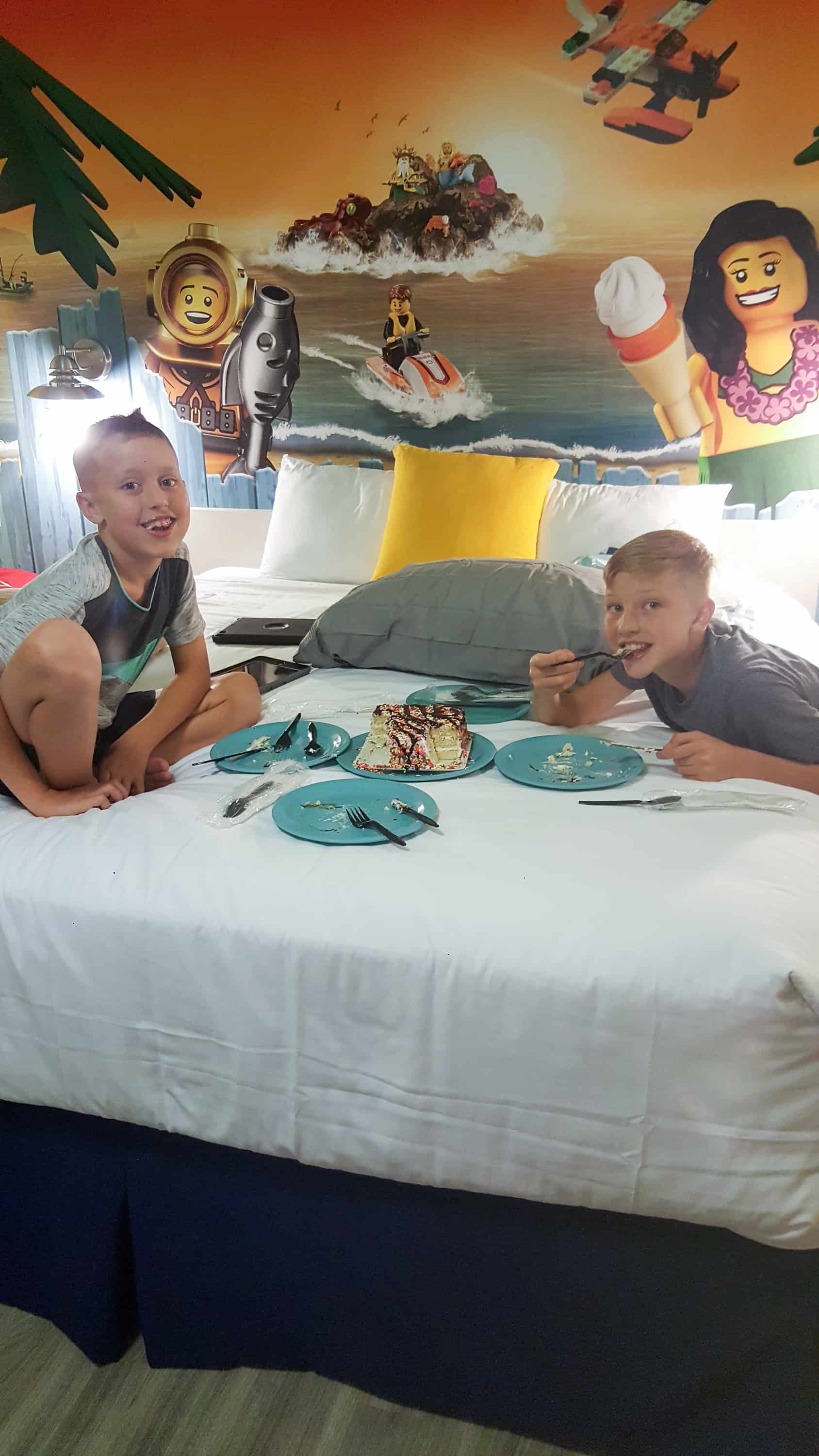 So that pretty much sums up our trip and what we enjoyed, and what we didn't care for!!
In summary, the Beach Retreat was wonderful, the Legoland Park was fantastic, but the food was lacking in so many ways! Let me know in the comments below if you make your way to Legoland, and how you rate the experience!
I hope this helps you figure out how to plan a great trip to Legoland Florida! I mean I really don't think you can go wrong with Legoland!!
Have a wonderful rest of the week!!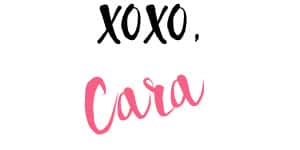 Wanna save this post for later? PIN IT!