Hey, hey, hey!! I am happy to be partnering up with my blogging friends again to bring you DIY games this month for our DIY challenge! I created this cute little diy ring toss game that is a slight twist on the regular ring toss you know and love! You mount this one on the wall instead of throwing them on the ground! Check out my version!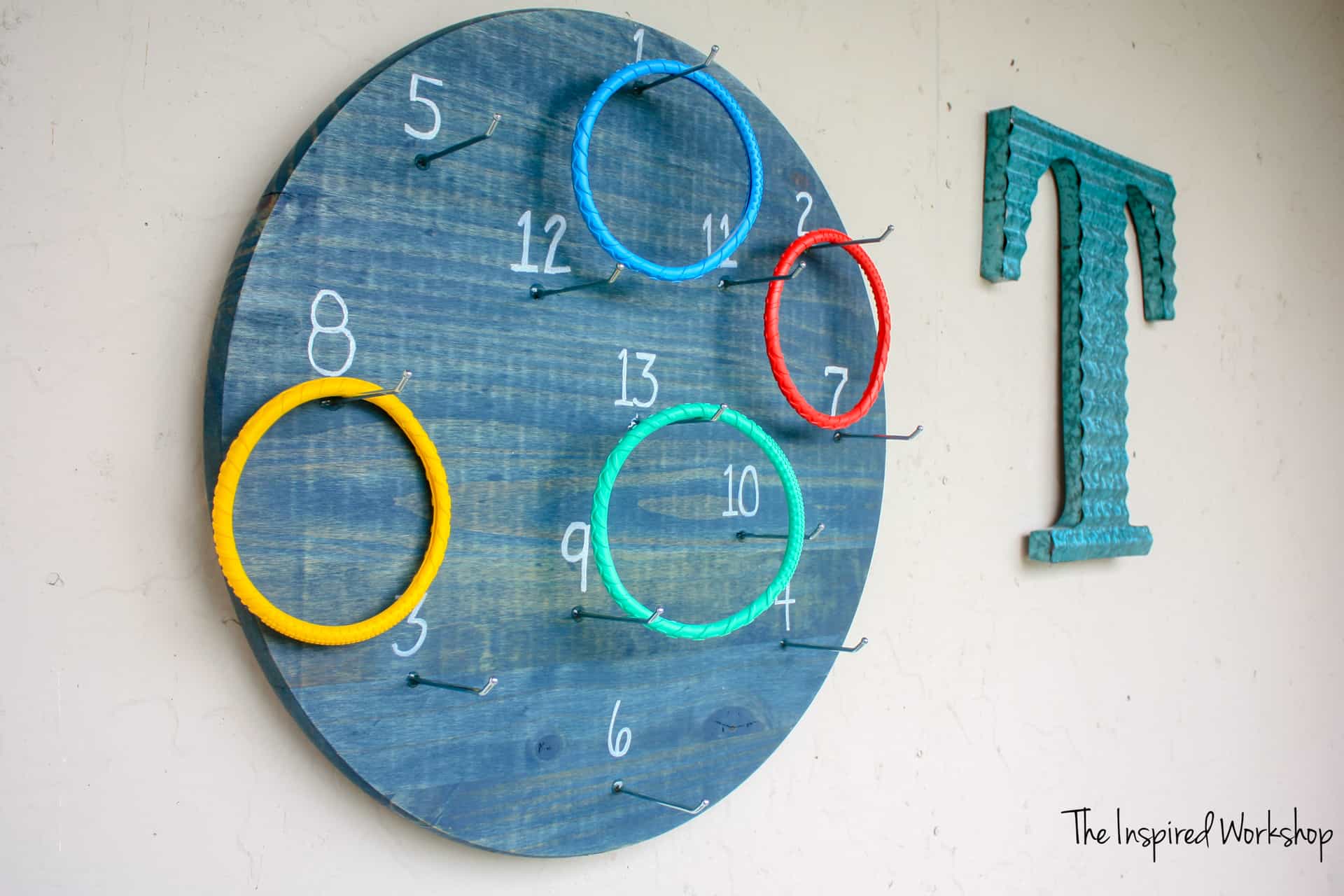 Cute right?! I love the navy stain…I have had it forever and never tried it, but after finding it recently I knew this was just the project for a fun color!
We have had a blast playing all different ways with it this weekend. I do plan on ordering some other rings! Lol! I had these on hand for the pool and so we used them, but I would not buy them for it..you can get much cheaper options on Amazon!
This was one of the EASIEST projects I have ever done! The circle was purchased for a table I was building, and then it split…so to the scrap pile it went! I realized it was perfect for this project even with it's small flaw! So ordinarily I would not purchase this round because I could easily glue one up and cut a circle with my router, but since I already had it, I was using it! Lol!
You ready to make one yourself?! Mother's Day is just around the corner and you can make one to hang in the backyard and entertain the kids while mom is enjoying her brunch or breakfast in bed! The great thing is, it is similar to darts which my kiddos love, but I don't have to worry about them stabbing one another…"on accident" of course!????????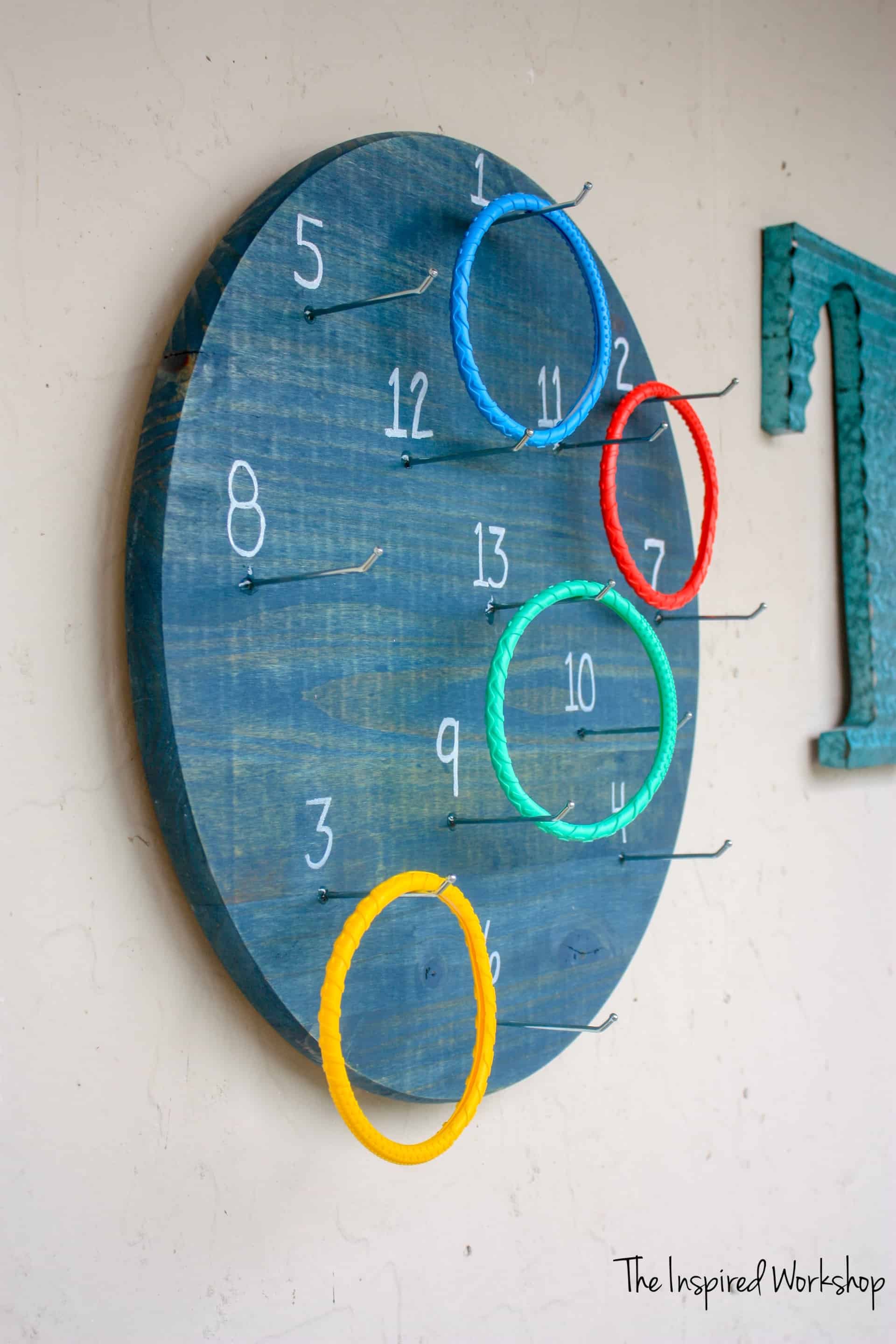 You ready to make yourself one?! Here we go!
*NOTE: Some links below may be affiliate links! See my disclosure policy for more details!
Materials:
-1 – 1x6x10 ( or you can purchase the wooden round I used HERE, what is really crazy is that I purchased this round only 4 months or so ago and I paid $15.97 for it…it is $21.72 now! ???? It seems EVERYTHING is going up so much in price lately! Ugh!)
-13 – straight peg board hooks (This package on Amazon was the same price for 25 as I paid in store for 13! You will have enough you can make one for a friend as well!????)
– Epoxy
– Angle grinder or Dremel tool to remove peg hooks
-Drill and drill bit
-paint or stain of your choice!
–Rings of some sort – you can even make some out of rope or plastic tubing you have laying around the house.
Cut List:
-4 – 1×6 @ 24″
-1 – 1×6 @ 12″
Since I used the wooden round, I just had to drill holes and stain the board! EASY!! If you are making your own round, you will just need to glue up the boards and then use a jig saw or router to cut a circle from the boards you glued up!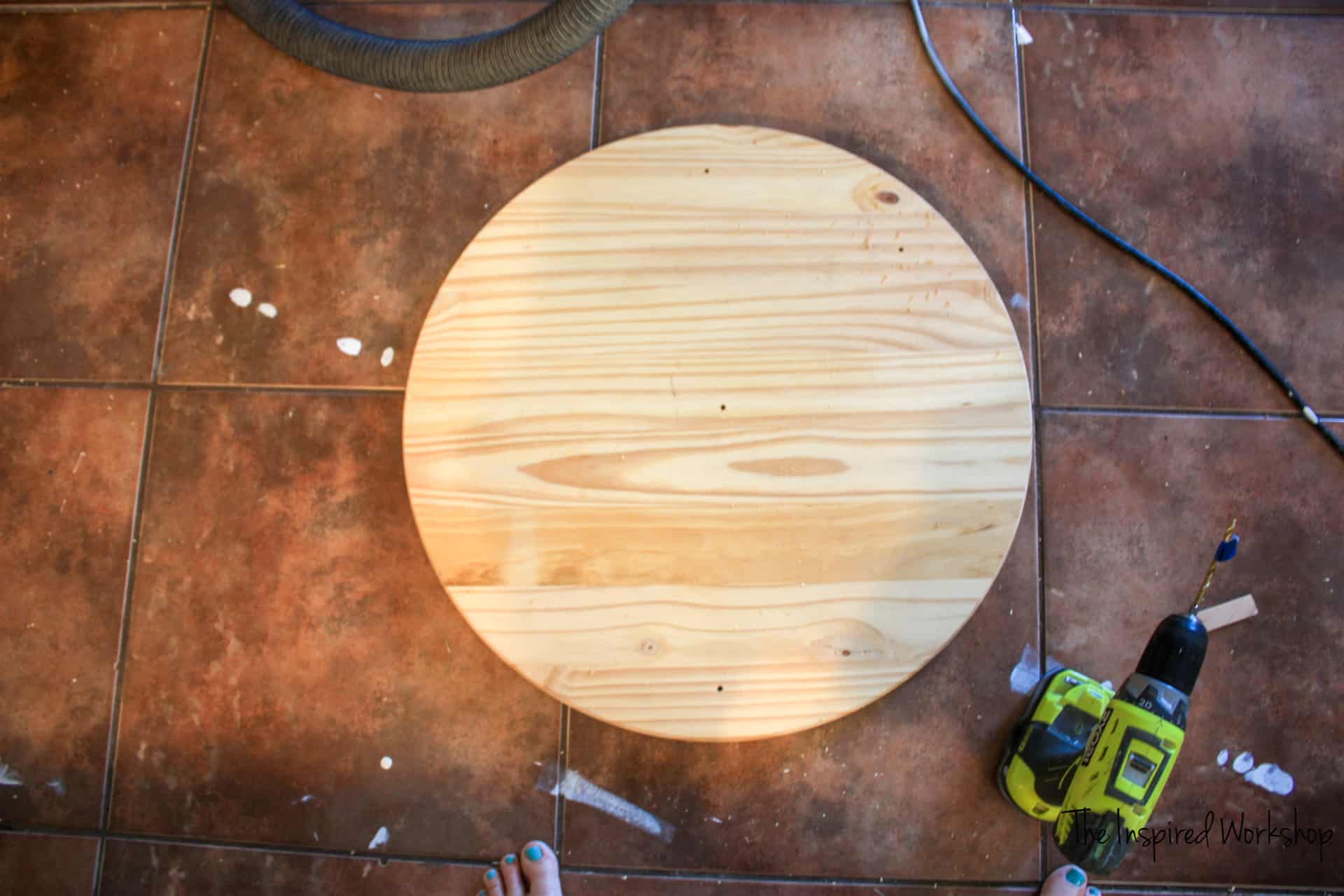 I drilled my holes pretty randomly and didn't go all the way through the wood. I wanted the epoxy to have a little pocket to fill instead of running out of the back! I used a piece of painter's tape as a guide to keep me from drilling too deep!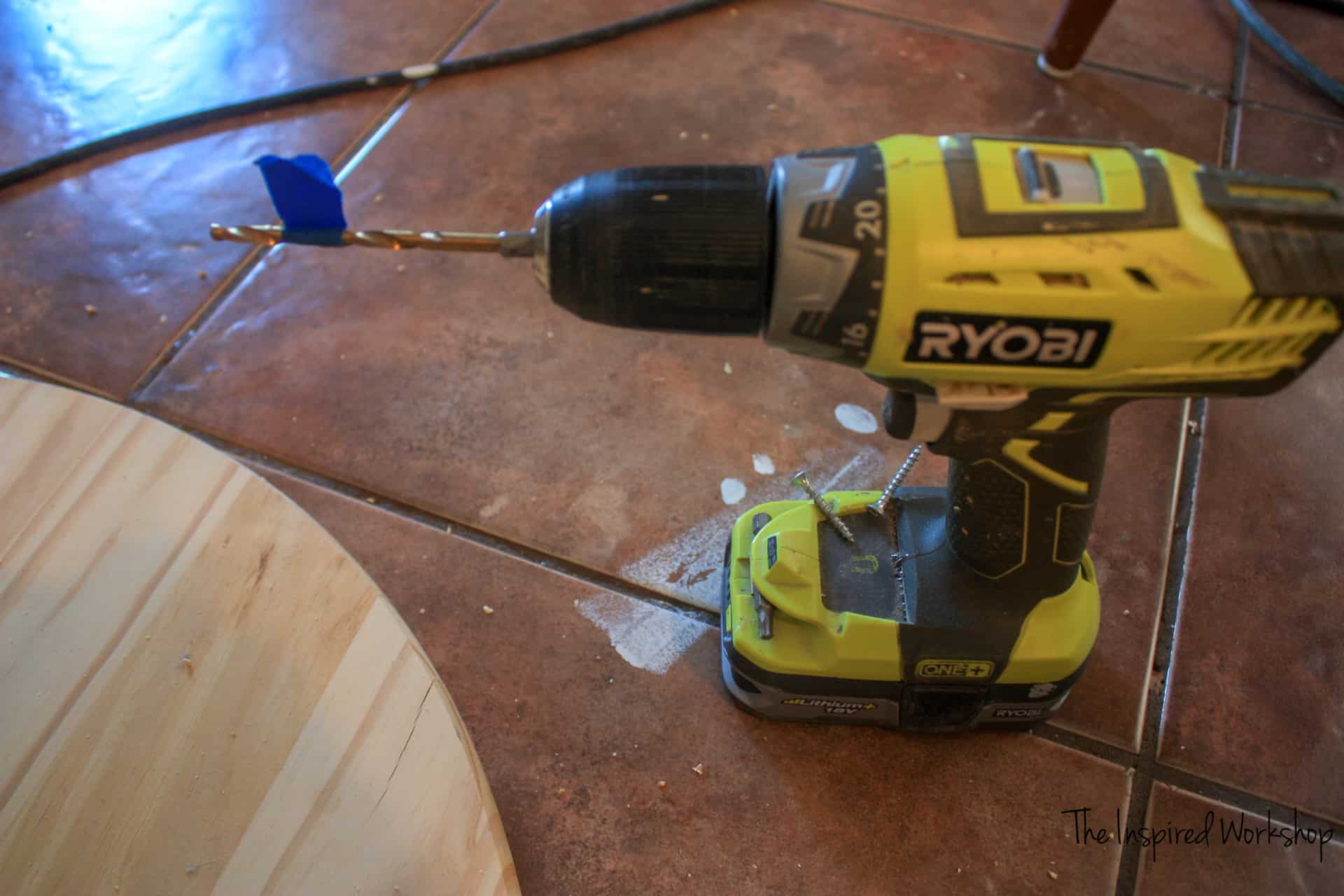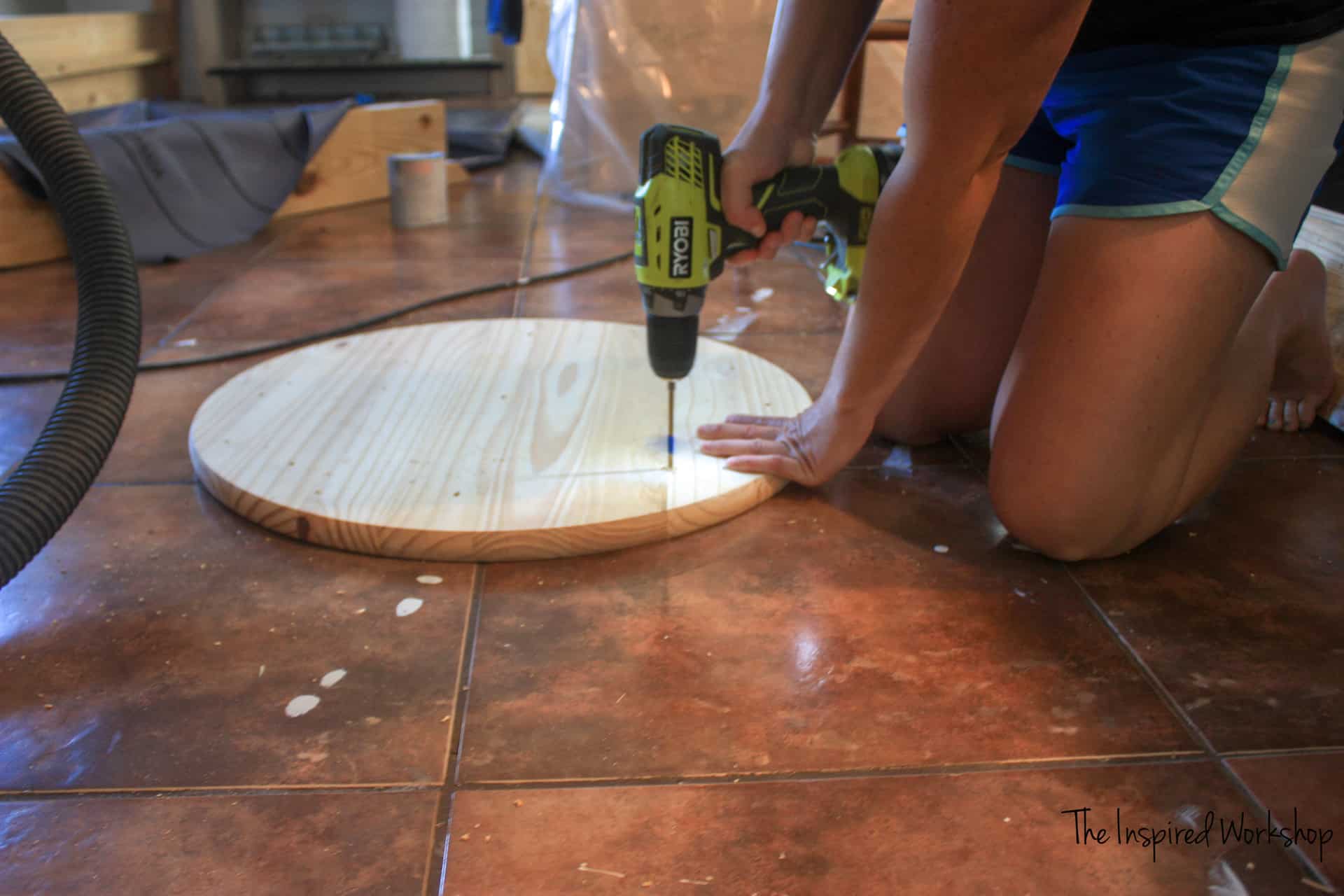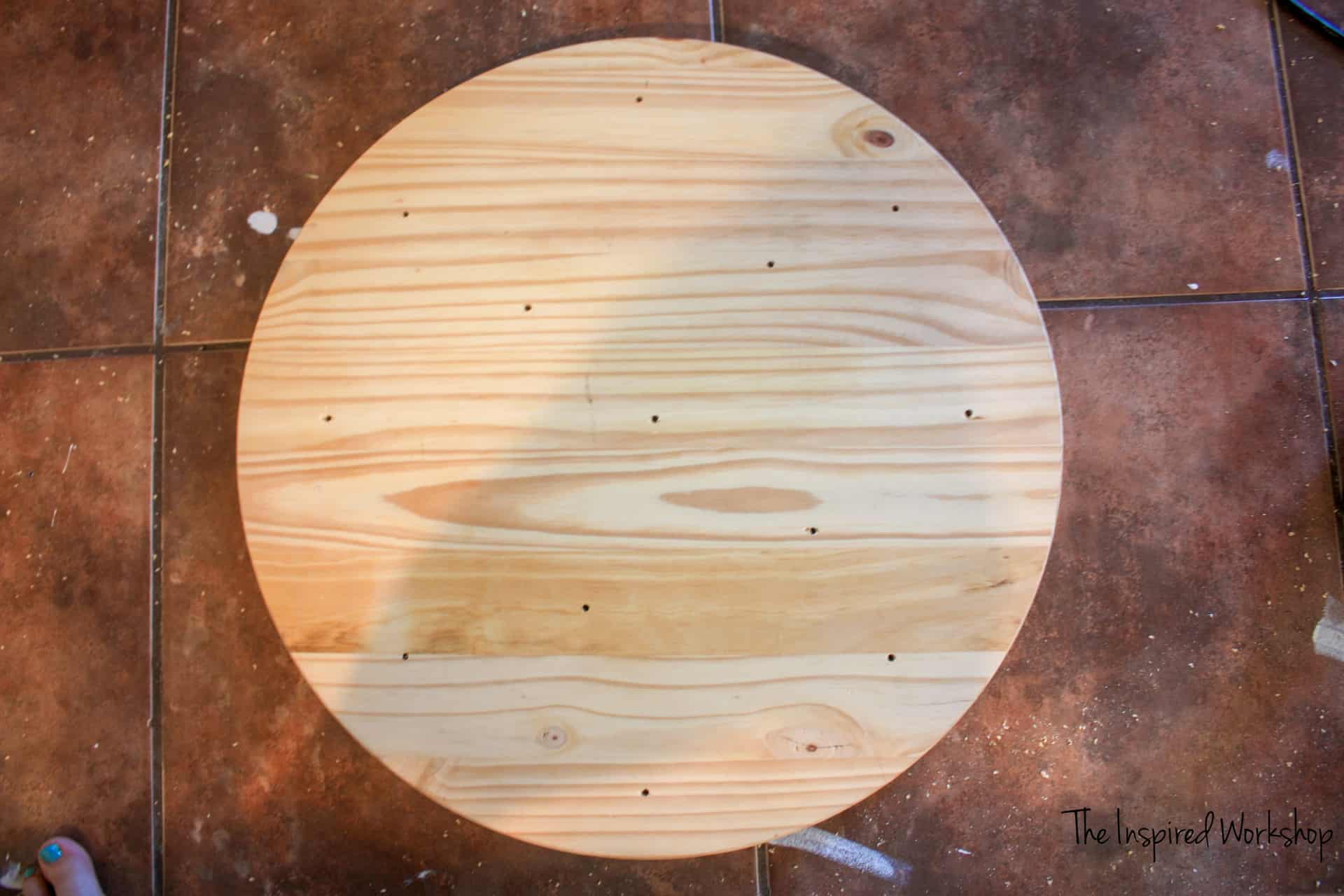 After drilling the holes, I stained the board before adding the hooks.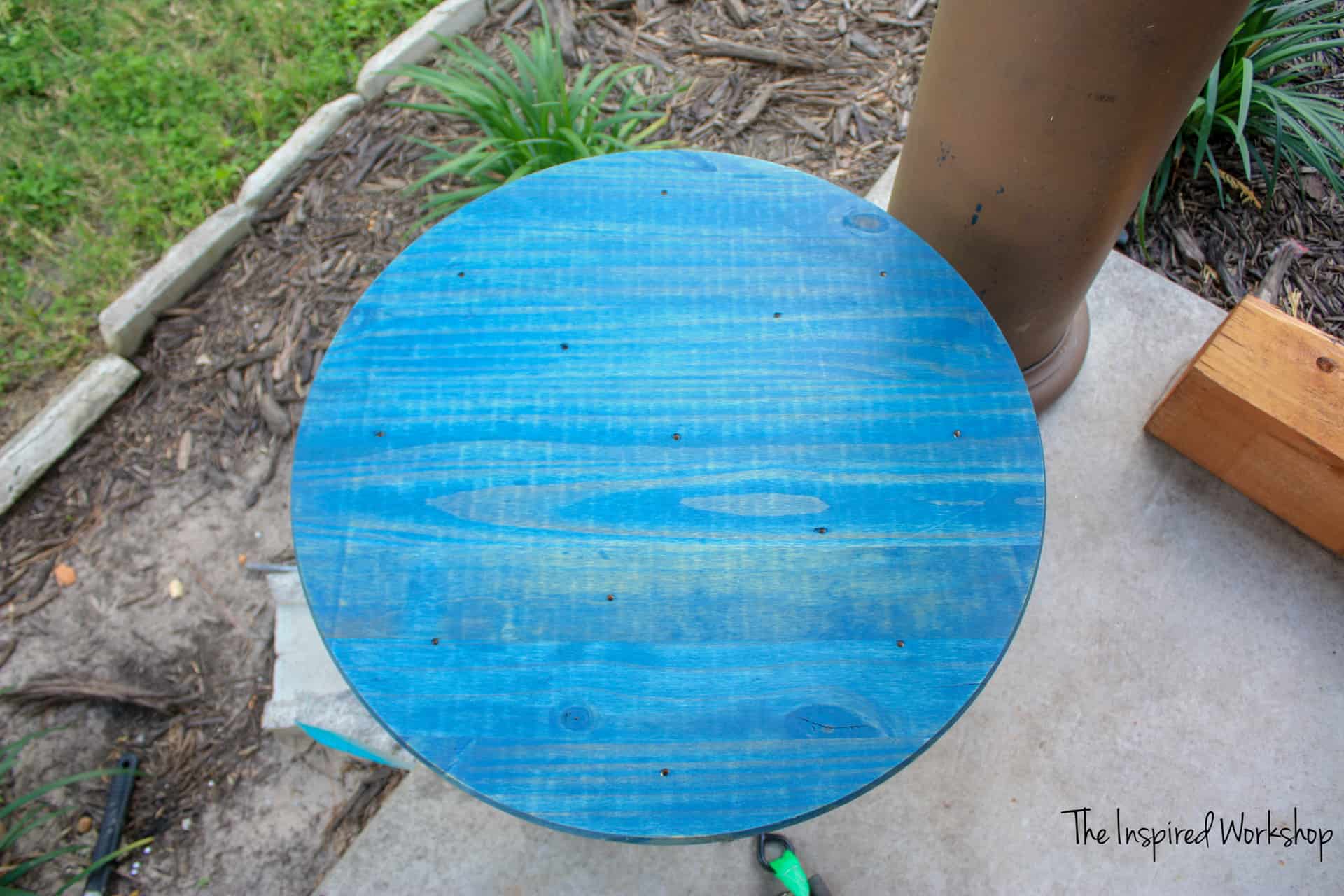 My hubby cut the hooks for me while I was staining the board, so guess what…I didn't get pictures of that process! Lol! But here's what they started out as!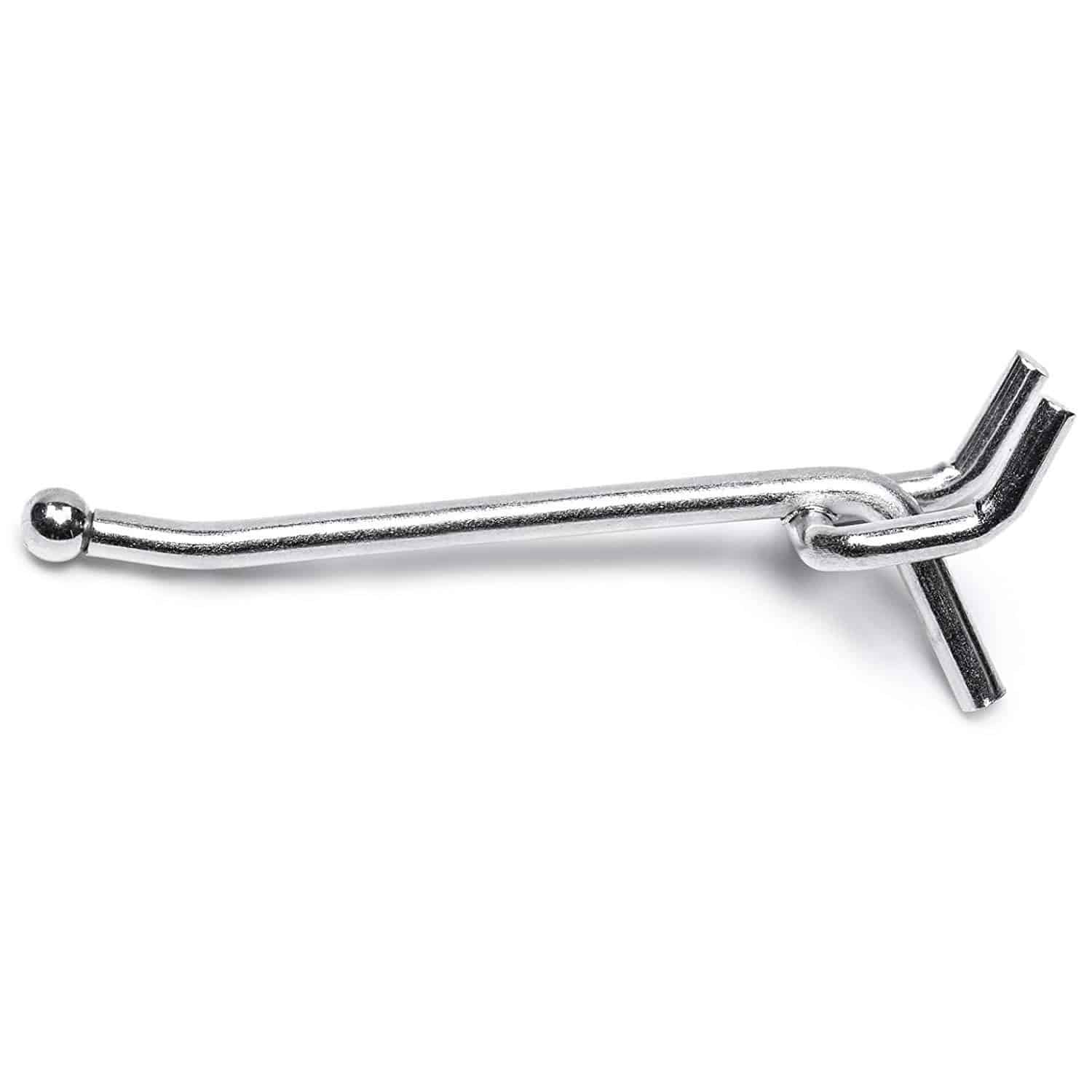 He just cut that back piece right off and and made them straight hooks! Perfect! He also lightly ran the sander over the end that would be epoxied into the board to help the epoxy hold.
Using the epoxy, I just mixed it up, and smeared it onto the end of the hook that was going into the board. I put it on pretty thick and let it drip into the hole first so it would have a firm attachment, I don't want any loose hooks!???? Epoxy came up around the pegs and I left the excess there to help hold them in!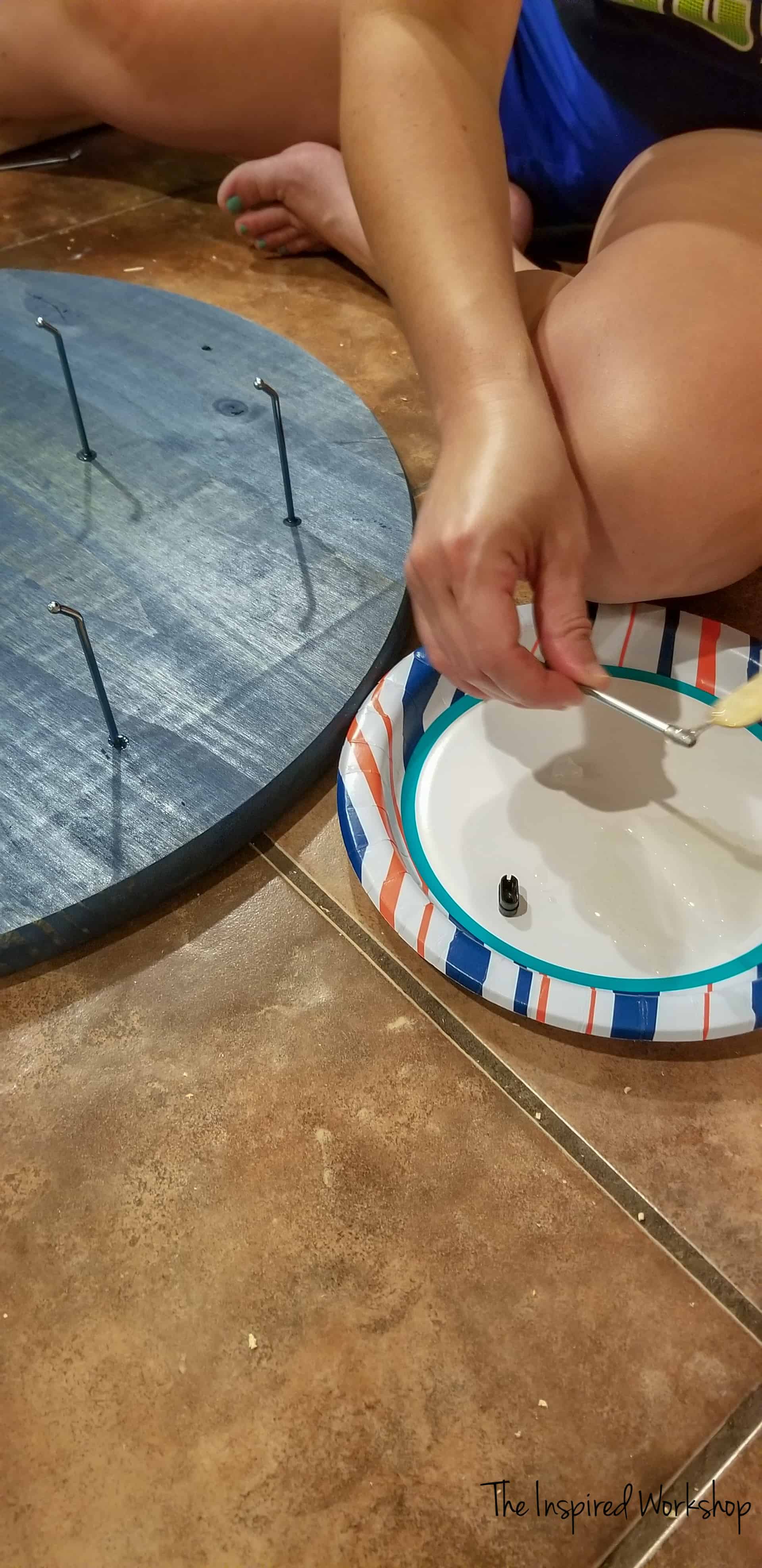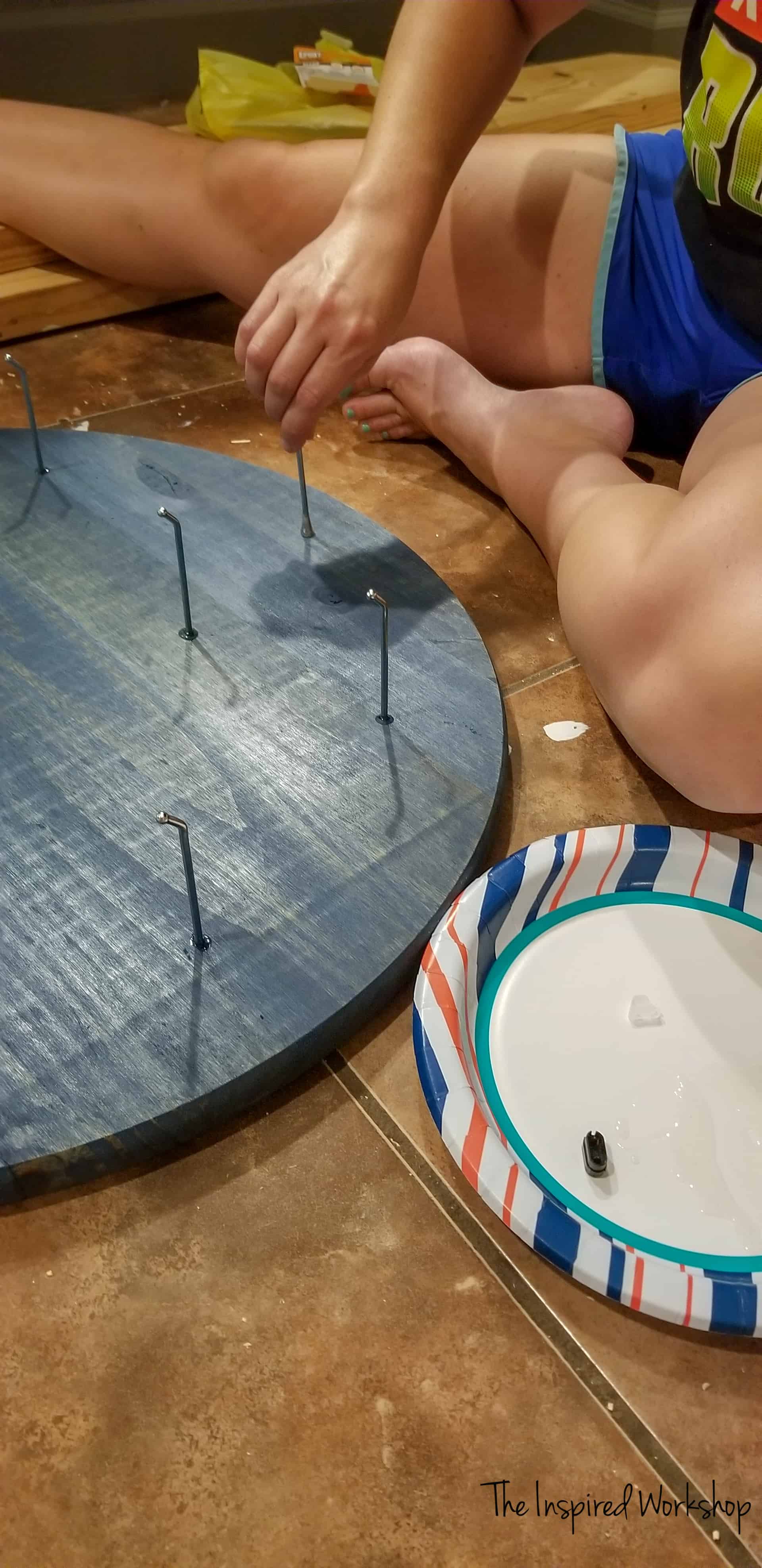 I gave a number to each peg in randomness! I just used a chalk marker to write them, then sealed the piece with outdoor polyurethane. I would suggest using a paint marker, not a chalk marker…but again I was all about using what I had on this project! Lol!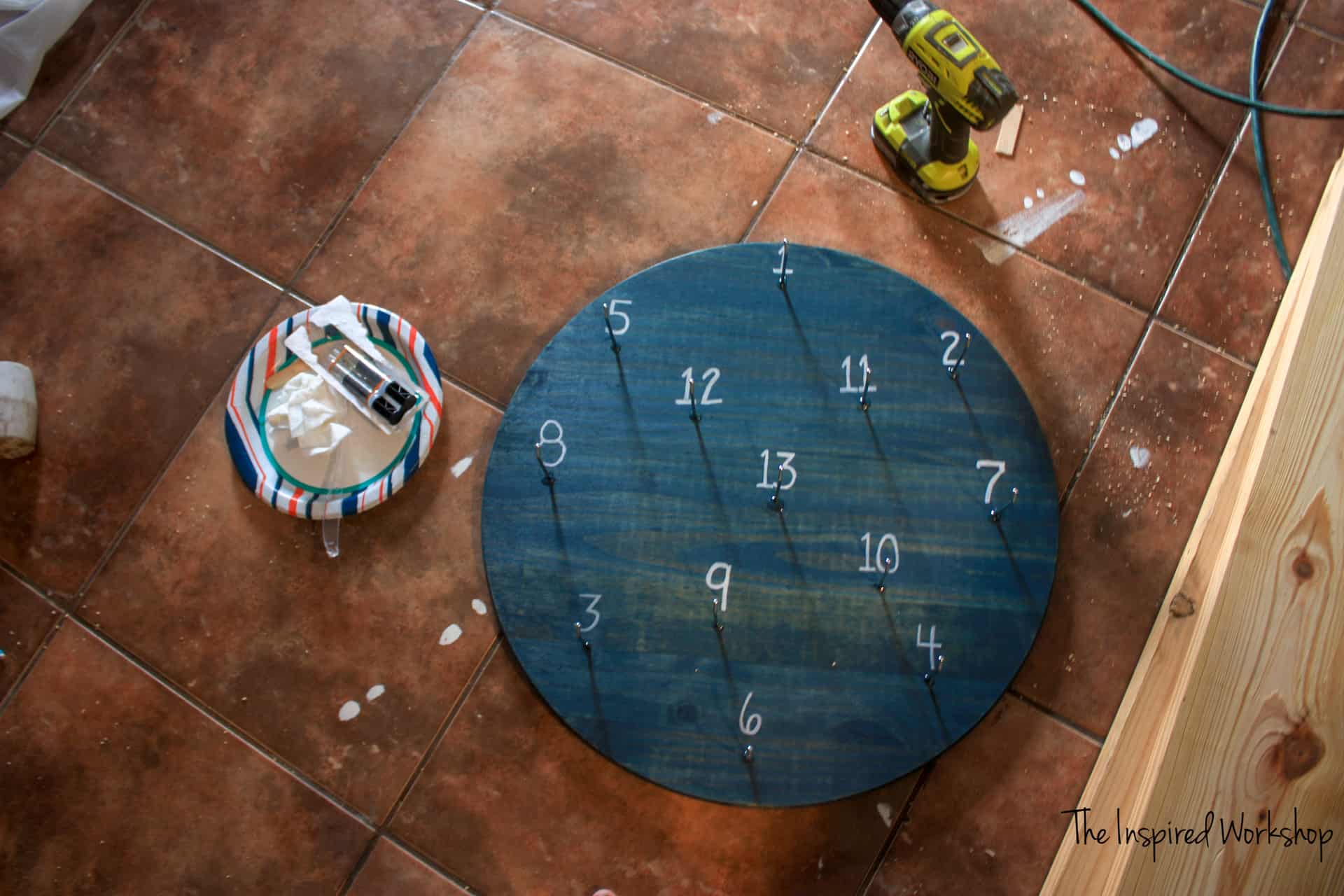 I made a french cleat like I have many times in the past to hang it! This has quickly become my favorite way to hang items because it is practically free…I always use scrap wood, and it is strong! I also love that I don't have to measure precisely when hanging, as long as my board is level on the wall, I'm good to go!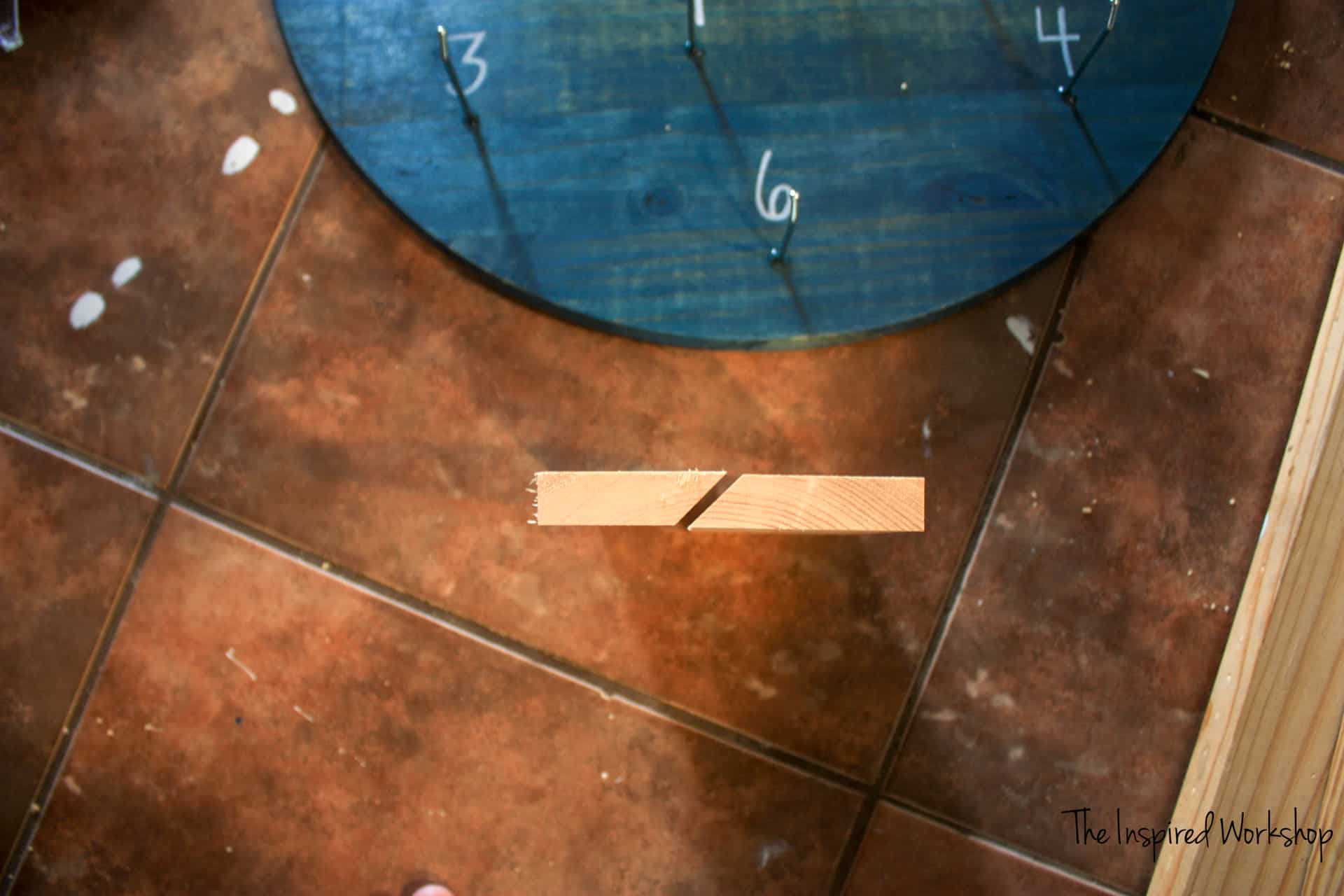 You basically just bevel a board at 45 degrees off square, the board above was a 1×6 scrap that I just cut into two pieces! French cleat is made! Hang one of the pieces on the wall, and the other on your piece!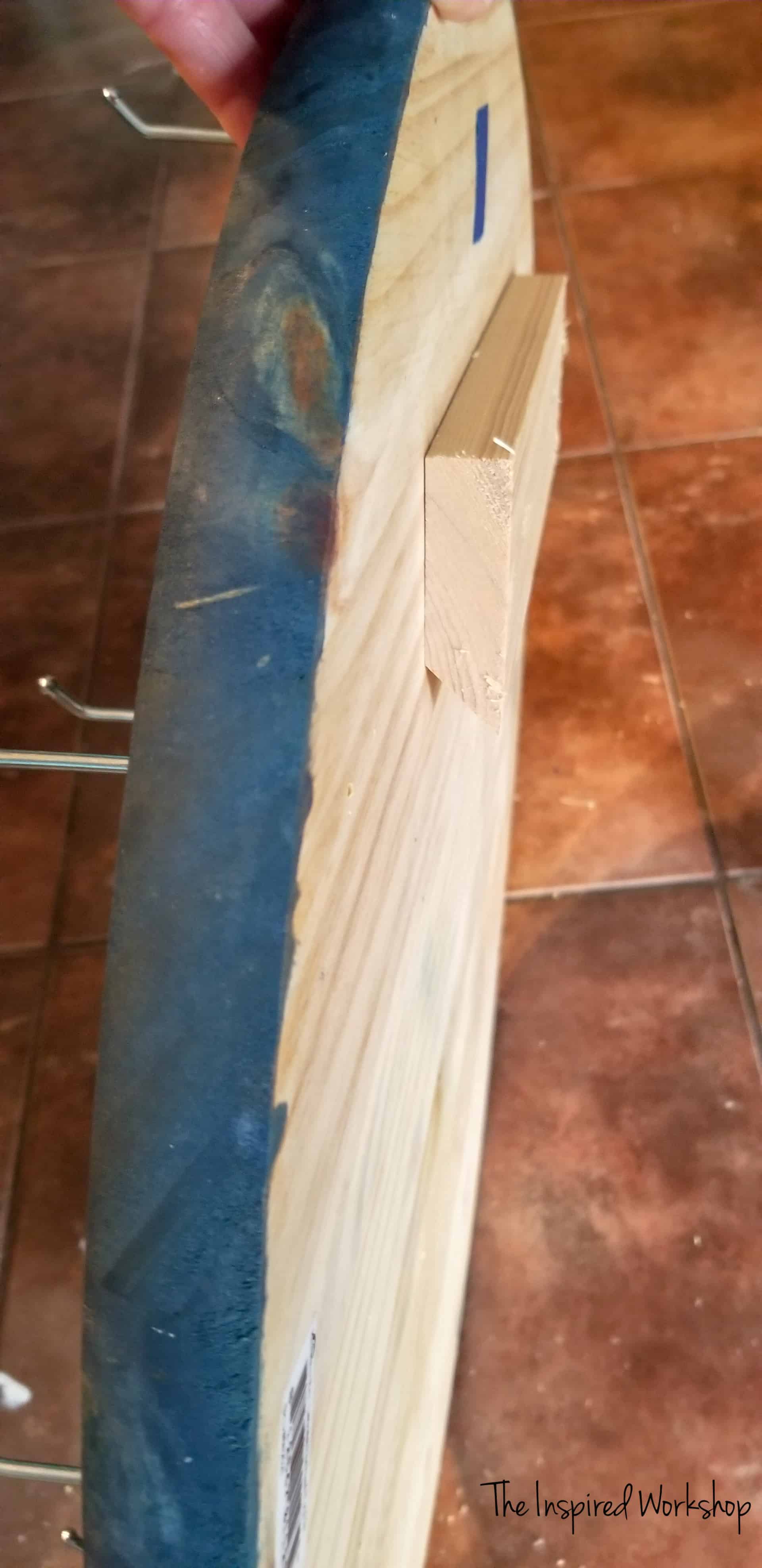 Boom, DONE! That was so EASY! Now challenge the kids or friend to a game of ring toss! We played first one to 21 without going over, and then we would just take turns seeing who could get the highest score! You can come up with so many ways to play your new DIY ring toss games and have fun for hours!
Enjoy!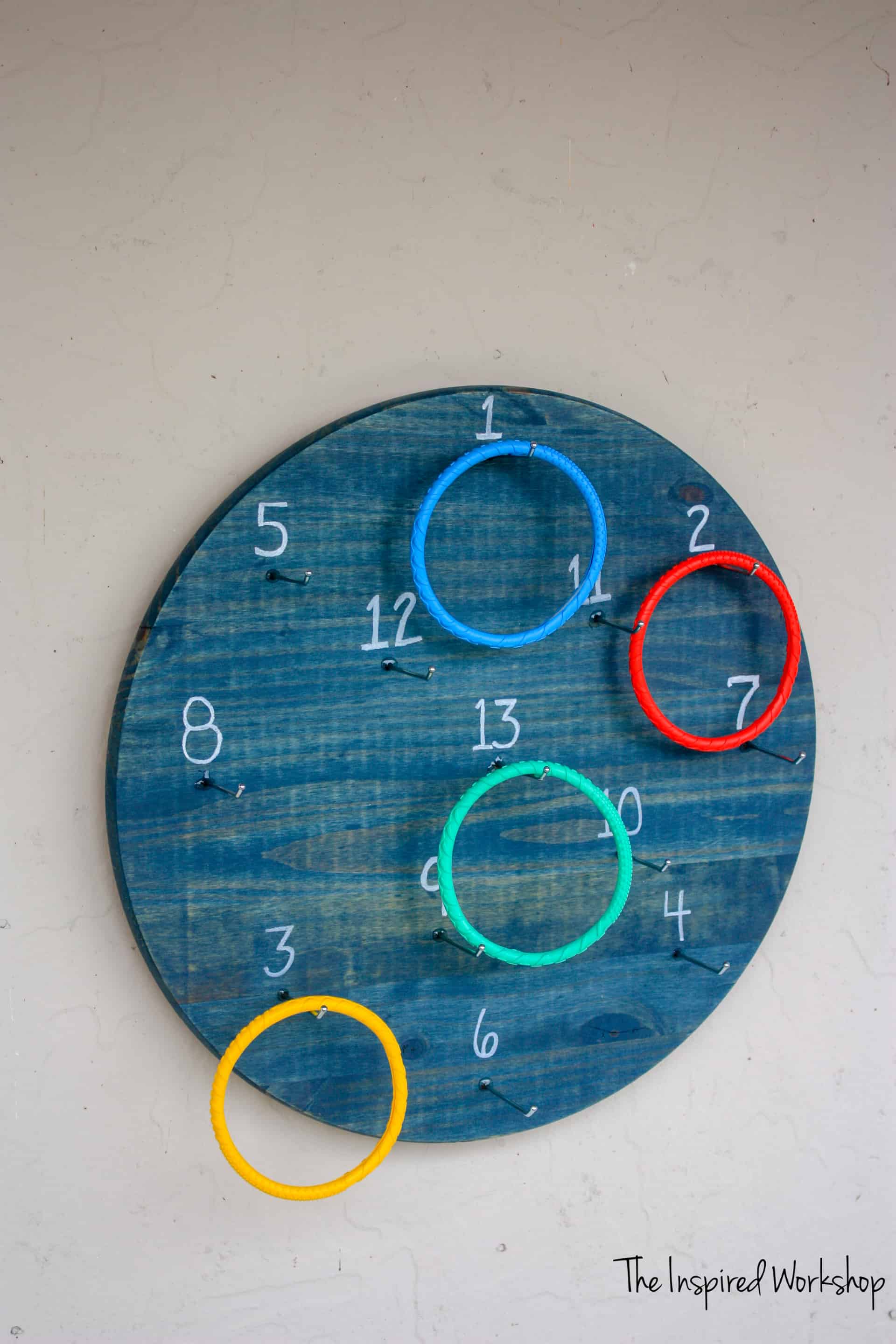 Now you will definitely want to go check out the other amazing DIY games of my fellow blogger friends!
Hope you enjoyed the tutorial and found many wonderful games to play with your family with this month's challenge! Make sure and sign up for email notifications of new posts so you won't miss any of our challenges!
Have a wonderful day!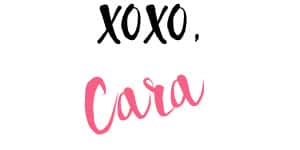 Want to save this post for later? Pin it!