Hey there! Late again on my One Room Challenge post but hey, I'm still trucking along and trying here! Lol!! Cut me some slack, I work like a sloth and honestly on Thursday there was NOTHING new to share! Yeah, empty spot just like I showed ya last week! ???? So at least we were able to get the tub back in, it's not tiled yet but at this point I'm hanging on to a thread and like usual I'm counting EVERY step as a VICTORY!
Here's the tub installed!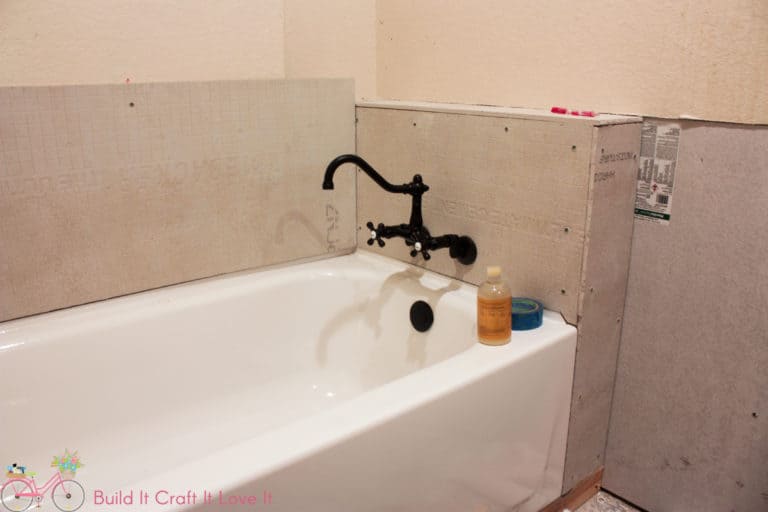 So, a lot to talk about here! Lol! We went with an alcove tub…I know that is not fancy at all for a master bath, but I am on a strict budget, that I have already almost doubled! LoL! ???? And you will not even know it is an alcove tub by next week! The space was 67″ and our tub was only 60″ so we built it in, which actually worked out really well since they didn't have any plumbing in the wall to begin with, we were able to leave it outside the wall!
I know some people are like, "Why would you get rid of the Jacuzzi tub?" Well, if you read my first week's post you  know that there wasn't even electricity hooked up to it, so you couldn't use the jets, and it had gotten very nasty… since you couldn't run the jets. And yes, we could have just dropped the wires and popped in an outlet but the tub was already on my sh*t list since I had stared at those dirty jets for so long! ????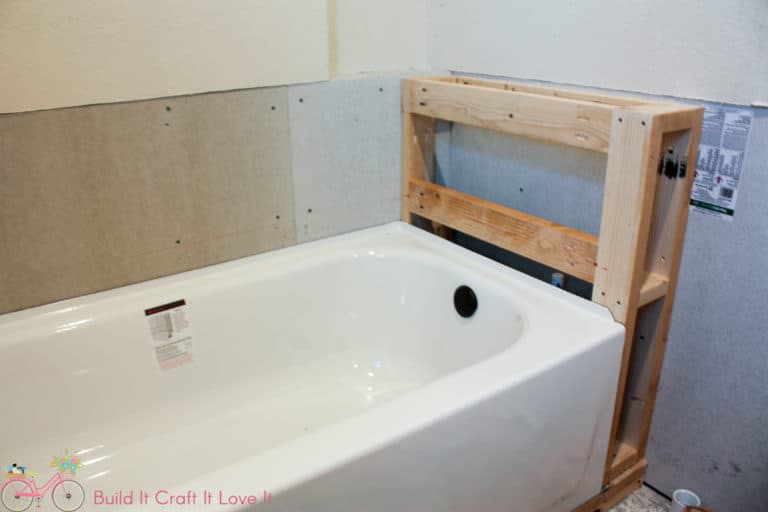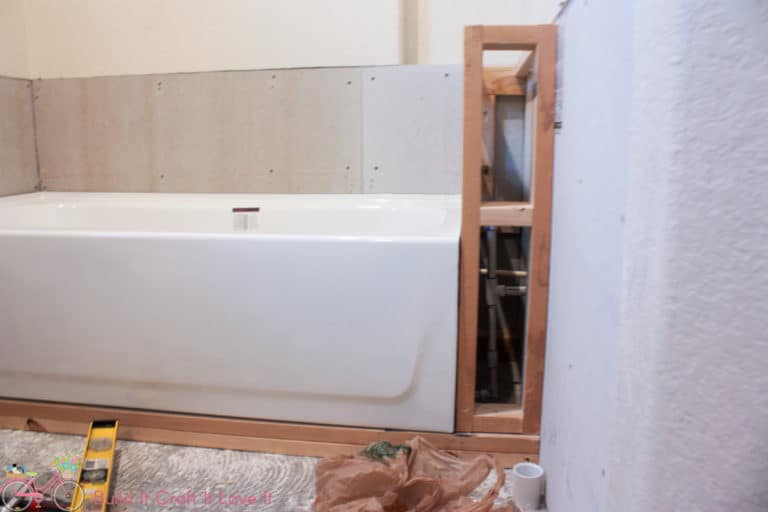 We had to build the tub up some because as you may have read last week the plumbing was ran underneath the other tub and I was not jack hammering up the floor to place the drain in the foundation, so we rolled with the old drain line and my hubby very carefully, and three tries later, made it work! ???? To lift the tub up we just screwed 2 – 2x4s together to lift it 3″ off the ground and the drain fit perfectly! We hung the back rail to stabilize the tub and viola!
I went with a wall mount faucet so that it would look more like a drop in tub, but it was installed a wee bit low, but the more times I see it, the more I love it! I held tiles up in place earlier today and think it is going to look great once I get it tiled! I can't wait until tomorrow to tile it!
Wanna see that beautiful faucet again?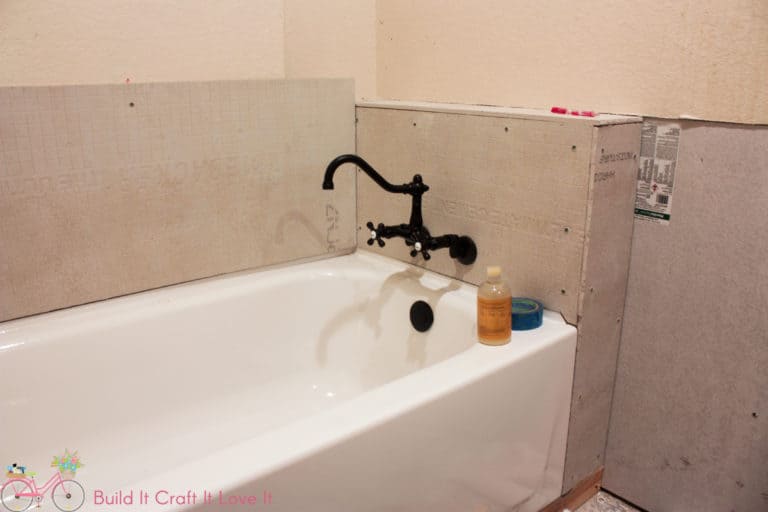 Yep, she's a beauty alright! I got it for a steal on Amazon, same faucet on other websites was nearly double what I paid! Thank goodness too, because my money ran out a long time ago! Lol! Now I'm digging into another room's budget…and lord knows all the rooms need a ton of…ahem, love! ????
Kingston Brass Wall Mount Faucet
*affiliate link
The inexpensive alcove tub was a lifesaver I found at Home Depot! Only $209.00 for that baby and if it turns out the way I imagine it will be the best 209 bucks I ever spent! Okay, maybe not, but it will be worth it!
Bootz Maui Alcove Tub
We also My hubby, was able to get the toilet plumbing placed in the wall, and a shut off valve plumbed as well! It's a regular 'ol toilet now! ???? I didn't get a picture of that for you though…but it's in I promise! 
So that pretty much concludes the update for this week, I know it's a wee bit lame so make sure and check out the other updates on the One Room Challenge and see what all they have accomplished that I haven't yet! Lol!
One Room Challenge Designers Week 4 Updates
One Room Challenge Guest Participants Week 4 Updates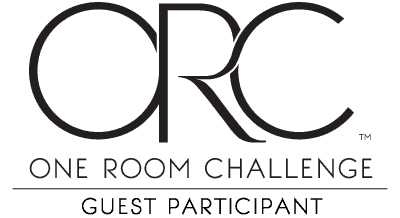 Hope next week I have so much pretty to show you…and if not, I probably won't finish on time, and my ego can't take another failed One Room Challenge so I better get to work!
Have a wonderful week!
Cara