Home Depot's Do-It-Herself Virtual Party
Hey everyone!! Happy Labor Day!! I hope you are enjoying a relaxing day, full of family, friends, and maybe even a few cool hints of fall!! We are still melting here in Texas, but I don't ever let that stop me from dreaming of all things pumpkin, autumn colors, and maybe even a hay ride or two!! Which makes today's post just perfect for my fall loving heart!!
You may remember a few months back when I shared a virtual party with this wooden door mat! Well, I am back and ready to party with some amazing bloggers for round two!! Jenn from Build Basic (make sure and take a peek at her website if you haven't already…she does some fantastic projects) asked me to join her and a few other awesome bloggers to share with you this Do-It-Herself Workshop at the Home Depot!!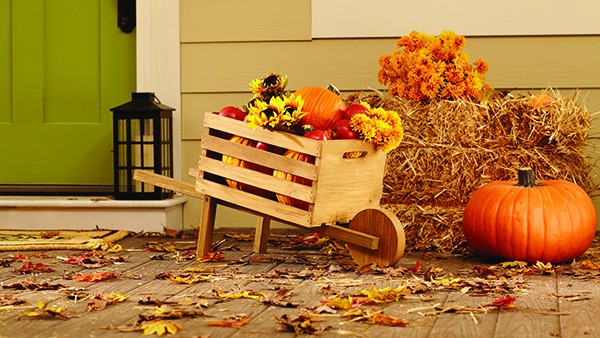 There couldn't be a better time to register for a FREE Do-It-Herself workshop! Fall is knocking at the door, just begging to come in, and I couldn't be more excited about letting him in!! This cute little wheelbarrow got me so excited for fall and it couldn't be easier to build!! So no matter what you skill level is…you should sign up to help make this little cutie!!

A few things for you to know:
Workshops offered are FREE for everyone who wants to come!!
The workshop for the rustic wheelbarrow will take place Thursday, September 15, 2016 @ 6:30 p.m.
Home Depot offers a variety of workshops at all of their locations for Do-It-Yourselfers of all ages and skill levels!
They offer three types of workshops: Do-It-Yourself, Do-It-Herself, and Kids
Customers can learn how to build decor projects such as this rustic wheelbarrow, how to make easy home repairs, and how to operate tools by demonstration and step-by-step instruction! There are a few workshops I am signing up for! Who couldn't benefit from amazing demonstrations on tiling, changing out bathroom fixtures (vanity, lights, etc.) and the one I'm most excited about…Interior paint and drywall repair!! Lord knows this house could use drywall repair in several places!! Lol!! Make sure and visit http://workshops.homedepot.com to find out more!!
We have to wait until Monday, September 7th to show you all of our personalized versions and I couldn't be happier to show you mine!! Make sure and stop back by next Monday to view it and the links to 25 other amazing wheelbarrows!! It will be great, and you won't want to miss it!! But just in case you are already ready to sign up, go ahead and do so!!

Have a wonderful day!! I can't wait to see you next Monday!!
Happy Building!
Cara